This shop has been compensated by Collective Bias, Inc. and its advertiser. All opinions are mine alone. #MyLiteracyStory #DGMyStoryEntry #CollectiveBias
When my daughter was little one of the most enjoyable activities we took part in together was reading. We enjoyed going on adventures with our favorite characters and getting lost in a good book.
One of our favorite places to go was the library so we could pick up new books and find a cozy corner among the never ending rows of books to devour the next story. This is something I have enjoyed since I was a kid as well.
We moved around a lot when I was little so one of my favorite activities every time we moved was to check out the local library in each town I found myself in.
The excitement in visiting a new library never left me because a few years back when my family relocated to Iowa, both my daughter and I couldn't wait to see what the local libraries had to offer.
When we visited the Cedar Rapids Public Library we were really excited when we found out about a program they offered that encourages kids to read to dogs to gain more confidence in reading out loud.
This was so exciting to us because we are not only avid readers but we are dog lovers, too!
That is a big part of why I am so excited that Kelloggs and Dollar General are helping people learn to read. Click the image below to learn more about this fantastic campaign!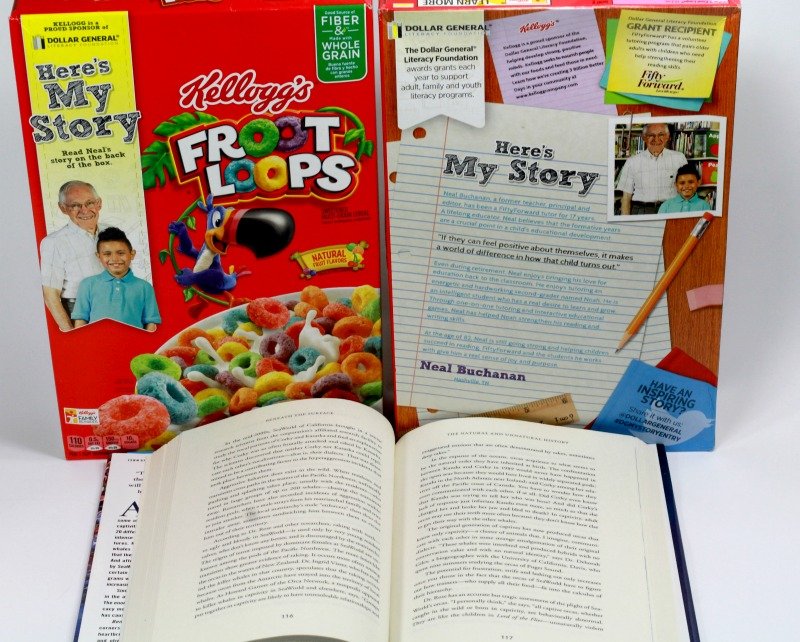 To enable screen reader support, press Ctrl+Alt+Z To learn about keyboard shortcuts, press Ctrl+slash
I am happy to have the chance to spread the word about this great program while encouraging others to gain confidence in reading out loud by reading to a dog, it really helps!
Kellogg's is a proud sponsor of the Dollar General Literacy Foundation. Every day, Kellogg employees work together to fulfill their vision of enriching and delighting the world through foods and brands that matter.
The Dollar General Literacy Foundation is celebrating over 20 years of helping individuals learn to read, prepare for their high school equivalency, or learn English. Dollar General Corporation has been delivering value to shoppers for over 75 years through its mission of Serving Others.
I picked up some of my favorite Kellogg's cereals from Dollar General, Kellogg's Frosted Flakes®, Kellogg's® Froot Loops®, Kellogg's Frosted Bite-Size Mini-Wheats®, and Kellogg's® Rice Krispies®. Not only did we learn more about the literacy foundation by reading the box but we also enjoyed a couple of bowls of cereal while reading our favorite books.
There are so many things you can do as a parent to encourage the love of reading in your kids. Some of the best ways that I have found are:
Visiting local libraries and dropping in on story time, having other kids around that enjoy stories is a great example for your early readers.
Let your kids pick out their own books but try to guide them by selecting the section to let them choose from.
Have your kids earn computer or TV time by putting in twice the amount of reading time.
Play reading games and board games that have a heavy focus on building words.
Provide a fun seat that is only for reading time.
Write a story together and include lots of fun illustrations and let your child's imagination go wild!
Reading out loud to a dog or any pet that your kids feel comfortable with to improve their confidence in reading out loud.
Try reading in different locations, sit under a tree, go to the park and read on a slide, or sit on the dock while reading lakeside. Changing up the location brings a new exciting element to the activity.
Encouraging your children to love reading can be a fun way to spend your time together. You can learn more about the literacy initiative, enter the #DGMyStory Sweepstakes and share your own personal literacy story for a chance to win a $50 Dollar General gift card by clicking here.