This post sharing how to create the perfect trampoline sleepover is sponsored by Wayfair. This post contains affiliate links. All opinions are my own, as usual.
Plan a fun evening at home by learning How to Create the Perfect Trampoline Sleepover with these tips. Whether you want to spend a few hours in the evening enjoying your backyard oasis or want to extend the fun, these tips for creating a backyard retreat will help.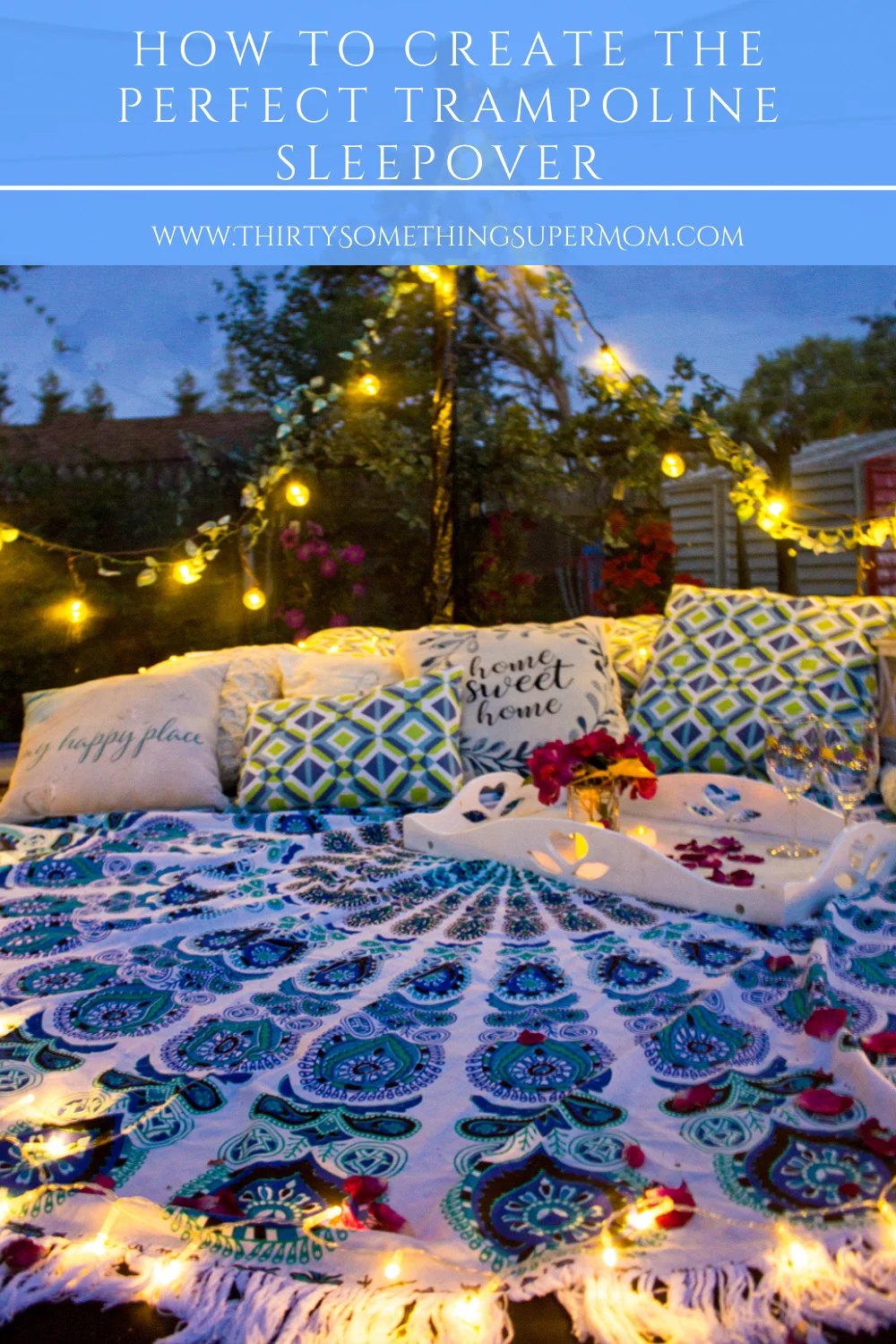 When looking for a trampoline at Wayfair, the possibilities seemed endless. After looking through the many options, we found a trampoline that fit our needs.
Safety was an important factor when shopping and we also wanted to make sure we chose the right size.
When making the purchase I had never thought about the possibility of creating a trampoline sleepover but now I am glad I bought the one I did.
The size and safety measures of this trampoline have come in handy when creating the perfect trampoline sleepover. Keep reading to learn how you can recreate this backyard retreat at your home.
How to Create the Perfect Trampoline Sleepover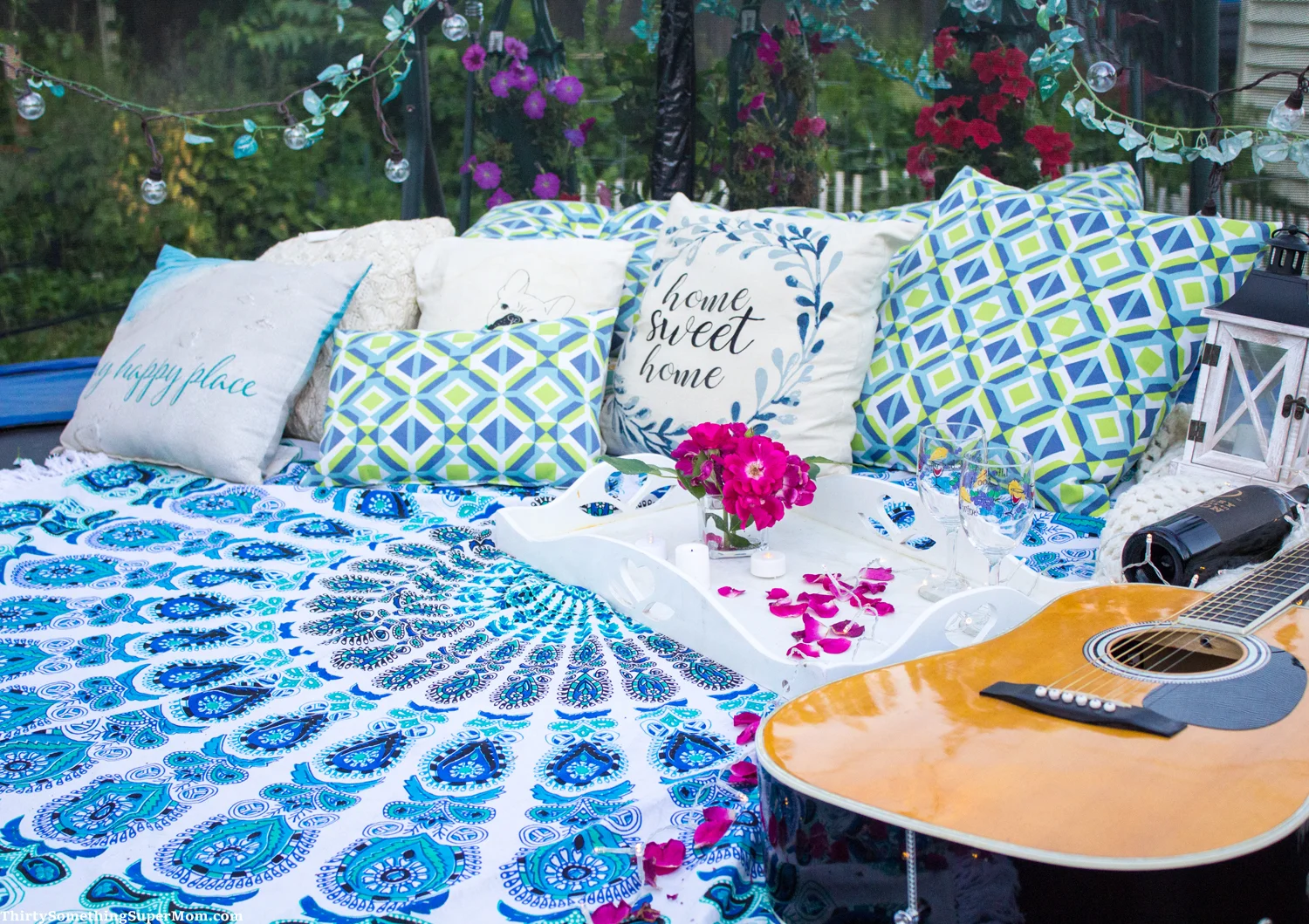 Create a Cozy Trampoline Sleepover
The best way to create a cozy space good enough to sleep in is to fill it with pillows! If you plan on leaving your setup the way it is and don't want to put everything away every time it rains, be sure to use outdoor pillows.
Choosing the right bedding is also an important part of creating a cozy space for any trampoline sleepover. While the bouncy, springy trampoline can offer a flexible, moveable surface for sleeping, it isn't the softest surface for sleeping. Be sure to choose a cozy rug or sheet to lay on.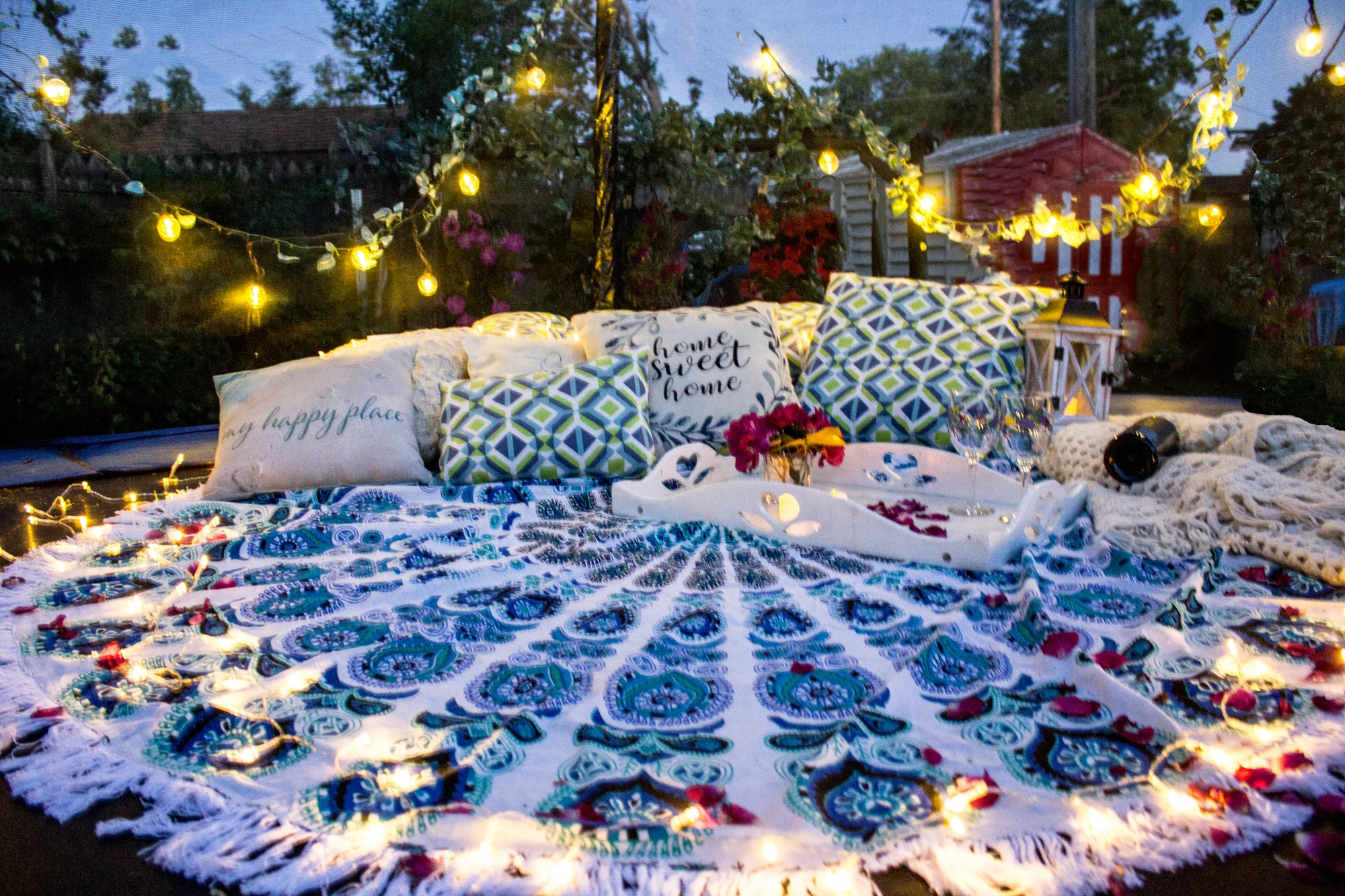 Tips for Setting the Mood
Hang string lights from the netting using clothespins to secure them in place. Drape the lights from each pole and let them hang down for better lighting in the seating area.
Use battery-powered string lights to light up the seating area. Tea lights are another easy and safe way to bring lighting to the seating area.
Another decorative way to bring light to the trampoline party is to use battery-operated lanterns. This is a great way to set the ambiance and set the mood for the perfect trampoline sleepover.
When setting up your trampoline, be sure to pick a location that faces the garden for an endless view of flowers and greenery.
Activities
The first activity that comes to mind is jumping on the trampoline of course. That is the intended purpose and it is a lot of fun but when it comes to planning things in advance this may be the one activity that can't be done during the sleepover.
Depending on how elaborate your setup is this may not be an option but there are plenty of other decor-safe options for your trampoline sleepover.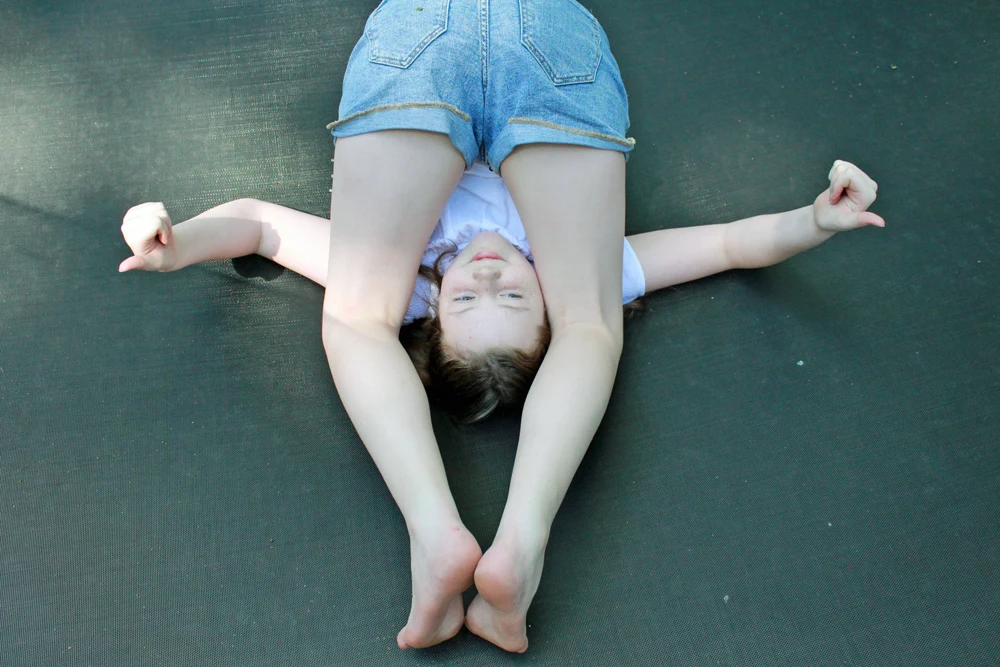 Spend the Night Alone
If you want to spend a night in this cozy setting by yourself, take the time to bullet journal, play guitar, or just hang out with the dog. If your dog is anything like mine, they will love it!
Couples Retreat
For a romantic evening alone, a bottle of wine and a delicious charcuterie board are a great option. Be sure to scatter some rose petals from the garden and cut a few flowers for a cute centerpiece.
Be sure to bring music along or watch a movie and cuddle up on the cozy pillows.
Family Fun Night
Enjoy the trampoline with the whole family by setting up a movie night with a projector. A fence or a sheet hung on the clothesline can serve as a great screen. Telling stories and having a campfire nearby is another way to get the whole family in on the trampoline sleepover.
Set the scene for your teens to have an outdoor sleepover this Summer with their friends. Keep them out of the house and entertained with this idea. Order a pizza and take the night off from cooking while the kids have a blast with this trampoline sleepover.
I hope you enjoyed learning about how to create the perfect trampoline sleepover. Leave me a comment letting me know how you would enjoy this backyard retreat.
Be sure to share this post on your favorite social media and follow along by signing up for the free newsletter so that you never miss a post.