These 41 low carb riced cauliflower recipes for keto contain affiliate links which means that if you make a purchase after clicking a link, I will receive a small portion of the sale at no additional cost to you.
When you are looking for an amazing recipe for the whole family, try one of these easy cauliflower rice recipes. Skip the high carb versions the next time a craving hits for a delicious recipe because these cauliflower rice recipes for the keto diet are better than the real thing.
With 41 different recipes to choose from, you can find quick meals or try a more complicated recipe when you have extra time for cooking. Prepare frozen cauliflower florets, fresh cauliflower rice, homemade cauliflower rice from a large head of cauliflower, or a bag of cauliflower rice, whichever works for you.
There are many low-carb cauliflower recipes that can replace your favorite dishes. Whether it is Mexican food, Chinese food, or your favorite fast food that you are craving, there is a keto cauliflower rice recipe to replace it.
Replace Chinese take-out with a cauliflower version of fried rice or white rice. If Mexican rice is what you are craving, try Mexican cauliflower rice. I have gathered the best low-carb cauliflower rice recipes that the entire family will love.
These low-carb recipes include the perfect dinner ideas and delicious side dish options for those who want to limit net carbs.
So many easy meals that taste like the real deal with easy steps to make dinner time simple and healthy.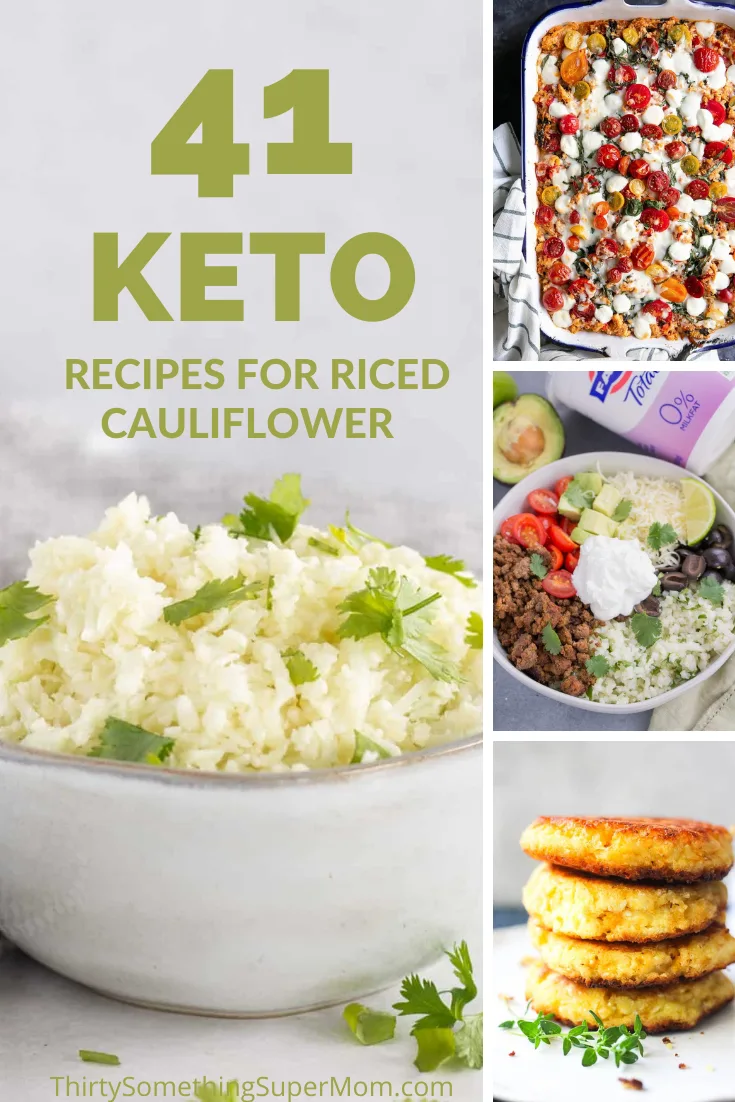 Riced Cauliflower Recipes for Keto Soup
Some of my favorite recipes are the easiest ones. This Easy Keto Crockpot Dump Meal is the easiest way to enjoy Keto Chicken and Rice Soup. Crockpot keto recipes have become my go-to for those busy nights.
This keto cauliflower and bacon soup recipe is absolutely delicious and creamy. You won't believe that this dish is low carb!
Fufu is a popular Africa staple served with soups. Cauliflower works great as a substitute for fufu recipes.
Keto-Friendly Version of Classic Rice Dishes
The Best Keto Stuffed Peppers come together with ground beef, fresh herbs or packaged, whichever works best for you, and a quick sauce. Covered in cheese and cooked to perfection in a baking dish, this is a great way to enjoy a traditional meal with fewer carbs.
Pico de Gallo chicken over cauliflower rice is one of my favorite weeknight dinners. I can throw it together quickly and I have a very flavorful meal.
Take a peek at my recipe for walnut cauliflower lettuce wraps! Crisp lettuce cups are stuffed with chunks of toasted walnuts and riced cauliflower tossed in a Thai-inspired sauce. It's the perfect tasty plant-based meal!
Riced Cauliflower Casserole Recipes for Keto
Easy and delicious, this Cheesy Chicken Caprese Casserole Recipe is made with quinoa, cauliflower rice, shredded chicken, and mozzarella cheese. Low-carb, gluten-free, and easily frozen the whole family is guaranteed to love this fantastic Caprese Casserole.
This Chicken Broccoli Cauliflower Rice Casserole is a gluten-free and keto-friendly recipe that everyone will enjoy! With only five ingredients, this cheesy dish will become a family favorite!
Buffalo Ranch Chicken & Cauliflower Rice Casserole is packed with flavorful ingredients, and it's totally Keto-friendly! Get the super simple and absolutely delicious recipe right here, right now!
It's a low-carb broccoli cauliflower rice casserole that's a delicious low-carb ketogenic alternative to the starchy and carby classic American dish.
Chicken and cauliflower rice are baked together in a cheesy casserole. Flavored with garlic and herbs, this low-carb chicken casserole is hearty and satisfying. You'll love the layer of bubbling white cheddar cheese on top!
Try this easy and quick cheesy cauliflower taco casserole made with ground turkey or beef, cauliflower rice, keto-friendly, and low carb.
Riced Cauliflower Pizza Recipes for Keto
This Spinach and Ricotta Cauliflower Crust Pizza recipe are tasty, low carb, and super easy to make. Add it to your keto menu planning this week!
This Cauliflower Lasagna is gluten-free, low carb, keto-friendly, and has the best taste and texture. This is low-carb recipe may even be better than the real thing!
If you really want to make dinner easy, pick up these pre-made cauliflower pizza crusts and just add your own toppings.
The Best Take Out Replacements Using Riced Cauliflower
Skip the carbs and takeout! Enjoy our Cauliflower Chicken Fried Rice Recipe tonight! Ready in under 30 minutes, packed with veggies, and Whole 30-friendly!
This keto jambalaya is made with chicken, sausage, and shrimp. Cauliflower rice replaces starchy rice for a delicious meal with Cajun flair.
The incredible perfect taste of a homemade Keto-Friendly Sushi Rolls Recipe, will finally help you with your craving for sushi.
Bursting with flavor, this Mexican Cauliflower Rice is a crowd pleaser! Perfect for anyone following a low-carb diet and for anyone who just happens to love Mexican Rice (Spanish Cauliflower Rice)!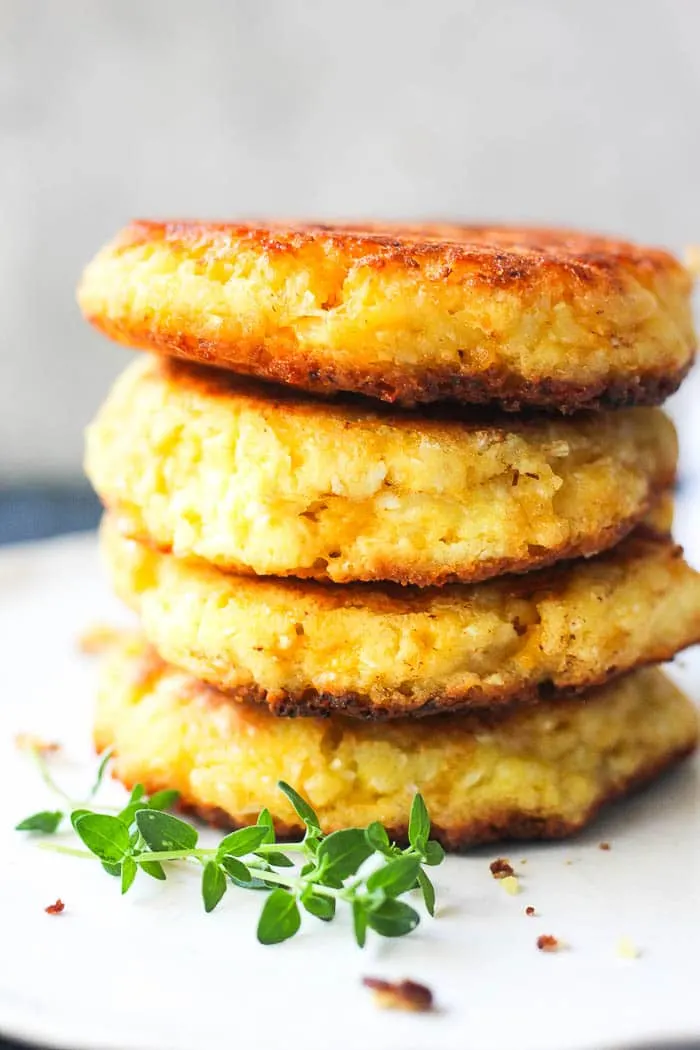 Riced Cauliflower Recipes for Breakfast
Try these easy and quick low-carb keto cauliflower pancakes for your next breakfast! Eat them on the go, in the car or put them into your lunch box and take them with you to work.
Breakfast Cauliflower Fried Rice is a delicious low carb, whole30 & paleo-friendly meal everyone will love! Made in under 20 minutes – it's simple & yummy!
These super easy Cauliflower hash browns are the perfect alternative to traditional potato hash browns. The perfect addition to your keto-friendly breakfast.
Low carb and easy to make for a protein-rich breakfast, lunch, or dinner, this Southwest Protein Bowl has it all. Spiced beef, cauliflower rice, and a jammy egg makes this recipe easy and delicious.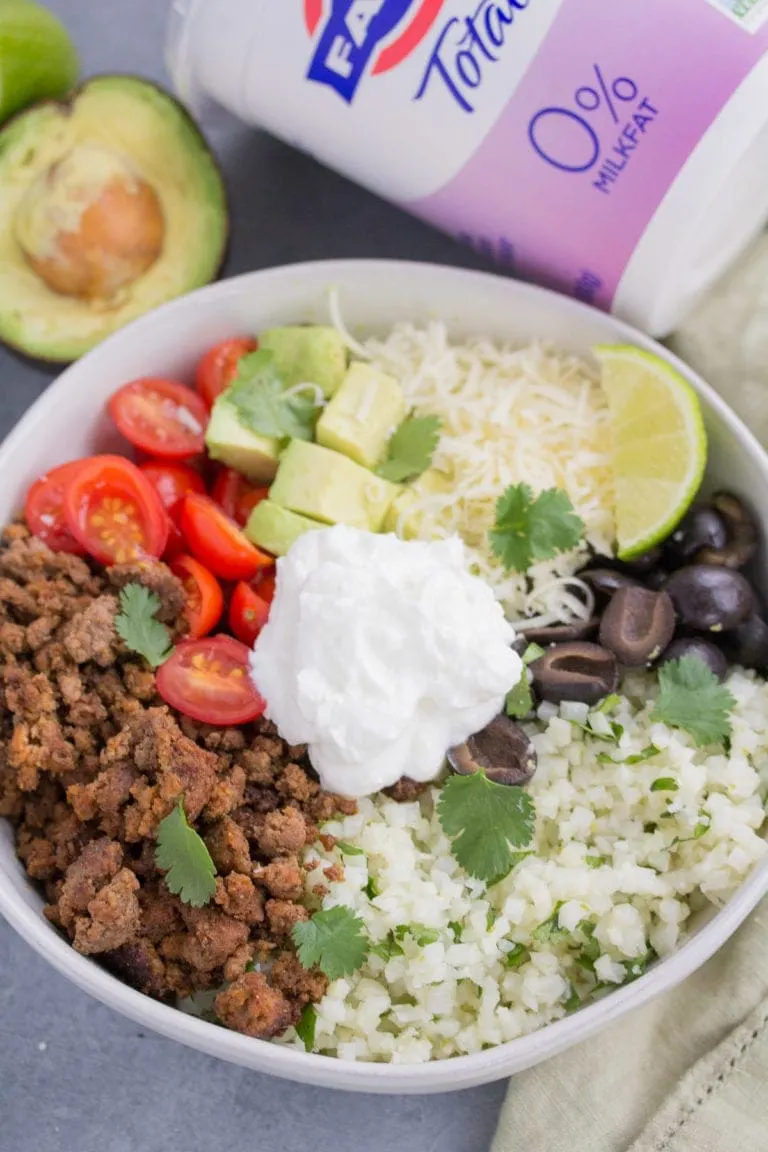 Unique Riced Cauliflower Recipes for Keto
Taco Cauliflower Rice Bowls are a delicious low carb, keto lunch or dinner! Naturally gluten-free and perfect for meal prepping or a quick meal
Pesto Cauliflower Rice Bowls are backed with flavor from the pesto and sun-dried tomatoes, and this dish comes together in just 15 minutes!
Low in carbs but full of flavor, Chicken Fried Cauliflower Rice is on the menu tonight! This healthy version of the popular takeout dish is packed with protein and vegetables. It's so filling and delicious, you won't even miss the carbs!
Cilantro lime rice is so easy to make in the instant pot. This keto-friendly dinner will become a staple in your home.
Cauliflower Tabbouleh is totally grain free and gluten-free because it's made with cauliflower rice! Simply add in some fresh herbs and veggies, then toss with a garlic and lemon vinaigrette. This dish is bursting with all the wonderful flavors of the classic dish!
One-pot Keto Shrimp Creole with Cauliflower Rice is healthy, hearty, and delicious! Easy and quick to make on weeknights but fancy enough for guests.
This Balsamic Grilled Tofu feels indulgent but is crazy healthy for you. Add in some cauliflower cilantro rice and avocado to this grilled tofu and you have yourself an amazing meal! Oh… and don't forget a touch of Sriracha Mayo to add in a little pop to the dish.
This Chicken and Chorizo Paella is the perfect keto-friendly dish for the whole family. Simple ingredients, loads of flavor, and ready in under 60 minutes!
You'll love this Cauliflower Rice Caprese with tomatoes, mozzarella, basil, and balsamic glaze! It takes just seven minutes to make and is so easy and delicious!
One Pan Meal Cauliflower Rice Recipes for Keto
If you are looking for High Protein Low Carb Dinner Ideas this Cheesy Chicken and Rice Skillet is perfect for a low carb diet. This recipe comes together with chicken breast, cream cheese, spices, and butter in a large skillet.
This keto-friendly one-pan meal can be made in under 15 minutes and this is a main dish the whole family will love!
This 4-ingredient buffalo turkey cauliflower skillet makes a quick and easy, healthy dinner and doubles as a great meal-prep option for the week!
If you're looking for healthy ground turkey recipes for dinner then you're going to love this one pan turkey taco skillet! It's perfect for keto meal prep too!
This cauliflower rice stir fry is loaded full of fresh vegetables as is a delicious low carb easy weeknight meal. Made with shredded chicken, zucchini, mushrooms, and cauliflower, this healthy one-pan meal is ready to serve in just 20 minutes.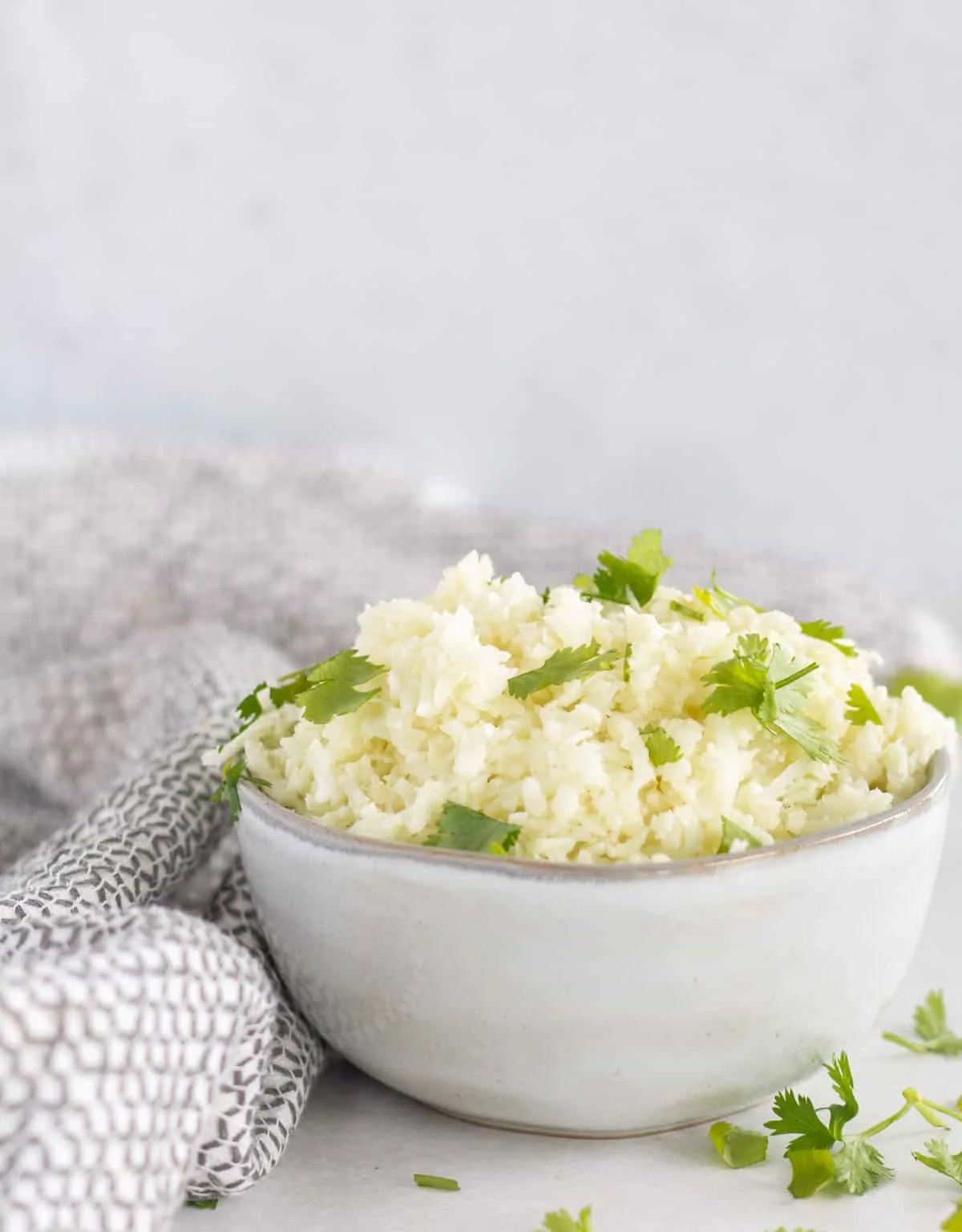 Riced Cauliflower Side Dish Recipes for Keto
Looking for an easy Keto side dish recipe? You are going to love this Easy Cheesy Cauliflower Rice Recipe. With just a few ingredients you can have this Keto Cheesy Cauliflower Recipe on the table in no time!
Savory curry spices along with sweet raisins, toasted almonds, bright zesty lime juice, and fresh herbs create a wonderfully delicious and easy one-pan Indian inspired side dish.
This keto broccoli cauliflower rice casserole makes the perfect keto side dish. Fresh broccoli and cauliflower rice come together in a gluten-free cheesy homemade sauce for a healthy side dish the whole family will love!
Upgrade your classic cauliflower rice keto-friendly side dish with garlicky ghee! This dish is fast and simple and backed with good fats and delicious garlic flavor.
An easy, step-by-step tutorial on how to make perfect fresh or frozen cauliflower rice (keto rice!) to use in all your favorite recipes. Start with raw cauliflower, add fresh herbs if available, use olive oil or avocado oil to create your own cauliflower rice.
Add in your favorite soy sauce for a simple burst of flavor.
Enjoy a Creamy Keto Mashed Cauliflower Recipe that tastes like the real thing with minimal grams of carbs. This recipe shares the best way to use frozen rice, fresh riced cauliflower or a fresh head of cauliflower and a food processor to make the best low carb mashed potatoes.
Enjoy a flavorful creamy dish thanks to the help of sour cream and parmesan cheese. You can easily customize this recipe by adding in your favorite flavors like green onions, garlic, or your favorite keto-friendly gravy.
Tips for Making the Best Riced Cauliflower Recipes
All of these recipes are best when served fresh, just like real rice, but if you want to double your recipe and reuse last night's leftovers, be sure to place cauliflower rice in an airtight container for storage.
It can also make a big difference to allow the cauliflower rice to fall to room temperature before storing. This will limit some of the moisture
When buying cauliflower from the grocery stores produce section it may be helpful to pick up a box grater as well. This makes creating replicas of your favorite brown rice, parmesan cauliflower rice recipe, dirty rice, and white recipes easier.
Using frozen cauliflower rice is my favorite way to create a quick recipe because it limits the steps needed to make a keto-friendly meal. The already riced cauliflower allows you to steam the rice right in the bag it comes in and limits the number of dishes needed to make a delicious meal.
Want More Keto Friendly Low Carb Dinner Recipes?
This Instant Pot Roast Beef and Gravy is a great main dish that can be made easily using the Instant Pot.
If you are looking for a quick meal that is bursting with flavor, this 15 Minute Pepper Steak Stir Fry is the perfect one-pan meal.
If you love your air fryer as much as I do, then you have to try this BBQ Air Fryer Baby Back Ribs recipe or these Air Fryer Burgers.
Another great recipe that can be made in less than 15 minutes is this Low Carb Chicken Zucchini Alfredo Skillet.
This Easy Low Carb Dinner Cheesesteak Skillet is another 15-minute keto dinner that can be made in one pan.
Try the best gluten free pumpkin bread and these 57 low carb dinner ideas for the whole family.
You may also enjoy these informative posts to help you on your keto journey.
Thanks for checking out these recipes, leave a comment letting me know what your favorite low-carb riced cauliflower recipe is, and tell me which ones you have tried. Don't forget to follow along on social media and subscribe to the free newsletter so that you never miss a post again.