This shop has been compensated by Collective Bias, Inc. and The Coca-Cola Company. All opinions are mine alone.#BestSummerBBQ #CollectiveBias
The grilling season is finally here and I am excited to share one of my favorite recipes, lemon soaked BBQ pork chops.
I love when my husband cooks on the grill! Not only does it give me a night off from cooking but it always tastes amazing and he looks good doing it! This past weekend we were lucky enough to get together with some of our family and serve up a tasty recipe for the most delicious BBQ Pork Chops I have ever had!
Let me tell you how this deliciousness went down. First we headed to Sam's Club to pick up our ingredients. While we were there my mom knocked over a kayak, my daughter acted like she ran the show, and the both of them ate as many samples as they could get their hands on.
Meanwhile, my husband and I picked up the thickest pork chops I have ever seen, a couple bottles of Simply Lemonade, KC Masterpiece® BBQ Sauce Mix & Dry Rub, and some charcoal.
I was most excited to try out the new product KC Masterpiece® BBQ Sauce Mix & Dry Rub. It's so new that it hadn't even made it's way to the shelf next to the other KC Masterpiece® products yet.
After I got all of my supplies I headed home to start my marinade for our upcoming BBQ with the family. My brother just moved out to Iowa recently so a get together was in order and I wanted to make sure everything was perfect.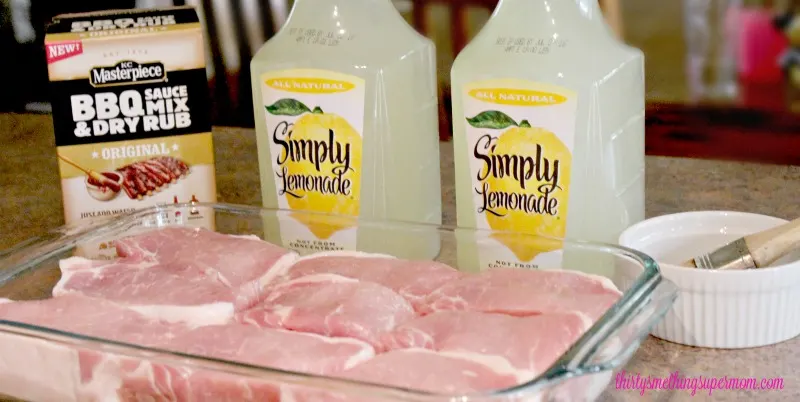 I placed all of the pork chops into a glass dish and poured about 2 cups of Simply Lemonade® into the container. I covered it up and stored it in the refrigerator overnight.
When it was time to light the grill I began the next step in my new favorite recipe, mixing the KC Masterpiece® BBQ Sauce Mix & Dry Rub with Simply Lemonade® to make a sauce.
I grabbed the pork chops out of the refrigerator, drained the excess juice and spread the mixture on top.
Once all of the pork chops were covered, I handed the meat off to my husband and waited for him to grill them to perfection.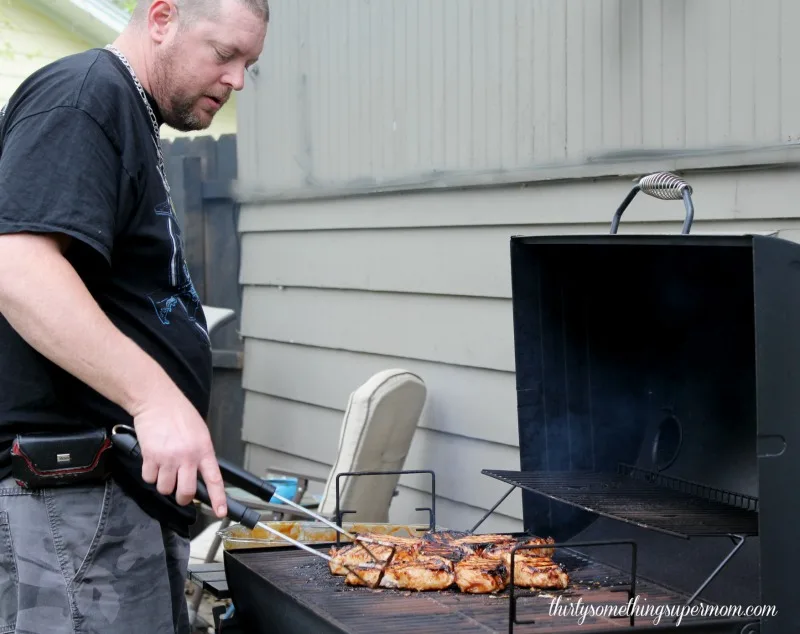 These pork chops were the thickest cuts my husband and I had ever seen, so your cooking time will vary depending on thickness, we cooked these for about 25 minutes.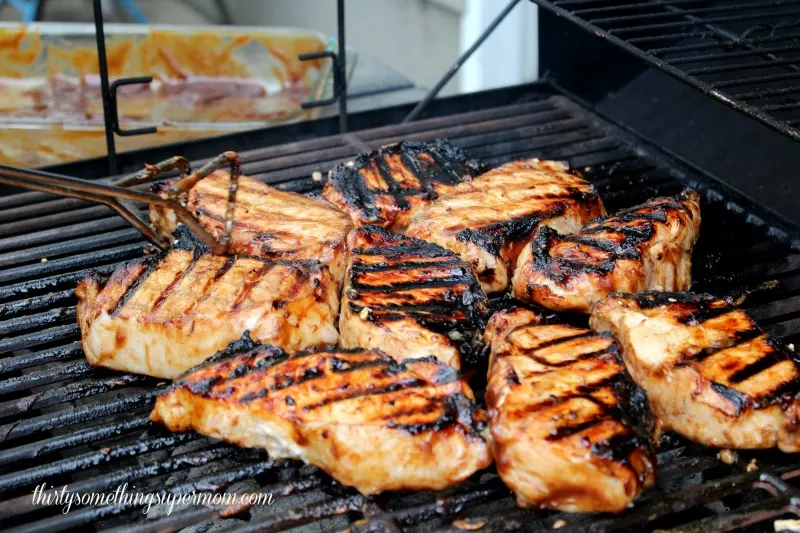 While they were grilling, my family got a chance to talk, goof around, and play a game of football. This is kind of a right of passage for us because whenever my family got together for a Summer BBQ when I was a kid, we always played football. I used to love tackling my sister and anyone else who had the guts to cover me during those games.
Nothing brings a family together like some good food, a game of football, and a chance to battle head to head. This game was a little more calm than the ones I remember from back in the day but fun none the less. The only battle at this get together was going to be who gets the last pork chop. I could see my mom and daughter creeping closer to the grill so I knew the BBQ Pork Chops were almost done.
We flipped them halfway through cooking and after the 25 minutes were up, we all sat down to eat. It was a beautiful day for a bbq and family get together, I can't wait to do it again.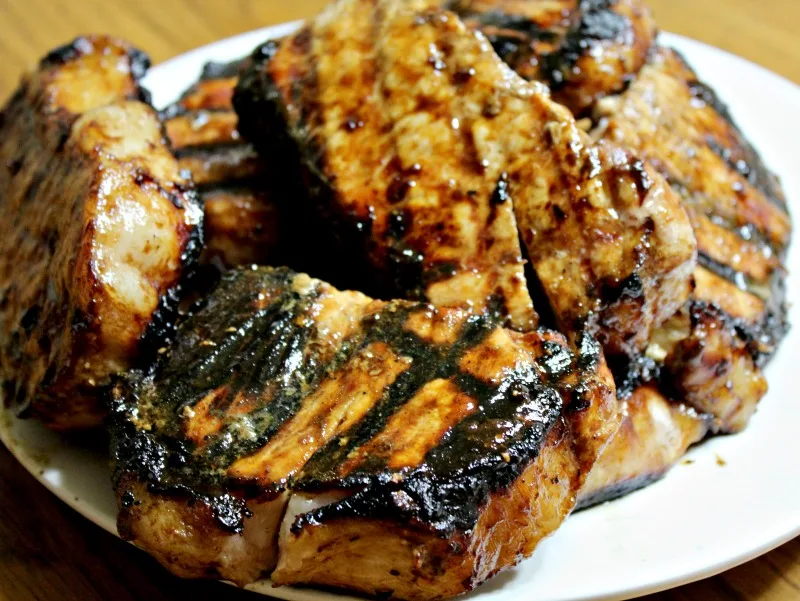 I served the BBQ Pork Chops with a baked potato and a glass of Gold Peak® Tea. After trying these out I think everyone is wondering when we get to do it again.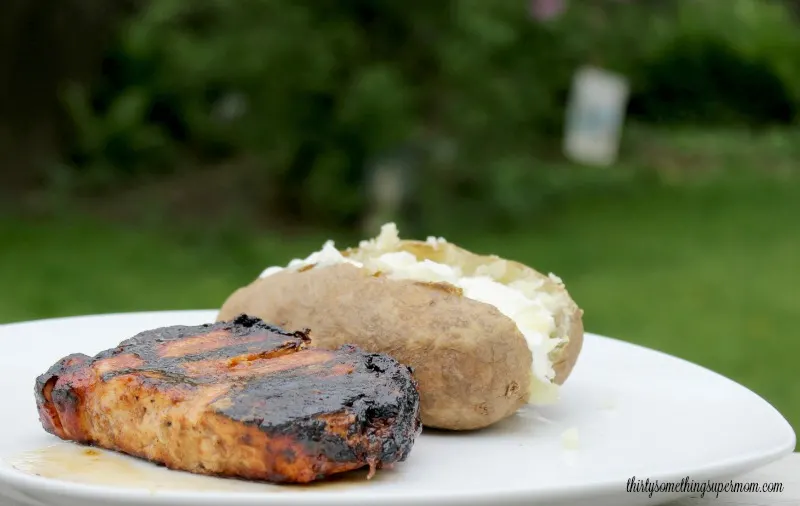 You have to try this recipe at one of your Summer get togethers, it's so yummy. Be sure to check out these Coca-Cola & KC Masterpiece products at Sam's Club!
Don't Miss These Posts
You won't want to miss this recreation of merichka's poor boy sandwich recipe. If you want to try a low carb recipe that is sure to please the whole crowd and be done in under 15 minutes you have to try one of my favorite low carb dinner idea, an easy skillet cheesesteak recipe.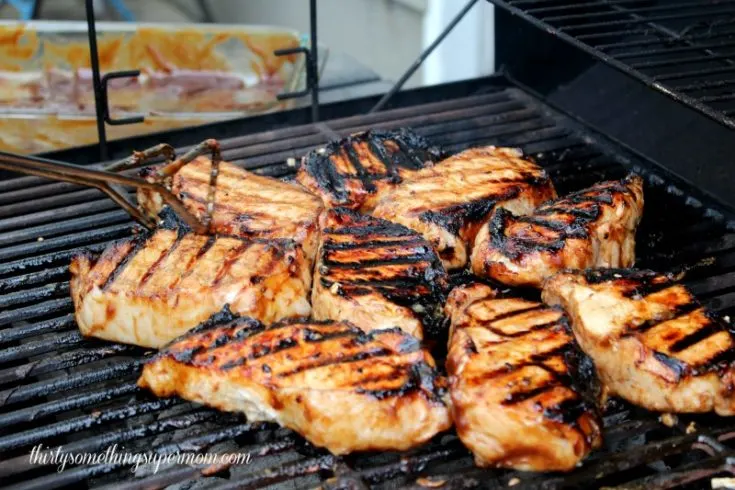 Lemon Soaked BBQ Pork Chops
Ingredients
2 and 1/2 Cups Simply Lemonade® (Divided)
1 Package of KC Masterpiece® BBQ Sauce Mix & Dry Rub
9 Pork Chops, the thicker the better
Instructions
Place all pork chops in a glass dish along with 2 cups of Simply Lemonade® and store in refrigerator overnight.
Cook on the grill with indirect heat.
We flipped them halfway through cooking and after the 25 minutes were up, these pork chops were done.