When it comes to comfort food, I don't know if it gets any better than this Dutch Oven Cheesy Potatoes Recipe.
This dish is loaded with gooey cheese, creamy butter, and topped with a delicious flavor that will have everyone going back for seconds.
Not only is this recipe delicious but it is so easy and serves the whole family with little effort, you can't go wrong!
I love making Dutch Oven Recipes because when cooking a big meal for my family it seems that there is always something that is pulled out of the oven faster than something else which leads to cold side dishes.
With the dutch oven, I don't have to worry about that because it retains its heat for a long time and it comes with its own lid, super convenient.
When I first made this Dutch Oven Cheesy Potatoes Recipe, I was just experimenting with different ingredients that I knew my whole family would love but had never cooked anything in the dutch oven yet.
It turns out that using the dutch oven is super easy and so far I have not found a downside so expect many more dutch oven recipes to come!
The first step in making these Dutch Oven Cheesy Potatoes is to peel 6 large potatoes, rinse them thoroughly and then using a mandoline slicer, cut the potatoes into thin slices.
Boil the potato slices in a pot of water for about 15 minutes or until softened.
Preheat your oven to 375 degrees.
Dump the potatoes into a dutch oven and begin adding the other ingredients.
The first addition should be the milk, butter, and cheese.
The next addition to your dutch oven cheesy potatoes recipe is the breadcrumbs and Italian seasoning.
Stir the mixture and then sprinkle seasonings on top.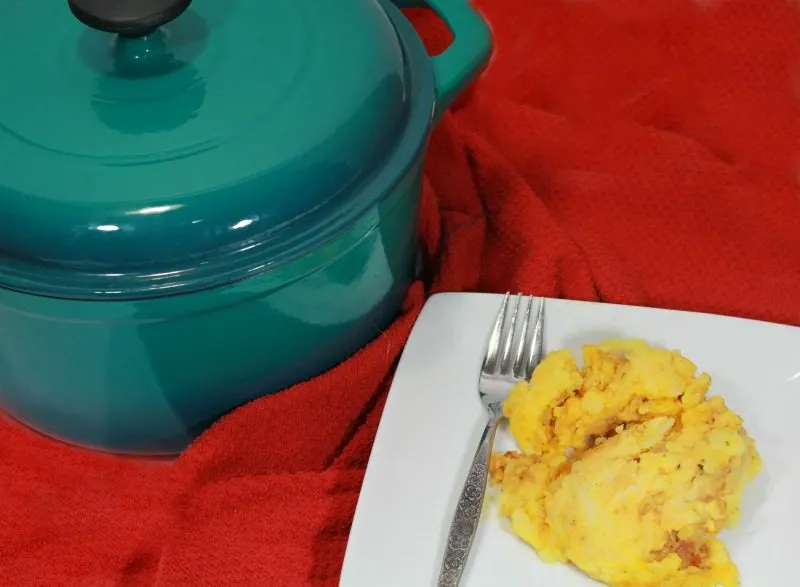 Serve and enjoy this Dutch Oven Cheesy Potatoes Recipe then come back here to let me know your thoughts.
The possibilities are endless when it comes to add-ins, I think I may try adding some bacon, a little ham for Easter, or even some veggies like broccoli or peas to this delicious Dutch Oven Cheesy Potatoes Recipe.
Dutch Oven Cheesy Potatoes Recipe
Ingredients
6 Large Potatoes
1/2 Stick of Butter
1/4 Cup of All Purpose Flour
1/2 Cup of Milk
8 Ounces of Shredded Extra Sharp Cheddar
1/2 Cup of Italian Bread Crumbs
8 Ounces of Cream Cheese
A couple of shakes of Paprika & Salt, Pepper, and chives
1/2 Teaspoon Italian Seasoning
Instructions
Peel 6 large potatoes then cut into thin slices using a mandoline slicer. Preheat your oven to 375 degrees and begin boiling the potatoes in a pot of water until soft. This can take anywhere from 10-20 minutes depending on the size of your slices.
Once soft pour them into a dutch oven.
Add the cheese and milk, stir.
Add in the breadcrumbs, flour and Italian Seasoning.
Stir.
Then sprinkle seasonings on top.
Bake for about 15 - 20 minutes
Nutrition Information
Serving Size
1
Amount Per Serving
Calories

3420
Total Fat

221g
Saturated Fat

123g
Cholesterol

592mg
Sodium

3348mg
Carbohydrates

287g
Sugar

62g
Protein

106g