This Raspberry Creamsicle Recipe contains affiliate links which means that if you make a purchase after clicking a link I will receive a small portion of the sale at no additional cost to you.
This raspberry creamsicle recipe is going to be your favorite keto dessert. They are low carb, gluten-free, delicious, and so easy to make!
You may be wondering why I would choose to post a recipe for low-carb popsicles this late in the year. This is usually a treat reserved for the hotter months but my garden has been producing raspberries at an impressive rate so I wanted to make use of them right away.
Freezing them seemed like the perfect way to use up a bunch of raspberries without seeing any go to waste. This way my whole family can enjoy the flavors of these delicious raspberries throughout the Fall.
When I found out that my favorite brand of low-carb raspberry creamsicles was discontinued I thought we wouldn't be able to enjoy them anymore since I couldn't find another brand of raspberry creamsicles near me.
That was when I knew that I had to try my best to create my own low-carb raspberry creamsicle recipe.
The best part about this recipe is that it is so easy to make and whenever you are craving a sweet treat you can just pull one out of the freezer and enjoy it!
How to Make this Raspberry Creamsicle Recipe
This easy keto popsicle comes together with just a few ingredients. The most important ingredient of course is the raspberries. If you don't have a garden to harvest you can head to the grocery store to pick up raspberries for this simple low-carb recipe.
The other ingredients used to make these keto popsicles are stevia, cream cheese, and heavy cream. Simple enough, right?
Scroll to the recipe box at the end of this post for the exact measurements used in this creamsicle recipe.
Add all of the ingredients to a food processor and blend until well combined.
Scoop the raspberry cream into popsicle molds, I use these popsicle molds, but you can use whatever popsicle molds you have on hand.
What Is the Best Way to Blend this Raspberry Creamsicle Recipe?
You can use a blender if that is your go-to kitchen appliance but I use this food processor for most of my recipes. It does a great job breaking down the raspberry seeds and it is super easy to use.
I like the limited amount of buttons on it because all I really need is a low, high, and pulse option, which are the only ones on this machine. Simple, just like this recipe.
When chopping vegetables I usually use this food chopper because it involves less cleanup since it doesn't have as many removable parts. I have yet to use it for this recipe but I bet it would do a great job.
So if you are looking for a more affordable option, this food chopper is an amazing value. Keep in mind that nobody has ever paid me to say that, I actually use this product and all of the products linked to in this post.
If I use it and talk about it, you can bet that it is worth every penny. I don't like clutter around my kitchen so I try to keep my kitchen gadgets limited to what I actually need and I hate to waste money.
I would never recommend an inferior product, if I tell you it's a good value, it must be!
How Long Do Ice Pops Take to Freeze?
Freeze this recipe for at least 4 hours, the time will vary depending on the temperature of your freezer. These popsicles are best when completely frozen because it allows you to enjoy every bite without dripping.
Plus the creamy texture of these low-carb popsicles is perfect for licking or chewing, or however, you enjoy eating your popsicles most.
How Long Will Popsicles Stay Good?
These popsicles are best if enjoyed within three months of freezing. You may be able to keep them longer but this is a safe amount of time to store them in your freezer.
Be sure to store them in an airtight container. The popsicle molds themselves are fine for storage for a short period of time but if you decide to keep your popsicles for months at a time be sure to place them into a container that is both freezer safe and airtight.
I don't know what happens when you eat expired popsicles so it is best to just stay under that three-month mark.
Plus, this recipe makes 6 popsicles and if you share them, they really won't last long. They are so good and for those of us following a low-carb diet, you know how hard it can be to come by a delicious keto treat.
So feel free to keep this one to yourself and not share it with anyone!
More Easy Keto Dessert Recipes
I love to create low-carb recipes that are easy to make and I especially love creating easy recipes that don't require a lot of ingredients. As long as I am not sacrificing flavor in my opinion an easy recipe that doesn't have a lot of steps is always the way to go.
Some of the most popular easy low carb dessert recipes on this site are these Keto Friendly Peanut Butter Cups and this Easy Keto Chocolate Ice Cream.
If you are obsessed with your air fryer like I am mine, then these keto desserts made in the air fryer are a must try!
Don't forget to sign up for the free newsletter and follow along on social media so that you never miss another easy low-carb recipe again!
Have you tried this recipe? I would love to hear your feedback. Please leave a comment letting me know how this recipe worked out for you. Did you alter it in any way? I would love to hear how that worked out.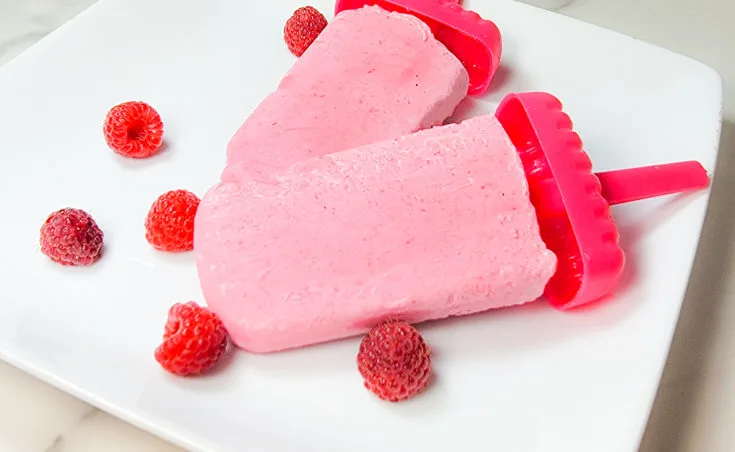 Raspberry Creamsicle Recipe Low Carb
Instructions
2 Cups of Raspberries

1/3 Cup of Heavy Cream

1/4 Cup of Stevia

8 Ounces of Cream Cheese
Notes
Add raspberries, stevia, heavy cream, and cream cheese to a food processor. Mix until well combined. Scoop into popsicle molds and freeze for 4 hours.