This recipe sharing a guilt-free dessert recipe for cacao strawberry peanut butter ice cream contains affiliate links. This means if you make a purchase after clicking a link, I will receive a small portion of the sale at no additional cost to you.
I have been meaning to try cacao butter for quite some time and while I was enjoying a free Prime membership on Amazon
, I decided to reap the benefits of free shipping and order some.
I knew I wanted something sweet to mix it with so I decided to make more guilt-free desserts. This Cacao Strawberry Peanut Butter Ice Cream is the perfect dessert because it is sugar-free, lactose-free, gluten-free, and preservative-free.
I could go on but you get the picture, this stuff is stupid healthy.
Even if you aren't on a restricted diet such as SCD, or if you are interested in sugar free foods, or maybe you're lactose intolerant, this is the ice cream for you.
The best part is that you can customize it to your taste buds and leave out some things or add a little more of others but this blend is the perfect creamy flavor for my tastebuds and I think you will like it too.
What you will need:
Melt the cacao butter in the microwave, one minute at a time, stirring in between each heating. It can take a few times in there depending on the container you are melting in. I usually use a ramekin to do this step.
You are going to need a good blender for the next step, I use a Waring Commercial Blender and it has saved me lots of time and is worth the extra money. I used to go through blenders every few months and that added up to more than if I had just bought the good one to begin with.
Add all ingredients to the blender and mix well. Pour into your ice cream maker, I use the KitchenAid Ice Cream maker attachment for my mixer but you can use any ice cream maker to get the same results.
After about 20-25 minutes your ice cream should be the perfect consistency to serve and enjoy.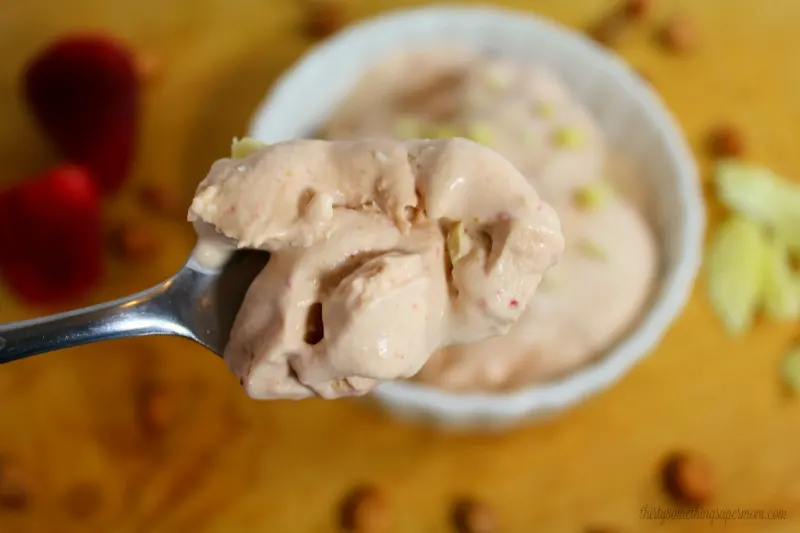 If you are wanting to tweak this recipe for your tastebuds, keep in mind that I added the honey for sweetness, the cacao butter for a nice chocolatey flavor, the bananas and strawberries were added for the perfect consistency and the peanut butter mixes well with the cacao butter.
The coconut milk is the perfect base to begin your recipe and I use it in almost all of my guilt free desserts and ice cream recipes.
What are your favorite ice cream toppings? Have you ever tried Cacao Butter?