This Banana Cream Pie is perfect for those following SCD, Paleo, Gluten Free, Sugar Free or anyone who enjoys a guiltless dessert.
You can learn more about the Specific Carbohydrate Diet, also known as SCD, by clicking here to check out a previous post about the diet.
This banana cream pie is so yummy and the best part is that there is no sugar or gluten so almost anyone can enjoy this dessert.
It's also super easy to make and since it is free of a lot of common allergens, it is the perfect pie to have on hand for any get together, bake sale, or a family dessert.
You can familiarize your self with some of these ingredients or diet types by clicking their names too see photos and descriptions of the products on Amazon through my affiliate links. If you make a purchase after clicking my link, I will receive a small portion of the sale at no extra cost to you.
Most of these ingredients are things you can find pretty easily at the grocery store or even have on hand in your home already. Some of these ingredients may be new to you if you aren't currently following the Specific Carbohydrate Diet, Paleo, or a gluten free diet.
Head over to find out more about Coconut Flour, Cocoa Butter, Coconut Milk, and Gelatin. I have not contacted these companies to find out if all of their ingredients are legal for the Specific Carbohydrate Diet. If you are following this diet for health reasons you may want to reach out to each seller to determine the legality of these products.
Once you have all of your ingredients you can start combing the coconut milk and eggs on medium heat.
Combine the rest of the ingredients in a mixer, adding in each addition slowly and being sure it is mixed in well.
Once the ingredients in the pot are melted and allowed to cool for a few minutes, combine those ingredients into the mixer with the rest.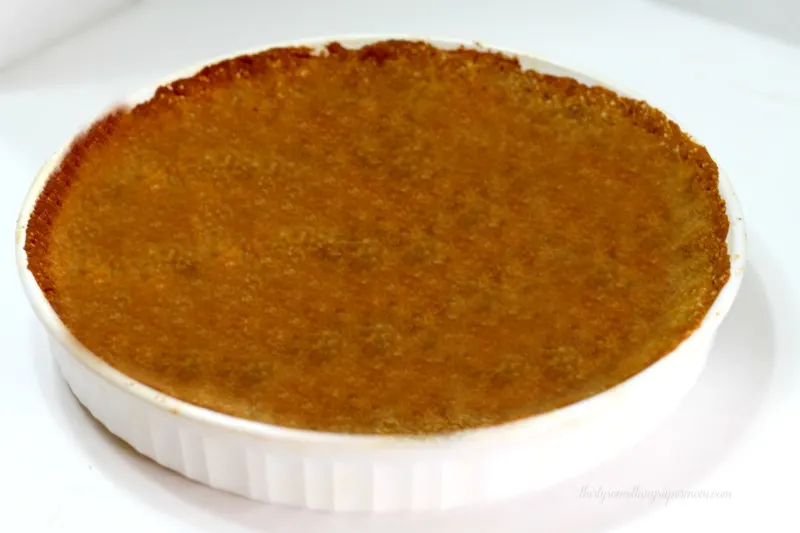 Add the SCD Pie filling into a pie crust that you can find the recipe for here, SCD Pie Crust.
Cover the pie in plastic wrap carefully making sure that the edges have an airtight seal. Add banana slices to the top for a garnish.
Place the pie in the freezer for about a half of an hour and then let it chill in the refrigerator for about 4-6 hours.
Are you following the Specific Carbohydrate Diet, Paleo,Gluten Free Diet, or do you enjoy eating guilt free desserts like this SCD Banana Cram Pie?
SCD & Paleo Banana Cream Pie
Ingredients
1 Teaspoon of Gelatin
3 Tablespoons of Vanilla Extract
4 Eggs
1/2 Cup of Honey
4 Bananas (Separated)
2 Cups of Coconut Milk
1/4 Cup of Butter
1/2 Teaspoon of Cinnamon
1 Tablespoon of Coconut Flour
1/4 Cup of Raw Cocoa Butter
Instructions
Whisk coconut milk and eggs together in a small pot. Simmer on medium heat.
Add honey and cocoa butter to the pot. Continue to stir and let the butter melt.
Once it has melted, add the cinnamon.
Mix all of the other ingredients in a mixer.
Add coconut milk mixture in a little bit at a time and continue to mix until all of the ingredients are incorporated entirely.
Pour the entire contents into a pie crust. Cover with plastic wrap.
Freeze for 30 minutes and then allow to chill in the refrigerator for 4-6 more hours before serving.