This post sharing how to clean the inside of the microwave oven contains affiliate links which means that if you make a purchase after clicking a link, I will receive a small portion of the sale at no additional cost to you.
The microwave oven is one of the most common kitchen appliances which means that it requires regular maintenance to keep microwave messes under control.
Both the exterior of the microwave and the interior of the microwave require regular cleaning to remove stubborn food residue as well as caked-on grime.
I am going to show you the best way to clean the inside of your microwave and how to remove stubborn stains and caked-on food the easy way.
This microwave cleaning hack will have your dirty microwave sparkling fast, no matter how much stuck-on food you may have on the interior of your microwave.
Why this Method is the Best Method
As a food blogger, I spend quite a bit of my time in the kitchen creating recipes and making a mess.
Unfortunately, not all of these messes can be cleaned easily with dish soap or a Mr. clean magic eraser. This is especially true for my built-in microwave which has proven to be more difficult to clean than my previous countertop microwaves.
In an attempt to free up counter space, I installed one of those stainless steel over the range microwaves.
The only downside is that I am fairly short and it's very hard to reach the roof of my microwave to properly clean it so it can easily become a breeding ground for germs.
The good news is that I learned how to clean my microwave the easy way and it actually works!
I've tried many products that claim they will help you achieve a sparkling clean microwave but nothing has worked quite like the vinegar steam trick.
If you don't already know this trick then I am about to blow your mind! This truly is the best way to clean a microwave easily and now that you know the method, this will be the last time you seek out how to easily clean a microwave.
As you can see in the picture, my microwave was in need of some serious cleaning.
This method really works, even in the hard-to-clean spots! It's worth a try if you haven't already attempted this method and I bet you will be amazed at the results.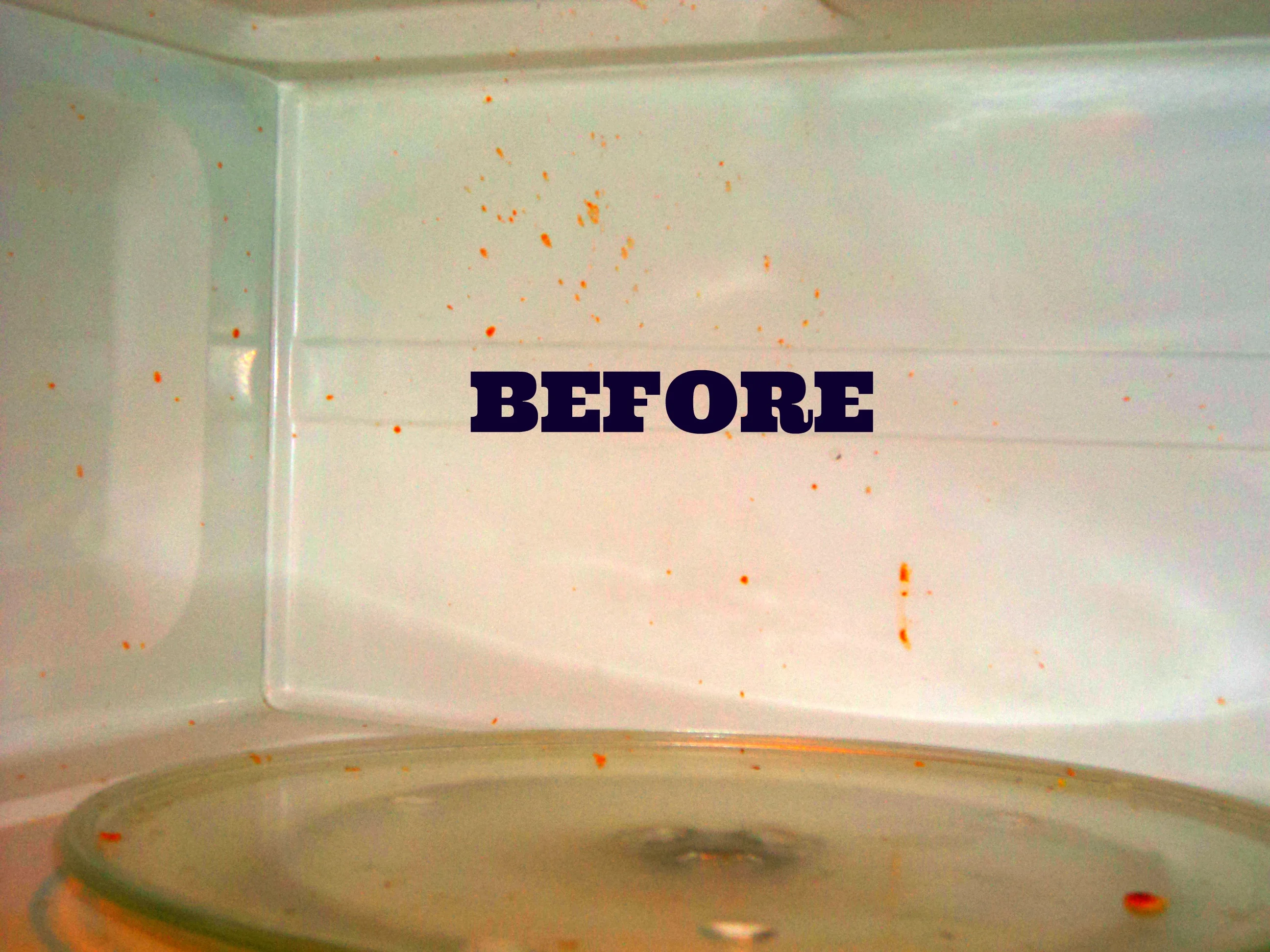 How to Clean a Microwave the Easy Way
I have tried every all-purpose cleaner and commercial cleaner I could get my hands on to remove food debris and tough stains from my microwave but nothing really seemed to do a good job.
Plus, I don't like harsh chemicals so I tried natural cleaning products to clean the microwave interior only to be disappointed with the results.
I then tried a steam cleaning method using a cup of water to get the job done but it seemed that the hot water alone would not provide the thorough cleaning that I wanted.
Then I combined a natural cleaning product with the steam cleaning method and I was able to create a high power way to easily clean the inside of a microwave.
Simple Steps for the Easiest Way to Clean a Microwave
You may not realize how many household items contain a powerful cleaning solution. Lemons and orange slices contain citric acid which can be a powerful cleaning tool.
Baking soda is a mild alkali packed with degreasing power and just a tablespoon of white vinegar can do wonders since it contains acetic acid.
There are many interior surfaces that can easily be cleaned using these common household items.
Vinegar Solution
One of the best ways to remove stubborn spots inside of the microwave is to use a cup of vinegar. If the stains inside of the microwave are not quite as caked on, a simple vinegar and water solution will work.
For an easy clean, start with two tablespoons of vinegar in a bowl of water.
Place the bowl inside and shut the microwave door.
Set the microwave to high and allow it to cook for five minutes. Keep the microwave closed for 3 minutes after the mixture boils. This will allow the steam to build up and attack all of the messes inside of your microwave.
This is an essential part of the cleaning process and you need to give the steam time to cover the entire inside of the microwave.
Baking Soda
Fill a microwave-safe bowl with clean water as well as two teaspoons of baking soda, stir, and then place it on the microwave turntable.
Cook in the microwave for about five minutes and then allow the bowl to sit inside for an additional three minutes.
Use a damp cloth or wet sponge to wipe down the walls, the top of the microwave, and the inside of the door.
Lemon Juice
Fill a microwave-safe bowl with one cup water and the juice from a fresh lemon. You can use one to two lemon halves, depending on the severity of food spills inside.
Pro Tip: Add in a few drops of essential oil if you would like to tackle bad smells inside the microwave. This is also a great way to combat the unpleasant odors of vinegar if you are sensitive to that smell. This is also a great way to remove the burnt smell if you are cleaning up a burnt popcorn mess.
Cook in the microwave for about five minutes and then allow the bowl to sit inside for an additional three minutes. Remove the bowl using oven mitts and then wipe down the inside with a damp sponge or wet paper towels.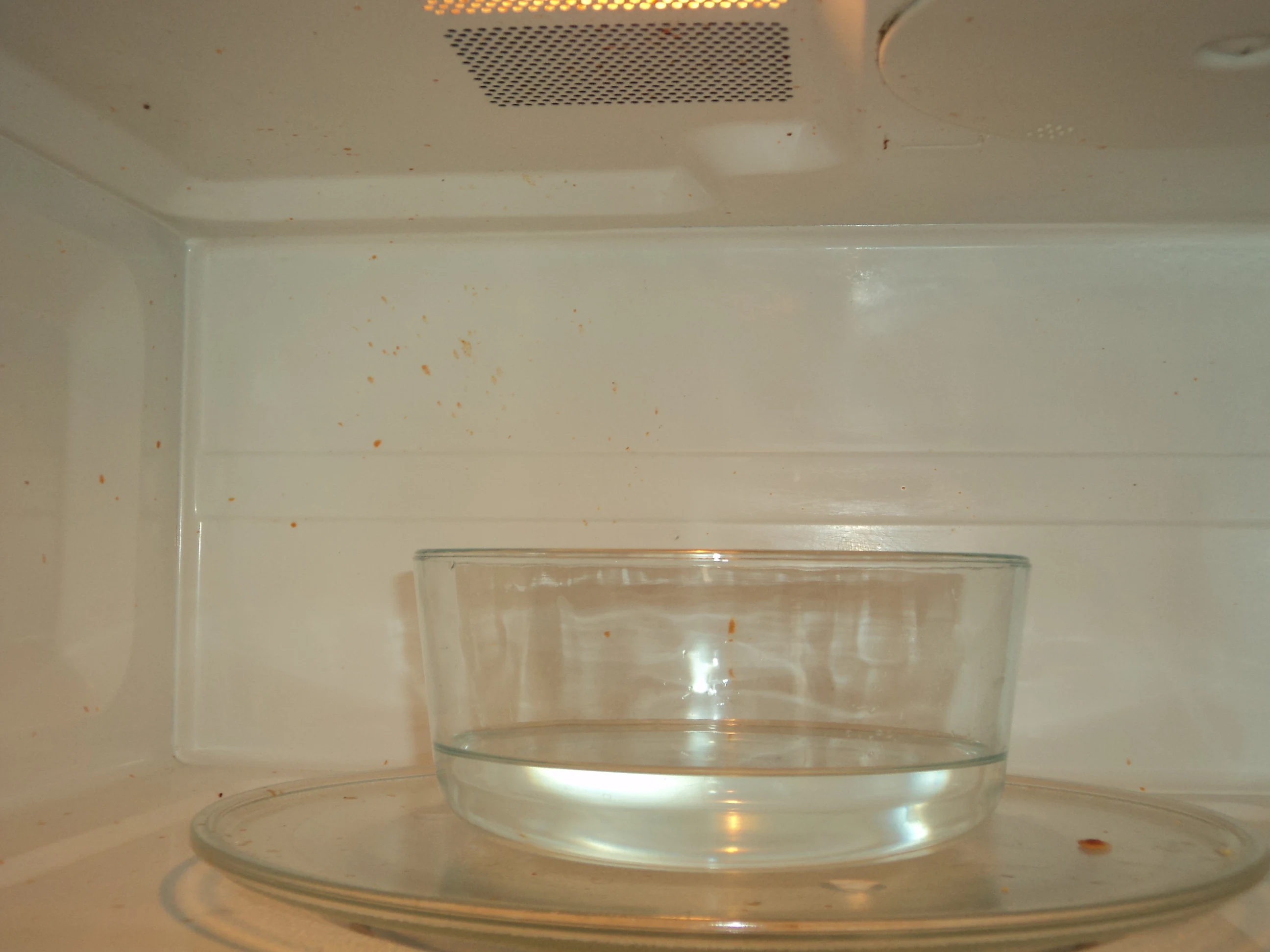 Spot Cleaning the Microwave
For those small jobs that don't require several cups of water or steam to clean you can use equal parts vinegar and water along with a tablespoon of baking soda.
This solution works for cleaning other home appliances such as a washing machine or dryer as well.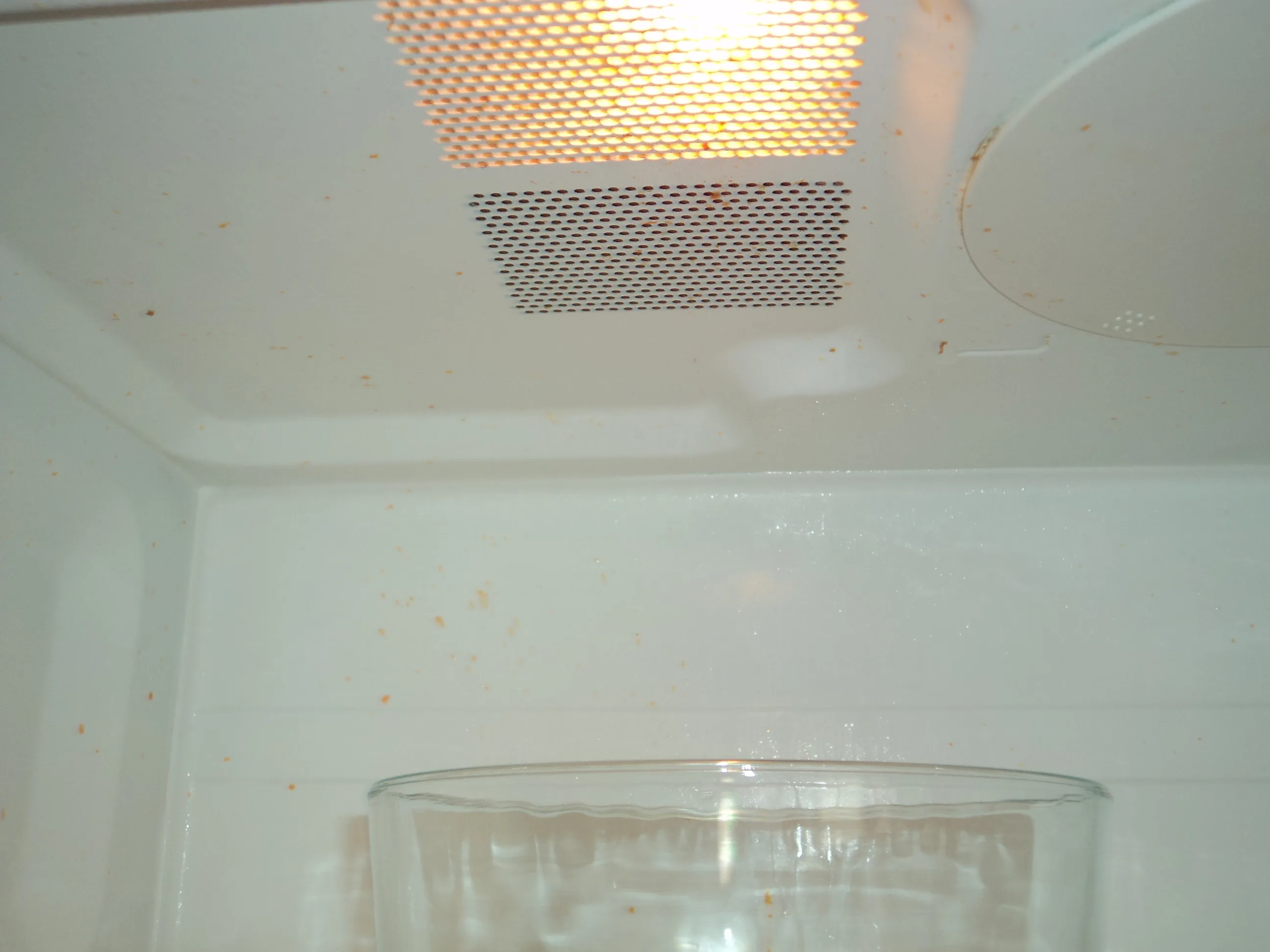 Tips for Keeping the Microwave Clean
The best way to keep the microwave clean is to avoid having food particles stick to the walls in the first place. This isn't always easy but I have a few tips that could help prevent microwave messes.
Use microwaveable bowls with lids when reheating food items that are likely to make a mess such as sauces and other liquids that are more likely to stick to the top of the microwave.
Wipe down the microwave with a damp rag and soapy water after each use.
Keep an eye on the food contents by peaking in from the outside of your microwave while in use. When items begin to boil over take them out of the microwave and stir the contents before continuing to heat.
Use the control panel to ensure you are using the proper settings for each food item to avoid overcooking.
Once I opened the door I took this picture, as you can see before wiping out any of the mess, the steam has already begun to do the cleaning for me!
Remove the bowl while wearing oven mitts and take out any removable parts before cleaning the inside of your microwave.
Then begin wiping down the inside of the microwave with a clean cloth. The grease and spilled food should wipe right off.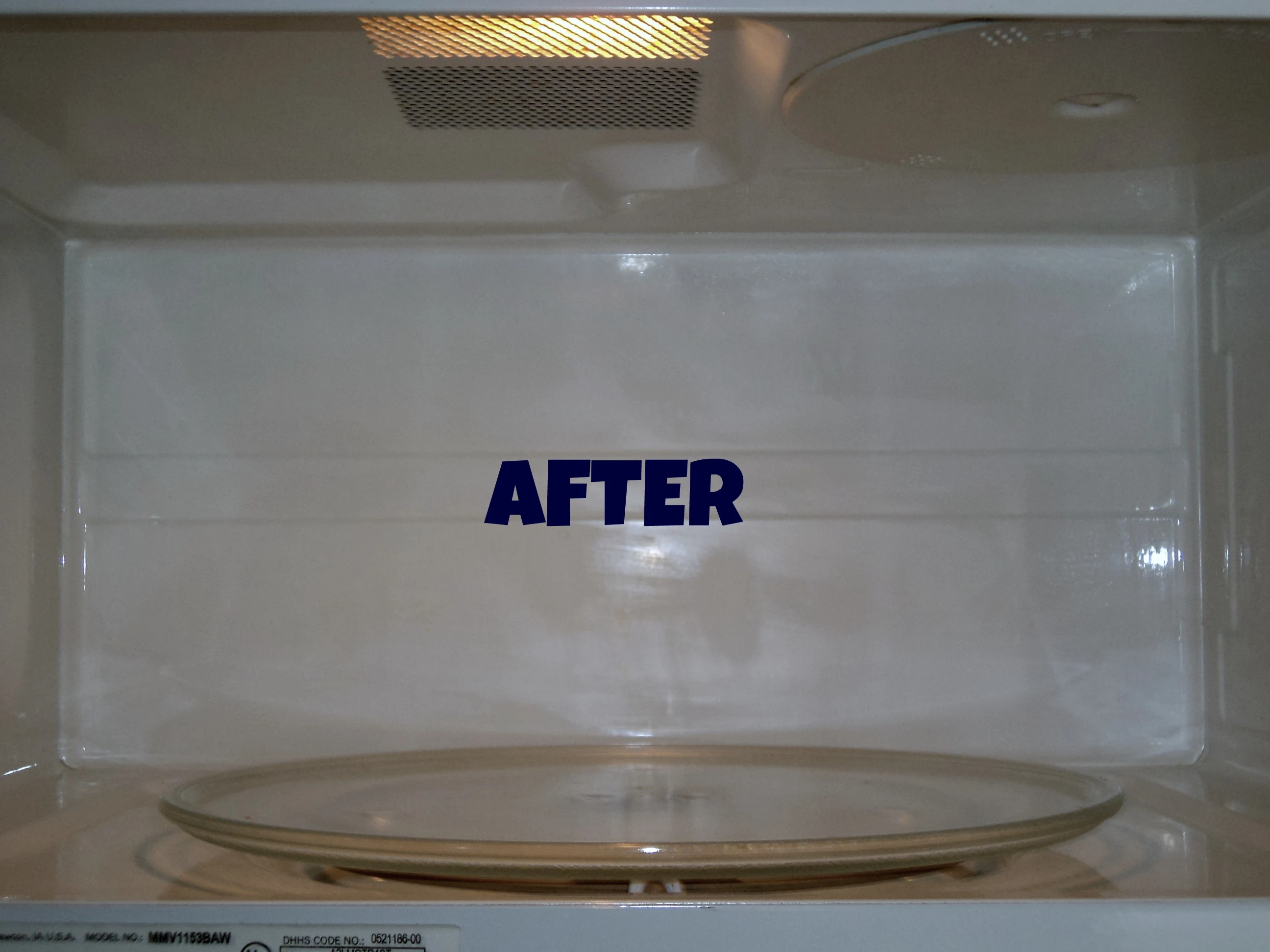 On occasion, there is a spot or two that is just extremely stubborn and for this, just dunk your rag or damp paper towel into the bowl of vinegar water and tackle that hard-to-clean spot. The bowl of warm water can be used to clean any leftover mess that the steam couldn't remove.
This cleaning solution works great for the outside of the microwave too! To leave a nice finish and remove greasy fingerprints be sure to follow up the outside with a dry microfiber cloth or any soft cloth when done.

After trying this, let me know what you thought of this trick. You may also want to check out 7 surprising things your microwave can do and these other easy-to-make DIY Cleaning Products.
If you want to get all of my cleaning hacks and recipes sent straight to your inbox, sign up for the free newsletter, and be sure to follow along on social media so you never miss another post again.