This sugar-free homemade gummies recipe contains affiliate links which means that if you make a purchase after clicking a link, I will make a small portion of the sale at no additional cost to you.
It's so easy to make homemade gummies and they are the perfect keto snack. Low Carb dieters rejoice, this sugar-free gummy recipe is also a zero carb food. I know it can be hard to believe that such a thing exists but it's true, and the best part is that these homemade gummies are delicious, so who needs carbs or sugar?
I tried experimenting with homemade gummies using fruit juice instead of powdered flavoring but it was really hard to keep the carb count down. While that recipe may be a work in progress, this sugar-free gummy candy recipe is perfect just that way it is, and I think you will agree.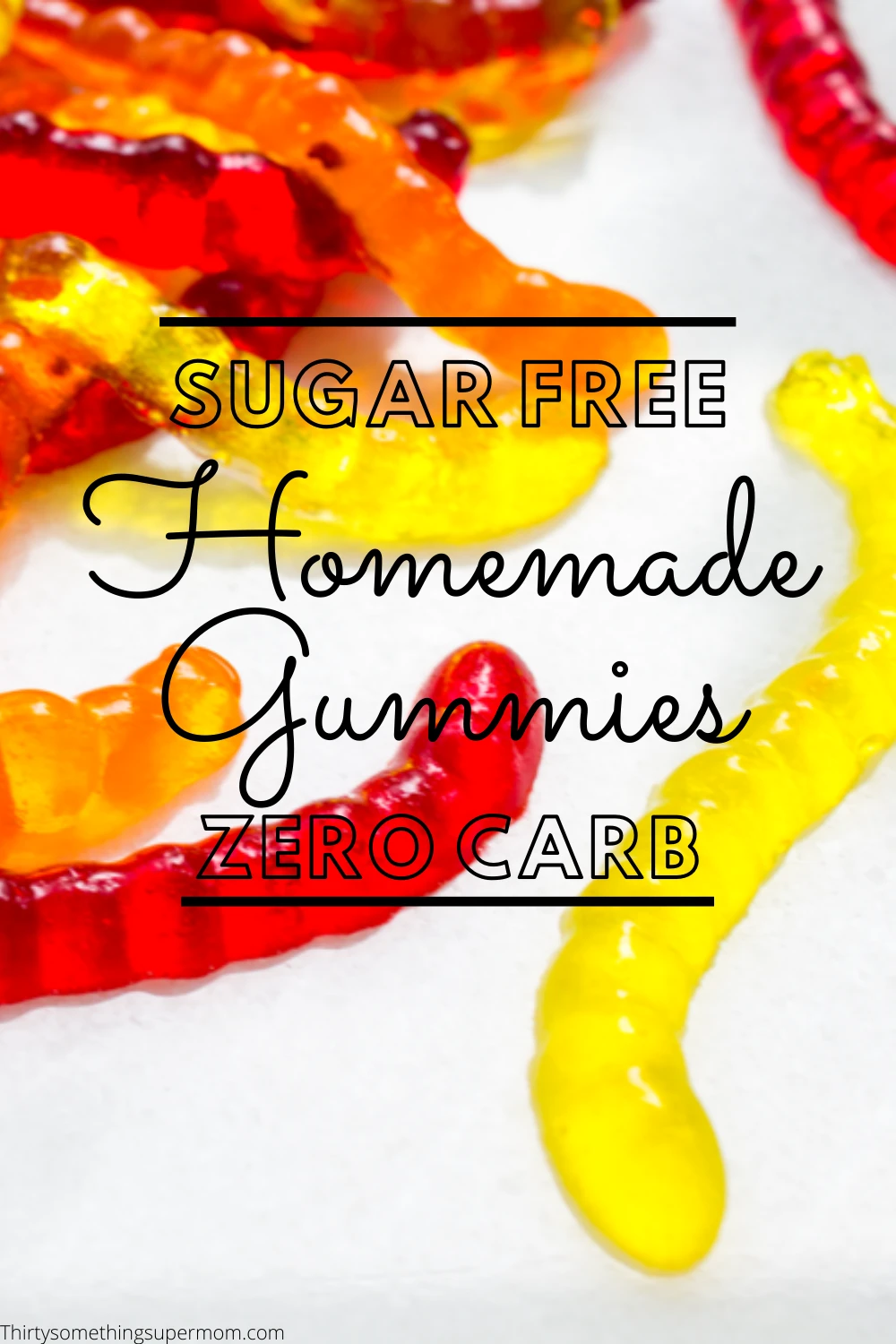 I have always loved gummy candies but ever since I have been eating a low carb diet, it seemed impossible to include them into my diet. I have tried making homemade gummies with stevia and also with monk fruit, and even tried a few of the liquid, keto-approved sweeteners.
After all of the experimenting with the taste and consistency of my homemade gummies, I decided simple is best.
Why add in a bunch of ingredients when you can have a quick and delicious sugar-free snack, that's perfect for a low carb diet?
I love having a go-to recipe for those nights when the munchies hit me out of nowhere. Plus, if I spend the time, making several batches of these homemade gummies, I can enjoy them for as long as they last, which usually is less than a week in my house.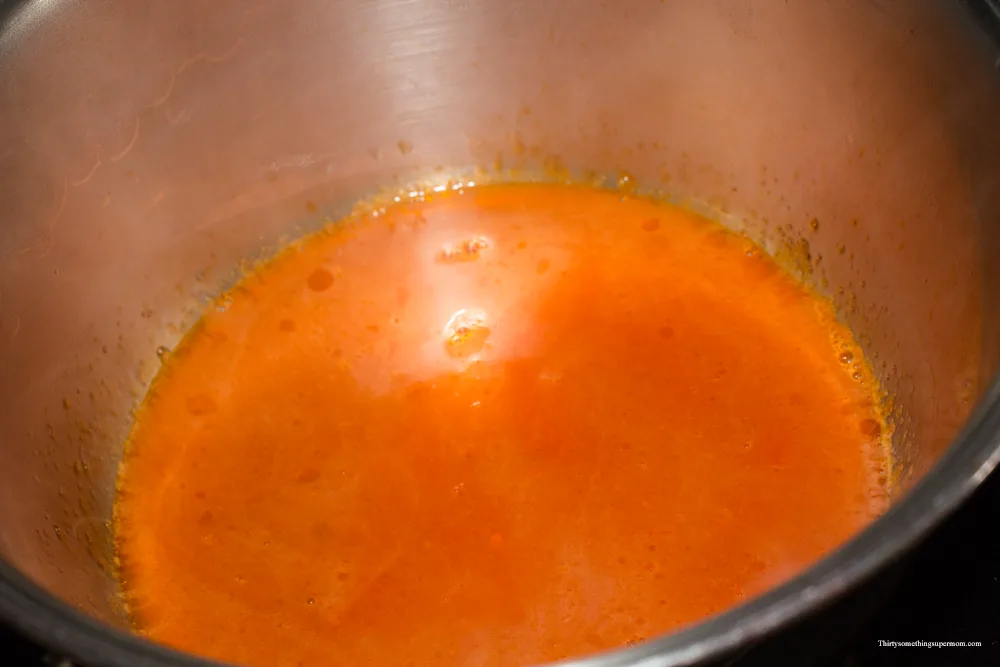 Start Making Homemade Gummies
The first step to making your own homemade gummies is to add a 1/3 cup of water and a packet of sugar-free flavored gelatin to a medium pot. Heat the pot on medium-high while stirring the two together. Once the mixture heats up and it is completely combined, add in the packet of unflavored gelatin.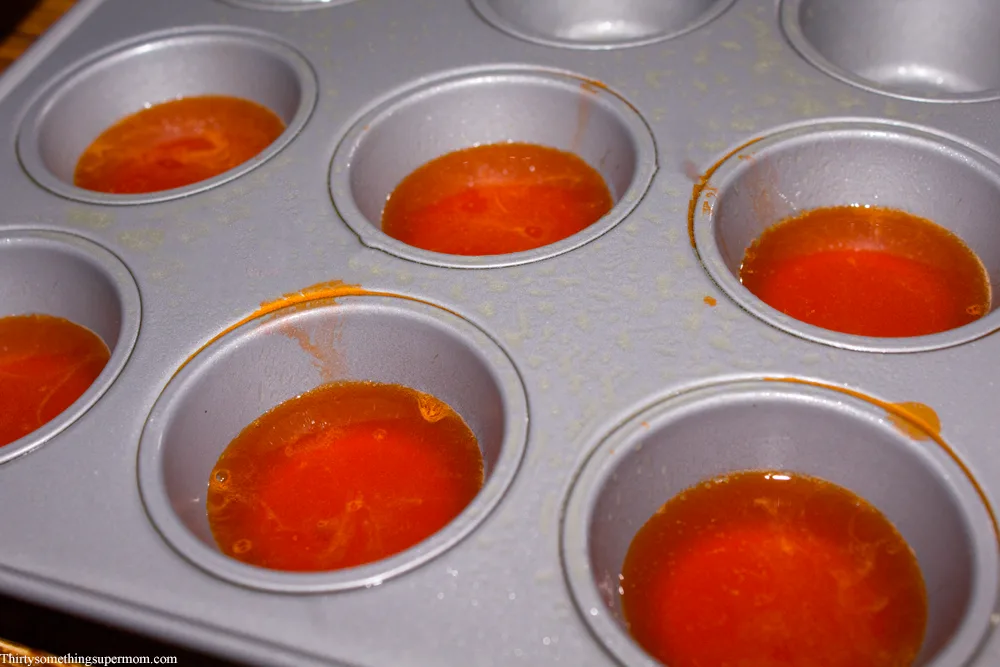 Pick the Shape of Your Homemade Gummies
Once the gelatin packet is mixed in, pour the mixture into candy molds or cupcake tins, sprayed with nonstick spray. You can make keto gummy bears with this silicone candy mold or keto gummy worms with this gummy worm mold.
I usually do most of my experimenting with whatever I already have on hand so lucky for me, I already had a bunch of candy molds although I did spring for the gummy word mold for this post specifically. I was so excited to replicate the candy that I had been craving ever since going on a low carb diet.
It's not exact, but it sure is close, and in my opinion, it is close enough to never have to eat the real thing again. Why subject yourself to all of those carbs and sugar if you can enjoy these homemade gummies, guilt-free?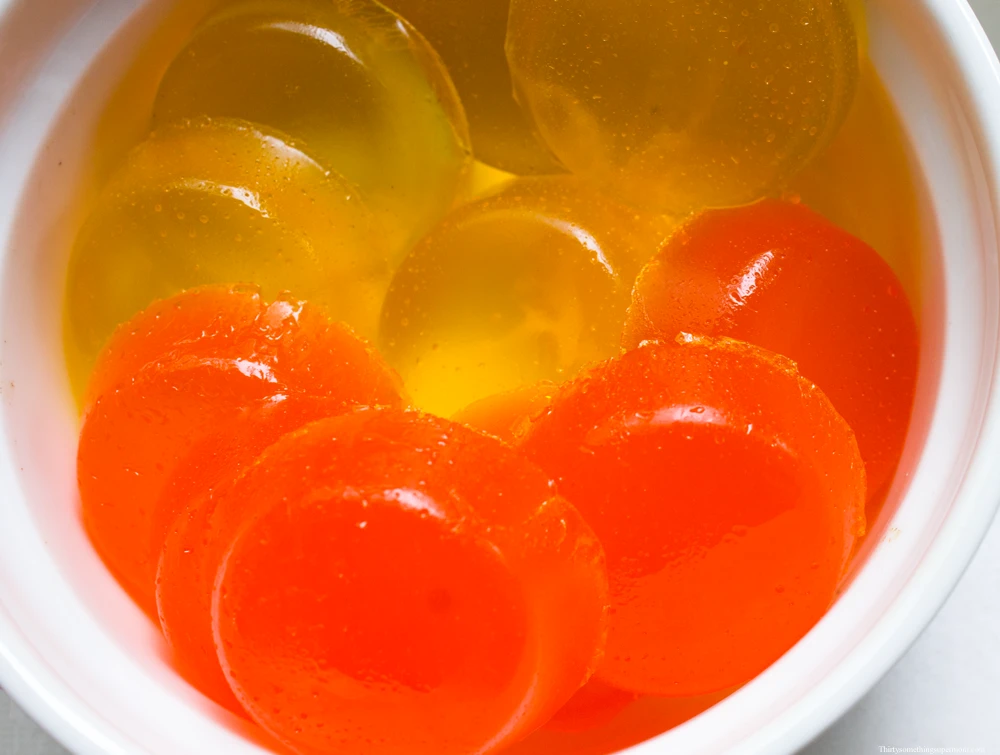 The only difference other than the look is that it seems when you make your homemade gummies bigger, they have a bit more of a snap to them for some reason. The worms are usually the softest in my experience, but I don't have a reason why this is the case, lucky for me, I enjoy both textures.
I assume it has something to do with the amount of air that gets mixed in but I don't know for sure. If you know, feel free to give me the full food science break down in the comments because I find that kind of thing interesting and couldn't find anything on google.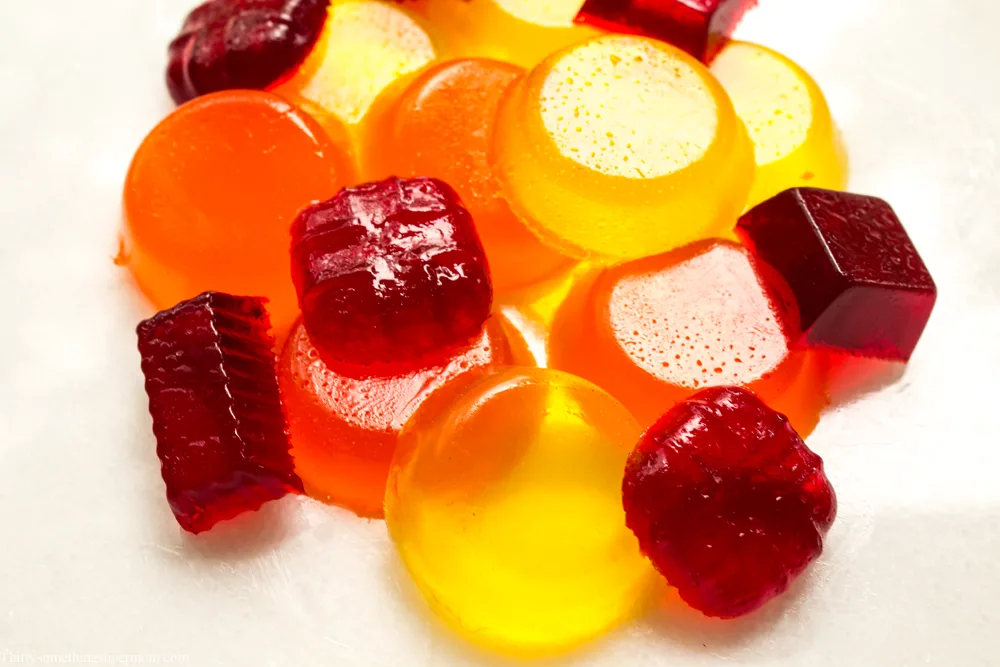 What flavor will you make your Homemade Gummies?
I have made homemade gummies in a bunch of different shapes and sizes, to try to figure out which is best, but I can't decide. They are all so good, it is too difficult to pick a favorite.
Another fun way to experiment with these homemade gummies is by mixing different flavors of sugar-free flavored gelatin. Is your hand steady enough to make a multicolored gummy worm?
My family seemed to like the lemon, orange, and raspberry the best but I think the key to fully enjoy these homemade gummies is to have a variety. Add in some lime and blue raspberry to really change up the flavor.
Tips for Making Homemade Gummies
When making the worms, it can be difficult to transfer the mixture from the pot to the candy molds. It is best to use a dropper if you have one handy, if not, a spoon and a steady hand will get the job done.
Keep in mind that the mixture begins hardening almost immediately upon combining the ingredients so you will want to get the mixture to your molds as soon as possible.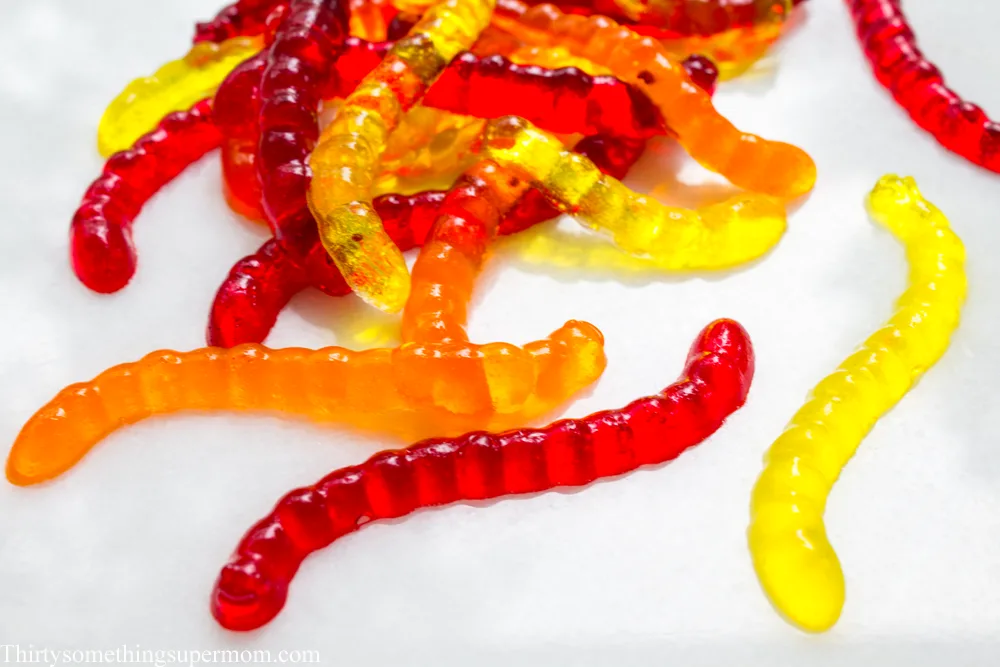 Easy Homemade Gummies Tips
If you want to try out the easiest way to make these homemade gummies, pouring the mixture into a small cupcake tin really decreases your chances of making an error. Just remember that the amount you pour into the molds, is the size your homemade gummies will be, so don't fill them to the top.
The smaller the mold, the longer it will take, so if you are worried about messing up, make your homemade gummies into circles or blocks, these molds are pretty easy to work with.
Although the easiest way in my opinion to reduce spillage and quickly transfer the mixture is by using small cupcake pans. This way you won't have to worry about spills or the amount of time it may take to transfer the mixture into the smaller candy molds.
If you are wanting your homemade gummies to be more like traditional gummy worms, I would suggest using a dropper and working quickly. It isn't very difficult once you have done it a couple of times and it is worth whatever mess you may make because these homemade gummies are amazing!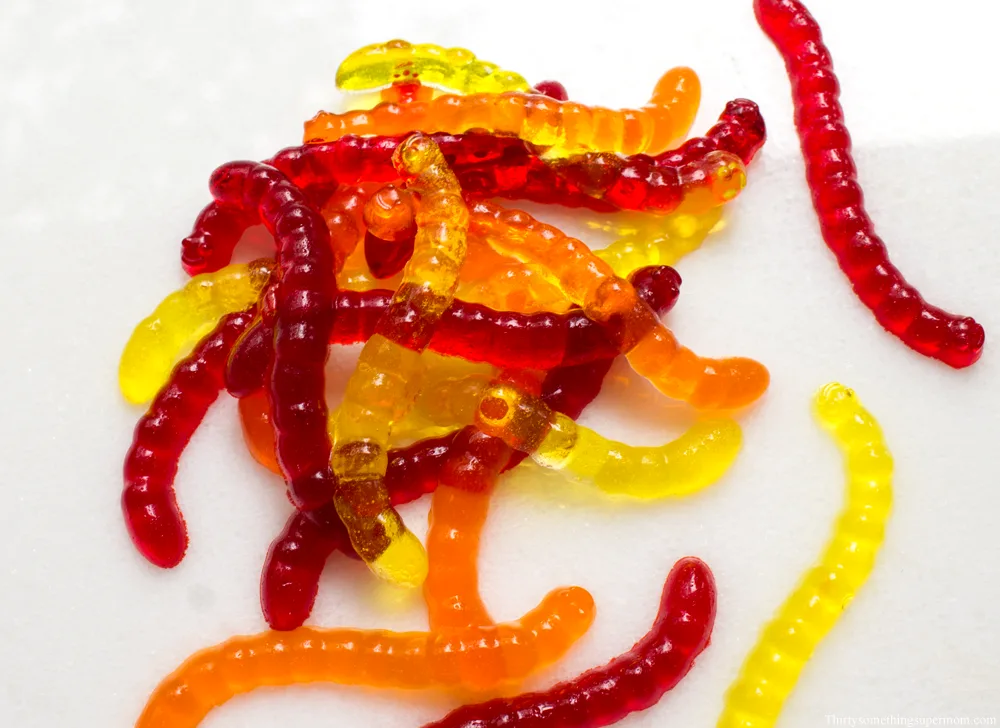 I hope you enjoy this homemade gummies recipe on your favorite social media and after you make them, let me know your thoughts. What flavors did you create and what kind of fun shapes are you planning on experimenting with when making this zero carb recipe?
If you are looking for other low carb or keto recipes, be sure to check out that section of my blog, by clicking here. Also, be sure to follow me on social media, so you never miss a post.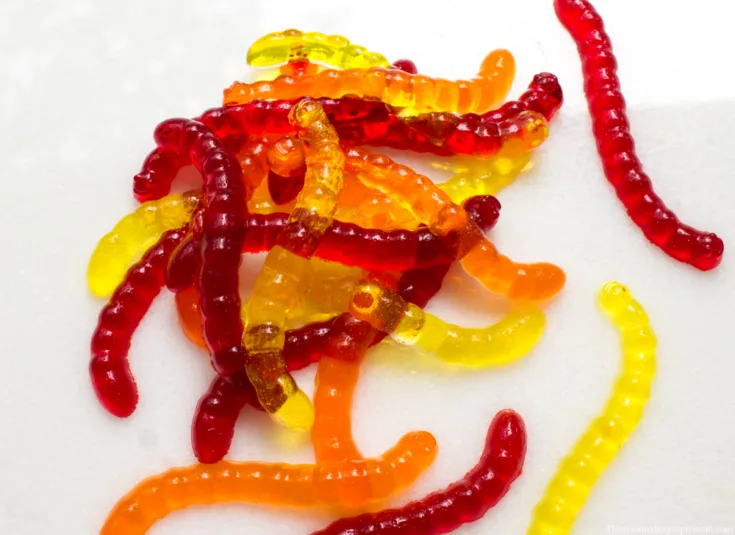 Zero Carb Sugar Free Homemade Gummies for Keto
Ingredients
1 packet of sugar free flavored gelatin (0.25 ounce)
1 packet of unflavored gelatin (0.3 ounce)
1/3 cup of Purified Water
Non Stick cooking spray
Instructions
In a medium pot, mix together the water and the flavored gelatin. Cook on medium heat while stirring. Once fully combined, add in the packet of unflavored gelatin, while stirring. Once fully combined, pour directly into molds. Store in refrigerator until fully gelled. This usually takes about a half an hour. Once the homemade gummies are done, remove from molds and store in airtight container.
Nutrition Information
Serving Size
1
Amount Per Serving
Calories

92
Sodium

93mg
Protein

23g