This hearty keto beef stew recipe is so easy to make by just dumping ingredients into a crock pot.
This Keto Beef Stew meal is not only as delicious as a traditional beef stew recipe but it's so easy to prepare! This hearty stew is sure to be one of your new favorite recipes to make for a low-carb diet.
This post sharing a recipe for Keto Beef Stew contains affiliate links which means that if you make a purchase after clicking a link, I will receive a small portion of the sale at no additional cost to you.
Why I Love Keto Crock Pot Dump Meals
The best part about keto crock pot dump meals is the simplicity and using a crockpot has always been a way to save time for me.
When it comes to crockpot dump meals, I feel like I have perfected the time-saving part.
I often try to cut out unimportant steps in recipes to simplify them. So when I began preparing this keto beef stew, I was able to cut out a step that saved me at least 15-20 minutes.
After sharing a couple of sponsored posts recently that featured this fully cooked beef, I ended up with a freezer full, so I started experimenting and fell in love with the results!
I love that I didn't have to precook the chunks of beef before turning the slow cooker on and walking away.
This part isn't necessary, you can pick up your preferred cut of meat to use as a beef stew meat from the butcher.
Just be sure to brown the sides before adding it to this recipe.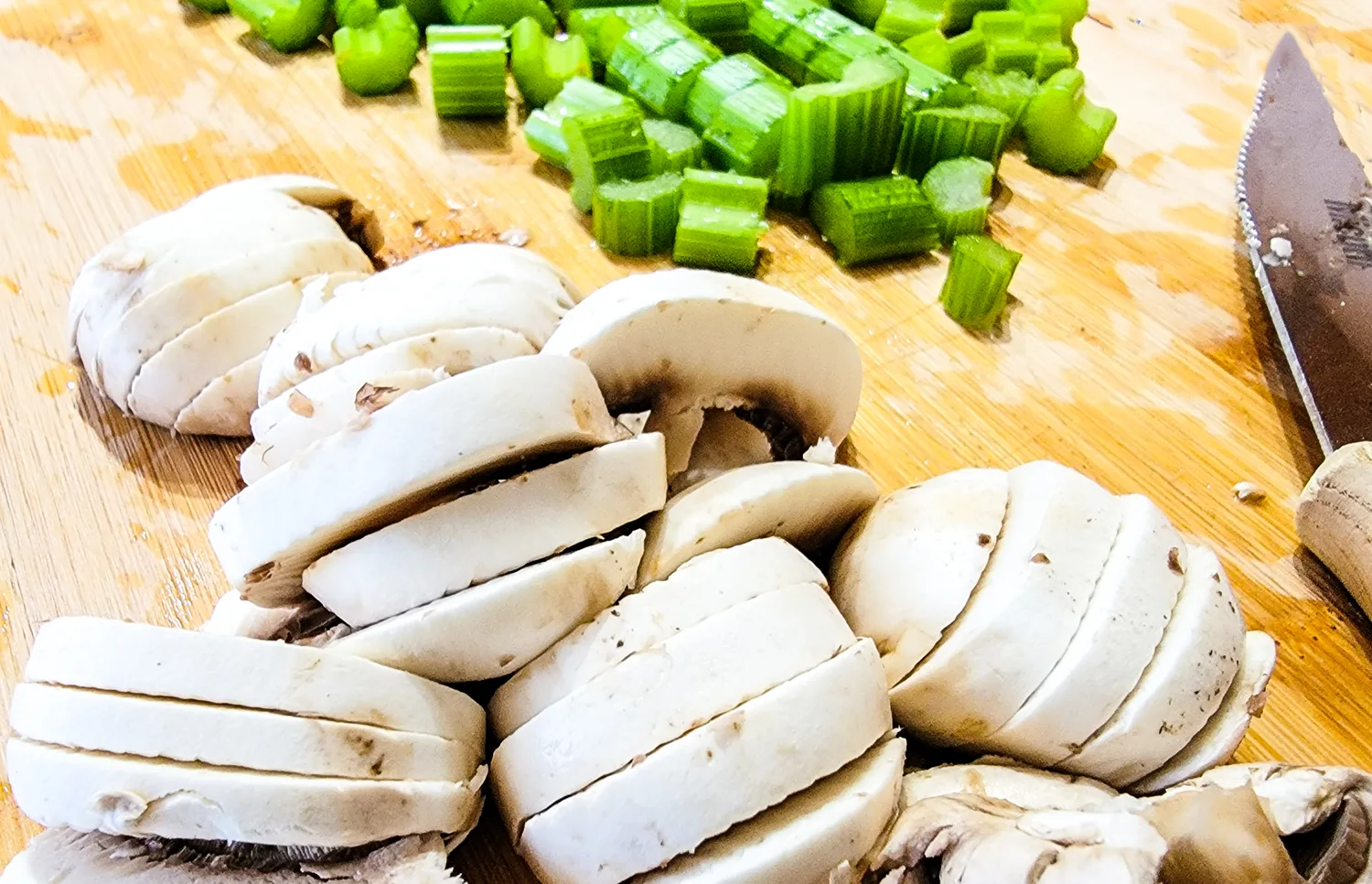 Variations on this Keto Beef Stew Recipe
I have made this recipe with a beef chuck roast in the past and even grass-fed beef but I have found that the cut of beef isn't that important when cooking at the bottom of the pot for so long.
In my experience using up a fresh tender beef chuck or using frozen deliver similar results when cooking at the bottom of the pan for that long.
You will end up with a good beef stew that is mouth tender when following this great recipe for the ketogenic diet.
Plus, this beef is seasoned for fajitas with a ton of flavor and it adds a nice touch to this easy keto beef stew recipe.
When using the fully cooked beef in this hearty low carb beef stew it softens while cooking and almost melts in your mouth.
For a thicker sauce, you can add tomato paste or xanthan gum to the recipe without altering the flavor too much.
For a thinner sauce with a delightful flavor, you can add red wine vinegar or some apple cider vinegar to mix.
To add in a new flavor without adding too many net carbs try bay leaves, Italian seasoning, fresh thyme, Worcestershire sauce, or soy sauce. Just be sure to remove the bay leaf before serving.
If you aren't worried about increasing the carb count or net carbs a little bit, try adding in green beans, daikon radish, celery root, or cauliflower florets.
As always, be sure to check the nutritional information on each ingredient to make sure that it fits into your macros.
Instant Pot Keto Beef Stew
If you want to make an Instant Pot beef stew or use a pressure cooker with a fresh cut of beef start by adding olive oil to the bottom of the instant pot and set to the saute setting until browned on all sides.
You could also do this step on the stove top using medium-high heat to brown the meat.
If you are using the pre-cooked meat mentioned above you can skip this step.
The next step would be to add in the veggies, spices, and sauce ingredients, cooking until soft. Stir well and add in the meat.
Set the instant pot to pressure cook for 35 minutes. Allow the machine to release the pressure for ten minutes when done cooking. Enjoy!
What You Will Need to Make Delicious Keto Beef Stew
Mushrooms- You can use any variety of mushrooms you prefer to use for this recipe. If you grow your own mushrooms that would be a great addition to this keto beef stew.
Beef Broth or Beef Bone Broth- Whichever you prefer to use for this recipe is completely fine.
Celery- If you are like me and not able to chew celery that isn't a problem with this recipe. The celery softens quite a bit while slow cooking all day.
Beef- As mentioned above, you can use whichever kind of beef you prefer but I like the already cooked and seasoned version best.
Tomato Puree- While thicker than traditional tomato sauce you can use whichever you prefer, it just may change the consistency a bit. If you want to learn how to make sauce from roma tomatoes, click here.
Garlic Powder
Black Pepper
Salt
Onion Powder
Obviously, you will need a crockpot/slow cooker for this recipe. If you don't have one, you can get one for under $40 on Amazon here, or spend a few more bucks and pick up this cute slow cooker that would look beautiful in any kitchen.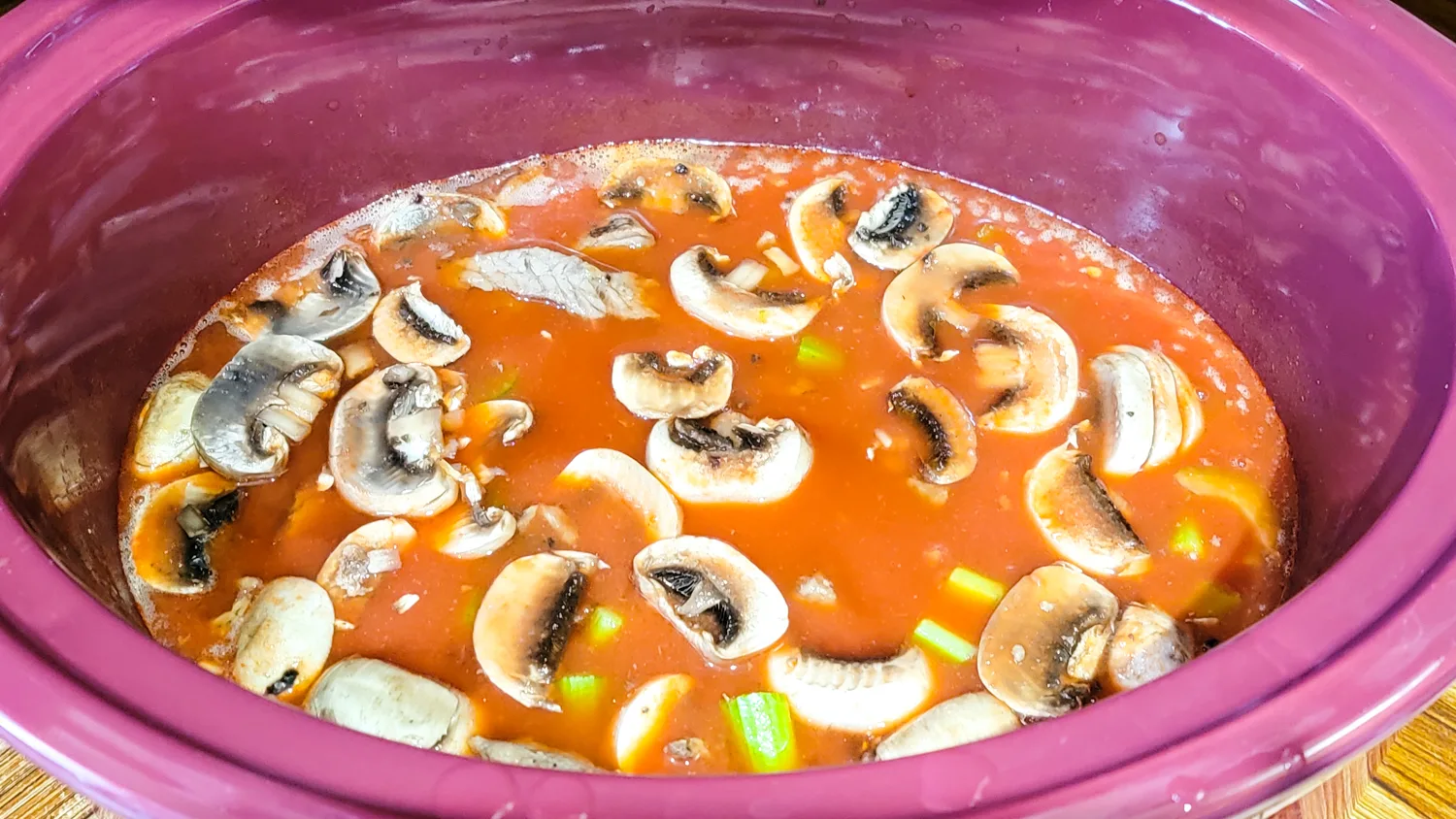 How to Make this Low-Carb Beef Stew Recipe
This is a keto crockpot dump meal which means that there isn't a lot of prep work involved in the making of this recipe.
Be sure to check the recipe card at the bottom of this post for exact measurements.
The first step in making this keto stew is to grab your ingredients and your crockpot to get started.
Chop the low carb veggies and add them to a crockpot.
Dump the rest of the ingredients in, using a wooden spoon stir everything together and then cook on high for 6-8 hours.
It doesn't get much easier than that!
Tips for Best Results
If you are making this recipe without using fully cooked beef, it is best to brown raw meat before adding it to the crockpot.
Personally, I prefer the fully cooked beef for the simplicity and the added flavor but you can absolutely make this recipe using your favorite cut of meat from your local grocery store.
My whole family loves the savory broth made from the preseasoned meat and I love that I don't have to spend a long time preparing this keto recipe.
If you plan on cooking this meal for longer than the recipe calls for you can set your crockpot to medium high heat or medium heat depending on your settings to avoid extra brown bits sticking to the sides.
Unless of course you enjoy browned bits on the side of your crock pot, if this is the case, by all means, let that little fella roast but be sure to turn it down to low heat and let it come down to room temperature before eating.
Store any leftovers in an airtight container for up to one week.
Looking for more Keto Crockpot Dump Meals?
Check out some of my favorite keto soups like this Keto Chicken & Rice Soup, it has become a family favorite.
I often experiment with my recipes to see if there is any room for improvement and after messing around with this Cheesy Keto Crockpot Chicken Recipe, I discovered that it can also be a Keto Crockpot Dump Meal.
On those busy days when you struggle to get dinner on the table in time, dump-and-go slow cooker recipes are the best!
I just added all of the ingredients to the crockpot instead of sauteing the veggies first, and this step proved to be unnecessary so that's how I make it these days.
You should give this low carb keto chili with a high star rating a try. It is made in a large dutch oven or large pot, with just the good stuff for a guilt free comforting dish that the whole family will love.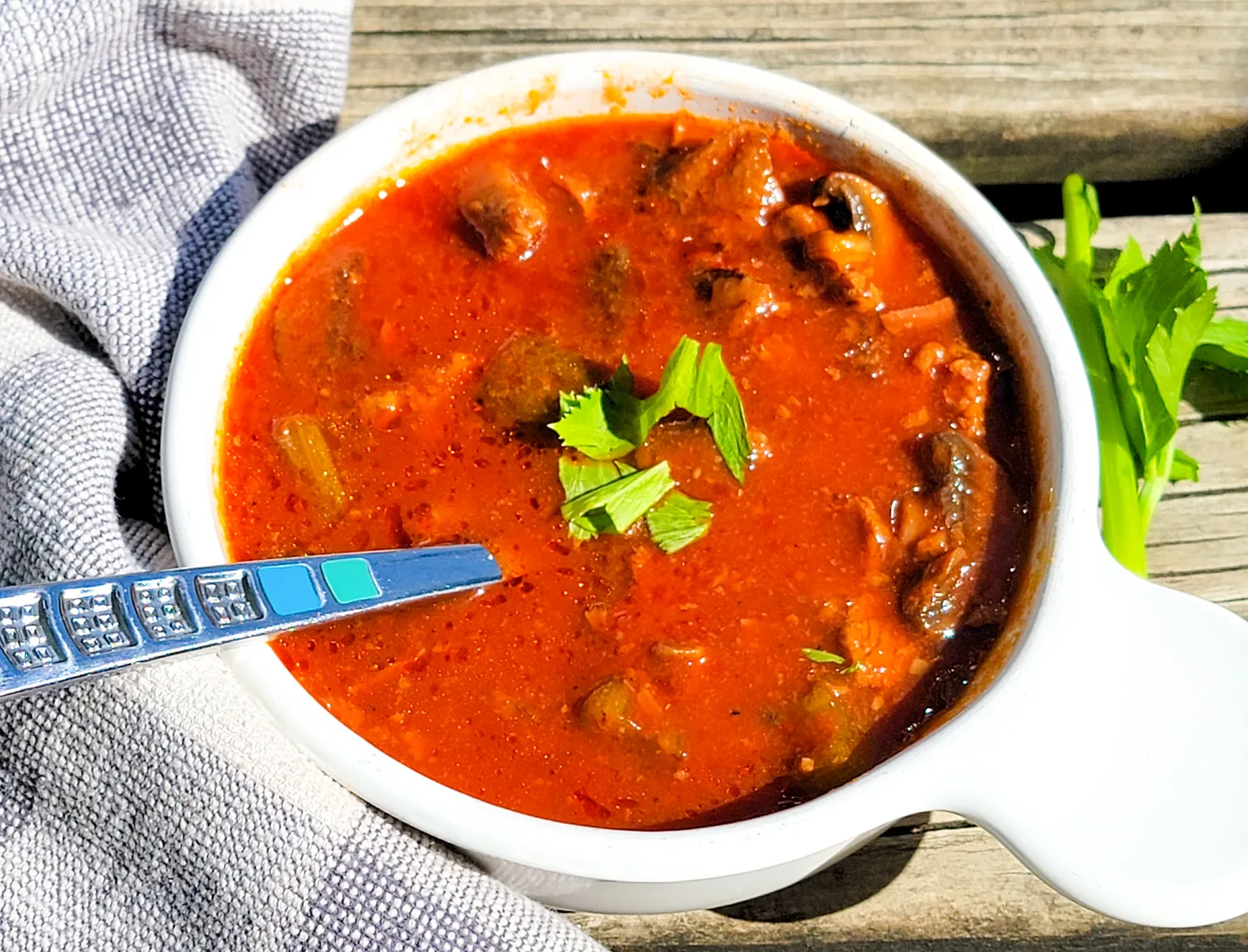 I love creating comfort food that helps with weight loss and tastes delicious, especially comforting keto dinners that the whole family enjoys.
Want more Recipes for the Keto Diet? Sign up for the free newsletter and follow along on social media so that you never miss another keto recipe again.
Keto Beef Stew Crockpot Dump Meal
Ingredients
24 ounces of Beef
32 ounce of Beef Broth
2 & 1/2 Cups of Tomato Puree
1 Cup of White Mushrooms
3/4 Cup of Chopped Celery
2 Teaspoons of Garlic Powder
1/2 Teaspoon Black Pepper
1 Teaspoon of Salt
1/2 Teaspoon of Onion Powder
Instructions
Chop the veggies and add them to a crockpot.
Dump the rest of the ingredients in, stir everything together and then cook on high for 6-8 hours.