No beans? No problem, this keto chili recipe is perfect for any low carb diet. It is so easy to make and it always hits the spot.
You will not miss the beans with this low carb chili recipe!
If you are on keto, you probably already know how high carb beans are and may have thought that low carb chili wasn't an option.
That was how I felt when my husband and I started eating a low carb diet.
I thought chili was no longer a weekly staple because our go-to chili recipe was heavy on beans.
I wasn't sure how to go about creating a beanless keto-friendly chili that didn't seem like it was missing something.
So when we got a craving for that delicious chili flavor, I began experimenting and created this meaty low-carb chili that is also perfect for those following the Specific Carbohydrate Diet.
It was a hit for us keto dieters and even went over well with carb-lovers that we invited over for dinner.
This low-carb chili recipe contains affiliate links which means that if you make a purchase after clicking a link, I will make a portion of the sale at no additional cost to you.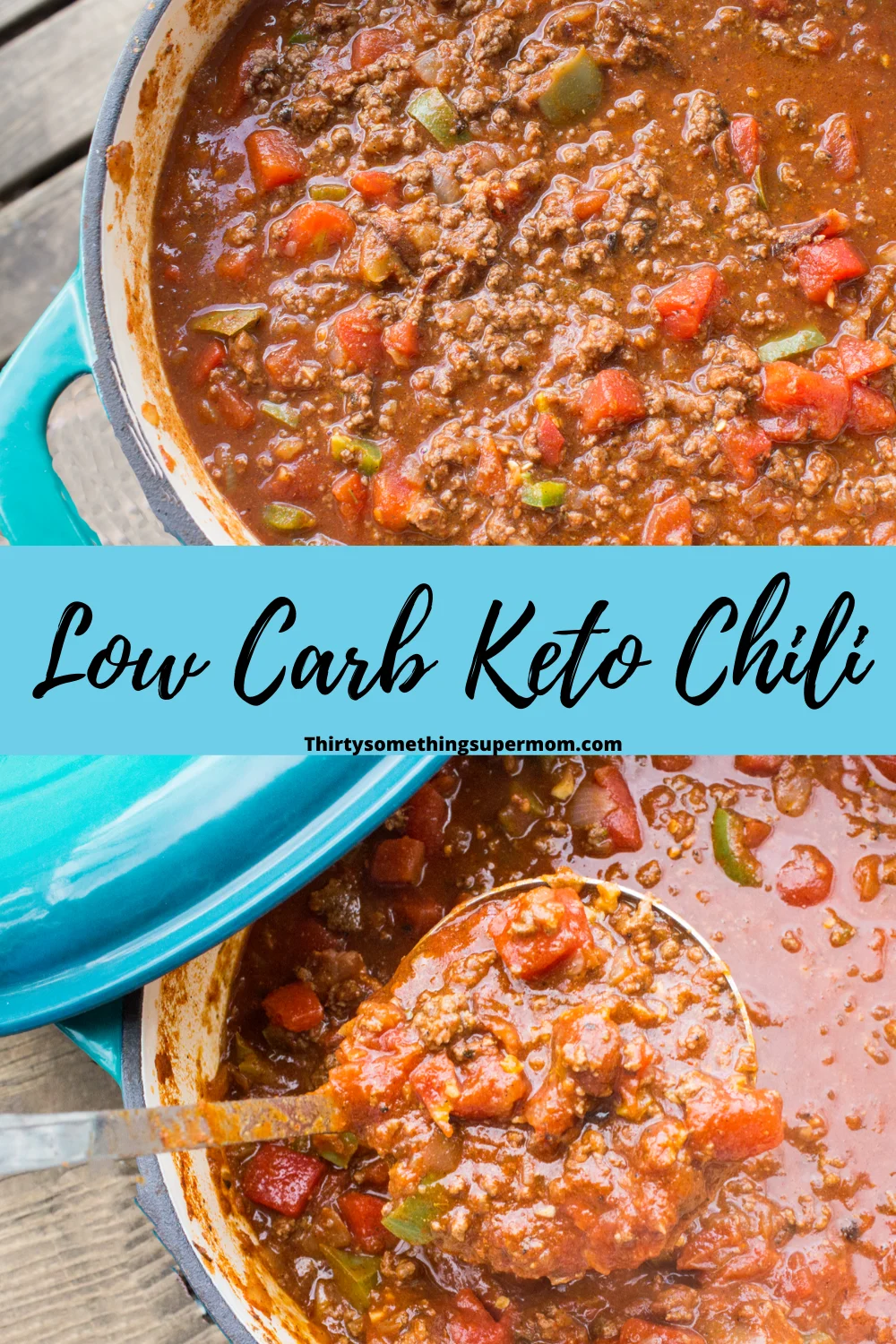 Can You Eat Chili on a Keto Diet?
Can you eat chili on a keto diet? Absolutely! You just need to change some of the ingredients that are found in other chilis.
This is why it is always best to make your own foods, especially when following a strict diet such as the Specific Carbohydrate Diet or a Low Carb Diet like Keto.
If you have tried to search "low carb chili recipe no beans" or "low carb chili no beans"you know how difficult it can be to find a low carb chili recipe without beans.
This is because beans are usually the ingredient used to thicken chili. Thankfully I have figured out a workaround that has allowed me to make a thick chili that is low carb with no beans.
How Do You Thicken Keto Chili?
There are a few ways you can thicken keto chili without the addition of beans.
I first started to experiment with the normal sauce that I have used for chili in the past and when I added tomato paste it really thickened up nicely.
I then decided to double the meat I would normally use for chili and added in more vegetables like peppers.
The results speak for themselves, this low carb keto chili is perfect. It is the best keto chili recipe ever in my opinion.
You can easily swap out the meat to use any meat that you prefer or have on hand. I love venison chili but this would work great with ground turkey or ground beef, too.
My next experiment is going to be trying this same exact recipe but swapping out the venison for chicken.
I think that will give this low carb chili a completely different flavor and texture that may be worth a try.
I also plan on making this in a pressure cooker and in the crockpot, to make this keto chili recipe as easy as possible for those busy days.
However, what I love about this keto chili recipe is that I can make it in a dutch oven in under an hour.
This low carb chili is so easy and delicious that I think once you try it out, it will be a staple in your home, too.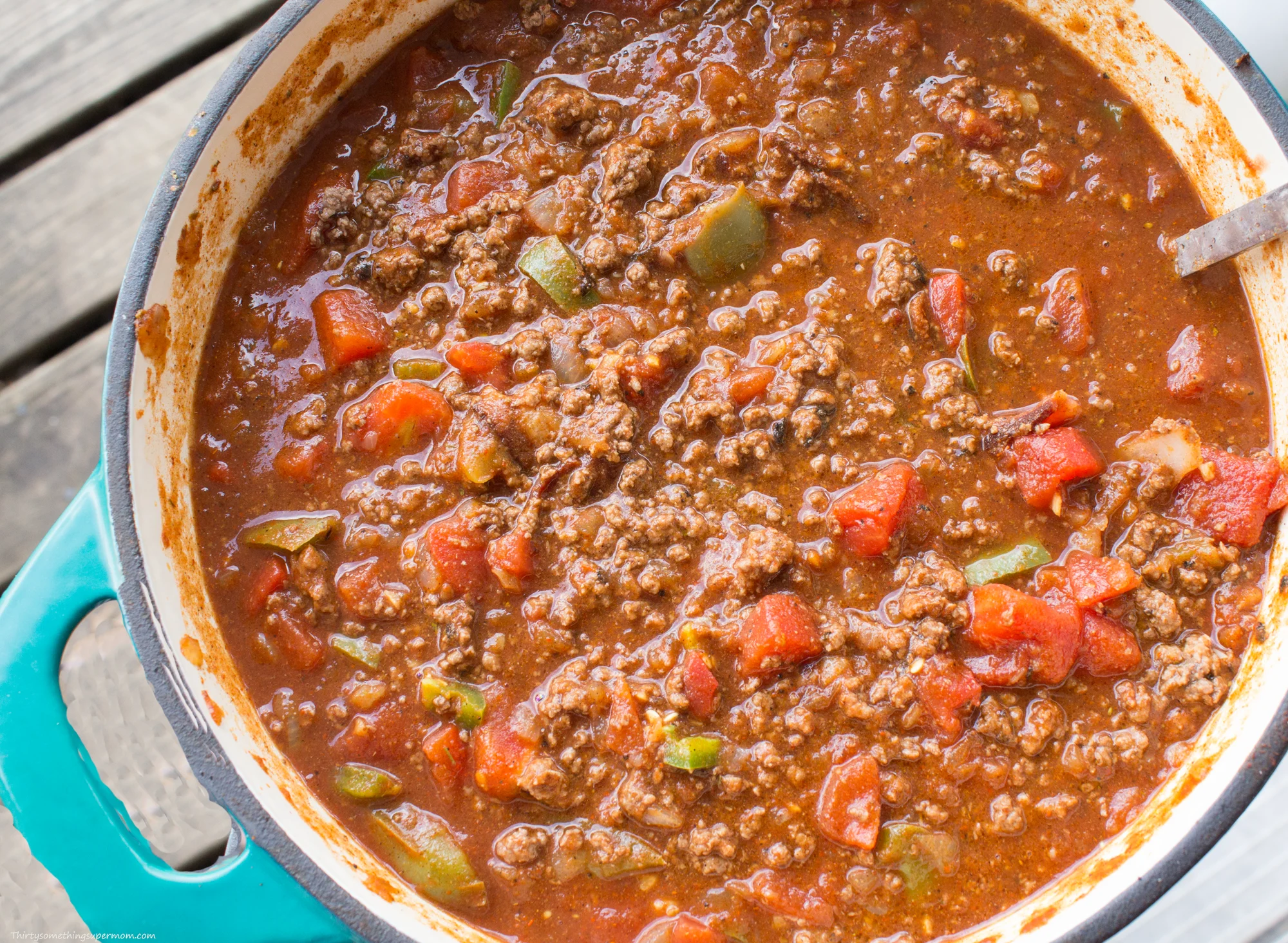 Can I Eat Canned Chili on Keto?
This can be difficult because many of the popular brands of chili such as Wolf Brand Chili, Skyline, Hormel, Gold Star Chili, and Wendy's Chili are all heavy on beans.
Although you can find some brands like Trader Joe's or Hormel that omit the beans, their recipe is still not exactly keto-friendly.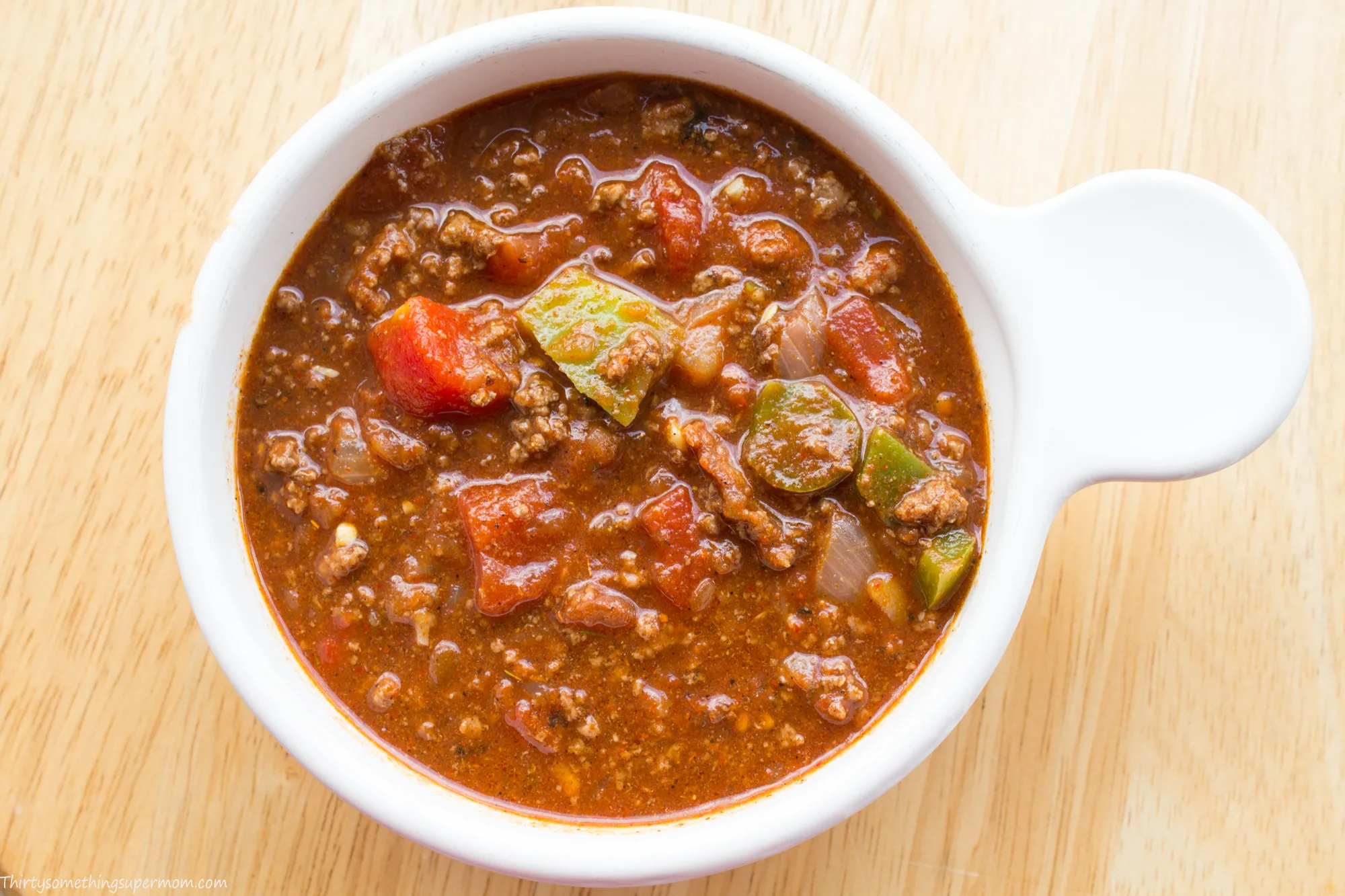 Can You Double this Keto Chili Recipe?
Yes, in fact, I prefer to do it this way. I always make a double batch of this keto beanless chili so that I can put the dutch oven in the refrigerator overnight and then warm up it up for dinner easily, the next night.
If you decide to try this method, be sure to stir the chili while heating up the second night. I learned this the hard way.
When I first got my dutch oven, I was not used to cooking with something that retained heat so well. I put a pot of keto chili on the stove, straight out of the refrigerator, and after just a few minutes, the entire dutch oven filled with smoke.
Thankfully I was able to save that meal but the pot wasn't as easy to clean as it normally is and it made a mess on my stovetop.
Meals that last two nights always make me feel like I won a prize and I guess I kind of did win something, a night off from cooking.
Which Beans Are Keto Friendly?
Beans are generally a good source of carbohydrates, but some types are lower in carbs than others. Here are some of the lowest-carb beans that make the best bean substitute for keto diets.
Black soybeans: With just 1g net carbs per ½ cup serving, black soybeans are one of the lowest-carb beans available.
Adzuki beans: Adzuki beans have 8g net carbs per ½ cup serving, making them a good choice for those on a low-carb diet.
Lentils: While lentils are not as low in carbs as some other beans, they are still relatively low with 12g net carbs per ½ cup serving.
Chickpeas: With 14g net carbs per ½ cup serving, chickpeas are a bit higher in carbs than the other beans on this list, but they are still a good source of protein and fiber.
Kidney beans: Kidney beans have 14g net carbs per ½ cup serving, which is similar to chickpeas. However, they are also a low-calorie food that are a good source of iron and potassium.
Remember that while these beans are lower in carbs than others, they still contain carbs and should be consumed in moderation as part of a balanced diet.
This recipe doesn't use any beans because I think the peppers and extra meat make this recipe perfect without beans.
But if you are looking for a keto chili bean substitute, you may want to try some of these keto-friendly beans.
What Can You Eat With Keto Chili?
My favorite add-ins for this keto chili are sour cream, shredded cheese, and jalapeno peppers.
Sometimes when I want to add a bit of a crunch, I mix in these Low Carb Crackers.
You could also add in more onions, shredded lettuce, or pork rinds if you are looking for an extra crunchy keto option.
Be sure to check out this post sharing the Best Pork Rinds for Keto Diet.
More Keto Dinner Ideas
If you enjoy this keto recipe, you may like these low-carb recipes that are perfect for dinner.
Chicken Soup with Drumsticks Recipe
15 Minute One Pan Keto Recipe for Pepper Steak
If you enjoyed this recipe and want more deliciously easy keto recipes straight to your inbox, sign up for the free newsletter so you never miss another low carb recipe again.
You could also follow along on Pinterest where I share lots of keto recipes from my site and my favorites from around the web.
Ingredients
2 lbs Ground Meat, I used Venison
2 Green Bell Peppers
1 Onion
4 Cloves of Garlic
6 Slices of Bacon
28 Ounces of Diced Tomato
6 Ounces of Tomato Paste
2 Cups of Chicken Broth
1 Jalapeno
2 1/2 Tablespoons of Chili Powder
2 Tablespoons of Cumin
1/2 Teaspoon of Oregano
2 Teaspoons of Paprika
1 Teaspoon of Cayenne Pepper
1 Tablespoon of Onion Powder
Squirt of Olive Oil
Dash of salt and pepper
Instructions
Chop the bell pepper, jalapeno, onion, garlic, and cook in frying pan with a little bit of olive oil to coat the pan.
Once the veggies are softened, put them into a dutch oven.
Fry the bacon and ground meat until cooked thoroughly and add into the dutch oven.
Pour the tomato paste and diced tomato into the dutch oven, then mix in the seasonings.
Cook on medium high for about 10 - 15 minutes or until the chili reaches the desired temperature.
Double this beanless keto chili recipe to make a full dutch oven.