This post sharing The 9 Best Pork Rinds for Keto Diet contains affiliate links which means that if you make a purchase after clicking a link, I will receive a small portion of the sale at no additional cost to you.
For those of us that are trying to find a keto-friendly snack that replaces potato chips, finding the best pork rinds can be life-changing.
When I first started eating a low carb diet, I couldn't imagine eating pork rinds.
I really never thought of pig skin as a delicious snack.
I couldn't get past the skin of a pig part at first but when I was looking for foods with zero carbs they kept popping up.
It seemed that everyone on a ketogenic diet was consuming fried pork skins and boasting about the grams of protein in their favorite brands.
Another surprising thing about pork rinds to me was how many different varieties were available.
All of the grocery stores seem to have a shelf full of pork cracklings with unique flavors from sea salt to olive oil or even dill pickle.
Some are made with vegetable oils and some boast the classic chili flavor, sour cream, chili lime, and white cheddar, or you can pick up just plain pork rinds.
As you can see, it is difficult to choose which brand delivers the best keto snacks because there are so many varieties available.
I hope this list of The 9 Best Pork Rinds for Keto Diet helps make your decision easier.
Best Pork Rinds For Keto Diet
Better Made Flavored Pork Rinds
Better Made Flavored Pork Rinds come in a variety of flavors and can be purchased online which is really convenient.
I have recently decided to poll a couple of the Keto groups I am in on Facebook to determine which brand was the most popular and Better Made kept coming up.
It seems that the most popular flavor was the original flavor which was kind of surprising until I tried them.
These are worth a shot if you are looking for a great snack with simple ingredients, this is the one for you.
Baken Ets Hot & Spicy Fried Pork Skin
Baken Ets Hot & Spicy Fried Pork Skin is perfect for those who enjoy a little spice with this crunchy snack.
If you aren't a big fan of pork rinds but are on a low-carb diet, the next time you are brave enough to try something new, this is the one you should try in my opinion.
Pick it up at your local grocery store or buy pork rinds online by clicking the link above.
Pork King Good Pork Rinds Breadcrumbs
While this isn't a snack, these pork rind crumbs are perfect for those recipes that call for pork rinds.
This no-carb breadcrumb substitute has been a huge help for me when creating easy keto recipes.
No need to crush them yourself, the Pork King Pork Rind Breadcrumbs make a great replacement for traditional bread crumbs.
Just add a bit of onion powder, or your favorite seasonings to create a delicious treat that the whole family can enjoy.
These are great for making these Crispy Air Fryer Zucchini Chips for Keto.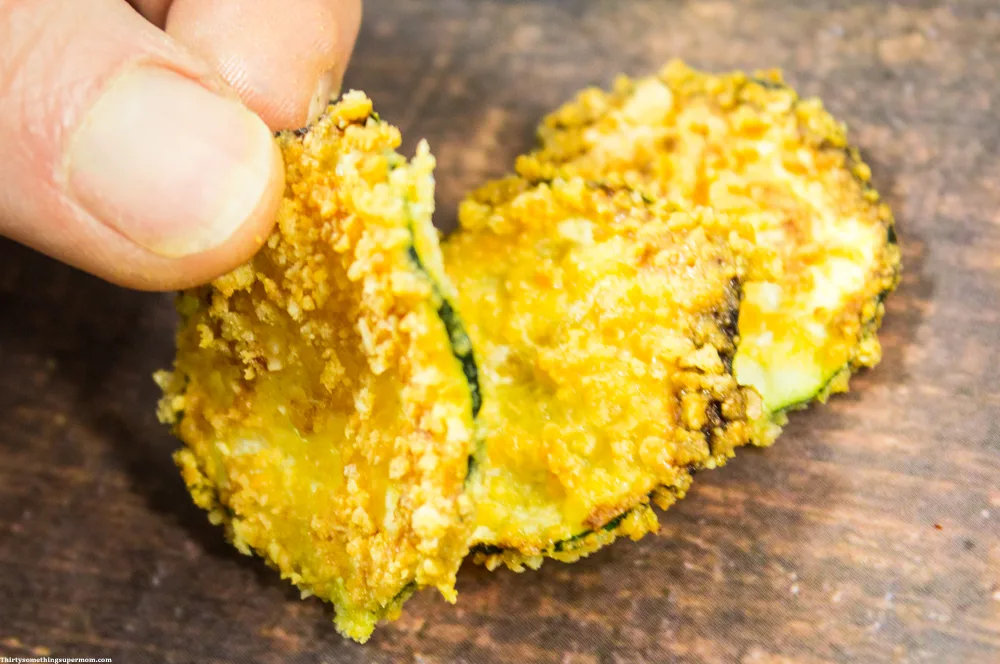 EPIC BBQ Pork Rinds
EPIC BBQ Pork Rinds offers a high-protein snack with a low carb count in a variety pack of flavors like Pink Himalayan & Sea Salt, BBQ, or maple bacon flavor.
The oven-baked varieties are perfect for those in search of a healthy snack while still enjoying crunchy pork rinds.
Mac's Salt & Pepper Pork Skins
If you are interested in trying out different flavors of pork rinds, Mac's may be the brand for you. They have quite a variety and are available at most grocery stores.
My husband has never been a fan of eating pork rinds either but he actually enjoyed the Mac's Salt & Pepper Pork Skins as well as the hot pork rinds from the same brand.
Golden Flake Curly Q Red pepper
I love the fun shapes of the Golden Flake Curly Q Red pepper, I almost feel like I am enjoying something other than pork rinds.
It reminds me of some of the classic snacks I enjoyed as a kid.
Plus, you can pick these up in a few different flavors at most grocery stores for a great deal.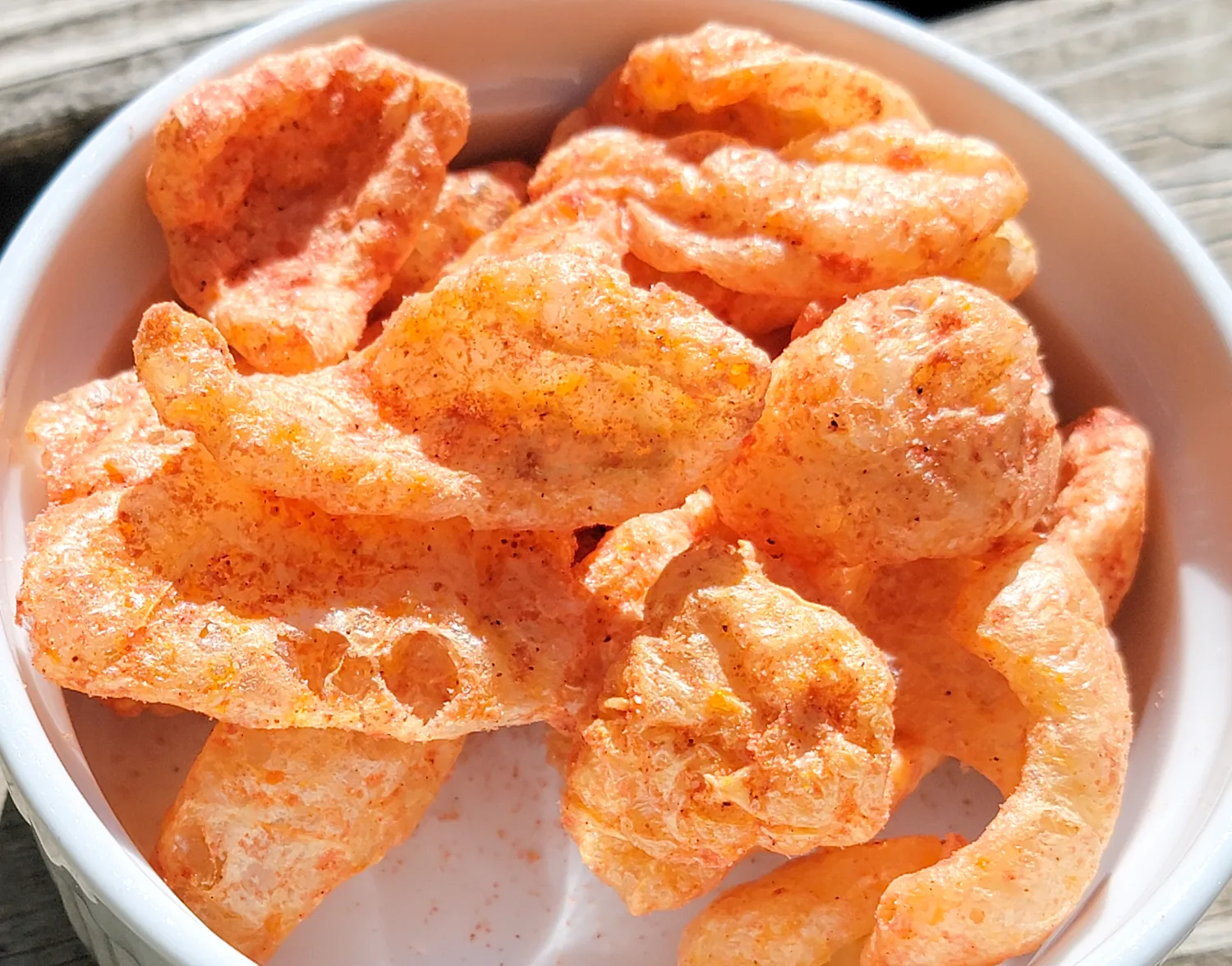 Field Trip Sweet Chipotle Pork Rinds
Field Trip Sweet Chipotle Pork Rinds has less sodium than most varieties of this popular snack.
The sweet chipotle version of these classic snacks makes me think are pork rinds keto while eating them because they are so good.
I like to bring a bag on road trips and use it in place of tortilla chips when we stop for dinner.
These are great dunked-in warm queso or salsa.
4505 Meats Classic Chili & Salt Pork Rinds
4505 Meats Classic Chili & Salt Pork Rinds adds an extra burst of flavor to regular salt pork rinds with their special three-chili blend.
I would bet anyone who likes this flavor combo would enjoy a bowl of delicious pork rinds, no matter how much they think they don't like them.
Plus the company partners with small family farms to ensure a low-stress environment is maintained and they raise their hogs humanely.
There will always be people who believe that going vegan is the only way to not harm animals.
Since I don't plan on myself or millions of others making the switch anytime soon, I do believe that animals should live a happy, healthy life while they are in our care.
So why not support a business that claims to do it right? I have not visited their farms to see this for myself and of course as a natural skeptic, I am not completely sold on the idea but hope it to be true.
I am always open to doing a farm tour and seeing this for myself to make sure everything checks out.
Until the opportunity to personally inspect these farms arises, I will take the company's word for it.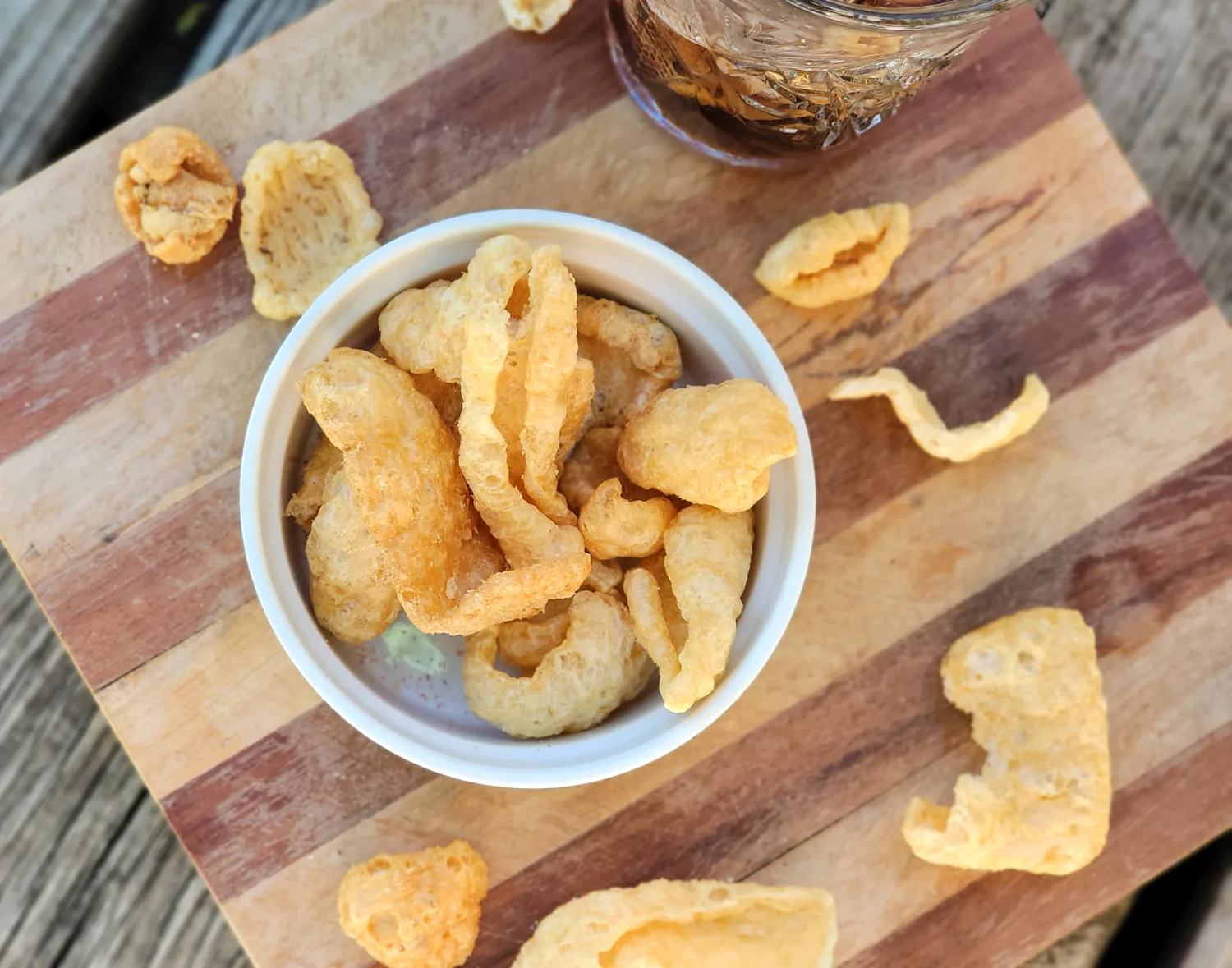 Utz Pork Rind
I always struggle to keep pork rinds very long once they are opened. The bags pop open over time and pork rinds just aren't good once they lose their crisp in my opinion.
Sometimes I pour them into a freezer bag for storage but more often than not I put them away without any protective measures and I end up wasting them.
So when I found out that Utz Pork rinds came in a barrel, I had to try them out.
I enjoy the crunchy Utz pork rinds combination of an airy texture and crispy cuts that it can be hard to stick to just a serving of pork rinds, especially when they come in a barrel.
Keto Recipes You Will Love
One of my favorite low carb dinner ideas is this Cheesesteak Skillet and I really love keto dump meals like this Keto Chicken & Rice Soup.
Feel free to check out the rest of my Keto and Low Carb Recipes here and find out what the best keto mayo to buy and make is with this informative post.
Don't forget to sign up for the free newsletter and follow along on social media so that you never miss a post again.
Leave me a comment below letting me know what you think the best pork rinds for ket are, I cannot wait to try them all!