This post sharing how to dehydrate food in an air fryer and made air fryer dehydrator recipes contains affiliate links which means that if you make a purchase after clicking a link, I will receive a small portion of the sale at no additional cost to you.
I have always enjoyed dehydrated food, especially dehydrated fruit.
Making dehydrated snacks is the best way to prepare foods that will stay fresh for a long period of time.
Why I Love Air Fryer Dehydrator Recipes
Some of my personal favorite dehydrated foods to make in the food dehydrator are apple slices, dehydrated pineapple banana chips, and fresh herbs.
I store them in an airtight container and they are delicious for a long time.
Air fryer apple chips are a family favorite during the Fall since it's hard to get a delicious snack like this at the grocery store.
Tips for Air Fryer Dehydrator Recipes
Once I got the cooking process down and found the right dehydration setting, I started cooking things at low temperatures and adjusted the cooking time depending on water content.
I found that thin slices gave me the best results and I also figured out how to use the air fryer basket when needed.
I experimented to see which recipes did well with a single layer and which dehydrator setting to use for the drying process.
Each of the recipes listed in this guide will require different temperatures and seasonings to achieve the best taste as well as texture.
From crispy to chewy, and everything in between, these air fryer recipes will help you whip up a delicious healthy snack that the whole family will enjoy.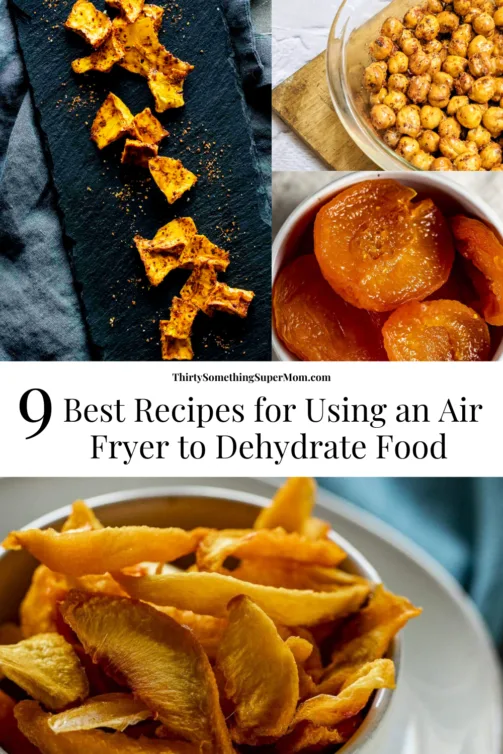 What You Will Need to Make Air Fryer Dehydrator Recipes
Some of my favorite recipes include using lemon juice or olive oil, and some are perfect without any seasoning, which is great for a raw food diet.
Dehydrate your favorite fruits, vegetable, and even meats in your air fryer for a healthy long-lasting snack.
Air frying is a great way to make the perfect homemade snack the complies with most diets, even a raw vegan diet which can be difficult to accommodate.
How to Use an Air Fryer as a Dehydrator
There are many different types of air fryers on the market with a dehydrator function.
Some will do lower temperatures and some may work at a higher temperature.
Check these details out before buying your air fryer, in my experience having an air fryer with a dehydrator function makes life much easier.
I don't like having several machines taking up space on my counter when I can use one appliance to get the job done.
Some will come equipped with a wire rack and some will use an air fryer basket. The heating element will vary depending on the model.
I use the power air fryer oven when making homemade lunchmeat because it has a button that is perfect for the cooking time and it allows me different ways to take advantage of high temperature as well as almost room temperature settings.
When shopping for a good air fryer with a dehydrated setting be sure to consider the size of your air fryer.
Nothing will ruin a great recipe faster than spending a couple of hours making a small batch only to have it disappear before you had a chance to enjoy it.
So be sure to select one with enough space for the warm air to circulate during the making of the perfect healthy snack.
Delicious Air Fryer Recipes
After trying these recipes, you are sure to know how to dehydrate food with an air fryer.
Experiment with some of your favorite foods and make a delicious snack using your air fryer. You may even want to try this recipe that shares how to make beef jerky with a dehydrator.
Then leave me a comment letting me know what your favorite air fryer dehydrator recipes are.
Don't forget to sign up for the free newsletter and be sure to follow along on social media so that you never miss a post again.