This banana chips air fryer recipe allows you to discover the perfect solution to your crunchy cravings while following a special diet like SCD or Paleo.
These homemade banana chips are not only a delicious snack but also a great way to replace traditional potato chips with a healthy snack.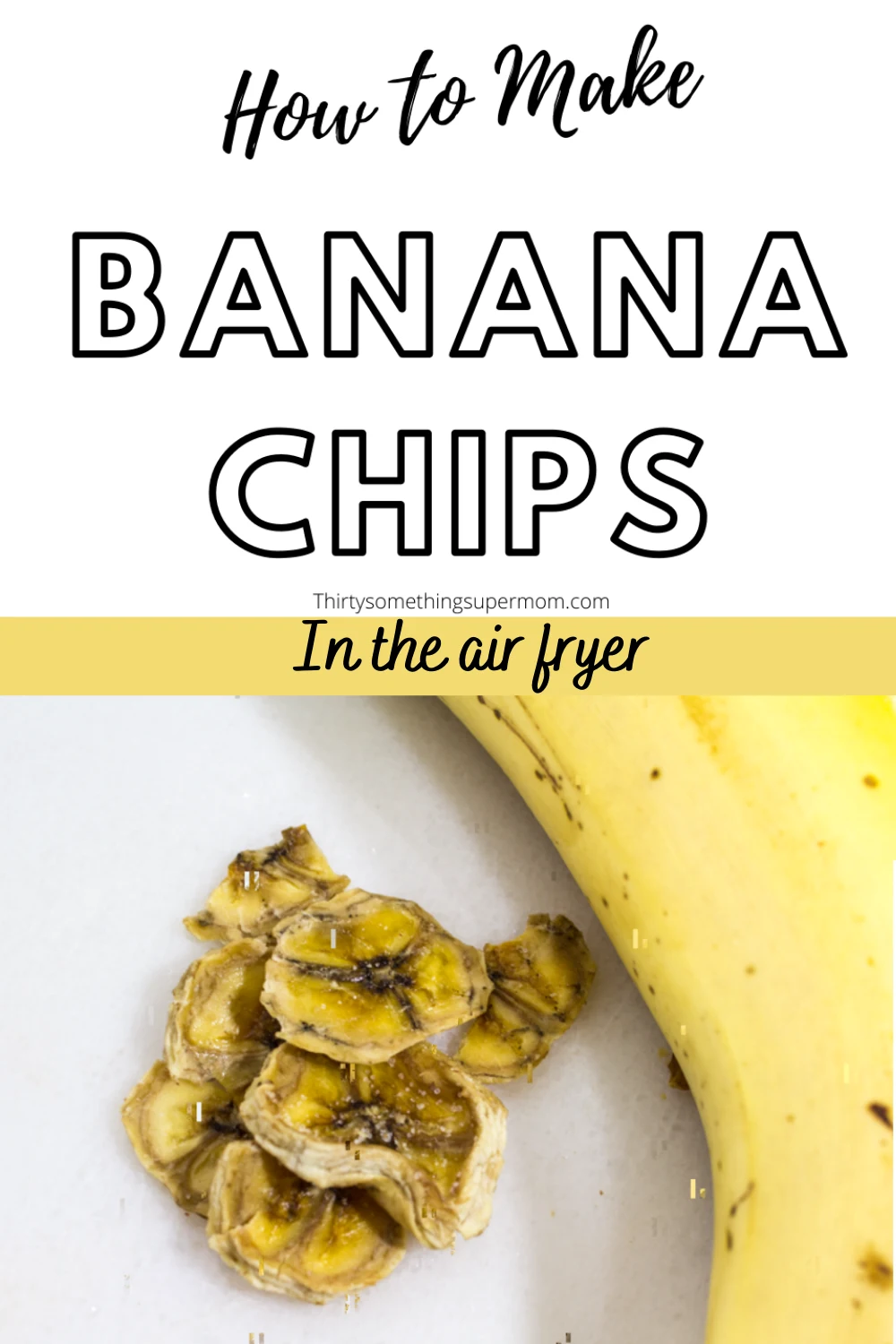 How to Choose the Best Bananas for Homemade Chips
The type of banana is up to you although for the perfect snack, choose firm, fresh bananas.
Firm bananas are best but you can also experiment with green or overripe bananas for different flavors and textures.
My favorite way to start is with overripe bananas because they are the best bananas for those following a Specific Carbohydrate Diet.
Much like when choosing bananas for banana bread, allow the bananas to sit out for a long time before making air-fried bananas if you are following a strict diet such as the SCD.
Unripe bananas can be used for this easy snack but they contain starch so if you are on the diet, choose bananas with brown spots when making your favorite banana recipes.
Simple Ingredients for Air Fryer Banana Chips
Banana Slices
Olive Oil, Peanut Oil, Sesame Oil or Avocado Oil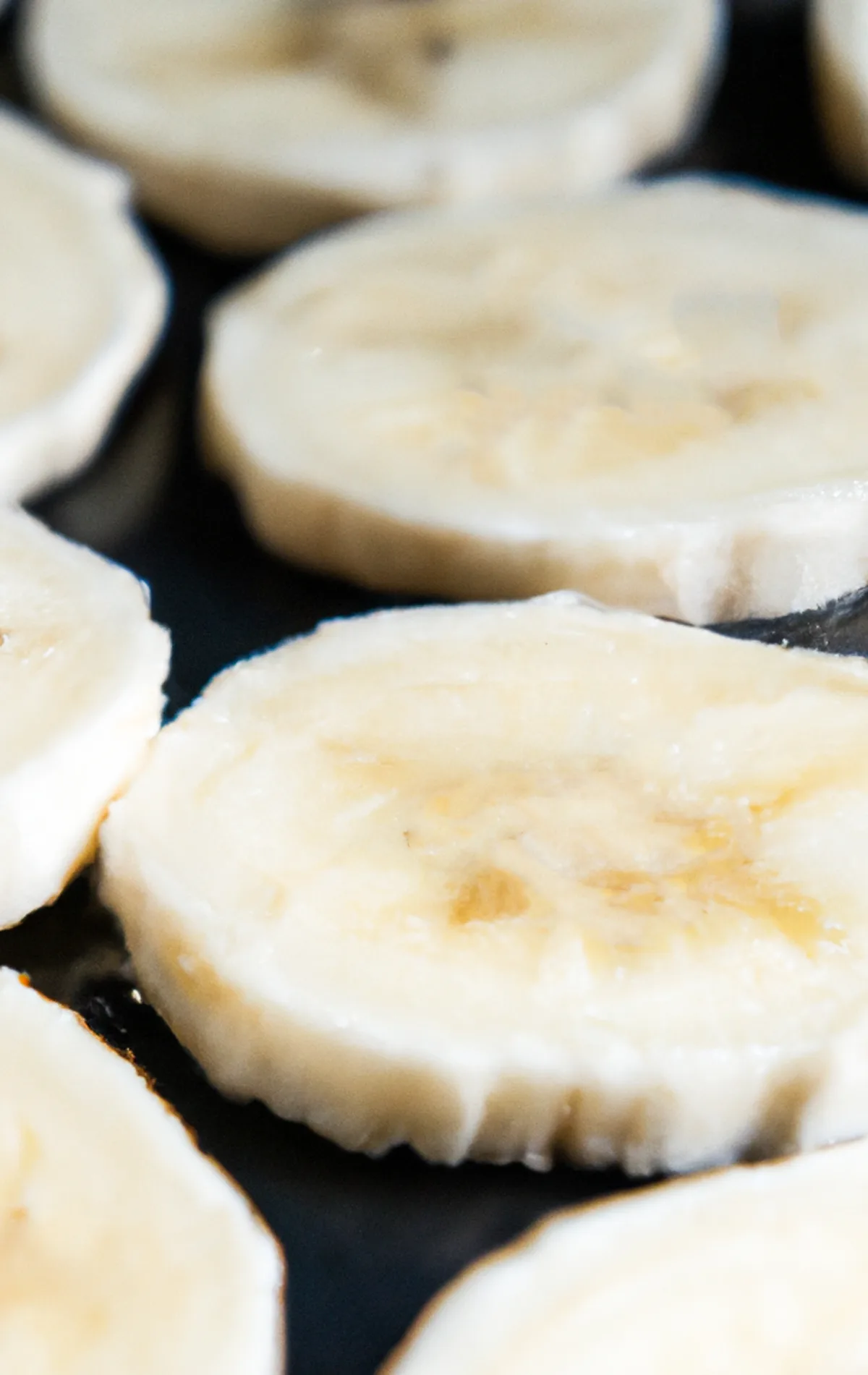 Step-By-Step Instructions for Homemade Air Fryer Banana Chips
Slice bananas into thin chips. You can use a mandolin slicer for the best results. Thin slices work best for this easy recipe.
To prevent excess moisture, place the sliced bananas on a paper towel and gently pat them dry.
In a mixing bowl, toss the banana chips with a little oil. To prevent adding excess oil you can use a nonstick cooking spray for this important step.
Place the banana slices in a single layer in the air fryer basket. Ensure they don't touch, as airflow is crucial to achieving crispiness.
The cooking process starts with setting your air fryer to 175 degrees for a cook time of about 2 hours.
Flip the chips halfway through the cooking time. Set a timer for one hour to ensure you don't miss this crucial step.
Once your banana chips are crispy and golden, remove them from the basket of the air fryer and let them cool at room temperature.
See the recipe card at the bottom of this post for the printable recipe for these air fry banana chips.
Variations on this Great Snack
Lemon Juice or Lime Juice: Add a zesty touch to your chips by pouring some fruit juice on the raw banana before air frying.
Brown Sugar or Coconut Sugar: Lay the banana slices out on a baking sheet then sprinkle this crispy snack with your favorite sweetener for a sweet treat.
Turmeric Powder, Cayenne Pepper, Chili powder, or Curry Powder: To spice things up, add some of your favorite spices to add a bit of a kick.
Seasonal Spices: Add a sprinkle of cinnamon, nutmeg, or ginger to make a healthy snack that the whole family can enjoy in the Fall.
Salt: A little salt enhances the flavor of this easy recipe so feel free to give them a sprinkle.
Optional Toppings: Get creative with, honey, coconut oil, garlic powder, poppy seeds, sesame seeds, onion flakes, cheese, and more.
Use Green Plantains: If you prefer healthy plantain chips, you can make air fryer plantains with this same method or use unripe green bananas for an easy twist on this gluten-free snack.
*Keep in mind that air fryer plantain chips are a healthier version of this deep fried snack popular in South India, but they are not SCD legal.
Storage Instructions
An air-tight container is the best way to keep the leftover banana chips fresh for a long time. When stored in an airtight container these air fryer chips can stay good for 2-3 weeks.
You can also store these chips in the freezer for up to 6 months.
This makes serving up this tasty snack as a side dish easy since you can pull it out of the freezer and serve a small bowl without having to make the full recipe again.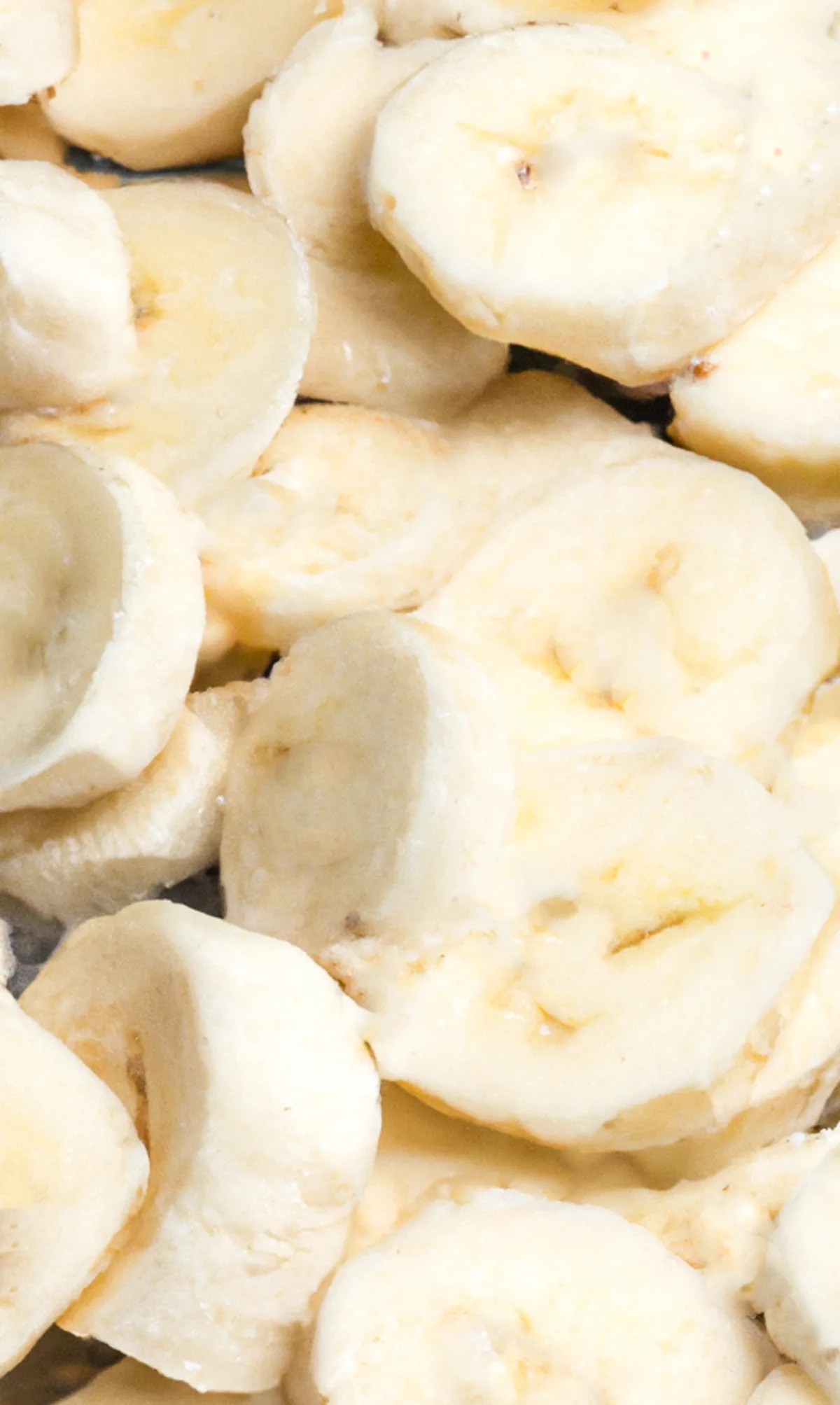 Enjoy Your Healthy Air Fryer Banana Chips
Now that you've mastered the art of making these delicious, crispy banana chips, there are endless ways to enjoy them.
Mix them into trail mix for a sweet crunch in your salty snack, grind them into a powder or crumble to top your favorite ice cream, or use them as decorative cake or cupcake toppers.
You can also experiment with different flavorings and toppings to suit your taste.
Whether you follow the Specific Carbohydrate Diet, Paleo, or any other dietary plan, these homemade air fryer banana chips are the perfect guilt-free snack that satisfies your craving for a crunchy treat.
Plus, they are versatile and open to countless variations, making them a delightful option for any time of the day.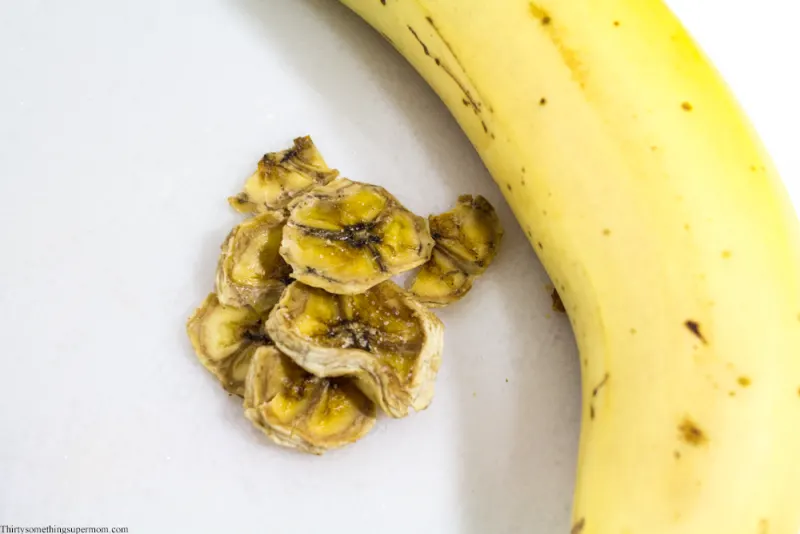 More Air Fryer Recipes
If you are looking for a crunchy snack that isn't dehydrated banana chips, you may enjoy these 30 minute apple chips.
Another great alternative to this air fryer banana chips recipe is this air fryer zucchini chip recipe.
Another delicious crispy air fryer snack that is perfect for the specific carbohydrate diet is these air fryer pumpkin seeds.
If you are looking for a healthy way to prepare lunches without worrying about the additives found in prepared meats, you'll love learning how to make your own lunchmeat in the air fryer.
Air fryers are great for cooking meals, making desserts, and warming up your favorite meals quickly.
Plus, there is no better way to get that fresh-from-the-oven taste with leftovers than using an air fryer.
Check out these posts that share how to reheat wings in the air fryer and learn how to reheat chicken legs in the air fryer here.
If you love this recipe and want to stay up to date with the latest recipe posts on this site, sign up for the free newsletter to get every new post right in your inbox.
Also, follow along on social media so you never miss another recipe again!
Instructions
Cut bananas into thin chips.
Spray them with a light covering of olive oil.
Then set your air fryer to 175 degrees for 2 hours.
Be sure to flip around all of the banana chips in the middle of the cooking process.
Set the timer for one hour so you can be sure to get this very important step done.
Enjoy!
Notes
An air-tight container is the best way to keep the leftover banana chips fresh for a long time. When stored in an airtight container these air fryer chips can stay good for 2-3 weeks.
Nutrition Information
Yield
12
Serving Size
1
Amount Per Serving
Calories

267
Total Fat

1g
Sodium

3mg
Carbohydrates

69g
Sugar

37g
Protein

3g