Delicious, crispy, air fryer pumpkin seeds make the perfect healthy snack. Plus, these roasted pumpkin seeds are so easy to make in the air fryer.
You hardly hear anyone say it but I am going to, Pumpkins are one of my favorite fruits. They are so versatile and different parts of the pumpkin can lend themselves to so many sweet and savory recipes.
This air fryer pumpkin seeds recipe contains affiliate links which means that I will earn from qualifying purchases through the Amazon Services LLC Associates Program.
Can You Put Pumpkin Seeds in an Air Fryer?
Of course, you can put pumpkin seeds in the air fryer. In my opinion, this is the best way to do it.
Everyone will love these crispy air fryer pumpkin seeds! This method is so much better than making them in the oven!
I have recently made keto crustless pumpkin pies and one of my favorite pumpkin recipes yet, whipped pumpkin mousse from a mini pumpkin. Making my own puree is always a fun experience and it never goes to waste at my home.
I don't like wasting anything actually so when I roast pumpkins in the air fryer and make my own homemade puree, I like to use up the seeds too! If you haven't already, check out this keto pumpkin mousse air fryer recipe for a great way to use up mini pumpkins.
These crunchy roasted pumpkin seeds are best in my opinion when seasoned with salt but you can add any season of your choice, as little or as generous as you want to be with the flavor.
Not only are these air fryer mini pumpkin seeds easy to make but they are so much faster when made in the air fryer.
I was surprised to find out that not everybody leaves the shell intact. They instead remove the outer white shell that contains green and oval seeds inside. This is the part of the pumpkin seeds some people eat. I couldn't imagine removing the shell, that's the best part!
The Health Benefits of Pumpkin Seeds
According to the Mayo Clinic, pumpkin is nutrient-rich due to its bright-orange color coming from beta-carotene which is converted into Vitamin A in the body. Just one-half a cup of pumpkin can give you more than your daily recommended intake.
So, you may still be wondering, what are the health benefits of pumpkin seeds? The seeds are loaded with fiber and many other minerals.
Pumpkin seeds have many health benefits because they are rich in antioxidants, high in magnesium content, protein, and fiber. They are also reported to improve heart health and pumpkins are loaded with Vitamin A.
No wonder pumpkin is considered a superfood, it packs an impressive amount of health benefits into one fruit. Don't waste one bit of that fruit, you can use almost every bit of it to create delicious pumpkin recipes.
How to Clean Pumpkin Seeds
Separating the seeds from the pumpkin isn't as difficult as it may seem. I have found that mini pumpkin seeds are the easiest to remove from the pumpkin.
Separate the pulp from the seeds by spraying them down with a hard spray of water over a strainer. This makes the pieces of pulp fly right off of the pumpkin seeds.
Dry out the pumpkin seeds by laying them out on a kitchen towel and pressing gently to remove excess moisture. Make sure they are completely dry before moving on to the next step.
This step is important for making crispy roasted pumpkin seeds.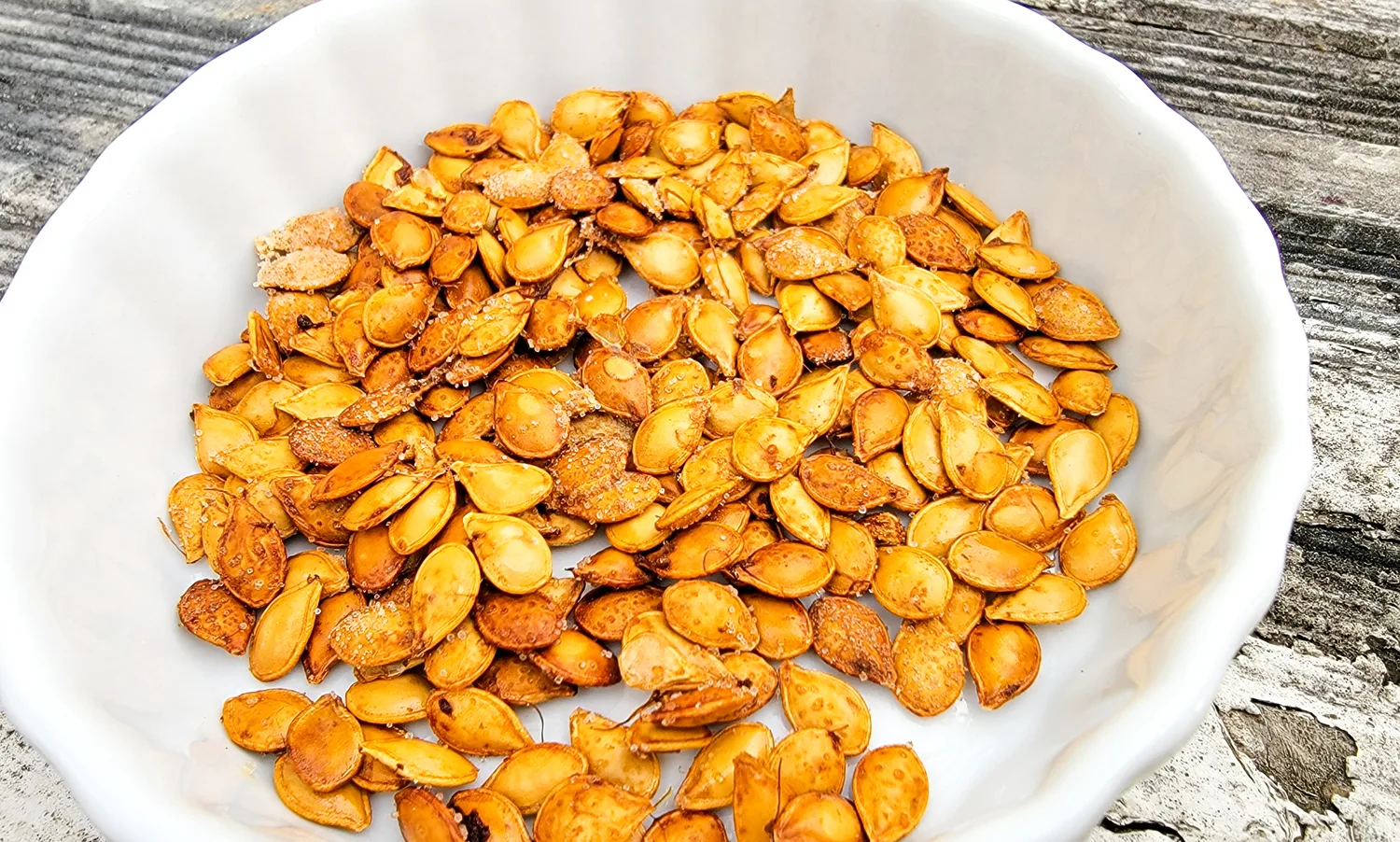 How to Roast Pumpkin Seeds in the Air Fryer
No preheating is required for this recipe. That's one of the reasons that I love my air fryer!
Harvesting seeds from pumpkins after pumpkin picking is one of my favorite October traditions from childhood. I loved carving a Jack-o-lantern and removing all of the guts!
Using the air fryer to roast pumpkin seeds is now a new tradition that I plan on repeating every Fall.
The first step in making pumpkin seeds in an air fryer is to remove the seeds from a pumpkin. Although you will get more seeds from a large pumpkin, I find that the mini pumpkins have the tastiest seeds.
I simply line a rack in the air fryer with parchment paper, spray them with olive oil, and sprinkle salt on top.
How Long To Air Fry Pumpkin Seeds
Set the air fryer to 300 degrees.
The air fryer roasts pumpkin seeds in just 20 minutes.
This is one of the reasons I love using the air fryer so much! It's so quick and easy for a variety of recipes.
Ingredients In Air Fryer Pumpkin Seeds
Pumpkin Seeds– Well of course this is the most important ingredient!
Olive Oil– Coat the pumpkin seeds in olive oil before roasting them in the air fryer.
Salt– I sprinkle popcorn salt and regular table salt on top of the pumpkin seeds before air frying.
Tips for the Best Air Fryer Pumpkin Seeds
Using mini pumpkins will require more work because you will have to carve many pumpkins to equal the number of seeds in a large pumpkin.
You may be asking yourself, are mini pumpkins edible? Yes, this is actually a great way to make homemade pumpkin puree, and don't let those seeds go to waste, use them to make homemade pumpkin seeds.
Using mini pumpkins and an air fryer for baking pumpkin seeds will deliver a crispy delicious snack every time.
Using olive oil and seasoning before cooking pumpkin seeds is the best way to get the flavor to stick.
Seasoning Ideas for Pumpkin Seeds
While this easy pumpkin seed recipe calls for just two different kinds of salt, there are many ways you can switch things up and create a variety of different flavors of pumpkin seeds.
Use garlic salt and onion powder for a bold savory snack.
Coat the pumpkin seeds with butter and add cinnamon sugar or pumpkin pie spice for a sweet snack.
Grab a package of this ranch dressing seasoning and sprinkle it on top of olive oil-coated pumpkin seeds for a unique pumpkin seed flavor.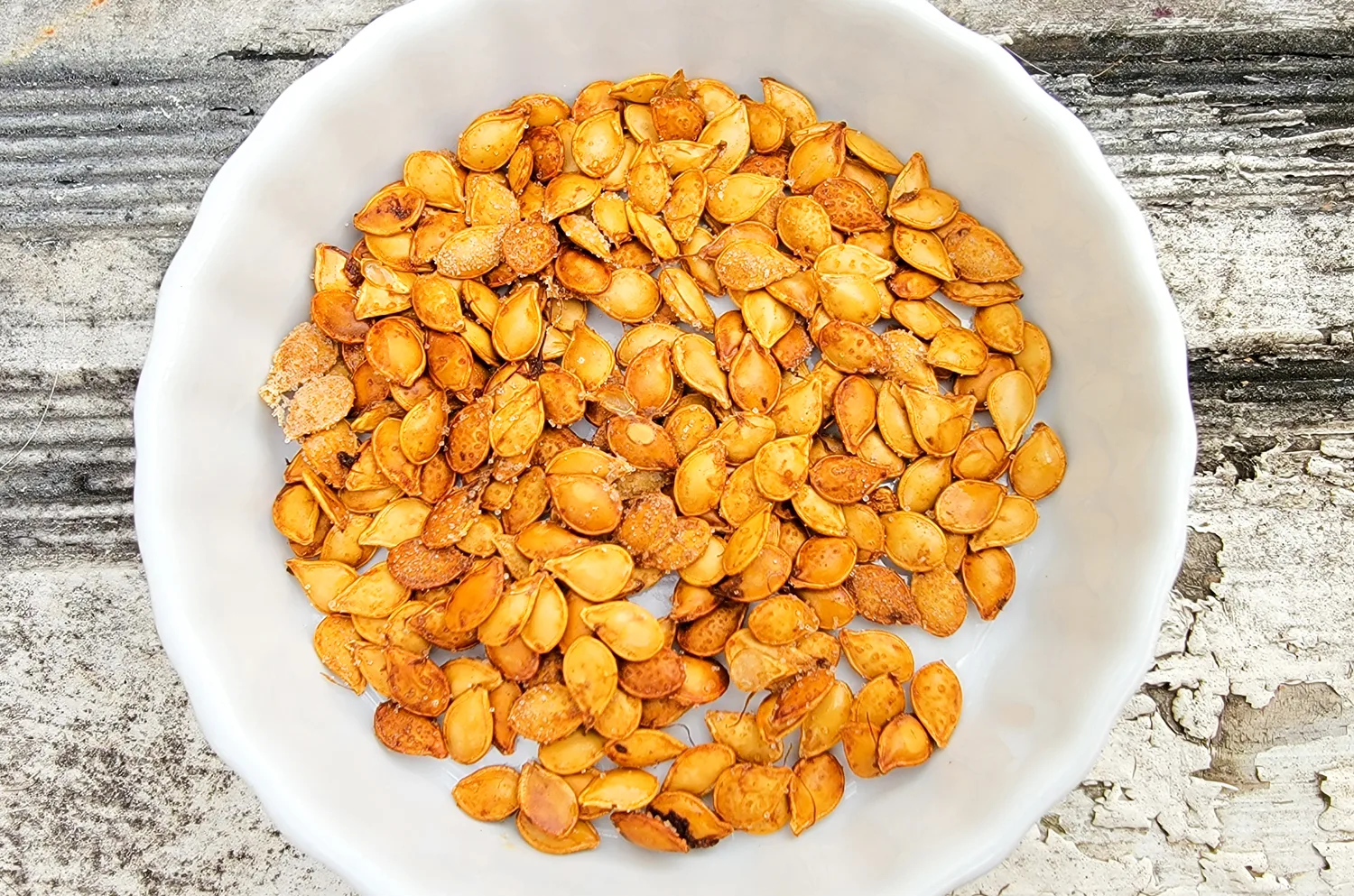 What Can You Cook In an Air Fryer?
I love using my air fryer in case you couldn't tell! I have the Power XL Air Fryer Oven and love it so much that this is my go-to air fryer when buying gifts for friends and family who love to cook as much as I do.
It is an amazing appliance that makes cooking easy! You can make a large variety of meals in the air fryer like fried chicken and chicken tenders instead of deep frying. This is a healthier alternative that still delivers that perfect golden brown on traditionally deep-fried or beer-battered recipes.
Some of my favorite recipes and some of the most popular air fryer recipes are posted below. I hope you will give them a try!
Be sure to follow along on social media and sign up for the free newsletter so you never miss another recipe post again!
Pumpkin Seeds in Air Fryer
Ingredients
Pumpkin Seeds
Olive Oil
Table Salt
Popcorn Salt
Instructions
The first step in making pumpkin seeds in an air fryer is to remove the seeds from a pumpkin. Clean the pumpkin seeds and set them on a kitchen towel to dry out for about 30 minutes.

Line a rack in the air fryer with parchment paper, spray the pumpkin seeds with olive oil and sprinkle salt on top.

Set the air fryer to 300 degrees.

Roast seeds for 20 minutes.
Recommended Products
As an Amazon Associate and member of other affiliate programs, I earn from qualifying purchases.