This keto crustless pumpkin pie is a low-carb dessert made in the air fryer. You'll love these air fryer mini pumpkin pies because they are so tasty and simple, making them the perfect easy holiday dessert.
This post includes affiliate links which means that if you click a link while reading through this keto recipe post and make a purchase, I will receive a small portion of the sale, at no additional cost to you.
Why Use an Air Fryer for Keto Pumpkin Pie?
This low-carb, sugar-free, keto pumpkin pie recipe is perfect for saving that highly coveted oven space when baking during the holidays. You'll love the ease of this crustless pumpkin pie and those who are not following a keto diet won't even notice that this recipe is sugar-free.
This is the tastiest pumpkin pie I have ever had and I don't even miss the pie crust at all!
Another great thing about using the air fryer for keto recipes is that this recipe can be whipped up in a jiffy. No need to preheat the oven or drop the temperature down like with traditional pumpkin pies. This crustless keto pumpkin pie is a hassle-free dessert.
Plus, you can save time making this no-fuss pumpkin pie because you don't have to make a crust and this easy crustless keto pumpkin pie only takes twenty minutes to bake in the air fryer!
I find pumpkin pie to be an easy recipe to transform because I have been making this traditional holiday pie every year for as long as I can remember. I have experimented with lots of versions of this recipe ever since I got my hands on my Aunt Brenda's homemade pumpkin pie recipe.
She always made the best pumpkin pies over the years but she used plenty of sugar in her recipe.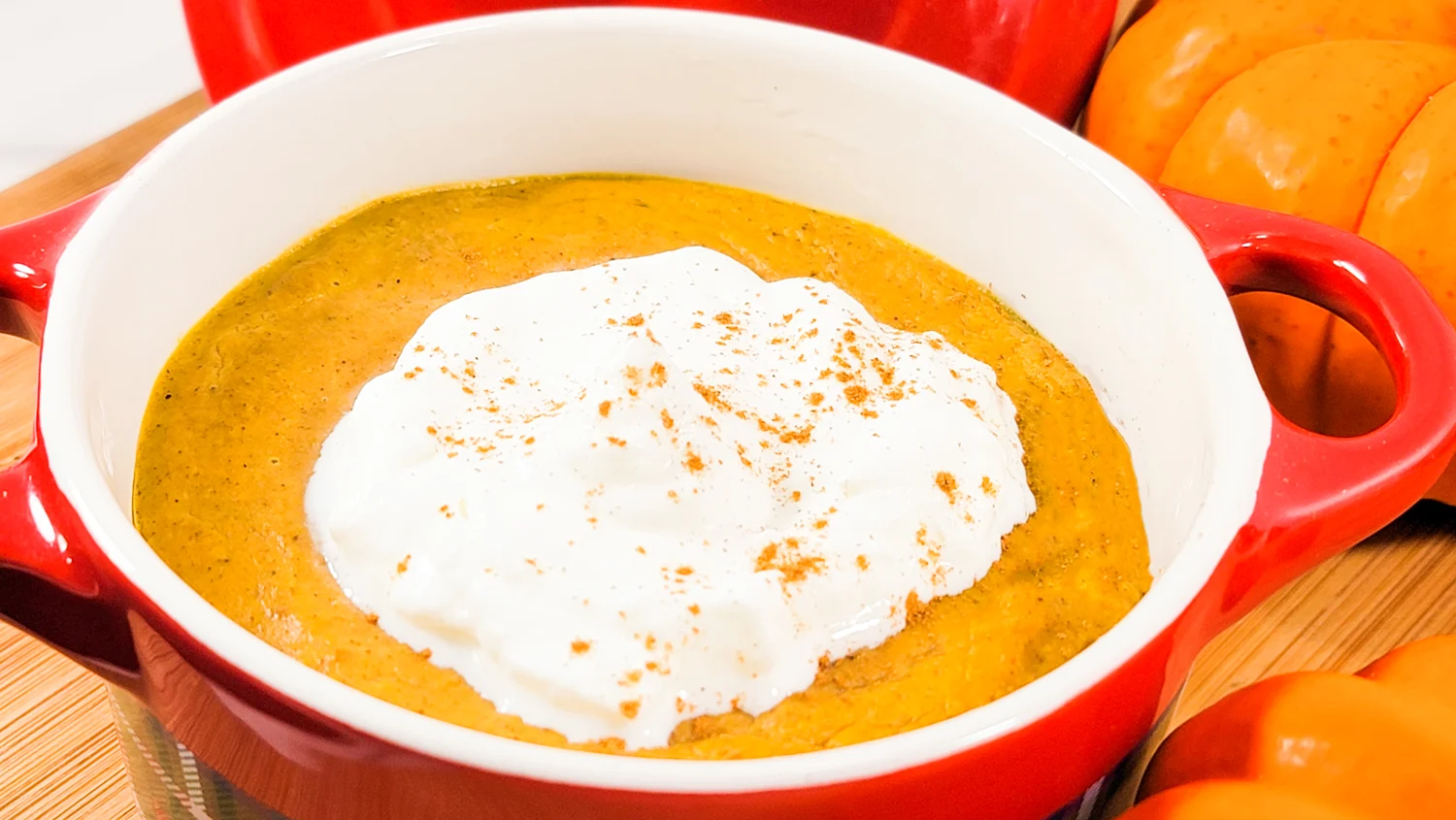 Why Make Sugar Free Pumpkin Pie?
I prefer a sugar free version of pumpkin pie, not only because I am following a low carb diet but I have found that sugar causes me more harm than it's worth. So since I love the taste of artificial sweeteners I don't feel like I am missing out at all.
Stevia is the perfect pumpkin pie sweetener in my opinion, especially since all of the other spices really deliver that delicious pumpkin pie flavor that I love so much.
Another thing I have noticed about crustless keto pumpkin pie is that I don't even miss the crust. My favorite part of pumpkin pie has always been the filling so there is no need for a crust.
When I was a kid, completely stuffed from an amazing Thanksgiving meal at my Aunt Brenda's house, I would eat the pumpkin pie filling only because I didn't have any room for the crust but wanted to get a taste despite how full I felt.
I have always loved pumpkin desserts like this frosted pumpkin spice cake but this Thanksgiving I have decided to create healthy versions of all of my favorite recipes inspired by Aunt Brenda.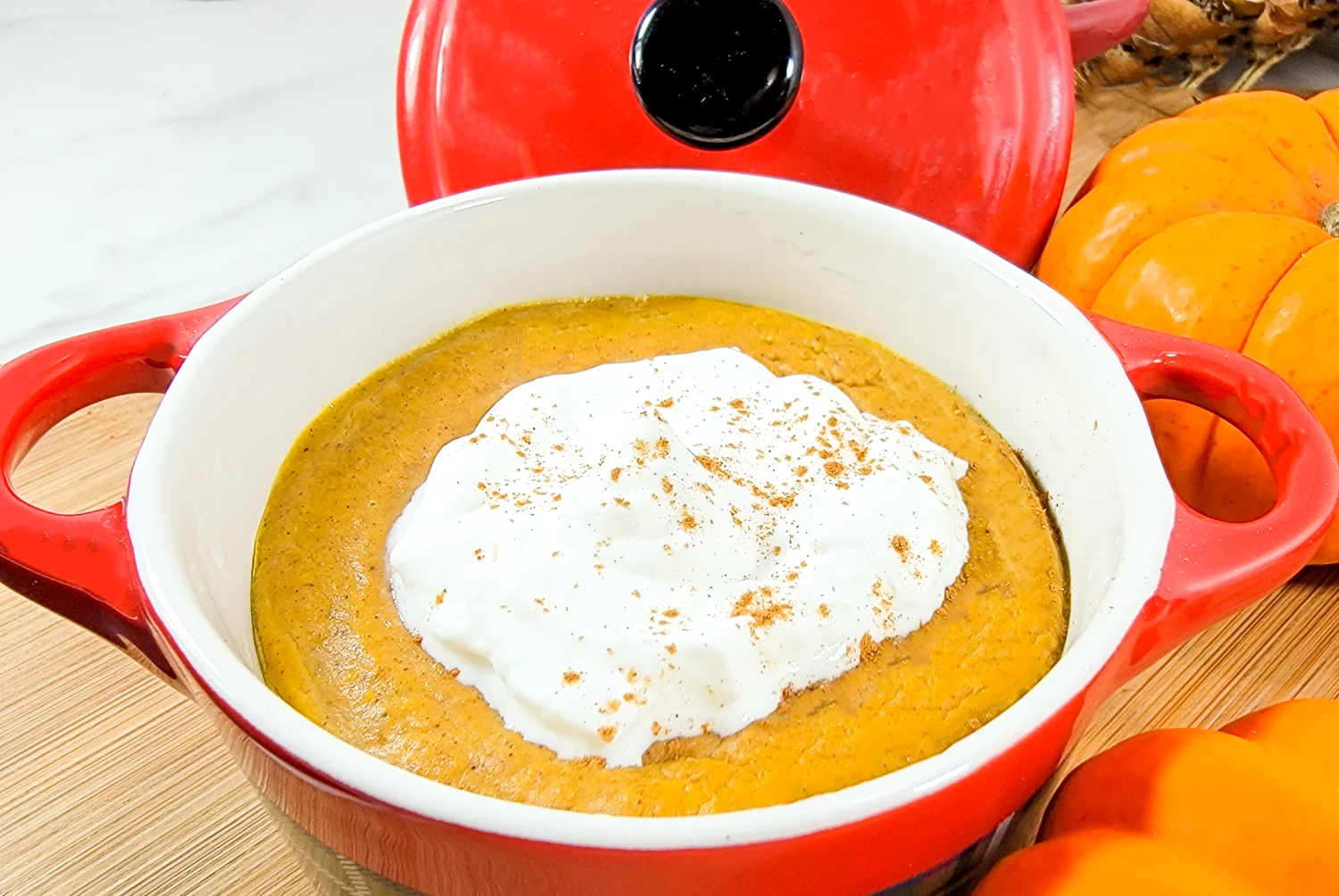 Ingredients for Keto Crustless Pumpkin Pie
You will need just a handful of ingredients to make these super easy pumpkin mini pies. This recipe is for 3 mini pumpkin pies but you can double this recipe to make 6 keto-friendly pies, which will fit in larger air fryer ovens.
Just be aware that your air fryer may cook some shelves before others. When cooking more than three pies at a time, depending on the size of your air fryer, you may need to remove the pies halfway through cooking and alternate the placement.
This recipe calls for 15 Ounces of Pure Canned Pumpkin, I use these mini casserole dishes but you can head over to the list of mini baking dishes available on Amazon and select your favorites.
You will also need heavy cream, personally, I enjoy the store brand when buying heavy cream but you can use whichever brand you like best.
It also calls for large eggs, Stevia, pumpkin pie spice, salt, Mexican vanilla, nutmeg, and cinnamon. I already had all of these ingredients in my kitchen so when the craving hit, I was enjoying a perfectly chilled pumpkin pie with keto whipped cream in just a couple of hours.
How to Make Crustless Pumpkin Pie in Air Fryer
Here's how to make a keto crustless pumpkin pie in the air fryer. In a medium-sized bowl, beat eggs, heavy cream, and pumpkin on low. Stir in the spices, Mexican Vanilla, Stevia, or other granulated sugar substitutes.
Mix well until combined. Pour mixture into mini casserole dishes. Bake at 325 degrees for 20 minutes.
Checking halfway to make sure pies are cooking evenly, rotating if necessary. When done baking, turn off the air fryer if needed, to allow the pies to continue cooking in the residual heat. This will help direct the heat to the center of the pies and prevent the top from overcooking.
If the pies form a crust on top while baking, they may need to be moved down a rack in your air fryer. You could also turn off the air fryer when the pies are just slightly jiggly or still un-cooked in the center. This can help to prevent burning on top.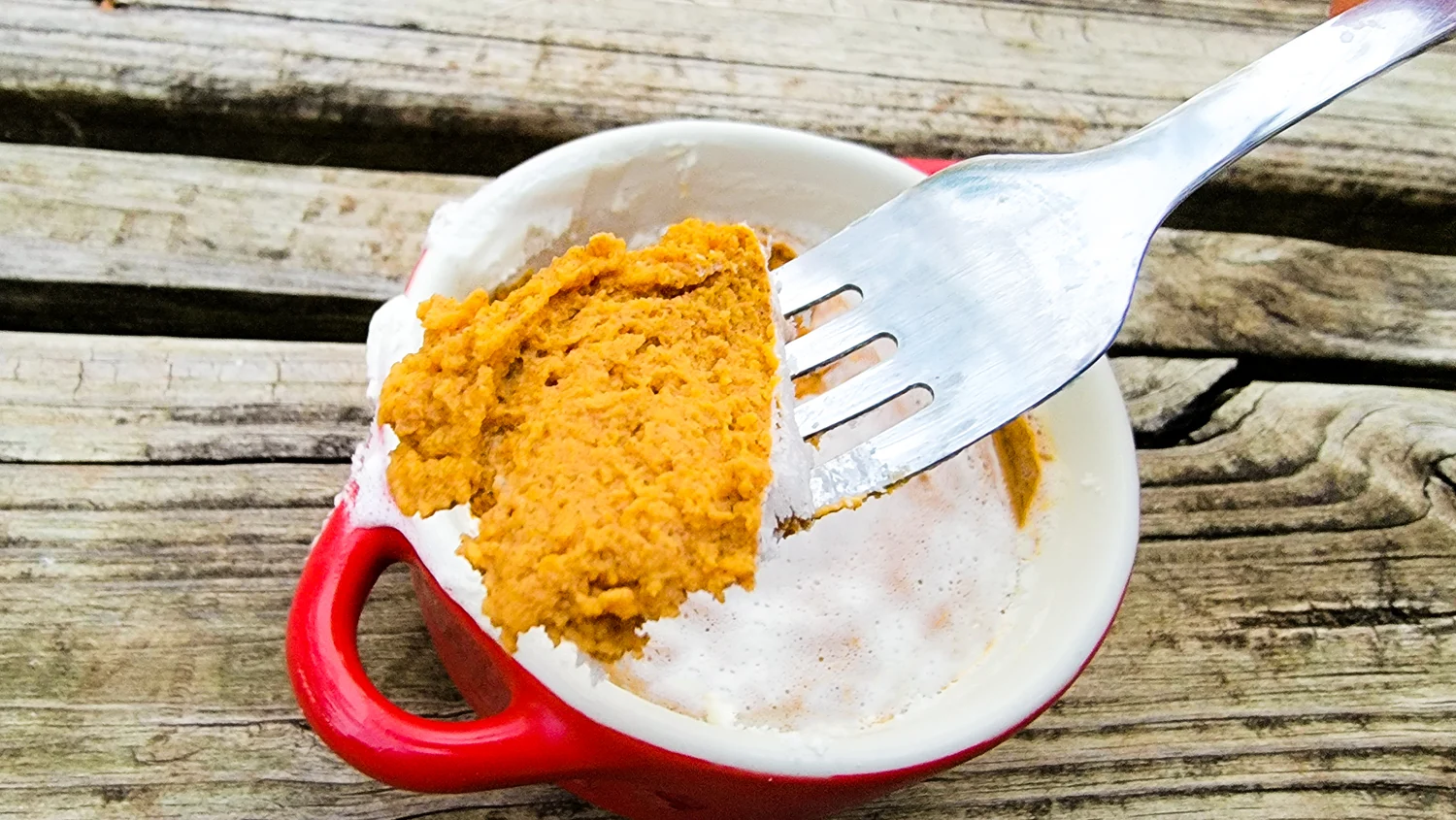 Frequently Asked Questions
Can These Air Fryer Pumpkin Pies Be Eaten Right Away?
I find that letting these pies cool for about a half hour and then placing them in the refrigerator brings them to the perfect temperature for enjoying. This is also a good way to make sure that the keto whipped cream doesn't melt on a warm pie.
Can You Freeze these Mini Pies?
Absolutely! Just make sure they've fully cooled on the counter before storing them in the freezer. Seal the pies in an airtight container or put the mini casserole dishes if they are freezer friendly, into a freezer-safe bags.
When serving again, allow them to thaw completely for a few hours. Place the pie on a plate and microwave it or leave them in the original mini casserole dishes if that is how they are stored. Just be sure that your container doesn't have a tin foil base before microwaving.
Reheating them in the air fryer is possible and if you have an all-in-one as I do, this may be the way to go but with traditional air fryers, these mini pies may dry out when reheating. That's usually why I like to reheat the pies in the microwave.
Can I Use a Sweetener Besides Stevia?
Yes! You can use erythritol, monk fruit, or even granulated sugar if you choose but be sure to not oversweeten these pumpkin pies. When using artificial sweeteners instead of granulated sugar you can usually check the packaging for instructions on how to replace sugar with artificial sweeteners.
Swapping out artificial sweeteners for granulated sugar can be a bit tricky as there won't be any instruction on how to convert a recipe.
I would suggest using half of what this recipe calls for when replacing it with granulated sugar. This pie is airy and delicate as well as moist and fluffy, regular sugar may alter this texture if used in excess.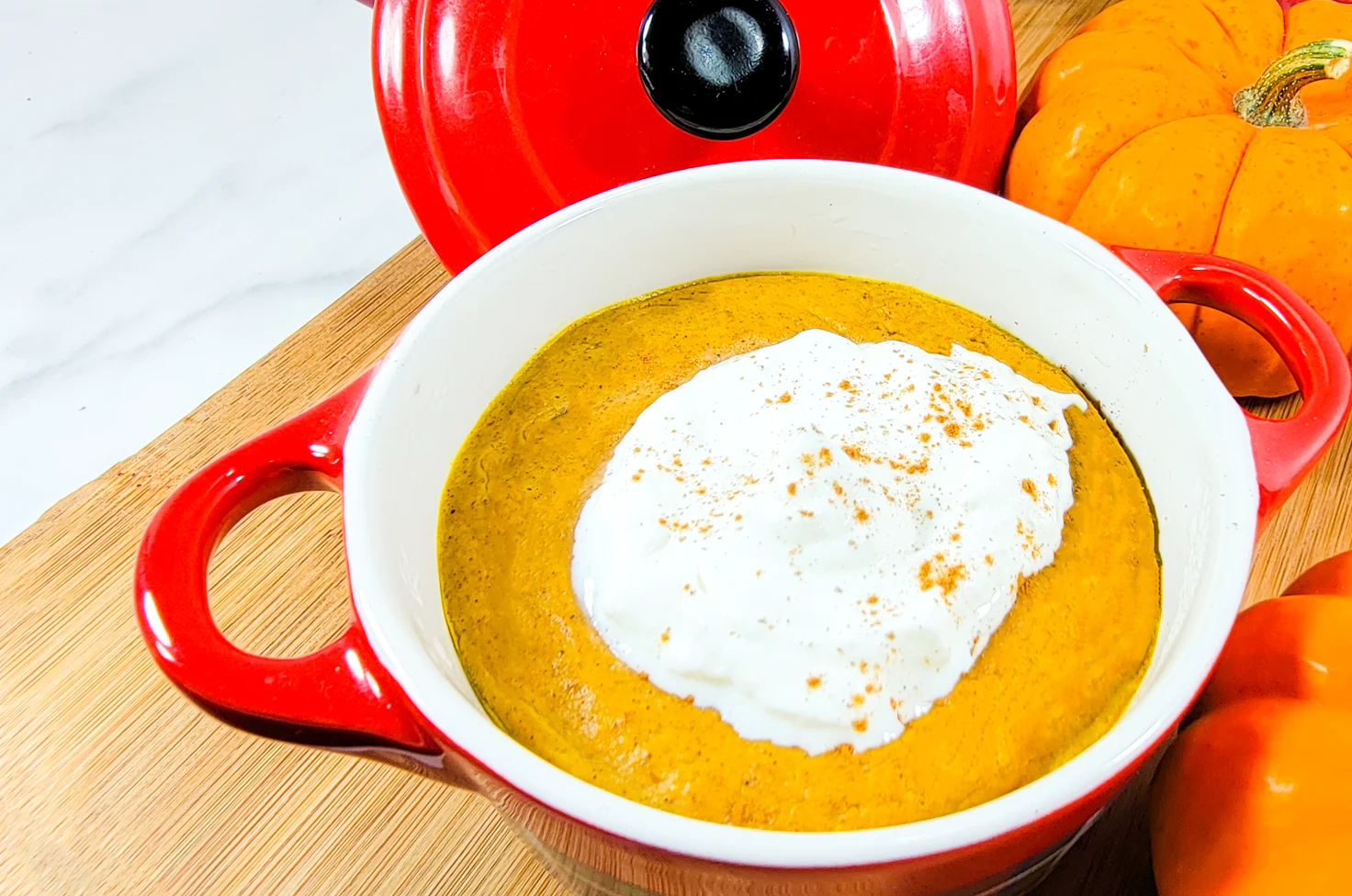 Want More Keto Air Fryer Recipes?
Air Fryer Keto Chocolate Chip Cookies– Have you been looking for a low-carb chocolate chip cookie that tastes like the real thing? This keto air fryer dessert is it!
Air Fryer Zucchini Chips– If you are following a keto, Specific Carbohydrate Diet, Paleo, or eating gluten-free, or if you just want a deliciously healthy low-carb recipe, these crispy Air Fryer Zucchini Chips are the perfect recipe for you.
These keto peanut butter bars are an easy low-carb dessert made in the air fryer. No heating up the house or baking them in the oven is required! Soft, chewy, and delicious!
Learn how to make BBQ Air Fryer Baby Back Ribs! This is an easy keto dinner idea that can be made in the air fryer.
Learn how to Make the Healthiest Lunchmeat in the Air Fryer for delicious healthy sandwiches all week long.
Find out How to Use an Air Fryer as a Dehydrator and see the 9 most popular air fryer dehydrator recipes.
Be sure to follow along on social media and sign up for the free newsletter so that you never miss another recipe post again!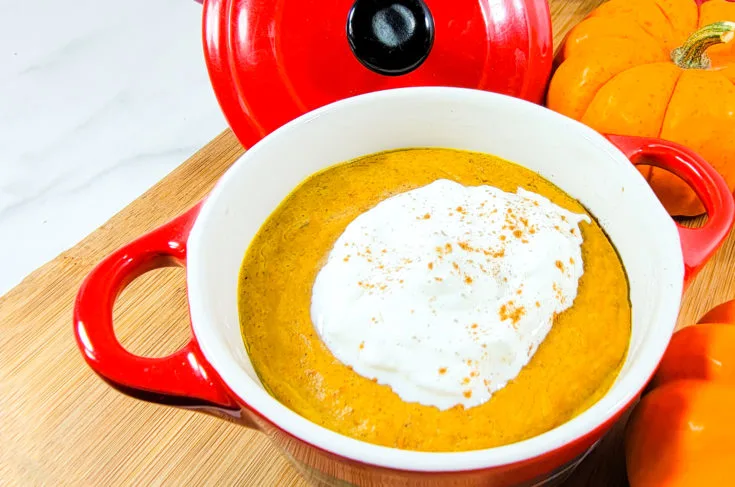 Keto Crustless Pumpkin Pie Air Fryer Recipe
Ingredients
15 Ounces of Pure Canned Pumpkin
1/3 Cup of Heavy Cream
2 Eggs
2 Teaspoons of of Stevia
2 Teaspoons of Pumpkin Pie Spice
1/4 Teaspoon of Salt
1 Teaspoon of Mexican Vanilla
1/8 Teaspoon of Nutmeg
3/4 Teaspoon of Cinnamon
Instructions
In a medium bowl, mix eggs, heavy cream, and pumpkin on low. Add in the spices, vanilla, and stevia. Mix until well combined.
Pour mixture into mini casserole dishes.
Bake at 325 degrees for 20 minutes.
Checking halfway to make sure pies are cooking evenly, rotating if necessary.