This post sharing Keto Stuffed Bell Pepper Soup contains affiliate links which means that if you make a purchase after clicking a link, I will receive a small portion of the sale at no additional cost to you.
Keto stuffed bell pepper soup is a low-carb soup with ground meat, orange, and green peppers cooked in a crockpot.
If you are following a low-carb diet or just looking for a deliciously easy meal for the whole family, this low-carb stuffed pepper soup fits the bill. This stuffed pepper soup is Diabetic, Celiac, and Mediterranean diet friendly.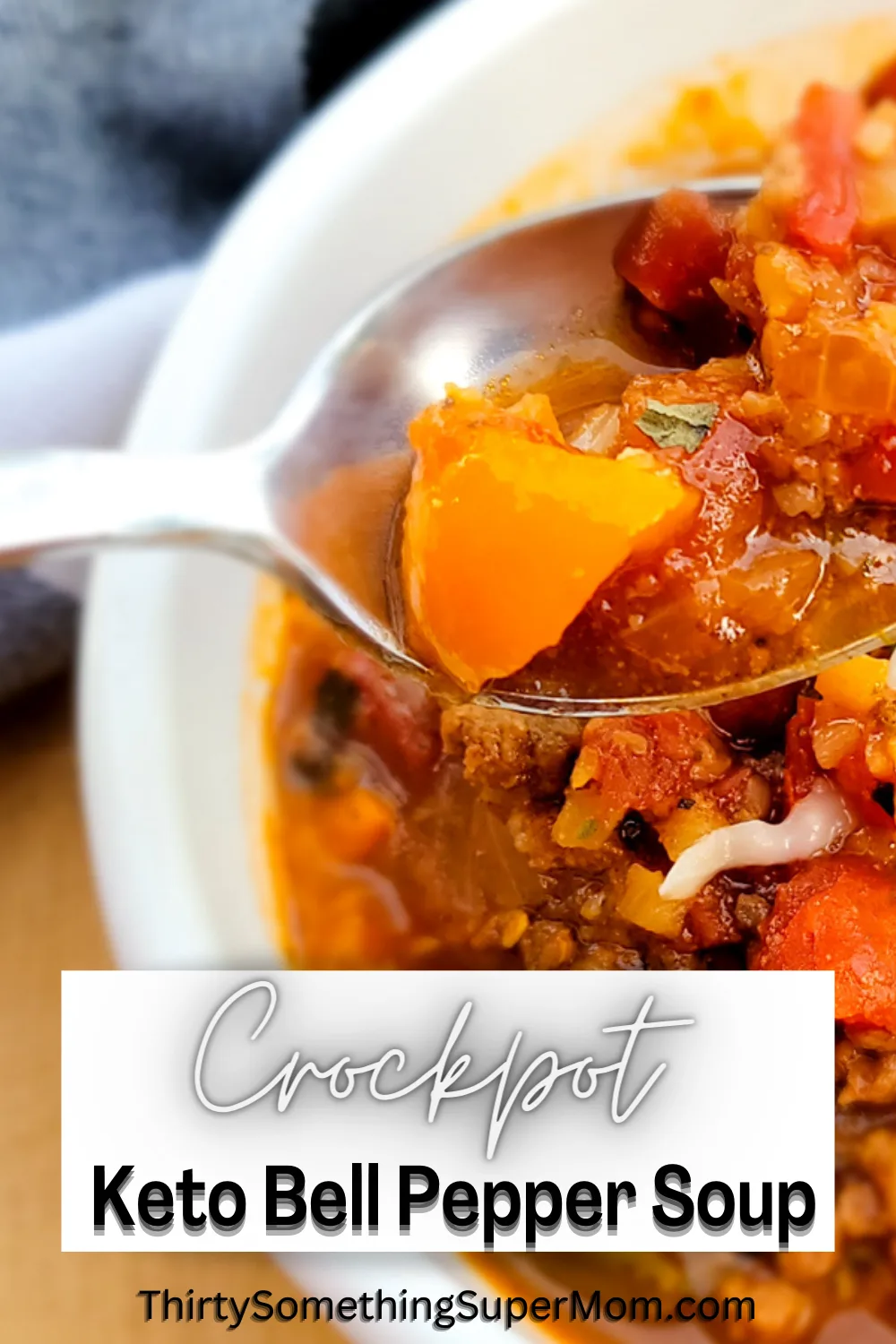 What You'll Need for Keto Stuffed Pepper Soup
This keto pepper soup is very similar to traditional bell pepper soup but a few small changes are required to make this stuffed pepper soup keto. These are easy healthy swaps to do and to be completely honest, this is the best bell pepper soup I have ever tried.
To make this stuffed pepper soup low carb you will need to omit rice but a great substitution that makes this bell pepper soup keto is cauliflower rice.
This keto crockpot meal is full of bold flavors from garlic, beef broth, bell peppers, oregano, basil, red sauce, onion, and diced tomatoes with green chiles.
Even if you think that cauliflower rice isn't for you or you aren't a big fan of cauliflower in general, I suggest you give this a shot. The flavors from this keto pepper soup pair perfectly with the texture provided by the cauliflower rice that you won't even taste the difference between "real rice" and the cauliflower version.
The red sauce used in the recipe is from a post sharing how to make sauce from fresh tomatoes. You can replace this with your favorite red sauce if you don't have a stockpile of canned sauce in your cabinet but be sure to take a look at that post to get an idea of what kind of flavors it brings to this keto stuffed pepper recipe.
How to Make Keto Bell Pepper Soup
The process of making this recipe in low carb version is really simple. No need to stuff the peppers or make carmelized onions to enjoy a deep and big flavor, this is an easy crockpot meal.
If you are keto meal prepping, this low-carb ground beef soup with peppers is a great addition to make your week of keto recipes to cook easier.
The taste will be better the longer you cook it so don't worry about getting to dinner a bit later than expected. This keto bell pepper soup just needs about 6 hours to make sure everything is soft and that all of the flavors combine well.
The first step to making this keto pepper soup is to brown the ground meat. The next step is to steam the cauliflower rice. You can purchase bagged cauliflower rice that steams in the microwave in the original packaging.
Cooking the cauliflower this way really saves time and trouble but you can use a head of cauliflower to make your own cauliflower rice if you prefer but keep in mind that this process will take much longer.
The next step is to dice the garlic, onion, and bell peppers before adding them to the crockpot. Sprinkle in all of the seasonings and add in the beef broth.
Once the meat is ground and the cauliflower is steamed, add it to the crockpot as well. Cook on high for 6 hours to ensure all of the vegetables are soft.
Tips for Making the Best Keto Stuffed Pepper Soup Recipe
One way to make sure that you make the best keto stuffed pepper soup recipe is to follow this recipe exactly. The textures, flavors, and consistency of this recipe all work well together so changing ingredients can have a negative impact on the dish as a whole if you are not careful.
Using this homemade sauce from Roma tomatoes is the best way to create a bold flavor in the broth of this soup.
Dicing the bell peppers into small chunks as the photo above shows is the best way to ensure that they are going to soften while cooking. Adding them to the crockpot first will keep them underneath the broth and allow them to soak throughout the cooking process.
When browning the ground meat (beef, venison, or turkey), be sure to drain all fat before adding the meat to the crockpot.
Using a crockpot with a timer can help you to make sure that the soup is cooking at the right temperatures and cooling off in time for you to enjoy dinner with no delay. If your crockpot doesn't have a timer, you can pick up timer that plugs into your crockpot.
Variations on this Keto Stuffed Bell Pepper Soup
When making low-carb stuffed pepper soup a lot, you may want to switch things up and try different variations on this recipe.
If you are really not a fan of cauliflower and decide that you want to make this stuffed pepper soup without rice I would suggest you add in more meat to help absorb some of the broth.
When changing out the meats, almost any ground meat will work great for this recipe. Personally, one of my favorite ways to make this recipe is to turn it into a keto venison soup or keto venison stew recipe. I usually have plenty of venison in the freeze and enjoy the extra flavor that it provides this low-carb soup.
If you prefer a keto green pepper soup, feel free to add in any color of bell pepper you desire but this will change the flavor a bit. Orange & red bell peppers are sweeter than green bell peppers so switching this ingredient out will have an impact on the flavor of this soup but you may prefer that change if you aren't a big fan of keto red pepper soup.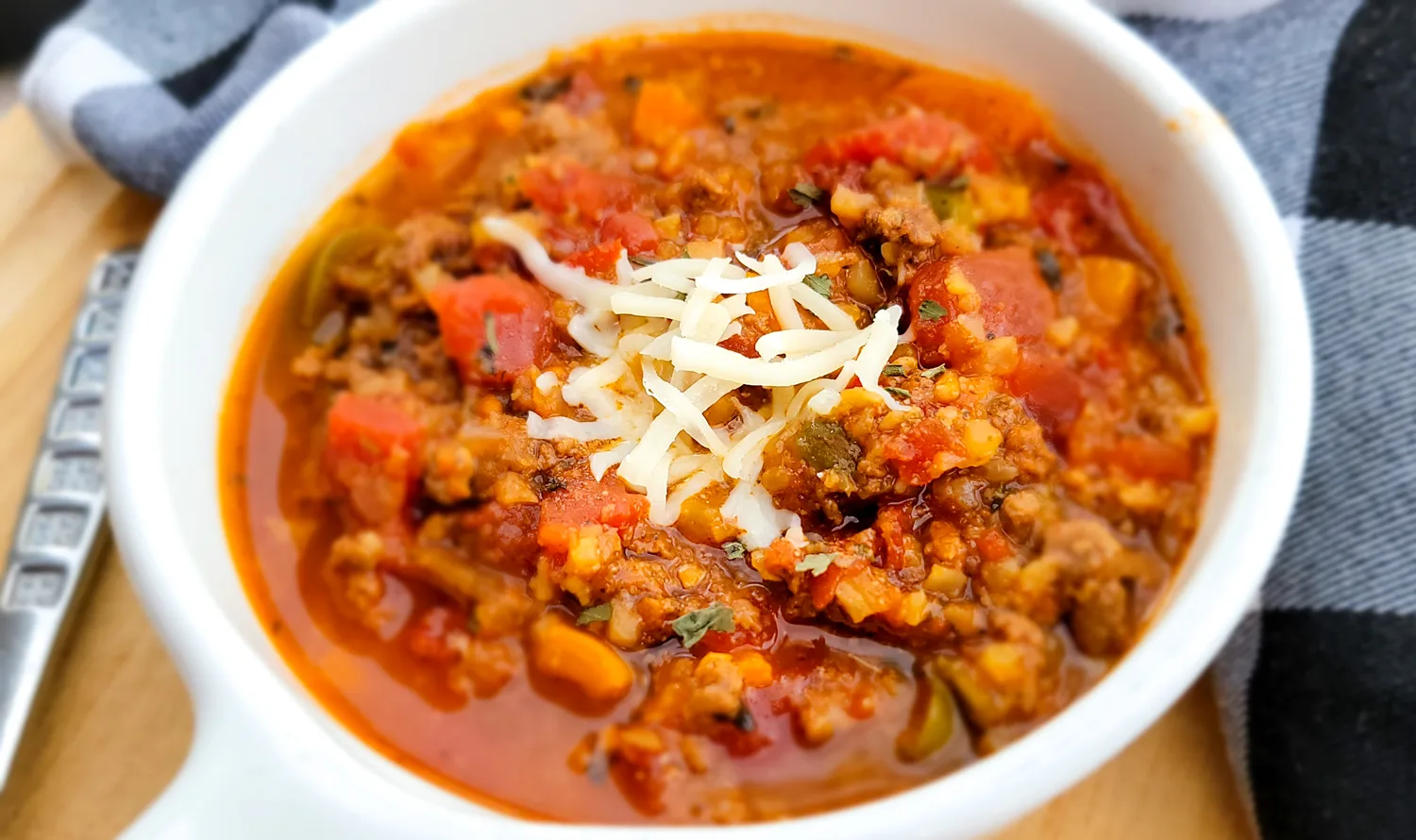 Adjusting the Amount of Carbs in Stuffed Pepper Soup
When changing the variety of peppers in this recipe will change the amount of carbs in stuffed pepper soup. There are fewer net carbs in a green pepper than in a red although the size of a red is typically larger so this can vary. Since I am not an expert I would suggest you find that information from a trusted source.
My source is usually to go to Google and type in "net carbs green pepper" and then figure out the carbs in stuffed pepper soup. Pretty simple but I usually do what is referred to as "dirty keto" so I really am not too worried about it.
I eat healthily, I lose or maintain weight while on a low-carb diet and enjoy delicious food. So I am happy with this as it works for me but you should figure out what works best for you because this is different from one person to the next. I still eat some foods that are considered not keto-friendly but I like to enjoy a variety of foods as long as I can set healthy limits.
When eating a non-keto recipe like this chicken soup, I don't really feel guilty because most of the carbs are coming from carrots and I feel that the benefits outweigh the high carbs on occasion.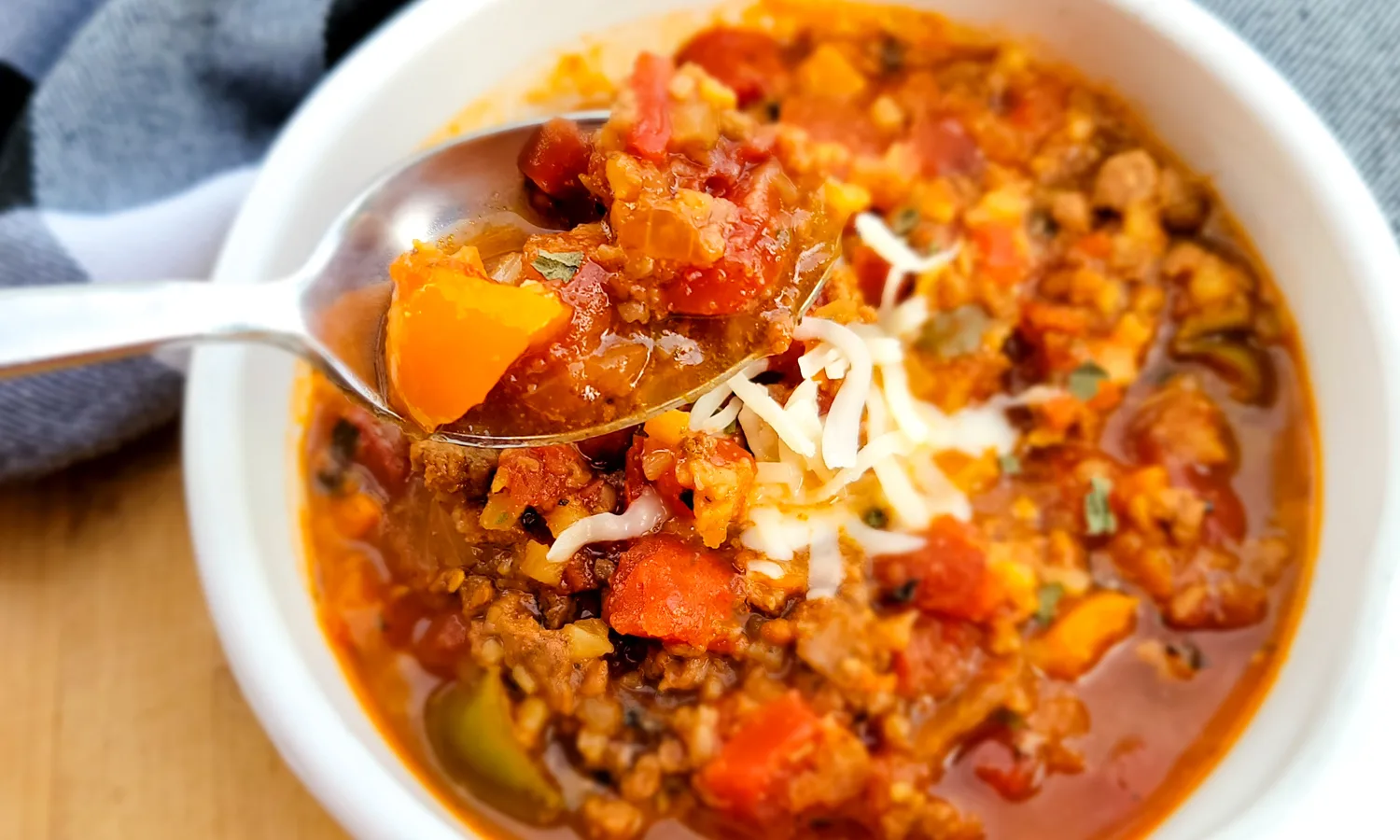 This Keto stuffed pepper soup crockpot recipe is perfect for a quick weeknight meal. I hope you enjoy learning how to make this quick keto crockpot meal and follow along on social media as well as sign up for the free newsletter so that you never miss a recipe post again.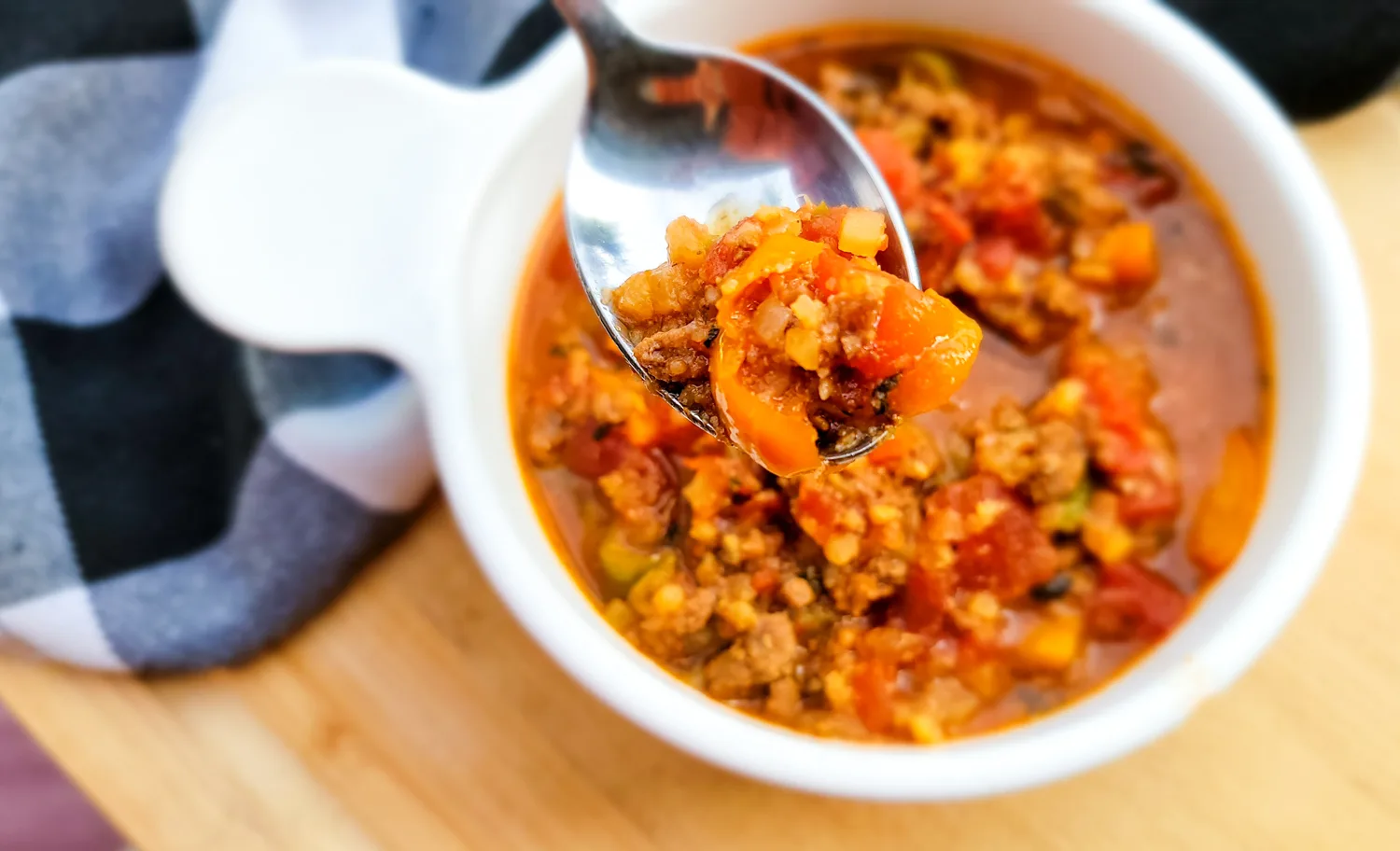 More Low-Carb & Keto Recipes
If you are a big fan of stuffed peppers and follow a low-carb diet, you have to try the best keto stuffed peppers recipe. Be sure to check out all of the low-carb and keto recipes here.
If you are looking for something in particular, search the bar at the top of the homepage or in the sidebar to find it!
Low-Carb Soup Recipes
This Low Carb Chicken Fajita Soup is a delicious way to enjoy the flavors of fajitas without all of the trouble.
Keto Chicken and Rice is a quick and easy crockpot dump meal!
Low Carb Roasted Tomato Soup with Keto Grilled Cheese is the perfect lunch!
Looking for 15-minute one pan Low Carb Meals? You'll love these Recipes!
15 Minute Low Carb Chicken Zucchini Alfredo Skillet in one skillet is great for those craving a creamy alfredo sauce without the carbs.
15-Minute High Protein Low Carb Dinner Idea – This Cheesy Chicken and Rice Skillet is perfect for a quick keto option.
15 Minute Low Carb Pepper Steak Stir Fry is better than takeout, you have to give this one a try!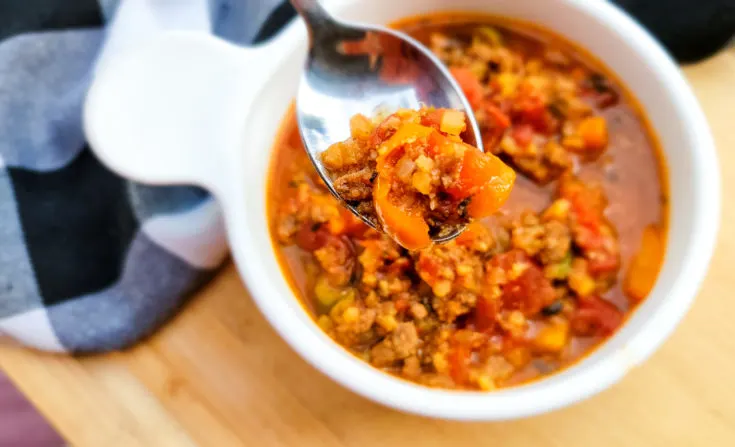 Keto Stuffed Bell Pepper Soup
Total Time:
6 hours
15 minutes
Keto stuffed bell pepper soup is a low-carb soup with ground meat, orange, and green peppers cooked in a crockpot.
Ingredients
1 lb Ground Meat (Venison, Beef, Turkey)
2 Tablespoons Minced Garlic
1/2 Onion
3 Bell Peppers
28 Ounces of Canned Diced Toatoes with Green Chilies
1/2 Teaspoon of Basil
1/2 Teaspoon of Oregano
4 Cups of Beef Broth
1/4 Teaspoon Pepper
1 12 Ounce Bag of Steamed Riced Cauliflower
1 & 1/2 Cup of this Red Sauce (See Instructions for Red Sauce)
Instructions
Brown the ground meat in a frying pan.
Steam the cauliflower.
Add seasonings, tomatoes, broth, steamed cauliflower. and this red sauce to a crockpot.
Set to high and cook for 6 hours in a crockpot.
Notes
Be sure to read the post for full instructions and tips on how to make this keto recipe perfect!