The best gluten-free pumpkin bread recipe is made using simple ingredients that you probably already have on hand. Enjoy this deliciously moist and creamy homemade pumpkin bread any time of year.
Once you see how easy this gluten-free pumpkin loaf is to make, it is sure to be one of your favorite quick breads to make all year long.
This original recipe includes affiliate links which means that if you make a purchase after clicking a link, I will receive a small portion of the sale at no additional cost to you.
What You'll Need to Make Gluten-Free Pumpkin Bread
This recipe calls for simple ingredients that you probably already have around the house.
Dry Ingredients
Almond Flour- I usually have plenty of almond flour around because it is my go-to for most gluten-free breads. It's easy to replace all-purpose flour with this healthy gluten-free option.
Stevia- There are lots of options for sweeteners but this is my preferred one. You could use coconut sugar, maple syrup, dark brown sugar, or even white sugar if you prefer.
Baking Powder
Pumpkin Puree- I like this brand of pumpkin puree but you can use homemade pumpkin puree or use your favorite brand of canned pumpkin puree. just be sure that you are using puree and not pumpkin pie filling. They both have a great pumpkin flavor but pumpkin purée is plain pumpkin puree while pumpkin pie filling is usually already flavored and sweetened.
Salt- I use regular kosher salt in this recipe.
Cinnamon- If you are a big fan of cinnamon you can increase the amount used in this recipe to a couple of teaspoons of cinnamon.
Wet Ingredients
Pumpkin Pie Spice- This spice is a common ingredient in a lot of pumpkin bread recipes for a reason. Pumpkin spice adds a delicious flavor to this pumpkin bread batter and compliments the pureed pumpkin nicely.
Eggs- I usually use large eggs or jumbo eggs when baking. If you are vegan and want to replace the eggs in this recipe a good option is to use flax eggs.
Vanilla- When a recipe calls for vanilla extract, I usually use this pure vanilla extract but you can use imitation instead if you have that on hand.
What You'll Need to Make the Gluten-Free Frosting Recipe
The frosting for this recipe can be used to make gluten-free cakes, cupcakes, or frost banana bread. Be sure to check the recipe card for the full instructions and measurements.
Butter
Cream Cheese
Stevia
Heavy Cream
How to Make the Best Gluten-Free Pumpkin Bread
In a large mixing bowl, begin mixing the wet ingredients starting with the pumpkin puree, followed by the eggs and vanilla. Then in a medium bowl mix in the dry ingredients, stirring together with a wooden spoon until well combined.
The next step is to slowly add the dry ingredients to the wet ingredients. This can be done with a food processor, stand mixer, or by hand.
Once all of the ingredients are combined, pour the batter into a prepared loaf pan and place it on the middle wire rack of the preheated oven.
The frosting will be made by adding the frosting ingredients into a separate bowl and frosting the loaf once it has cooled completely.
Be sure to check out the best baking pan on Amazon to see which one I use for making this recipe. I also used this measuring cup set as well as this large bowl for this recipe.
Optional Add-Ins for Best Results
There are many options for add-ins that will take this recipe to the next level. Some of the most
Chocolate Chips- When adding in chocolate chips, keep in mind that they will melt during the cooking process and may alter the pumpkin flavor. Another option is to sprinkle them on top after the loaf comes out of the oven. But keep in mind that they may still melt if you do not let the bread cool. To avoid melting, allow the bread to drop to room temperature before sprinkling the chocolate chips on top.
Maple Glaze- The flavors of pumpkin and maple go well together. Adding maple syrup or maple extract to the frosting can change this recipe and give it a new flavor with a small change. Or you can create a maple glaze to pour on top of the finished loaf and skip the frosting.
Pumpkin Butter- Instead of frosting or maple glaze, this recipe is great when served with pumpkin butter spread on top. This goes great with a cup of coffee and if you are a dunker like me, you'll love the moist crumbs waiting at the bottom of your cup.
Pumpkin Seeds- Sprinkle pumpkin seeds on top of the loaf to make an easy gluten-free Starbucks pumpkin bread copycat recipe.
Is Pumpkin in a Can Gluten-Free?
Usually, this is the case but if you have gluten sensitivity it is best to read the nutrition label and stick with a brand you trust before picking a new brand up at the grocery store.
After finding out about the secret ingredients not listed on the food label, I stopped trusting the nutrition labels alone and oftentimes will write a letter to the company to get more information about what is in the food I am purchasing.
What is the best Gluten-Free Flour for Baking Bread?
There are many flour options for baking gluten-free bread which makes it hard to pick just one. I have had success with lots of gluten-free flour blends that include rice flour, oat flour, and almond flour (not almond meal).
Some flour blends include xanthan gum and other ingredients that you may not expect to be included so be sure to read the label before purchasing.
King Arthur and Bob's Red Mill make a Gluten-Free Flour Blend that measures out to the same as conventional flours making healthy swaps easy.
How Do You Store Gluten-Free Bread?
As with traditional bread recipes, the best way to store gluten-free bread is in an airtight container. If you want to freeze this bread it is best to do so before frosting.
I made the loaf last night and decided to frost it this morning, but you can refrigerate the bread to speed up the cooling process and frost it within an hour of taking it out of the oven.
Seal the bread with plastic wrap then wrap it with aluminum foil then store it in a freezer bag for up to 2 months.
Tips for Making the Best Gluten-Free Pumpkin Bread
Insert a toothpick into the center of the loaf, if it comes out clean the loaf is done.
Allow the gf pumpkin bread to cool completely before frosting.
Use a nonstick bread pan for this recipe and be sure to grease the loaf pan before using. This can be done by lining the loaf pan with parchment paper or greasing it with butter.
Another great way to grease the pan is to use coconut oil, vegetable oil, or olive oil-based cooking spray.
More Gluten-Free Baking Recipes
The next time you want to create a gluten-free recipe, you will have to try these out.
Skip the flour altogether and make this Simple Flourless Sandwich Bread.
For another easy and delicious gluten-free dessert bread recipe be sure to check out this Sugar & Gluten-Free Apple Bread.
Then be sure to check out this post sharing How to Make Gluten-Free Zucchini Bread.
If you are looking for a delicious gluten-free dinner idea that is specific carbohydrate diet-friendly, this gluten-free chicken pot pie recipe is perfect!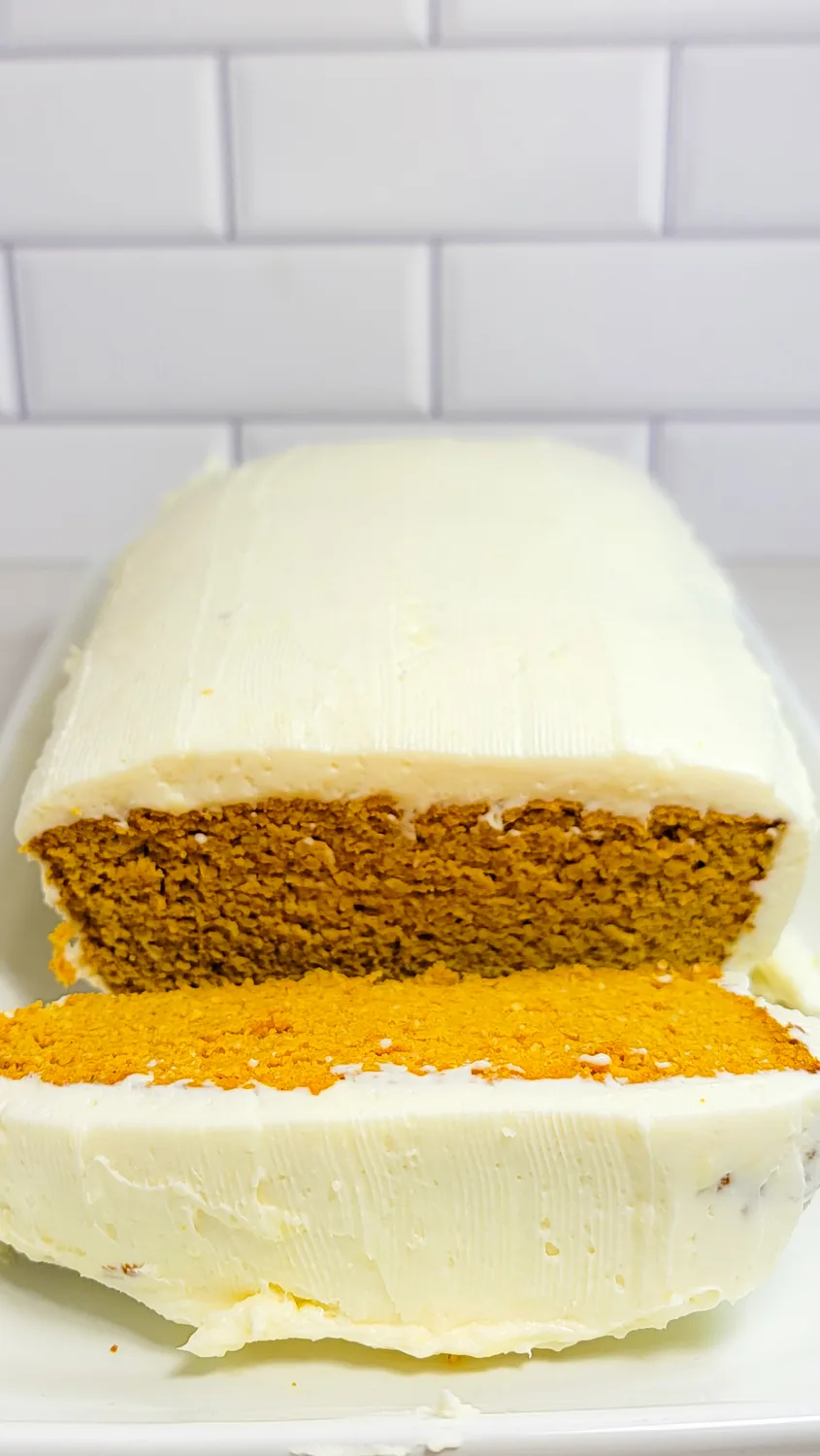 Don't forget to sign up for the free newsletter and follow along on social media so you never miss another gluten-frree recipe again.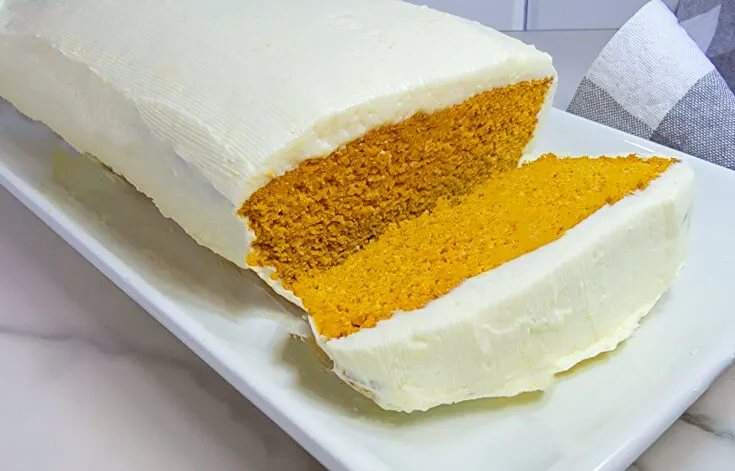 Best Gluten-Free Pumpkin Bread with Frosting
Ingredients
2 Cups of Almond Flour
1/2 Teaspoon of Salt
1/2 Cup of Stevia
1/2 Teaspoon of Cinnamon
1/4 Teaspoon of Pumpkin Pie Spice
15 Ounces of Pupkin Puree
3 Eggs
1 Teaspoon Vanilla
1 Tablespoon of Baking Powder
*For the Frosting-
3 Tablespoons of Butter
8 Ounces of Cream Cheese
1/3 Cup of Stevia
1 Tablespoon of Vanilla
2 Tablespoons of Heavy Cream
Instructions
Mix all of the dry ingredients together in one bowl and mix the wet ingredients in another.
Slowly add the dry to the wet.
Combine all of the ingredients then pour into the prepared loaf pan.
Bake in an oven preheated to 325 for about one hour.
Allow to cool.
Mix together the frosting ingredients and spread on top of the cooled loaf.
Recommended Products
As an Amazon Associate and member of other affiliate programs, I earn from qualifying purchases.