It can be so hard to find a good low carb banana recipe that is actually easy to make and tastes delicious.
Thankfully after a little experimenting, I figured out how to make a Guilt-Free Recipe for a Low Carb Banana Bread.
It is perfect for making peanut butter and jelly sandwiches, enjoying with a scoop of ice cream, or even making a banana bread french toast recipe.
I love experimenting in the kitchen and keep coming up with new recipes for the Specific Carbohydrate Diet, Paleo, and Gluten Free as well as Low Carb diets.
I try to remind my daughter how grateful she should be that she has a mom available to cook for her as often as I do but like a lot of kids her age, she just doesn't get it.
My mom had to work outside of the home and like most families, we were barely getting by so our meals consisted of highly processed foods that were full of additives we didn't even know about yet.
My childhood go-to meal was peanut butter and jelly sandwiches.
I loved them and still do.
I enjoy the taste of the peanut butter quickly followed up by a cold chill of jelly mixing in.
There just isn't anything like it.
The problem is for health reasons I know that I should not be eating the traditional form of peanut butter and jelly, which means I had to try really hard to recreate something to get me through those peanut butter and jelly cravings.
That is when I created this Low Carb Banana Bread, it is perfect for peanut butter and jelly!
I love spreading an all natural peanut butter on one slice followed up by a good slathering of my favorite homemade jelly.
This low carb banana bread makes me so happy.
It is the ultimate comfort food but without all of the guilt.
It's not a diet food, even though my husband doesn't follow any of the diets that I have in the past, like Specific Carbohydrate Diet or Paleo, he enjoys the guilt-free recipes I create.
That lets me know that I am doing it right.
When someone who isn't on a restricted diet enjoys the recipes I create as much as I do, that is when I know I have a real winner.
Do you enjoy peanut butter and jelly as much as I do? What are your thoughts on this guilt-free version of the classic recipe using a homemade jelly and a Low Carb Banana Bread?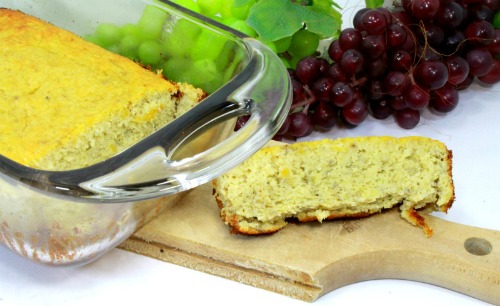 Low Carb Banana Bread Recipe
Ingredients
3 over ripe bananas
3 eggs
1/4 cup of honey
1 package of raisins or 1/4 cup
1 cup Coconut Flour
1 Tablespoon Olive Oil
1 1/2 Teaspoon of Cinnamon
3/4 tsp baking soda
1/2 teaspoon salt
Instructions
Preheat oven to 350 degrees and butter a loaf pan
Mix all ingredients in a mixer or if you are looking for a good upper body workout, use a spoon.
Bake for about 30 minutes or until a toothpick inserted in the middle comes out clean.
Depending on the dish you use for baking your banana bread you may want to leave it in longer but be sure not to overcook it as it will dry out fast.