It can be hard to stay committed to a healthy lifestyle or to try out a new diet like Paleo or Keto.
For some of us, the most difficult part of transforming our eating habits is the idea that we can no longer eat our favorite foods like cookies, ice cream, and brownies.
Thankfully that is not true!
Even when you are following a diet like Keto, Paleo or any low carb type of diet.
You can still enjoy delicious foods and stick to your diet or healthy new lifestyle by replacing your traditional desserts with guilt-free desserts instead.
Adopting a healthier lifestyle is not supposed to be hard to maintain.
In fact, you are supposed to push through the initial resistance you feel when starting a new diet plan only to come out on the other hand in perfect shape, happier and more fulfilled than ever.
I have seen this play out in movies and on tv, ultimately you are supposed to become a better person in the end who can save babies from traffic with their abs or something like that.
Ok maybe that part is not true but I do constantly hear people say things like I love working out, it makes me feel great or I don't even miss carbs, I love eating clean.
I only enjoy working out when I have pent up aggression that I somehow pushed down long enough to get out of the school pick up line before cursing out a random mom who can't seem to navigate the same parking lot she drives through every day, twice a day.
More often for me are the days when I am working out and daydreaming about the second my timer goes off and I can go back to anything but working out, preferably somewhere with brownies.
Although working out may always be a struggle, dealing with cravings while on a diet like Keto or Paleo, doesn't have to be.
You can still enjoy a gooey brownie on occasion and when you create a guilt-free brownie, portion control is not as big of a deal either.
I love swapping out bad ingredients for healthier options in order to make my most delicious, indulgent desserts into guilt-free desserts that everyone can enjoy.
You can find more recipes that I have created to taste delicious but hold the yucky ingredients like traditional flour, sugar, and other additives that do more harm than good, by clicking here.
If you are in the mood for a gooey guilt-free brownie than you have to try this recipe out!
Maybe double the recipe because this recipe is for a small batch that yields about 8 Guilt-Free Brownies.
I bake mine in a 9 x 4 loaf pan because I like fresh brownies and I know if I were to make a whole pan, they would dry out over time.
These brownies are perfect because they are gooey and chewy, two of my favorite descriptive words when it comes to brownies, especially guilt free brownies.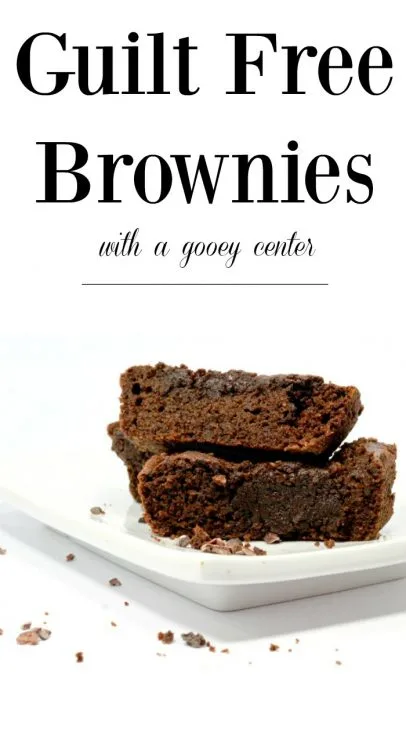 Don't forget to share this recipe on social media and come back to let me know what you thought about this Guilt-Free Brownie Recipe.
Guilt Free Brownies Perfect for Paleo, Keto & Low Carb
Ingredients
1/2 Cup of Cashew Butter
1 Tablespoon of Butter
4 Tablespoon Honey or 2 Tablespoons of Stevia for Keto
2 Tablespoons of Unsweetened Applesauce
1 Tablespoon of Almond Milk
2 Tablespoons of Vanilla Extract
1 Egg
1/2 Teaspoon of Baking Powder
1/4 Teaspoon of Baking Soda
1/2 Cup of Almond Flour
1/3 Cup of Cocoa Powder
Enough extra butter to grease loaf pan.
Instructions
Grease a 9 x 4 Loaf Pan and preheat oven to 350 degrees.
Mix all of the wet ingredients and then add in the dry.
Mix until combined well and spread into pan.
Bake for about 13-15 minutes. Take them out of the oven when there is still a gooey center but brownies have taken on a solid form.