When I was a kid, I loved playing in the snow, there was something so exciting about being able to build snowmen, go sledding, and have snowball fights.
One of my favorite things to do when we had blizzards with a lot of snow was to try and tunnel out my own igloo.
The idea of building my own little place that nobody was allowed in was so exciting that I overlooked how numb my hands had gotten from the snow.
That is such an amazing ability that I wish I could replicate in adulthood.
I would spend hours outside creating my masterpiece just to have a little area dug out big enough to fit me and a good stash of pre-made snowballs.
I had to have a pile nearby for when the other kids tried to enjoy the fruits of my labor and sneak into my igloo clearly only built for one.
When I had my daughter, I began making igloos that fit two.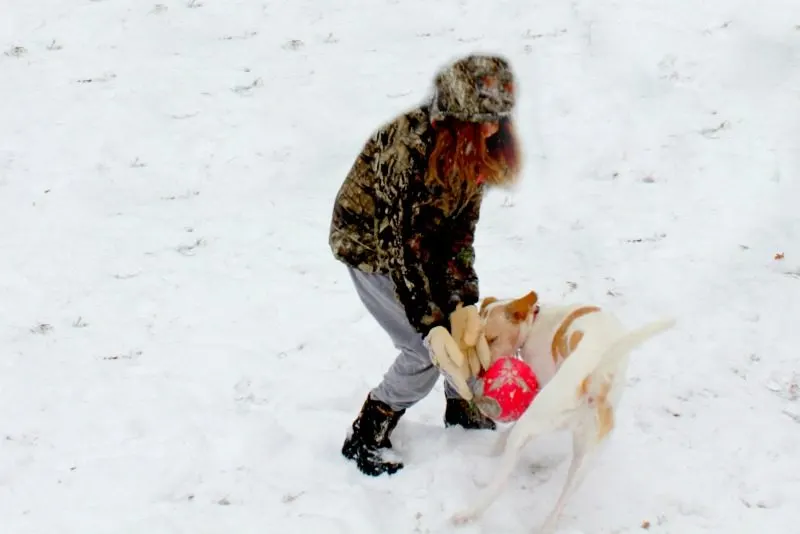 We had a lot of fun playing in the snow together and when we got Daisy, we couldn't wait to play with her in the snow, too!
It turns out that playing games in the snow with your dog is so much fun!
Keep in mind that not all dogs enjoy the snow so if your pet isn't into it, don't make them hang out in your igloo, let them stay inside.
There are so many fun games to play in the snow with your dog, but these 6 are our favorites!
6 Fun Snow Games for Dogs
Snowball Catch- Snowball catch is pretty self-explanatory. When we first threw a snowball to Daisy to check out, she ate it and seemed excited at the discovery of this new cold food group.
Monkey in the Middle- This is another classic game that most people know how to play but your pet may need a little help figuring out that you aren't being selfish with the ball.
Make sure you let your pet be both the monkey in the middle as well as the one playing keep away.
Attack the Ball Holder- Passing the ball around between everyone playing and encouraging your dog to attack in order to retrieve the ball is a fun game to play in the snow.
Snowy Soccer- This is basically soccer but with a lot more slipping, falling, and padding.
Hide & Seek- Hiding a treat or bone in the snow is a fun way to see what your pups nose is made of.
Start off burying it close to the surface and as your pet finds things quicker, bury them deeper in the snow.
Keep in mind that encouraging your pet to dig in the snow may lead to digging in other areas of your yard, so proceed with caution when playing this game with your dog.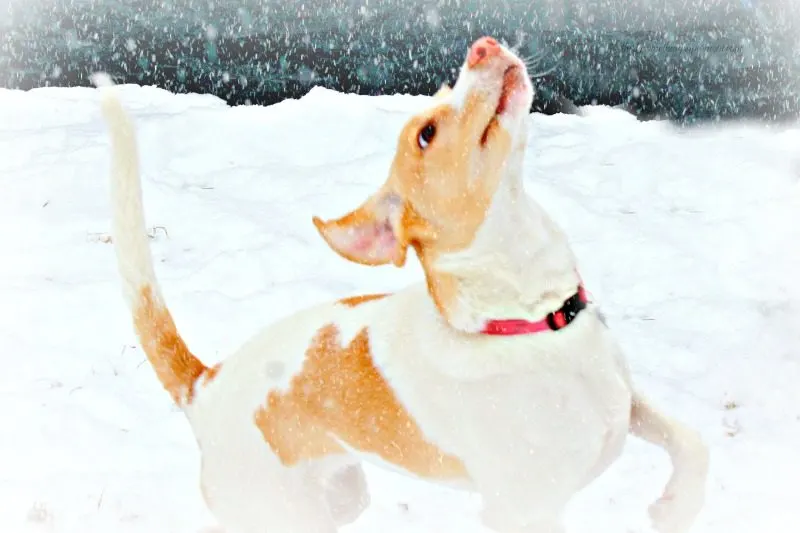 Slippery Races & Chases- Getting your dog to chase you is as easy as looking at them and then running. Pretty simple.
Run like crazy and let your dog chase you and just when you have had enough of that, throw a toy to the other end of the yard and race to see who can get to it first.
All of these games are fun to play with dogs in the snow and even if you are not a fan of this type of weather, it almost makes it bearable to see how much fun they have.
What is your favorite game to play in the snow with your dog? Daisy would love to know!
Also, don't forget to save this post for later or share it on social media so you always have a go-to list for Fun Games to Play with Dogs in the Snow.