If you want the bold flavor of chicken fajitas but don't want to spend your evening preparing it, you will love this Low Carb Chicken Fajita Soup.
This easy dump meal has all of the delicious flavors you would expect from fajitas but without the carbs from tortillas.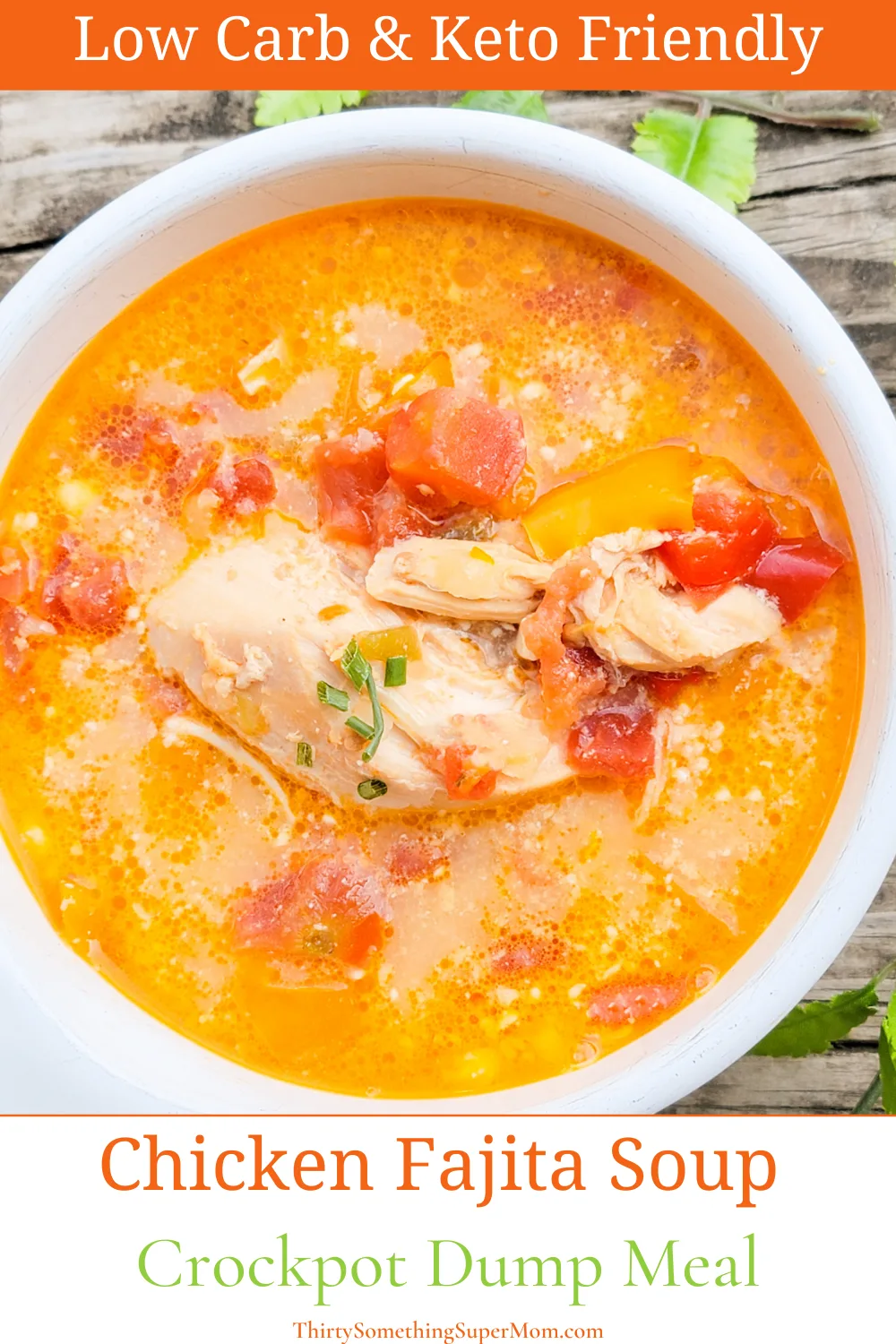 Enjoy this recipe on a busy weeknight or serve as an easy appetizer for parties. If you are looking for low-carb soup recipes that are easy to make and full of flavor, you will love this low-carb crockpot dump meal.
Using the slow cooker to make dinner is a great way to save time, especially when you can just dump the ingredients in and let it do its magic. This is a great choice when you need a meal idea that is gluten-free, low carb, and delicious.
The whole family will love this easy low-carb crockpot dump meal!
How to Make Low Carb Chicken Fajita Soup
I am always experimenting with low carb and keto recipes, especially keto crockpot dump meals, these are my absolute favorite to make when I am pressed for time. I love being able to throw the chicken into a crockpot and not have to go through all of the steps that traditional fajitas require.
This recipe is so easy and delicious that I am sure it will soon become one of your favorite low-carb crockpot meals.
The first step is to throw all of the ingredients into a crockpot.
The second step is to set it to high and allow it to cook for 6 hours. That's it! I told you it was easy! Aren't low-carb dump meals the best?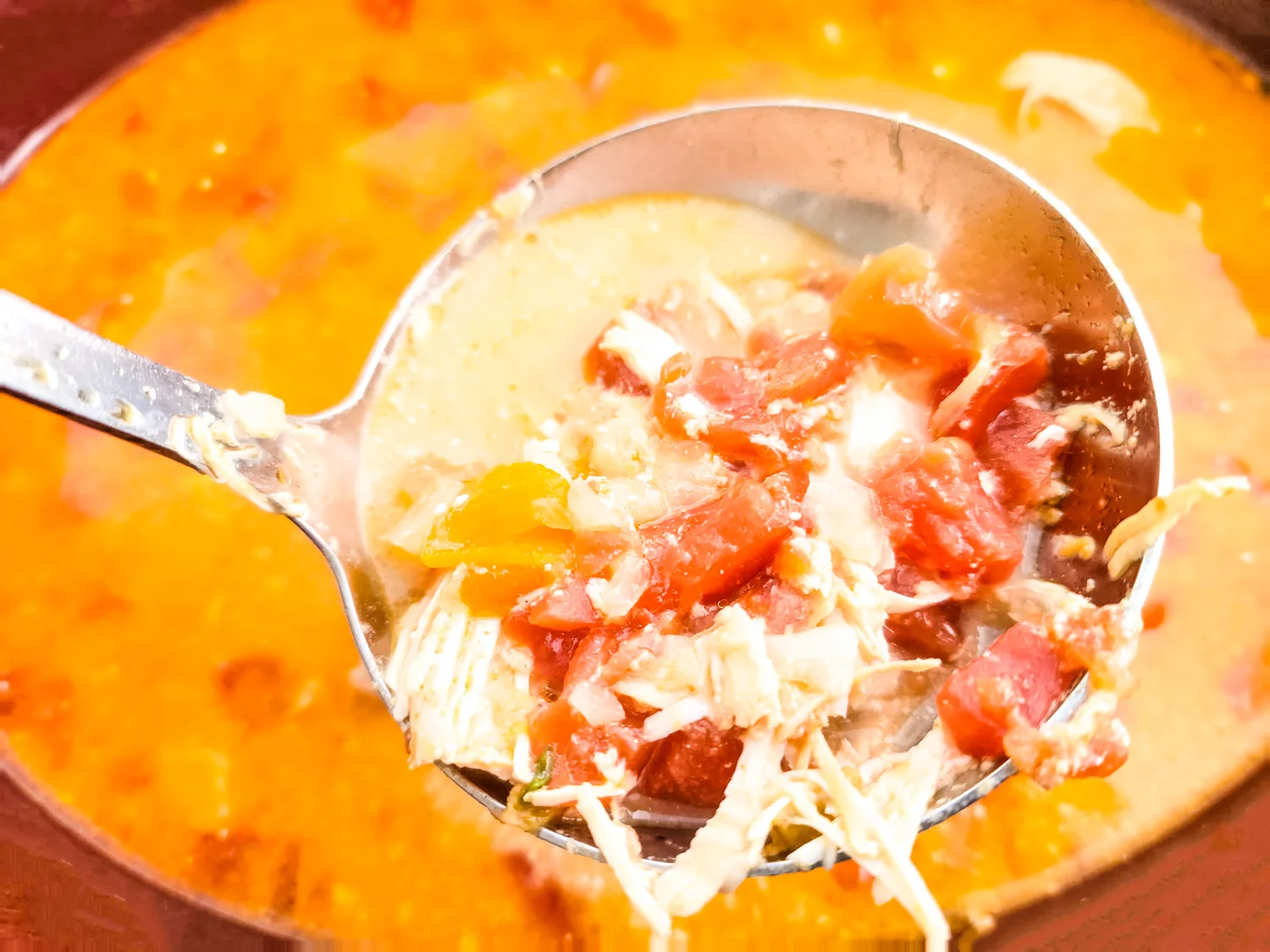 Ingredients Needed to Make this Low Carb Chicken Fajita Soup
Chicken Broth- This ingredient is important for flavor and consistency. I always keep chicken broth on hand, it's the base of so many simple and delicious low-carb crockpot recipes.
Bell Peppers & Canned Tomatoes– These low-carb vegetables will add a nice flavor, important nutrients, and texture to this low-carb crockpot dump meal. You can cut them in strips or dice them, whichever is your preference.
Onion – You can dice the onion or cut it into strips. I usually dice everything in the crockpot, it's just easier for me once I have the food processor out, I just use it for all of the fresh vegetables.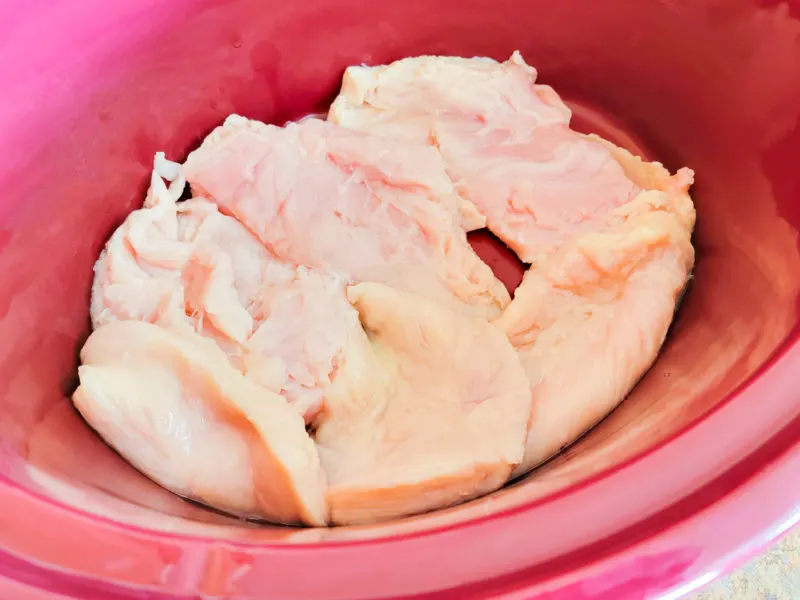 Chicken Breast- This soup is hearty and each delicious bite includes a good helping of shredded chicken.
Seasoning– I rarely use storebought seasoning packets because they contain many non-keto-friendly ingredients that are unnecessary to the recipe. Plus, I have found that stocking up on individual seasonings is more cost-effective.
Dairy- Cream cheese, heavy cream, and cheddar cheese will add a creaminess to your soup that is sure to hit the spot.
This soup has all the Mexican flavors without all of unwanted the carbs!
Variations to this Low Carb Chicken Fajita Soup Recipe
This recipe can be customized so easily! You can add or remove many of the ingredients to switch things up. If you have a favorite fajita seasoning, feel free to swap out the seasonings listed in the recipe card and use a pre-made packet.
Try using fresh tomatoes and dried chiles instead of the canned variety. Or add in a few hot peppers like diced jalapenos for an added kick.
There are so many possibilities for customizing this chicken fajita recipe, some of my favorite ways to switch it up are to add in new ingredients.
Check the topping ideas below for more ideas!
Topping Ideas
Although some of these ingredients are in the soup, in my opinion, you can not get enough onions, sour cream, or cheddar cheese. Once you are ready to serve this recipe, sprinkle some more cheese on top or add a dollop of sour cream.
Fresh cilantro, chives, or your favorite shredded cheese is a great way to add a low-carb, keto-friendly burst of flavor.
If you are not worried about the carbs (you lucky duck)feel free to add in beans such as pinto beans or black beans. You could also try tortilla chips or corn for a chunky soup.
Tips for Making the Best Low Carb Chicken Fajita Soup
The best way to prepare the chicken is to soak it in the refrigerator overnight. When working with frozen chicken, it's good idea to soak for two nights.
This step isn't necessary, especially if you buy high-quality chicken. I have found that it tenderizes the meat, even when it isn't the best quality.
Another way to guarantee the best results with this low-carb recipe is to use homemade chicken broth.
This works best when you already have some on hand. It isn't necessary so storebought will do the trick, especially if you use a broth that boasts a robust flavor.
This recipe calls for 2-3 pounds of chicken, use less if you want a thinner broth or more if you want a hearty thick soup.
You can shred the chicken with a fork before serving, this will ensure some in every bite. Or you can partially shred the chicken, this way the soup will consist of a thin broth as well as plenty of hearty helpings of chicken.
Use an immersion blender before serving for a smoother broth.
How to Store this Low Carb Chicken Fajita Soup Recipe
As with almost every recipe, storing in an airtight container is best. I usually store this one for a few days and heat it up for a quick lunch throughout the week.
If you want to store leftovers in the freezer, you can use a freezer-safe airtight container. I would suggest serving within 4-6 months and making sure that this is stored properly to ensure the best results.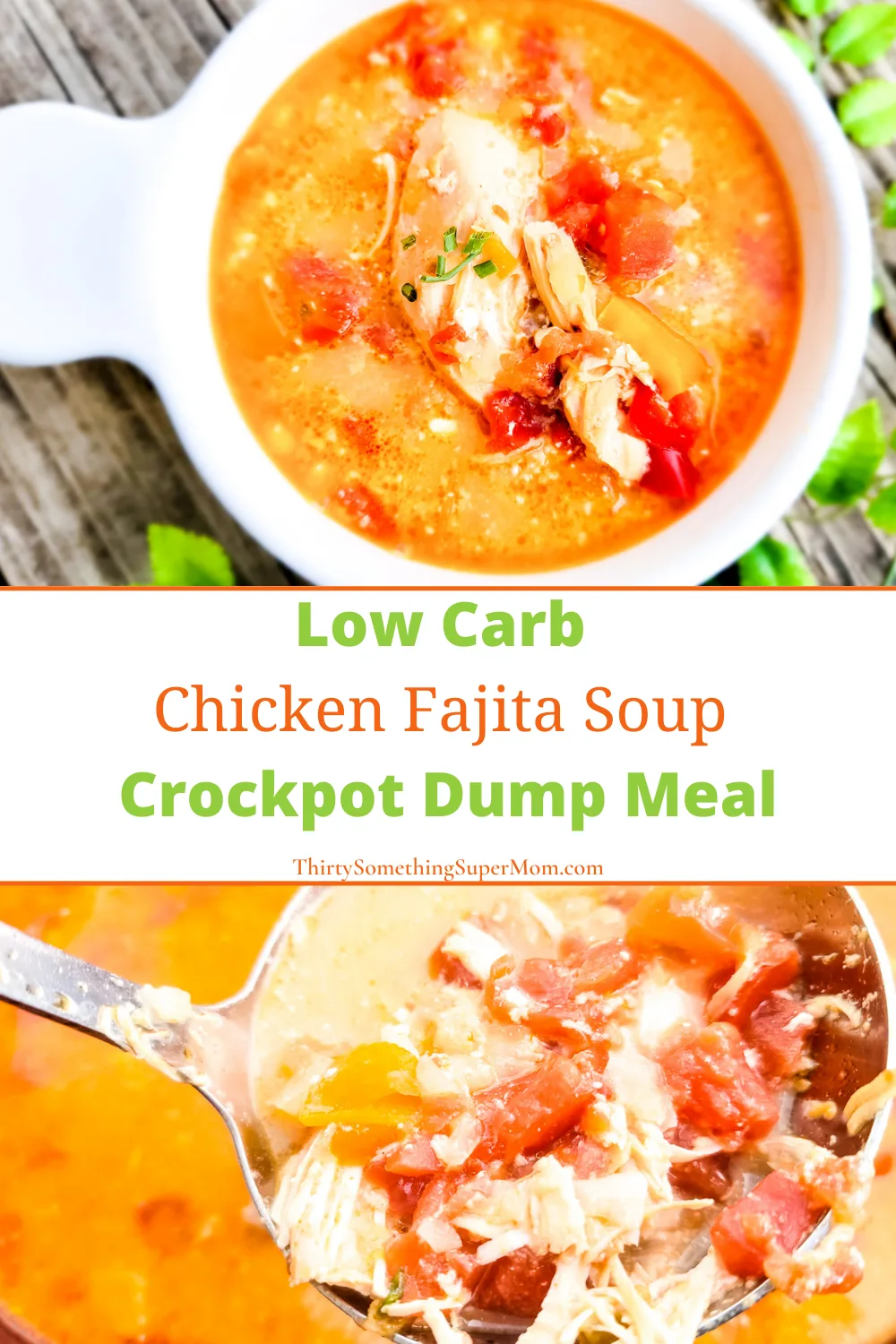 More Quick Keto & Low Carb Recipes
Try these other low-carb and keto recipes for quick meals that won't make you pack on the pounds. This Roast Beef & Gravy Recipe can be made in the Instant Pot.
This pepper steak stir fry is perfect for those nights that you need a really quick meal with little cleanup. It can be made in under fifteen minutes and it only requires one pan.
For another quick one with easy cleanup, try this high protein low carb meal or for a low carb spin on a classic try this low carb chicken zucchini alfredo skillet.
Don't forget to sign up for the free newsletter! Plus, follow along on social media so that you never miss a post again. If you gave this recipe a try, leave a comment letting me know what you thought.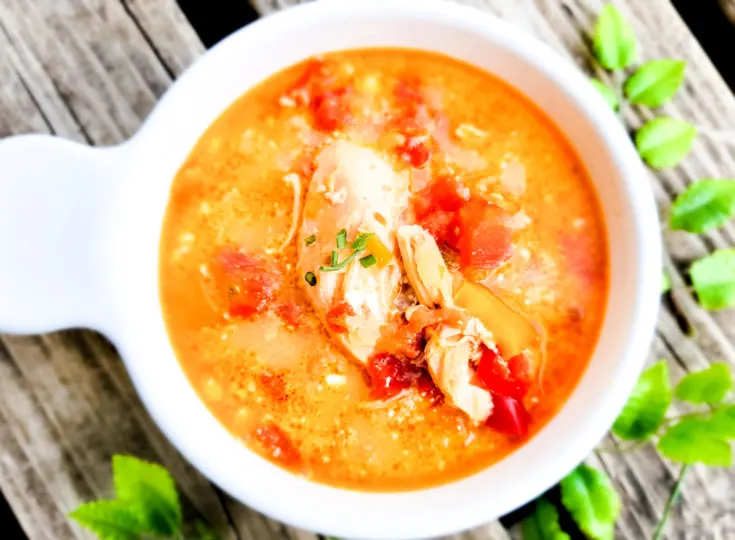 Low Carb Chicken Fajita Soup
Ingredients
2-3 Lbs of Chicken Breasts
1 Onion
28 Ounces of Diced Tomato with Green Chiles
3 Bell Peppers
4 Ounces of Cream Cheese
32 Ounces of Chicken Broth
4 Ounces of Shredded Cheddar Cheese
1 Cup of Heavy Cream
1/4 Cup of Taco Seasoning
1 Tablespoon of Garlic Powder
1/2 Teaspoon of Salt
1/4 Teaspoon of Pepper
1/4 Teaspoon of Cumin
1/2 Teaspoon of Cayenne Pepper
Instructions
Put the chicken breasts on the bottom of a crockpot set to high temperature.
Put the rest of the ingredients in and allow to cook for 6 hours on high.
Shred chicken with a fork and stir before serving. For a smooth broth, use an immersion blender before serving.