This keto slow cooker pot roast is so easy to make, just dump the ingredients into a crock pot and let the magic happen. The blissful combo of low carb vegetables and fork tender meat come together to create the ultimate comfort food.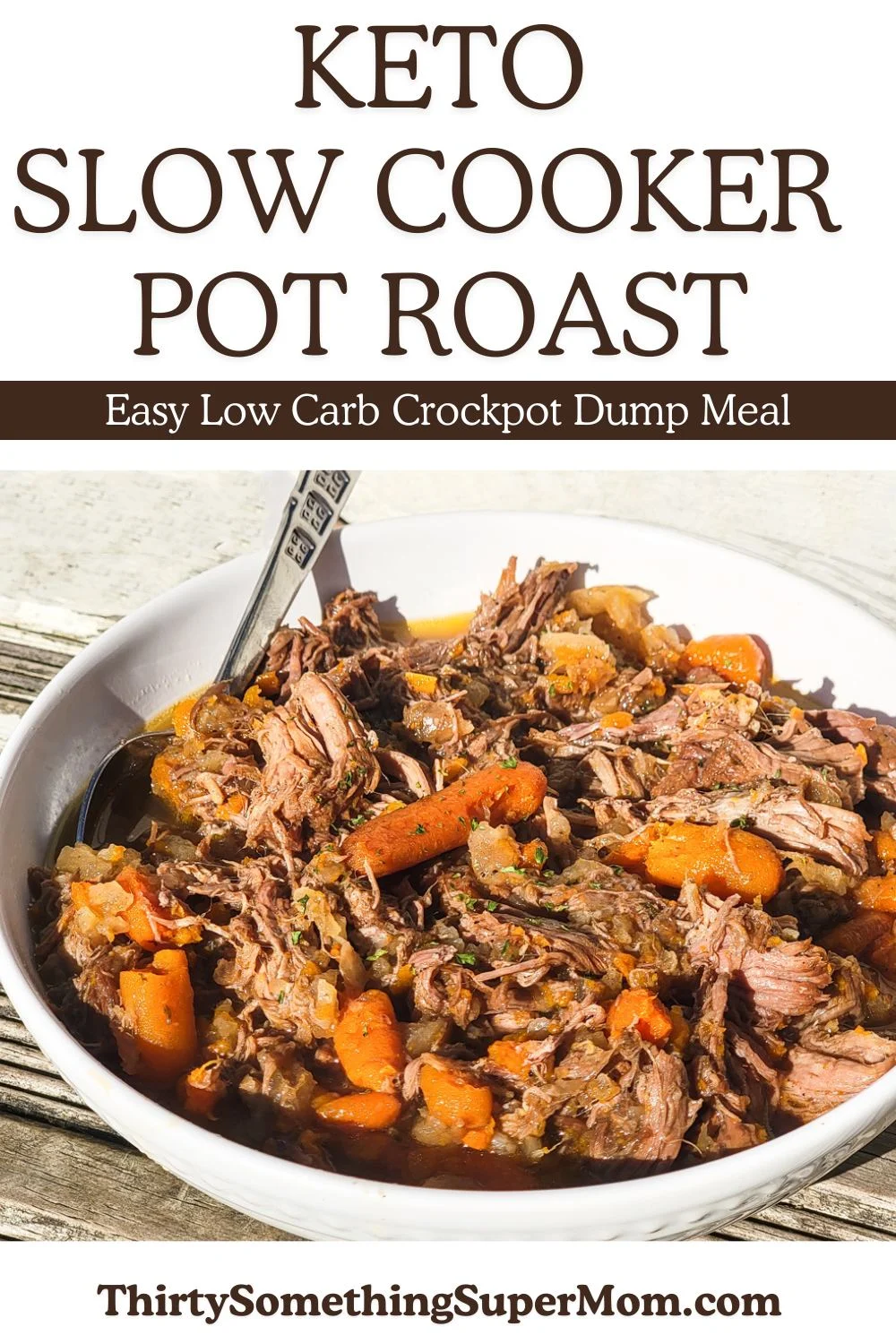 Why You'll Love this Keto Slow Cooker Pot Roast
This keto slow cooker recipe is the best way to feed the whole family a complete meal without a lot of meal prep.
Dinner time has never been easier and once you give it a try, this will be your favorite way to prepare a good pot roast for the entire family.
Keto Slow Cooker Pot Roast Ingredients
This low carb recipe comes together with simple ingredients that fit into a keto diet.
Seasonings- Garlic Powder, oregano, thyme, parsley, bay leaves, paprika, kosher salt, and black pepper.
Meat- You can also use a different cut of meat, choose whichever you think is the best cut of meat but be sure to avoid choosing a tough cut of meat with a lot of visible connective tissue.
Broth- You can use beef broth, beef stock, or bone broth for this recipe. I use beef broth.
Vegetables- Radishes fit well into a low-carb diet and carrots are great in moderation. If you are trying to cut down your carb intake you can use fewer carrots since they contain about 7 g net carbs per 100 grams.
Cauliflower is a nice keto-friendly alternative to use in this keto recipe if you want to cut back on the carbs even more.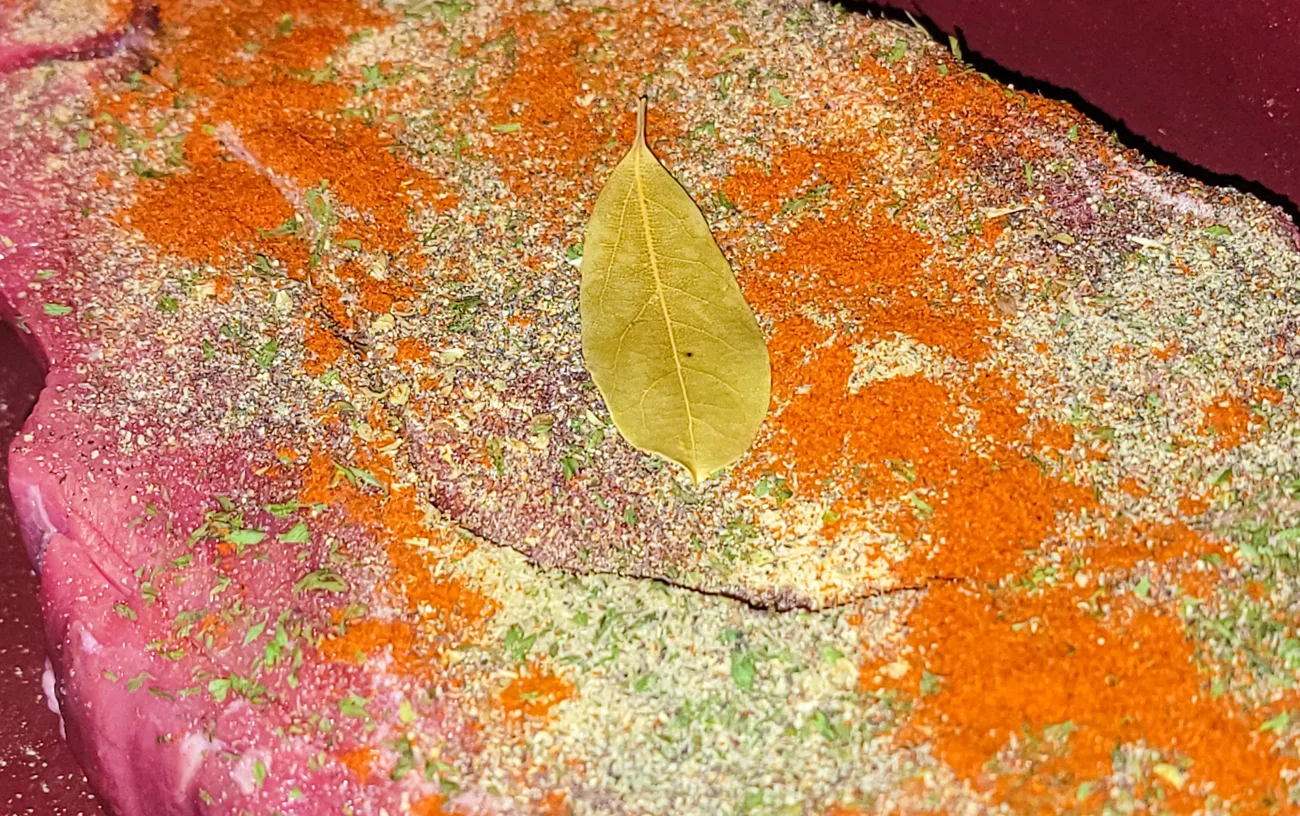 Instructions
This keto pot roast recipe is such an easy meal so there are very few instructions to follow. Be sure to scroll to the bottom of this post to see the full printable recipe card for nutritional information.
Step 1
The first step to making this easy keto pot roast is to add the boneless beef chuck roast to a crockpot. Just throw the whole thing in, there is no need to brown it first.
Step 2
The next step is to add the low-carb vegetables, broth, and seasonings to the crockpot.
Step 3
Allow the slow cooking process to make the best pot roast by cooking for 5-6 hours on high or low for 7-8 hours.
Customize the Texture
The cook time will vary depending on the texture you want to achieve.
For a thin broth with soft vegetables and tender meat, cook closer to the 5-hour mark.
To create a thick stew with shredded meat and vegetables mixed, opt for a long cooking time.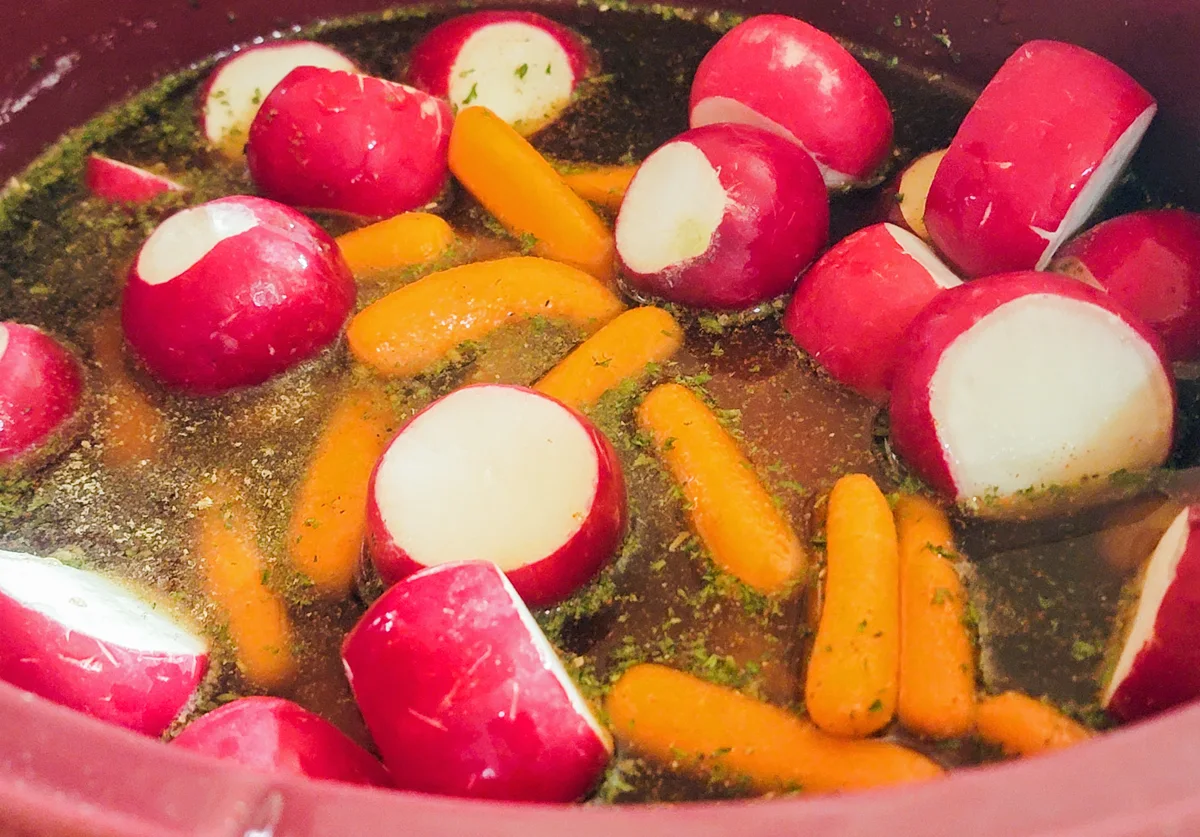 Serving Suggestions
Serve this keto chuck roast with a side of green beans, cauliflower mash, or steamed broccoli.
Storage Tips
This recipe is best when stored in an airtight container inside the refrigerator for up to one week.
Warm this recipe up the next day on medium-high heat in a Dutch oven, in a microwave-safe bowl, or in a saucepan on the stovetop.
FAQs
What Is a good substitute for potatoes in pot roast?
Turnips, radishes, and cauliflower are all great substitutes for potatoes in pot roast. Radishes are a popular potato replacement since they have a similar texture and are a low carb vegetable.
Is chuck roast high in carbs?
No, chuck roast is not high in carbs. A 3-ounce serving of roast beef, chuck, without visible fat, contains 0g total carbs and 0g net carbs. In this portion, it provides 12.9g of fat, 22.7g of protein, and totals 213 calories. It's a carb-conscious choice with a substantial protein and fat content.
What is the best meat for keto weight loss?
Optimal choices for promoting keto weight loss through a meat-centric approach involve prioritizing proteins from sources like turkey, venison, and trout. These meats are exceptionally low in carbohydrates, high in protein, and lend themselves well to various culinary applications. Opting for leaner cuts within these selections can facilitate the efficient burning of stored body fat, aligning with ketogenic principles.
Is xanthan gum ok on keto?
Yes, xanthan gum is a great choice for keto. Its carbohydrate content is virtually nonexistent, making it a favorable option for those following a ketogenic diet. Additionally, it boasts minimal calorie content, with just 30 calories in a 9-gram (2 tablespoons) serving. Notably, it is devoid of both fat and protein.
Variations on this Recipe
For a stronger flavor, you can sear the sides of the meat in a skillet before adding it to the slow cooker. Pressing against the meat as it heats to the bottom of the pan, using olive oil to prevent sticking.
Choose whichever cuts of meat you want and then follow this low carb pot roast recipe to get as much flavor as possible.
Some great options for the best meat found at the grocery store are boneless chuck roast, top sirloin, rump roast, bottom round, tenderloin roast, or even beef brisket.
This recipe is made for a low carb diet but you can add in a variety of new flavors to change the original recipe with great results.
A great option for adding in more flavor while still fitting into a ketogenic diet is using chopped onions.
You could also add a splash of Worcestershire sauce, tomato paste, ranch dressing mix, balsamic vinegar, or throw in some pepperoncini peppers.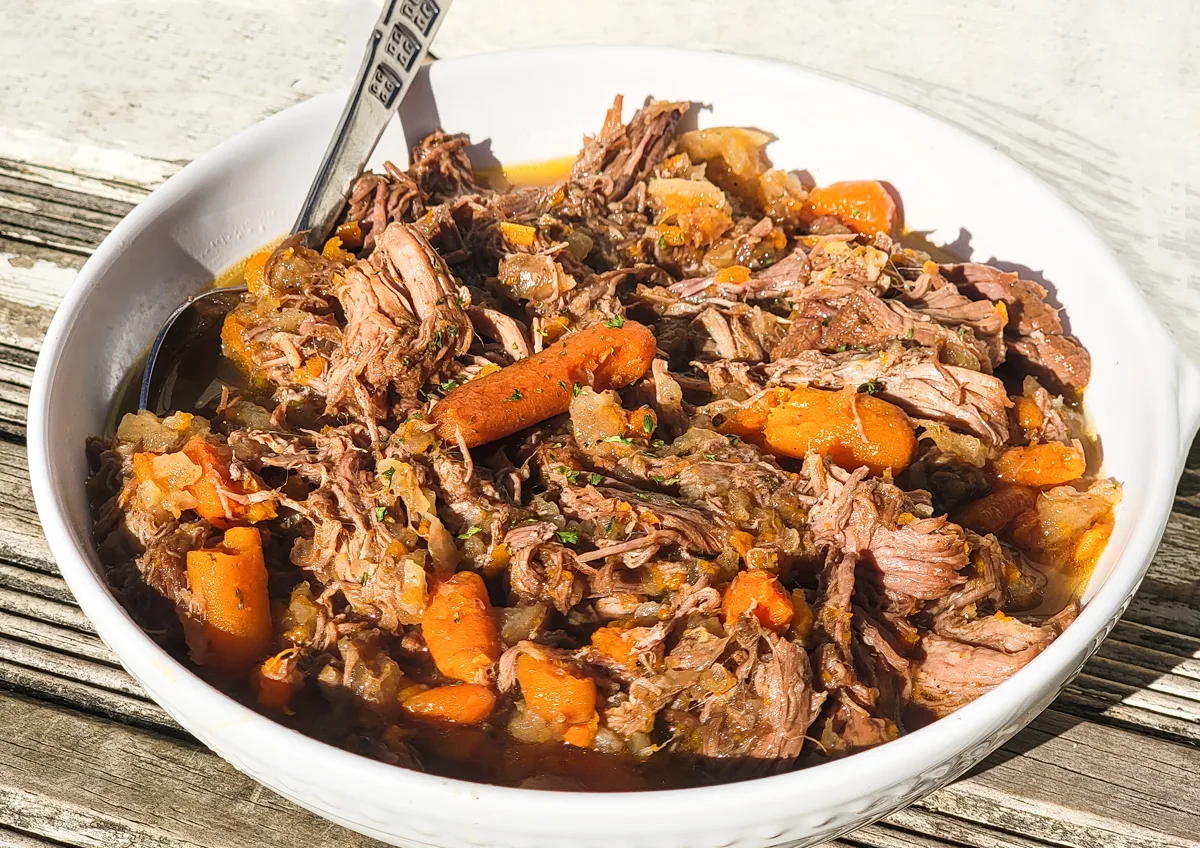 More Great Recipes for Keto
If you are looking for new recipes to try, you will love these low carb options. If you love the ease of cooking keto crockpot dump meals, you have to give this chicken fajita soup a try.
You will also enjoy this stuffed bell pepper soup that is made in the crock pot or for those who like a bit of a kick, this cheesy keto crockpot chicken is perfect. You will love this instant pot chuck roast with keto gravy.
It can be made in an electric pressure cooker with a quick pressure release. Both appliances offer high pressure cooking and a quick release so you should get similar results.
Simple, delicious, and perfect for a low carb diet.
For a quick keto lunch, give this keto wrap idea a try. Cream cheese and mozzarella come together to create a gooey savory base that perfectly complements the bold flavors of thinly sliced roast beef.
Pile on your favorite low-carb veggies—crisp lettuce, juicy tomatoes, and crunchy bell peppers—for a refreshing crunch.
If you want more keto recipes sent right to your inbox, sign up for the newsletter so you never miss another low carb recipe again.
Follow along on social media so we can connect and don't forget to leave a comment letting me know what you think of this keto slow cooker pot roast recipe.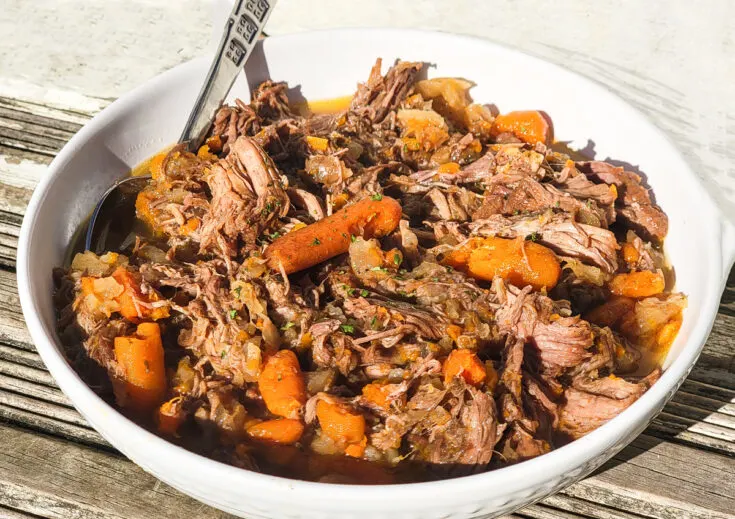 Keto Slow Cooker Pot Roast
Total Time:
5 hours
5 minutes
This keto slow cooker pot roast is so easy to make, just dump the ingredients into a crock pot and let the magic happen.
Ingredients
2 1/2 lb Chuck Roast (Or Your Preferred Cut of Meat)
4 Cups of Beef Broth
1 1/2 Teaspoon Garlic Powder
1/4 Teaspoon of Oregano
1/2 Teaspoon of Thyme
1 Teaspoon of Parsley
2 Teaspoons of Salt
1/2 Teaspoon Pepper
1 Bay Leaf
1 Teaspoon of Paprika
3 Cups of Carrots
3 Cups of Radishes
Instructions
Add the roast beef to the slow cooker and turn it on high.
Add the seasonings and the vegetables, pour the broth around the sides of the meat, and allow to cook for 5-7 hours.
Notes
The cook time will vary depending on the texture you want to achieve.

For a thin broth with soft vegetables and tender meat, cook closer to the 5-hour mark.

To create a thick stew with shredded meat and vegetables mixed, opt for a long cooking time.
Recommended Products
As an Amazon Associate and member of other affiliate programs, I earn from qualifying purchases.
Nutrition Information
Yield
6
Serving Size
1
Amount Per Serving
Calories

498
Total Fat

30g
Saturated Fat

12g
Trans Fat

2g
Unsaturated Fat

15g
Cholesterol

157mg
Sodium

1513mg
Carbohydrates

9g
Fiber

4g
Sugar

4g
Protein

50g
The nutrition in recipes is caluculate by AI, mistakes happen. It is highly recommended to check carb counts to make sure these recipes fit into your diet.