This Instant Pot Roast Recipe contains affiliate links which means that if you make a purchase after clicking a link, I will receive a small portion of the sale at no additional cost to you.
If you are looking for the perfect Sunday dinner, this Instant Pot Roast Beef and Gravy recipe is perfect. The chuck roast is juicy and after trying this electric pressure cooker recipe you will find this is the best way to create a delicious tender pot roast in a fraction of the time.
I have been experimenting with different instant pot recipes and after a bit of trial and error, I finally found a way to make a tender roast with a delicious gravy.
When I first picked up my pressure cooker I struggled with cooking time and learning about the natural release, as well as cooking at high pressure. I have made a slow cooker pot roast in the past but wasn't sure how to get the best results at first, then I figured out how to make this delicious roast and I am excited to share it with you.
Beef Broth or Beef Stock, which is better?
This recipe can be made with a chuck roast, round roast, or rump roast, basically any cut of beef you choose. In fact, my current experiment involves making a delicious pot roast from a cut of venison. I will use the same gravy recipe, but I am still working on the beef stock part, I may decide to make a venison broth and see how that plays out.
Be sure to sign up for the free newsletter and follow along on social media so you don't miss that easy recipe.
For this instant pot roast beef recipe, I started with a 2 lb. roast, I selected a chuck roast because it was on sale, but you can use whichever is the best cut of beef for your family. Another way to customize this recipe to your liking is by choosing between beef broth and beef stock. When making this recipe in the past, I have used beef broth as well as beef stock, depending on what results I am hoping to achieve.
I have found that the beef broth lends a bold flavor while the beef stock can help with the texture of the gravy. I added a little bit of gelatin to help with the thickness of my gravy so I could benefit from the flavors that the broth offers.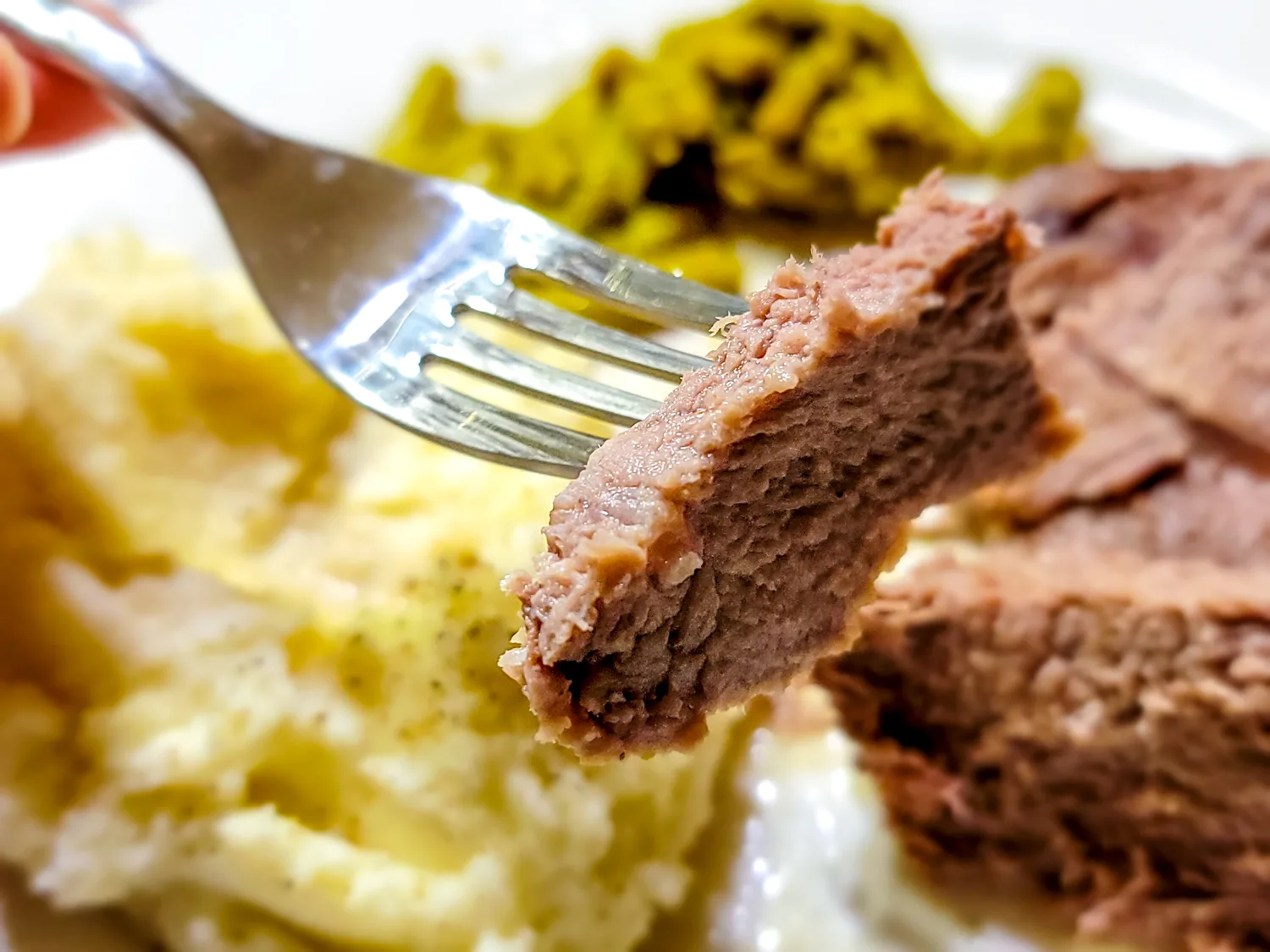 What Makes this Instant Pot Roast Beef and Gravy Low Carb?
Since I am trying my best to keep this instant pot roast beef & gravy, low carb, I decided against making the typical cornstarch slurry or using any cornstarch mixture. Another way to make this pot roast low carb is to leave out the baby potatoes or red potatoes that are often found in traditional pot roast recipes.
Leaving out the potatoes and making a side of cauliflower mashed potatoes is a great low-carb option to serve with this low-carb recipe. I find that pairing this low-carb version of mashed potatoes with the instant pot beef roast really makes this meal the perfect comfort food.
Don't forget to sign up for the free newsletter so you are sure to see my favorite cauliflower mashed potato recipe when it's live. Trust me, this recipe is so good, you will never go back to traditional mashed potatoes again.
How to Make this Instant Pot Roast Beef and Gravy
This recipe comes together by adding the roast to your electric pressure cooker. Season the beef with black pepper, garlic powder, onion powder, Italian seasoning, and cayenne pepper.
Add water and beef broth set the pressure cooker to high. On my pressure cooker, I select custom and then hit high temperature, and then set the cooking time to 40 minutes.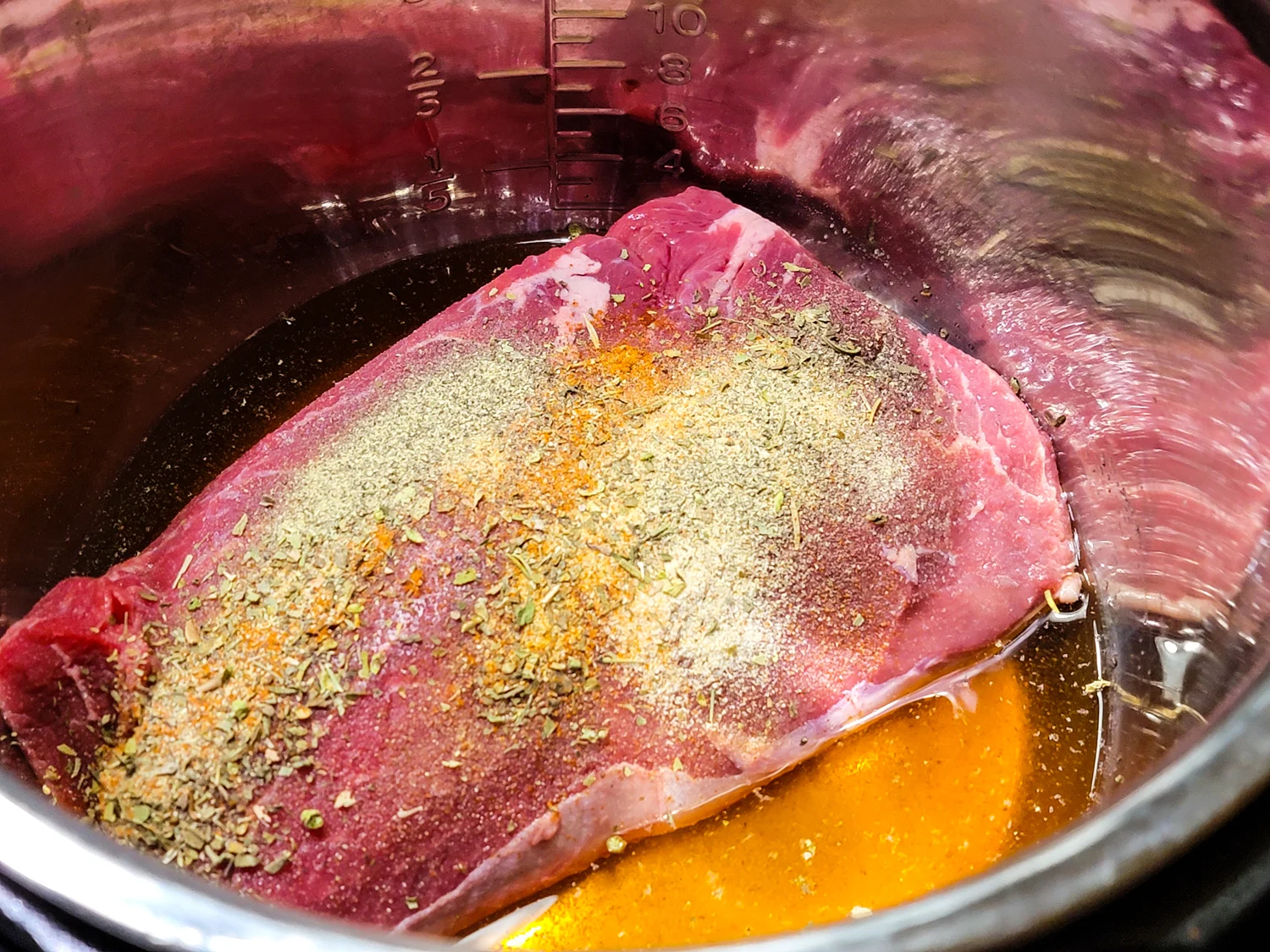 How to Make the Keto Gravy Recipe
After the roast is done, I add 1 tablespoon of butter and 2 tablespoons of heavy cream to make the gravy. If your gravy is runny and you would like to thicken it up a bit, add gelatin, one teaspoon at a time. I have found that adding a little bit and allowing it to sit or even refrigerate for a bit before adding in the gelatin helps.
Of course, you will want the gravy to be warmed up again before serving but this method may help if you are struggling to get a thicker gravy. Be sure to add in slowly because the gravy will quickly turn into JELLO if you are not careful.
I usually add a dash of salt and pepper to my gravy as well, but you can add any seasoning you prefer. A lot of gravy calls for an onion soup mix but I try to avoid prepackaged mix-ins when possible. This brown gravy is perfect on roast beef as well as cauliflower mashed potatoes. It's also a nice addition to this roast beef and offers a nice distraction for your tastebuds when served on top of your least favorite veggies.
This is a great recipe for the entire family and the kids will appreciate that tip!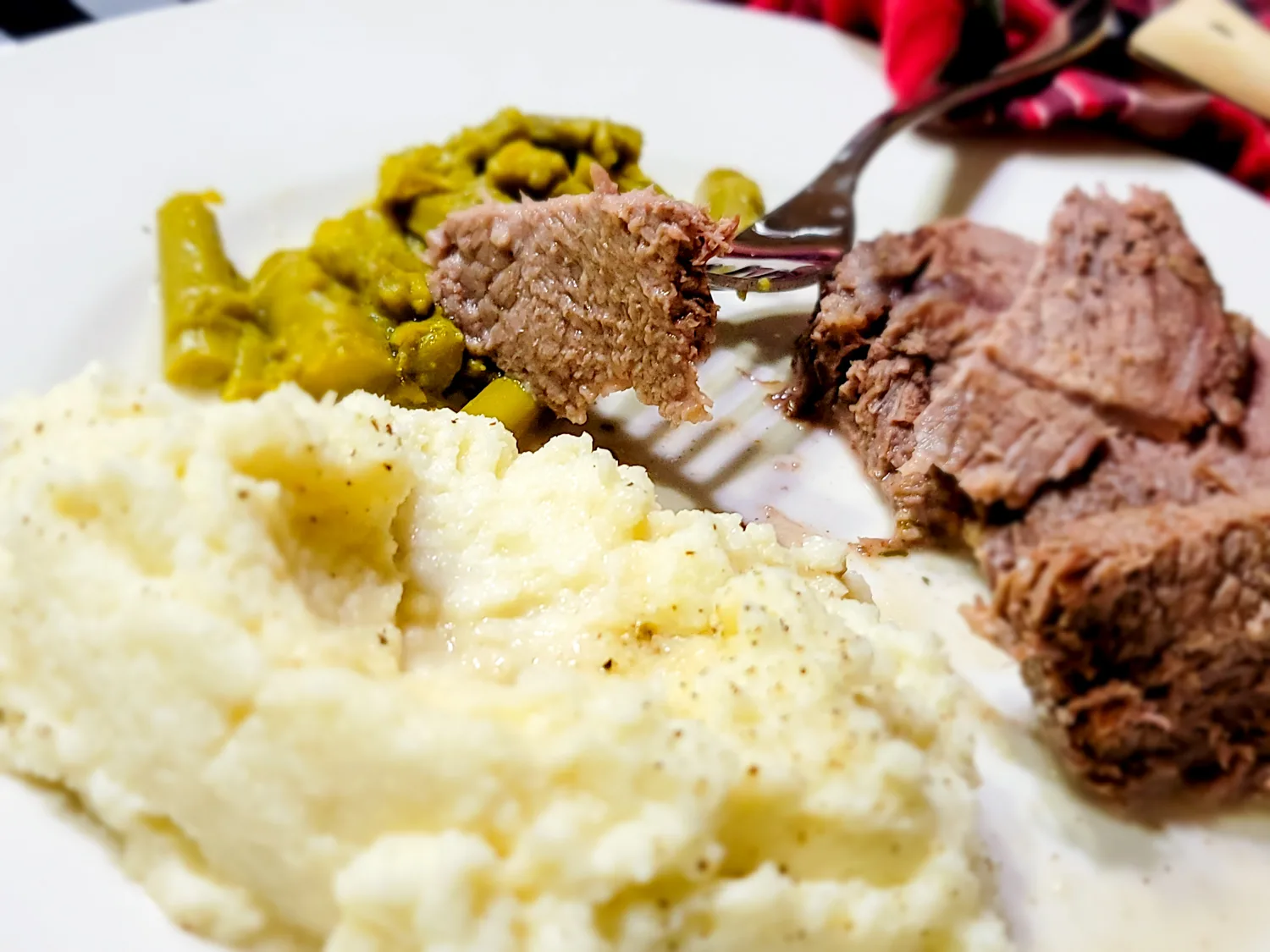 How to Store this Instant Pot Roast Beef and Gravy
If there are leftovers, the best way to store the pot roast is to keep it in an airtight container. You can add a little bit of the cooking liquid to the bottom of the storage container and wrap the top of the roast with aluminum foil for extra protection.
Another method to keep the roast from drying out while being stored is to place wet paper towels inside of the container. This can help to keep the moisture in but the best way to keep your roast tender is to add liquid to the storage container.
When to Serve this Instant Pot Roast Beef and Gravy
This is the perfect meal to serve during the holiday season or any special occasion because if there is enough room at the bottom of the pot, you can increase the amount of time according to size and make a pressure cooker pot roast to feed the whole family.
If you are cooking for a smaller crowd and are using a smaller roast or enjoy rare roast beef, cook the meat for less time. Although, I have found that making more is always the way to go with this recipe. I like to use leftovers to make roast beef sandwiches so there is no need to cook a small roast in my house.
Plus, I have always been the kind of person to enjoy the leftovers the next day, even if I am the only one in my house to do so. I have been known to enjoy leftovers for 2-3 days after making them. It saves me time and I get to enjoy the fruits of my labor many times.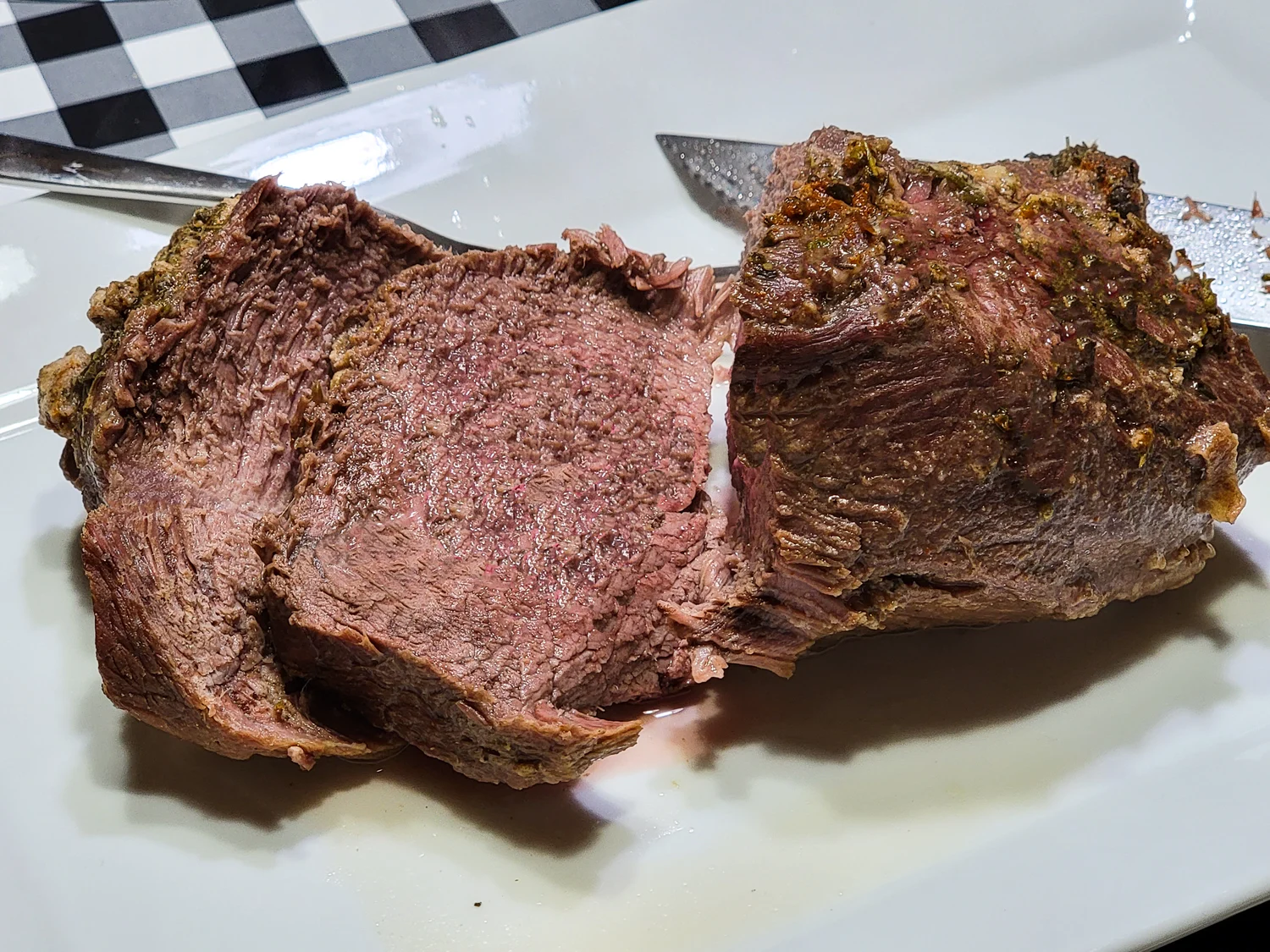 Try these Low Carb Instant Pot Recipes
If you are looking for more easy low-carb recipes using the Instant Pot, this instant pot buffalo wings recipe is worth trying. Another favorite low-carb recipe made in the instant pot is this Instant Pot Buffalo Chicken Salad.
This high protein low carb dinner isn't made in the instant pot but you can get dinner on the table in less than 15 minutes. Be sure to check out all of my low-carb dinner ideas by visiting the low-carb and keto recipe section.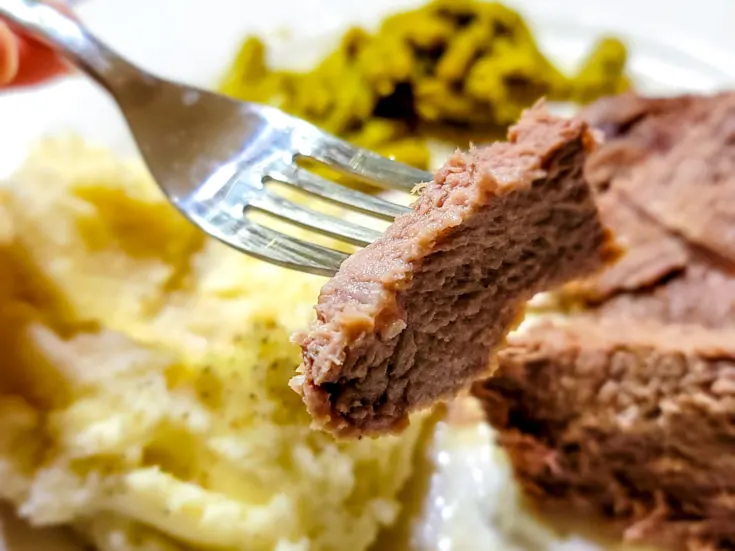 Instant Pot Roast Beef & Gravy (Low Carb)
Ingredients
2 Lb. Beef (I used Chuck Roast)
1 Cup of Beef Broth
1 Teaspoon of Garlic
½ Teaspoon of Onion Powder
1 Teaspoon of Italian Seasoning
¼ Teaspoon of Cayenne Pepper
½ Teaspoon of Black Pepper
½ Cup of Water
Put on high 40 minutes high temperature
2 Tablespoon of Heavy Cream
½ Tablespoon of Soy Sauce
Salt & Pepper
Add 1 Teaspoon of Gelatin to thicken the gravy if needed.
Instructions
Put roast in the instant pot and sprinkle seasonings on top. Add the liquids, broth, and water, then set the pressure cooker to high and cook for 40 minutes.
Once the roast is done cooking, transfer the roast to a cutting board or plate for cutting. Use forks to shred the meat or slice with a knife to serve slices of this tender roast beef.

Remove the liquid from the pot and mix in the heavy cream and gelatin if needed to thicken the gravy. Cooling the gravy before adding gelatin helps to thicken but the gravy tastes best when served hot.
I hope you enjoyed learning how I make this Instant Pot Roast Beef and Gravy. If you gave this recipe a try, please leave a comment letting us all know how it turned out. Don't forget to sign up for the free newsletter and follow along on social media so that you never miss a post again.