I have made lots of versions of this keto mashed cauliflower recipe that turned out great but my family isn't big on the idea of replacing potatoes with cauliflower.
This had me on a seemingly never-ending search for the best-mashed cauliflower recipe I could create and I am happy to say that I finally figured it out.
This keto mashed cauliflower is easy to make and is so creamy that it rivals the real thing. Now don't get me wrong, I still crave a real potato once in a while but my body doesn't thrive on a diet rich in potatoes so I am thrilled to have found the perfect replacement.
When I started preparing recipes for the keto diet, I focused on creating keto recipes that were most like the traditional foods I had eaten my whole life. I have found that this method helped me stay on track.
No matter what I crave, I know that my favorite foods are no longer off-limits. I just tweak the traditional recipes to make them low-carb friendly.
I never feel like I am missing out on something and that keeps me from eating foods that just don't agree with me.
What Type of Cauliflower is Best for this Keto Mashed Cauliflower Recipe?
You can use a head of cauliflower to make this recipe if you prefer. When trying out new recipes I have found that most keto cauliflower recipes call for it but that doesn't make it necessary. Over the years, I have tried several ways to make this keto mashed cauliflower recipe and have found a few different options.
I usually choose which to use depending on how much time I have and what is on sale. Using frozen is usually the quickest way to make keto cauliflower mash.
Can You Use Cauliflower Rice?
Yes. Using cauliflower rice is especially helpful when you do not have a food processor to help break down the cauliflower. The rice breaks up easier and is available in a steamtable version in the freezer section.
Can You Use cauliflower florets?
Yes. I use cauliflower florets from the freezer section as well as fresh from my garden. I love being able to cook with fresh ingredients when possible but sometimes the frozen version is best, especially in the winter months.
You can pick up a head of cauliflower in the produce section, but I have found this not only to be expensive at times but not worth the extra trouble.
The steamtable bags go for around a dollar most of the time, so this is usually my go-to when buying cauliflower.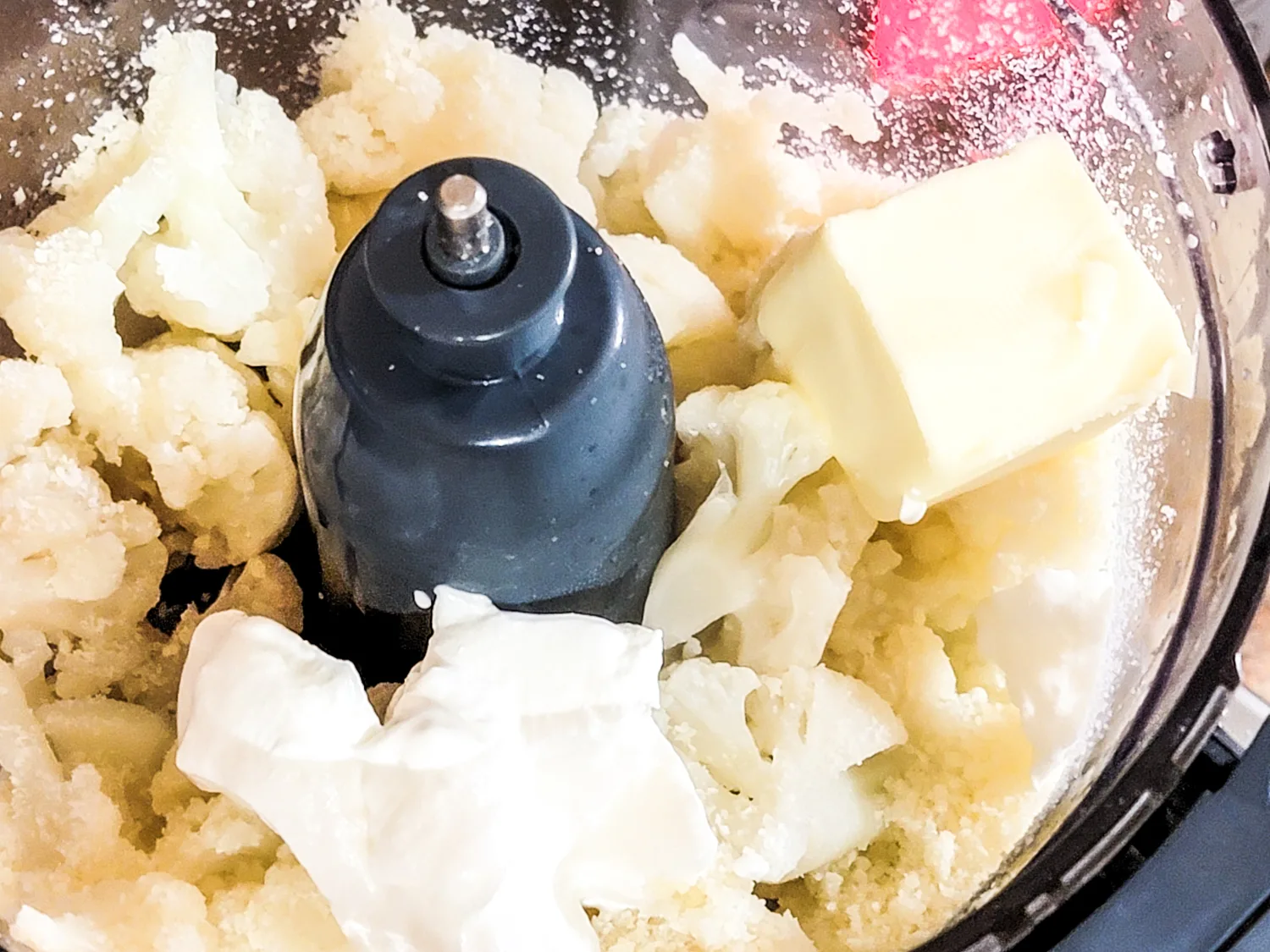 Are Cauliflower Mashed Potatoes Cooked Similar to Traditional Mashed Potatoes?
As with most of my healthy recipes, this recipe is prepared much like I would prepare the traditional version of mashed potatoes.
I start with boiling and end with mixing the ingredients together before serving just like my favorite mashed potato recipes.
The only difference is that I add in things like parmesan cheese, heavy cream, and sour cream to help make this recipe as delicious as the real thing.
If you want an extra burst of flavor you can add in green onions, onion powder, garlic powder, or even make a cheese sauce to create the ultimate low carb friendly comfort food.
Do You Need a Food Processor to Make this Mashed Cauliflower Recipe?
While it isn't necessary to use a food processor to make mashed cauliflower, I find that it is the only way to deliver the creamy texture that makes this recipe so much like the real thing.
If you don't have a food processor but have a blender, this may be a good way to deliver similar results.
I have found the stand mixer, or a potato masher just doesn't break up the cauliflower. So although I love using my stand mixer, this recipe turns out best when you can use a food processor.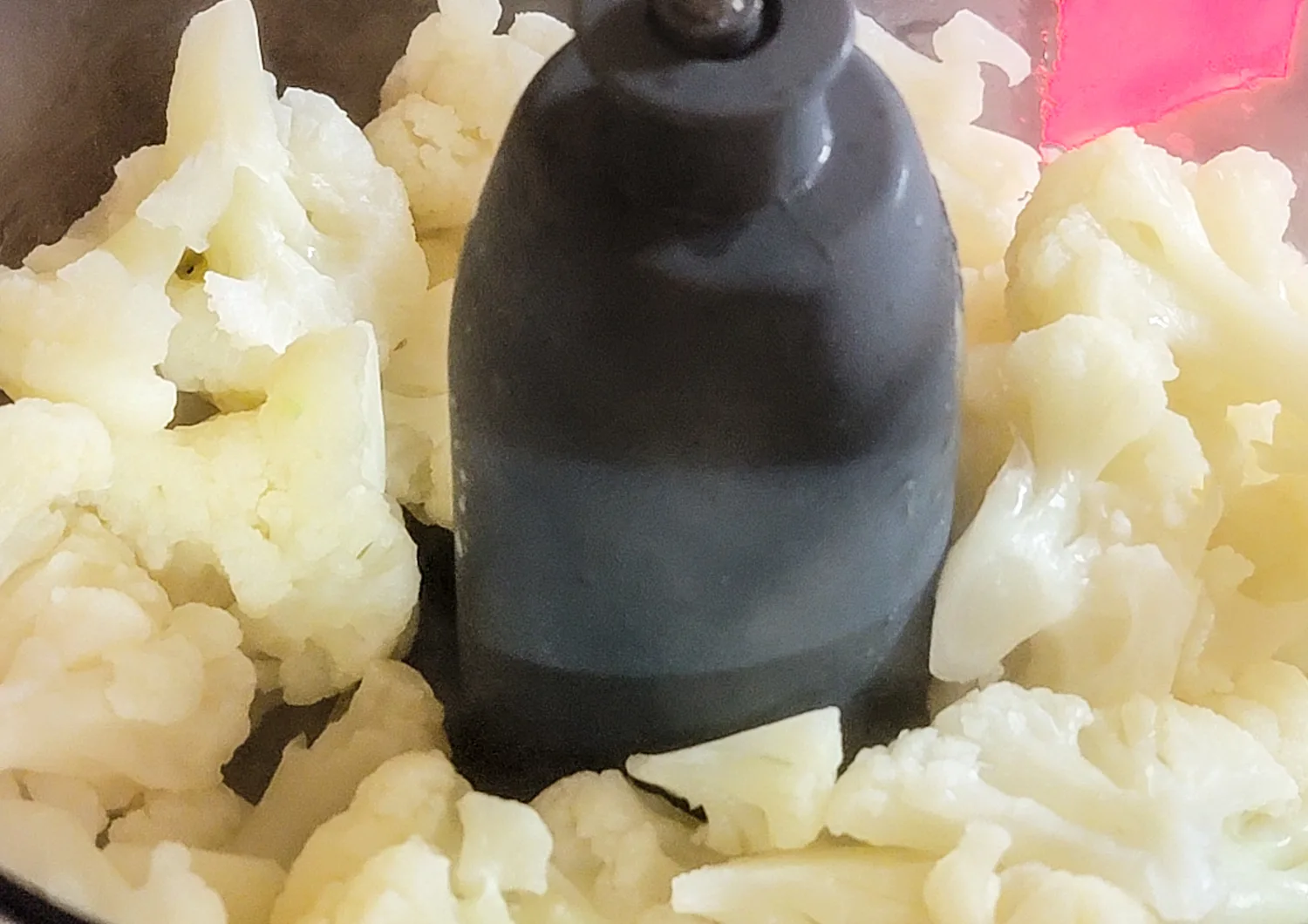 What Ingredients are Needed to Make this Mashed Cauliflower?
This recipe comes together with simple ingredients like parmesan cheese, butter, sour cream, heavy cream, cream cheese, black pepper, and a bit of salt.
This is one of my favorite recipes to make because it uses a lot of keto staples that I already have on hand. Plus, frozen cauliflower is easy to store when the craving hits.
How Can You Turn this Recipe into a Low Carb Cauliflower Mac Recipe?
It's an easy recipe to alter for a variety of side dishes. I often make a keto cauliflower mac using the basic steps from this cauliflower recipe.
I add a few more ounces of cream cheese and sprinkle sharp cheddar on top then bake in a casserole dish.
Be sure to use a long, shallow baking dish and stir in some extra cheese for the perfect side dish full of cheesy goodness.
Once all of the ingredients are in the baking dish, cook on medium heat until half of the cheddar cheese is melted.
Then switch to a higher heat to give the top layer a nice crisp.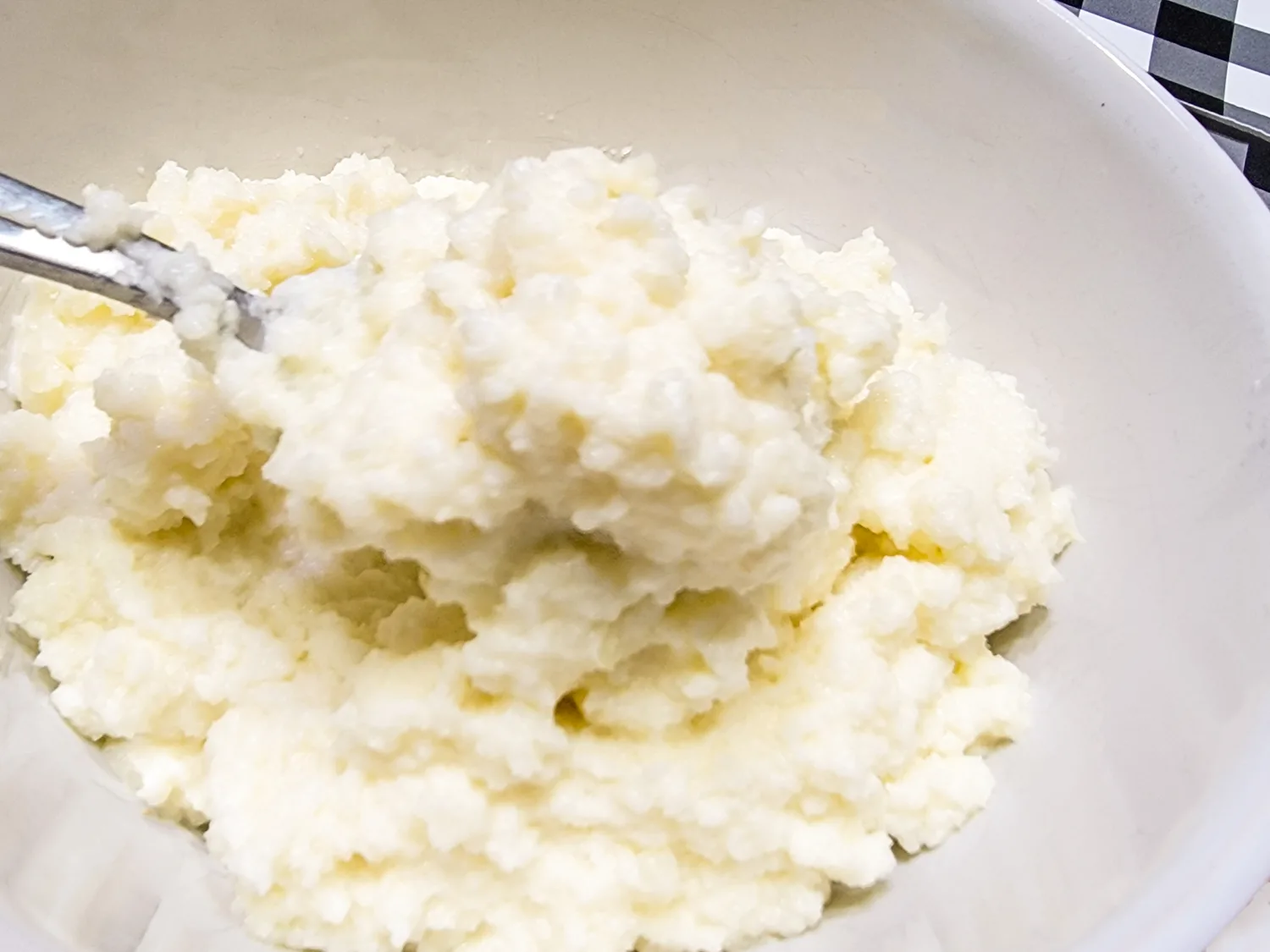 How Do You Make Mashed Cauliflower for the Keto Diet?
When making this recipe using a head of cauliflower, start by cutting into florets, and removing most of the stems.
I have found that leaving out the stems yields the creamiest cauliflower mashed potatoes.
You can steam the florets or boil them, both methods of preparing the cauliflower are acceptable.
Be sure to drain the excess water using a flour sack or paper towel. Add the cauliflower, parmesan cheese, butter, sour cream, salt, and heavy cream to a food processor.
Pulse until smooth. This step will depend on how long you cooked the cauliflower, and which type you used to make this recipe.
Steamed cauliflower seems to yield the best results when using frozen or fresh.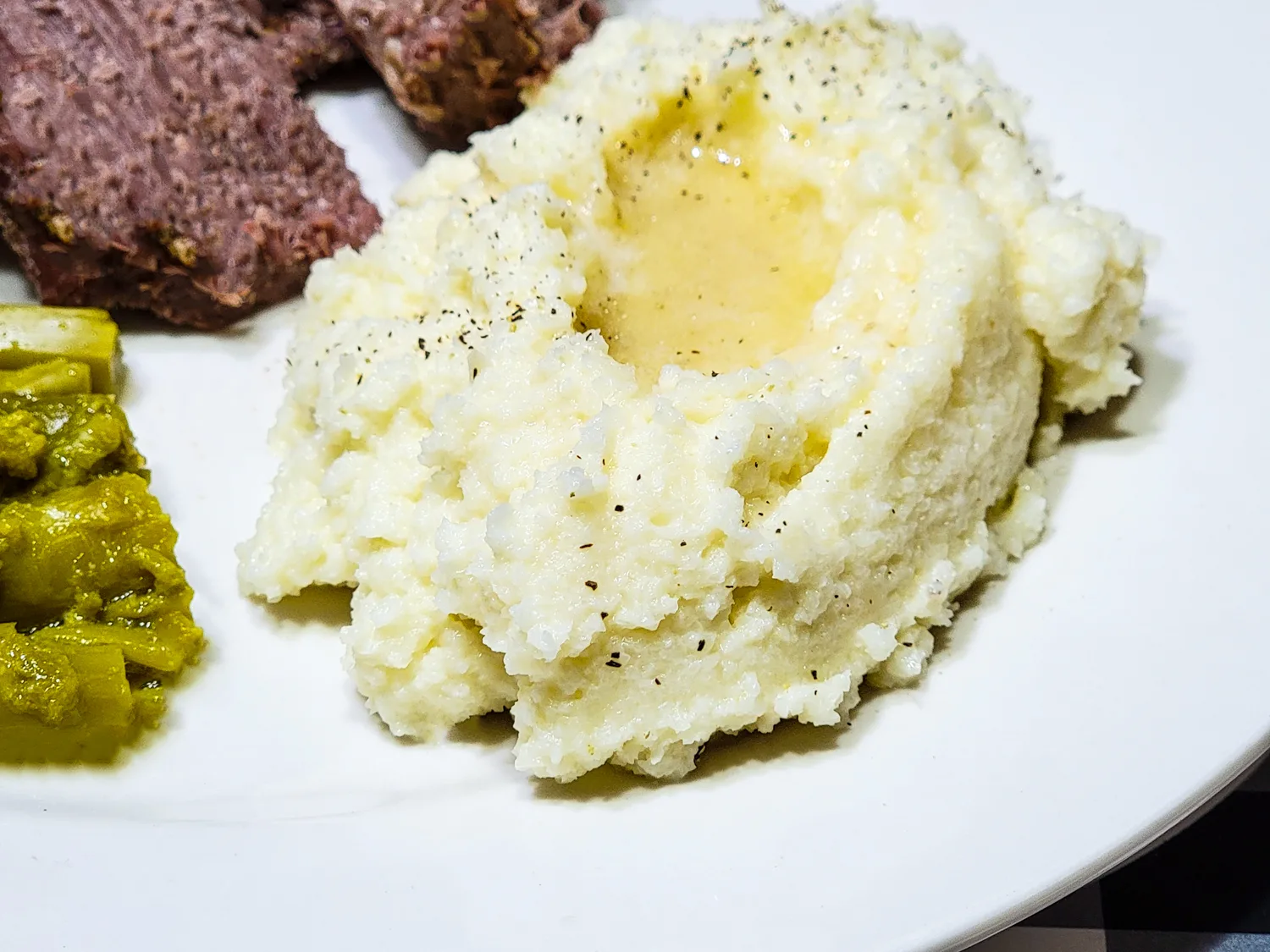 How Do You Store this Keto Mashed Cauliflower Recipe?
This recipe is best when stored in an airtight container until the next time your family wants a keto-friendly side dish.
Store for up to a week in the refrigerator or you can store it in the freezer for several months.
If you decide to freeze the leftovers, you will want to reheat them in the oven set to 350 degrees until hot.
Once out of the oven, you may need to add it back to the food processor to get the creamy texture just right.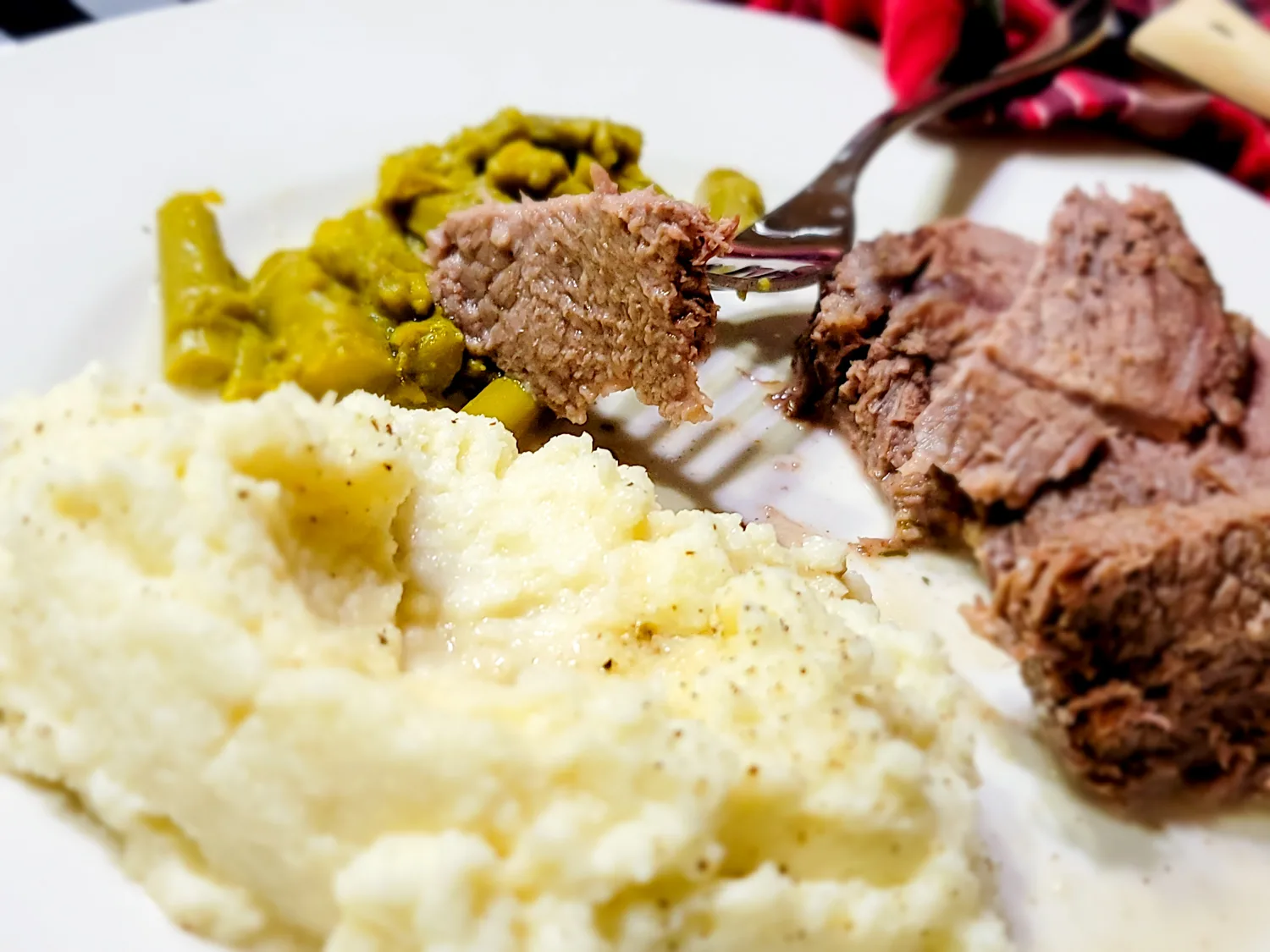 What Main Dishes Go Best With this Keto Mashed Cauliflower Recipe?
My favorite meal to serve with this keto mashed cauliflower recipe is this Instant Pot Roast Beef and Gravy.
These two dishes go so well together, and the keto-friendly gravy is a perfect way to top this recipe.
Plus, using the instant pot to create the main dish allows me plenty of room on my stovetop to make this cauliflower mash.
Looking for More Easy Keto Recipes?
My favorite recipes for a low-carb diet are usually the easiest to make. I especially enjoy a good keto crockpot recipe as well as this keto tomato soup with grilled cheese.
These simple recipes taste like the real thing, but they contain fewer grams of net carbs than the traditional versions.
The same goes with these low carb mozzarella sticks.
I also enjoy making my own versions of things like this recipe that shows how to make almond milk keto-friendly.
Another family favorite is this keto-fried chicken without pork rinds. We also enjoy keto casserole recipes like this keto meatball casserole and this Easy Cheesy Spaghetti Squash Casserole.
MY family is obsessed with Mexican food and some of our favorite dishes to make at home are these Keto Chicken Fajitas and these cheesy low-carb fajitas.
Be sure to look at all my low-carb recipes for keto or the specific carbohydrate diet by clicking on each hyperlink.
This will bring you to a list of recipes available on this site in the order I have shared them.
I hope you give some of these great recipes a try.
Be sure to follow along on social media and subscribe to the free newsletter so that you never miss a low-carb recipe again.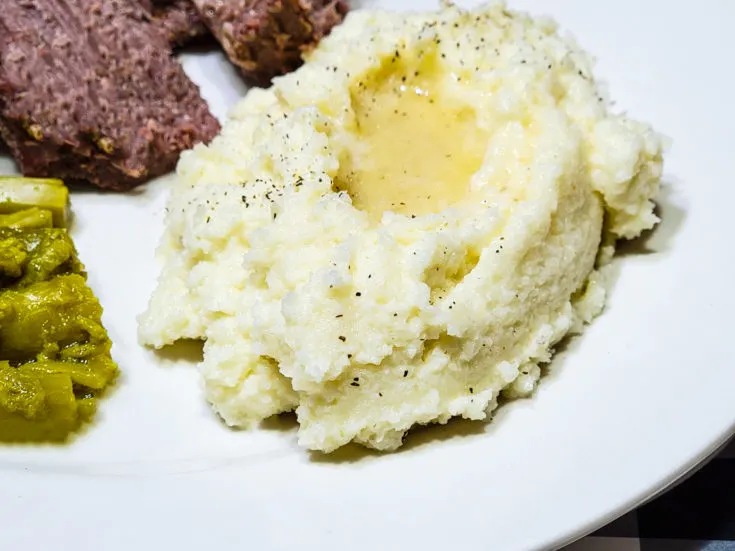 Creamy Keto Mashed Cauliflower Recipe
Ingredients
1 Bag of Frozen Cauliflower Florets or 1/2 a Head of Cauliflower
1/8 Cup of Parmesean
2 Tablespoons of Butter
2 Tablespoons of Sour Cream
2 Ounces of Cream Cheese
1 Tablespoon of Heavy Cream
Dash of Salt
Dash of Black Pepper
Instructions
Cut the cauliflower into florets and if using frozen, steam in the microwave according to the package instructions.
If you are using fresh cauliflower you can steam on the stovetop or boil for about 12 minutes.
Drain the excess water using a flour sack or paper towel.
Add cauliflower to the food processor.
Pulse a few times and then add in the rest of the ingredients pulsing once in between each addition.
Pulse until the mixture reaches desired consistency.
Sprinkle salt and black pepper on top and serve hot.