This is my favorite squash casserole recipe and soon you will see why. If you're looking for a delectable way to enjoy fresh summer squash, look no further than the best squash casserole.
Bursting with flavors and made with simple ingredients, this dish is sure to become a favorite at your dinner table.
Whether you're a seasoned home cook or a beginner, this easy-to-follow recipe will guide you through creating the best Spaghetti Squash Casserole you've ever tasted!
If you find yourself with several pounds of spaghetti squash and are on the hunt for squash recipes, you will love this healthy take on the classic southern recipe.
Is Spaghetti Squash Low Carb?
Absolutely! Spaghetti squash is a fabulous low-carb vegetable, making it an ideal choice for those following low-carb or keto diets.
With just 7-10 grams of carbohydrates per 1-cup serving of cooked spaghetti squash, it's significantly lower in carbs compared to traditional pasta.
Plus, with 1.5 grams of fiber, the net carb content becomes even lower – a perfect option for those mindful of their carb intake.
As a low-carb recipe developer. I try my best to transform recipes and make them into healthier versions that taste like the original recipe.
I have found that most of the summer squash casserole recipes I have tried included cracker crumbs.
While I love the taste of buttery crackers, I wanted to enjoy a guilt-free yellow squash recipe that didn't include bread crumbs, buttery round crackers, or Ritz crackers.
I also noticed that whenever I stumbled upon a fabulous yellow squash casserole recipe, it called for sour cream or cream of mushroom soup.
A relative of mine used to make her southern squash casserole recipe with cream of chicken soup and panko breadcrumbs.
Now don't get me wrong, this was one of the best yellow squash casserole recipes but I wanted a healthier way to enjoy it when I found myself with several pounds of yellow squash.
So that was the inspiration behind this spaghetti squash casserole recipe, I am excited to share the recipe instructions with other low-carb home cooks.
So, if you're looking for a delicious and healthy alternative to pasta, give spaghetti squash a try!
It's the best way to enjoy a satisfying meal without compromising on flavor or your low-carb goals.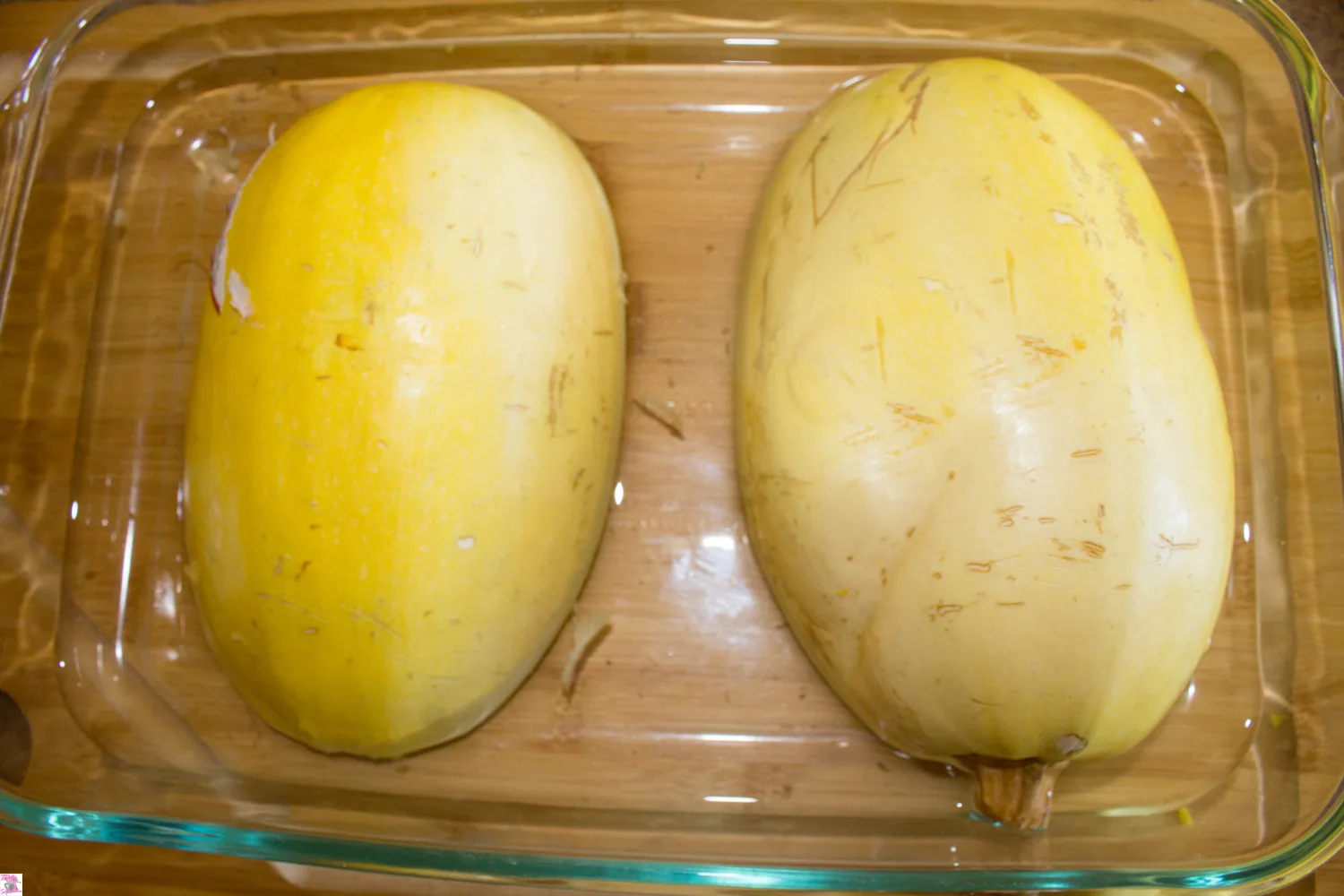 Ingredients for Spaghetti Squash Casserole
Before diving into the cooking process, let's gather all the necessary ingredients for this mouthwatering casserole:
1 Spaghetti Squash
1 Sweet Onion
1 Red Bell Pepper
1 Green Bell Pepper
1 Lb. of Sausage
2 and 1/2 Cups of Pasta Sauce
1/3 Cup of Parmesan Cheese
8 ounces of Mozzarella Cheese
1/2 Teaspoon of Basil
Dash Kosher Salt & Black Pepper
Pinch of Parsley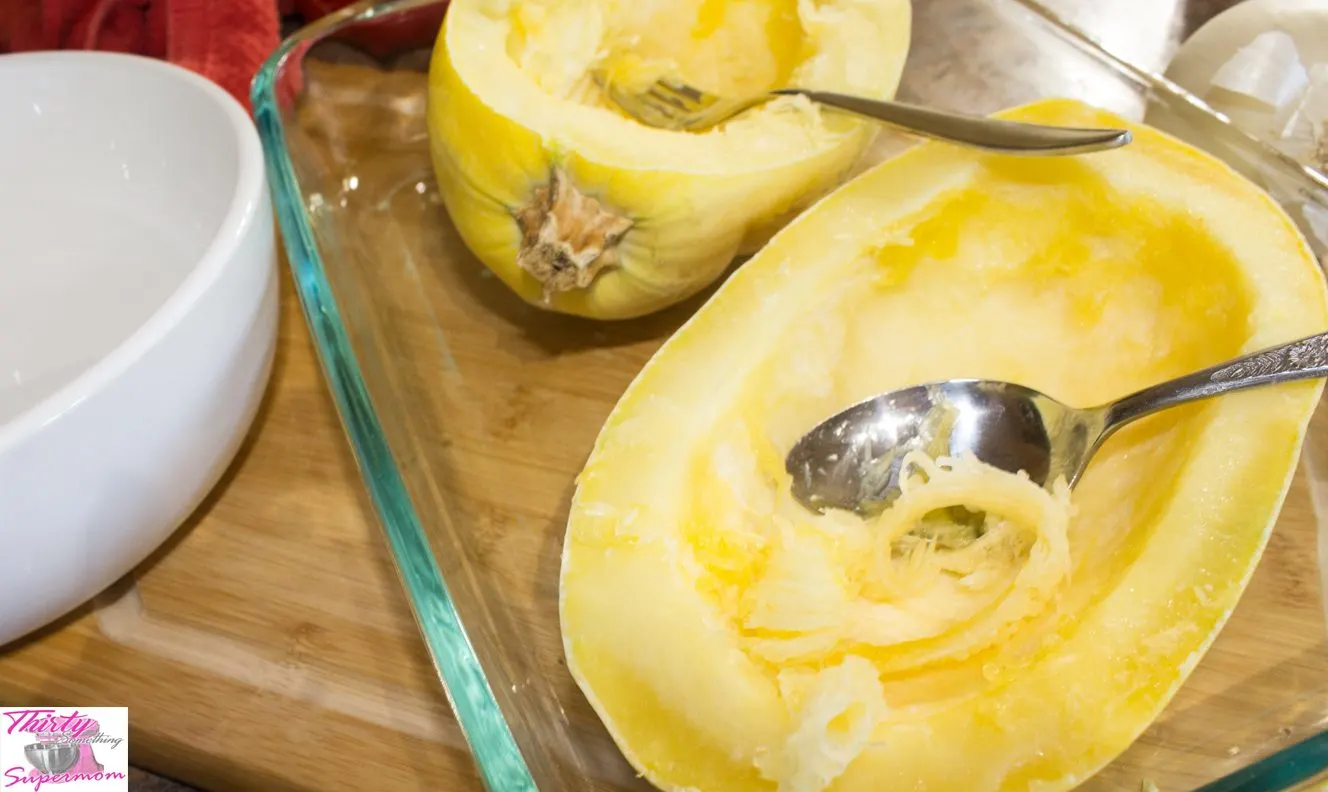 How to Cook Spaghetti Squash in Microwave
Slice the spaghetti squash in half and remove the seeds.
Place the fresh squash halves face down in a microwave-safe baking dish with about 2 inches of water.
Microwave the squash on high for about 10 minutes, or until the squash becomes tender.
Carefully remove the dish from the microwave and let the squash cool for a few minutes.
You could wrap the tender squash with plastic wrap after it has come out of the microwave to retain heat while you work on the next step of this recipe if you prefer.
Once the squash has cooled slightly, no need to bring it to room temperature, use a paper towel to absorb any excess moisture on the surface.
With a fork, gently scrape out the "spaghetti" strands from inside the squash and transfer them to a large bowl.
Your microwave-cooked spaghetti squash is now ready to be used in your favorite recipes or enjoyed as a delicious and healthy side dish.
Using the paper towel to absorb excess moisture after cooking ensures that your spaghetti squash maintains the perfect texture and isn't too watery.
It's a simple yet effective way to enhance the overall taste and presentation of your dish.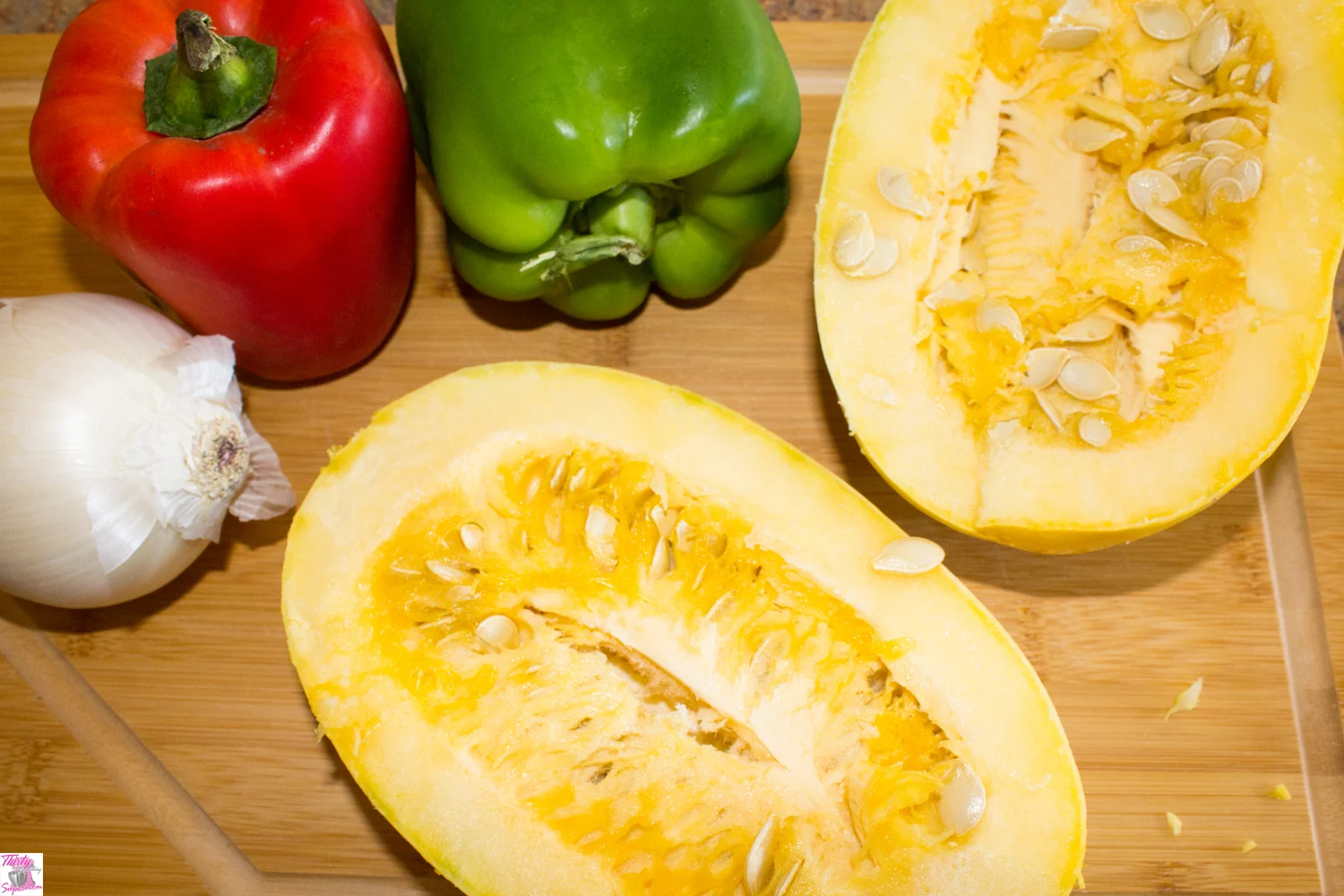 How to Make Squash Casserole
In a large skillet over medium heat, brown the sausage until fully cooked. Add the diced Red and Green Bell Peppers, sautéing until they soften.
This combination of savory sausage and colorful vegetables will bring incredible flavors to the casserole.
Preheat your oven to 375°F (190°C). Grab a 2-quart casserole dish and start layering the ingredients. Begin with a single layer of the cooked sausage, followed by a layer of the spaghetti squash strands.
Pour the Pasta Sauce evenly over the squash and sprinkle the Basil, Salt, and Pepper on top for added depth of taste.
Add another layer of sautéed vegetables to the squash mixture, and generously spread both the Parmesan and Mozzarella Cheese on top.
The combination of these cheeses will create a creamy, golden-brown crust that will leave your taste buds craving more.
Cover the casserole dish with aluminum foil and bake it in the preheated oven for approximately 25 minutes.
This will allow the flavors to meld together while keeping the moisture intact.
After 25 minutes, remove the foil to expose the top layer of cheese.
Continue baking for an additional 5 minutes or until the cheese turns golden brown.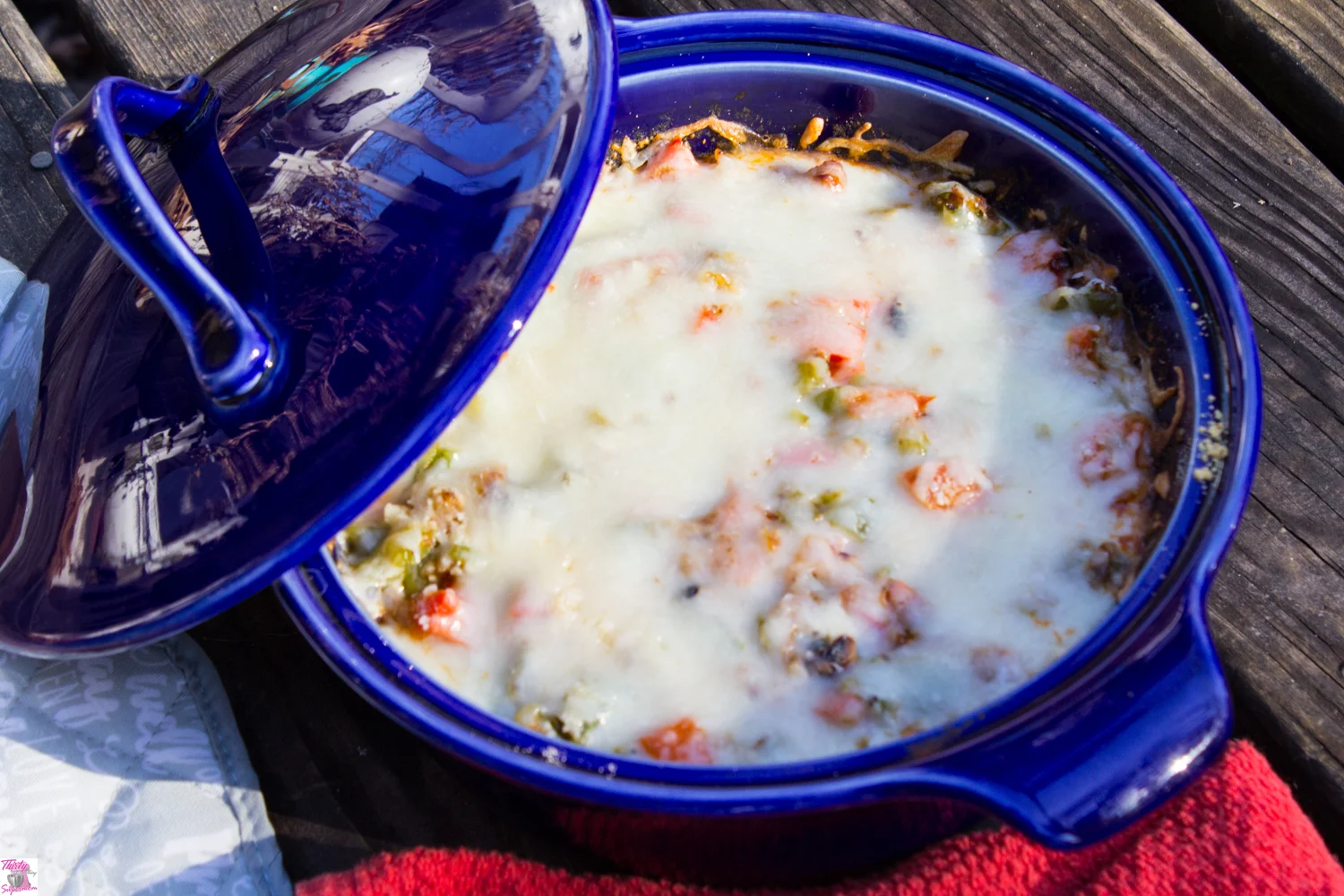 Storing & Reheating Leftover Squash Casserole
Don't waste the delightful leftovers of your Fabulous Spaghetti Squash Casserole!
To preserve its flavors, use proper storage techniques and enjoy the casserole for days to come.
Transfer any remaining portions into an airtight container to lock in the flavors and prevent unwanted moisture.
A large container works best for generous servings.
For short-term storage, refrigerate the airtight container. Your casserole will stay at its peak quality for up to 3-4 days.
Just reheat your portion when ready to enjoy it again!
To plan ahead or store an abundance of leftovers, use a freezer-safe dish. By freezing the casserole, you can preserve its scrumptiousness for weeks.
Portioning it out beforehand allows for easy thawing and enjoyment.
If time is of the essence and you're in a hurry, you can opt for a quicker reheating method.
Gently reheat individual portions in the microwave on medium-high heat, making sure to use a microwave-safe container.
This method works well when you need a satisfying meal in a pinch.
As with most leftovers, the microwave may not provide the ideal reheating experience in terms of texture, especially with melted cheese.
The impact of microwave heating on food moisture can vary a little bit based on the duration and intensity of heating.
Some dishes, particularly those with a lot of moisture like vegetables and soupy or saucy dishes, may lose extra moisture when reheated in the microwave.
For the best results, a great way to avoid the loss of excess liquid is to use the oven for a thorough and even reheating process.
Set the oven to a low temperature, and let the casserole warm up slowly until it reaches your desired temperature.
This method will help maintain the casserole's original taste and preserve the delicious flavors.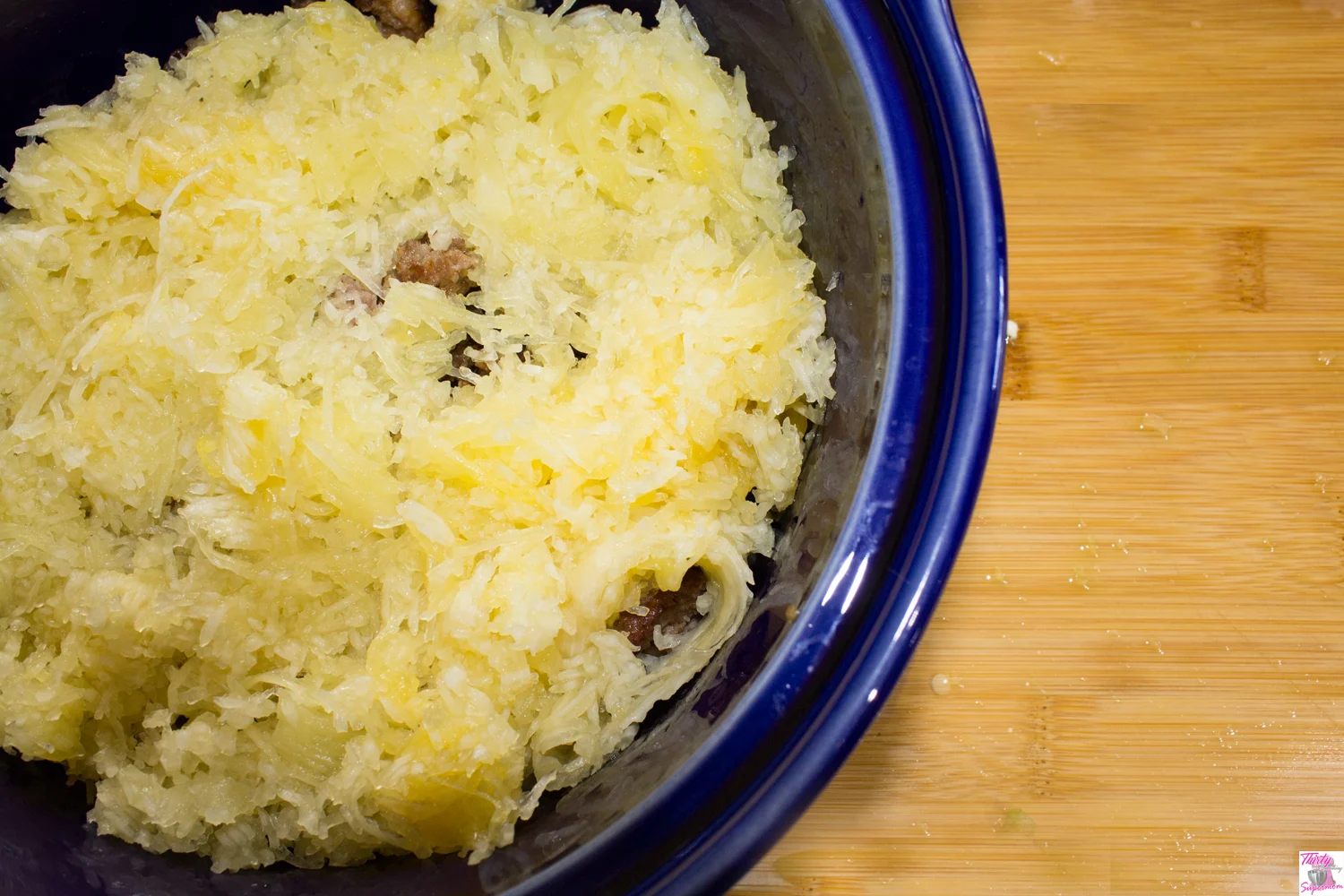 What are the best ways to add extra flavor to spaghetti squash casserole?
The great thing about this great recipe is that there are a variety of ways to customize it to make it the perfect way for your family.
Add fresh thyme, garlic powder, or cayenne pepper to the squash casserole mixture for an extra burst of flavor.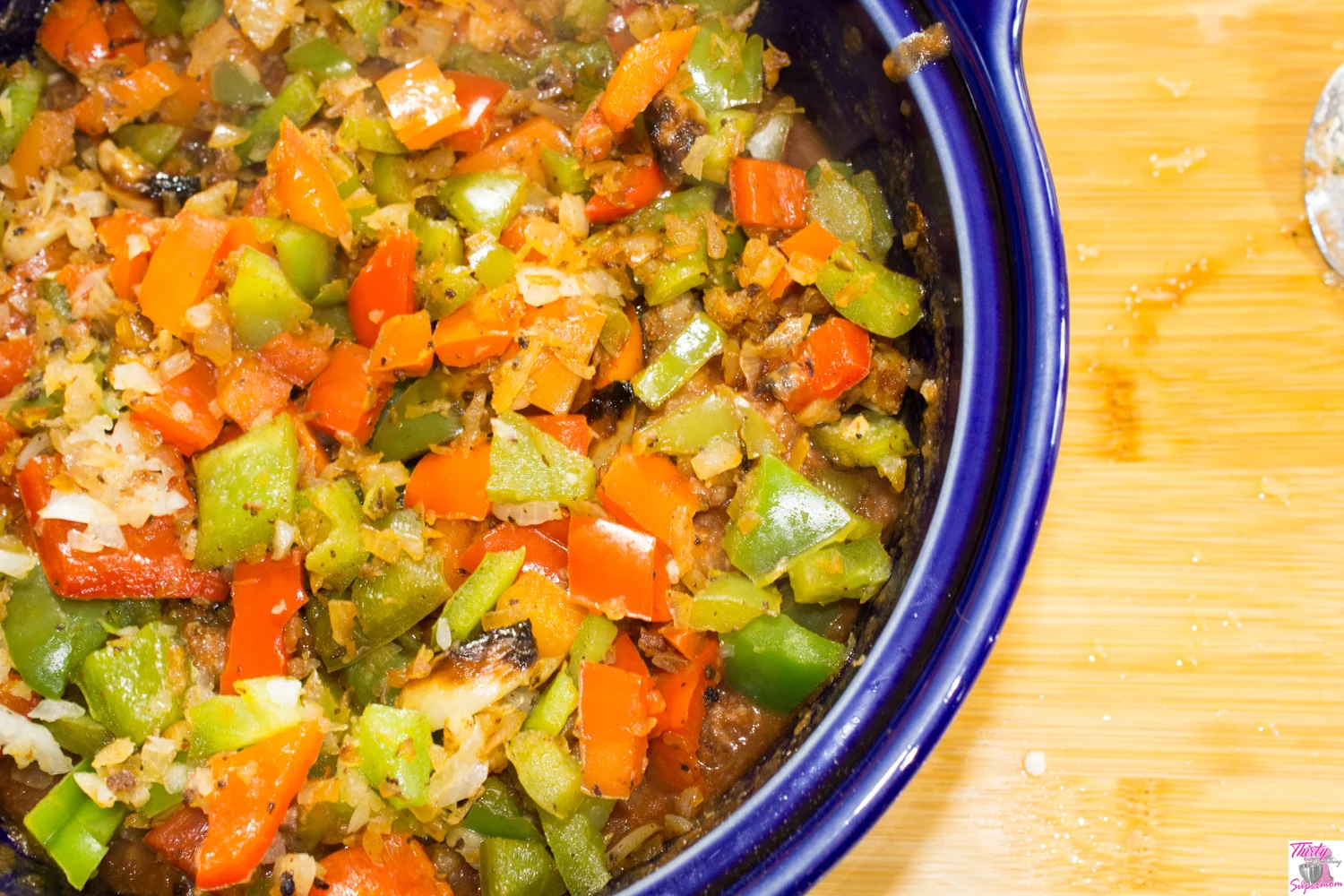 If you would like to resemble a crispy cracker-like crust on top, you can drizzle olive oil or use cooking spray on top, or even use a few tablespoons of butter if you want to add more fat for the keto diet.
The extra liquid will quickly heat the top even layer of cheese to create a crispy crust.
You can even go one step further and mix melted butter with large eggs in a small bowl before brushing it over the top of this meal to create an extra-crispy crust.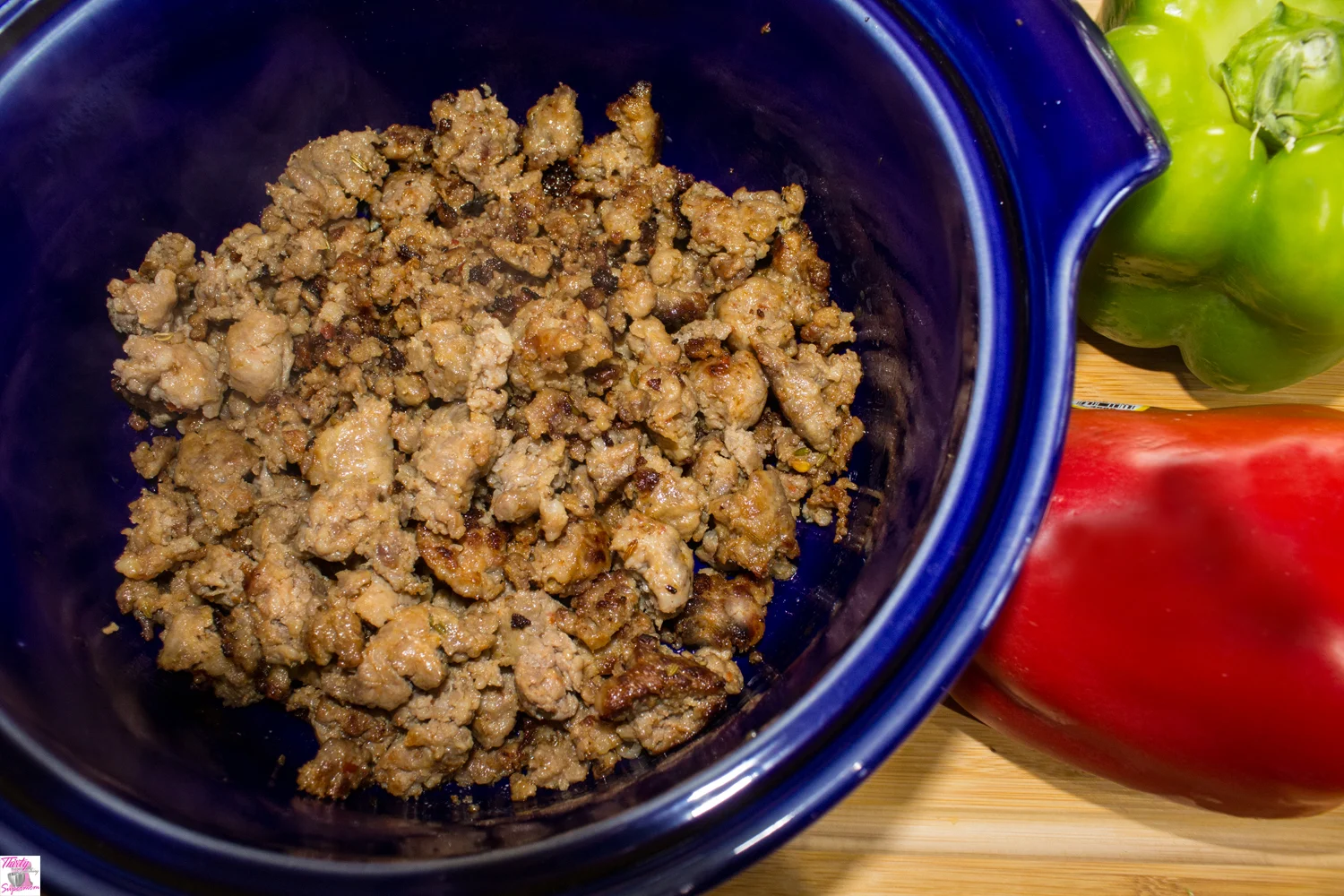 You can also leave the sausage out and create a vegetarian main dish or delicious side dish without the meat.
Although it is best to add a replacement ingredient so you do not end up with a watery casserole.
You could also use a handful of ingredients such as unsalted butter and sharp cheddar cheese to create a creamy sauce.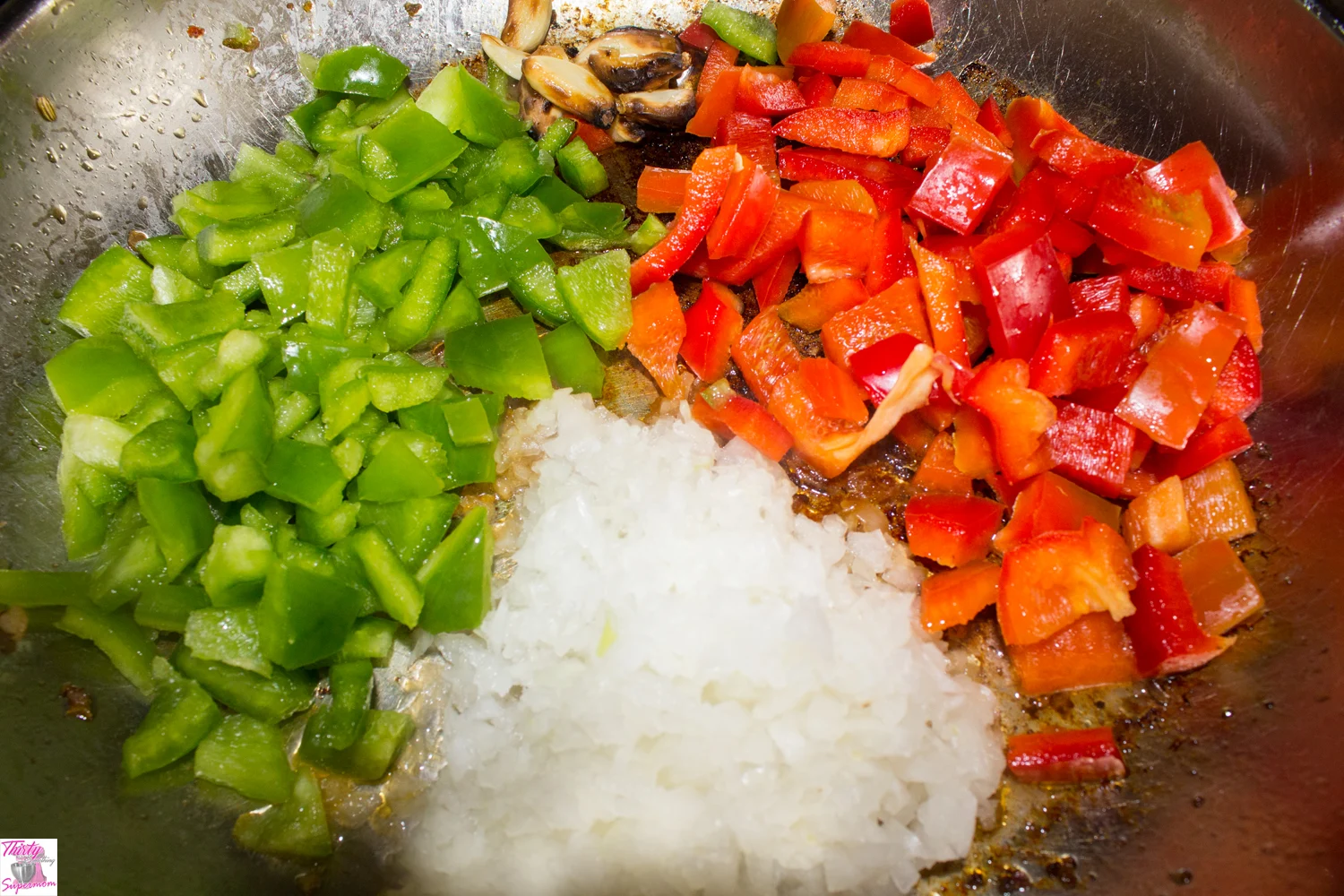 A Versatile Delight for All Occasions
This Spaghetti Squash Casserole is a great meal or the perfect side dish for summer garden parties, family gatherings, or even holiday dinners.
I have served this by itself and the last time I made this I pulled out the leftover frozen casserole and served it as a side dish with pork chops.
Since this casserole freezes well it is the perfect way to take a night off in the Summer months and enjoy a flavorful easy-to-whip-up meal anytime.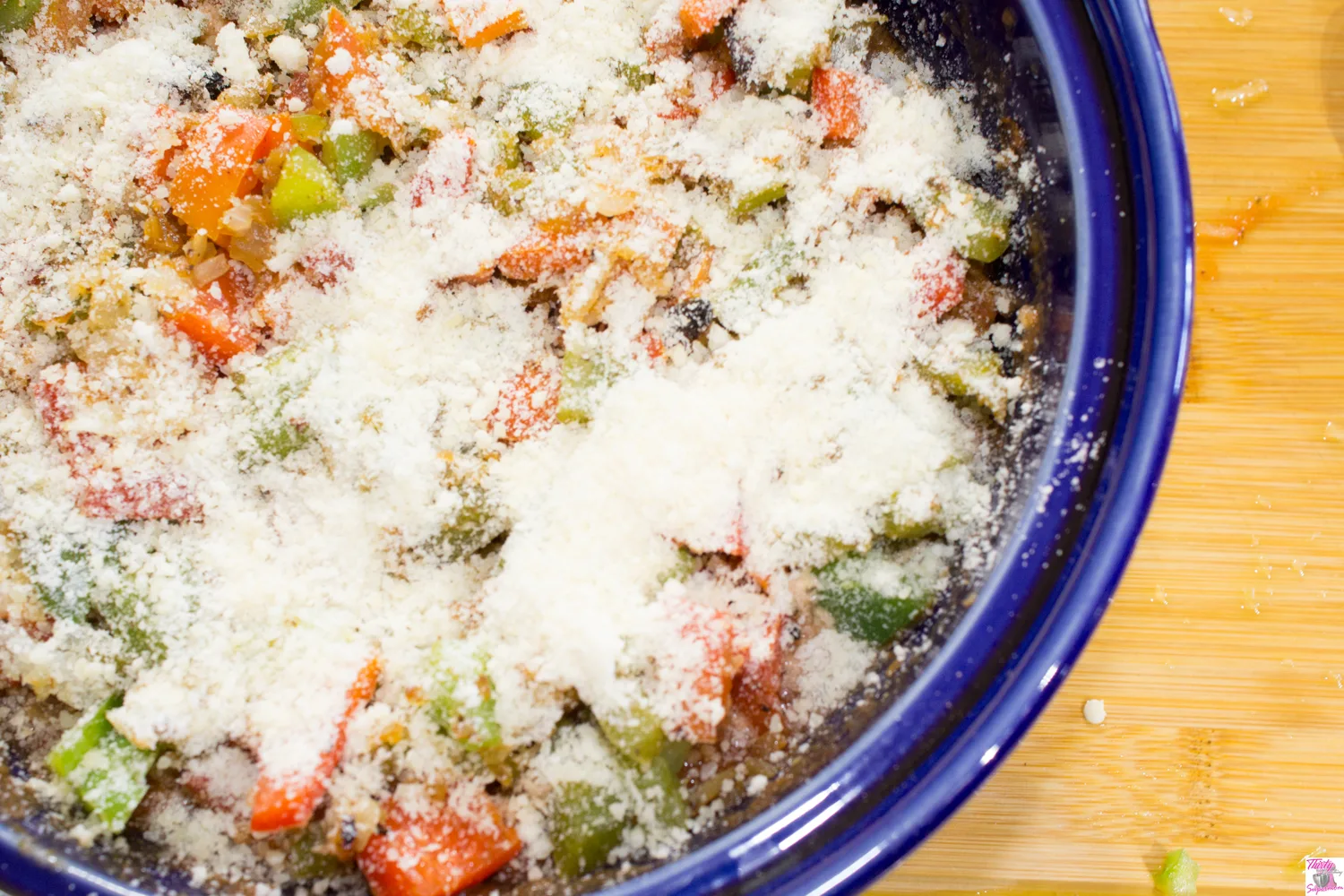 So, the next time you have fresh yellow squash or spaghetti squash in your summer garden or simply crave a delicious way to enjoy this versatile vegetable, turn to this fantastic Spaghetti Squash Casserole recipe for a hearty and satisfying meal!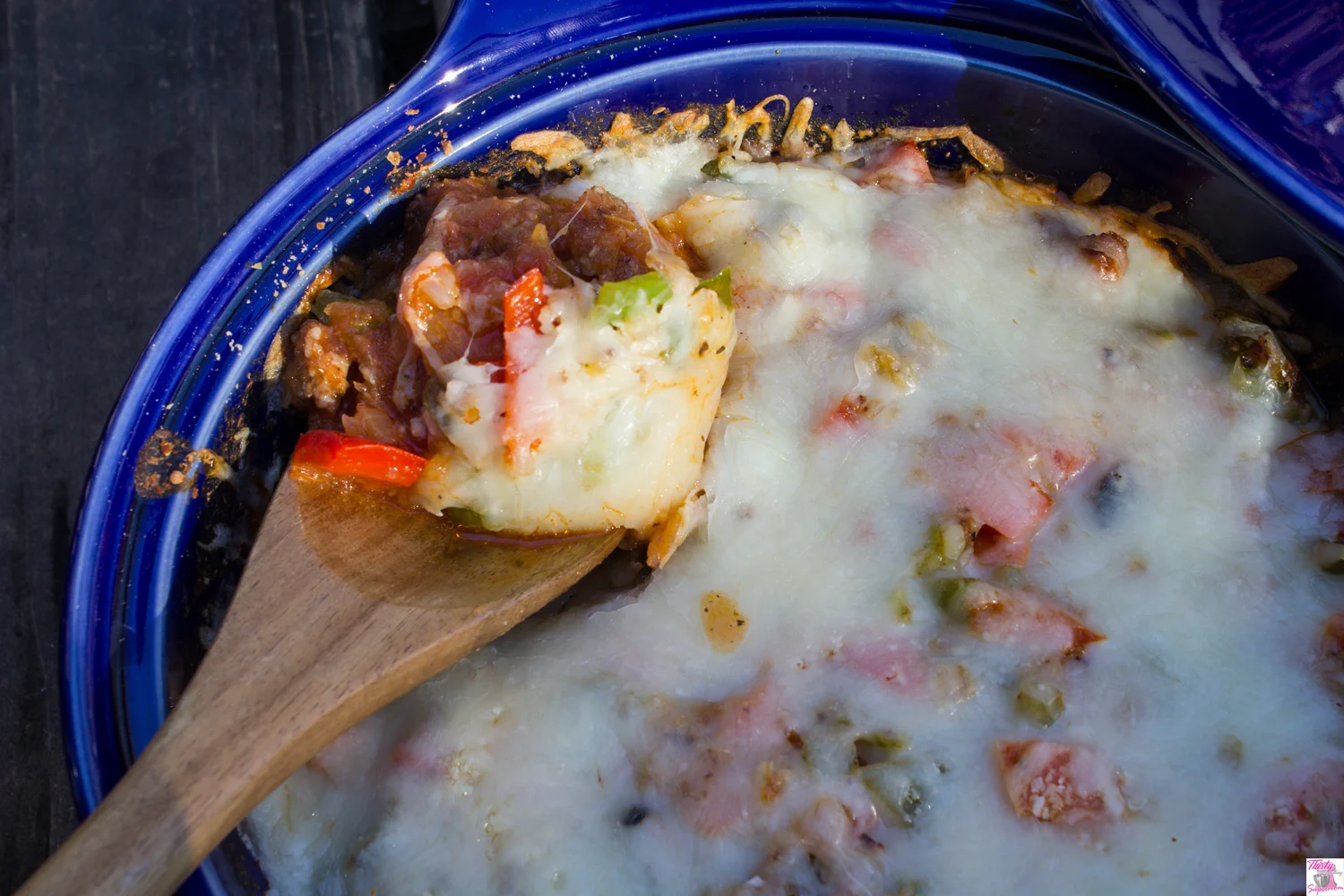 If you have enjoyed learning how to make this Healthy Summer Squash Dish consider signing up for the free newsletter or following along on Pinterest so you never miss another healthy recipe.
I hope you enjoy this Spaghetti Squash Casserole so much that you leave me a comment and share this recipe on social media so everyone can see it.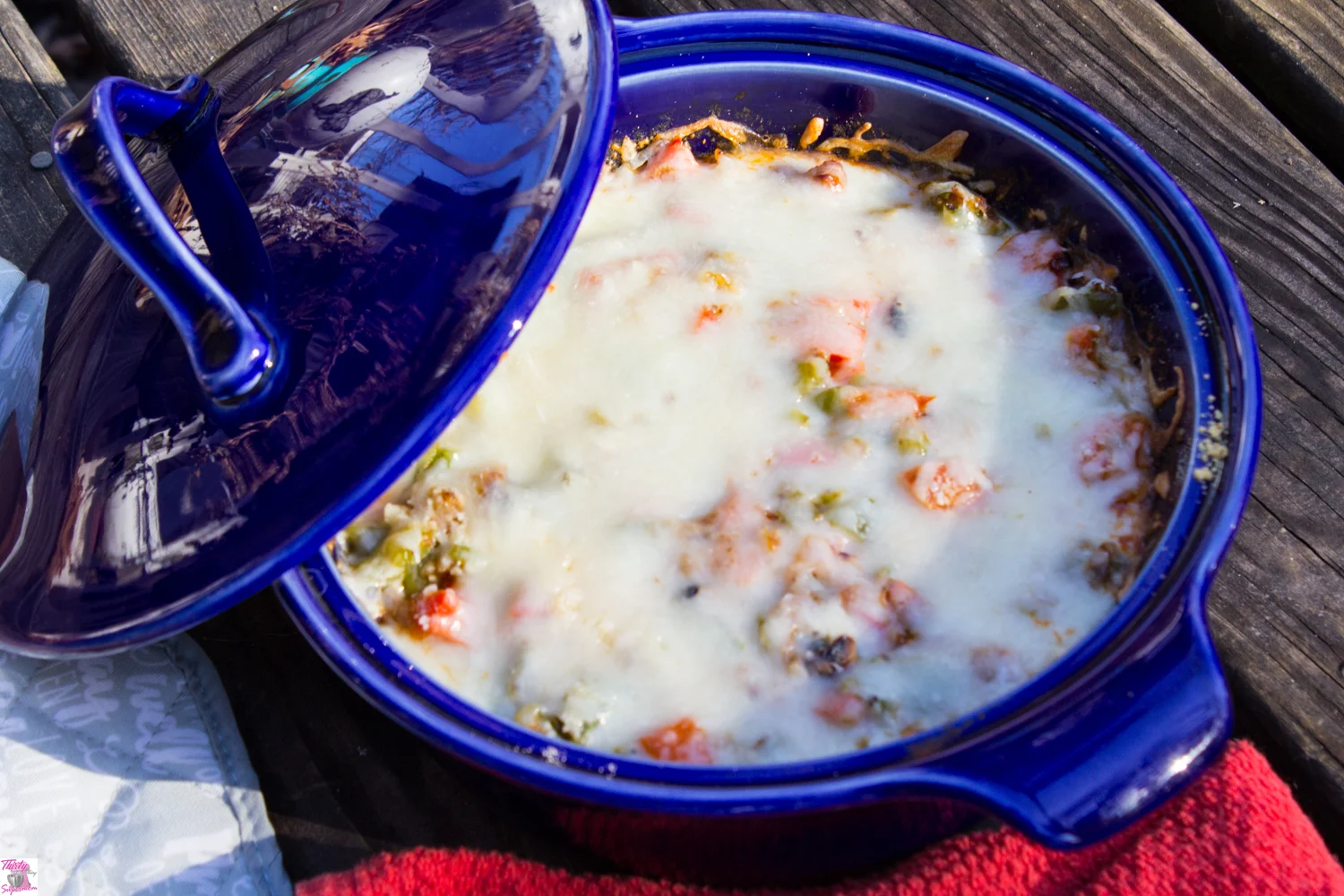 More Recipes You'll Love

Looking for more delicious recipes to try? Check out these mouthwatering options: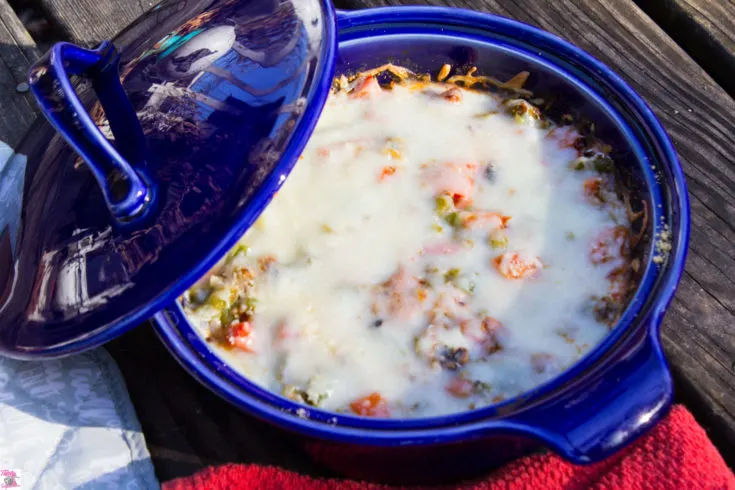 Easy Cheesy Spaghetti Squash Casserole
Indulge in the ultimate Squash Casserole Recipe! Sausage, bell peppers, and tender squash come together for a burst of flavor in every bite.
Ingredients
1 Spaghetti Squash
1 Onion
1 Red Bell Pepper
1 Green Bell Pepper
1 Lb. of Sausage
2 and 1/2 Cups of Pasta Sauce
1/3 Cup of Parmesan Cheese
8 ounces of Mozzarella Cheese
1/2 Teaspoon of Basil
Dash Salt & Pepper
Pinch of Parsley
Instructions
Slice a spaghetti squash in half. Place it face down in about 2 inches of water and microwave for about 10 minutes. When cooled remove "spaghetti" from the inside. Read the post for more detailed instructions on how to cook spaghetti squash in the microwave.
Brown sausage and soften vegetables in a frying pan.
Begin assembling the casserole by adding a layer of sausage, then spaghetti squash, then sauce, then seasonings, then vegetables, then both layers of cheese.
Bake at 375 in a casserole dish for about 30 minutes cooking with the lid on for the first 25 minutes then removing it to cause a crust to form on top.
Remove the lid earlier for a darker browner crust or read the post with more ways to get a perfectly crisp crust.
Read the post with freezing, storing, and reheating instructions for this squash casserole recipe.
Nutrition Information
Serving Size
1
Amount Per Serving
Calories

2426
Total Fat

195g
Saturated Fat

79g
Cholesterol

407mg
Sodium

6326mg
Carbohydrates

48g
Sugar

16g
Protein

130g