This gluten-free vegetable soup recipe contains affiliate links which means that if you make a purchase after clicking a link, I will receive a small portion of the sale at no additional cost to you.
The best part of this easy vegetable soup recipe is being able to serve a healthy meal that the whole family will love without a lot of meal prep.
This homemade vegetable soup is one of my favorite gluten free recipes to serve because it's an easy dinner that can be enjoyed any time of year.
No need to wait for cold days during soup season, this veggie soup will satisfy your taste buds all year long.
This is a super easy way to serve a bowl of soup that the entire family will love without spending a lot of time preparing a meal.
Be sure to check the recipe card at the bottom of this blog post for the full ingredients list and instructions for making this great recipe.
Variations of this Healthy Vegetable Soup
The best part of this simple vegetable soup recipe is that you can make some simple changes to the original recipe to add some extra flavor or use up whichever fresh vegetables you have on hand.
Some of the best ways to alter this soup are to add in your favorite vegetables and fresh herbs.
Try adding in green beans, white beans, cannellini beans, or kidney beans if you are craving simple bean soup that resembles a minestrone soup recipe.
It's so easy to turn this simple soup into a delicious bowl of minestrone.
You could also try adding leafy greens, your favorite tree nut, a plant-based protein like quinoa pasta, wild rice, red lentils, or even gluten-free pasta to make a more hearty soup.
Swap out the potatoes for sweet potatoes to create a sweet potato soup with only a little bit of change.
This recipe calls for beef broth but you can use veggie broth, vegetable stock, or chicken broth and get a similar consistency.
How to Create a Creamy Vegetable Soup
If you want a different consistency, there are a variety of wholesome ingredients you can add to gluten-free soup recipes to create creamy vegetable soup.
For a vegan vegetable soup recipe with a creamy consistency, add a can of full-fat coconut milk to the soup pot about 15 minutes before serving.
Using an immersion blender is a great way to mix the vegetable broth with the milk for creamy soups in metal pots.
Add some curry powder to the coconut milk base to resemble a curry soup.
If you are not looking for vegan soup recipes you can add a can of evaporated milk and some parmesan cheese for an easy way to create cream sauces that are certified gluten-free.
You could also use olive oil in place of butter to make this a vegan soup.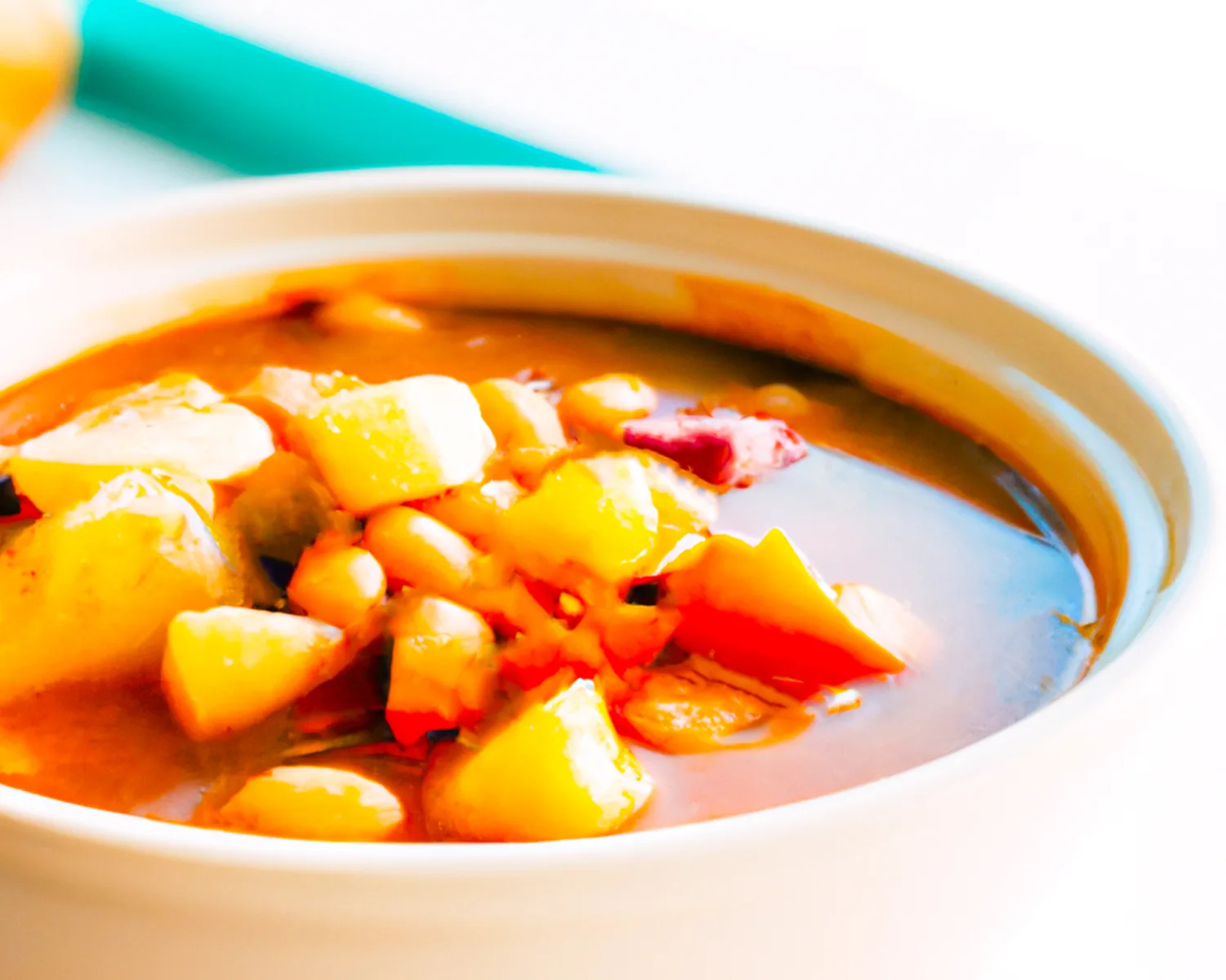 Health Benefits of Gluten-Free Vegetable Soup
Apart from being a delicious and satisfying meal, this gluten-free vegetable soup offers numerous health benefits that make it a fantastic addition to your regular menu.
Let's take a closer look at some of the key ingredients and their positive impacts on your overall well-being and the well-being of your entire family.
Nutrient-Rich Vegetables: This soup is packed with a variety of vegetables, such as carrots, onions, green peppers, and tomatoes.
These veggies provide essential vitamins, minerals, and dietary fiber, promoting good digestion, immune system support, and overall health.
Low in Calories and Carbs: For those watching their calorie and carbohydrate intake, this gluten-free vegetable soup is an excellent choice.
It can be enjoyed guilt-free, making it ideal for weight management and maintaining a balanced diet.
Supports Heart Health: By using vegetable broth or chicken broth instead of beef broth, you can reduce the saturated fat content, making this soup heart-friendly.
Additionally, potassium-rich vegetables, like tomatoes and green peppers, contribute to maintaining healthy blood pressure levels.
Suitable for Gluten-Free Diets: For individuals with celiac disease or gluten sensitivity, this soup is a safe and tasty option.
The absence of gluten-containing ingredients ensures a satisfying and enjoyable meal without triggering adverse reactions.
Antioxidant Powerhouse: The combination of colorful vegetables in this soup provides an array of antioxidants, such as beta-carotene, lycopene, and vitamin C.
These antioxidants help neutralize harmful free radicals and protect your cells from damage.
Aids in Hydration: The tomato juice and vegetable broth in this recipe help keep you hydrated, especially during hot weather or after engaging in physical activities.
Staying hydrated is crucial for maintaining optimal body functions and overall well-being.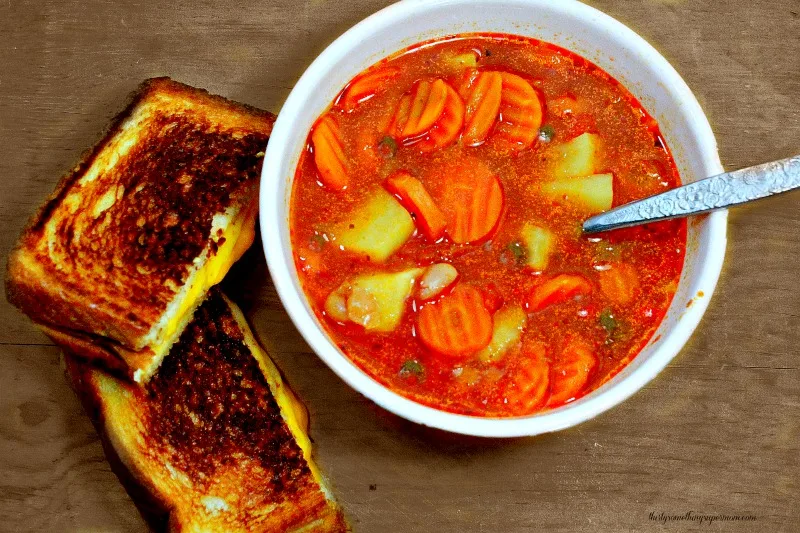 Gluten Free Vegetable Soup Recipe Ingredients
If you don't have the ingredients needed for gluten-free vegetable soup recipes on hand, a quick trip to the grocery store will have you well on your way to creating the best soup for a busy night.
This recipe calls for beef broth, tomato juice, potatoes, butter, Italian seasoning as well as salt, and black pepper to taste.
You will also need to pick up carrots and a bag of mixed veggies that include pinto beans, onions, green peppers, red peppers, and tomatoes.
This combination creates one of the easiest gluten-free recipes that hit the spot, even when warmed up the next day.
How to Make this Gluten Free Vegetable Soup Recipe
If you are using a bag of frozen vegetables, the first step is to boil the frozen vegetables for a few minutes to soften.
It is also a good idea to do this with carrots as well unless you like them al dente.
Drain the water and then add some butter, simmer for a couple of minutes.
Add the beef broth, vegetable juice (tomato juice), and seasonings to the pot.
Bring to a boil then immediately turn down the heat to a low medium heat.
Cook with lid on top for about 30-45 minutes on low to allow flavors to mix for best results.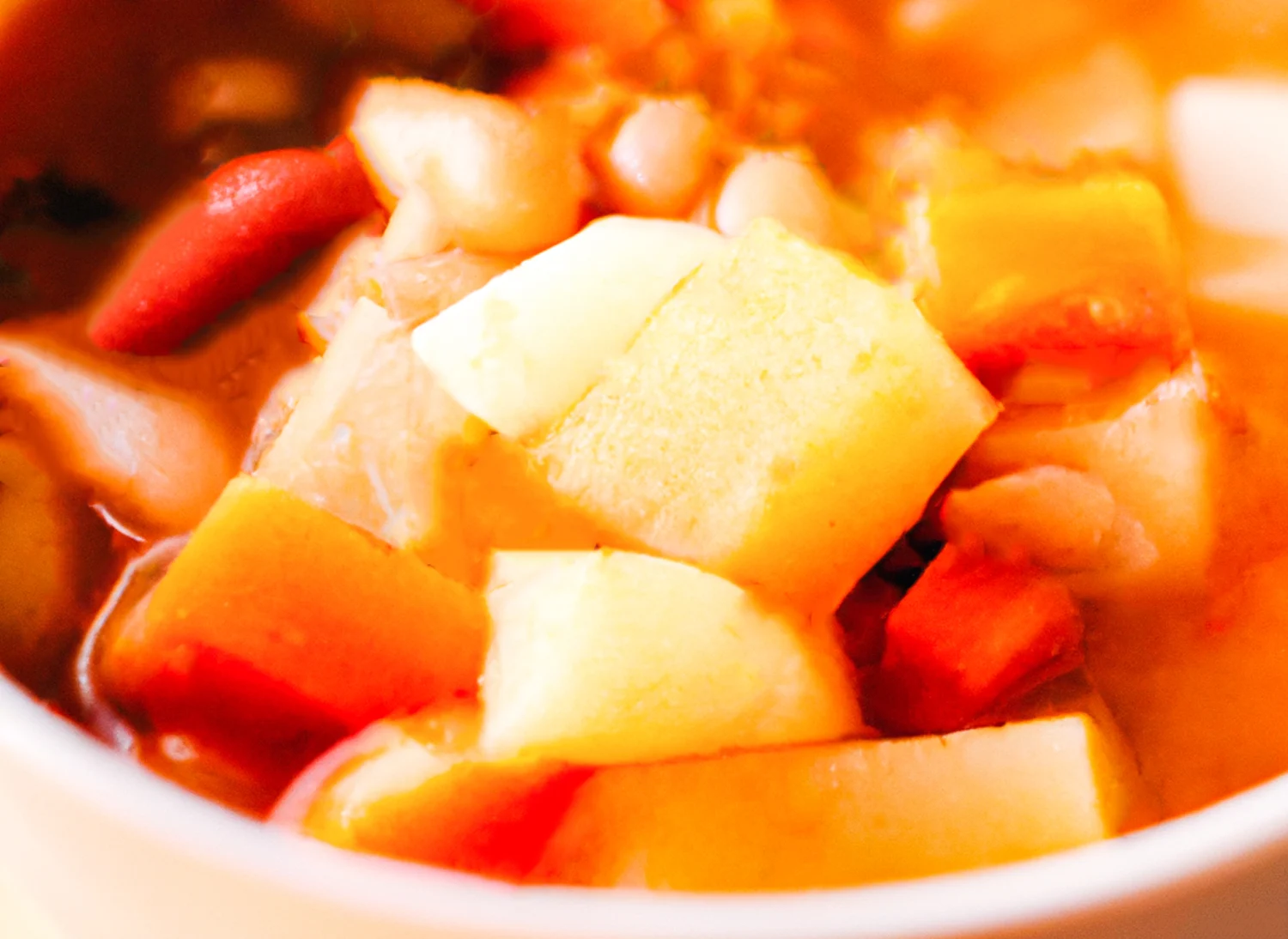 More Easy Recipes You'll Love
This low-carb chicken fajita soup is the perfect solution for a quick meal made in a slow cooker that is perfect for the cold weather.
You will also love this crock pot vegetable beef stew which pairs well with crusty bread, fresh bread, or this flourless bread for those who are on a gluten-free diet.
If you are looking for delicious yet healthy side dishes, you have to try the best easy low-carb asparagus recipe.
You may also enjoy this instant pot Buffalo chicken salad that packs so much flavor that you won't believe how quickly you can whip it up.
Don't forget to sign up for the free newsletter and follow along on social media so you never miss another recipe post again.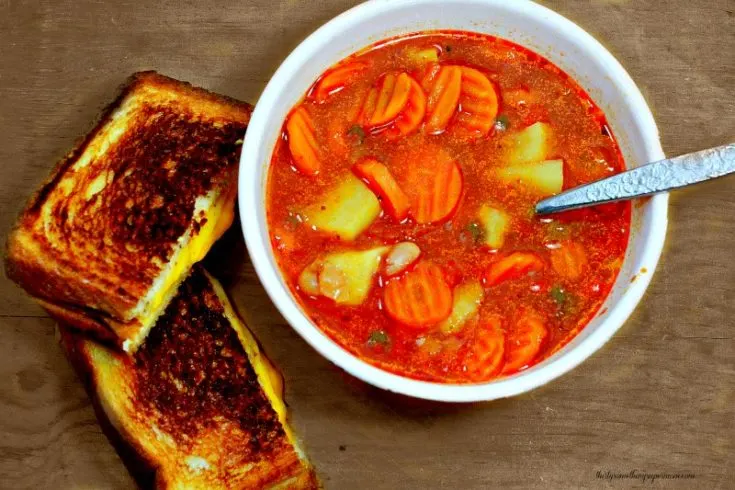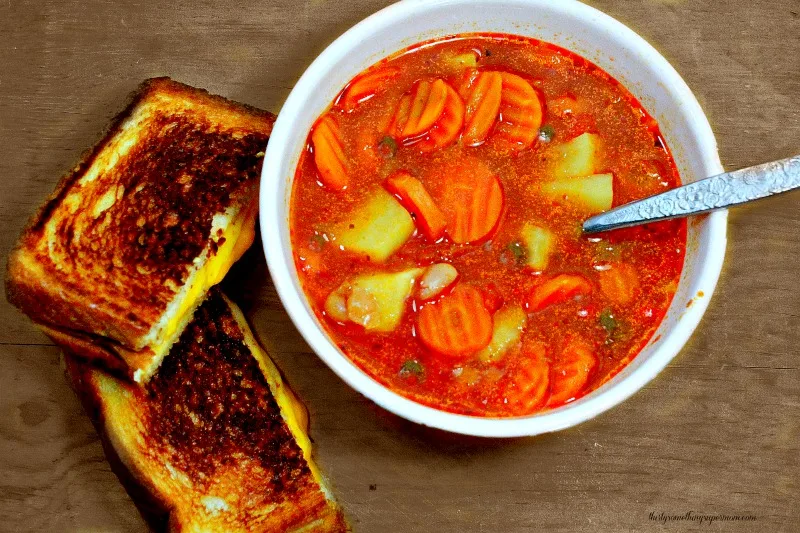 The Easiest Vegetable Soup
Ingredients
32 ounces of Beef Broth
2 Cups of Tomato Juice
24 Ounces of Carrots
10 ounce Bag of mixed Veggies (pinto beans, onions, green peppers, red peppers, and tomato)
2 Large Potatoes
1 Tablespoon of butter
1 Teaspoon of Italian Seasoning
Salt & Pepper to taste
Instructions
Boil the frozen vegetables including the carrots for a few minutes to soften. Drain.
Add butter and simmer for a couple of minutes.
Add the beef broth, vegetable juice, and seasonings into the pot.
Bring to a boil then immediately turn down the heat to a low medium.
Cook with lid on top for about 30-45 minutes on low to allow flavors to mix.