This past Sunday was an open day for my family and it has been longer than usual since I spent any time with my mom.
So I decided to make some vegetable soup, which I know she loves!
My husband and daughter went out on a much needed daddy-daughter lunch to their favorite sandwich spot, so everyone was pretty happy that day.
I love when they do fun things together, just the two of them. It seems the older my daughter gets the less they have in common, which is normal but it is always nice when they find something they both enjoy.
Neither of them was too crazy about the idea of eating a vegetable soup for lunch, although neither of them has even tried it, they just hear vegetables and then run!
So I guess they still have some things in common.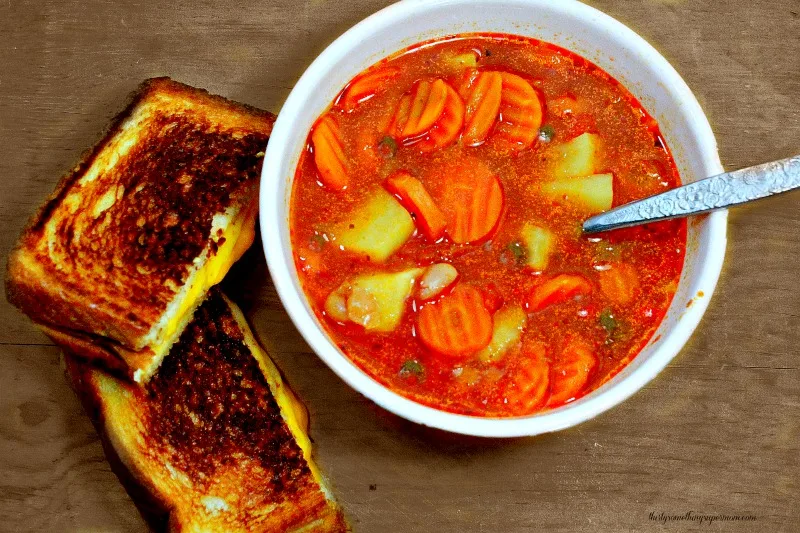 I love the simplicity of this soup recipe, it really is the easiest vegetable soup I have ever attempted to make.
There is no dicing and peeling carrots, peppers, and onions required.
I just used some frozen bagged vegetables, a bottle of beef broth, a bottle of vegetable juice, and a few potatoes to create this easy vegetable soup.
I turned on the Frank Sinatra station on Pandora and whipped up a couple of the world's best grilled cheese sandwiches I have ever eaten, then served this tasty dish to my mom and myself.
We discussed our holiday visits with friends and family.
Well, I rambled and she listened.
She did fill me in on the happenings of her friends back in Illinois that she just got back from visiting during the holiday break from work.
My mom moved out here to Iowa about a year after I did, away from her friends and family, job, house, and everything familiar, to be near my family.
This isn't the first time she has done this either.
About a year after I moved out of my families home in Florida to get married to my husband and start a life in the midwest, specifically Illinois, my mom moved out there too.
Away from her family, house, job, and everything familiar.
She currently lives just a short bike ride away from my home here in Iowa but the holidays have been busy for us all so we haven't got to spend much time together lately.
I wouldn't say I am her favorite child but I would say that we have the most in common so it makes sense that we would want to spend the most time together.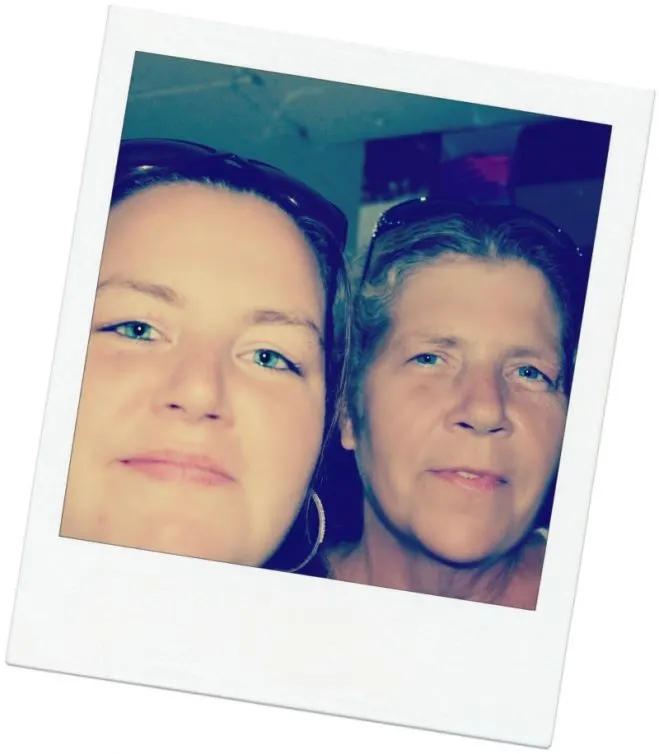 It is easy to remember only the bad things from childhood and sometimes that is the only way I remember those days but then a good memory creeps up that reminds me it wasn't all bad.
My mom used to do this thing with her ice cream where she would stir it like crazy until it became softer than soft serve ice cream, almost like a Frosty but before we had ever heard of a Frosty.
I remember her taking my bowl of ice cream, stirring it really hard, and making it frosty like just like hers.
I just thought about that recently and it made me smile because that is what good childhood memories are all about.
Small acts of kindness that let you know you were loved.
It is important to spend time with the people you love while you still can.
After losing my grandma to Alzheimer's I know how a loss like that feels so I am trying to fill up that void with fun new experiences with the ones I love while they are still here.
I enjoyed cooking this for my mom and I know you will enjoy making this for someone you love because it truly is the Easiest Vegetable Soup Recipe that anyone can make!
It leaves plenty of time for catching up on what is important like gossiping about your other friends and family that couldn't make it over for lunch.
So invite someone you love over and serve them a hot and delicious pot of this Vegetable Soup.
Don't forget to share this recipe or save it for later on Pinterest.
Who would you like to invite over to enjoy this Vegetable Soup with?
The Easiest Vegetable Soup
Ingredients
32 ounces of Beef Broth
2 Cups of Tomato Juice
24 Ounces of Carrots
10 ounce Bag of mixed Veggies (pinto beans, onions, green peppers, red peppers, and tomato)
2 Large Potatoes
1 Tablespoon of butter
1 Teaspoon of Italian Seasoning
Salt & Pepper to taste
Instructions
Boil the frozen vegetables including the carrots for a few minutes to soften. Drain.
Add butter and simmer for a couple of minutes.
Add the beef broth, vegetable juice, and seasonings into the pot.
Bring to a boil then immediately turn down the heat to a low medium.
Cook with lid on top for about 30-45 minutes on low to allow flavors to mix.