This buffalo chicken salad recipe contains affiliate links which means that if you make a purchase after clicking a link, I will receive a small portion of the sale at no additional cost to you.
Sometimes sticking to a low-carb diet gets boring, this is especially true if you don't get creative with the foods you are eating. Switching it up a bit here and there helps to keep any diet from getting boring which makes sticking to the diet much easier.
This Buffalo Chicken Salad recipe is delicious just the way I created it but if you are like me and have eaten it a million times, below you will find lots of variations to keep it interesting.
What is Buffalo Chicken Salad?
Buffalo chicken salad is a simple and healthy way to indulge your cravings for buffalo chicken wings. Drizzled with ranch and smothered in hot sauce, this buffalo chicken salad offers all of the best flavors that come with traditional buffalo chicken.
Serving this buffalo chicken on a bed of lettuce makes this keto-friendly dish not only delicious but healthy, too!
What You Will Need to Make Buffalo Chicken Salad
This buffalo chicken salad is made in an instant pot and perfect for low carb or keto diets. It is so easy to adjust the spice to fit your taste, so this recipe is highly customizable to a variety of palates.
If you enjoy a bit more spice, just add extra hot sauce. If you prefer a more mild flavor, add less hot sauce or use a mild buffalo sauce when making the chicken.
In order to make the buffalo chicken portion of this salad recipe, you will need an Instant Pot or a pressure cooker such as the Power Pressure Cooker XL.
The ingredients you will need to make this recipe are as follows:
chicken breast
hot sauce
lettuce
cheese
dressing
a few common seasonings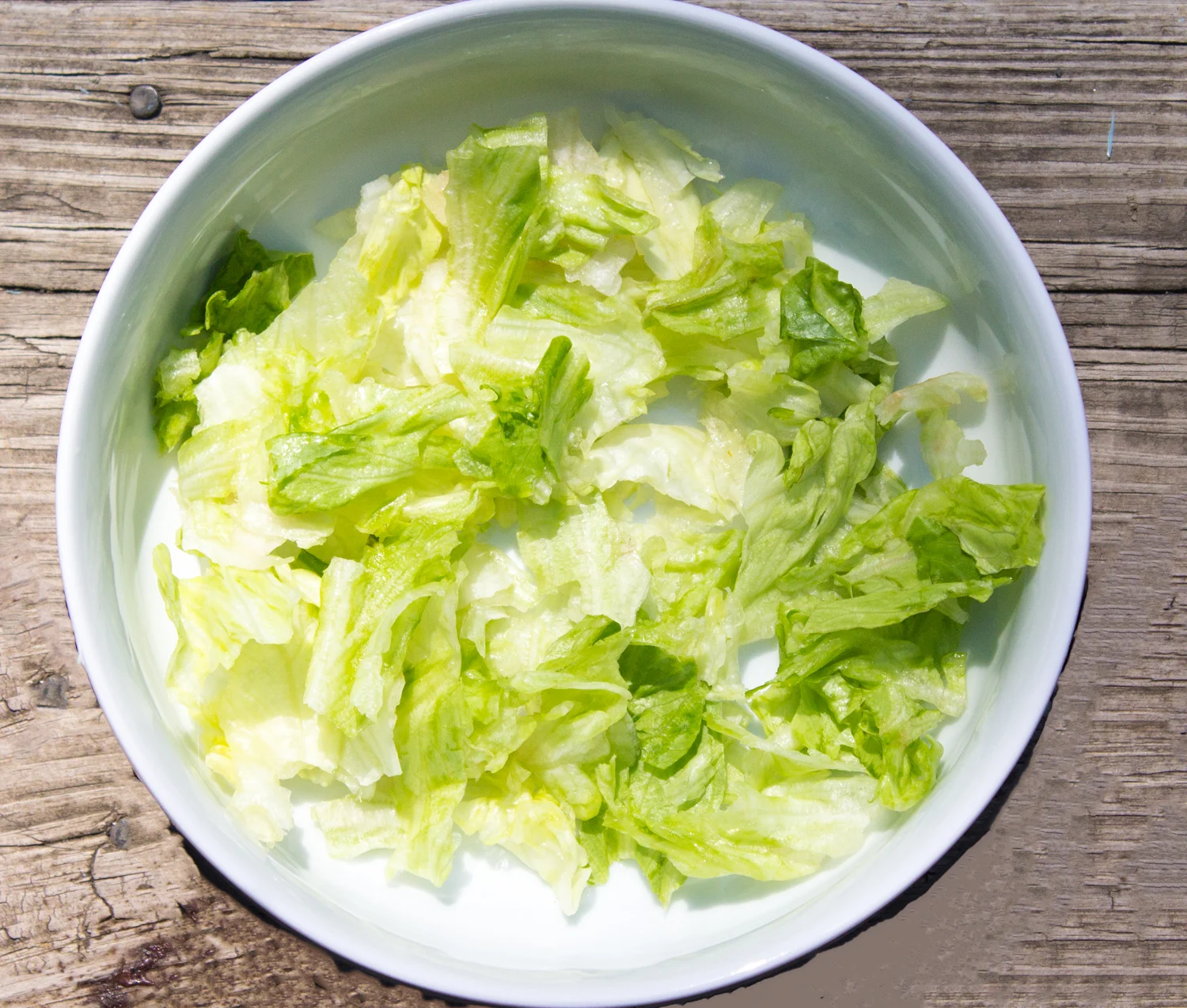 How to Make Buffalo Chicken Salad
This recipe comes together by first preparing the chicken for this buffalo salad. Place the chicken breast and a cup of water in the instant pot. Pour the hot sauce on top and sprinkle seasonings on top of that.
Turn the pressure cooker to high and cook for 10 minutes.
While the chicken cooks, prepare the rest of the salad. Line the bottom of a salad bowl with about 1 cup of lettuce and shred cheese, then set aside.
Once the chicken is done cooking, add it to the lettuce and shred some cheese to put on top, then drizzle with your favorite dressing.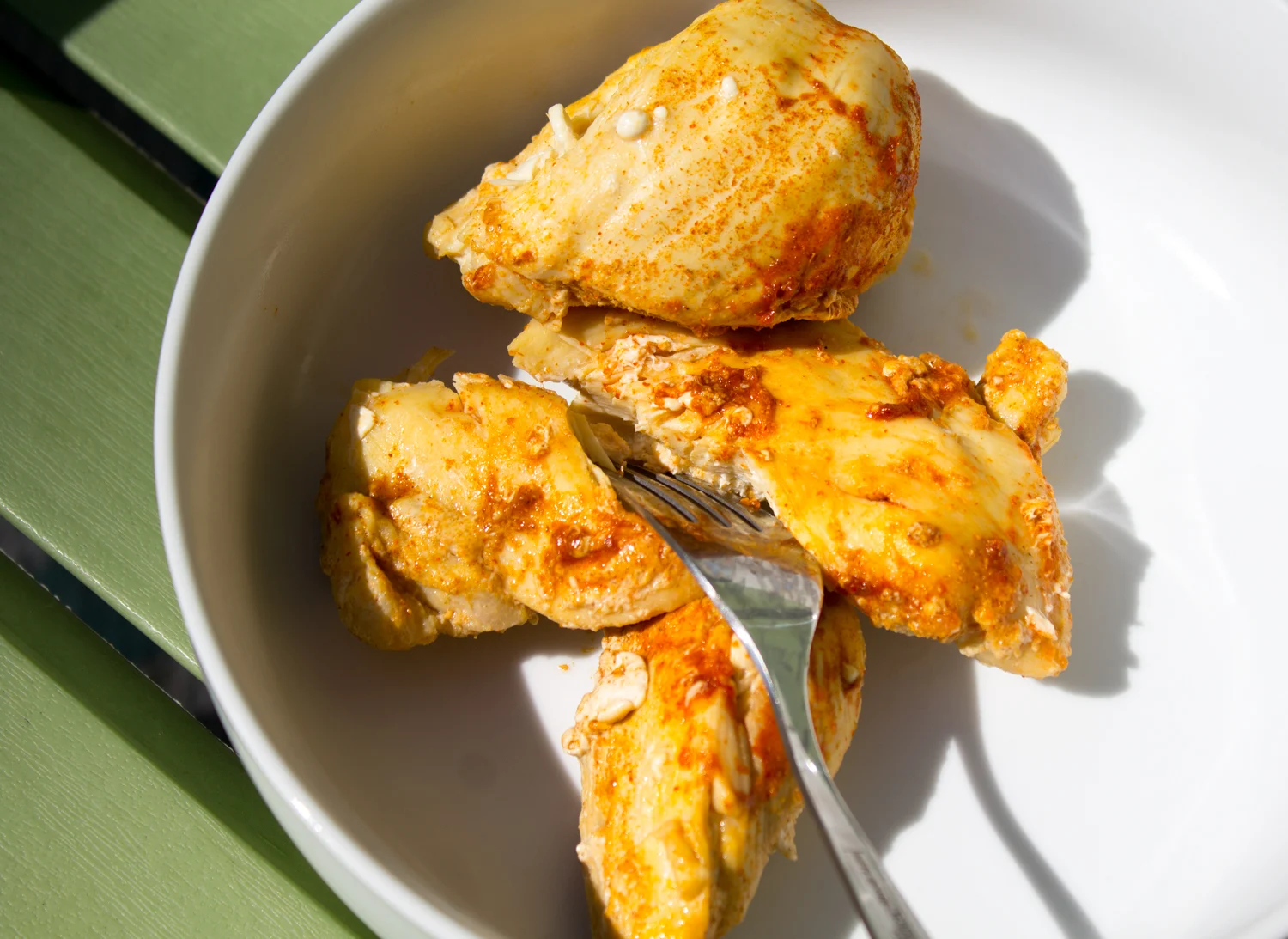 Using the Instant Pot to Shred Chicken
I am always on the lookout for an easy instant pot dinner. So, after throwing this together fast when the craving hit, this has been my new favorite easy instant pot meals to make.
After the chicken is finished cooking, place it into a bowl and shred with a fork. This should only require a little effort, your chicken will be tender and easy to shred after cooking in the instant pot.
Of course, if you are still craving the real thing, you can make these Easy Keto Chicken Wings in the oven.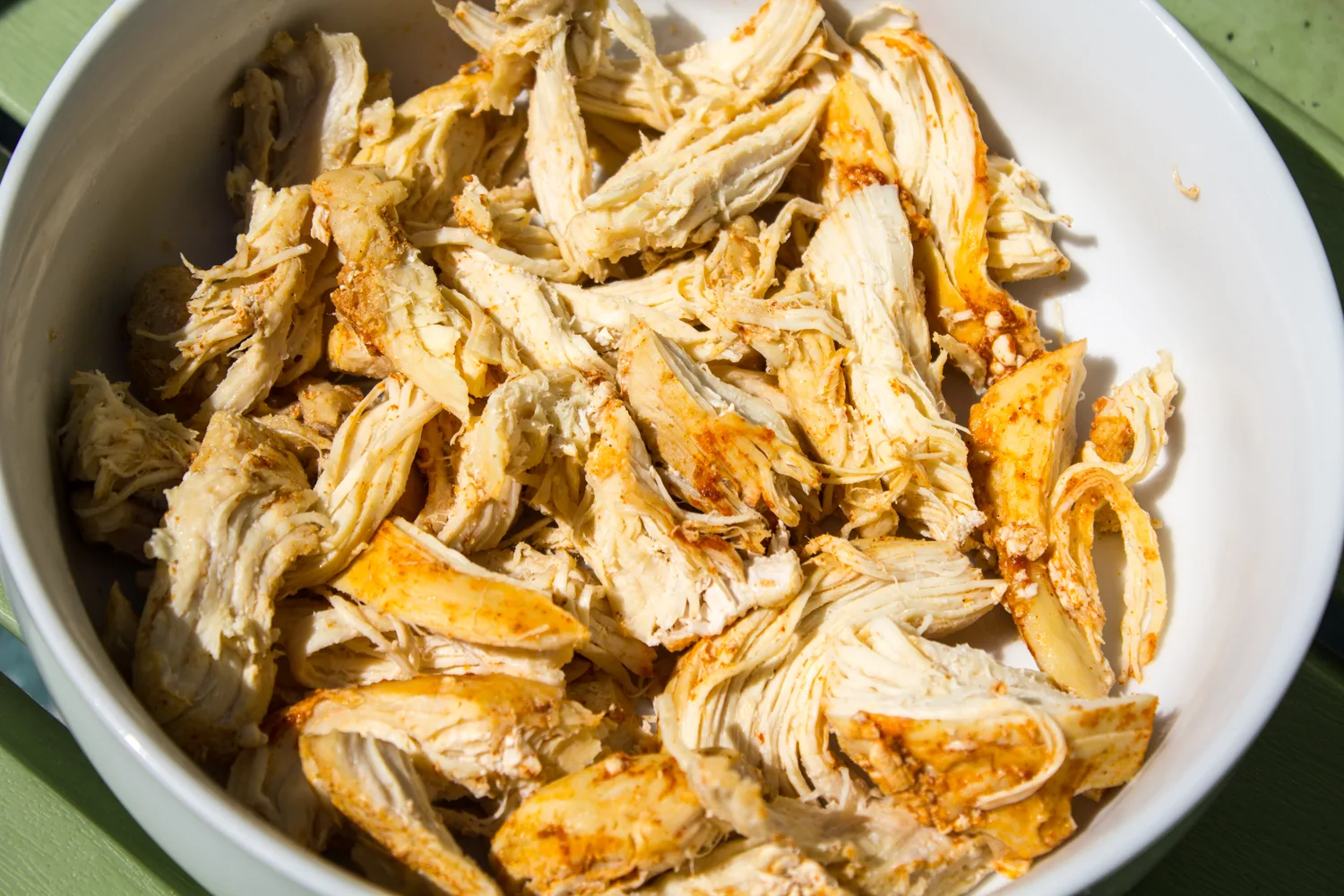 How Many Servings is this Recipe?
Everyone's diet is different and each of us has a set amount of carbs or calories that we try to stay under each day.
So I wouldn't be able to put a serving amount on this meal that would work for everyone. However, there are many apps and websites that allow you to calculate these things so feel free to find that information out.
Before worrying about every bit of food I consume, I look at this meal as a healthy and filling lunch that gives me zero guilt.
Since it's healthy and it's such a quick option to whip up, I am happy to eat it whenever I want. No matter what I have consumed for the rest of the day. This is always a safe bet when you are hungry and need something healthy but fast.
This healthy buffalo chicken salad fills two 9.5″ bowls and if you are concerned with added calories or carbs from the dressing, I suggest switching it up and trying this zero-calorie, zero-carb blue cheese.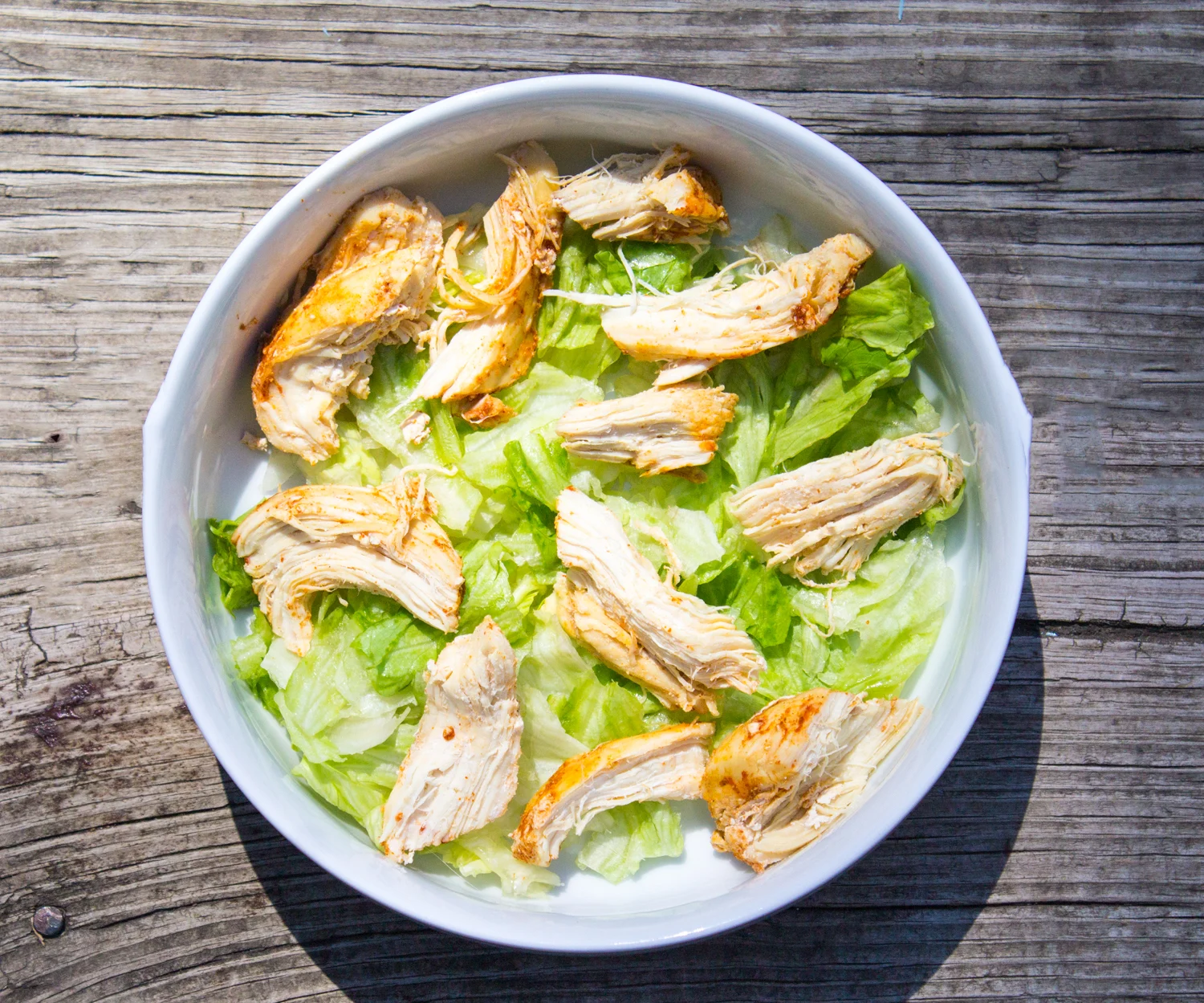 Topping Ideas
There are a variety of dressings you could try on this buffalo chicken salad. The ones I use most are this blue cheese and this easy vinaigrette salad dressing.
Additionally, if you want, you can add carrots or celery on top of this dish. This is a great option for a veggie-packed meal that mimics traditional wings.
Also, adding this Easy Vinaigrette Dressing gives this meal a buffalo chicken caesar salad flavor.
Thankfully, there are so many options to customize this buffalo chicken salad to fit your needs.
Looking for More Easy Keto & Low Carb Recipes?
Try this easy chicken breast recipe for a salad that is made using a frying pan. Pull out the crockpot and make this shredded slow cooker chicken cacciatore.
If you want only the fastest and easiest meals, you have to check out these 27 Quick Keto Dinner Ideas in 30 Minutes or Less! There are some recipes that take less than ten minutes to make.
If you are really wanting to indulge but still stick to your keto or gluten-free diet, see how I made this Low Carb Fried Chicken without using pork rinds.
Are you looking for a keto crockpot dump meal? This Keto Chicken & Rice Soup is perfect!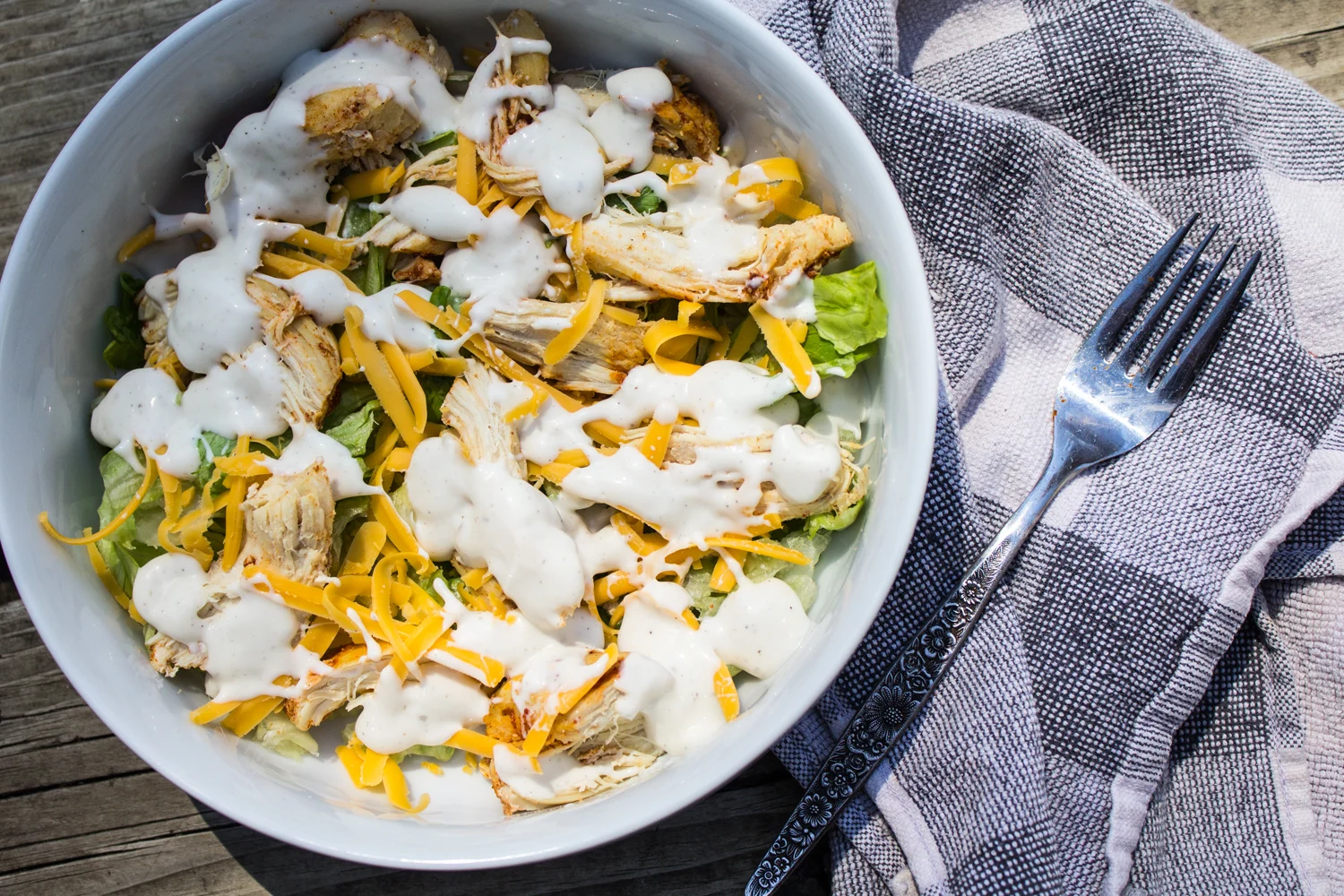 Will you make this buffalo chicken salad recipe spicy or mild? I would love to hear all about the different toppings and dressing you have tried. Leave me a comment below with your favorites!
Don't forget to sign up for the free newsletter and follow along on social media so that you never miss a post.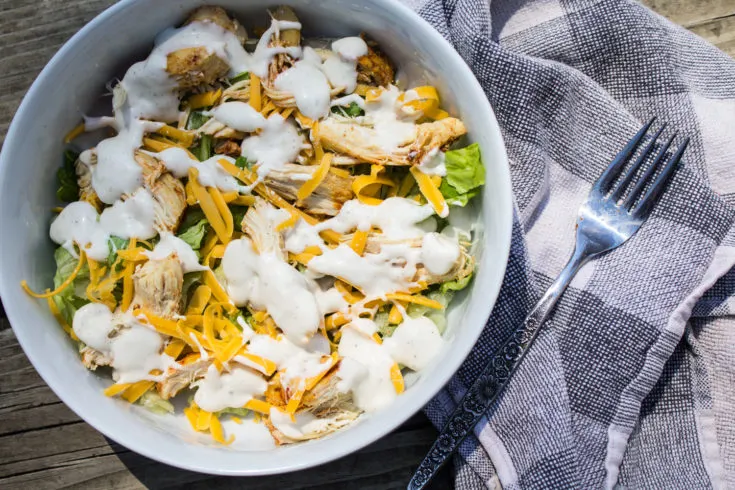 Instant Pot Buffalo Chicken Salad
Ingredients
1/2 Pound of Boneless Skinless Chicken Breast
1 Cup of Water
1/4 Cup of Hot Sauce
2 Cups of Lettuce
1/4 Teaspoon of Italian Seasoning
1/4 Cup of Shredded Cheese
2 Tablespoons of Ranch or Blue Cheese Dressing
Instructions
Place the chicken in a pressure cooker. Add one cup of water and pour hot sauce on top of each breast. Sprinkle Italian seasoning on top.
Turn the pressure cooker on high pressure and cook for 10 minutes. Once the chicken is done, remove from the pressure cooker and shred in a bowl.
Place an even bed of lettuce in each bowl and then add an even layer of chicken.
Shred cheese and place on top, then drizzle on dressing. Serve and Enjoy!