This keto chicken fajita seasoning recipe includes affiliate links which means that if you make a purchase after clicking a link, I will receive a small portion of the sale at no additional cost to you.
These Quick & Easy Low Carb Chicken Fajitas are perfect for lunch, dinner, or anytime you want a healthy meal!
Simple and delicious, anyone can make this keto chicken fajita seasoning.
This recipe is so easy to put together with a few ingredients and spices that you probably already have in your pantry.
Plus, this recipe uses only one pan so there is no need to mess up the whole kitchen to enjoy this delicious recipe at home.
These keto chicken fajitas make a great low-carb lunch or dinner that is sure to hit the spot.
If you are like me and think that the simplicity of a recipe is as important as the outcome then You can do the whole process in one frying pan.
But if you are feeling a little extra, also like me at times, you can get yourself one of those fajita dishes that sizzle when they serve them at restaurants.
I found one that comes with the mini oven mitt too, you can pick that up from Amazon for about $20 by clicking here.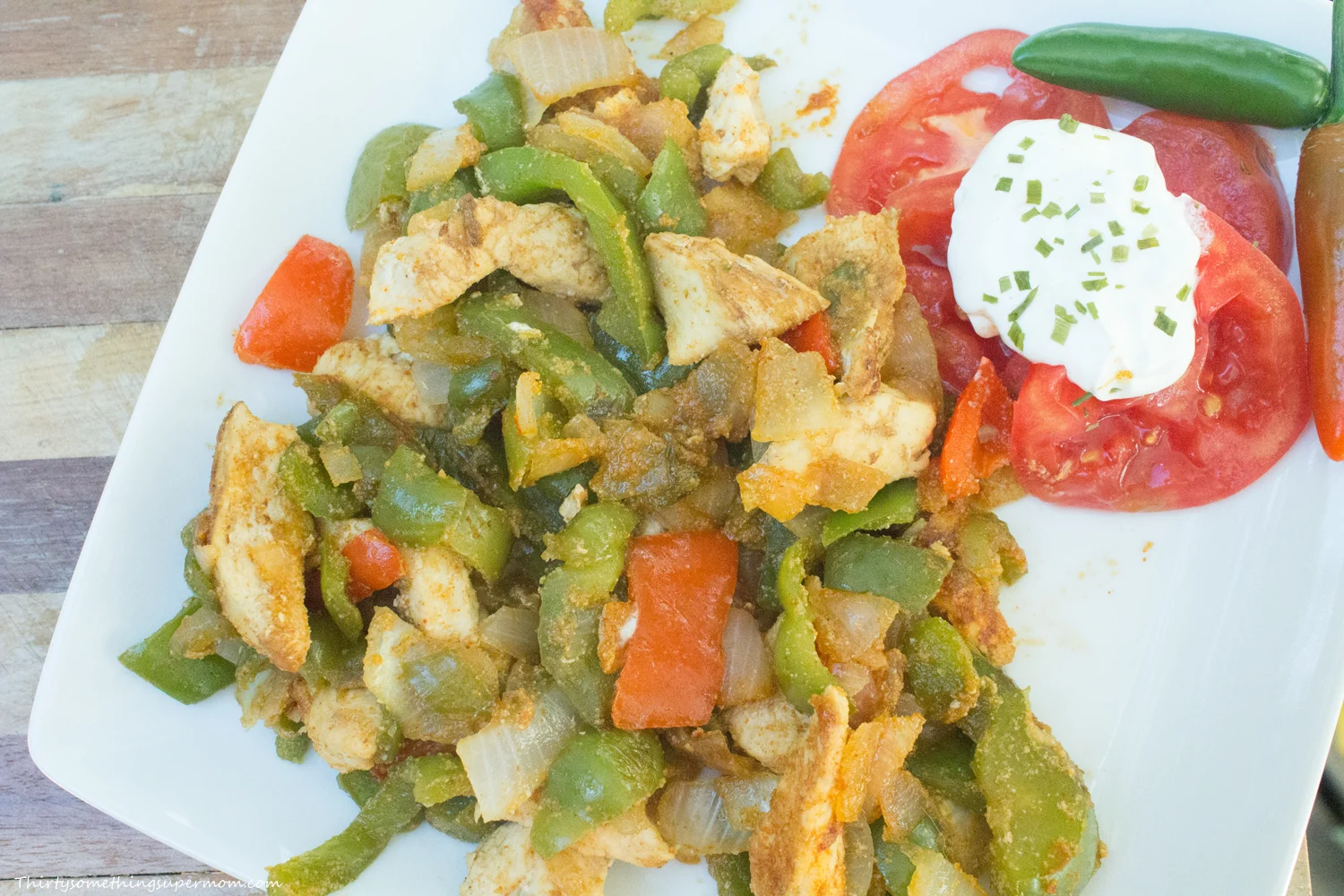 These fajitas can be made in any frying pan but I have always wanted one of those pans and for that price, so I had to pick up a couple. It seemed like a great deal and that extra detail really brought this dish to the next level.
Plus it comes with the oven mitt. It doesn't even take up much space for storage, I just keep mine in the drawer below my oven.
If you want a pan you can use again and again, for many recipes, this standard frying pan is best in my opinion.
I wasn't kidding when I said that anyone could make these fajitas, they really are the easiest chicken fajitas I have ever made.
Plus they are delicious and as I have mentioned these low-carb fajitas are made with a keto-friendly chicken fajita seasoning.
How to Make Keto Chicken Fajita Seasoning
The first step is to warm a pan and add a little bit of olive oil to coat the pan.
Chop up the vegetables to whatever size you want, I always go for bite-sized pieces but you can make them any way that you want.
Feel free to make them that weird swirly shape that the restaurants do for some reason. I would guess that this is for presentation purposes only because it seems to me that dicing is the way to go when considering cook time.
I like a fast recipe and since dicing is pretty easy since I started using this food chopper and diced vegetables cook fairly quickly, this is the shape I use.
Cook the vegetables until they are soft, this usually takes about 5-7 minutes, depending on the size of your pieces and how thoroughly you warmed your pan.
Set them aside and then use the pan to cut your chicken, also cut to your desired size.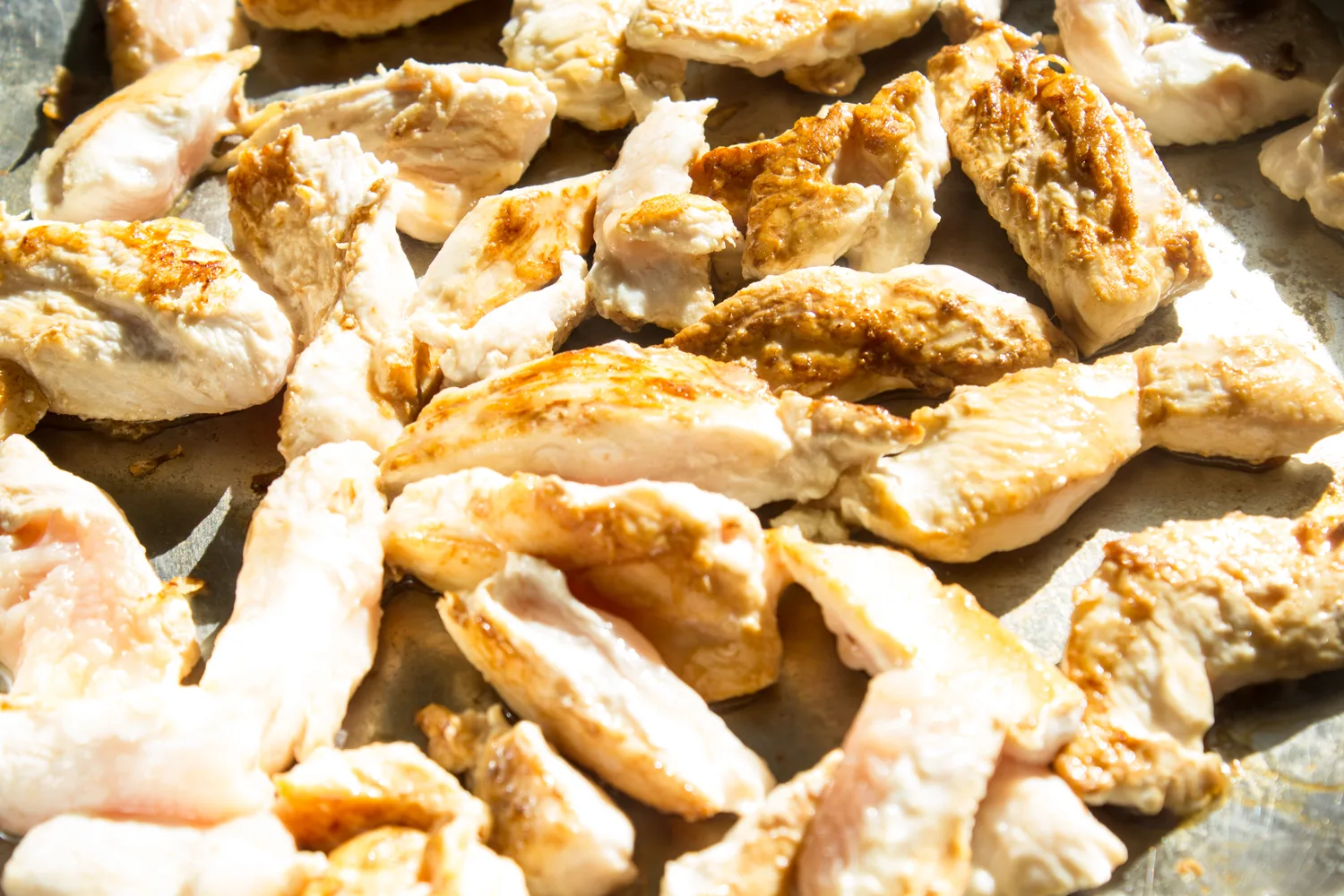 Cook the chicken until it is white and cooked all the way through. I always say it is better to overcook chicken than undercook it but you may not feel that way, this process should not take any longer than ten minutes.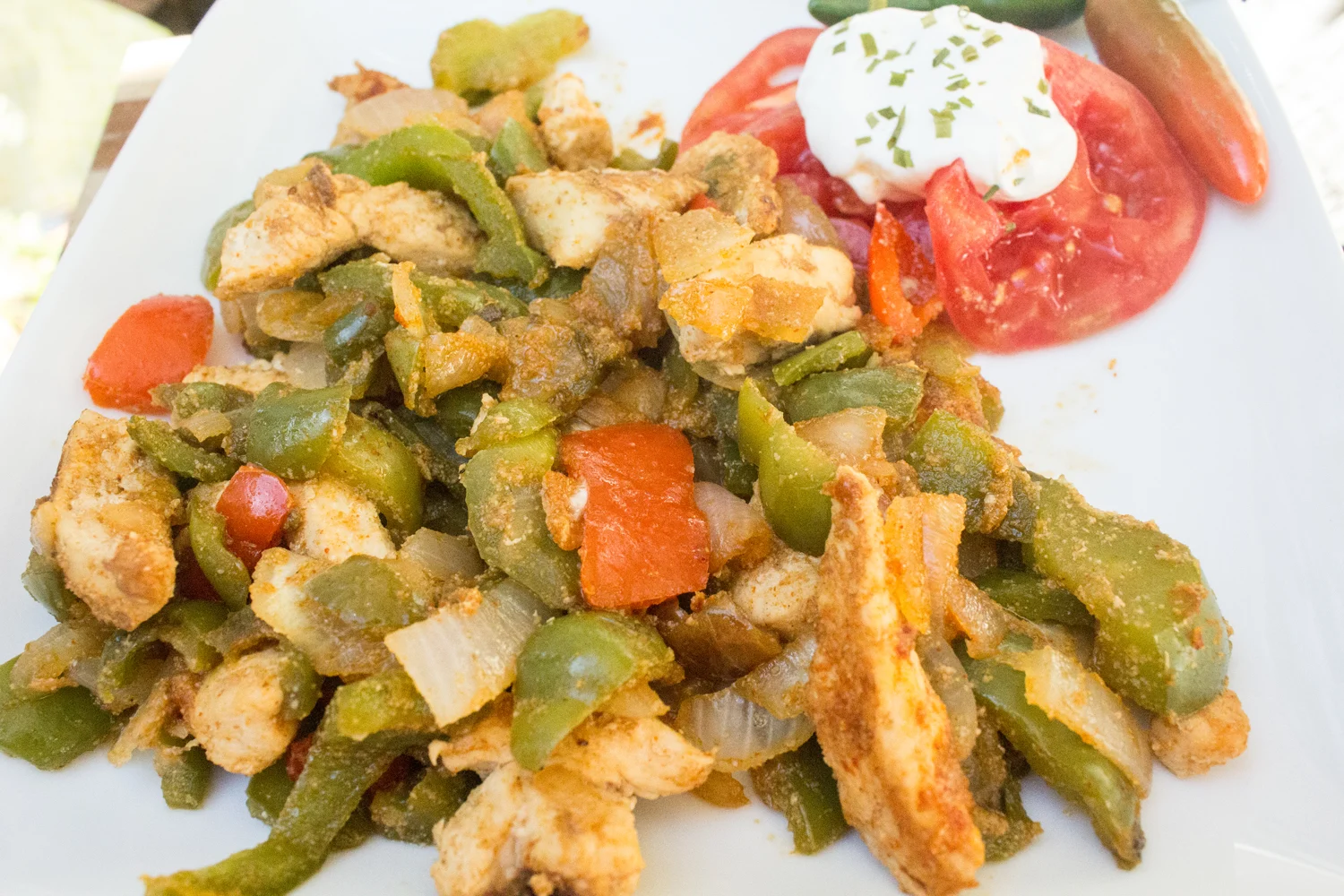 Once the chicken is cooked all the way through, add the vegetables back to the pan and season.
Stir everything together and cook for a couple of more minutes. This will help to lock in that delicious fajita flavor and get your dish to the perfect temperature.
I usually serve these fajitas with a side of vegetables like fresh tomatoes from my garden, jalapeno peppers fried to perfection, and a dollop of sour cream.
Tips for Serving Low Carb Fajitas
This meal can be served on a plate, in a fajita pan or you can turn this low-carb dish into a keto chicken fajita bowl. Just dump all of the ingredients into a bowl, including any toppings you want, and serve.
You won't even miss the tortillas that are usually served with this meal. Although you could serve with a low-carb wrap if you are following a low-carb diet but crave a more traditional method of enjoying this dish.
Personally, I think these wraps are the best taste and value for those following a low-carb diet.
Keep in mind that I am linking to these products to give you a better idea of what to look for but you won't always get the best deal on Amazon when it comes to food.
I am not sure why this is but their price on low-carb tortillas is way higher than my local grocery store so I usually just pick them up there but feel free to click the link and use that as a reference for when you head to the store.
My family loves this meal served on a plate without a lot of fuss. We use this Specific Carbohydrate Diet friendly recipe whenever we want something quick and delicious so adding more dishes to a one-pan meal doesn't make much sense for us.
The simplicity of this recipe and the quick cleanup is my favorite part so I usually stick to the basics but feel free to jazz it up as much as you want.
More Easy Low Carb Recipes
I hope you enjoyed learning how to make these low-carb fajitas. Don't forget to follow along on social media and sign up for the free newsletter so that you never miss a post again.
Looking for more keto recipes? Check the full list of low carb and keto recipes here. If you are still craving fajitas but want something a bit different, try this Low Carb Chicken Fajita Soup.
Looking for something specific? Try the search bar at the top of the home page and if you don't find the low-carb version you are looking for, feel free to leave me a comment requesting what you want to see next.
I love creating healthier for you versions of popular dishes, especially when I can transform them into a keto-friendly meal or something that is legal on the Specific Carbohydrate Diet.
So please feel free to request away!
If you loved this recipe please share it on your favorite social media like Pinterest so everyone can give it a try.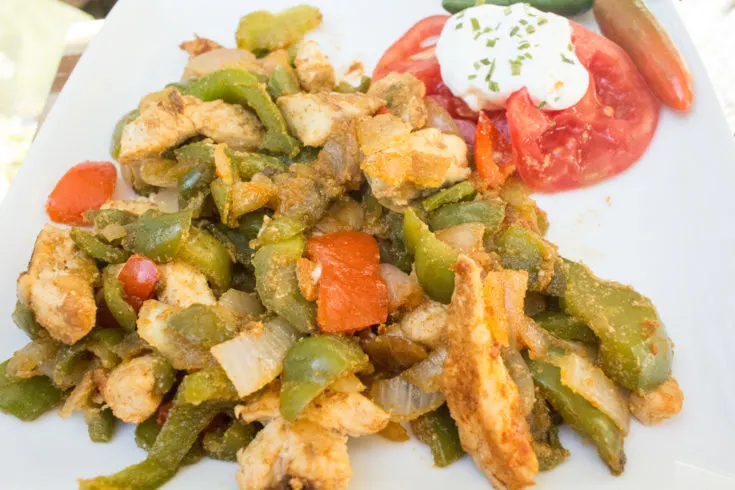 Keto Chicken Fajita Seasoning & Easy Low Carb Fajitas Recipe
Ingredients
1 Lb. Chicken Breast
4-6 Medium Bell Peppers
1 Large Onion
2 Teaspoons of Olive Oil
1/2 teaspoons of Cayenne Pepper
1 Tablespoon of Garlic Powder
1/2 Teaspoon of Salt
1/2 Teaspoon of Pepper
1/4 Teaspoon of Cumin
Instructions
Chop the peppers into chunks, I like to make them bite-sized pieces but you can make them any size you would like. Add oil to a frying pan and on medium, high heat, cook the peppers until soft.

This should not take more than 5-7 minutes once the pan is heated and depending on the thickness of your chunks. Set aside.


Chop chicken in the same way, however you choose, then cook the chicken in the frying pan until cooked all the way through.


Add seasoning to the chicken and then stir the peppers back in the pan. Cook everything together for a minute or two.

Just until it is heated back up and then serve.