This SCD Banana Raisin Bread Recipe contains affiliate links which means that if you make a purchase after clicking a link I will receive a small portion of the sale at no additional cost to you.
Even if you are blessed with a healthy belly you can still benefit from this delicious healthy banana raisin bread. It's tasty and low carb so you can eat it and not feel guilty. It's great paired with homemade jam and is a delicious treat all by itself.
Delicious, moist, and easy to make, this SCD Banana Raisin Bread will soon be one of your favorites.
What Makes this Banana Bread SCD Friendly?
When making traditional banana bread I have always used all-purpose flour which is the typical flour choice for sweet bread. I would also usually use sugar both of these ingredients are not allowed on the specific carbohydrate diet.
If you are following a low-carb diet like keto, you are probably familiar with alternative flours like almond and coconut flour. These are great substitutes for all-purpose flour when baking for low-carb diets.
What Is the Specific Carbohydrate Diet?
The Specific Carbohydrate Diet is designed to help those with autoimmune diseases like ulcerative colitis, Crohn's, and many more. In my case, I was diagnosed with ulcerative colitis and on my journey to natural healing, I stumbled upon the book Breaking the Vicious Cycle which explains the diet and offers lots of recipes.
I have tried my best to explain the Specific Carbohydrate Diet here, so feel free to check out that post for an easy explanation if you are curious about this diet.
The diet itself is a grain-free unprocessed diet that limits sugars and some carbs. There is a list of legal and illegal foods that dieters can follow to create meals but it can be overwhelming at first to create recipes.
That's why I love to create simple recipes that are SCD-friendly. You can view all of the SCD Recipes here.
How to Make Low Carb SCD Banana Raisin Bread
As with many of the recipes you will find on this site, this recipe is simple. I like to keep things as basic as possible without compromising flavor. This recipe starts out by preheating the oven to 350 degrees and buttering a loaf pan. The next step is to mix all of the ingredients together and then pour them into the loaf pan.
Depending on the size of your loaf pan bake in the oven for about 40-45 minutes or until a toothpick inserted in the center comes out clean. I usually use an 8″ x 4″ x 2½ loaf pan for making this recipe. Although I have made muffins with this same recipe and they came out great.
Try this recipe and tell me what you think! You can omit the raisins and still have a loaf of tasty banana bread.
Don't forget to sign up for the free newsletter and follow along on social media so that you never miss a post again.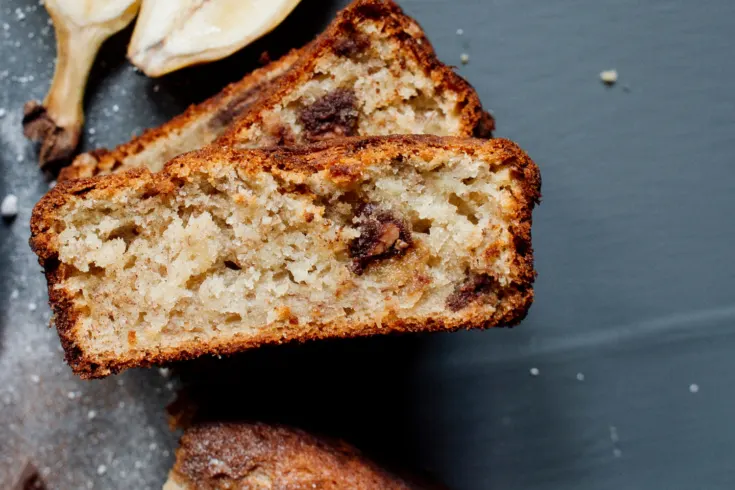 Banana Raisin Bread for the Specific Carbohydrate Diet
Ingredients
3 over ripe bananas
3 eggs
1/4 cup of honey
1 package of raisins or 1/4 cup
1/2 cup Coconut Flour
1 Tablespoon Olive Oil
1 1/2 Teaspoon of Cinnamon
3/4 tsp baking soda
1/2 teaspoon salt
Instructions
Preheat your oven to 350 degrees.

Mix all ingredients in a mixer or if you are looking for a good upper body workout, use a spoon.

Pour all of the batter into the buttered loaf pan and bake for about 40- 45 minutes or until a toothpick inserted in the middle comes out clean.

You can omit the raisins and still have a loaf of tasty banana bread.