This keto egg salad recipe contains affiliate links which means that if you make a purchase after clicking a link I will receive a small portion of the sale at no additional cost to you.
If you are following a keto or low-carb diet then you probably already know how hard it can be to find a quick and delicious lunch option. That's what inspired me to create the perfect keto egg salad recipe, simplicity!
I really wanted a lunch option that I could easily whip up without having a lot of time but I didn't want to sacrifice flavor.
So I experimented with a classic egg salad recipe that I have been using my entire life and added some extra ingredients to really make it perfect.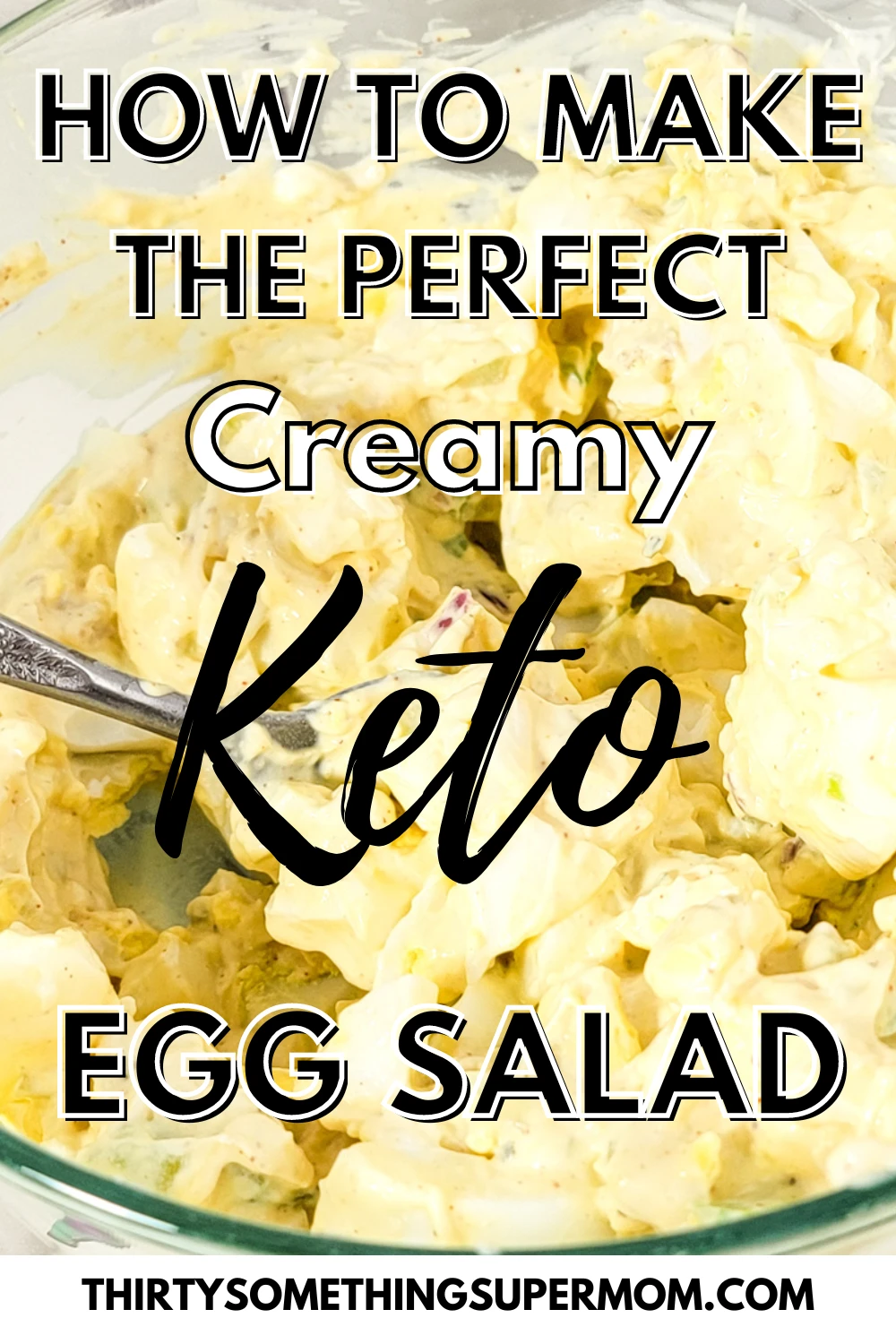 This is such a great keto lunch idea for those of us who need a to-go low-carb option. When I first started eating low carb, I found it difficult to find keto-friendly bread.
I experimented with making my own but I wanted something quick and easy for low-carb sandwiches like this egg salad sandwich recipe.
So I headed to my local grocery store and found this low-carb bread. You can click the link to learn more about this brand but I have found it to be much cheaper when purchased in-store instead of online.
I like to link to products to make it easier for readers to find the brands I talk about but please use your own discretion as prices tend to fluctuate over time.
I can't monitor the links I use regularly so even though it may be a good deal when I share it, it could double in price before you click over.
This brand of low-carb bread is perfect for egg salad sandwiches! I especially like this kind because it comes frozen.
After about 30 seconds in the microwave, it is perfectly soft which makes it great for sandwiches.
I love a good frozen bread because I don't use it too much and I hate to see it go bad. Since it's frozen I can keep a loaf around for months and don't have to worry about it going to waste.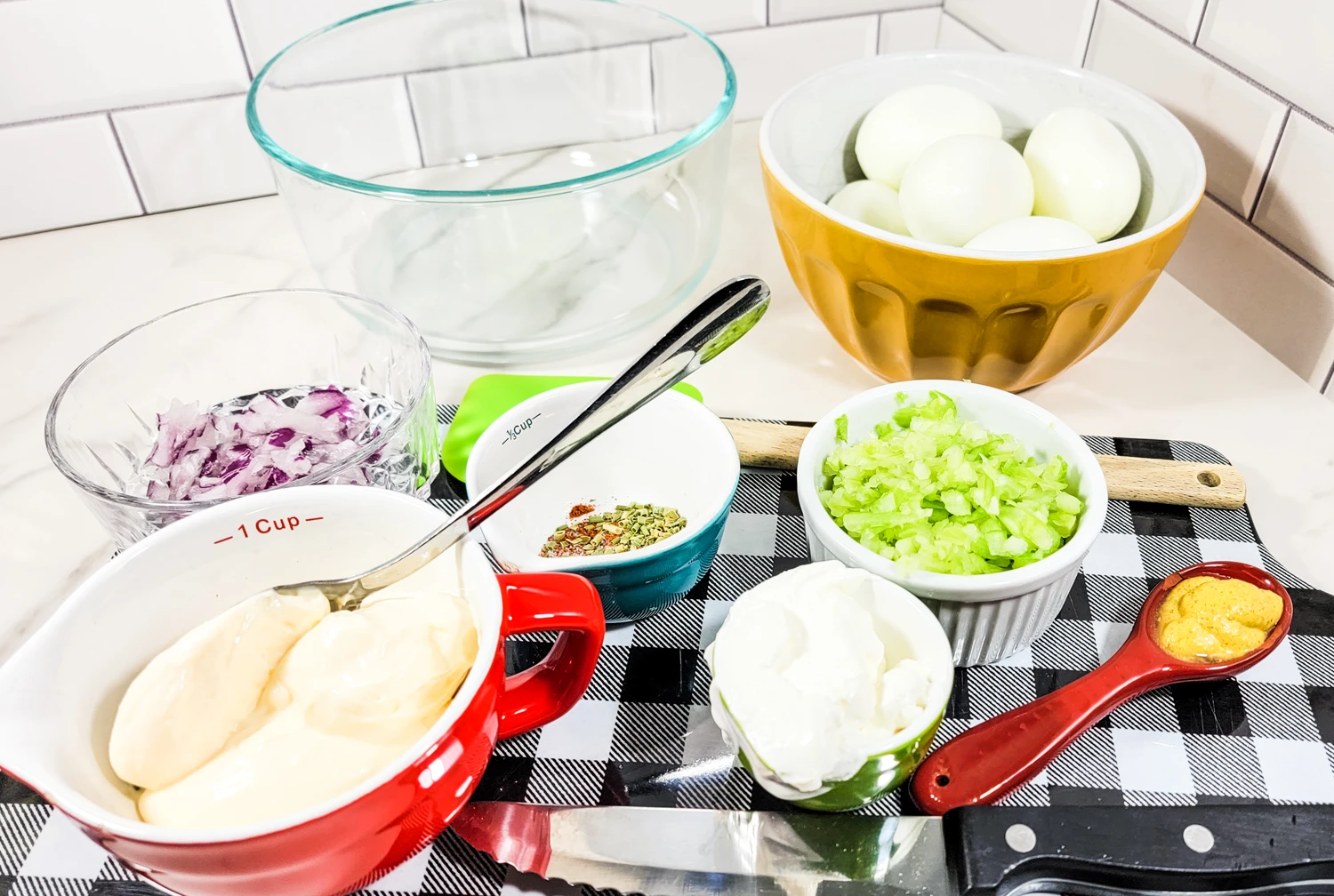 Egg Salad Ingredients
This egg salad recipe comes together using many of the same ingredients that you would use for a classic egg salad recipe but some of the additional ingredients may surprise you.
Eggs – Obviously hard-boiled eggs are required for this recipe, that part is just like the classic recipe.
Mayonaise – Another ingredient traditionally used in almost all egg salad recipes.
Paprika– A bit of paprika really goes a long way in this recipe.
Cayenne Pepper– This addition was inspired by these low-carb deviled eggs.
Salt– Another ingredient found in most classic egg salad recipes.
Pepper– Also found in traditional egg salad recipes.
Parsley– I have found this ingredient in some egg salad recipes but not many.
Chives– I am a firm believer that chives make almost every egg recipe better.
Spicy Mustard– This is also inspired by my keto-deviled egg recipe.
Celery– Most egg salad recipes include celery, it gives a nice crunch as well as adds a nice flavor.
Red Onion– Also adds a nice crunch and flavor to this dish.
Sour Cream– I have yet to see an egg salad recipe that includes this ingredient. This is what makes this egg salad recipe the most creamy egg salad you will ever try.
How to Make Keto Egg Salad
As I have mentioned earlier in this post, this recipe is so easy to whip up. Just roughly chop up the hard-boiled eggs and add them to a mixing bowl.
Pro Tip: Use a mixing bowl with a lid or any storage container that is large enough to hold the amount you are making. This cuts down on extra dishes and makes storage a breeze. I use this container every time I make egg salad.
It's the perfect size to hold this recipe. Plus because it's glass I don't have to worry about plastic leeching into my food.
The next step is to add the sour cream and mayonnaise, then sprinkle in the seasonings.
I then use this food chopper to dice the celery and onions. It really saves me a bunch of time and since I am accident-prone this is the safest way for me to dice my veggies.
After dicing them up, I add them to the mixing bowl.
Stir everything together until it is well combined. Refrigerate for about half an hour for best results and then serve on this delicious low-carb bread.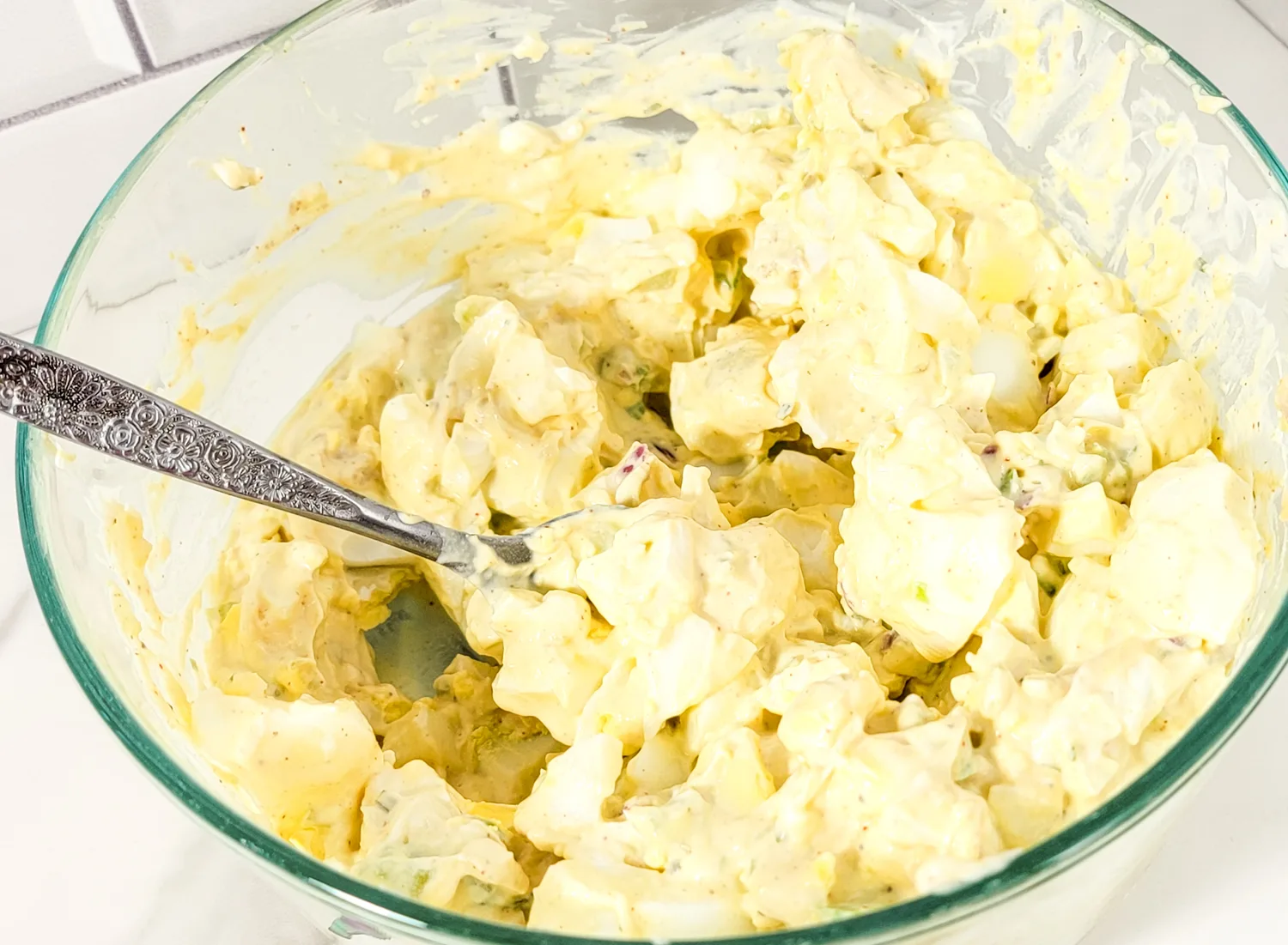 Is Egg Salad Keto Friendly?
Yes! Most classic egg salad recipes are keto-friendly but when you are following a low-carb diet it can be tricky to buy already prepared foods from the store.
You just never know what they may add to the egg salad. Any non-keto-friendly ingredients could increase your carb intake for the day.
Some stores add additional ingredients for texture or flavor. If those ingredients are not keto-friendly, one simple oversight can take you out of ketosis.
So it's always better to make your own!
Can You Make Egg Salad Ahead of Time?
Yes! This is my favorite thing about this perfect egg salad recipe, making it ahead of time. I whip up this recipe at the beginning of the week. This way I can eat it throughout the week for a quick lunch.
If you need to take your lunch to work, this is a great option.
How to Store Egg Salad
Egg salad is best when stored in the refrigerator in an airtight container. When bringing your lunch with you on the go, use an insulated lunch bag.
This is the best way to ensure your egg salad is kept at the proper temperature and won't spoil.
Keeping egg salad cool is very important. Plus, in my opinion, it tastes best when it is chilled.
Alternative Ways to Eat Egg Salad Without Bread
If you are one of those people who just can't seem to shed any weight while eating keto-friendly bread, no worries, this recipe can be enjoyed without bread.
I have been known to eat this keto egg salad right out of the bowl! Sprinkle in some bacon bits or pickles for an extra hearty lunch.
If that isn't your thing you can try lettuce wraps or low-carb tortilla wraps. This way you will still get that sandwich experience but without all of the carbs.
Want More Keto & Low Carb Recipes?
Don't forget to sign up for the free newsletter and follow along on social media so that you never miss another post.
Before heading out be sure to check out some of my most popular keto and low-carb recipes here.
Ingredients
8 Hard-boiled Eggs
1/8 teaspoon of Paprika
1/2 teaspoon of Salt
1/8 teaspoon of Pepper
1/2 teaspoon of Chives
1/2 cup of Mayo
1 teaspoon of Spicy Mustard
1/2 stalk of Celery
2 tablespoons of Red Onion
1/4 cup Sour Cream
Dash of Parsley
Dash of Cayenne Pepper
Instructions
Chop hardboiled eggs and add to mixing bowl.
Add in Mayo
Add in Sour Cream
Add in Seasoning
Add in Celery
Add in Onion
Mix together until well combined.
Serve and Enjoy!