This chunky garden salsa recipe contains affiliate links which means that if you make a purchase after clicking a link I will receive a small portion of the sale at no additional cost to you.
It's time to start raiding your garden and making recipes using your fresh produce like this Chunky Garden Salsa Recipe.
This simple and delicious salsa made from fresh tomatoes is the best way to use a variety of your garden's vegetables. If you have a green thumb then you probably don't even need to head to the store to make this chunky garden salsa.
My garden has quite a variety of peppers so this Chunky Garden Salsa uses two different kinds but you can adjust the recipe if you only have one variety.
Or pick up some peppers from the store, they may not be from your garden but they surely came from someone's garden and will work just fine!
How to Add More Heat to Salsa
I love jalapeno peppers and sometimes when I want a more spicy salsa, I will add several to this recipe.
If want your salsa to have more heat and a strong kick to it, add more jalapenos to suit your taste, or add a few habaneros for a delicious flavor with a stronger kick.
I really like the kick that a fresh garden pepper brings to this tomato-based salsa, it really makes a difference in the overall flavor.
Even when I say I am not going to plant peppers when starting my garden, I still usually grow at least one jalapeno pepper plant because the ones at the store just can't compare to the homegrown kind.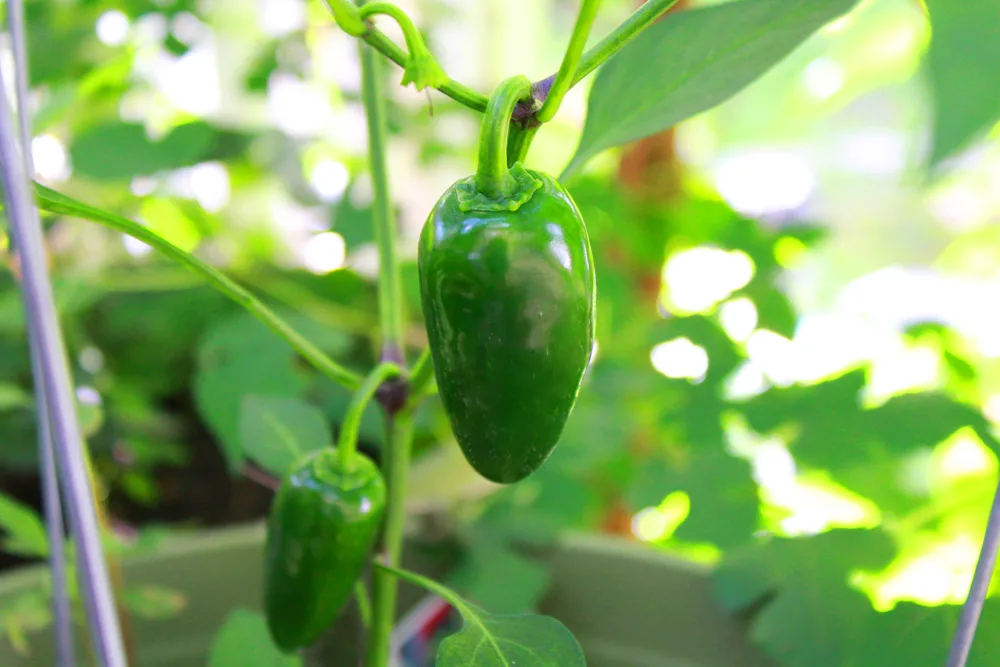 The chunky vegetables are reminiscent of pico de gallo, another recipe that is perfect for those of us who like to grow our own food.
So I raided my entire garden and brought in all of the delicious fruits and veggies that I need to make this Chunky Garden Salsa.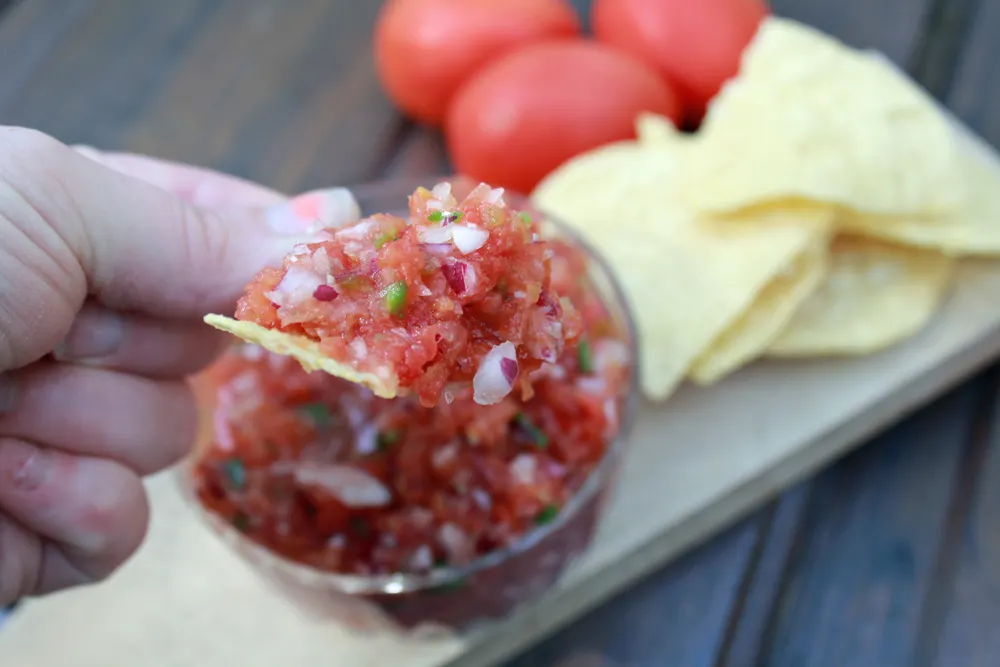 How Do You Make This Garden Salsa Recipe?
Chop the onions, peppers, tomatoes, and cilantro using a food processor. To keep your salsa extra chunky, chop each vegetable separately before adding them into an airtight storage container.
The next simple step in making this Chunky Garden Salsa is squeezing in some lime, adding in a little garlic, and sprinkling on some salt and pepper.
It really is that simple and if you are using a food processor to chop up your fruits and vegetables, be sure to do this step on pulse rather than blending completely, this will keep your salsa chunky.
You can dice each of these ingredients the old-fashioned way using a cutting board and knife if you have the time to do so. You will still be able to enjoy this delicious garden fresh recipe without the help of a food processor.
I hate chopping vegetables and often cut myself when using the proper knives for the job so I prefer to use the food processor when possible but it isn't required.
Can You Freeze This Salsa?
Yes! You can freeze this salsa in an airtight container for up to 6 months. When you want to enjoy this salsa at a later date, be sure to thaw it out in the refrigerator for at least a few hours to allow the vegetables to soften.
You can store salsa in a freezer-safe container or freezer bags, whichever works best for your storage situation.
Freeze small portions for single serving options to use in recipes whenever they call for a salsa without having to whip up a new batch.
I have found that working in batches when planning meals out for the month is the best way to save time. I usually have a loose plan for the month and when a meal calls for something that I can make ahead of time, I plan a day to do all of that work for the month.
This way I can save myself time and effort later on and add a homemade touch to many meals without all of the prep work. Each night when I make a dinner that calls for something I have frozen in advance I feel like I save so much time and appreciate the lack of extra dishes too!
How to Use this Chunky Garden Salsa Recipe
This is the best chunky salsa to serve with tortilla chips or use it as a taco topping, it pairs perfectly with lots of Mexican dishes like fajitas and burritos! In my house, you can never have enough salsa so I like to double the batch and use it for many meals throughout the month.
You can use this salsa as a topping for chicken fajitas, burritos, and tacos using this homemade tortilla recipe for a winning combination. If you have yet to try your hand at making homemade tortillas, I suggest you check that post out and give it a try.
You may never want to buy tortillas at the store again once you experience the soft perfection of a homemade flour tortilla.
This is also a great topper for breakfast dishes like breakfast burritos and adding a spoonful of this salsa is a great way to spice up any simple egg-based dish.
Anytime that craving hits, this easy salsa hits the spot and it's the perfect simple way to bring boring dishes to the next level.
More Recipes Using Fresh Garden Vegetables
There are many ways to use fresh garden vegetables in a variety of simple recipes. Some of my favorites are these Keto Stuffed Peppers using fresh bell peppers. This recipe is best when made using this sauce made from fresh Roma tomatoes.
If you find yourself with a large number of peppers and onions, this Peppers and Onion Cheesy Omelet.
One of my family's favorite recipes is this Baked Jalapeno Poppers Recipe which is the perfect snack or appetizer for cheese lovers. It is the perfect way to enjoy the bold flavors of jalapeno peppers that you grew in your own garden.
If you enjoyed learning about this garden fresh recipe and have tried it for yourself, please leave a comment letting us know your thoughts.
If you want more recipes straight to your inbox, be sure to sign up for the free newsletter. Also, don't forget to follow along on social media so that you never miss a recipe post again!
Ingredients
1/4 Purple Onion
1 Jalapeno (More for Extra Heat)
3 Teaspoons of Cilantro
2 Teaspoons of Garlic Powder
3 Roma Tomatoes
2 Squirts of Lime Juice
1 Anaheim Chili Pepper
A dash of salt to taste
Instructions
Mix all ingredients together using the pulse option on your food chopper.


Do not blend as this chunky salsa will become liquid if blended too much.


Keep your salsa chunky by dicing all ingredients separately and then mixing them all together.

Store in an airtight container for at least 2 hours to allow all of the flavors to blend.