Everyone will love these baked jalapeno poppers! Plus, this recipe is low carb so it is the perfect appetizer for everyone. Even those of us who try to stick to a low carb or keto diet.
The best way to create the most delicious baked jalapeno poppers is to start with fresh jalapenos. This is a great way to use up those fresh jalapeno peppers in your garden. You may even want to grow more jalapenos! This way you get to enjoy the bold flavors of baked jalapeno poppers all season long.
This is an easy recipe that is highly satisfying while not requiring much effort. Once you try these baked jalapeno poppers, you will see why I think they are the best appetizer.
This Baked Jalapeno Poppers Recipe is the perfect easy snack! Great for those eating low carb or following a keto diet. Simple and delicious!
How to Make Baked Jalapeno Poppers Keto Friendly
The easiest way to make a jalapeno popper recipe keto-friendly is to use simple ingredients. You can create the cream cheese mixture using garlic powder and omit ingredients like panko crumbs.
I have found that most jalapeno popper recipes on the internet include panko bread crumbs which are definitely not keto-friendly. So I began experimenting with different ways to make the perfect game day snack without the crispy panko.
This recipe is so easy to recreate that it truly is the perfect party appetizer. Everyone will love these baked jalapeno poppers! Plus, you will find that this is the easiest way to impress your guests without much fuss.
Another reason that this is the perfect appetizer for serving at parties is that you can prepare it ahead of time. Just bake it when you are almost ready to serve. Stuff the peppers with the creamy cheese mixture and store them. Set them on a prepared baking sheet in your refrigerator until you are ready to bake.
Be sure to keep this one around for football season. I like to serve this during the Super Bowl party because it frees up my time to watch silly commercials. It's an easy one to make, so this should be your go-to the next time you have any get-together.
What You Will Need to Make this Baked Jalapeno Poppers Recipe
When making the cream cheese filling I tried to use a few different flavors to really make this recipe pop…see what I did there?
This recipe comes together by using a medium bowl to mix the ingredients. The easiest way to make the cheesy filling is to dump all of the ingredients in a food processor. Sometimes I just stir the ingredients together so a processor is not necessary.
A simple spoon and bowl will work but a processor will do it faster. Although cleanup can be a bit more complicated this way, mixing the ingredients is much easier.
Ingredients Needed for Baked Jalapeno Poppers
You will need jalapenos, cream cheese, garlic powder, salt, pepper, sharp cheddar cheese, bacon, and green onion.
Tools Needed for Baked Jalapeno Poppers
I highly recommend using gloves for this recipe. When handling jalapenos, I almost always wear disposable gloves. Notice how I said almost always. Wearing gloves is best but when I'm crunched for time, I forget. I get in a hurry and skip this step, which only leads to regret later.
You will need a baking sheet or wire rack as well as parchment paper to line it. A spoon, a medium bowl, and an oven or air fryer. You can use a food processor if you have one but it is not required, just easier.
If you want to make extra to store for the next day, you will need an airtight container for that as well.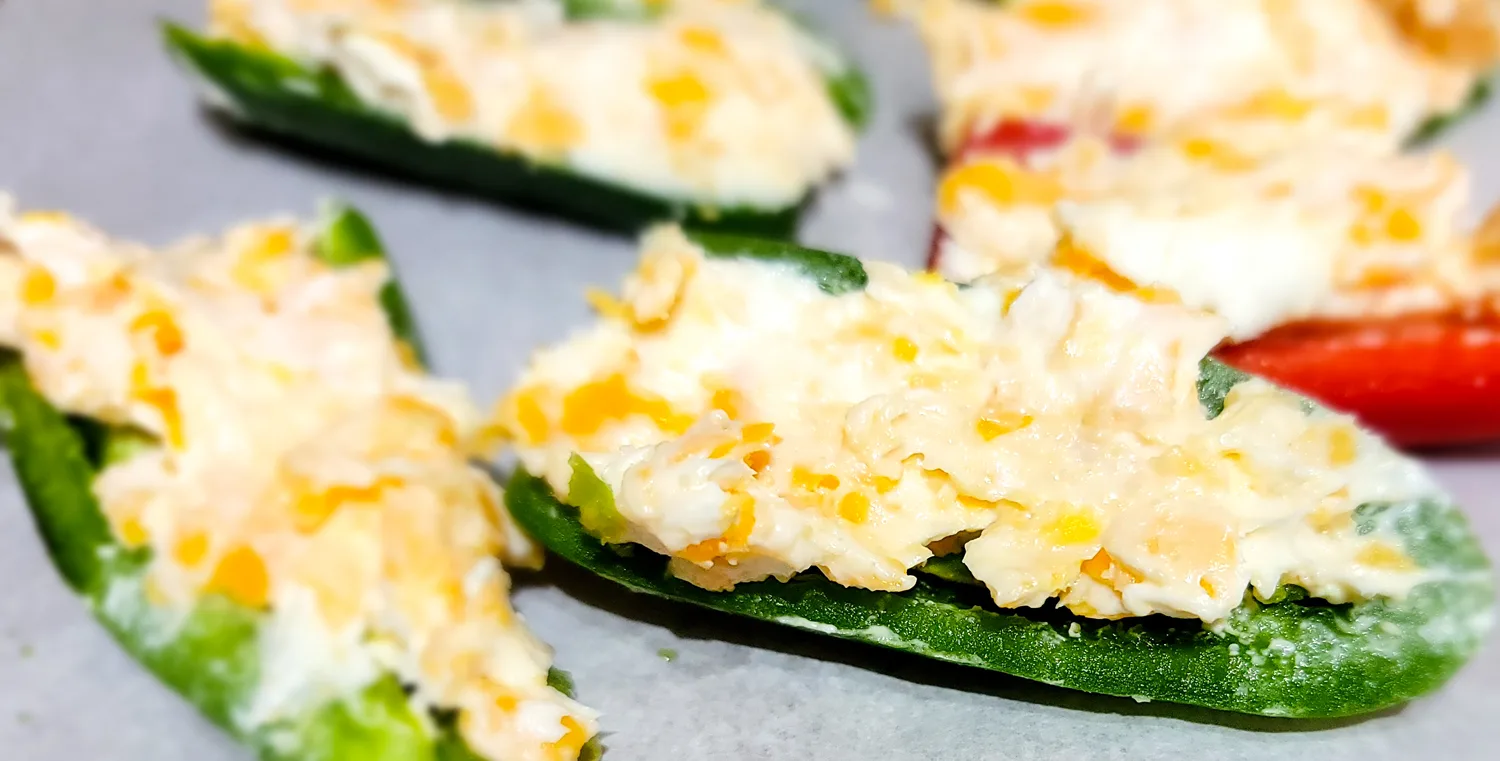 How to Make this Baked Jalapeno Poppers Recipe
The first step is to put on gloves. The next step is to wash off the jalapenos and then slice them in half. Using a spoon, remove the seeds inside of the jalapeno and then begin making the cheese mixture.
In a medium bowl, mix cream cheese, garlic powder, salt, pepper, green onion, cheddar cheese, then add in the bacon pieces like bacon crumbles or for a quick option use bacon bits.
Scoop a tablespoon of the cheese mixture at a time into the halved jalapenos and place it on a prepared baking sheet in a single layer.
Be sure to check the recipe card at the bottom of this post for this baked jalapeno poppers recipe.
Easy Variations of this Easy Baked Jalapeno Poppers Recipe
There are so many ways to customize this baked jalapeno poppers recipe to fit your taste buds. Plus, there are many jalapeno popper dipping options that completely transform this recipe.
If you are using fresh jalapenos from your garden, they may be a little bit more on the spicy side than store-bought. I enjoy planting the hotter varieties but I try to keep at least one plant around for this recipe.
I enjoy a little heat but when you taste these poppers, you will understand why it is so easy to overeat. That's not such a great idea when you are working with a variety like NuMex Piñata Jalapeno.
Only use this variety if you enjoy really spicy jalapeno peppers. Be sure to have something creamy nearby when consuming this variety.
Through trial and error, I have found the best thing to help cool down my mouth is something creamy.
This seems to be the case with all spicy food for me. So a great dipping option for cooling off your tongue would be blue cheese dressing, sour cream dip, or ranch.
If you want to avoid any heat at all, you can make this recipe using mini bell peppers for a deliciously tame snack.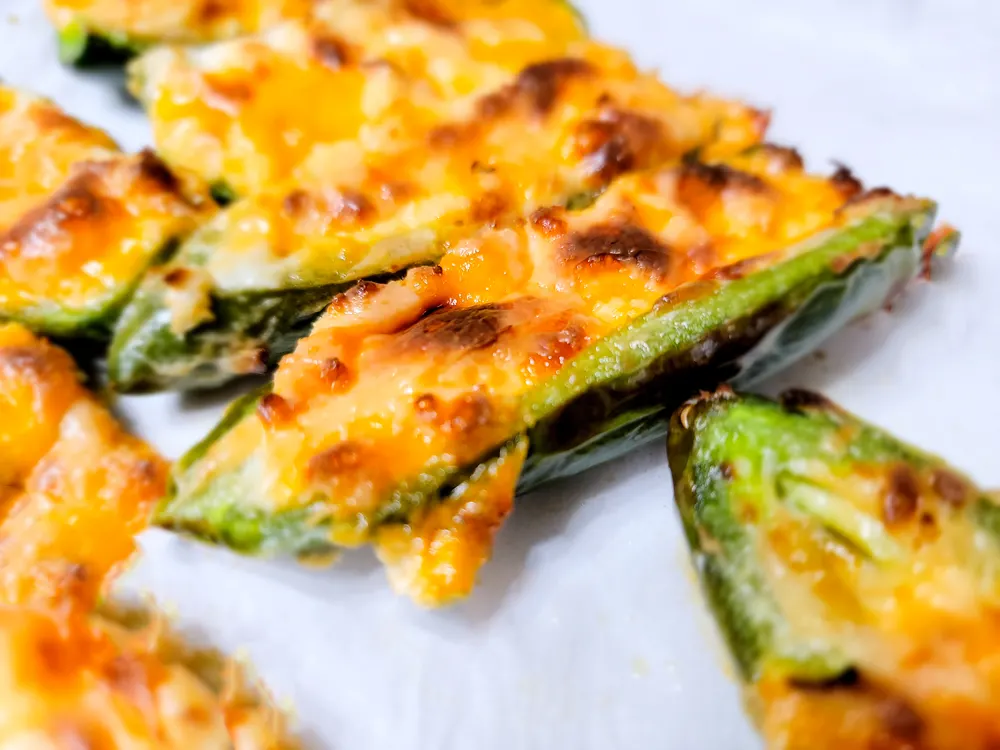 Easy Flavor Adjustments
Some of my favorite ways to adjust the flavors of this recipe are to experiment with different cheeses. My favorites to add in are Monterey jack cheese, parmesan cheese, and pepper jack.
Other add-in options that won't take a lot of time to incorporate are lime zest, a bit of onion powder, or fresh black pepper. Or mix all of these ingredients and create a crispy topping by spraying some olive oil on top.
You could also try a different mixture of cream cheese for a new flavor combo. Pick up a garden variety rich cream cheese loaded with veggies. Or try onion-flavored cream cheese with chunks of dried onion for an added crunch.
Or do a combination of cream cheeses for a different spin on this creamy filling.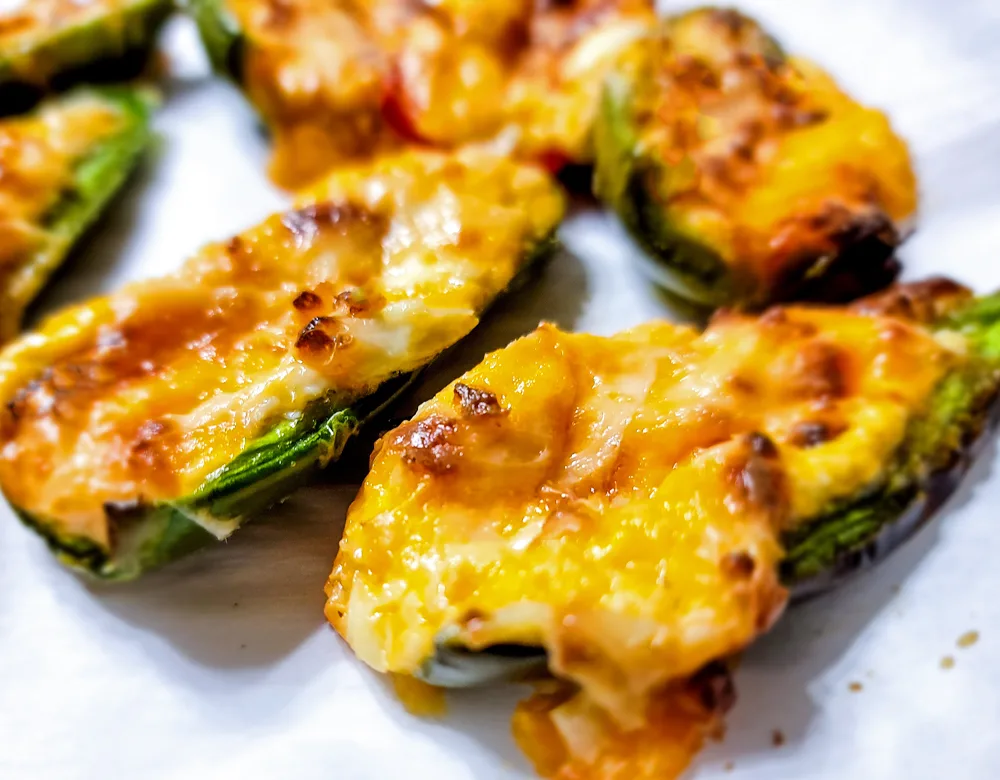 Enjoy a low-carb fried chicken recipe that tastes like the real thing by deep-frying without pork rinds or you can make these keto-friendly buffalo wings in the oven. Another easy recipe that can be served as a main dish is this BBQ Air Fryer Baby Back Ribs.
I hope you enjoyed learning how I made this baked jalapeno poppers recipe. Don't forget to follow along on social media and sign up for the free newsletter so that you never miss a post again.
Have you tried this easy low-carb recipe? Leave me a comment letting me know what you thought.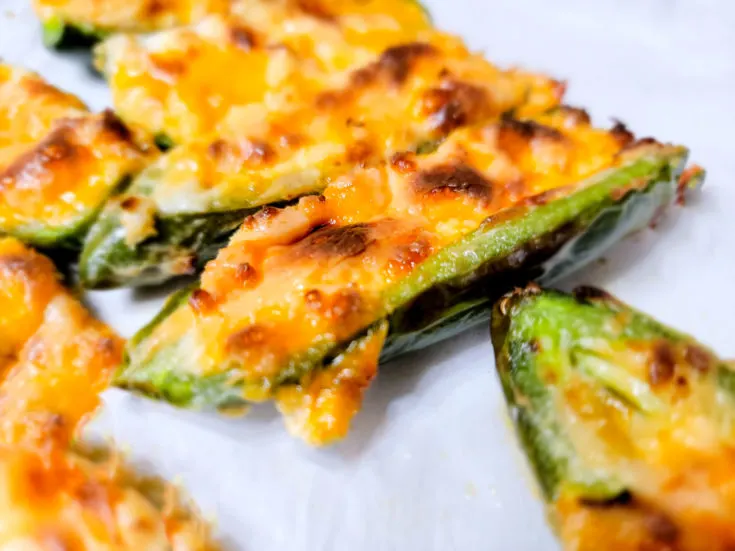 Baked Jalapeno Poppers Recipe
Ingredients
6 Jalapeno Peppers
4 Ounces of Cream Cheese
1 Teaspoon of Garlic Powder
1/4 Teaspoon of Salt
1/8 Teaspoon of Pepper
1/2 Cup of Cheddar Cheese
1 Teaspoon of Green Onion
2 Slices of Bacon or Use Bacon Bits
Instructions
Preheat the oven to 400 degrees and prepare a baking sheet with parchment paper. Wear gloves and scoop seeds out of jalapenos. Mix all of the other ingredients together and fill the jalapenos.
Bake for about 15-17 minutes. Serve and Enjoy!