This post sharing a Las Vegas Itinerary for the Perfect 4 Day Girl's Trip is sponsored by GoRving.com All opinions are my own.
Las Vegas is full of fun activities, delicious foods, and things to see. Whether you are taking a day trip to sin city or spending 4 days exploring, this Las Vegas Itinerary includes the best things to eat, the best places to visit, and the best ways to spend your time.
My mom and I had the best time exploring the fabulous Las Vegas area and although this was my first time taking a Las Vegas vacation, I feel like I saw it all during our girl's trip. From the moment I landed at McCarran international airport all the way up to the last second before I boarded the plane, I spent every moment taking it all in. I even gambled at the airport slot machines that I was so shocked to see when I first landed.
We planned this trip with the expectations of familiarizing ourselves with the area and taking in as much as we could during our time in Las Vegas. This allowed us to pack in a lot of fun and create a Las Vegas Itinerary that is perfect for a 4 Day Girl's Trip.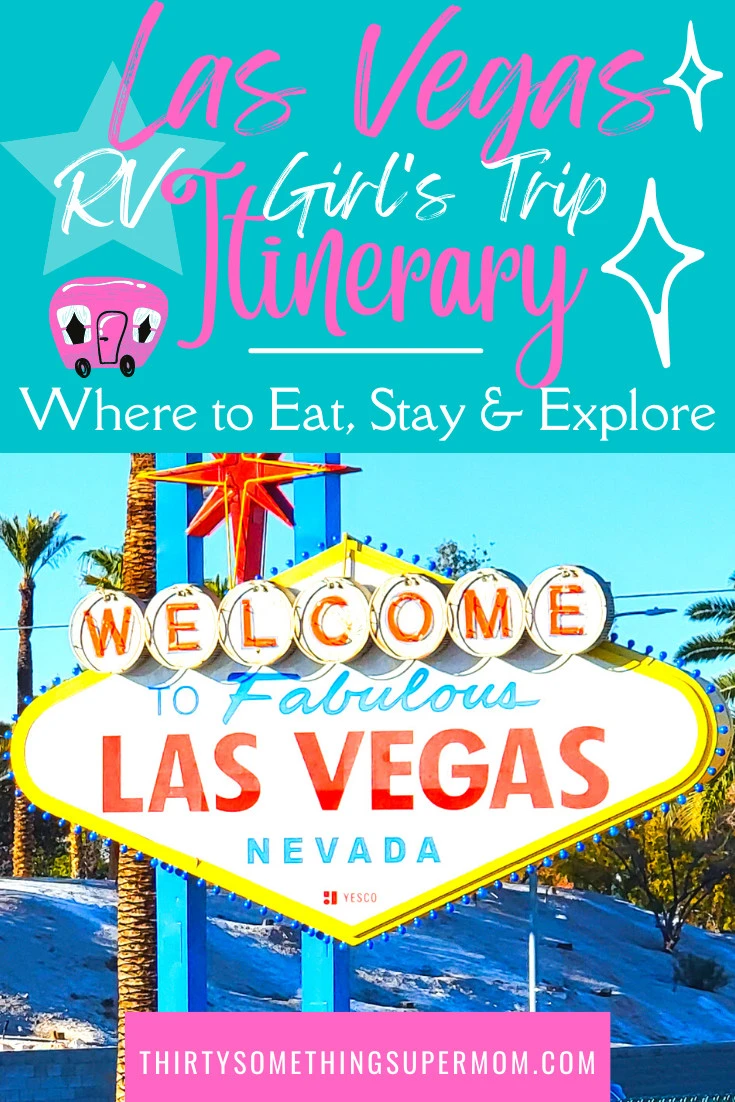 Restaurants in Las Vegas
While there are many places to eat in the Las Vegas area, there are a few places that stand out above the rest. When considering value, atmosphere, and quality of food, there are a few places that really stood out above the rest.
Las Vegas Breakfast Spots
The Egg & I is located at 4533 W Sahara Ave #5, Las Vegas, NV 89102.
Omelet House is located at 2160 W Charleston Blvd A, Las Vegas, NV 89102.
Blueberry Hill Family Restaurant is located at 1505 E Flamingo Rd, Las Vegas, NV 89119.
Hash House A Go Go is located at 1 S Main St, Las Vegas, NV 89101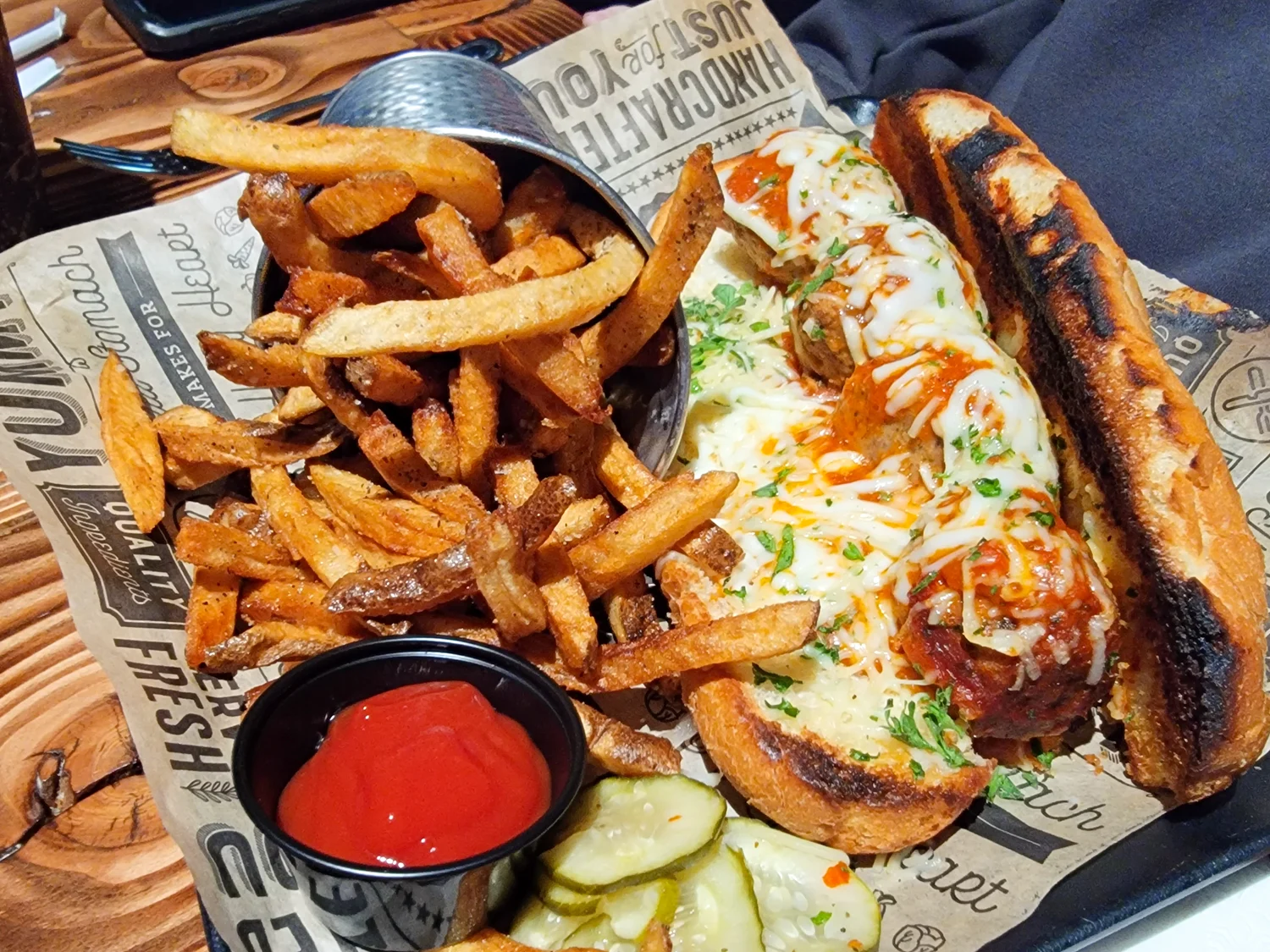 The Best Las Vegas Lunch & Dinner Spots
Hitchin' Post Saloon and Steakhouse is located at 3650 Las Vegas Blvd N Las Vegas, NV 89115.
Whiskey Licker Up Saloon is located at 128 Fremont Street #2 Las Vegas, NV 89101.
Peppermill is located at 2985 Las Vegas Blvd Las Vegas, NV 89109.
Wolfgang Puck Bar & Grill is located at 10955 Oval Park Dr, Las Vegas, NV 89135.
Smoke & Fire 3315 E Russell Rd suite a-5, Las Vegas, NV 89120.
Hell's Kitchen is located at 3570 Las Vegas Blvd S, Las Vegas, NV 89109.
Where to Stay in Las Vegas
If you are wanting to enjoy some relaxing time away from the crowds, I suggest renting an RV and staying at the Las Vegas RV Resort. This is a good choice when traveling with the whole family or for those of us who enjoy a peaceful place to rest up in between all the fun that the Las Vegas area offers.
Staying in an RV at this resort rivals the experiences I have had staying in luxury hotels in the past. The weather was much cooler than it is in the busy travel season of the summer months, so we selected an RV equipped with a fireplace. This made our choice to travel during the winter months much more appealing.
There is nothing quite as relaxing as sitting in front of a warm fireplace after a long day visiting downtown Las Vegas.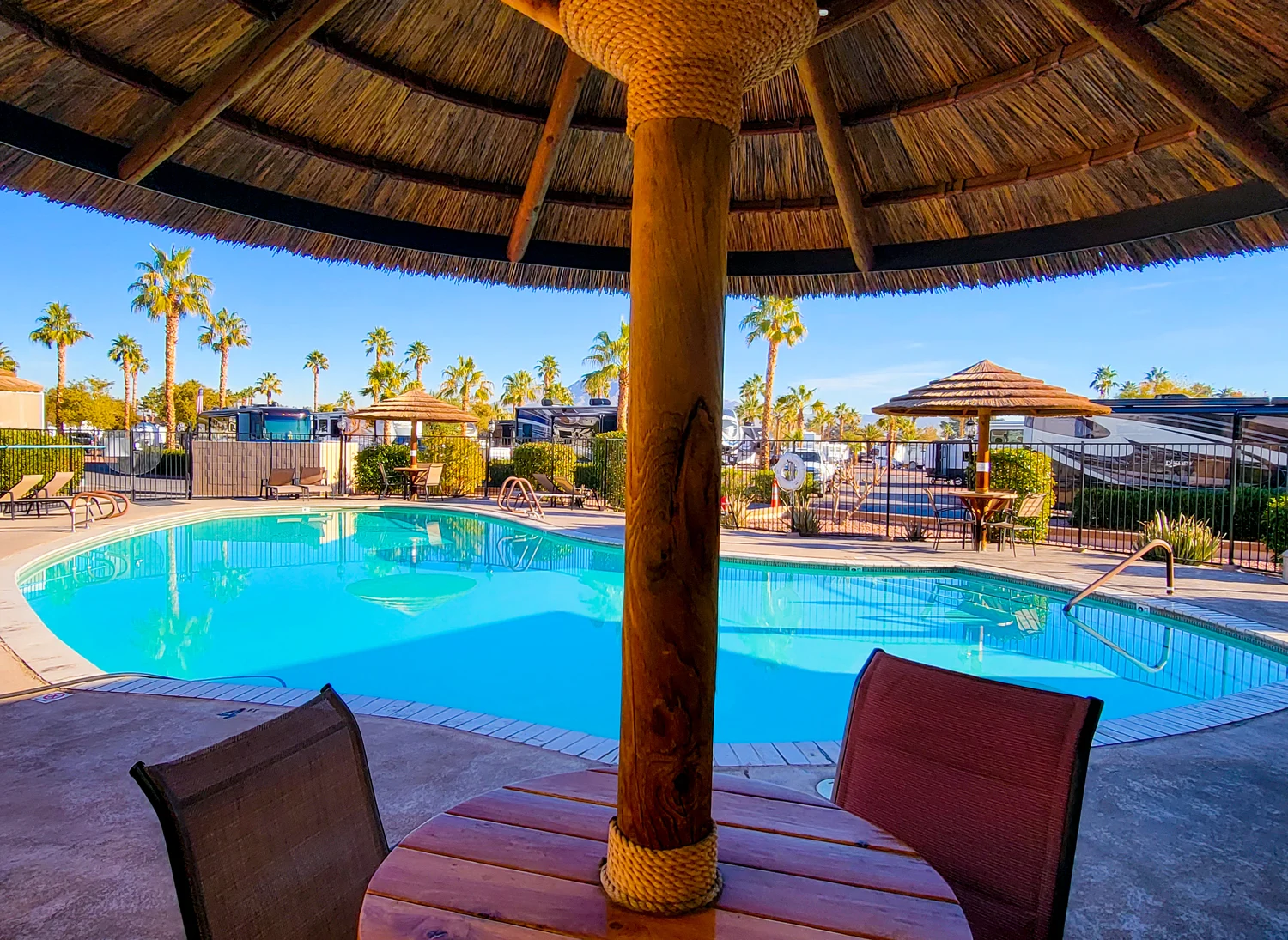 When making the plans for this trip, it all began at GoRving.com. I searched through all of the options available to find the perfect RV for this girl's trip. The RV we selected had everything we needed including a full kitchen, bathroom with shower, comfortable beds, and all the basics. We rented this RV through Outdoorsy and the owner had everything set up when we arrived.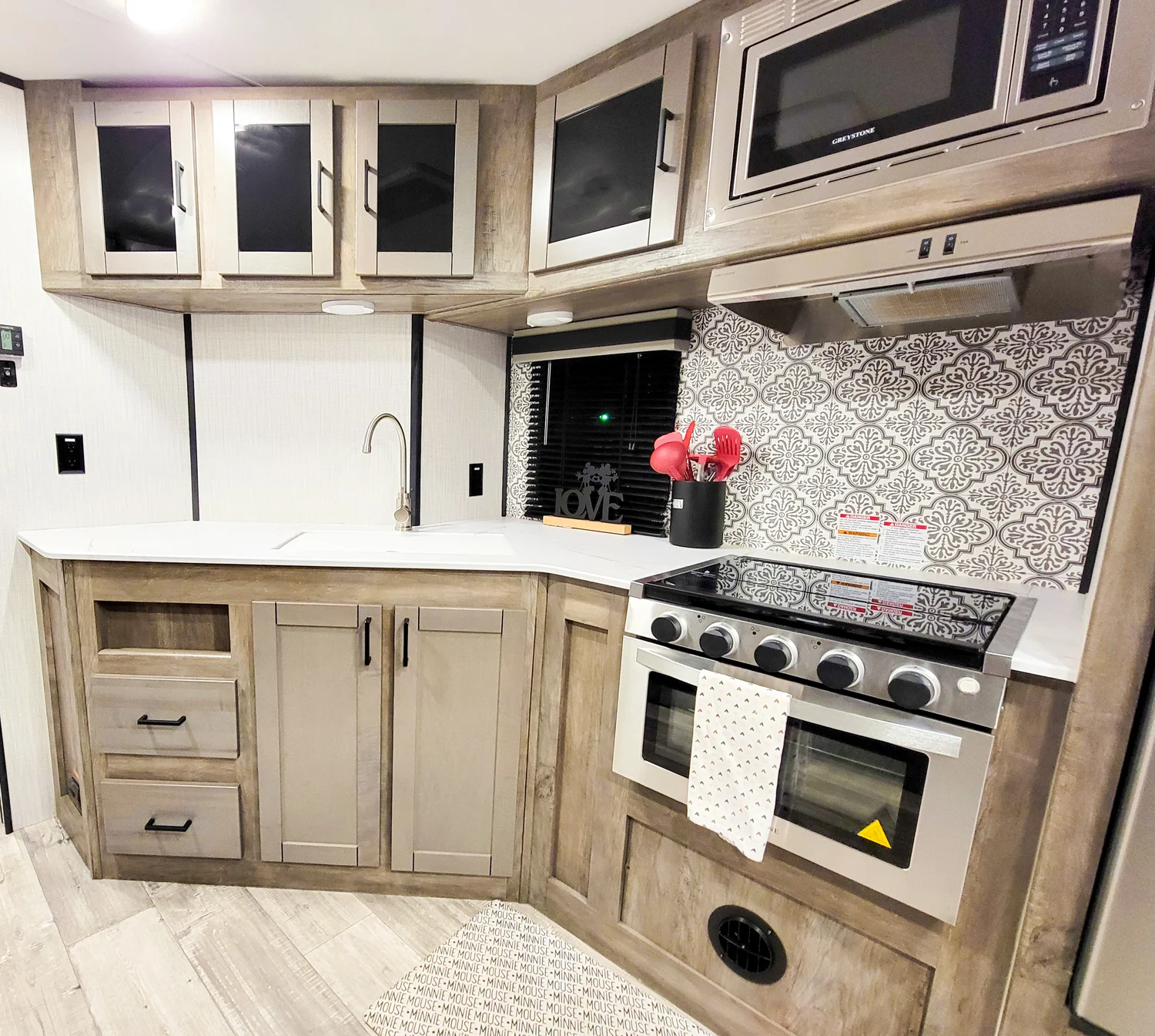 This meant that I didn't need to even drive the RV, we chose the towable kind, but you can select which works best for you. It's amazing to me how many different options there are. Plus, if you want to spend more time in places like The Valley of Fire State Park or the Red Rock Canyon National Conservation Area, you can camp there a couple of nights with your RV, no need to drive back to the strip to check-in at a hotel.
No matter where you decide to park it for the night, staying in an RV will bring your Las Vegas vacation to another level and once you try traveling this way, you will want to do it again and again.
Las Vegas Itinreray Road Trips
From the Grand Canyon to the Hoover Dam, the Las Vegas area has many road trip opportunities. In under a half-hour, you could head from the famous Las Vegas Strip to the beautiful Red Rock Canyon National Conservation Area.
In just under 3 hours, you can take a road trip from the strip out to Zion National Park or head to the Colorado River. In just 2 hours you can head out to Death Valley, but keep in mind this is just the amount of time it takes to get to the park, be sure to leave time for exploring and returning to the strip once you are done.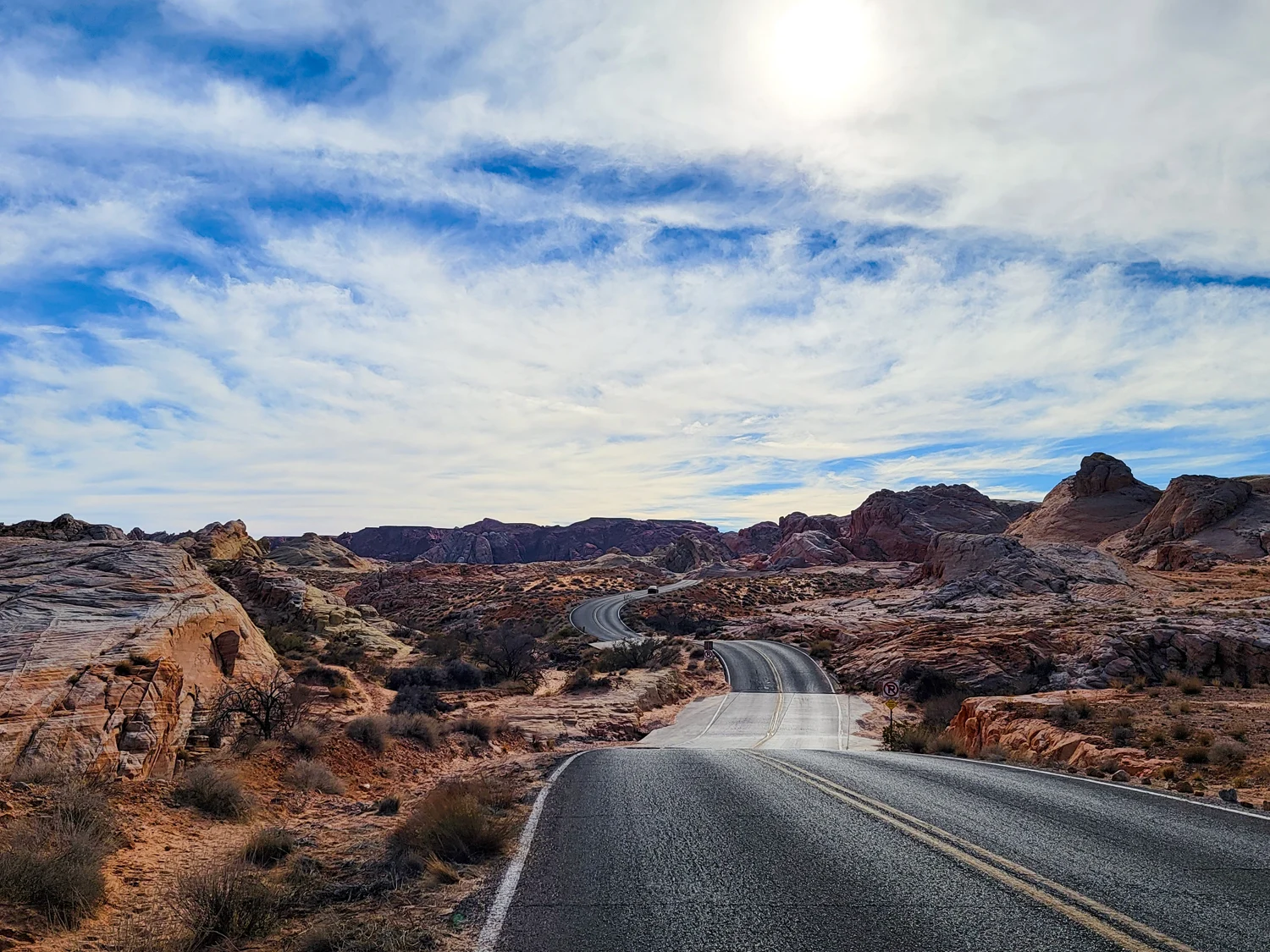 For a quick day trip that offers a scenic drive, visiting the Valley of Fire State Park is a great option. This popular attraction boasts beautiful views of rock formations, wildlife, camping, and hiking trails. This is a must-see when visiting the Las Vegas area.
If you want to take in the sights that these parks offer without trying to navigate the area yourself, take advantage of the many guided tours available. Shave a lot of the travel time off these trips by taking a scenic helicopter ride or head to GoRving.com and find the perfect RV to explore these areas without having to find a decent hotel.
Free Attractions for Your Las Vegas Itinerary
As I have mentioned many times when recapping my Las Vegas vacation, there is an unbelievable number of things to do in the Las Vegas area. You don't have to be a high roller to stay entertained. There are many free attractions, a couple of popular options are the fountains of Bellagio and the Fremont Street Experience.
If you decide to check out the Bellagio fountain show, plan it around other free events offered like The Bellagio Conservatory & Botanical Gardens.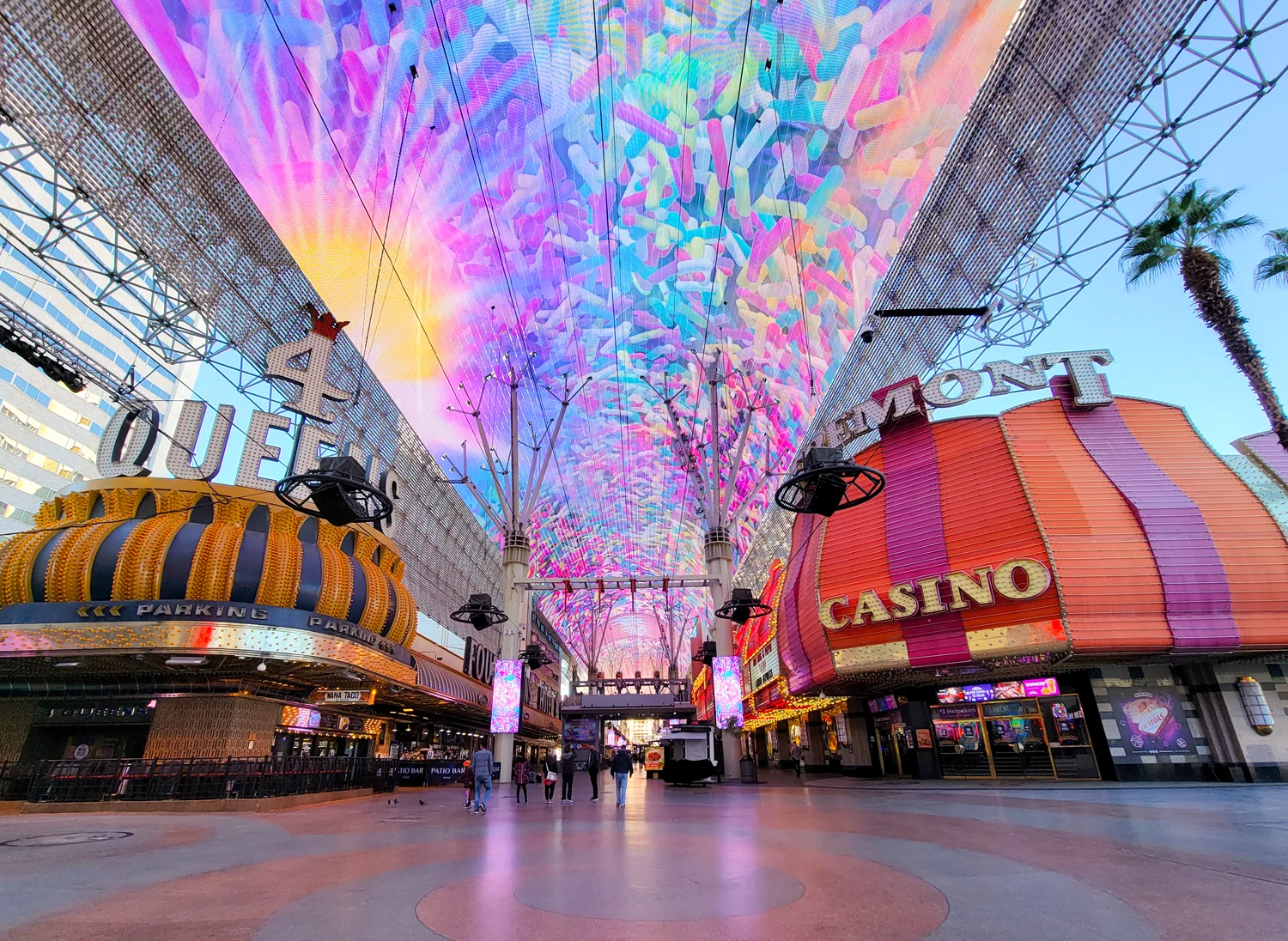 The Fremont Street Experience can keep you busy for a full day at no cost. Enjoy the weather underneath a canopy while window shopping or take in the many street performances that are happening underneath the light show brought to you via 16.4 million colorful pixels. This was one of my favorite spots in Vegas. This area offers an open space that boasts street performers which often includes live music.
There are plenty of opportunities to spend money here due to the many shops, dining options, and even a rotating bar, but it doesn't cost a penny to just take in the sights. Keep in mind that the street performers work on a strict tip basis. This doesn't mean that you have to tip in order to see the performances, but you are bound to see something worthy of a few bucks.
A trip to the Las Vegas sign offers a fun photo opportunity but this spot seems to always be busy, plus the parking situation can be a nightmare. I visited this location several times while on my trip and the parking was always chaotic. My best advice would be to hit this spot early in the day before everyone has nursed their hangover long enough to venture out of their hotels for a photo.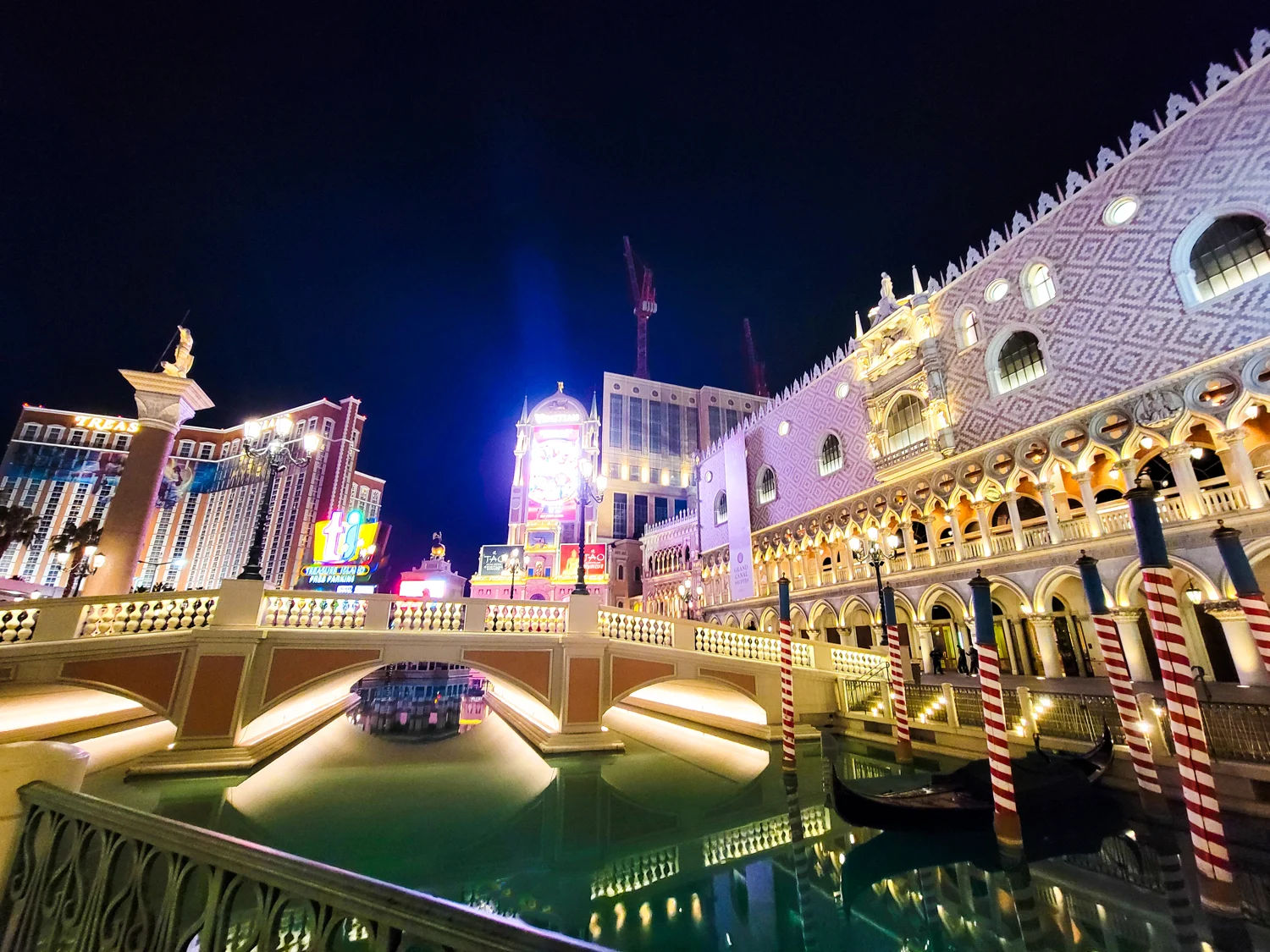 Another great place to get photos is the grand canal. You can purchase a gondola ride or use this surprisingly scenic spot on the strip as a backdrop for a selfie.
More Fun for Your Las Vegas Itinerary
If you are interested in seeing something that you will not see anywhere else, Omega Mart will deliver. Located inside of Area 15, Omega Mart is a family-friendly entertainment option that boasts a psychedelic grocery store with seemingly endless surprises inside. What appears to be a grocery store upon closer inspection you will notice that these seemingly generic products are anything but your typical household items.
Around every corner and through every door, visitors are transported to new worlds filled with colorful art that is sure to catch your eye. From beginning to end, Omega Mart offers one unique experience after another and just when you think you have seen it all, you are sure to be surprised by what the next room holds.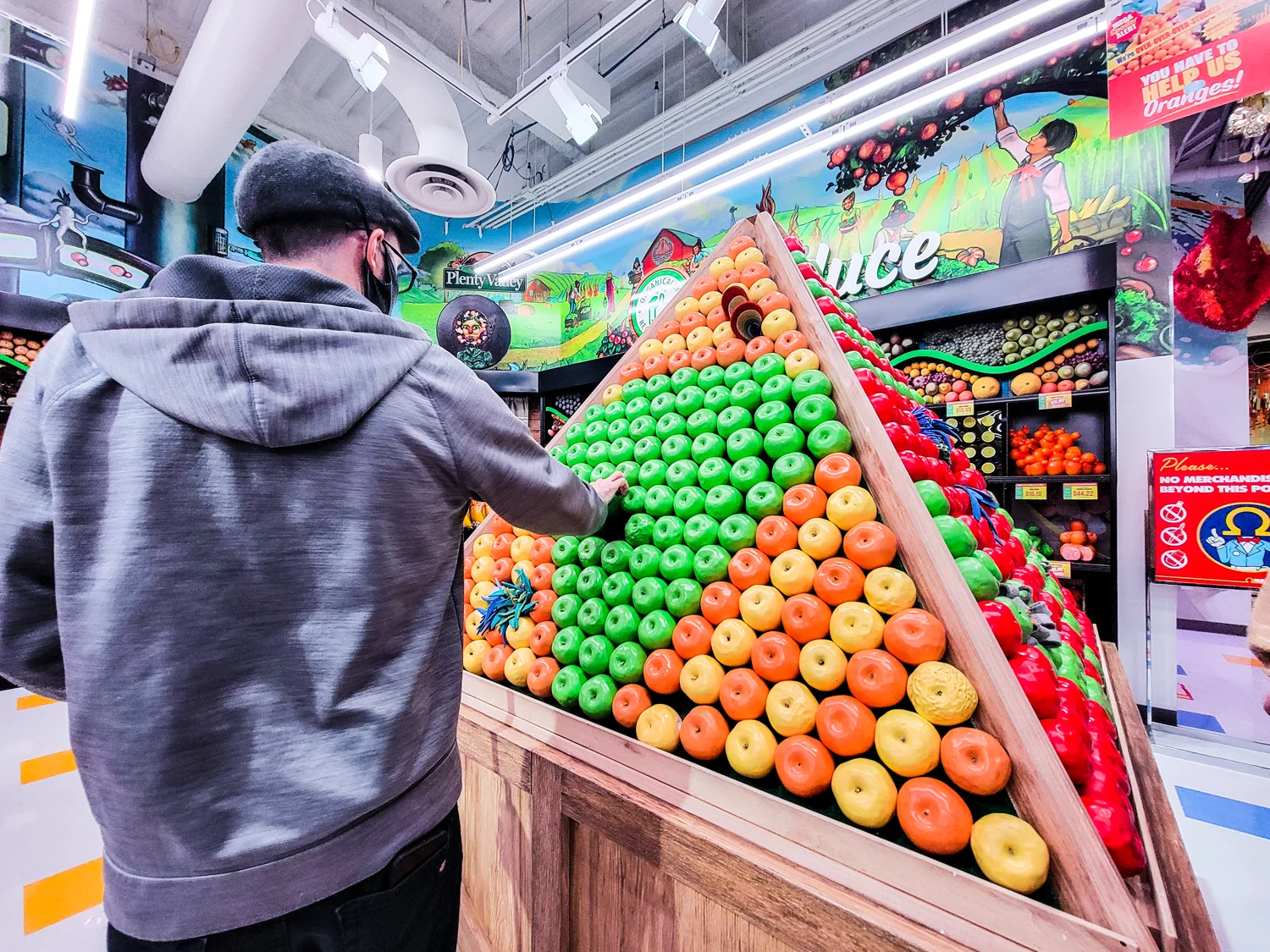 When you have finished exploring Omega Mart, right across the hallway is Dueling Axes. This group-friendly place offers exciting fun with a cozy atmosphere perfect for throwing weapons at a wall. Each stall has a table with barstools that allow you to comfortably enjoy the menu items and take a front seat to the action. The stalls have a cage surrounding them to keep you safe from other groups throwing their axes and your group can keep the score from the tables nearby while cheering you on.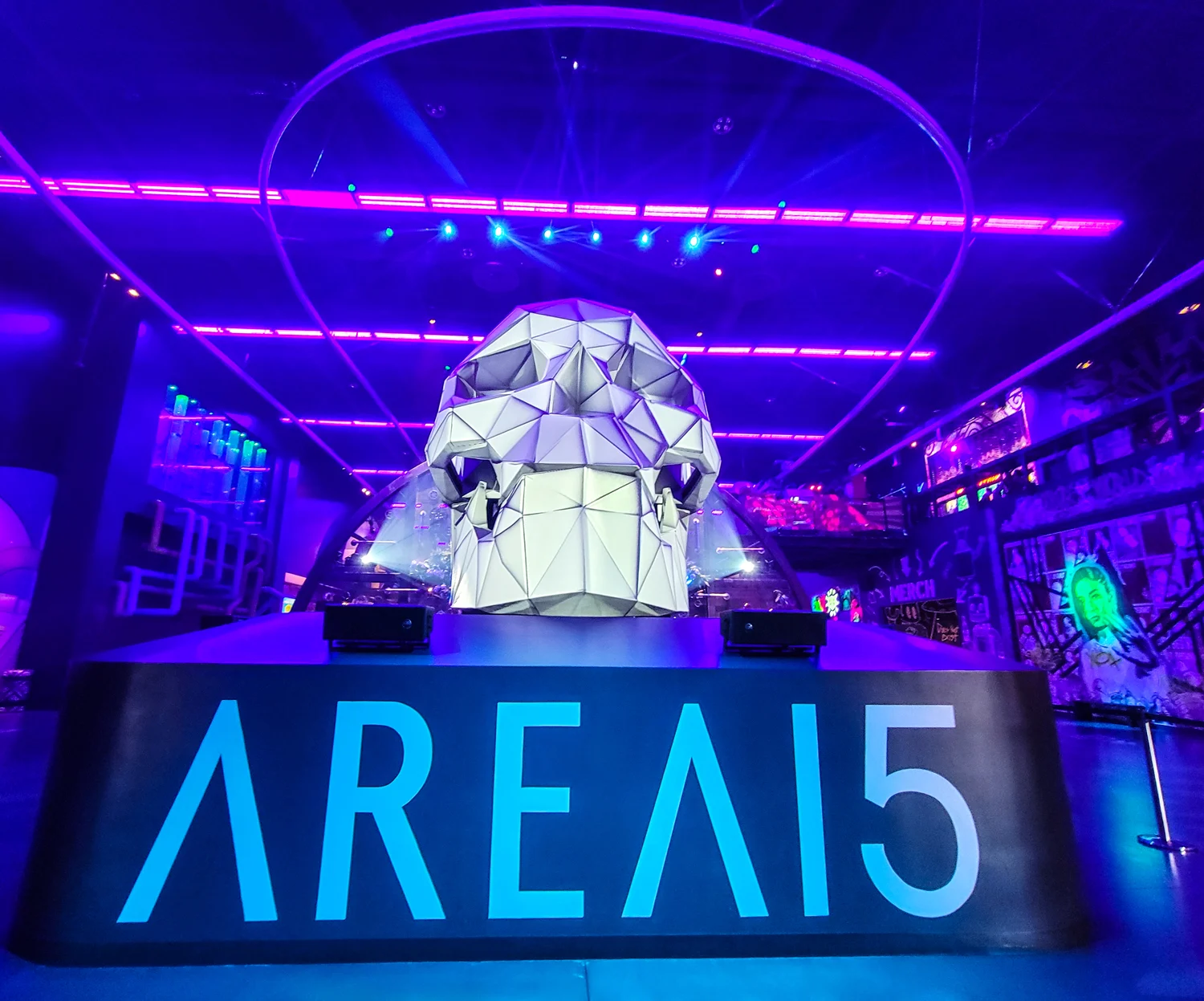 Order drinks and relax on the couch or try your hand at this addictive sport. You are sure to leave this location with a rough idea of how you could build something like this in your backyard. It's hard to walk away once you figure out how to rack up the points. Luckily Dueling Axes is inside of Area 15, where you can spend the day shopping or grabbing a drink in a one-of-a-kind setting located at 3215 S Rancho Dr. Suite #160, Las Vegas, NV 89102.
After exploring everything this expansive fun house has to offer, you may want to head back over to Dueling Axes. It really is that addictive!
If you want to see everything that Las Vegas has to offer there is no better way to do it than with Big Bus Tours. The busses pick up every 40-45 minutes at many of the most popular attractions. This makes it easy to hop off and see everything, then get back on when you are done exploring. There are many photo opportunities from the top of the bus and the guides are sure to give you some local approved recommendations.
One of the stops on the Big Bus Tours route is The Mob Museum. Filled with photos and exhibits that feature the long history of the mob. This museum also has a speakeasy in the basement where you can grab a drink or a bite to eat before hopping back on the bus to finish your tour of the area.
Casino's with More than Just Gambling
Cesar's Palace offers shows, dining, shopping, and gambling among plenty of photo opportunities. You can visit the site of many popular films such as The Hangover, Rain Man, and Rocky III at 3570 Las Vegas Boulevard South, Las Vegas, Nevada.
MGM Grand offers shows, dining, shopping, and gambling, as many casinos in the area but they have a few things that make this location stand out like Top Golf and Virtual Reality with multiplayer options up to groups of 8. The MGM Grand is located at 3799 S Las Vegas Blvd Las Vegas, NV 89109.
The Shark Reef Aquarium at Mandalay Bay is full of up-close encounters and for an extra fee, you can feed turtles, stingrays, and even sharks. They even offer a swimming with shark's experience for those who are looking for a once-in-a-lifetime experience while visiting. This hotel is near the famous Las Vegas sign although the address is listed in Paradise rather than Las Vegas like you may have expected. It is located at 3950 South Las Vegas Boulevard.
The strip is loaded with interactive exhibits, neon signs, and things you will not see anywhere else. It's easy to see how they have earned the title of the entertainment capital of the world.
Thrill Rides for Your Las Vegas Itinerary
Jump off the tallest freestanding observation tower at The Strat which is located at 2000 Las Vegas Blvd S, Las Vegas, NV 89104.
Take a ride on The Big Apple Coaster located at the New York-New York Hotel and Casino on the Las Vegas Strip 3790 Las Vegas Blvd. S. Las Vegas, NV 89109.
The High Roller Ferris Wheel is a 550-foot-tall Ferris Wheel that lets you get a one-of-a-kind view of the area. This attraction is the world's second-tallest Ferris Wheel and is located at 3545 S Las Vegas Blvd, Las Vegas, NV 89109.
Take a ride on the rails with Rail Explorers, a unique attraction that puts you on a rail bike that lets you explore the area at night or during the day, depending on which tour you choose.
For a one-stop-shop with lots of rides, head over to Circus-Circus. If you are strictly looking for thrill rides, the Canyon Blaster will do the trick. The adventure dome is located at 2880 S. Las Vegas Blvd
Las Vegas, NV 89109.
For a more in-depth look at these Las Vegas Attractions, Las Vegas Restaurants, and more, please be sure to visit my other Las Vegas posts including the benefits of a mother daughter RV trip.
I hope this series has helped you to create a Las Vegas Itinerary for the Perfect 4 Day Girl's Trip! Did I miss something? Give me a reason to go back and leave a comment with your suggestions!