When I started planning this vacation I had yet to hear about the Airbnb for RVs but now I feel like a seasoned traveler thanks to some helpful sites I found. I have always wanted to take my mom on vacation, just the two of us, but I wanted this vacation to be extra special since it was our first vacation together. We have watched many of our friends take exciting RV trips and this seemed like the best way to make the most of our time while visiting the Las Vegas area.
This post was sponsored by GoRving, however, all opinions are my own.
I started by exploring www.GoRving.com to figure out what the best RV would be for us to use as our home away from home for this Las Vegas adventure. Since there are so many different types and sizes of RV's available, some that you drive and some that you can tow, I did some research to see which would best suit our needs.
Don't Leave All of the Fun for RV Owners
We wanted to explore the Vegas strip, the desert, and some state parks while in the area so we decided that a towable RV would be best for this trip. This way we would be able to use our car for day trips, disconnected from the travel trailer, and explore the area freely. I wish we had taken advantage of the Airbnb for RVs during our Midwest Rock N Roll Road Trip.
I found out from the www.Outdoorsy.com website (a peer-to-peer RV Rental company – much like Airbnb, also known as the Airbnb for RVs) that you can have many different types of RVs and travel trailers delivered and set up at a campground of your choice.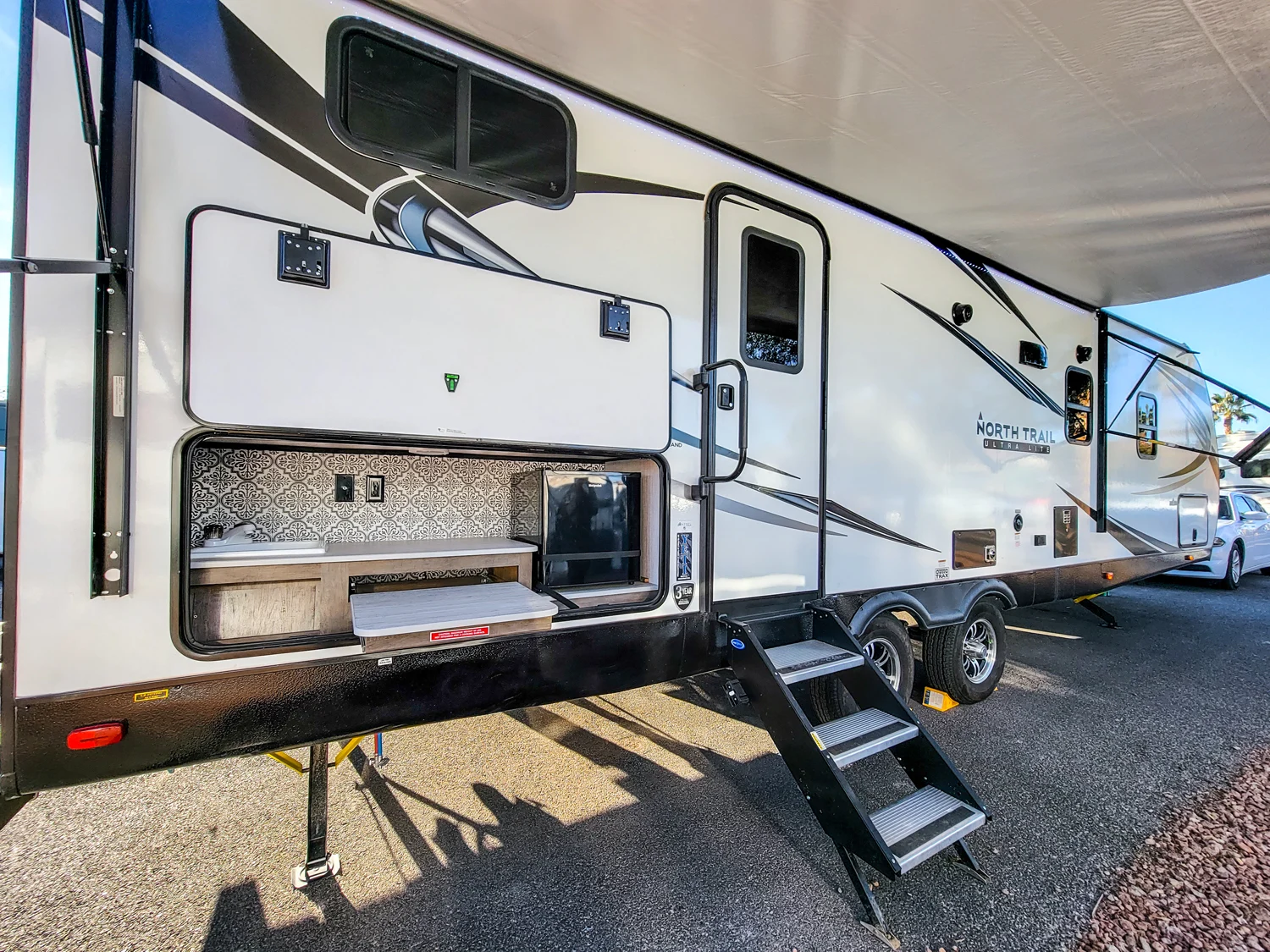 While there are a handful of companies that offer RV travel rentals, there is a reason that this innovative outdoor company is the market leader. This rental marketplace is like an Airbnb of RV rentals. You can choose from pet-friendly rental options for your next camping trip or luxury vacation rentals to suit your needs.
This was the perfect option for us to try out the RV lifestyle and make the most of our trip. It turns out that many people are seeing the benefits of RVing, according to GoRVing.com, more than 72 million Americans will Go RVing in 2022!
The Perks of Using the Airbnb of RVs
You just can't beat the convenience and amenities that come with traveling this way. The Airbnb for RVs known as Outdoorsy is a helpful rental service that allows you to see all of the beautiful places the United States has to offer without being RV owners. Visiting national parks and RV parks in a motor home has never been easier.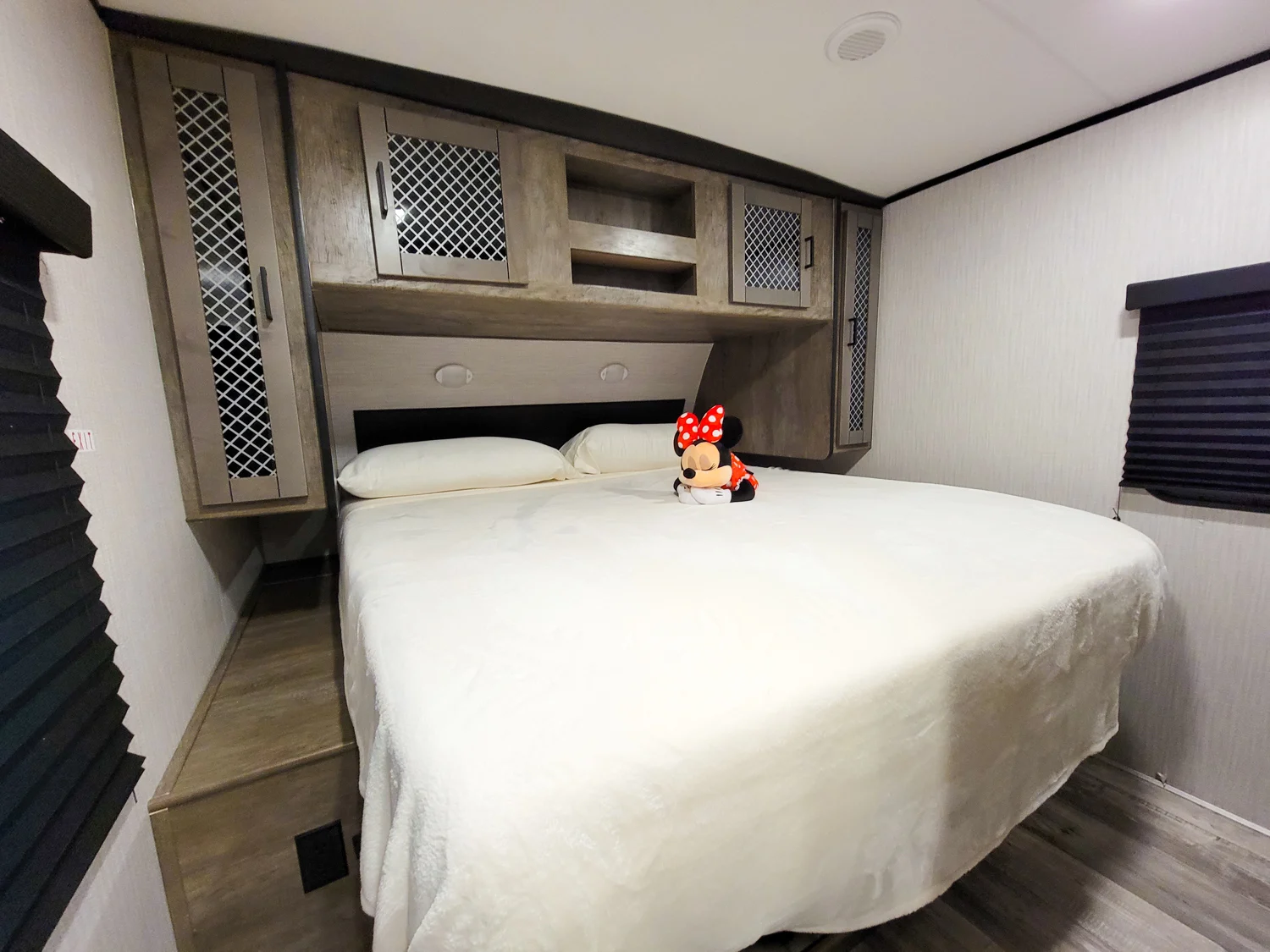 When planning this trip, I quickly learned that it can be quite difficult to find a Vegas hotel that has a kitchen without breaking the bank. While there are many exciting places to eat in the area, I still wanted to be able to cook some of my own meals while vacationing.
I like being able to prepare my own breakfast before heading out into unfamiliar territory. Plus, this allowed me to use that extra money I saved on dining out to hit the slots while on the strip.
Travel Cross-Country with the Comforts of Home
Since we were flying into Las Vegas I needed an RV that came with everything: sheets, towels, coffee maker, microwave, dishes, pots & pans, and utensils. The RV we chose had all of this and so much more! It had a full indoor kitchen and an outdoor cooking area.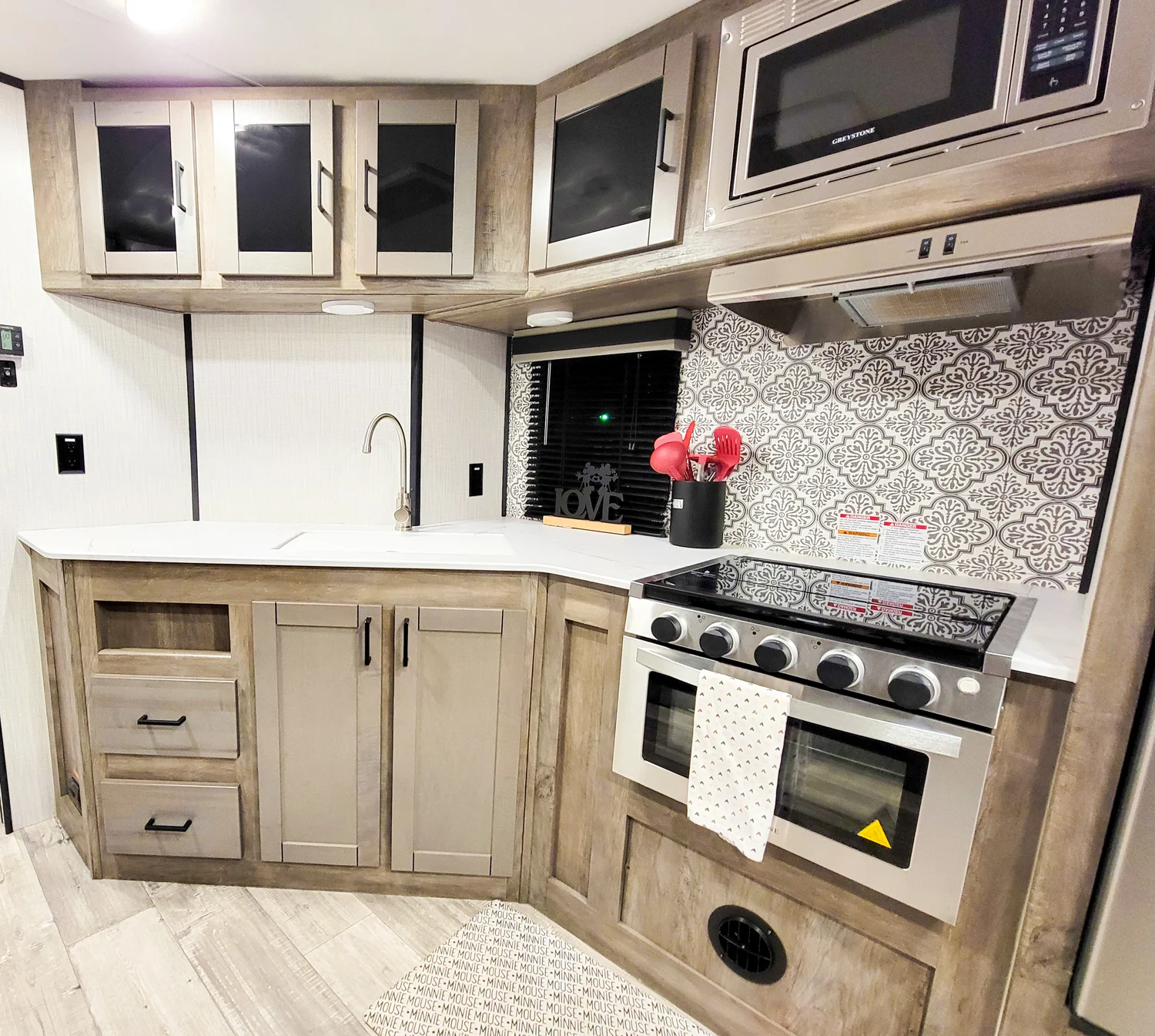 When we arrived at the campground for the first time, we were met by the owners of the RV, who set everything up for us and gave us a 30-minute tour of the different amenities this RV had to offer. We learned how to use everything and were free to ask questions about things we were unsure of while exploring.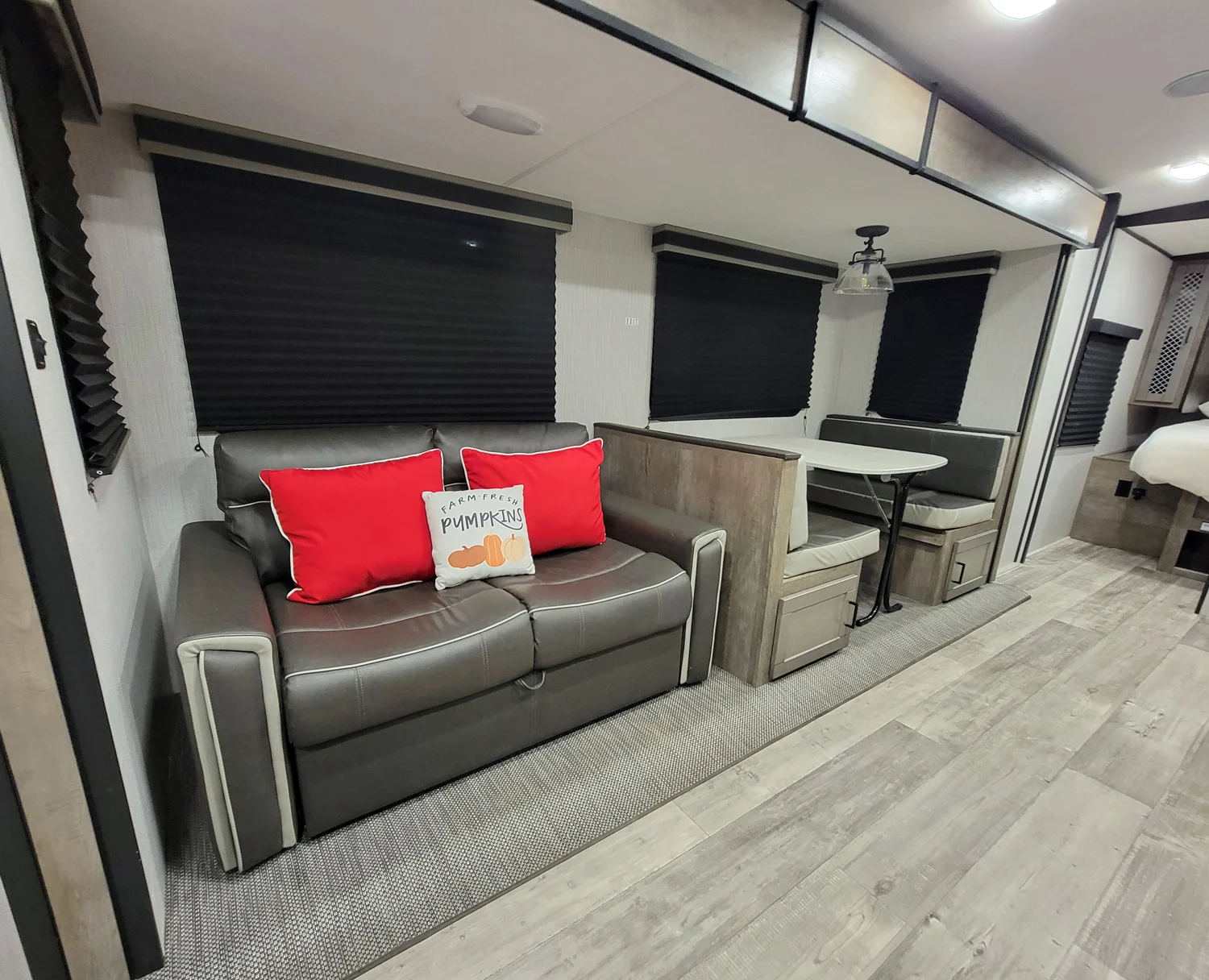 Pro Tip– It's a good idea to take short videos during your RV tour to make sure you know how to work the different operating systems. Don't be afraid to ask questions, the owners know the RV's in and out and can help you figure things out easily to make your stay as comfortable as possible.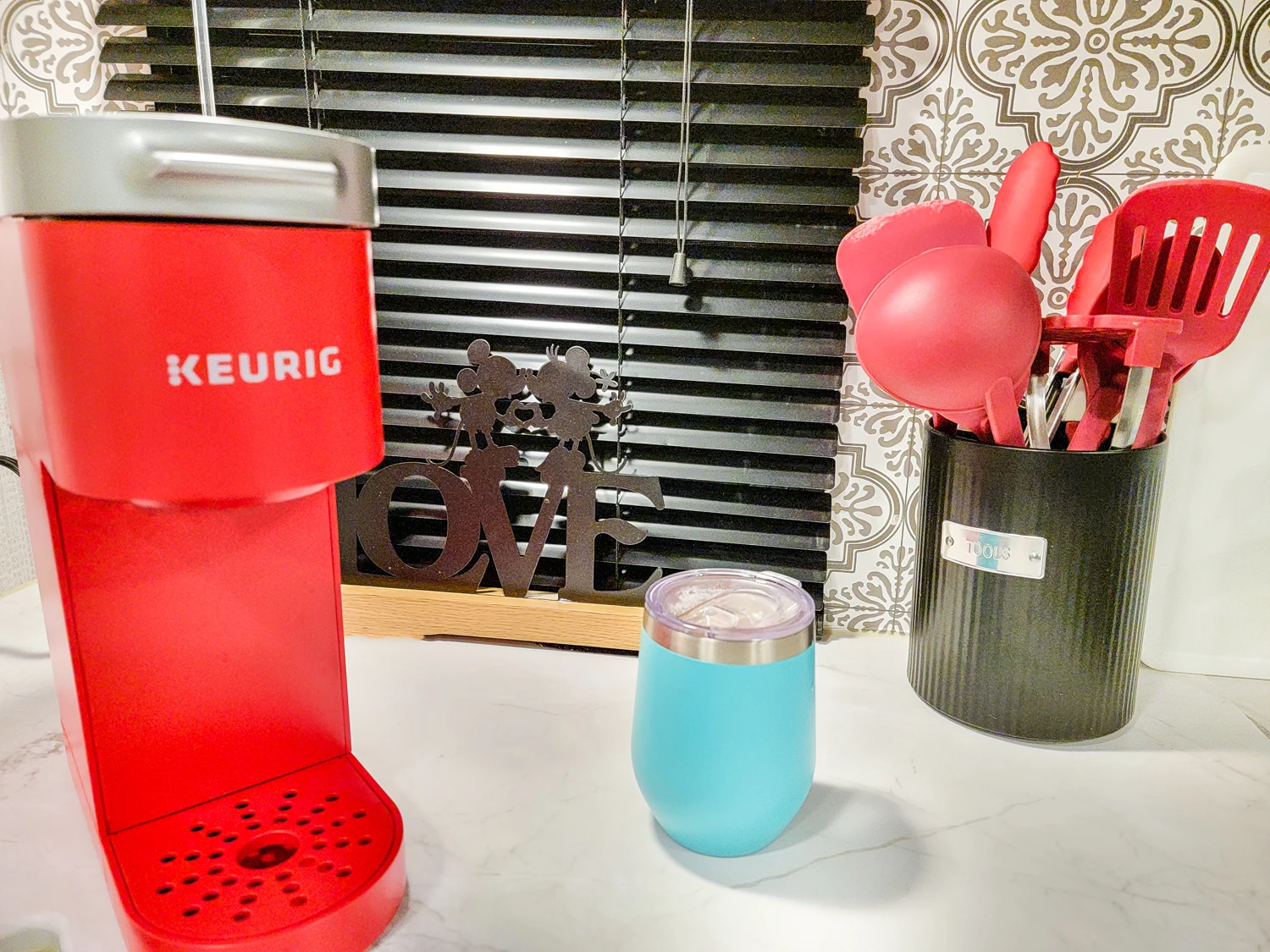 A quick trip to the grocery store for some supplies, and we were ready to cook our first meal and enjoy the comforts this RV had to offer! We picked up some bagels for our morning breakfast and our favorite coffee pods to make sure our days in Vegas started off right. We also grabbed some snacks to enjoy while winding down at night.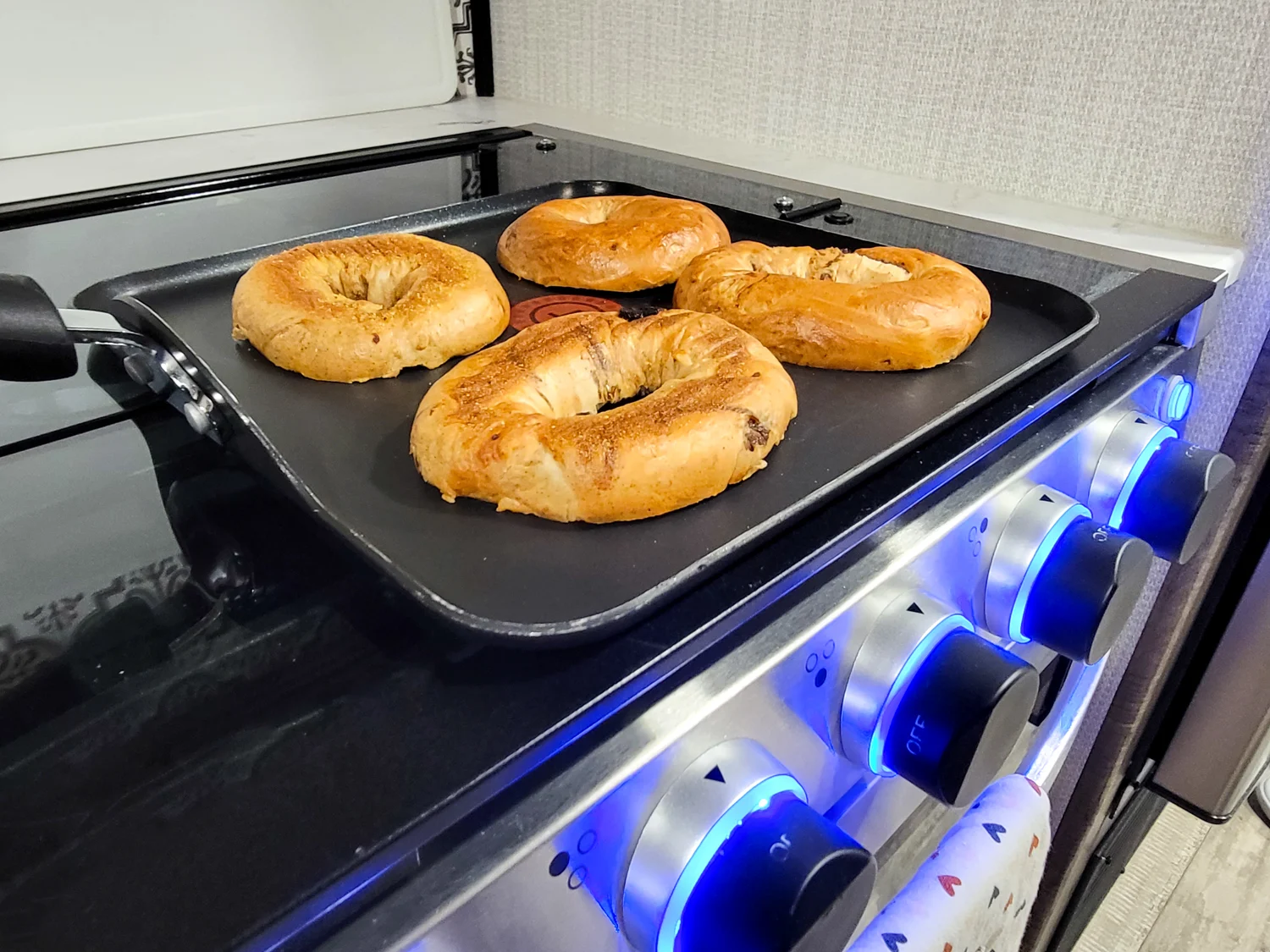 Select A Great Location for Your Home Away from Home
We were able to enjoy the beautiful scenery of the Las Vegas RV Resort while cooking and eating our meals. In my opinion, this is the best place to spend quality time with your travel companions and enjoy the great outdoors while away from home. Our RV even had a full entertainment system that allowed us to enjoy a movie at the end of each day from the comfort of our RV living room.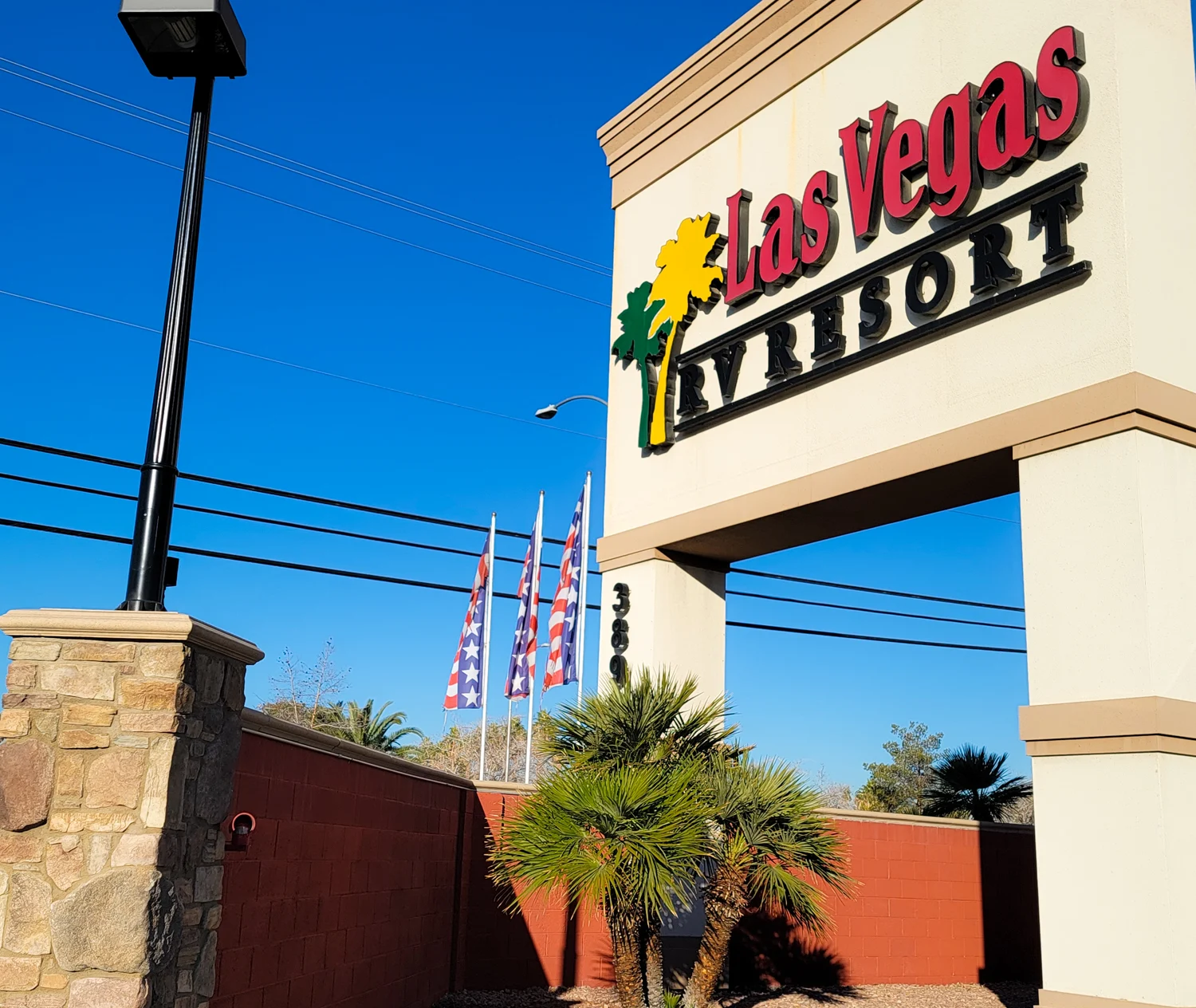 The RV came with a bin full of Blu-rays and the clubhouse at the campground also had an impressive movie selection for us to choose from. I was really impressed with the campground, it was quiet and offered some gorgeous views, as well as lots of entertainment in the clubhouse. The pool and hot tub area were gorgeous, and the clubhouse also had a pool table, dartboard, exercise equipment, and a lounge area for guests to enjoy.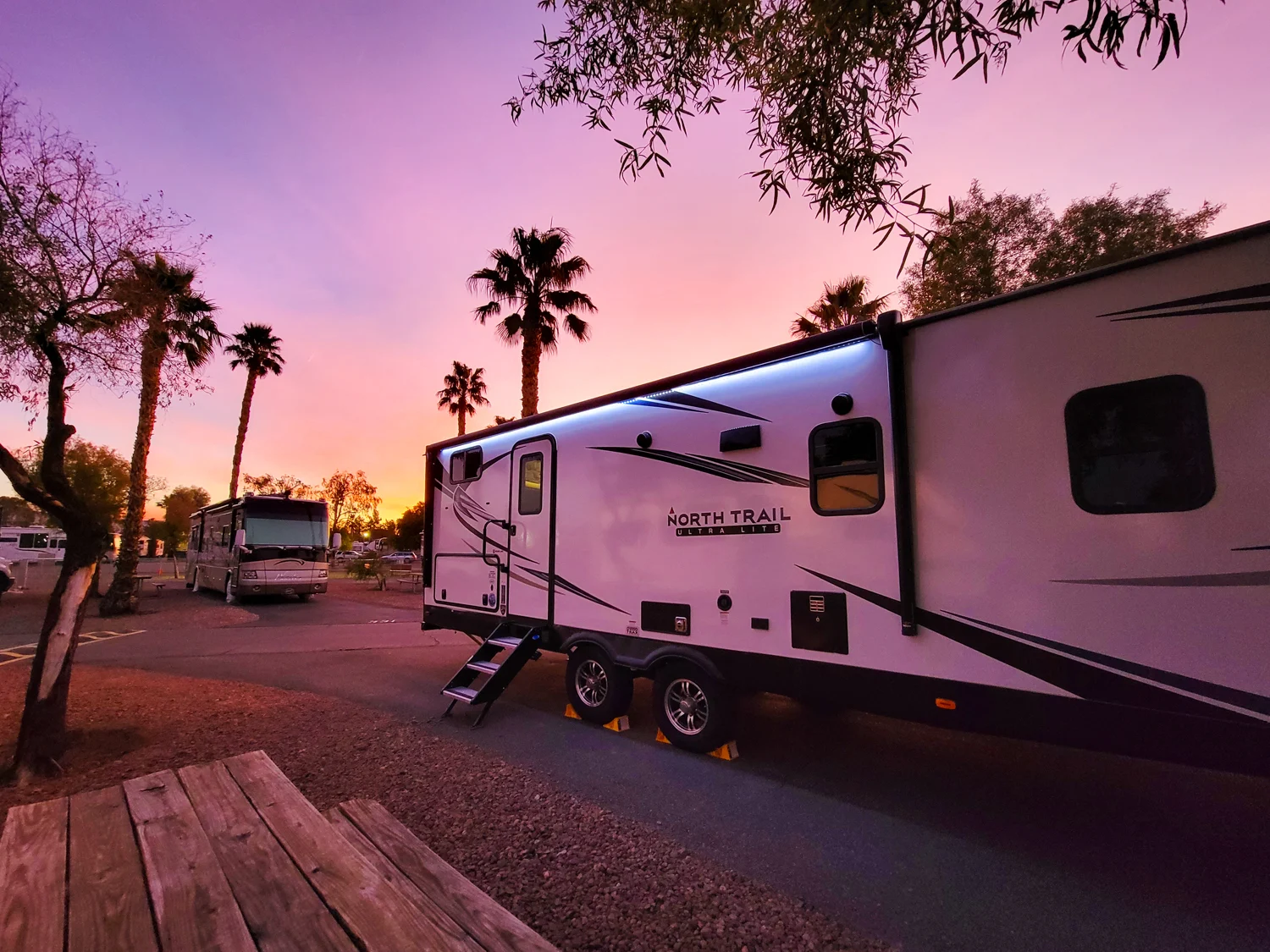 When we would leave the campground each morning to head out on our many Vegas adventures, we enjoyed waving goodbye to the friendly faces in the security station and looked forward to greeting them on our way back into the park at the end of each day. I felt secure having these friendly faces watching over the park 24/7 and knew that they were available if I had any issues or needed anything.
Everyone we met inside this RV resort was super friendly and since this is a pet-friendly park, I got to meet a few furry friends during my stay. My favorite acquaintance was a beautiful basset hound named Daphne. I fell so in love with this beautiful girl that she had my wheels turning about adopting another dog when I got home. Now that I know about pet-friendly resorts and camper rentals, I will not let travel get in the way of me adopting a new furry friend. In fact, my next trip may include my current hound Daisy and if a Bassett hound like Daphne pops up in my adoption search I may be bringing them along as well.
Be sure to check out the campground finder on GoRving.com to find the best place to stay while exploring your favorite destinations.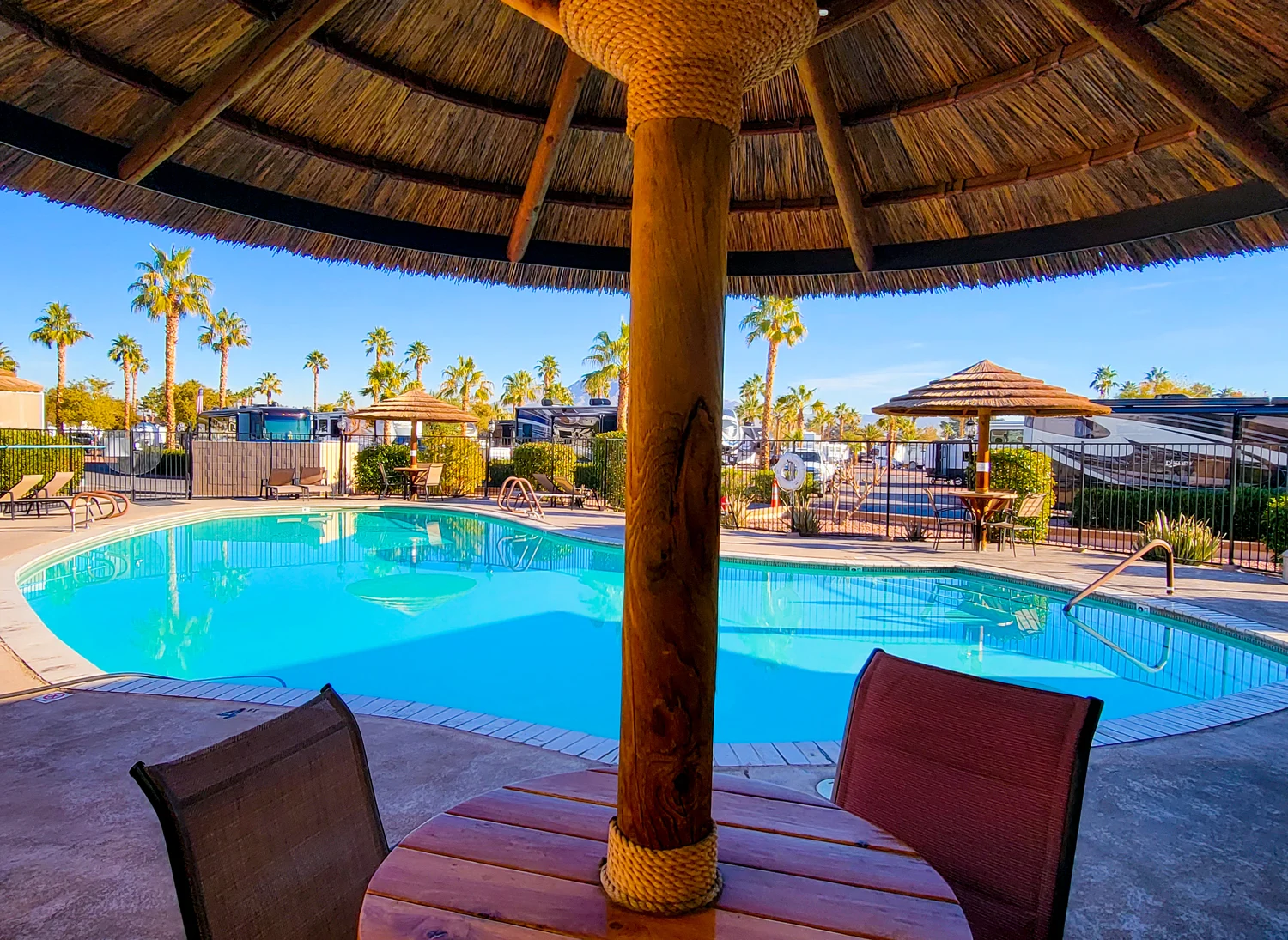 Don't Miss Out on the Best Parts of Our Trip
My mom and I spent a lot of time creating fun memories in the RV at the campground as well as while we were out exploring what Vegas had to offer. I am so excited to share all our favorite places to eat and attractions to visit to help you plan your Las Vegas adventure. There is so much more to come! Be sure to follow along on social media and sign up for the free newsletter so that you don't miss any of these upcoming posts.
You won't want to miss all the fun we had and all of the tips I will be sharing so that you can plan your next vacation to the Las Vegas area in an RV.
Have you ever experienced Vegas from the comforts of an RV? I would love to hear all about it, be sure to leave a comment telling me all about your experience below. If you are a beginner to RVing don't let your inexperience stop you from enjoying a fun trip, the First Timer's RV Tool Kit on Go RVing.com will fill you in on the basics and give you the information you need to enjoy your first RV trip. Check out that information and then tell me where you would like to take your first RV trip!