This post is sponsored by Samsung. All of the photos in this post are taken with the Samsung Galaxy S21 Ultra 5G. All opinions are my own.
Have you ever wanted to visit your favorite singer's childhood home or grab a slice of pizza at their favorite spot?
This Midwest Rock N' Roll Road Trip makes it happen!
What is a Rock N' Roll Road Trip?
The perfect Rock N' Roll road trip for my family covered three midwest states, Indiana, Ohio, and Michigan.
We listened to this playlist that consists of a mix of each of our favorite songs. There are 290 songs to keep everyone happy while navigating all of the fun.
This road trip brought us to many off the beaten path attractions that were full of musical history in each state.
Some of the locations were a surprise to even the locals, as I dug deep this time to really share fun ideas that the whole family can enjoy and won't soon forget.
This trip is perfect for any music lover and everyone in the family is bound to get excited about visiting these hidden gems.
We used the Samsung Galaxy S21 Ultra 5G to take photos of each destination, while also using it to stream music and most importantly, navigate our trip.
I was happy to have an excellent connection throughout all of our travels and impressed by the long lasting battery life that it proved to have.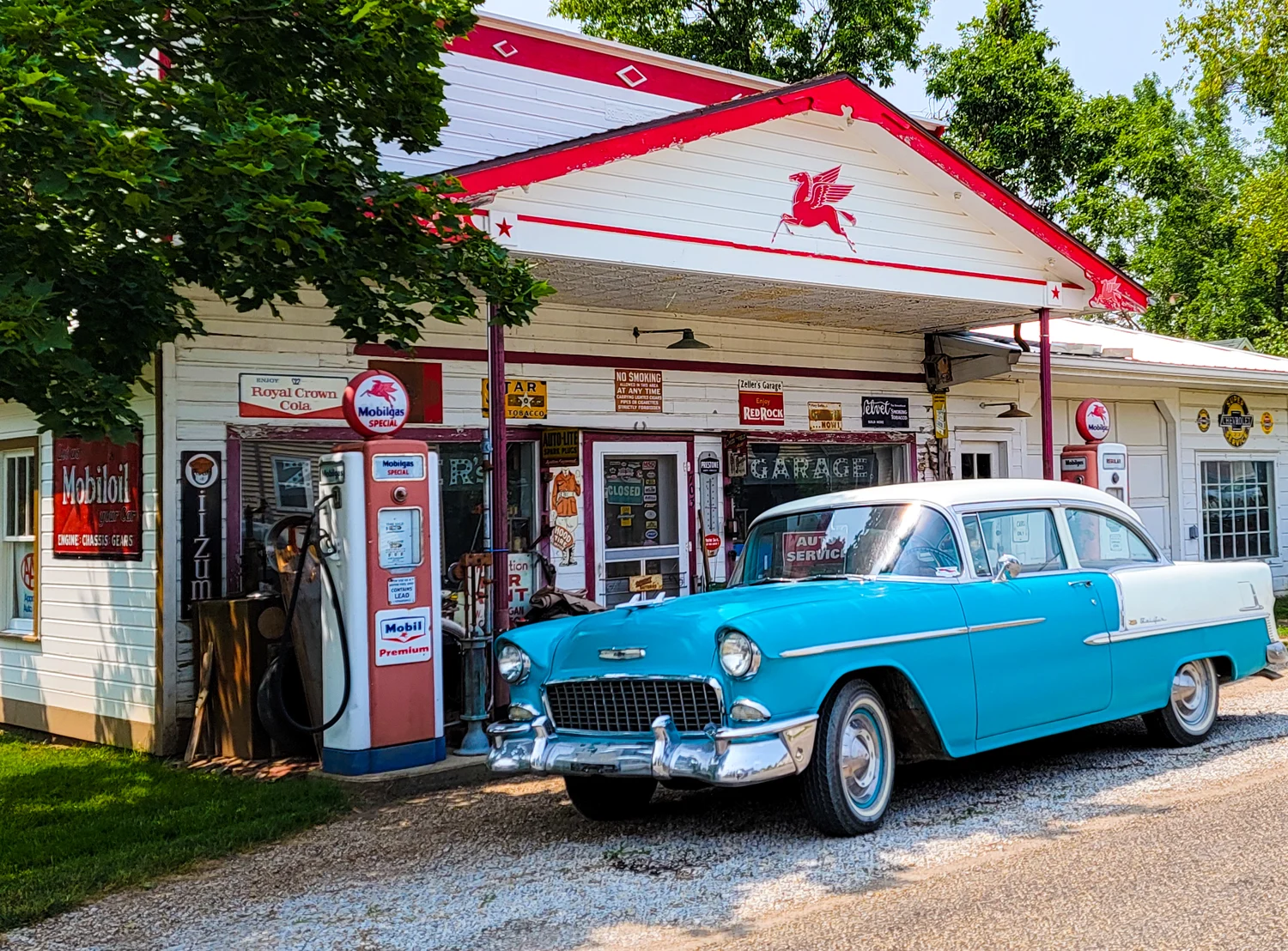 What States Will This Rock N' Roll Road Trip Visit?
This road trip travels through the states of Indiana, Ohio, and Michigan.
Visiting all of the hidden gems throughout each state including the childhood homes of musical legends, mansions, and even the gravesite of a rockstar.
Since we were heading out of Iowa, we first drove through Illinois, but we spent most of our first day exploring what Indiana had to offer music lovers.
When planning this rock n roll road trip, I knew we had to visit as many Guns N' Roses locations as possible since my daughter, husband, and myself are all huge fans.
I grew up listening to Guns N' Roses and so did my husband, but I never expected my daughter to enjoy them as much as she does.
I can confidently say that there is not a bigger Duff McKagan fan on the planet.
She even bought a bass guitar just like his, and although I enjoy the acoustic guitar more, watching her play any instrument makes me so proud.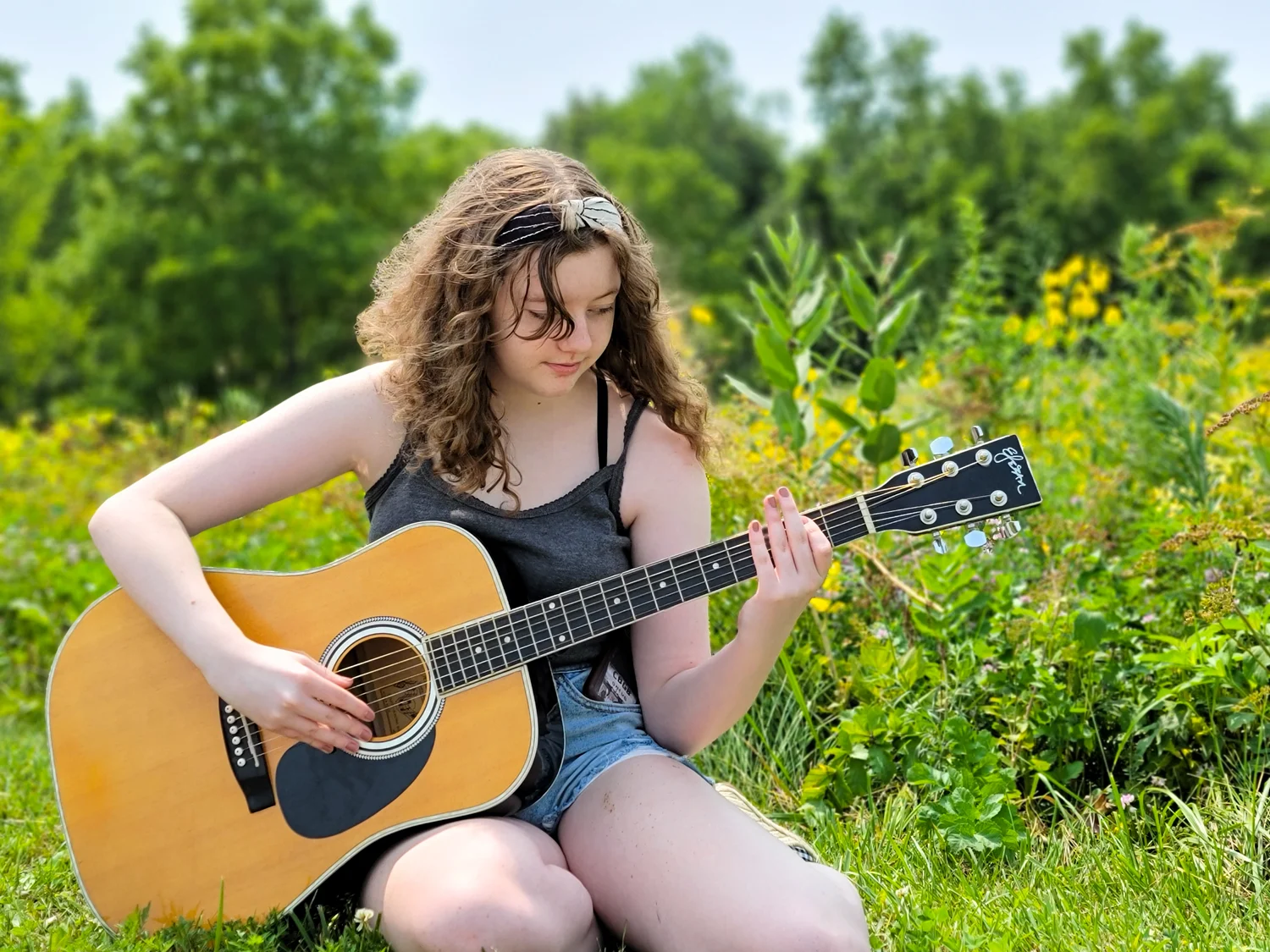 I snapped that photo of her using portrait mode on the Samsung Galaxy S21 Ultra 5G. Every photo I have taken of her with this phone comes out perfect and makes me think that she belongs on an album cover.
Maybe someday her fans will go on a Midwest Rock N' Roll Road Trip that includes the house she is currently growing up in.
Midwest Rock N' Roll Road Trip
Indiana
While there are many places to visit in Indiana, my favorite town to see has to be Lafayette because of the Guns N' Roses connection.
Indiana has been called home by two members of Guns N Roses, Axl, and Izzy.
This area is also the final resting place of Shannon Hoon of Blind Melon who can be heard on the popular GNR song Don't Cry.
Where to Eat
Arni's Pizza
Stop in for a slice of pizza at Arni's in Lafayette, Indiana just like Axl Rose does when the craving hits.
Arni gained national attention when Axl Rose pulled up in front of this strip mall pizza joint in a stretch limousine at the height of his fame.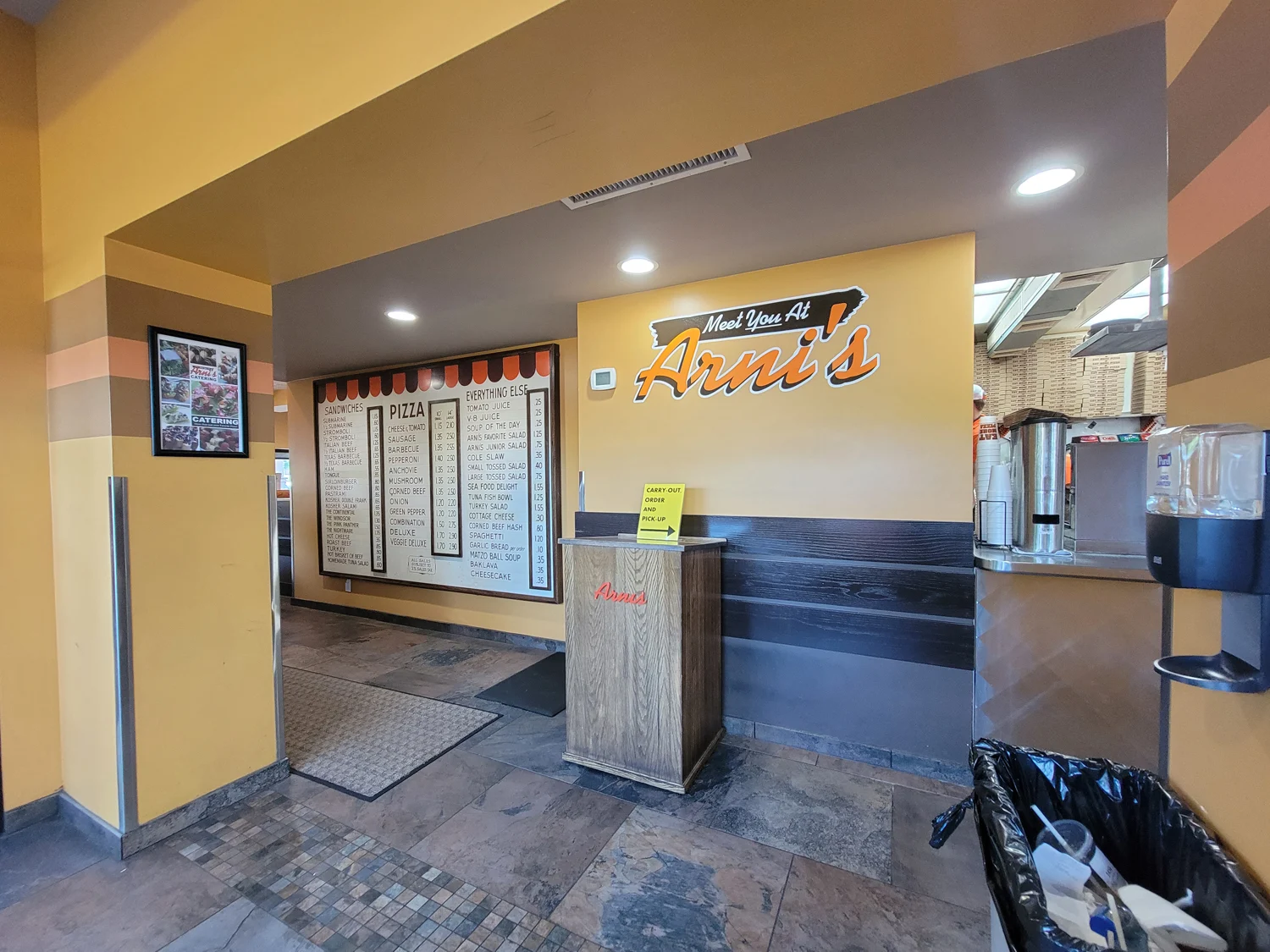 Fans still ask if they can sit in the "Axl booth" when dining in at this cozy pizza place.
Musical Destinations in the Area
The Music Shoppe
When traveling through Terre Haute, Indiana, you will find the coolest little music shop you would ever hope to visit located at 1427 S 25th St, Terre Haute, Indiana.
There is so much to see here that you are bound to miss something when browsing this oddly archaic music lovers paradise.
Be sure to check out the Kiss and Beatles guitars hanging in the hallway.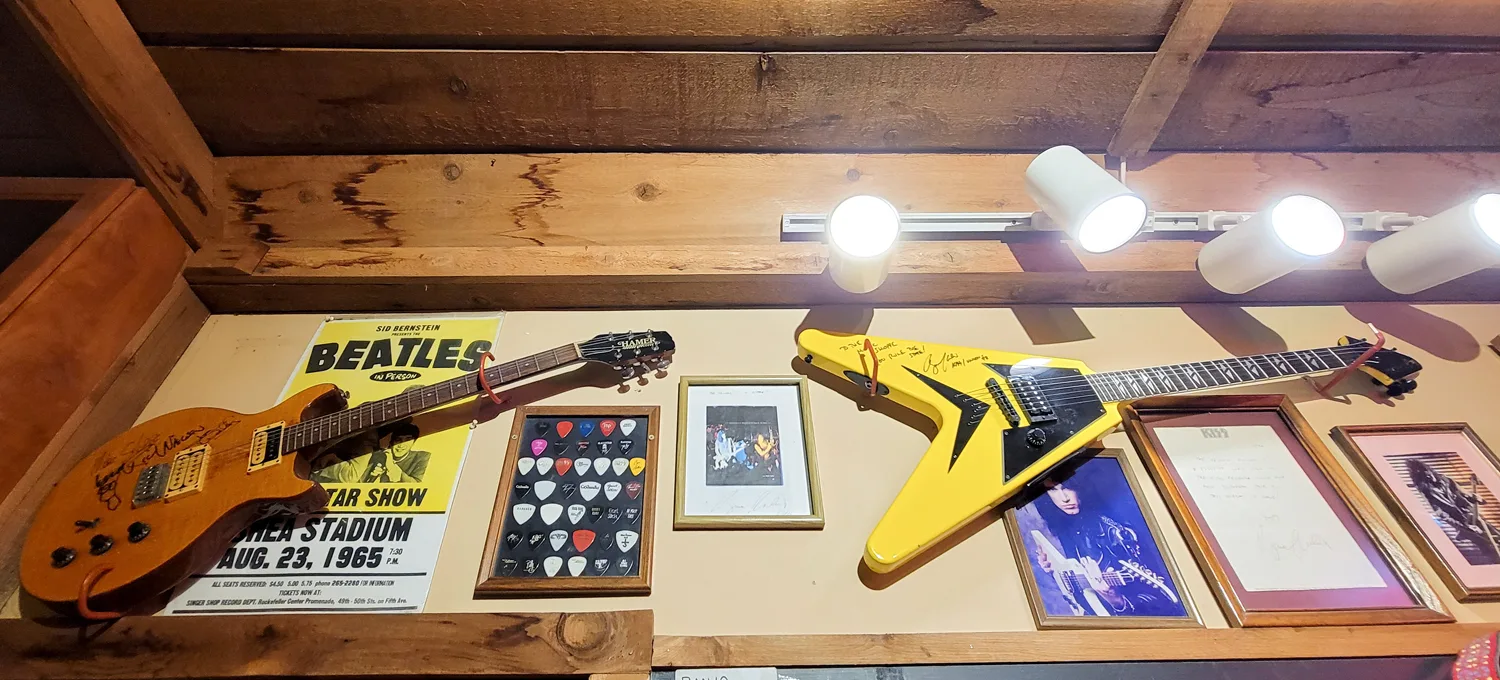 Shannon Hoon's Grave
The lead singer of Blind Melon, Shannon Hoon was laid to rest at a cemetery on the corner of Walnut St. and Delaware St. in Lafayette, Indiana.
As you can see from this photo below, Shannon still gets visitors that leave behind gifts such as candles, coins, and rocks with lyrics on them.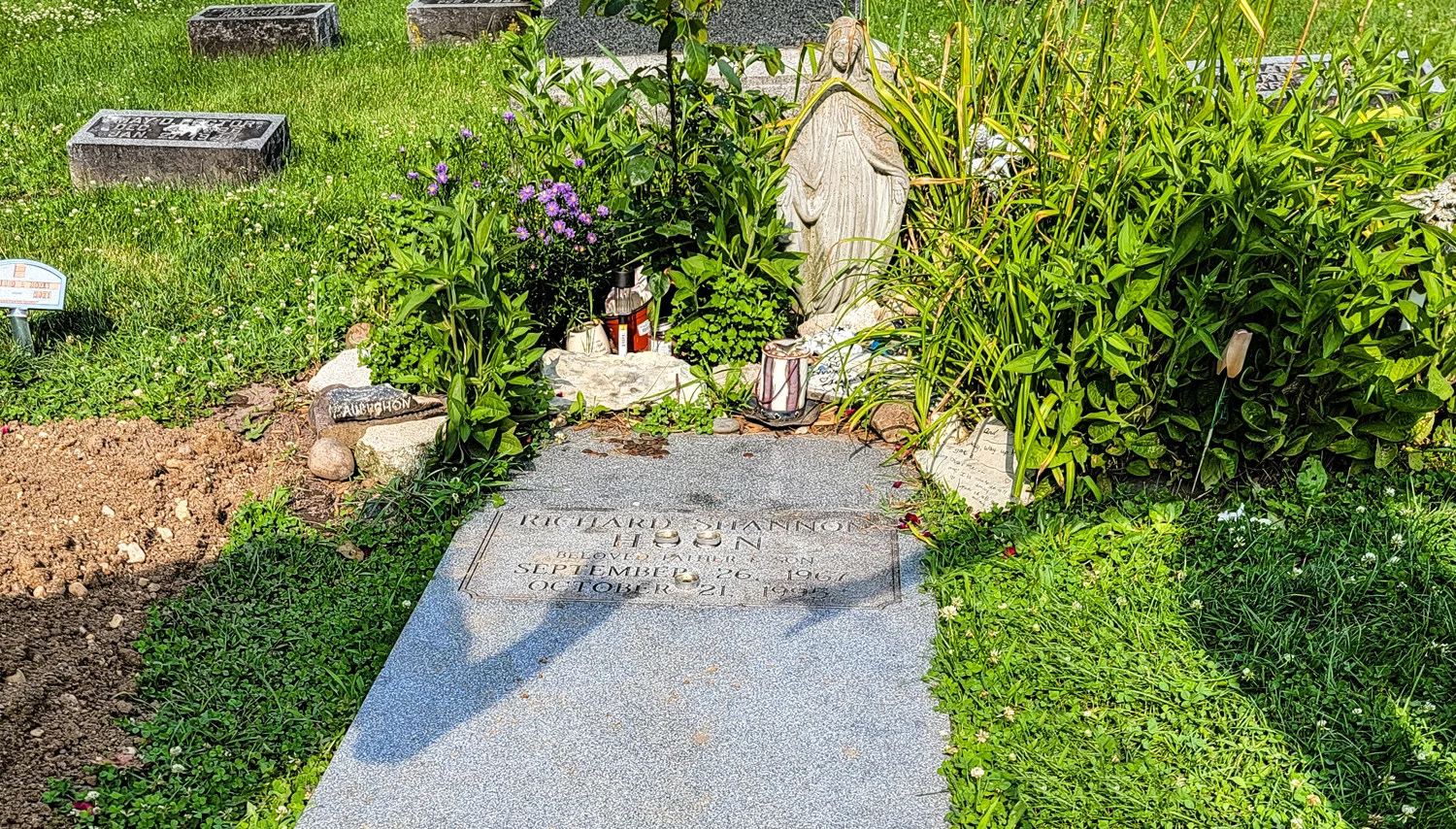 Shannon Hoon lived not far from Axl, and the pair were friends growing up.
Their friendship didn't stop there, as when the two were older and Axl asked Shannon to sing some vocals for the song Don't Cry, and he did so better than Axl, if you ask me.
Also in Lafayette is the home of Izzy Stradlin located at 4106 E. County Rd. 200 North in Lafayette, Indiana.
Izzy grew up with Axl and the two went to Jefferson Highschool located at 1801 S. 18th St in Lafayette, Indiana.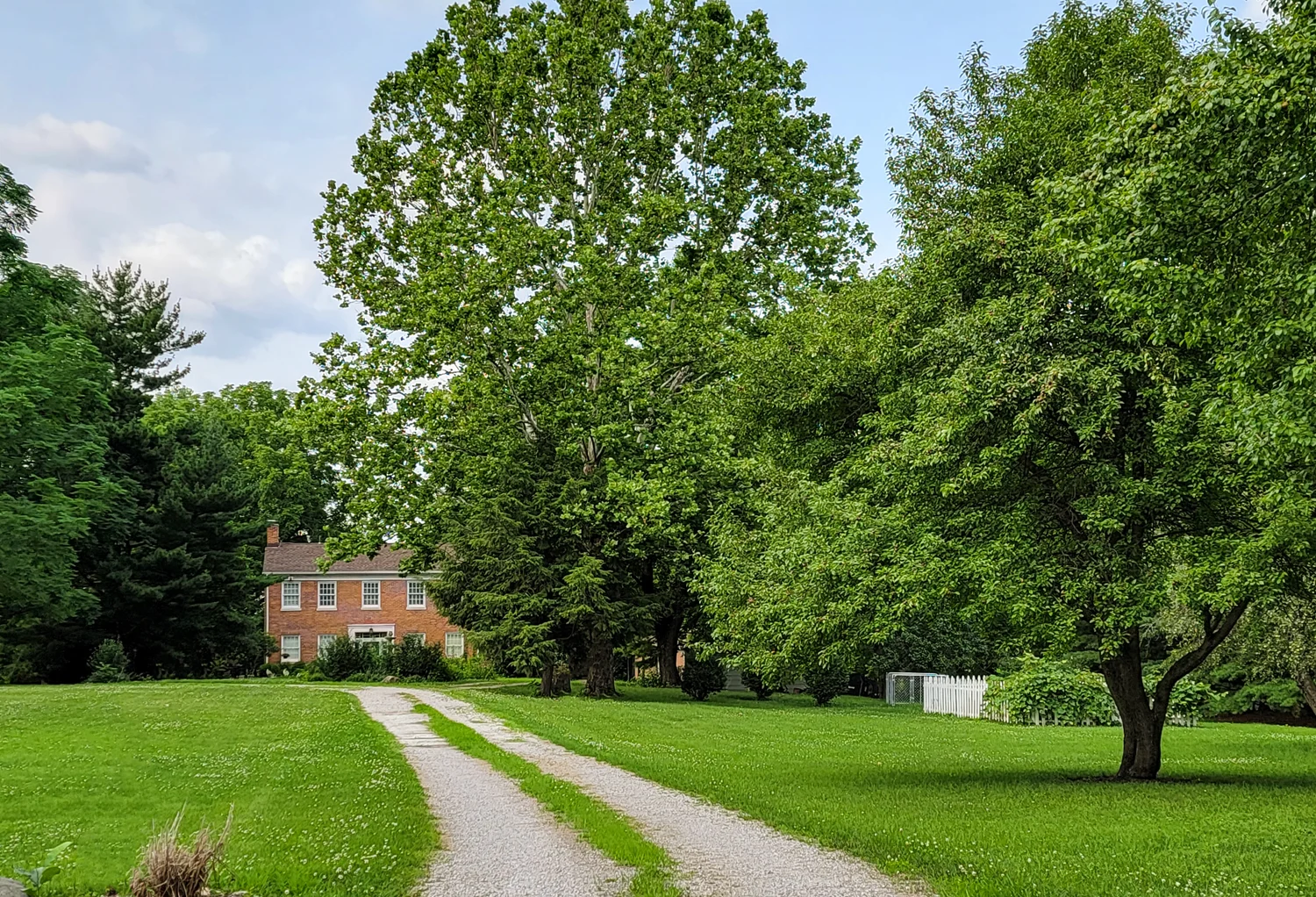 Some of the other musical destinations in the area that may be of interest are Michael Jackson's boyhood home located at 2300 Jackson St, Gary, IN 46407 and John Mellencamp's childhood home located at 714 W. 5th Street in Seymour, Indiana.
Unique Places to Check Out
While traveling through the state there are a few things that you just can't find anywhere else, so it is best to take advantage and check them out while you can.
Fair Oaks Farm
When stopping to fill up the tank, I suggest doing it at the BP Gas Station that shares a parking lot with Fair Oaks Farm located at 964 N 600 E, Fair Oaks, IN.
Pick up some fancy cheese and crackers for the road trip and take in the cute cow decor.
You may be wondering what this has to do with a Rock N' Roll Road Trip – and to that I say: you have to get gas somewhere and as a cow lover, I can confirm that this place rocks!
If you want to get out of the car for a little bit and stretch your legs, head over to Fair Oaks Farm and take a tour.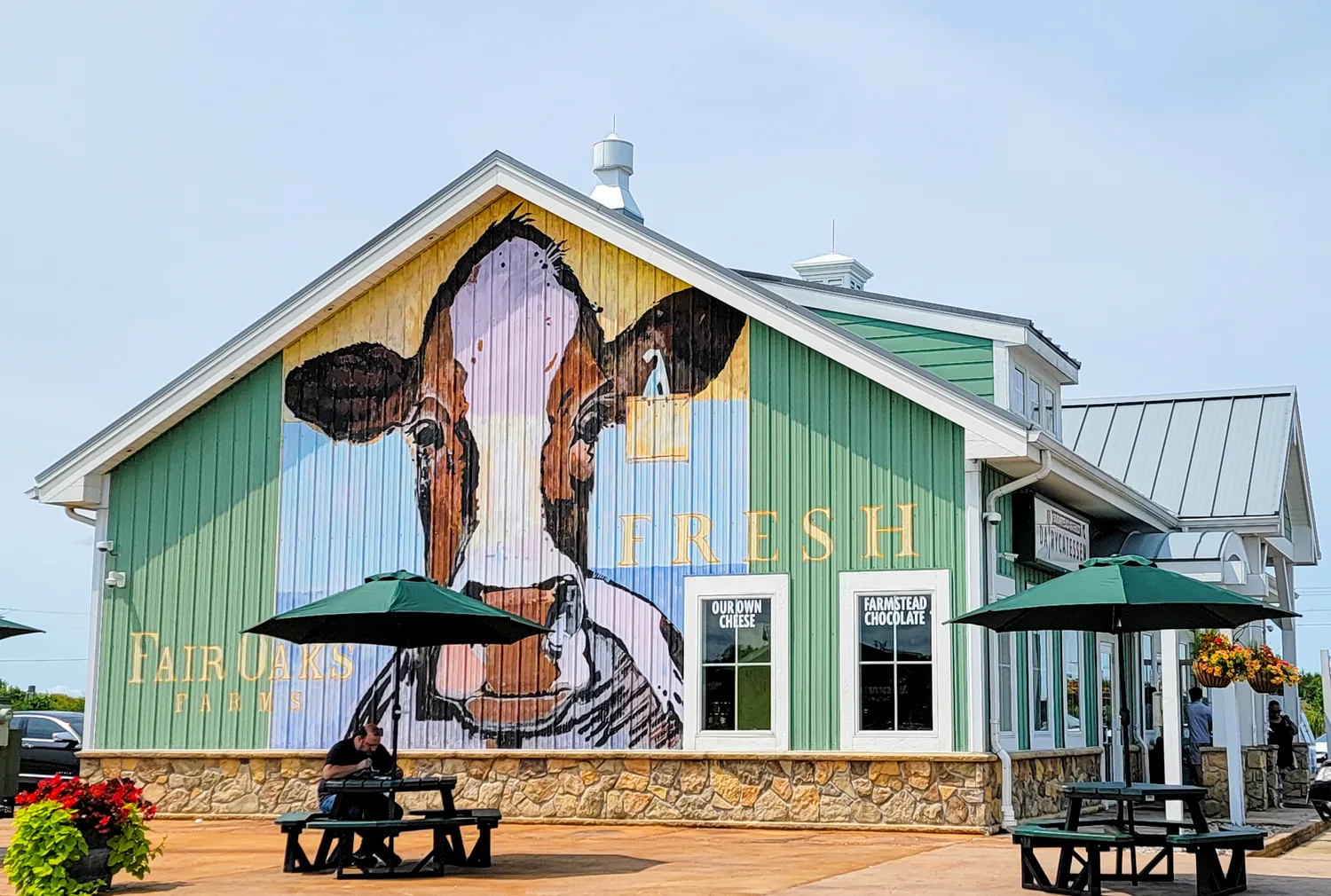 Check out this post to see all of the places we visited in Indiana.
Ohio
I have always heard that Cleveland rocks, but I never experienced it for myself until recently.
I was thrilled to finally check out the Rock N Roll Hall of Fame, see where Bone Thugs N' Harmony started out, and even check out some areas outside of Cleveland while visiting the state.
Where to Eat
Columbus Pizza Place
If you travel through Columbus, I highly recommend checking out Adriatico's. This place had a variety of pizzas to choose from, a cozy dining area, and great service.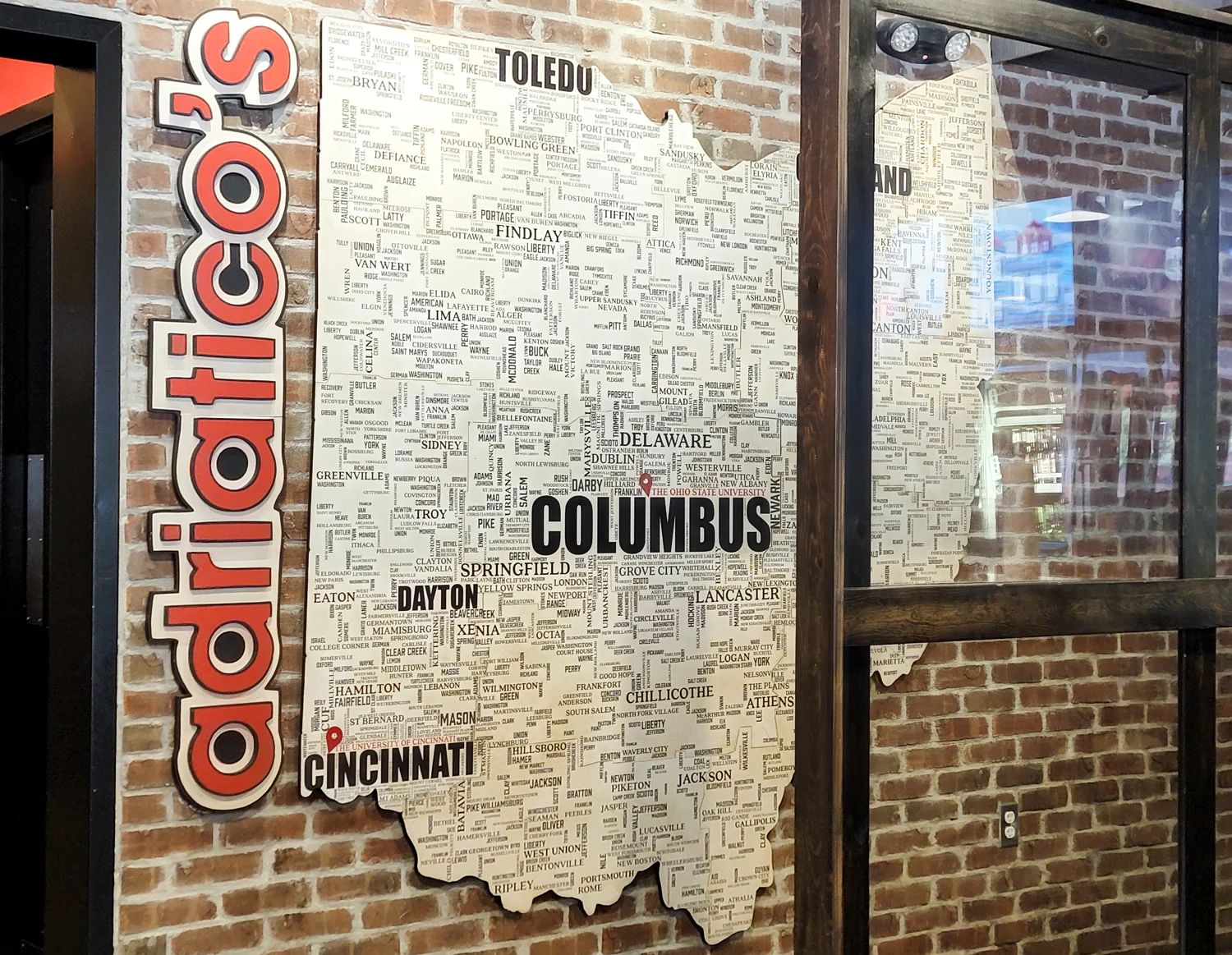 If you are wondering what the Rock N' Roll connection of this pizza place is, I will remind you of the time that Shannon Hoon delivered a pizza to Guns N' Roses Live on stage, while naked.
Stop in for a slice at 1618 Neil Ave, Columbus, OH.
Ask for Carter, he will take great care of you- he even took the time to tell us a few fun facts about his favorite rockstars upon finding out that we were headed for the Rock Hall.
Musical Destinations in the Area
Rock N' Roll Hall of Fame
The Rock N' Roll Hall of Fame is a must see for all music lovers.
There is something for everyone inside this building, which appears as a pyramid from the ground while taking on the shape of a record player from above.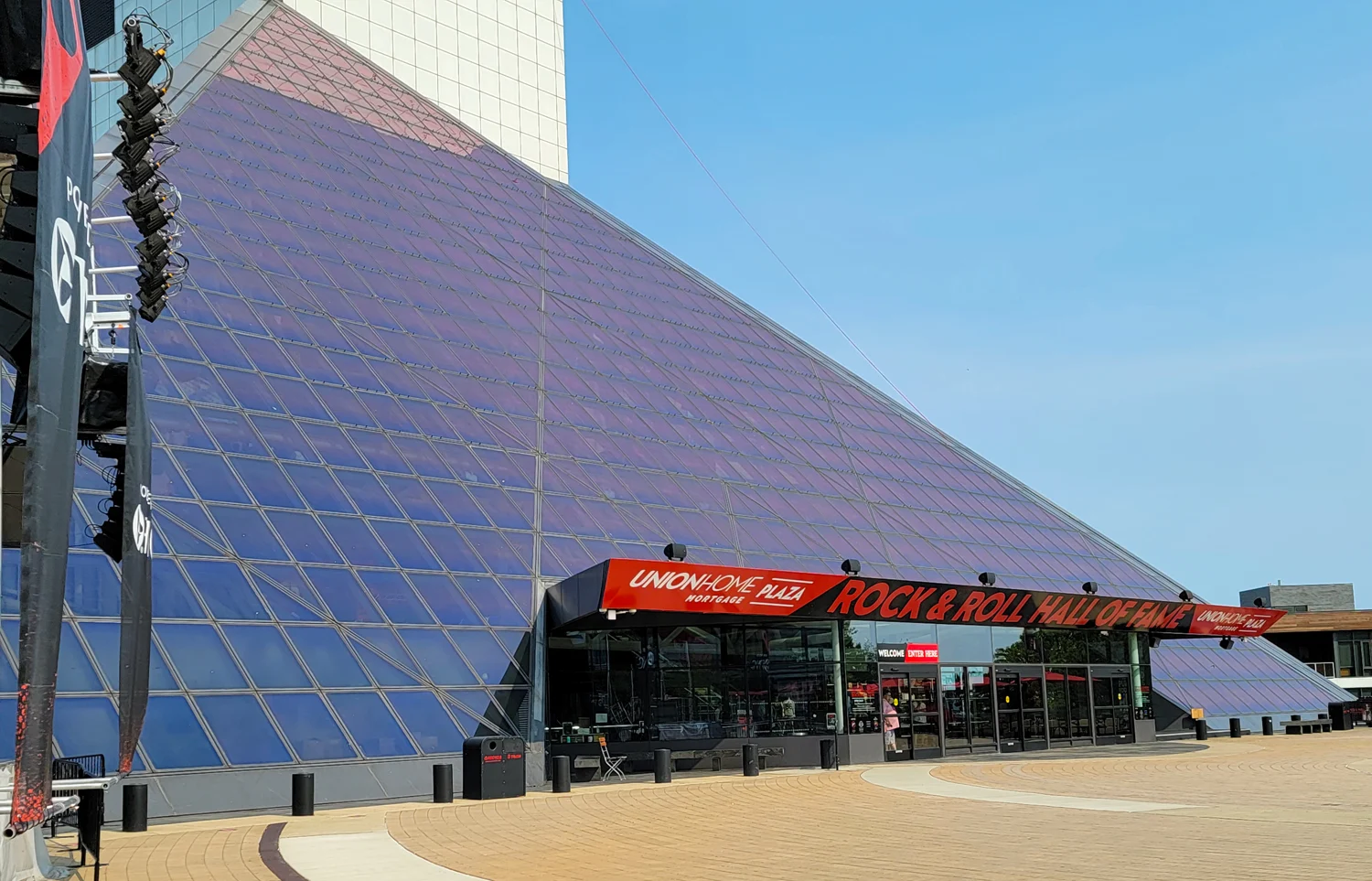 The Rock Hall houses a massive collection of music-related artifacts including an extensive Beatles collection, Michael Jackson's glove, and Slash's pinball machine.
While flash photography is not allowed inside, using the Samsung Galaxy S21 Ultra 5G allowed me to capture clear photos with very little effort.
It seems impossible to take a bad photo with this amazing camera.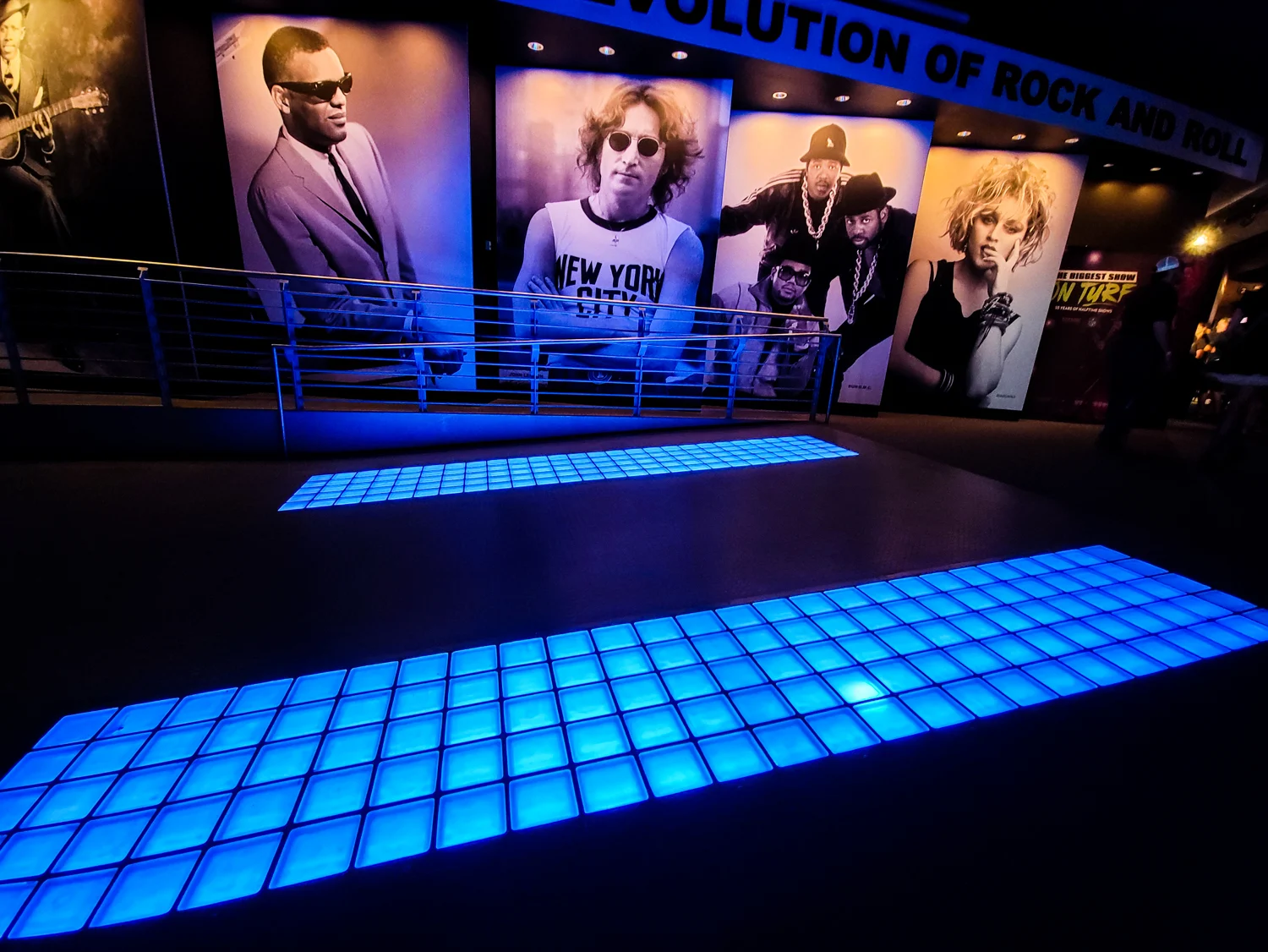 The Rock N' Roll Hall of Fame is located at 1100 E 9th St, Cleveland, OH.
Unique Places to Check Out
Foo Fighters and Nirvana fans alike will love to visit Dave Grohl Alley located at Main Street SW in Warren, Ohio, Grohl's hometown.
The alley is not only home to the world's largest drumstick but it features art depicting musicians created by local artists.
While in Cleveland visiting the Rock N' Roll Hall of Fame, it wouldn't take too much of your time to head over to the corner of E 99th St & St Clair Ave. in Cleveland, OH.
This spot marks the area where Bone Thugs N' Harmony grew up and the sign marking the corner inspired the cover art for their most popular album.
Check out this post to see all of the places we visited in Ohio.
Michigan
When traveling through Michigan during this Rock N' Roll Road Trip, we headed straight to Detroit.
The area has a vast musical history with many interesting locations to visit.
Where to Eat
Green Lantern Pizza
The pizza at Green Lantern is fantastic. If you are in the area, I have been told by the locals that this is the pizza place to go to.
After trying it for myself I can now say that there is no need to try anywhere else in the area, this place hit the spot.
I would have loved to share photos of this pizza with you because I was armed with the Samsung Galaxy S21 Ultra 5G which would have delivered a mouth-watering shot, no doubt.
I wish I had enough self-control to have used the directors view, taking advantage of the ability to switch between cameras.
If I had done that, I could have filmed the pizza and myself enjoying it at the same time but I devoured it shortly after it arrived – it was that good!
Yates Cider Mill
Do you feel like spending the day feeding animals and enjoying delicious treats that you won't find anywhere else?
When in the area, you have to check out Yates Cider Mill located at 1990 E Avon Rd, Rochester Hills, MI.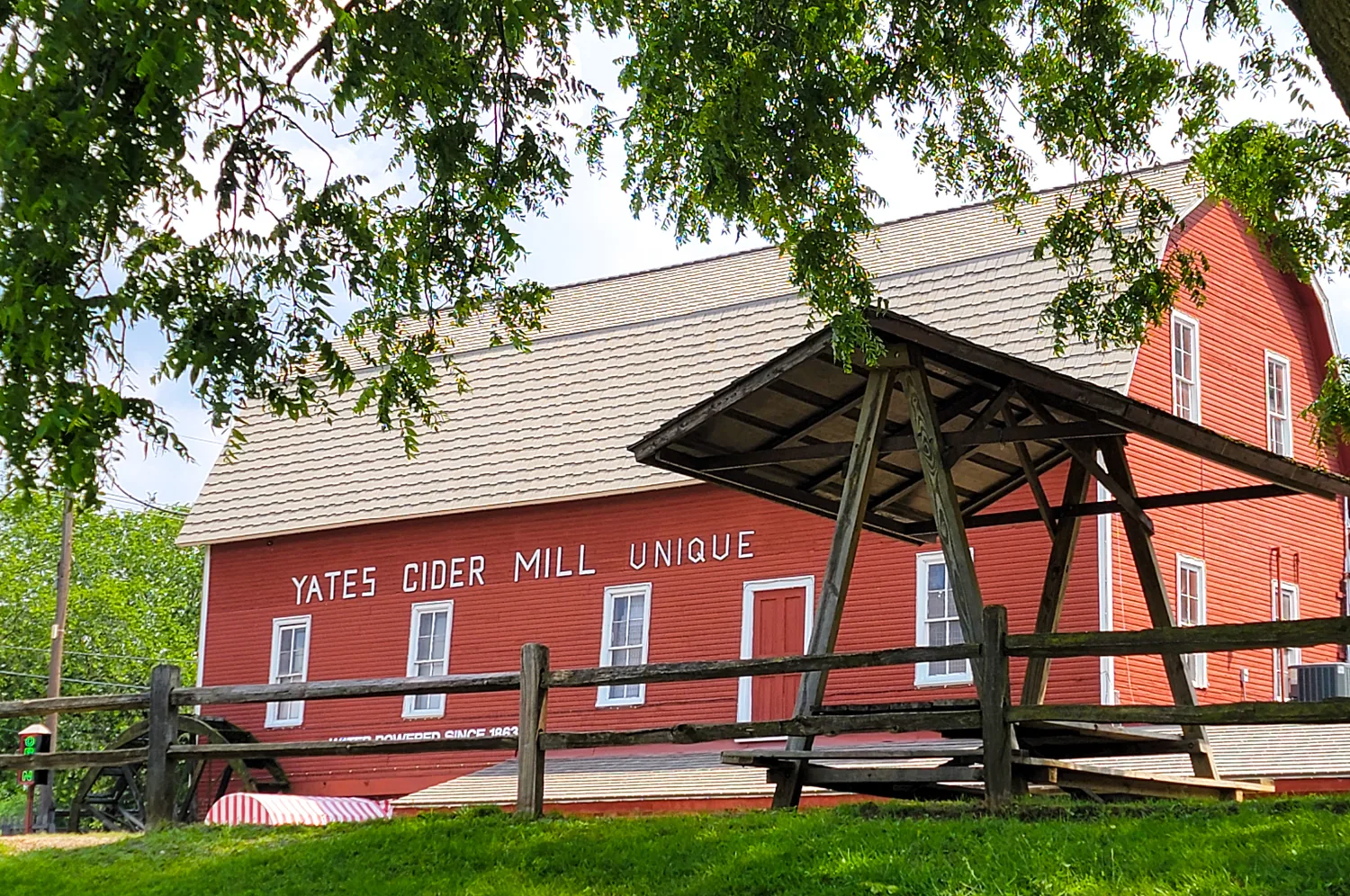 While there are many homemade treats to choose from, I would highly recommend trying the doughnut sundae.
This dessert is the perfect combination of ice cream and fresh donuts. Yum!

While this sundae needs little help looking delicious, using the food mode on the Samsung Galaxy S21 Ultra 5G really helps to capture the mouth-watering beauty without much effort.
This means that you can dig right in before the ice cream melts without much preparation needed to take a beautiful photo.
Musical Destinations in the Area
Motown Museum
The Motown Museum is a national treasure that is filled to the brim with a rich history.
So many timeless hits were recorded inside this quaint studio dubbed Hitsville, U.S.A.
The Motown Museum is located at 2648 W Grand Blvd, Detroit, MI, not too far from where many Motown legends lived.
Check out the homes of Aretha Franklin, Berry Gordy, Diana Ross, Mavin Gaye, and many more.
Get all of the details and addresses of your favorite singer's homes from this Music Lover's Guide to Detroit, Michigan.
Unique Places to Check Out
Lucken Booth
Located at 3650 Michigan Ave, Detroit, MI Lucken Booth is a gorgeous store that sells taxidermy, candles, and plenty of unique gifts that you may not find anywhere else.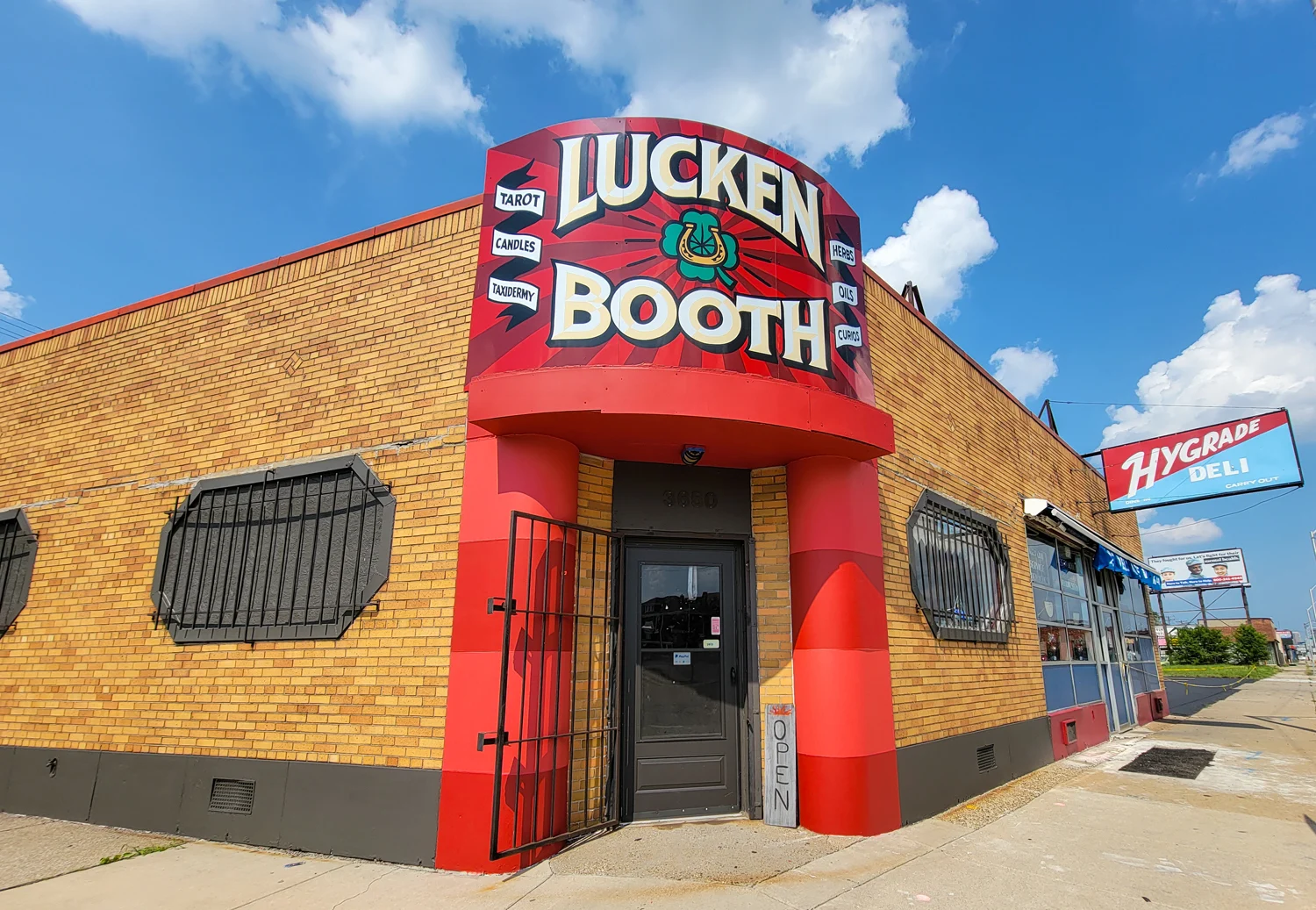 Pick up a unique souvenir from this shop for yourself or a friend, you are bound to find something new and exciting here.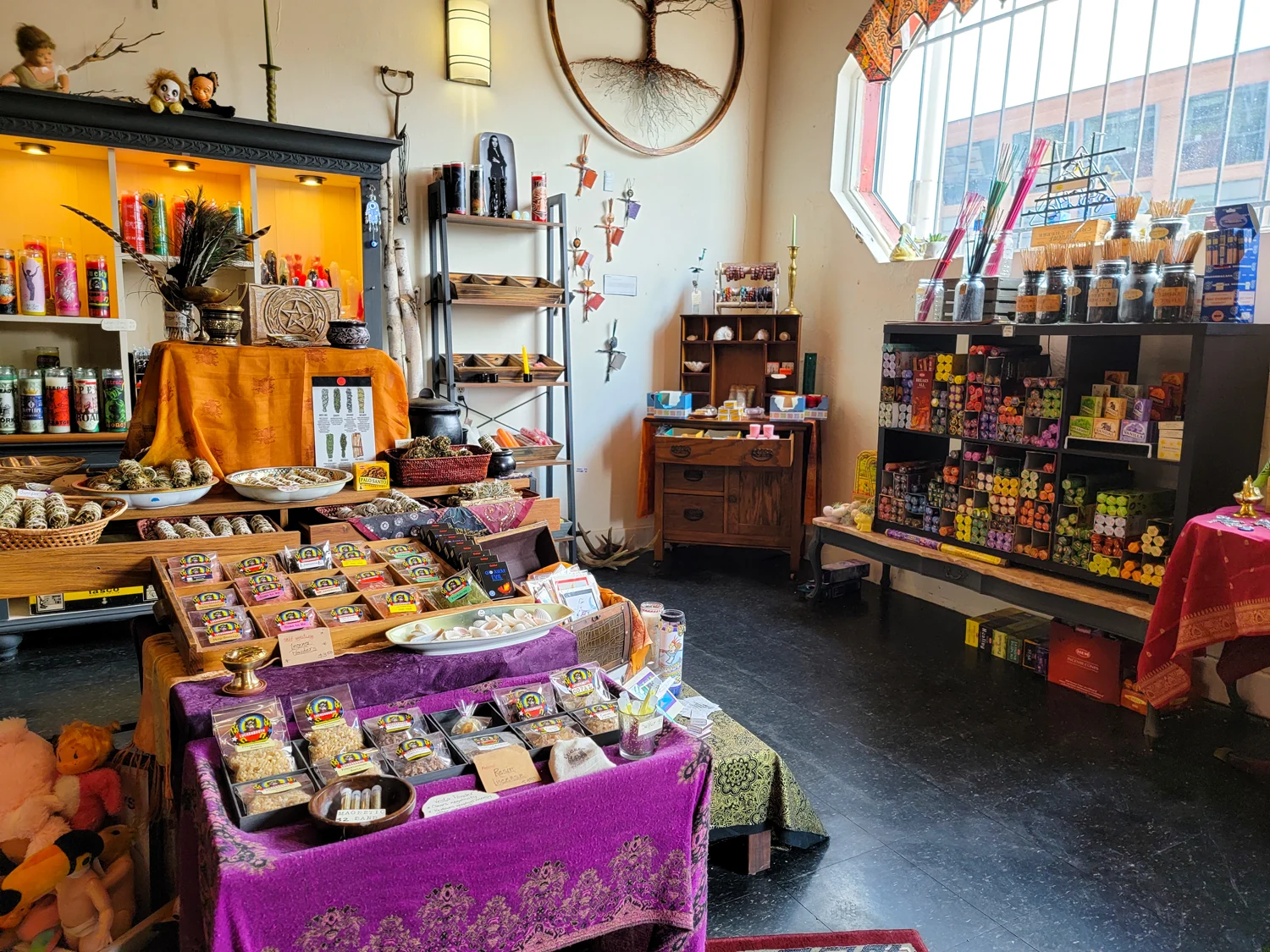 This metaphysical store is fun to shop but if nothing catches your eye, you can get a tarot or palm reading instead.
Check out this post to see all of the places we visited in Detroit.
I hope you enjoyed learning about our Midwest Rock N' Roll Road Trip. Does this sound like something your family would enjoy?
Don't forget to check out the full posts with every musical spot we visited on the Rock N' Roll Road Trip in Indiana, Ohio, and Michigan. You may also be interested in learning about Riot Fest and finding out how I earned my supermom title there, thanks to My Chemical Romance.
I would like to thank Samsung for letting me use the Samsung Galaxy S21 Ultra 5G to take all of my photos on this trip.
I enjoyed the freedom of not having to lug around my camera bag, camera lenses, and heavy camera while still capturing high-quality memories on my trip.
Be sure to sign up for the free newsletter and follow along on social media so that you never miss a post!