This post is sponsored by Samsung. All of the photos in this post are taken with the Samsung Galaxy S21 Ultra 5G. I was graciously hosted by This Is Cleveland. All opinions are my own.
This past week my family spent a couple of days in Cleveland, Ohio. I was really impressed by the amount of fun for the whole family this area offered.
I have traveled through Cleveland, Ohio in the past but I never thought about the area as a travel destination until now. When planning travel for the whole family it can be difficult to find an area that has something for everyone, but it turns out, Cleveland has it all.
Plan a fun-filled family vacation with this guide featuring the best places to eat, sleep, and play in Cleveland.

What to Do In Cleveland
Cleveland has a variety of museums that the whole family can spend the day taking in like The Cleveland Museum of Art, Cleveland Museum of Natural History, the Cleveland Children's Museum, and the Great Lakes Science Center.
Although if you plan on doing only one thing in the area, I would recommend visiting the Rock & Roll Hall of Fame.
The Rock & Roll Hall Of Fame has something for everyone, allowing visitors to get up close to artifacts from their favorite inductees.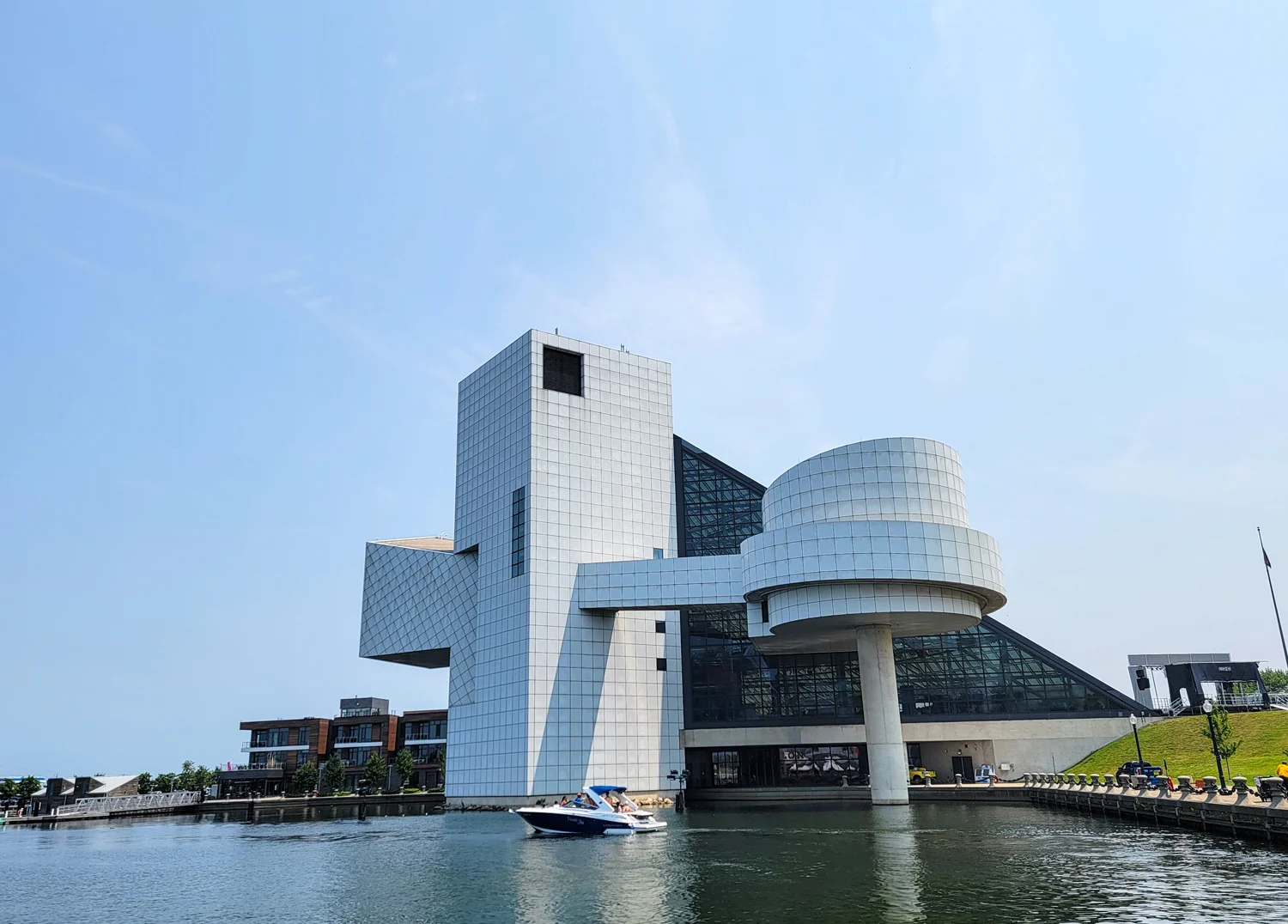 With over 300 inductees, everyone is bound to find an exhibit that is worth the price of admission.
Amazing Exhibits
One of the highlights of my trip was seeing The Doors collection. They have Jim Morrison's coat, a handmade card Morrison made as a child, and handwritten lyrics.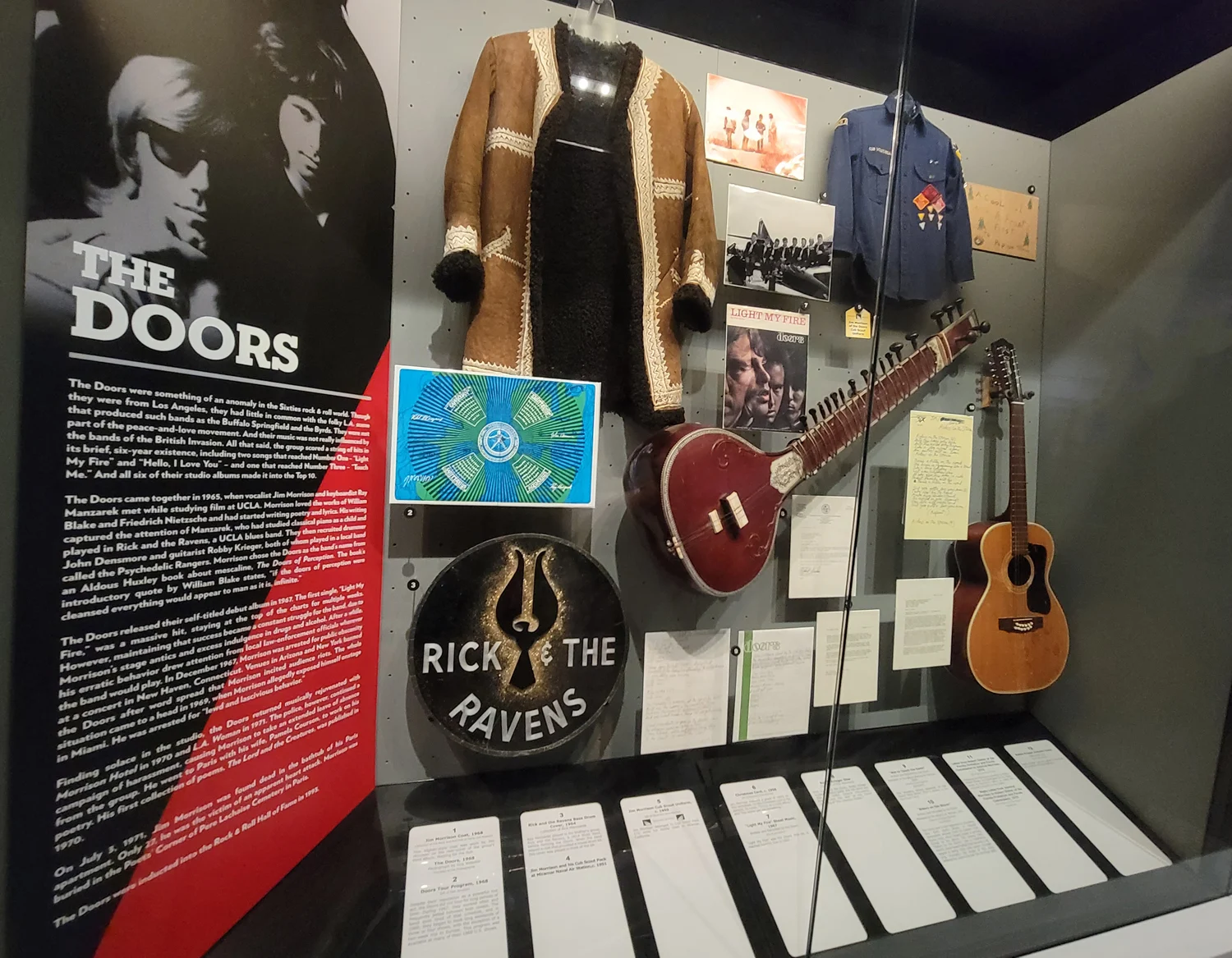 I have always loved The Doors and getting to see multiple pieces of their musical history was very exciting.
Even if you aren't a fan of The Doors, being able to see Riders On the Storm written out on a legal pad has to be thrilling.
Musical Artifacts
Although I am far from the biggest Michael Jackson fan, I was thrilled to see his glove on display. Being in the presence of something so famous and iconic makes for an unforgettable experience.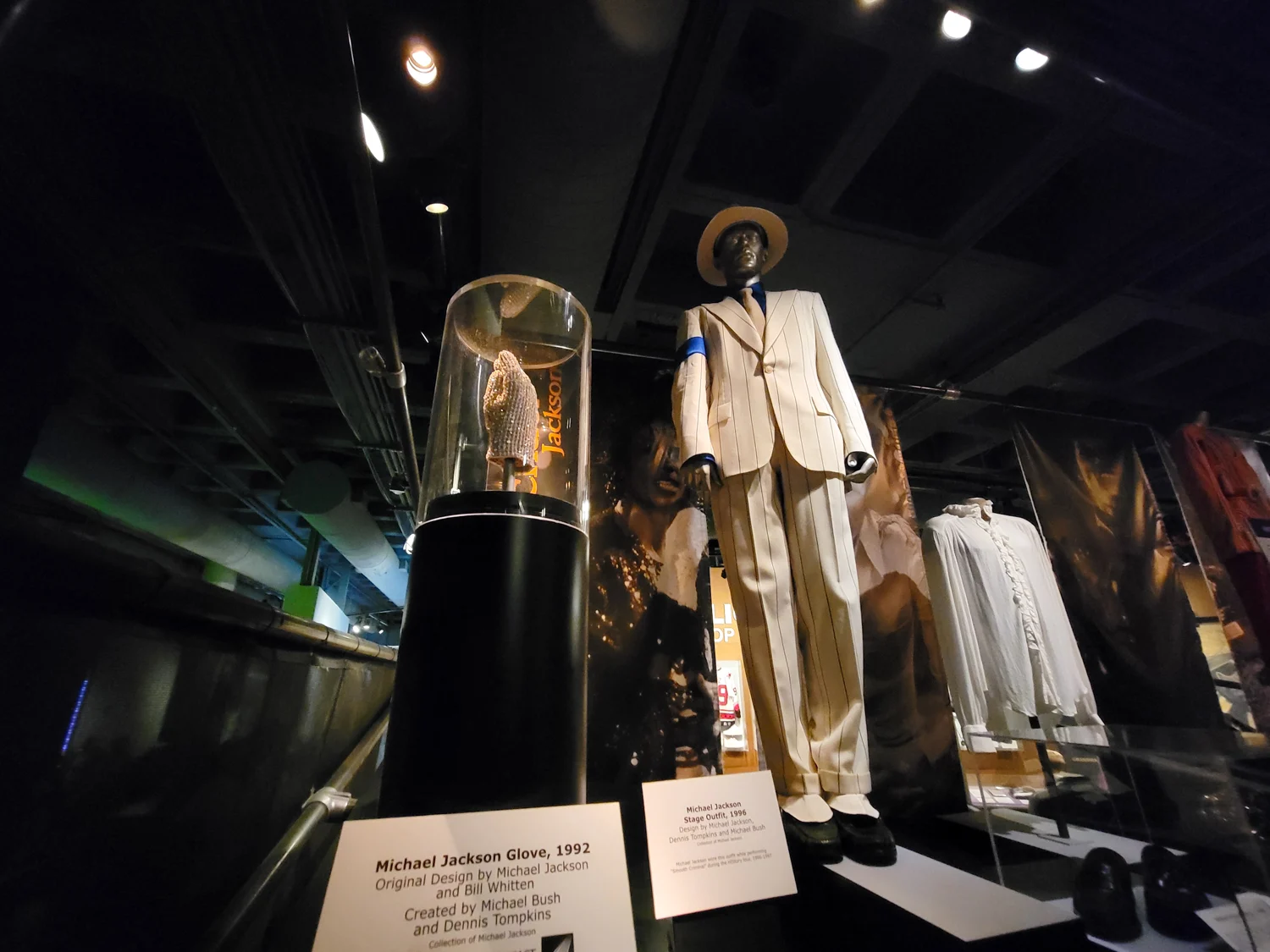 Getting up close to the instruments that were used to create my favorite songs was quite a feeling. As a kid when I was listening to The Doors and Jimi Hendrix, I had very little hope that I would ever get to see these artifacts up close.
Most of my favorite bands had come and gone, many died young and most were no longer touring by the time I started listening to them.
In many cases, visiting the Rock & Roll Hall of Fame is the only way to make a connection with the music legends I have looked up to for so long.
Hip-Hop Artifacts
I was pleasantly surprised to see the many exhibits celebrating hip-hop. From Slick Ricks's hat to Biggie's suit and glasses, there was a lot to take in.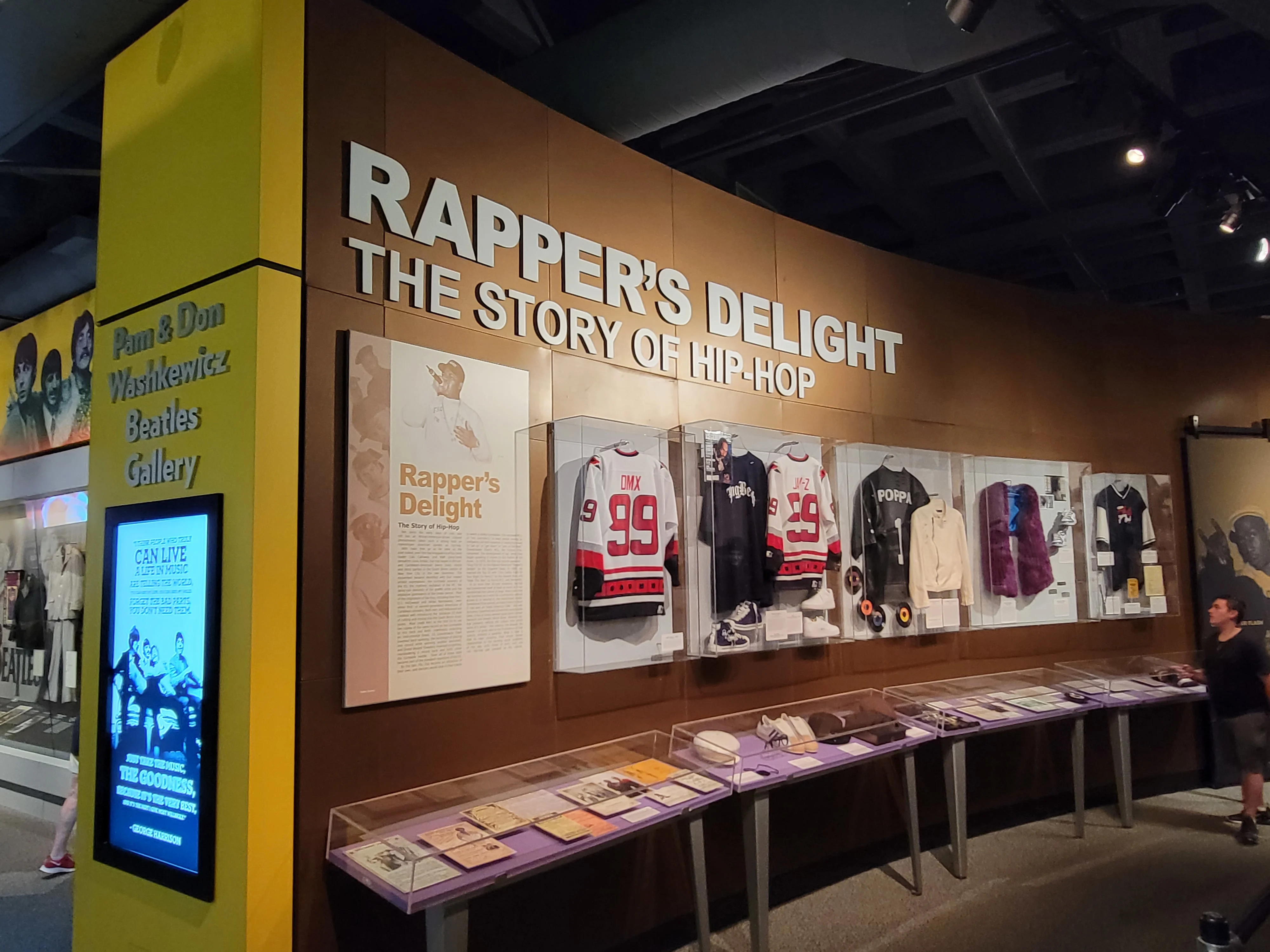 What really made the experience even more exciting was the different music playing from exhibit to exhibit.
While visiting the Nine Inch Nails exhibit, their music can be heard loud and clear. Just around the corner while visiting the Notorious B.I.G's exhibit, Biggie's hits are pumped out of the speakers at full volume.
The most exciting exhibit for my entire family to see was the Guns N' Roses exhibit. Here fans can get up close with Slash's hat, Axl's shirt, and a Guns N' Roses pinball machine that any fan would love to have in their own home.
What You Need to Know Before Visiting
While taking photos is completely fine, visitors are not allowed to use a flash, even in the dark rooms. Plus, the exhibits are equipped with an alarm that reminds visitors to keep away from the artifacts. This can make taking clear, high-quality photos difficult, but not impossible.
I was able to make great use of the 30x zoom feature on the Samsung Galaxy S21 Ultra 5G to take these clear, high-quality photos that appear to be up close to all of the exhibits.
Where to Play
Once you have had your fill of the rock hall and want to let the kids burn off some energy, I would suggest heading over to Swings-N-Things.
This family fun center is located right outside of Cleveland in the charming town of Olmsted Township.
Ride the go-karts, play mini-golf, hit the arcade or batting cages, and cool off with some ice cream.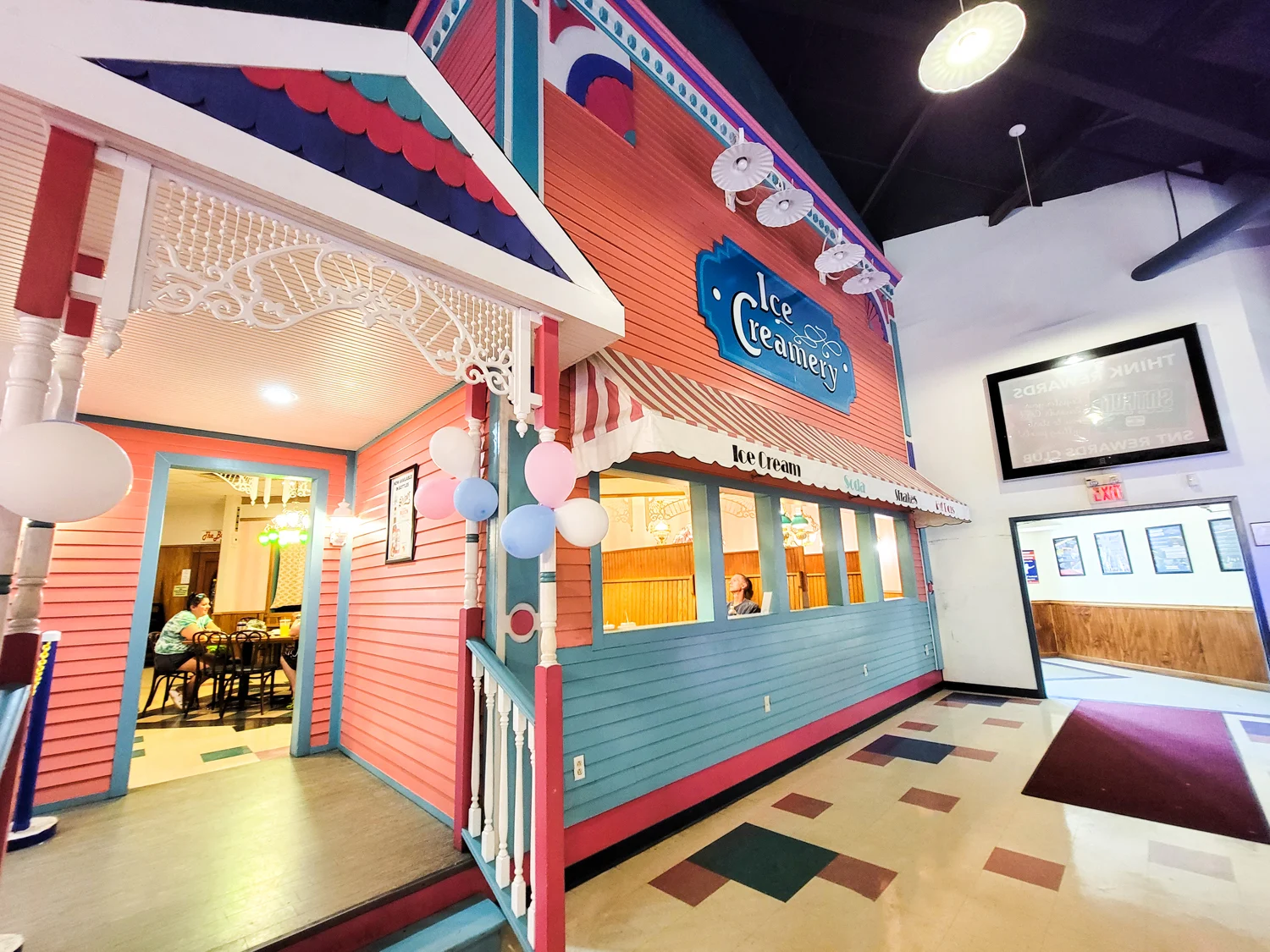 The Swings N things cafe offers pizza, nachos, and a variety of other treats for the whole family. Don't miss their homemade floats and milkshakes, these sweet treats are perfect for fueling up on some sugar before battling it out on the bumper boats.
Where to Eat
One of the most important parts of any trip is the food. As someone who grew up on the East coast, I have spent many trips in search of pizza and other foods that remind me of my childhood.
Vincenza's Pizza & Pasta claims to have the best New York-style pizza in Cleveland. Offering pizza by the slice, calzones, and a variety of crusts, Vincenza's has something for everyone.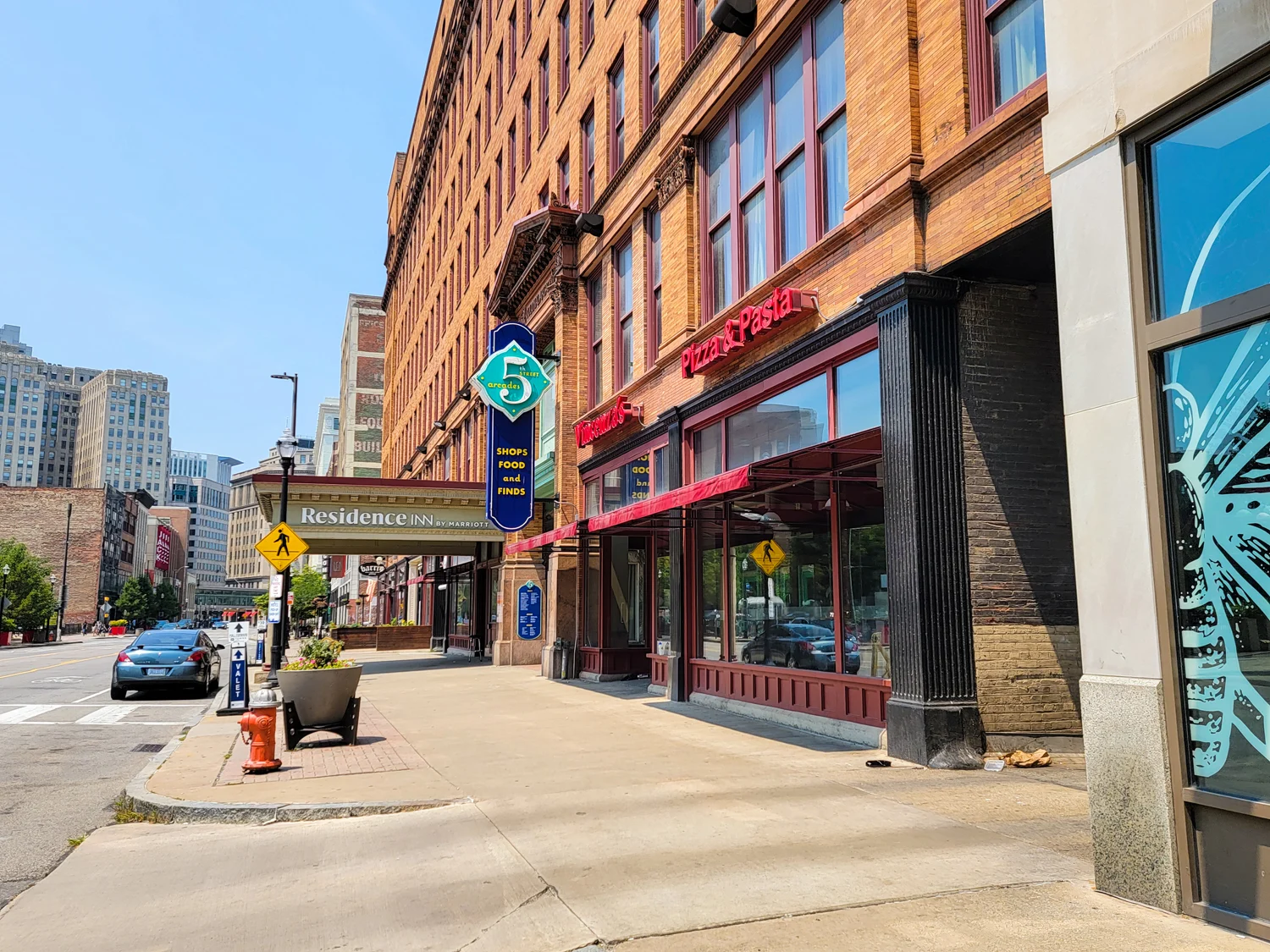 If you are interested in filling your belly before hitting the town, Lucky's Café is known for having the best brunch in Cleveland. Fuel up and then check out all of the fun this city has to offer.
Where to Stay
When planning your trip to Cleveland, it is important to pick a hotel that is nearby that offers good food, attractions, and all of the sights you want to see while visiting the area.
My family stayed at the Embassy Suites by Hilton Cleveland Rockside where we enjoyed a suite with a view of the fireworks from the sixth floor.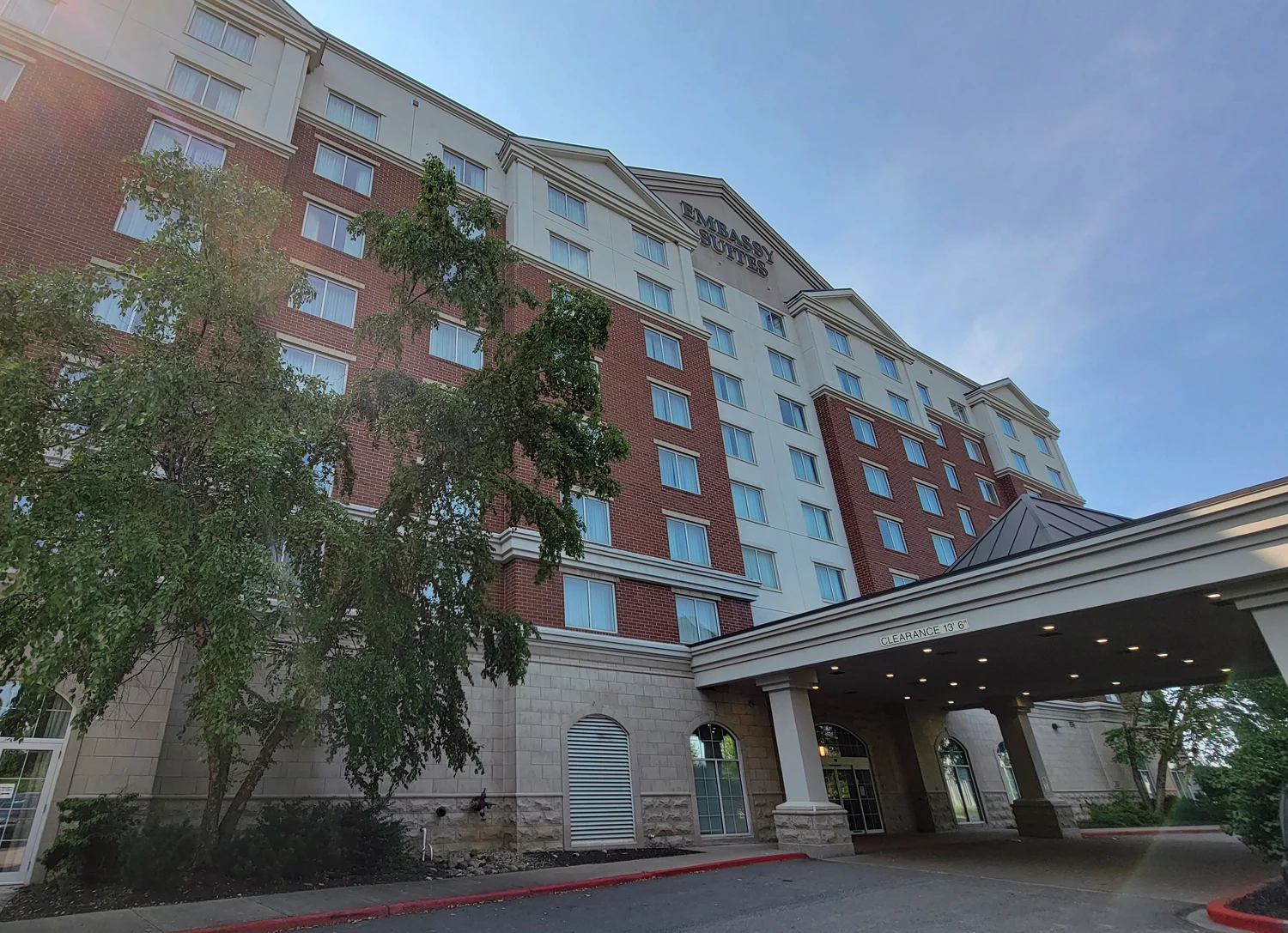 Our suite was equipped with a living room with a giant television in front of a sleeper sofa as well as a private bedroom with a king-sized bed.
Since we were on the sixth floor, we got to take many rides in the glass elevator which was a lot of fun for the whole family.
Some of the other perks of staying here are the free made-to-order breakfasts, the pool, and the fitness center, as well as the convenience of being located near everything we wanted to do in the area.

What Else Is There to See?
Anyone who grew up in the '90s and listened to hip-hop was familiar with the Bone Thugs-N-Harmony album, E. 1999 Eternal. This album introduced me and much of the world to the town of Cleveland. The lyrics shared with listeners what it was like to grow up on the streets of Cleveland's Eastside.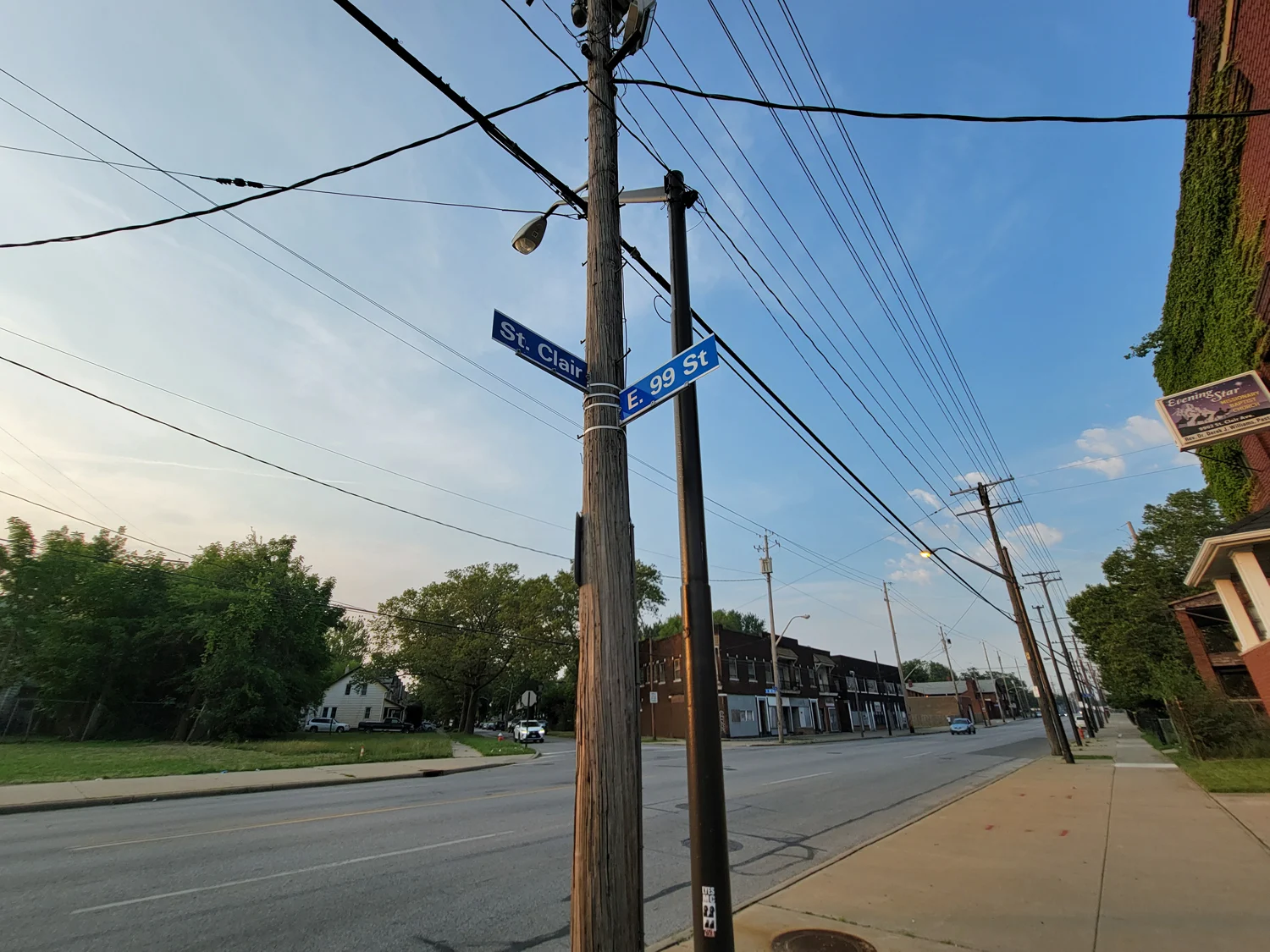 The album cover features the intersection of East 99th Street and St. Clair Avenue in Cleveland. This intersection has always been synonymous with the group, and I knew I couldn't visit the area without visiting this iconic location.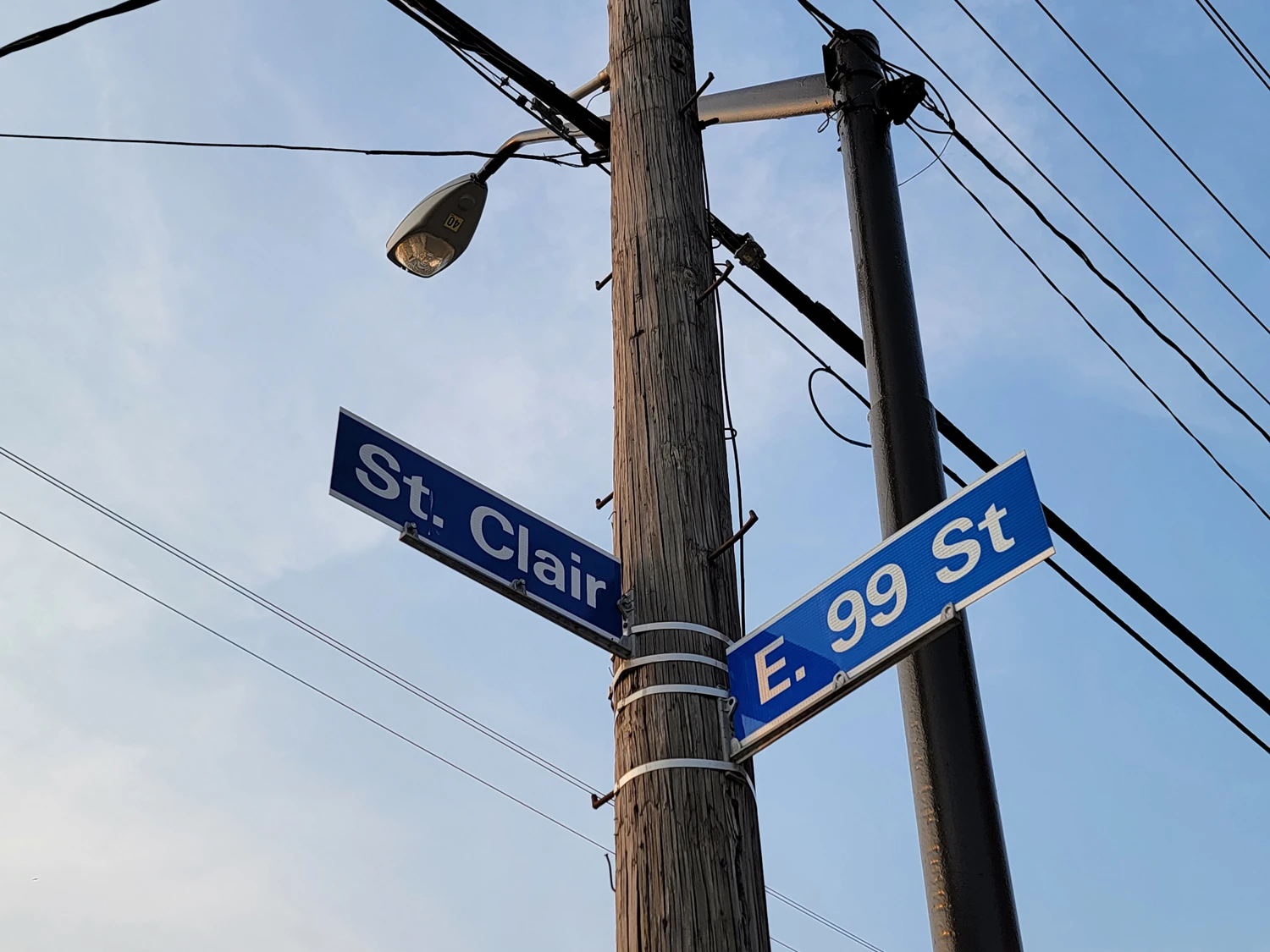 Check Out the Street Art
While driving and walking through the city, I noticed a lot of impressive art on the sides of the buildings. The Cleveland Public Power building has to be my favorite mural on the streets of Cleveland.
My daughter and I usually scope out things like this while my husband drives by without giving a second look.
Luckily, I was able to use the Single Take feature to capture a shot of this building as we sped by. Normally photos like this never see the light of day because they end up being just a blur on my camera roll, but since I was using the Samsung Galaxy S21 Ultra 5G, the photo came out clear.
This turned out to be one of my favorite pictures from the day!
More Street Art
Take the family on a 'Grand Piano Pursuit'. Can you spot all 15 of the pianos turned into works of art scattered throughout the city?
To get you started I will share an insider's tip, there was one located inside of the Rock Hall!
Live Entertainment
Head over to First Energy Stadium to take in a Cleveland Browns game or see a concert. Check out their site for dates and ticketing information.
You can also visit the filming location of The Shawshank Redemption while in the state.
I hope this guide has helped you to plan a fun trip that the whole family will enjoy. I can't wait to share more of my travels with you, so be sure to subscribe to the free newsletter so that you never miss a post.
Have you ever been to Cleveland? What is your favorite spot for the whole family?