This post-sharing Unique Las Vegas Restaurants is sponsored by GoRving.com. All opinions are my own.
One of my favorite parts of exploring new areas is trying new food. So, while we were in Vegas we decided to try out as many Las Vegas Restaurants as we could.
I quickly learned that Las Vegas has a lot of unique food options as well as quite a few classics that I haven't been able to find in Iowa. The seemingly countless options for dining in Las Vegas range from the upscale sit-down restaurant to the unorthodox vending machine options.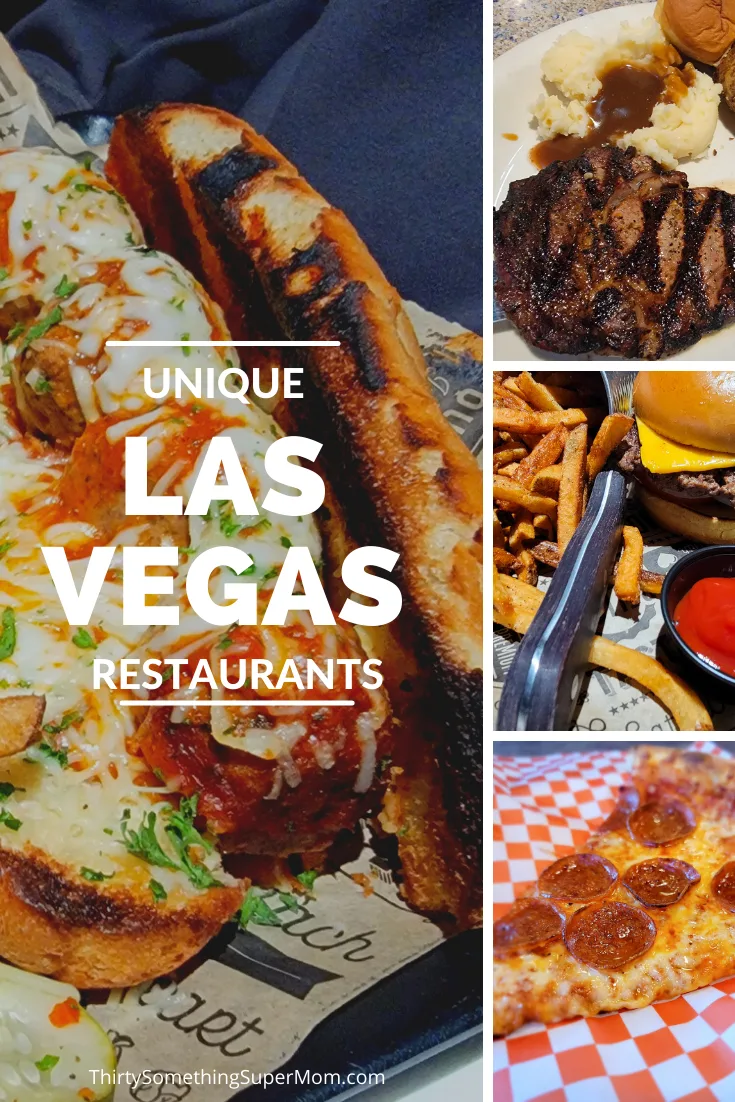 After seeing the varied options, I am confident that no matter what you are craving, there is a place serving it somewhere in Las Vegas.
With so many choices it can be difficult to decide on what to eat while visiting the Las Vegas area. Luckily, I pretended like the saying What happens in Vegas stays in Vegas applied to calories, and I ate everything my eyes landed on, so now I can share my favorites with you.
Best Las Vegas Restaurants for Dinner
Whiskey Licker Up Saloon located at 128 Fremont Street #2 Las Vegas, NV 89101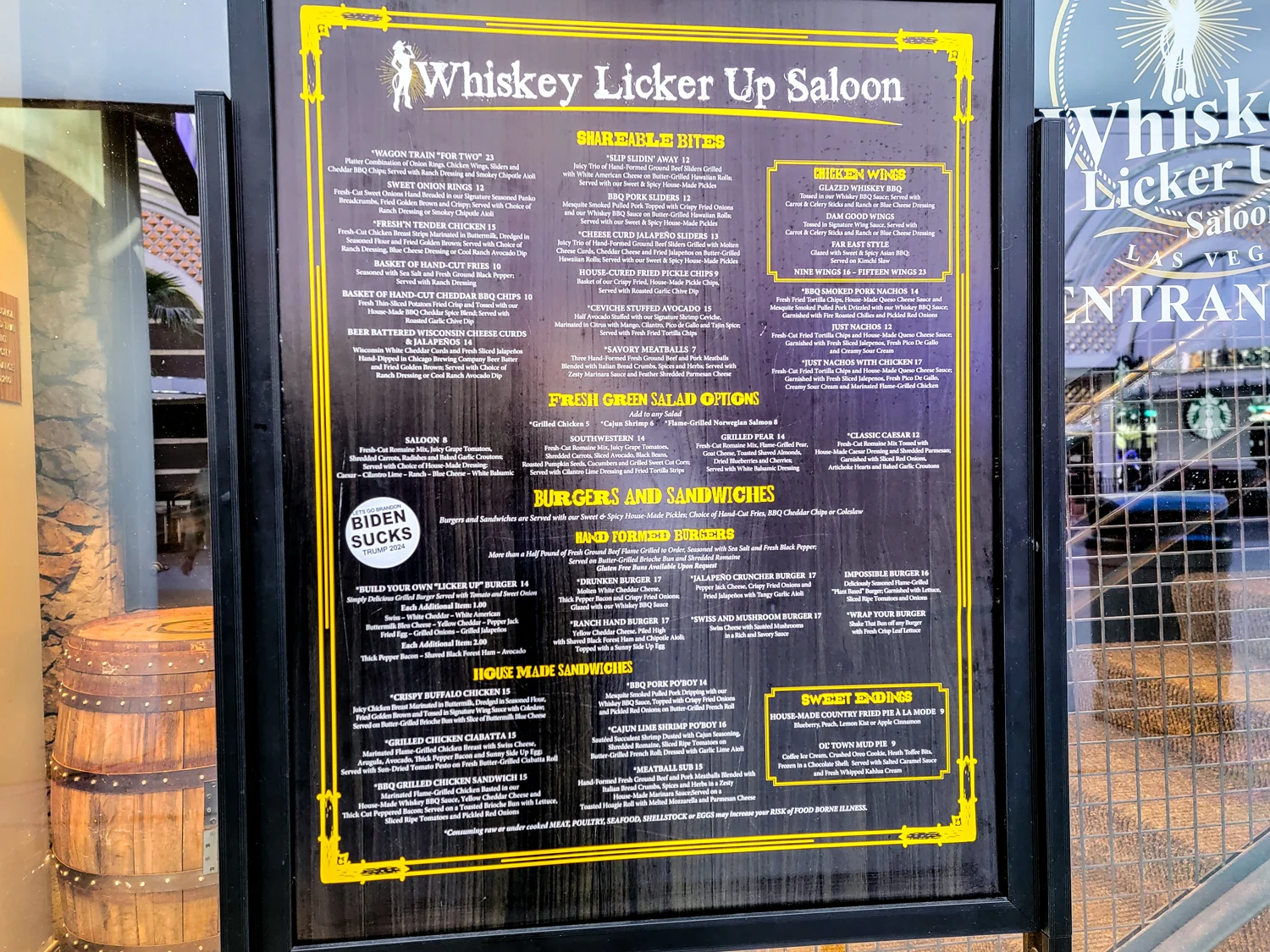 The traditional licker-up burger with a side of fries is a great lunch option for those visiting the popular tourist area of Fremont Street. The dining area offers plenty of space with booths, tables, and even a rotating bar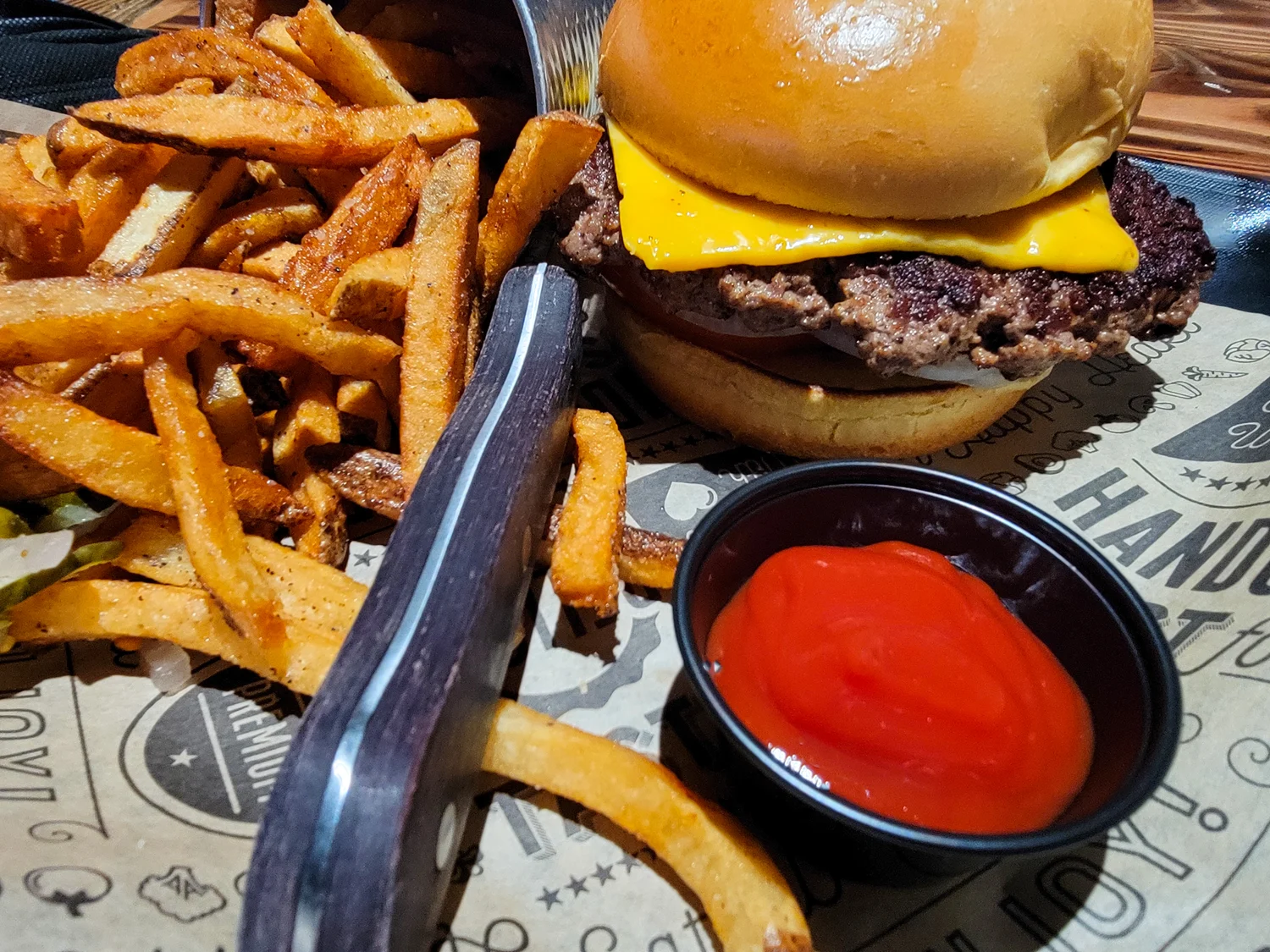 Another favorite at this location is the meatball sub with a side of fries. The bun is perfectly grilled, and the sub is topped with melted mozzarella.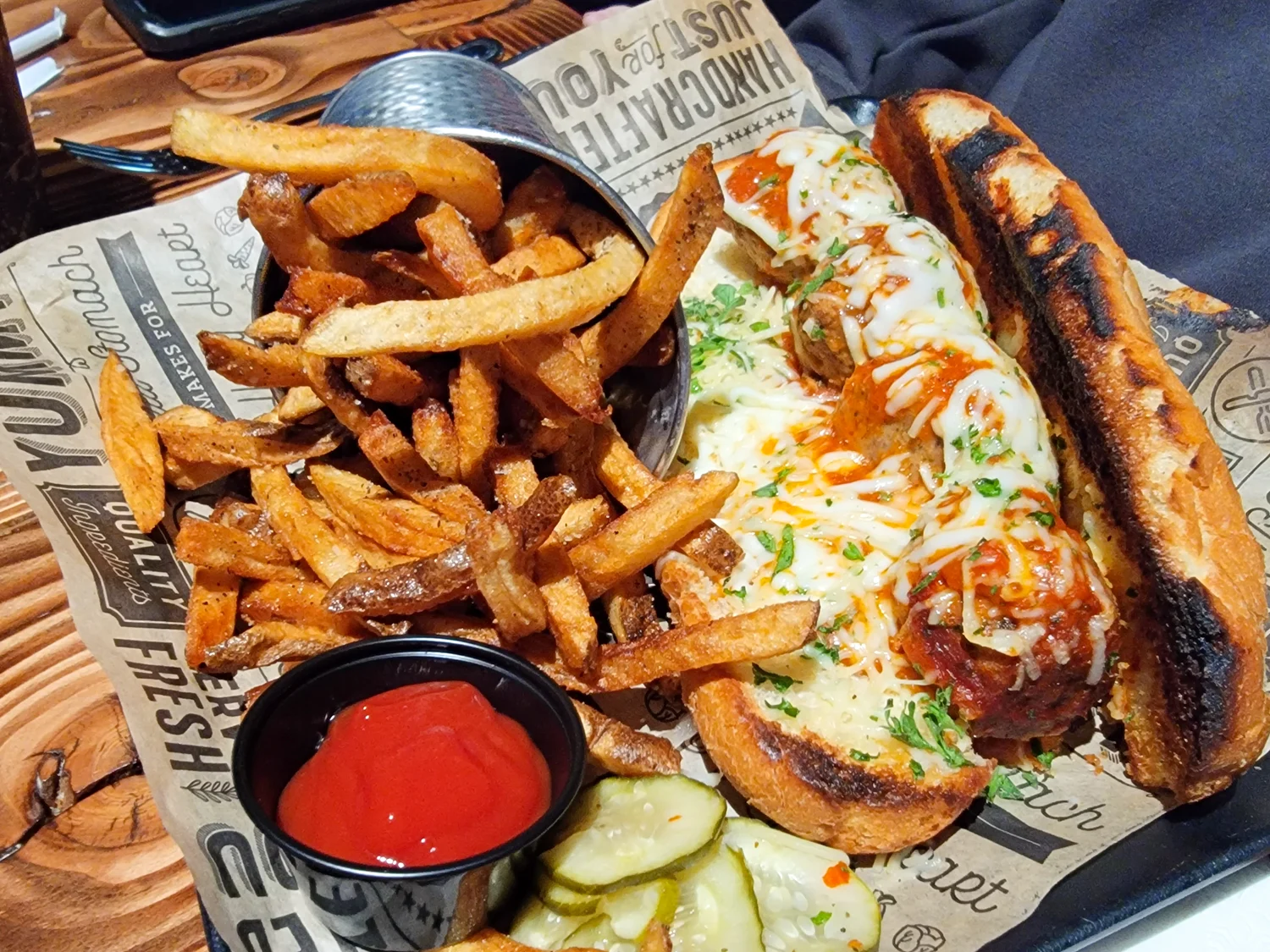 Hitchin' Post Saloon and Steakhouse located at 3650 Las Vegas Blvd N Las Vegas, NV 89115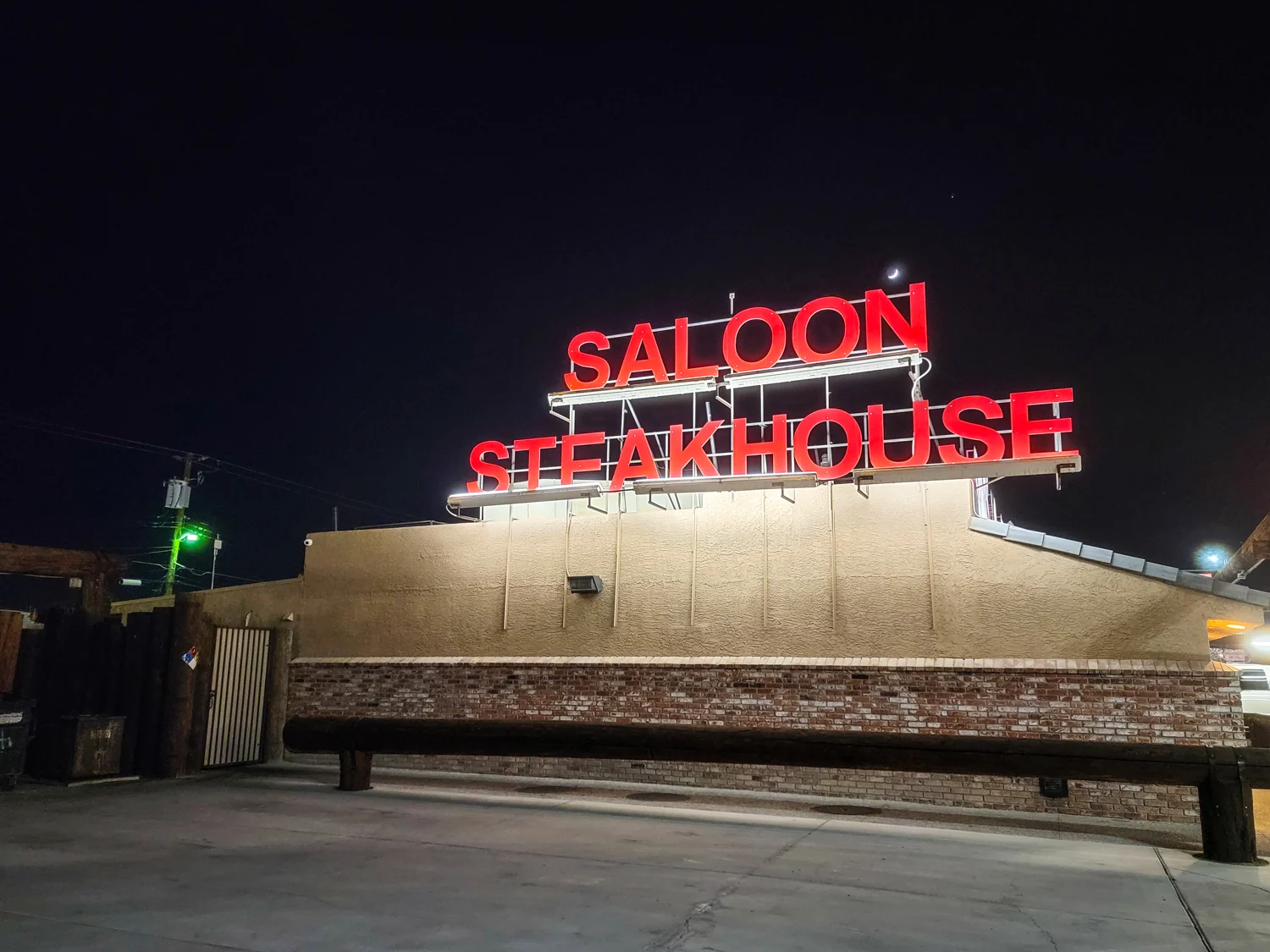 This place was my favorite spot to grab dinner in Las Vegas. My mom and I both ordered the 12oz Ribeye Steak with mashed potatoes, baked potato, and dinner roll.
The mashed potatoes came smothered in gravy and the dinner roll was served with plenty of butter.
The steak was cooked to perfection, and we enjoyed this establishment so much that we went back the next night for dinner.
Our second meal at the Hitchin' Post was the Chicken Wings & Fries. The buffalo sauce was delicious, and the fries went perfectly with this traditional bar food.
When we finished our meal, we headed into the bar for a drink and a little bit of gambling.
We enjoyed the vibe of this establishment, and the jukebox was cranking out all of our favorite hits thanks to a few regulars who fed the machine.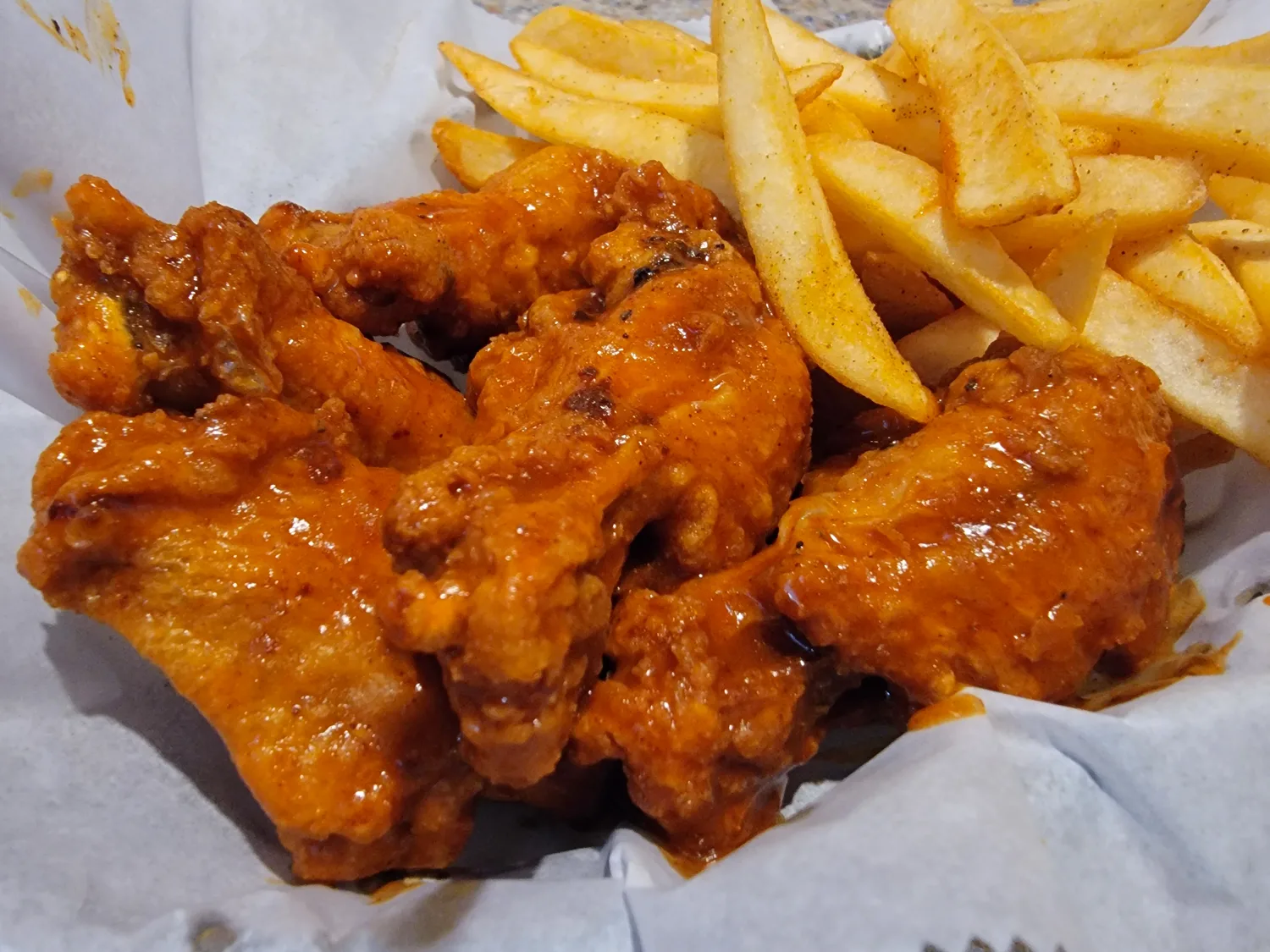 This saloon is located by an air force base and the waitress informed us that they offer a military discount.
So, if you are currently serving our country or have in the past, head over to this place when you are in the area to get to take advantage of this great deal.
Peppermill located at 2985 Las Vegas Blvd Las Vegas, NV 89109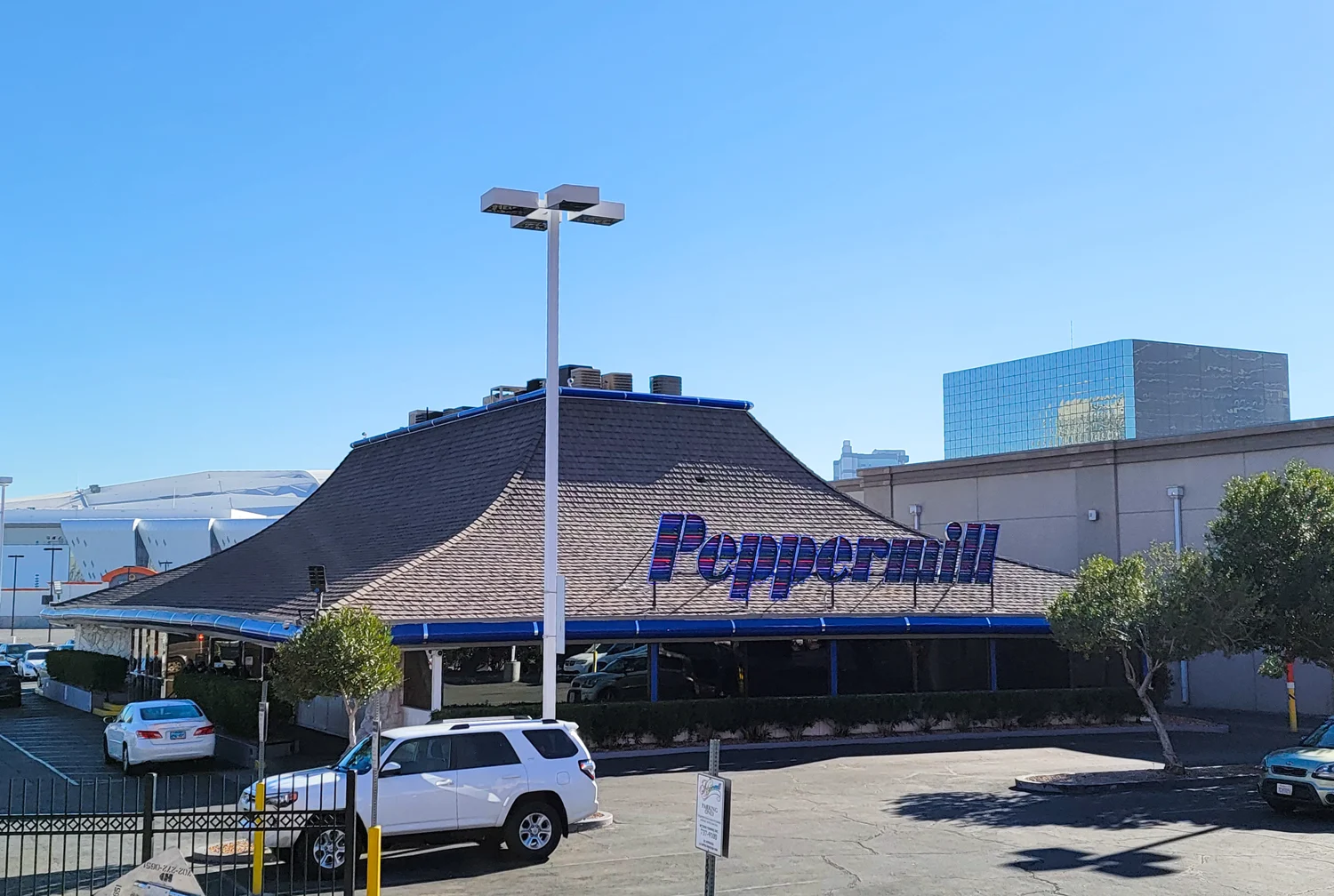 This famous restaurant serves up breakfast, lunch, and dinner, as well as gourmet deserts. Aside from the expansive menu, this restaurant is known for its appearance in films such as Casino, Swingers, and Showgirls.
This eatery is also a hotspot for celebrities including Floyd Mayweather, Penn Jillette, Criss Angel, and Guy Fieri. You never know who you may run into when dining in this colorful hideaway.
Smoke & Fire 3315 E Russell Rd suite a-5, Las Vegas, NV 89120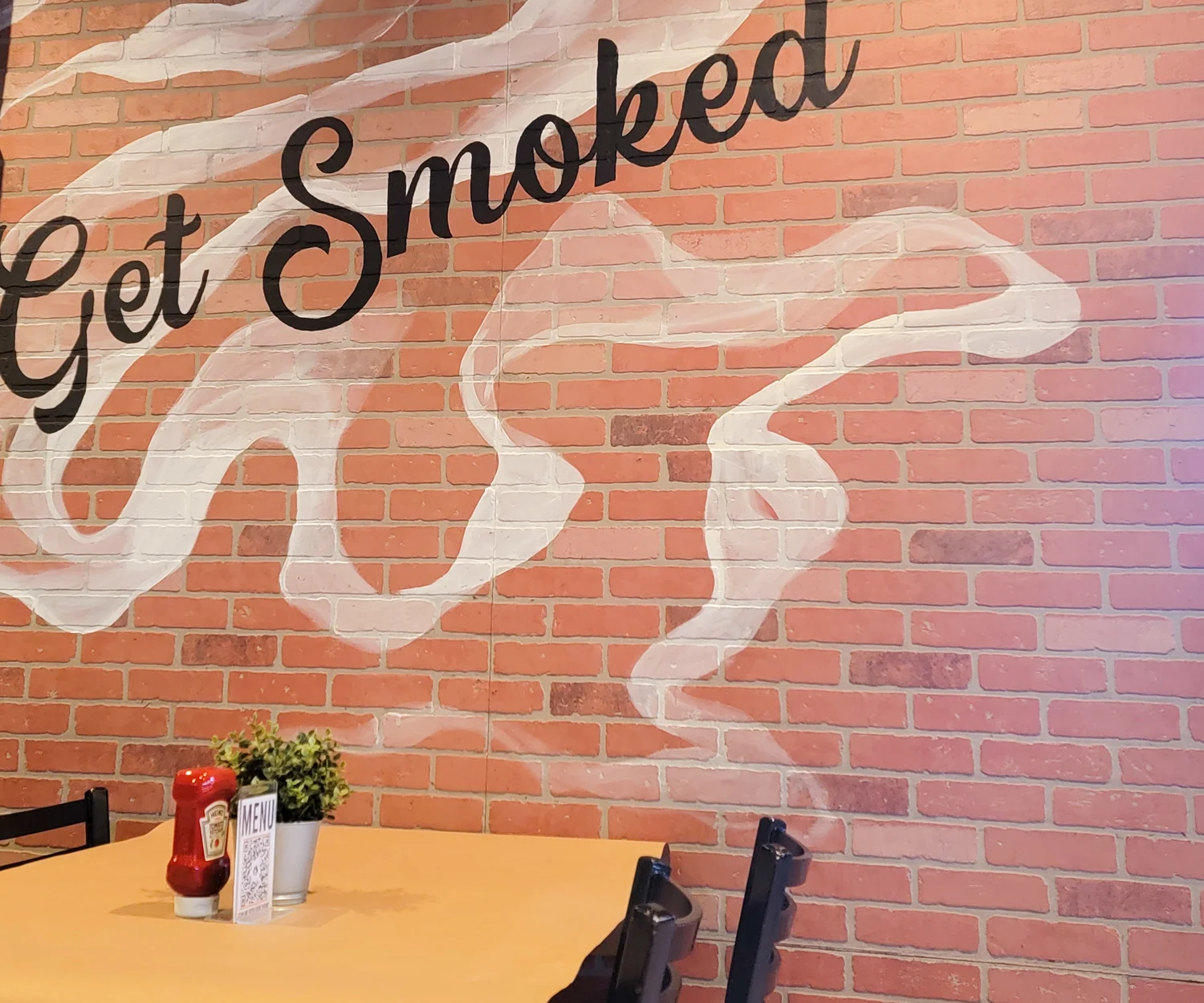 If you are craving barbecue or typical bar food, Smoke & Fire is worth a try. We enjoyed the Smoked Pulled Pork Sliders with a side of Inferno fries.
Keep in mind that the fries are a large serving, and you may want to share an order with the table rather than order another side for yourself. There is plenty to go around!
Monday – Friday Take advantage of their Happy Hour from 2:30 PM – 5:30 PM and only pay $3 for any slider. This is the perfect opportunity to try out the World-Famous Blueberry Chicken Sliders.
Gordon Ramsay Fish & Chips is located at 3545 S Las Vegas Blvd, Las Vegas, NV 89109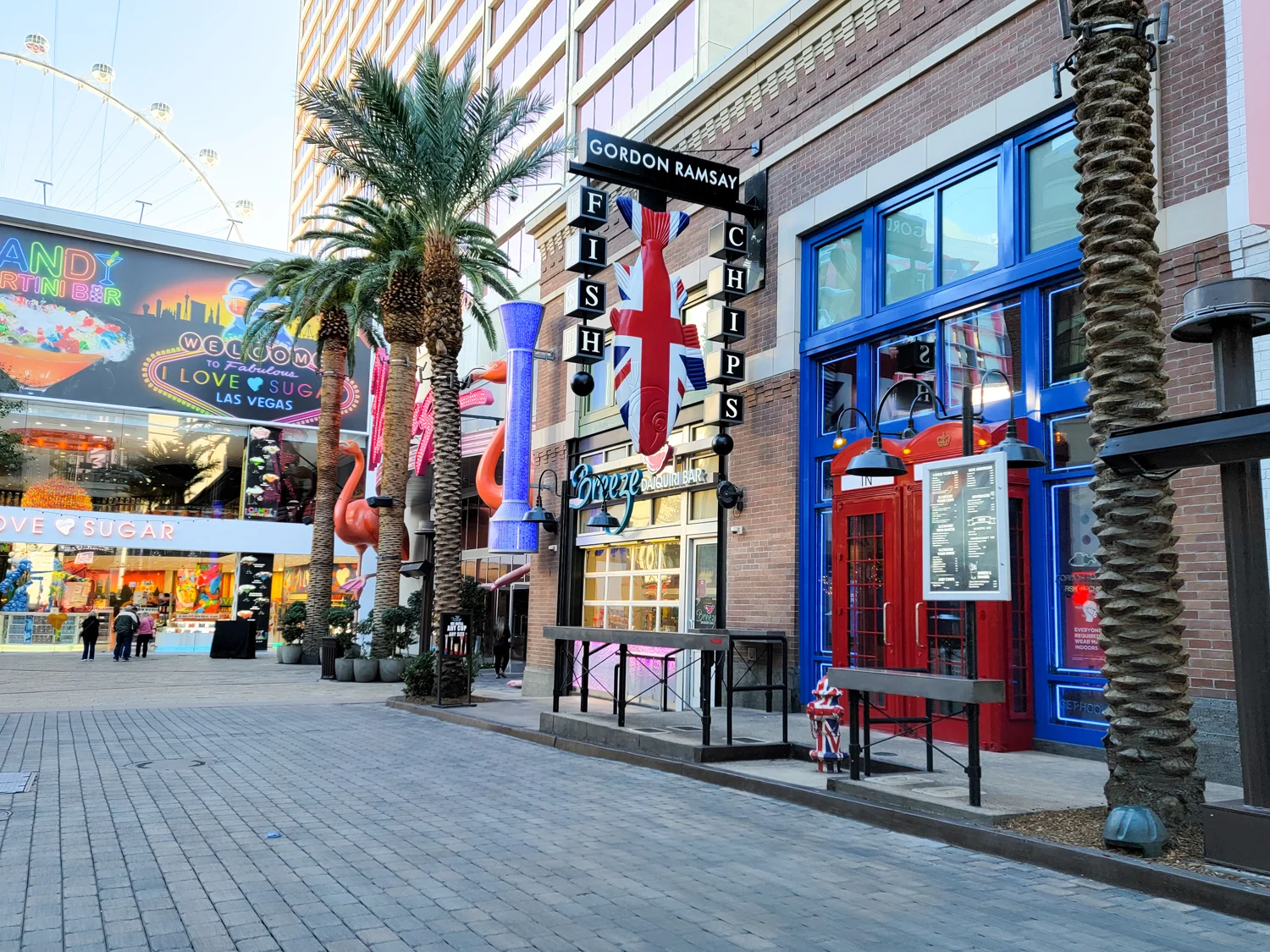 This award-winning restaurant offers quick bites in a casual atmosphere. Serving up traditional fish and chips alongside a few other fried favorites such as chicken and shrimp.
This restaurant also has a few unique dessert options for those with a sweet tooth.
The Best Las Vegas Buffets
Garden Court All You Can Eat Buffet- located at 200 N Main St, Las Vegas, NV 89101
This all-you-can-eat buffet offers a little bit of everything, or if you are really trying to get your money's worth, a lot of everything.
The bread and salad options are impressive, and the variety offered at this eatery is sure to please everyone in your crowd.
The Buffet at Wynn is located at 3131 Las Vegas Blvd. Las Vegas, NV 89109 This buffet is known for its live-action cooking stations and can be quite pricey, a gourmet dinner is priced at $69 per person.
If that isn't enough, you can add another $29 for permission to drink all you want while there.
Unique Las Vegas Mexican Restaurants
Tacos El Gordo is located at 3041 S Las Vegas Blvd, Las Vegas, NV 89109. Tacos El Gordo came highly recommended by our tour guide and I can see why there is a line around the block most days.
The variety of taco options is impressive, and this authentic Tijuana taco experience isn't easy to replicate elsewhere.
If you are looking for some homemade tortillas and guacamole in the Las Vegas area, this is the place to go!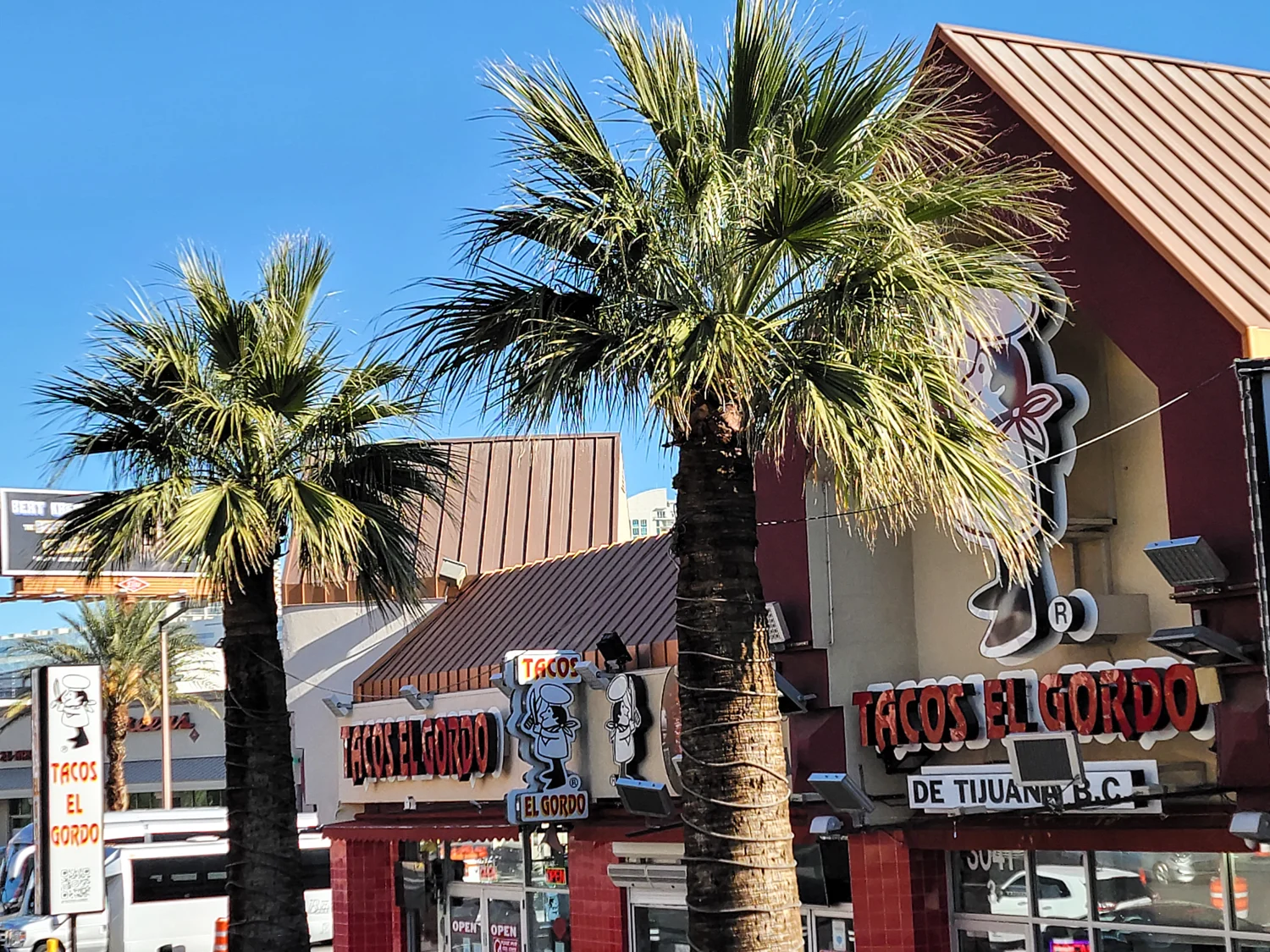 Senor Frog's Las Vegas is located at 3300 Las Vegas Blvd S, Las Vegas, NV 89109 This establishment offers more than just typical Mexican food. If you are a fan of RuPaul's drag race, you may recognize some of the entertainers at the drag brunch.
You can also have desserts and a variety of drinks and international dishes.
Rubio's Coastal Grill is located at 9310 W Sahara Ave Suite 100, Las Vegas, NV 89117 Although they are famous for their fish tacos, Rubio's has many coastal-inspired flavors. If you are dining with the family, pick up a family burrito box or a family taco kit.
Unique Las Vegas Restaurants Serving Pizza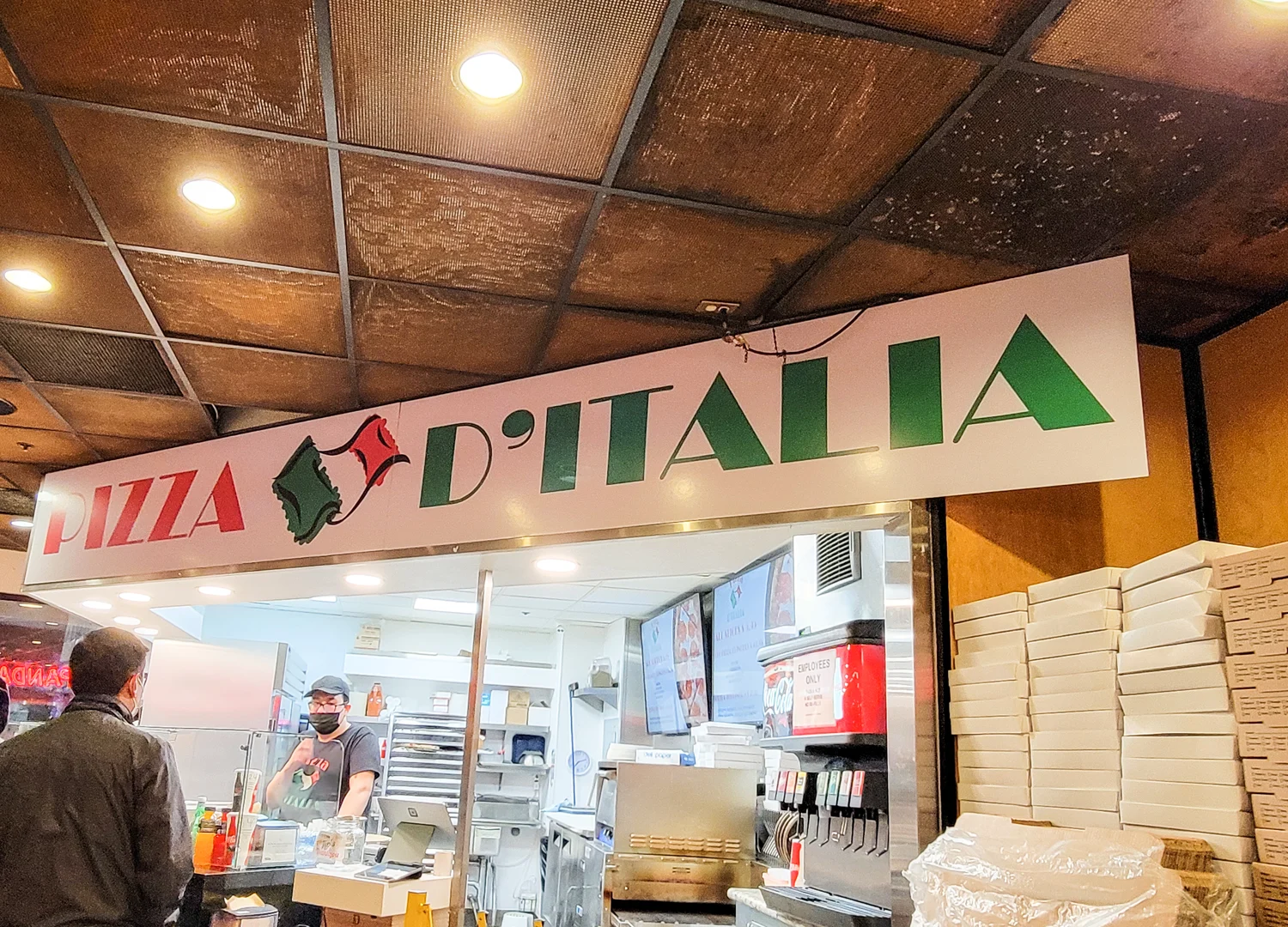 Pizza D'Italia is located at 3717 S Las Vegas Blvd, Las Vegas, NV 89109 Enjoy a variety of Italian dishes or just grab a slice of this cheesy pizza. I wouldn't call this real NY-style pizza, but it was enjoyable.
The garlic knots are great and the convenience of being able to pop in for a slice while walking the strip is nice.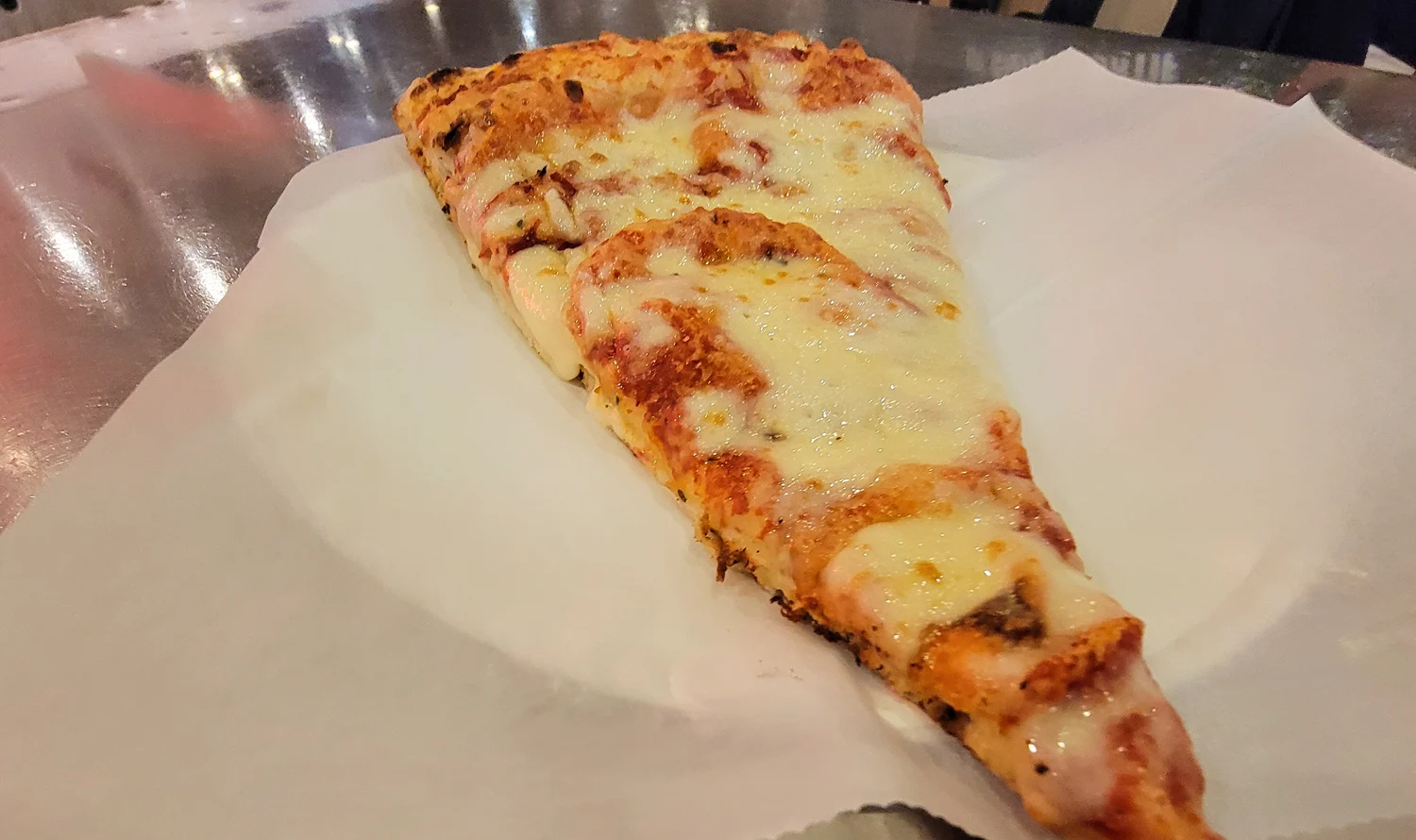 Joe's New York Pizza is located at 7580 S Las Vegas BLVD. We tried a few pizza places in the area that claimed to have real NY pizza.
Although we didn't find a NY-style pizza place that lived up to our expectations, Joe's was the closest to the real thing in my opinion.
It was very good and had the flavor of the pizza we enjoyed growing up on the east coast. If this place was located near my home in Iowa, it would be my regular place for sure.
It wasn't quite as juicy as our favorite pizza place back home, but it was very close. If you are craving a good slice of NY style, I would suggest giving this place a shot.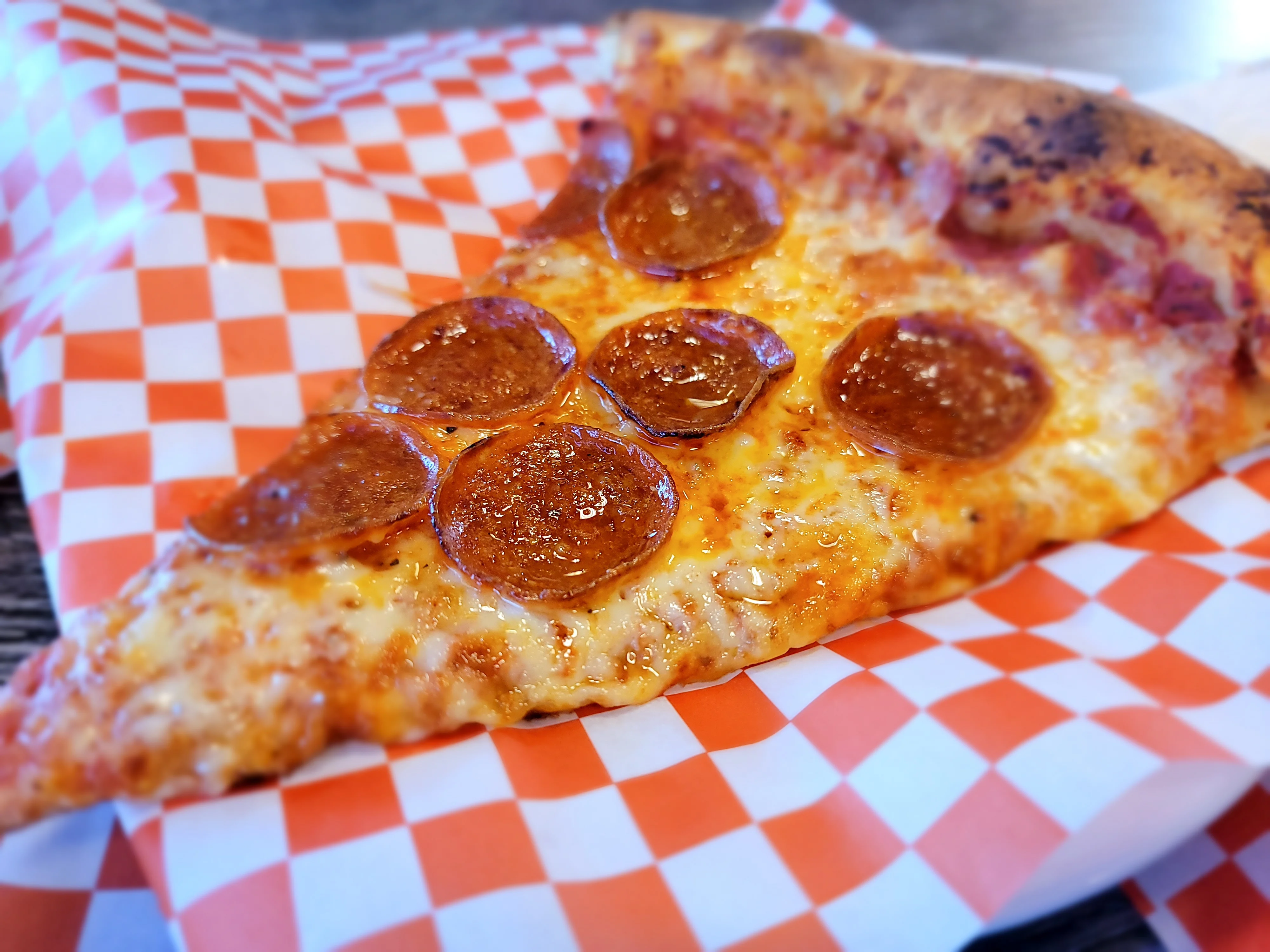 Grimaldi's Pizza is located at 3327 Las Vegas Blvd S Ste 2710 If you are looking for a nice sit-down restaurant with a delicious pizza, Grimaldi's is the place to try.
While this wasn't NY style, this coal-fired brick oven pizza was delicious in its own right.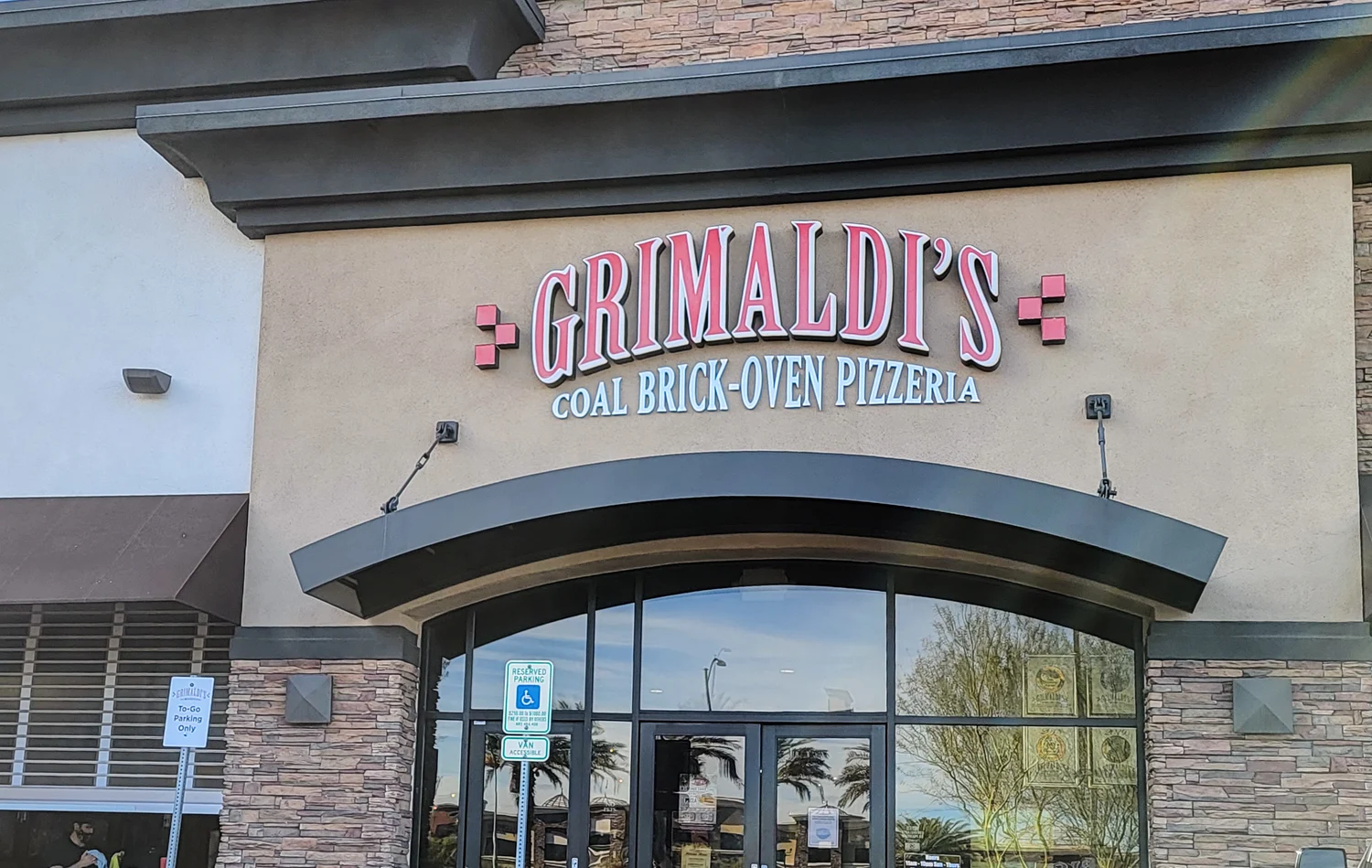 The tomato sauce had a great flavor and wasn't bland or overpowered by too many seasonings. This pizza was the perfect combination of a doughy crust, flavorful sauce, and gooey cheese, plus the pepperoni was perfectly cooked.
Las Vegas Themed Restaurants
The Speakeasy is located in the basement of The Mob Museum, which is located at 300 Stewart Ave, Las Vegas, NV 89101
Try some giggle water alongside a few shareable items like the vegetarian hummus plate or the dippable pretzel bites with beer cheese.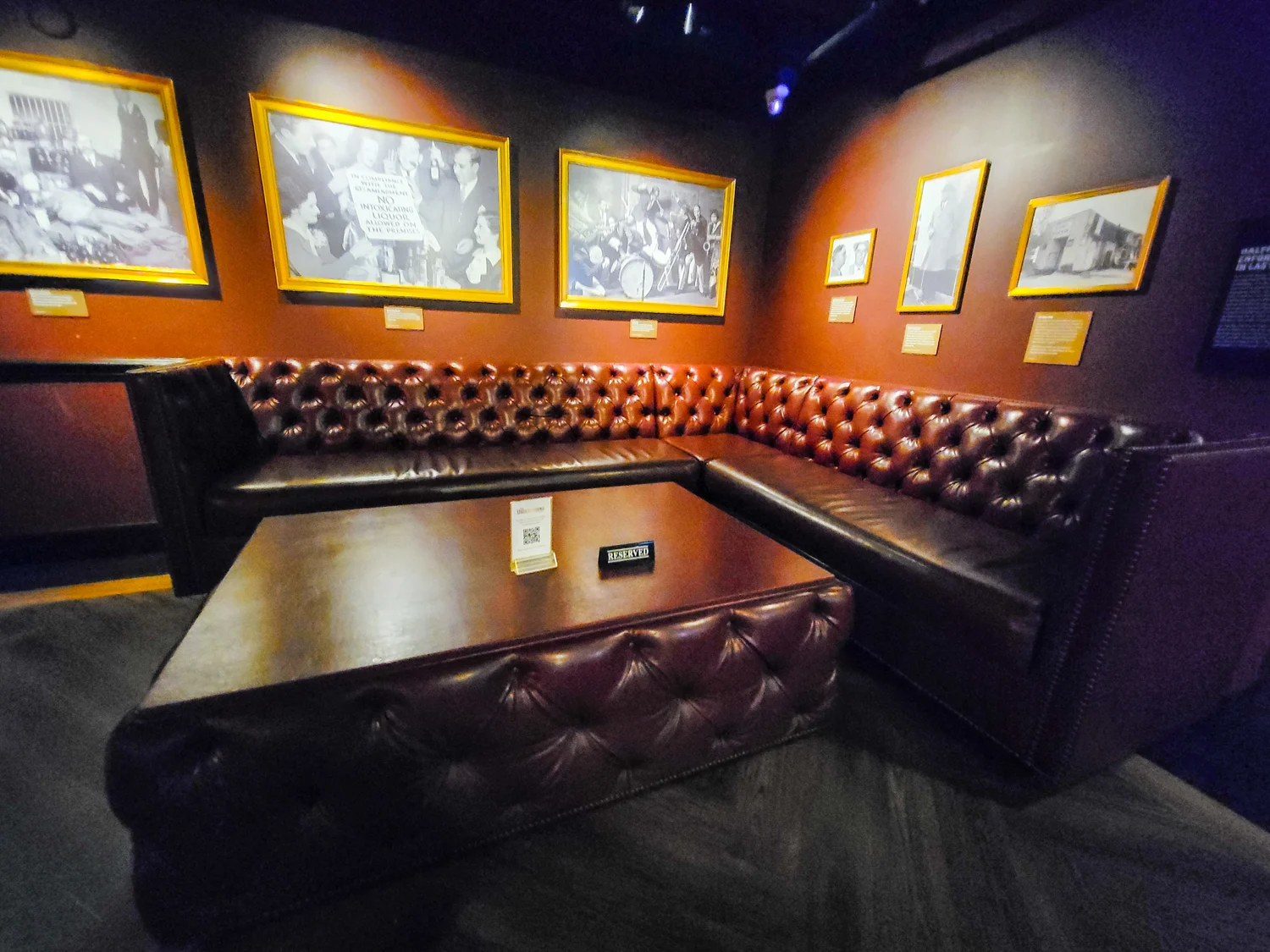 Heart Attack Grill located at 450 Fremont St #130, Las Vegas, NV 89101
Known for their coronary dog, octuple bypass burger, and flat liner fries, this unique eatery offers visitors that weigh more than 350lbs a free meal. The staff and restaurant are hospital-themed, and patrons may get spanked and weighed upon entry.
Las Vegas Vending Machines
While a vending machine doesn't exactly qualify as a restaurant, I was so blown away by these things that I had to include them.
With the variety offered in this area, you could fill up on treats from the vending machines if you want to, but maybe you will just want to try it out since you probably won't get a lot of chances to do something like this anywhere else.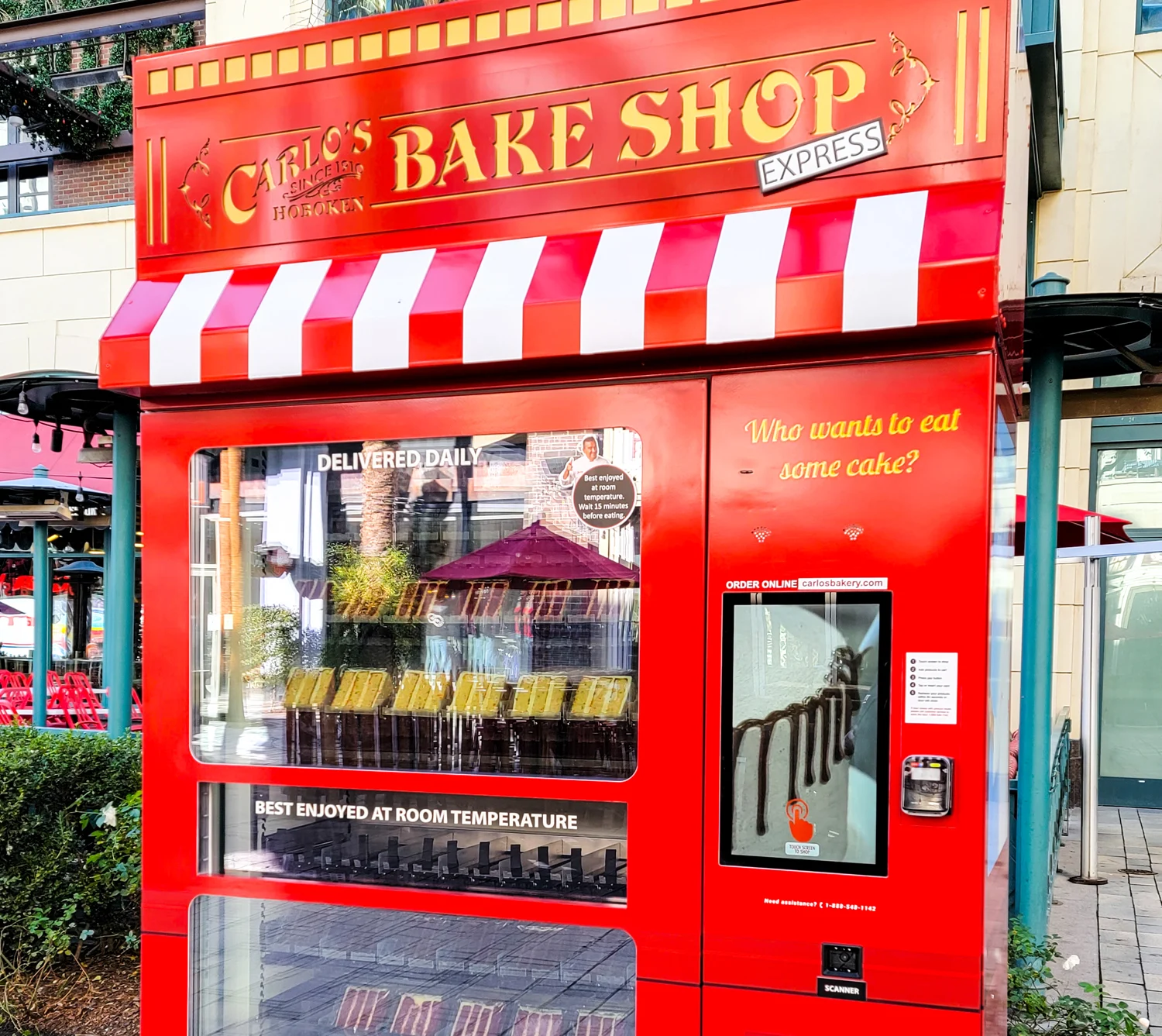 These vending machines are located throughout the strip, and some can be found inside the casinos, as well as the airport.
Some of our favorites included a cake vending machine, a cupcake vending machine, and a cookie dough vending machine.
Las Vegas Fast Food Restaurants
IN-N-OUT Burger located at 3545 S. Las Vegas Blvd, Ste L24, 89109 This is one of those places that you just can not find in many locations so while you are in the area that has one, it may be best to try it out.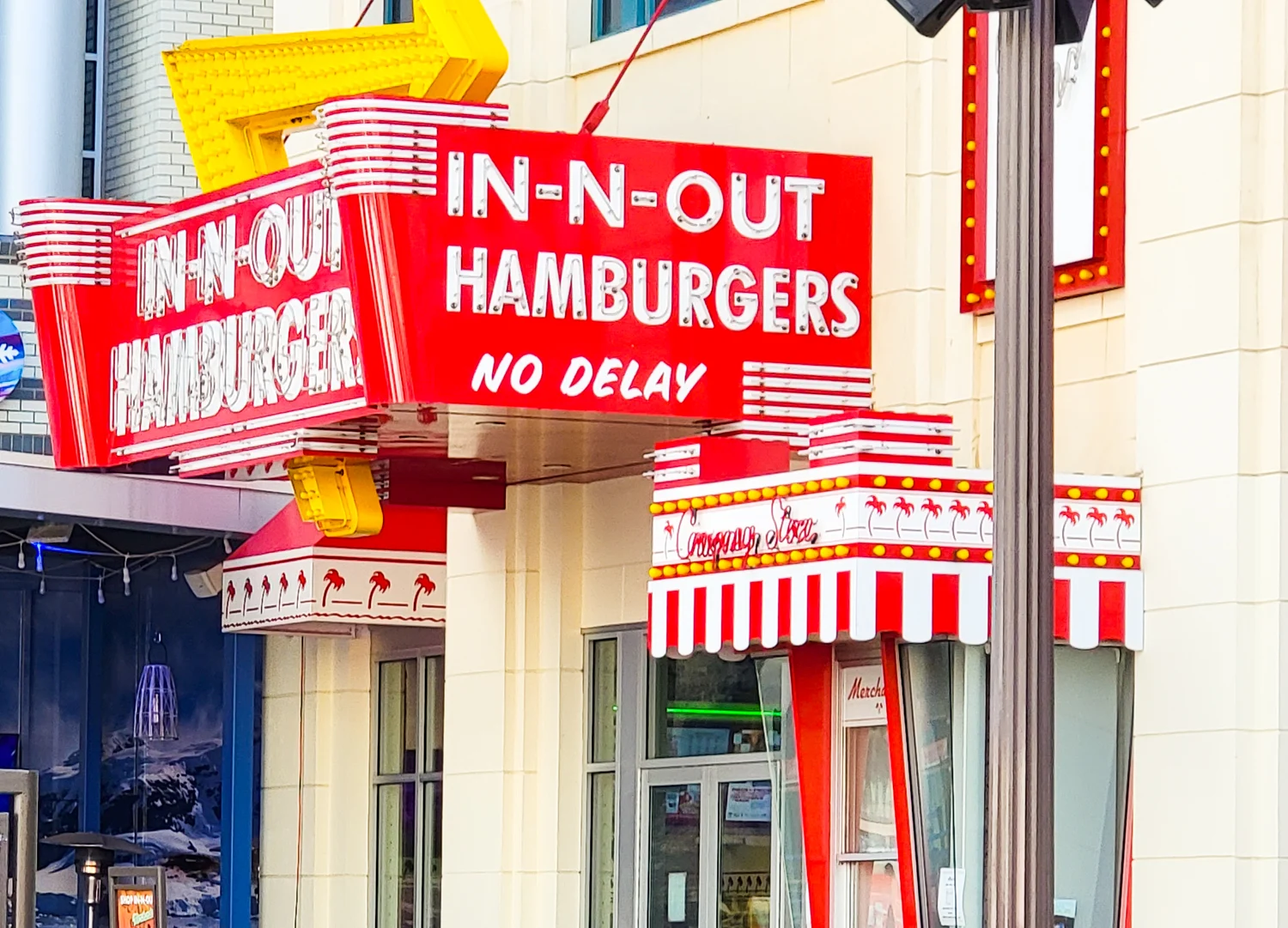 White Castle– Growing up on the east coast, this is one of those places that I missed when I moved away. We do not have White Castle in Iowa so whenever we are in a location that has this chain known for their hamburger sliders, we must get one!
There are several different locations in the area but if you are planning a visit to Fremont Street you will want to head to 107 N 4th St, Las Vegas, NV 89101.
If you are visiting the strip, the best White Castle location to visit would be located at 3411 S Las Vegas Blvd, Las Vegas, NV 89109.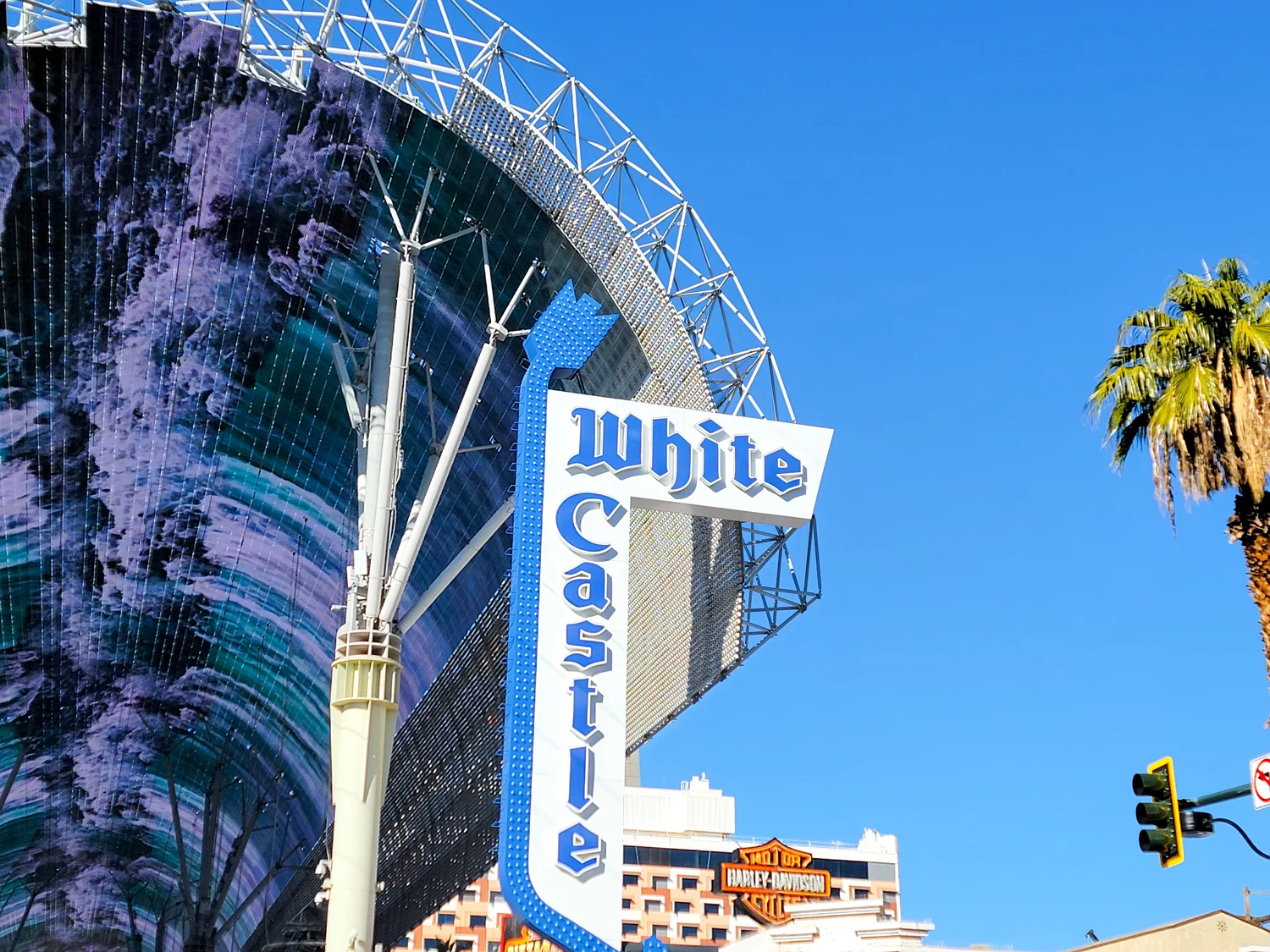 Jack in the Box is located at 1591 S Main St, Las Vegas, NV 89104 This is another one of those places that I have always heard about but never had the chance to try until in the Las Vegas area. Jack in the Box seems to be most famous for their spicy cluck sandwich and curly fries. If you are in the mood for a quick bite, this may be worth checking out.
Skip the Las Vegas Restaurants and Make Your Own
When planning this trip, we searched through GoRving.com to make sure that we found the perfect type of RV to make our stay in Las Vegas as perfect as possible.
One of the things we wanted our home away from home to have was a full kitchen so that we could cook some of our own meals.
My mom and I spent some quality time at the Las Vegas RV Resort preparing our own food when we wanted some quiet time away from the crowds.
Sometimes you just want a good home cooked meal and the best way to make that happen while away from home is to travel by RV.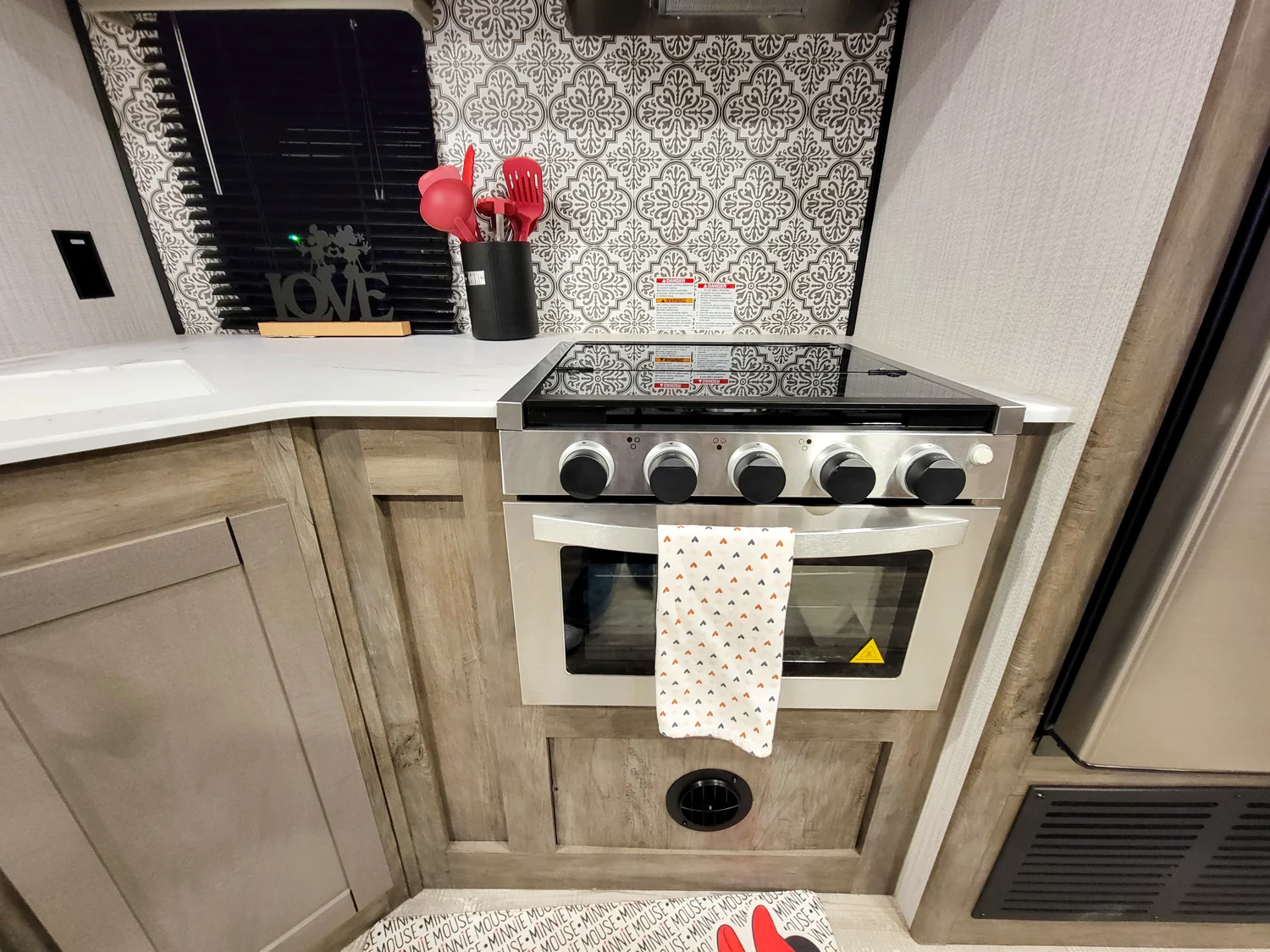 Did you know that you can rent an RV with everything you need to have the best vacation without having to drive it? The first step to make this happen is to head over to GoRving.com and find out what the perfect RV is for your family's needs.
Then head over to Outdoorsy.com to book your Rv. You can have the RV delivered to your campsite and picked up without ever having to drive it.
We chose a towable option which allowed us to hop in our car for the day to explore the area. We then were able to return to our home away from home to relax and cook some meals right at the campground.
When a middle-of-the-night craving hit for some ice cream, we just hopped in our car and went back out to grab some treats.
Traveling this way has opened my eyes to so many more options that I never knew were possible. No need to spend several days of your vacation driving to a fun destination.
You can fly in and check into your RV at the campground when it is convenient for you. No more wasted days in the car, just head over to Gorving.com to find the perfect RV for your family trip and start planning your dream vacation now!
Be sure to see what our favorite attractions in Las Vegas were and find out more about the Airbnb for Rv's from yesterday's post.
Be sure to sign up for the free newsletter and follow along on social media so that you don't miss the rest of this Las Vegas Mother-Daughter Trip series.