This simple marinade for venison serves as an all-purpose venison marinade for a variety of cooking methods. This delicious recipe is made up of simple ingredients that you probably already have on hand.
Whether you are cooking venison on an open flame, in a pellet smoker, or a cast iron skillet, this delicious marinade will elevate the flavor profile and tenderness of the meat.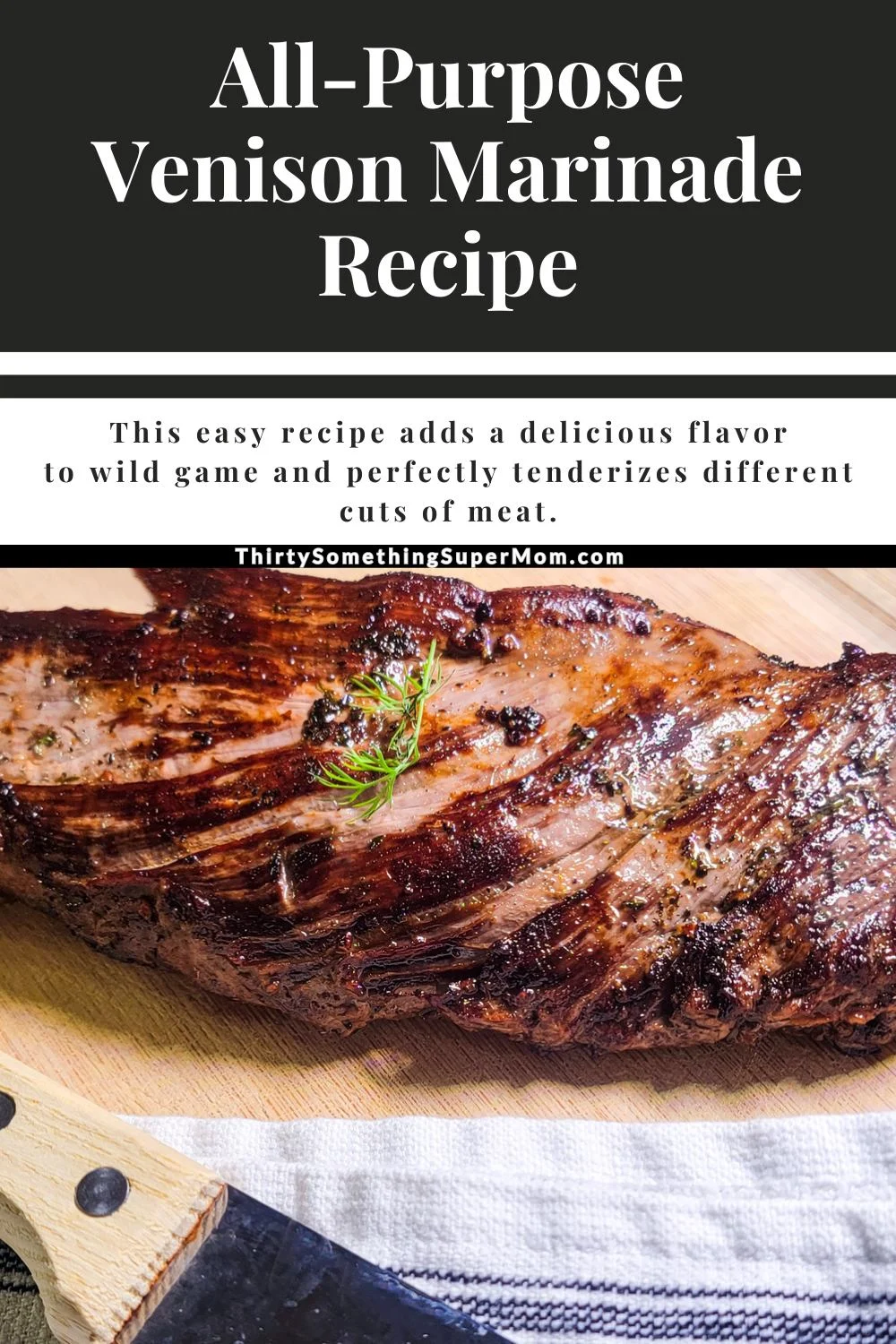 Although this great marinade recipe was created with venison tenderloin in mind, it's my go-to for added flavor on almost any cut of venison.
So grab whatever cut of meat you are cooking and let's get started.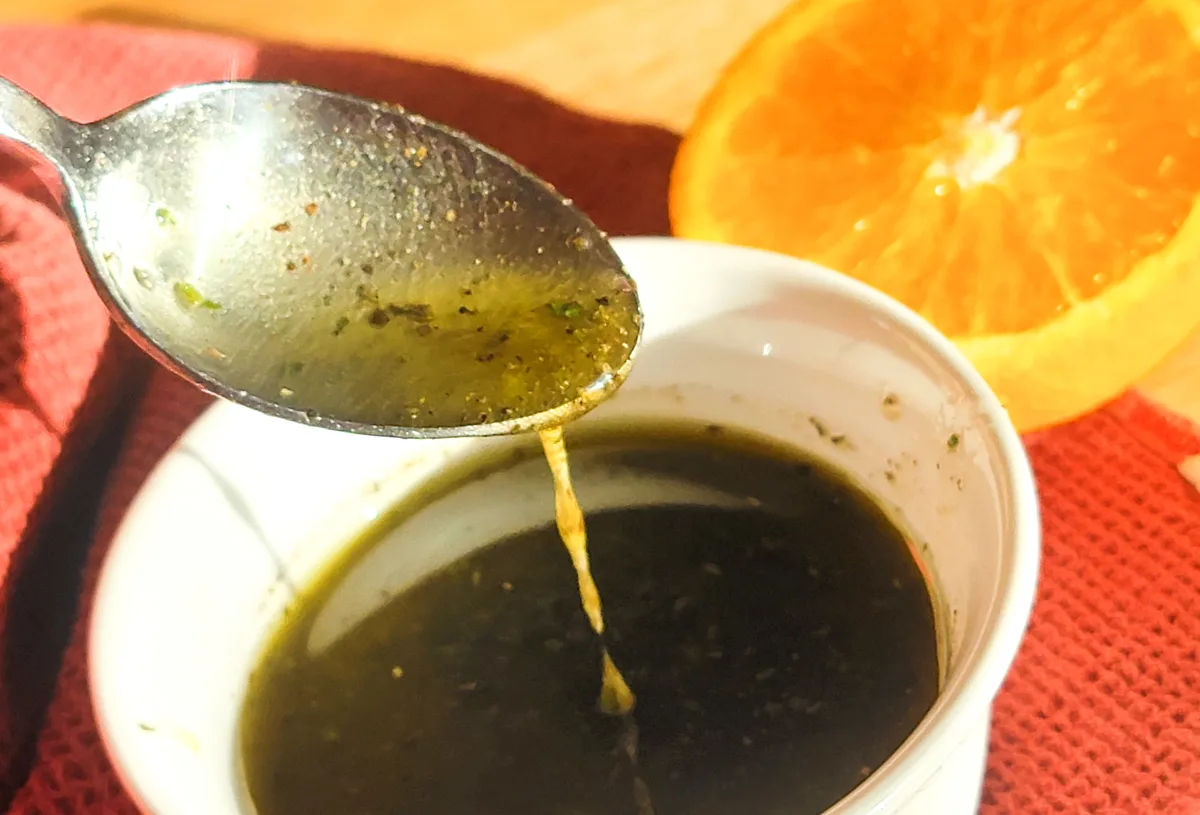 Venison Steak Marinade Ingredients
This mixture has the best flavor and it's so simple to make. Since this recipe doesn't use ingredients like soy sauce or brown sugar, even low-carb dieters can enjoy it.
For best results, apply this marinade to approximately one to one and a half pounds of venison.
Olive Oil
Red Wine Vinegar
Orange
Garlic Cloves
Salt & Black Pepper
Parsley
Basil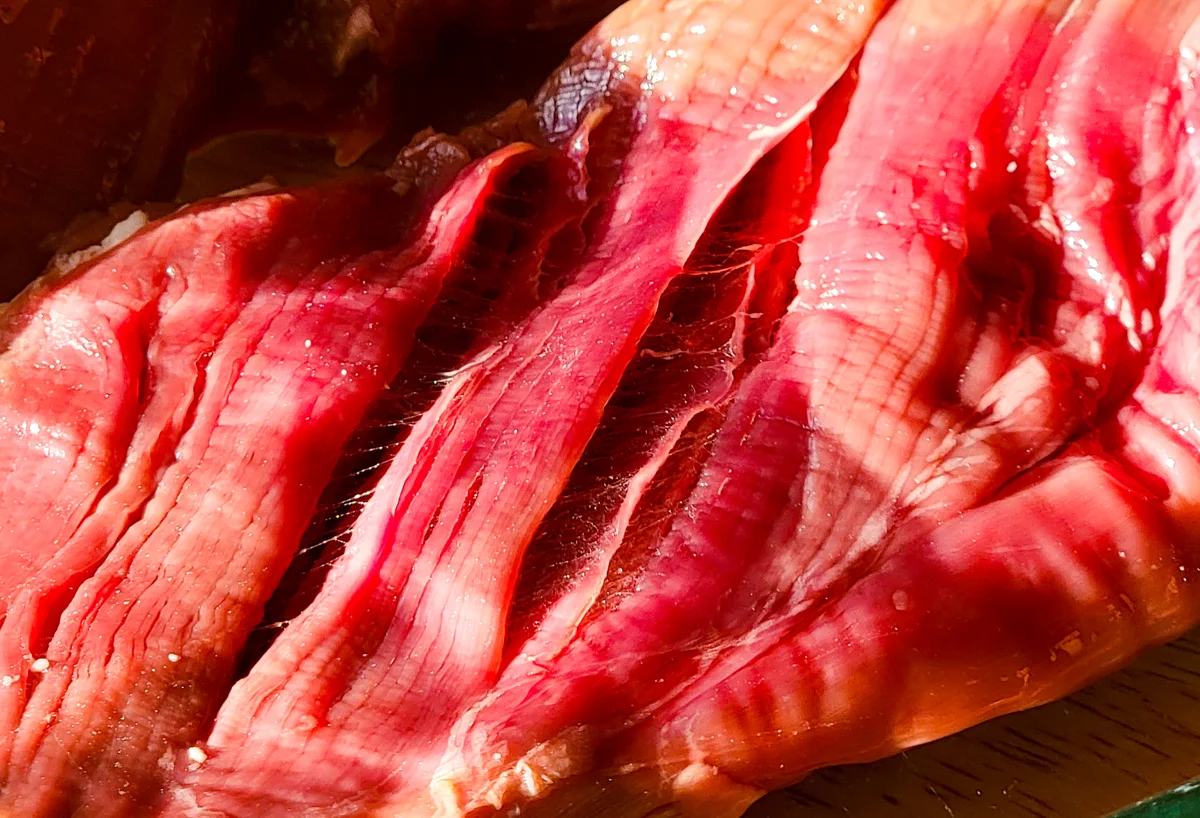 All-Purpose Marinade Instructions
Step 1
The first step is to gather your ingredients and whatever piece of meat you want to marinate. Pat the meat dry with paper towels and set aside.
Step 2
The second step is to mix all of the ingredients in a bowl. You can do this with a spoon or whisk, it doesn't matter, just mix.
Step 3
The last step is to marinate the deer steak for 24 hours. You can do this by putting the deer meat in an airtight container or a sealable plastic bag.
The real trick is to make sure the outer surface of the meat is covered so be sure to use an appropriate sized container for the marinating process.
Variations on this Recipe
This easy venison marinade will work with tender venison steaks such as venison loin, beef steaks, filet mignon, or a really good piece of backstrap.
It's also great for ground meat as well as tougher cuts of meats and other wild game meats.
While this is a good recipe as is, there are some simple ways to change the flavor profile to suit your taste buds and make this your favorite marinade.
Mix in some garlic powder and dry mustard for an easy dry rub or place 1-2 bay leaves on top to enhance the flavor with little effort.
Add Worcestershire sauce to introduce a rich and savory depth to the marinade.
To add a touch of heat to the taste of venison, sprinkle on some red pepper flakes and hot sauce.
Swap out the orange for lime juice, or even lemon juice if you want to create acidic marinades but aren't a fan of the flavor of orange.
Swapping out red wine vinegar with either apple cider vinegar or balsamic vinegar in the given marinade recipe can bring about distinct flavor changes.
The use of apple cider vinegar may introduce a slightly sweeter and fruitier note to the marinade.
Balsamic vinegar is known for its deep, complex, and slightly sweet flavor profile. If used as a substitute, it could impart a richer, more caramelized taste to the marinade.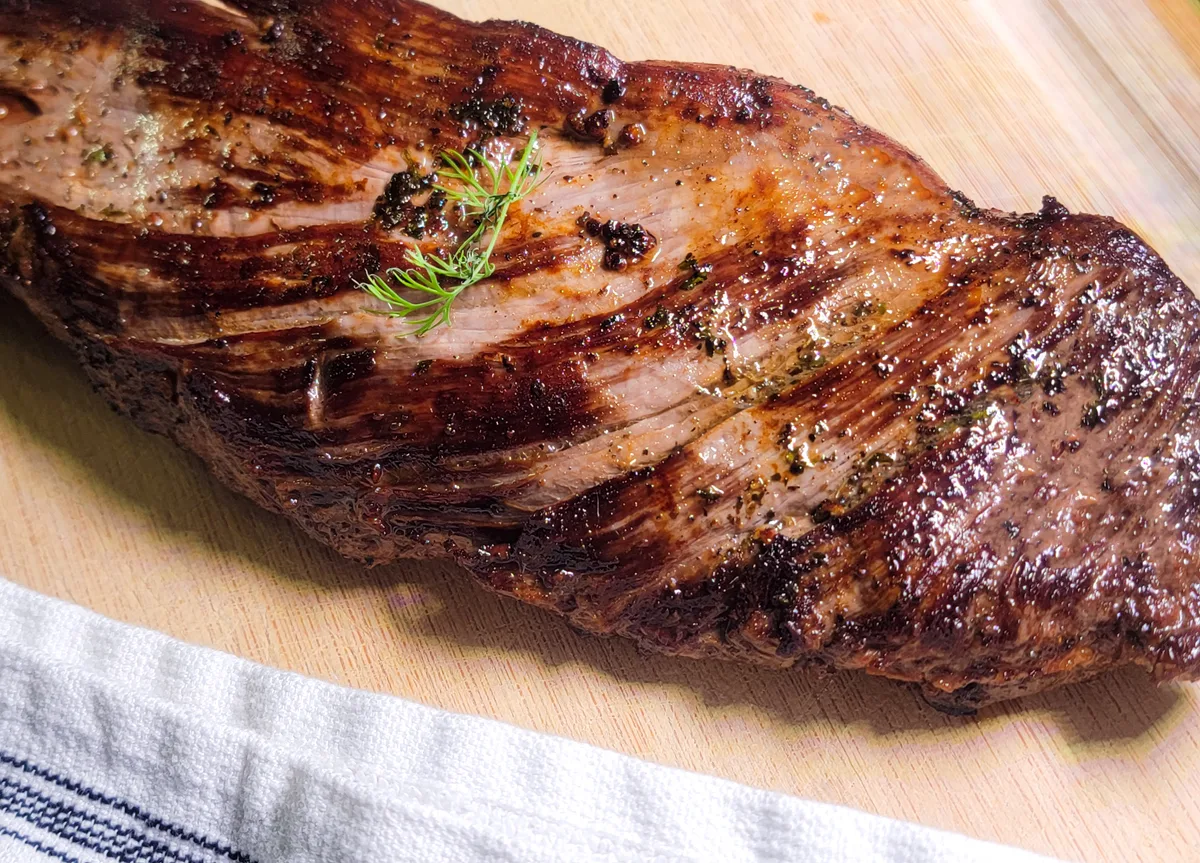 Frequently Asked Questions
Why Use a Marinade?
Apart from enhancing the taste of your venison, marinades will saturate the muscle fibers with acidic enzymes, aiding in their breakdown and contributing to the delightful tenderness experienced when relishing your meat.
That's why fruit juices stand out as a widely favored marinating component.
In essence, venison steaks marinated with an acidic sauce heighten their flavor profile and play a crucial role in breaking down connective tissue.
Moreover, the infusion of acidic enzymes in the marinade not only enriches the flavor profile of venison but also permeates the intricate network of muscle tissue. It works harmoniously to achieve a perfect balance of tenderness and taste in every succulent bite.
How Do You Get the Gamey Taste Out of Deer Meat?
This is the most common question asked about game recipes. Marinating meat before making wild game recipes is a great way to get rid of the gamey taste.
Food scientists claim that marinating doesn't penetrate more than a 1/8 inch per day so it is best to use smaller cuts of meat when possible.
When making venison kabobs, chop the meat before marinating to help penetrate the meat with flavors effectively.
Additionally, consider creating small incisions or scoring the meat's surface with a sharp knife before marinating to facilitate better absorption of the marinade.
How Should Deer Steak Be Cooked?
According to the Minnesota Department of Agriculture, venison should be cooked to at least 165° to kill off harmful bacteria. Despite this guideline, some home chefs may lean towards undercooking to achieve a rare preparation.
For medium-rare, aim for an internal temperature of 130–135°F (54–57°C), and for medium, target 135–145°F (57–63°C).
The cook time will depend on which type of meat you are cooking and the heat source.
If you are cooking a venison roast, it is recommended to sear it on the stove top and then cook it on medium heat in the oven.
If you are cooking a marinated venison steak, it is best grilled to perfection. The marinade enhances the flavor and tenderness, and grilling allows for a delicious caramelization on the exterior while maintaining a juicy interior.
The optimal way to cook a flank steak is to sear it briefly over high heat to achieve a flavorful crust, then finish it to the desired doneness on medium-high heat ensuring a perfect balance of tenderness and rich, smoky undertones.
Pro Tip: Allowing the meat to reach room temperature before cooking ensures more even and consistent cooking, preventing the risk of overcooking the outer layers while achieving the desired doneness throughout.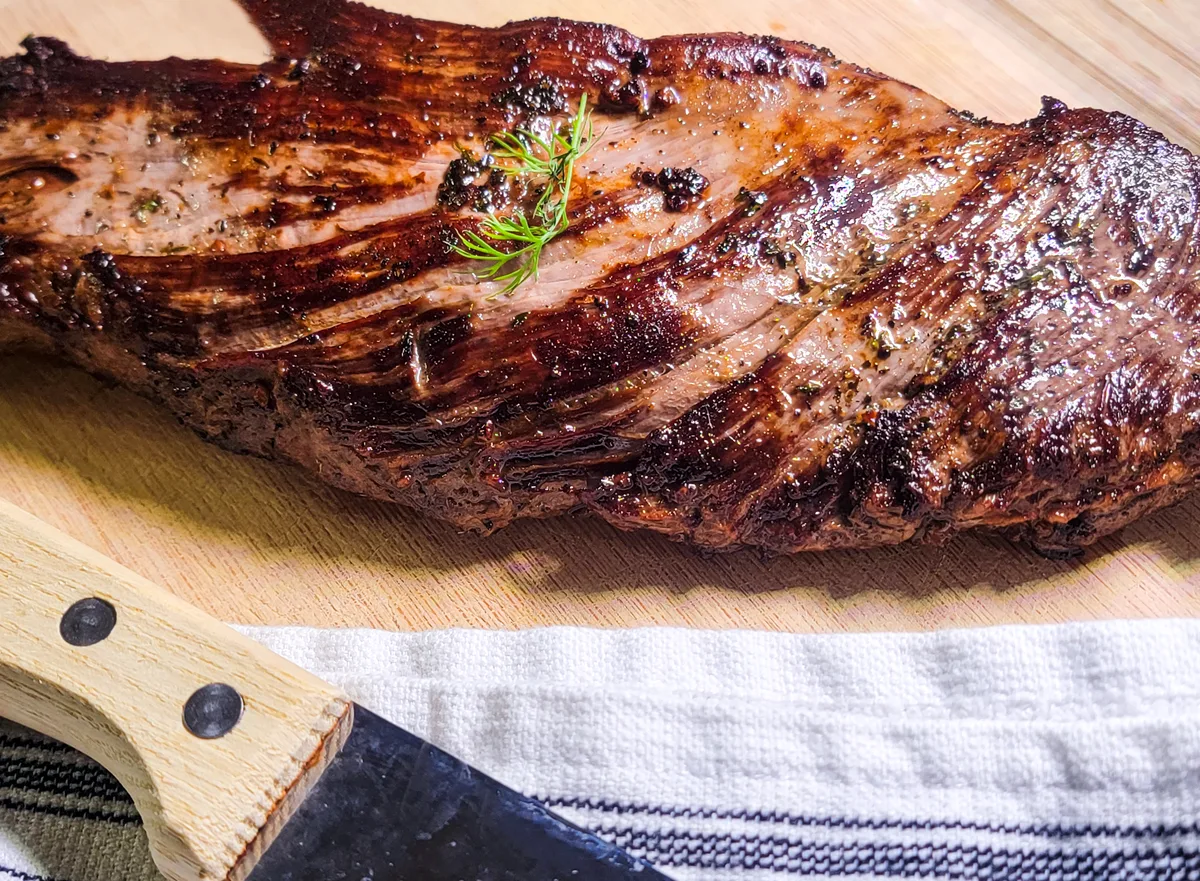 Recommended Tools
A meat thermometer is a great way to check the internal temperature and monitor the cooking process for the perfect venison steak.
This is especially helpful when preparing thick steaks, as the delicate balance between an undercooked steak and a succulent, juicy steak is paramount.
I also suggest investing in a cast-iron skillet—a highly regarded kitchen tool that excels in preparing all your favorite venison recipes.
More Recipes You'll Love
If you have an abundance of ground venison on hand, you will love this easy venison meatballs recipe.
If this is your first time cooking with wild animal meat, this easy venison chili recipe is the best place to start.
​If you are looking for venison grilling recipes, these burgers made with deer meat are perfect.
I discovered the versatility of root vegetables last year and discovered that this easy baked radish recipe pairs well with big game.
It's especially delicious when served with your favorite venison backstrap recipe or in this slow cooker roast.
Sign up for the free newsletter or connect on social media so you never miss a recipe again!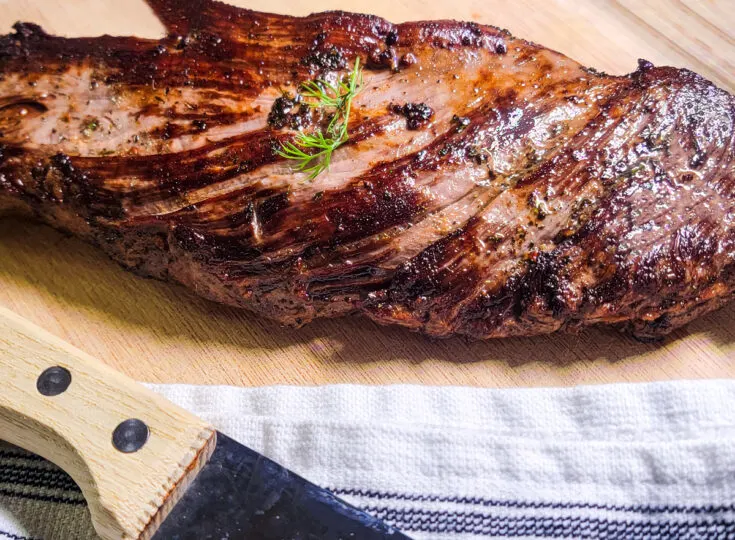 Yield:

1 - 1&1/2 Lbs. of deer meat
Best Marinade for Venison Recipe - Marinated Deer Steak
Total Time:
1 day
2 minutes
This marinade for venison adds a delicious flavor to a variety of wild game and perfectly tenderizes different cuts of meat.
Ingredients
1/4 Cup of Olive Oil
2 Tablespoons of Red Wine Vinegar
2 Tablespoons of Pure Orange Juice
3 Teaspoons of Garlic Cloves
1 Teaspoon of Salt
1/2 Teaspoon of Black Pepper
1/2 Teaspoon of Parsley
1/2 Teaspoon of Basil
Instructions
Mix all of the ingredients.
Pour on top of venison and store in an airtight container or plastic bag for 24 hours.
Notes
Thinner slices of deer meat will absorb the flavors better than thick cuts of meat.
For thicker steaks try cutting slices into the venison meat to help facilitate better absorption of the marinade.
Keep in mind that individual preferences for doneness may vary, and the specific cut of venison can influence the ideal temperature.
It's crucial to use a meat thermometer to ensure accuracy and safety.
For medium-rare, aiming for an internal temperature of 130–135°F (54–57°C) is a good guideline, while 135–145°F (57–63°C) for medium is also appropriate.
Adjusting based on personal preferences and the particular cut being cooked will result in the best outcome.
Recommended Products
As an Amazon Associate and member of other affiliate programs, I earn from qualifying purchases.
Nutrition Information
Yield
4
Serving Size
1
Amount Per Serving
Calories

125
Total Fat

14g
Saturated Fat

2g
Trans Fat

0g
Unsaturated Fat

11g
Cholesterol

0mg
Sodium

530mg
Carbohydrates

1g
Fiber

0g
Sugar

0g
Protein

0g
The nutrition in recipes is caluculate by AI, mistakes happen. It is highly recommended to check carb counts to make sure these recipes fit into your diet.