This sugar-free whipped cream recipe is the perfect fluffy topping for keto desserts. This low-carb whipped cream has a sweet flavor and is the easiest whipped cream recipe you can find!
Using just 3 ingredients, in less than 3 minutes you will have the best sugar-free vanilla whipped cream to use on all of your favorite keto desserts.
The whole process of making this keto whipped cream recipe only takes two minutes. You can add or subtract a few seconds to achieve the desired consistency, from light and fluffy to a more firm whipped cream. It's up to you and so easy to change the flavor of this sugar-free whipped cream recipe with a few basic ingredients.
As an Amazon Associate, I earn from qualifying purchases so if you click an affiliate link in this post, I will receive a small portion of the sale at no additional cost to you.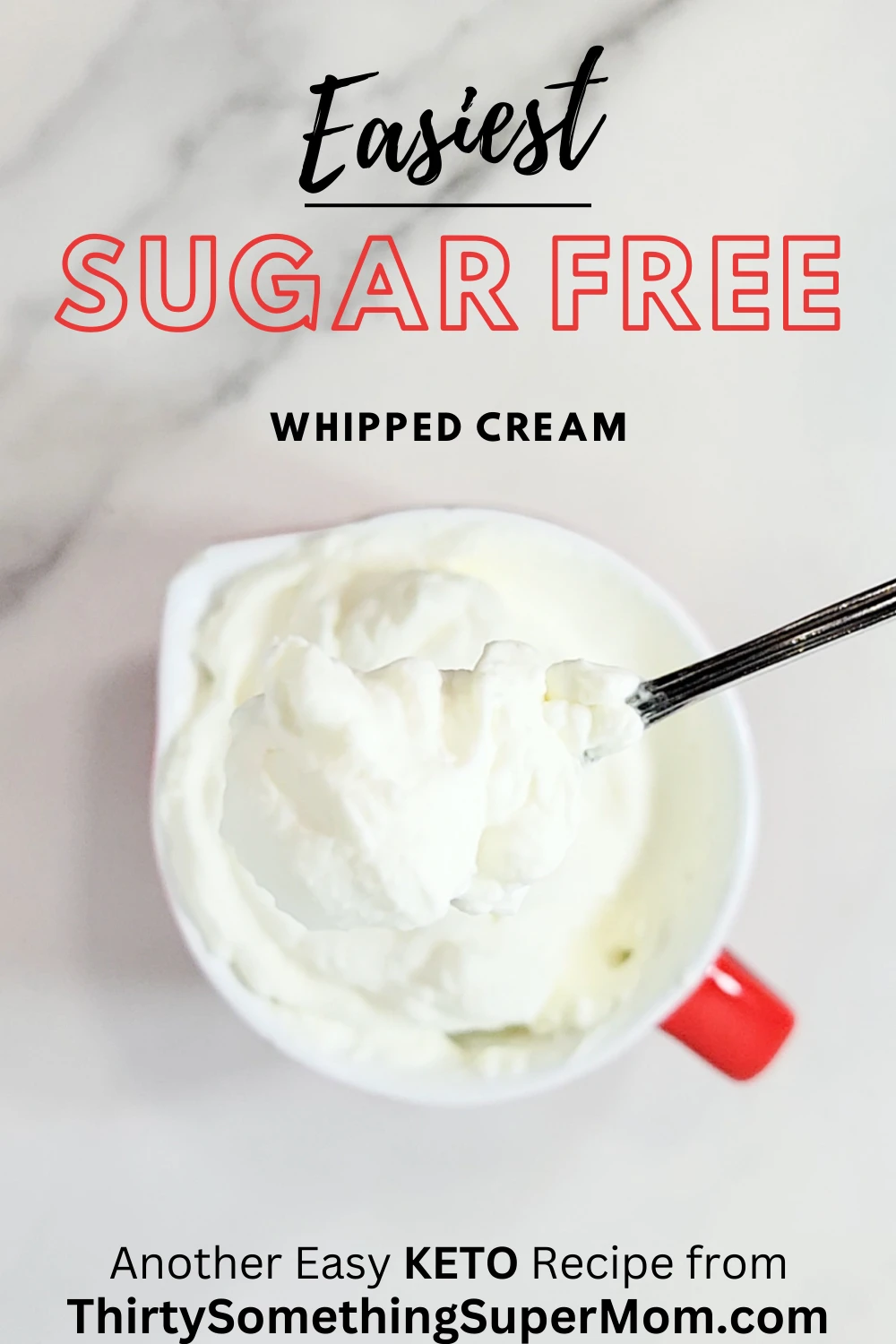 Is Sugar-Free Whipped Cream Keto Friendly?
Absolutely! This low-carb whipped cream uses stevia instead of powdered sugar which is a great way to make whipped cream keto friendly.
This natural keto-friendly sweetener mimics the flavor of powdered sugar and dissolves easily in this smooth low carb whipped cream recipe.
Most of my recipes labeled keto or low carb are perfect for diabetics who are craving a sweet treat that hits the spot without spiking their blood sugar level.
Is All Whipped Cream Keto Friendly?
Regular whipped cream that you buy at the store is not keto-friendly. Luckily it is so easy to create a homemade sugar-free whipped cream recipe that is low-carb and tastes better than the sugar-filled kind.
The carb content in the storebought kind is dramatically different from sugar-free whipped cream carbs.
How Many Carbs are in Keto Whipped Cream?
This recipe measures out to be just under 0.5 net carbs per serving. Each serving is about 2 teaspoons which is the perfect amount to add to your next Keto Pumpkin Spice Latte.
This is such an easy recipe to whip up that you could add it to all of your favorite keto drinks without much hassle.
Ingredients for Easiest Sugar-Free Whipped Cream Recipe
Stevia- This is the powdered sweetener that I always have on hand. It dissolves into the cream easily and adds a delicious sweetness that does not crystallize.
Heavy Cream- This is the most important ingredient in this recipe because it is the actual cream but if you want a substitution like a dairy-free option, coconut cream is easy to whip too.
Mexican Vanilla- I have been using Mexican vanilla more than the classic vanilla because I love the bold flavor it adds to this low-carb whipped cream.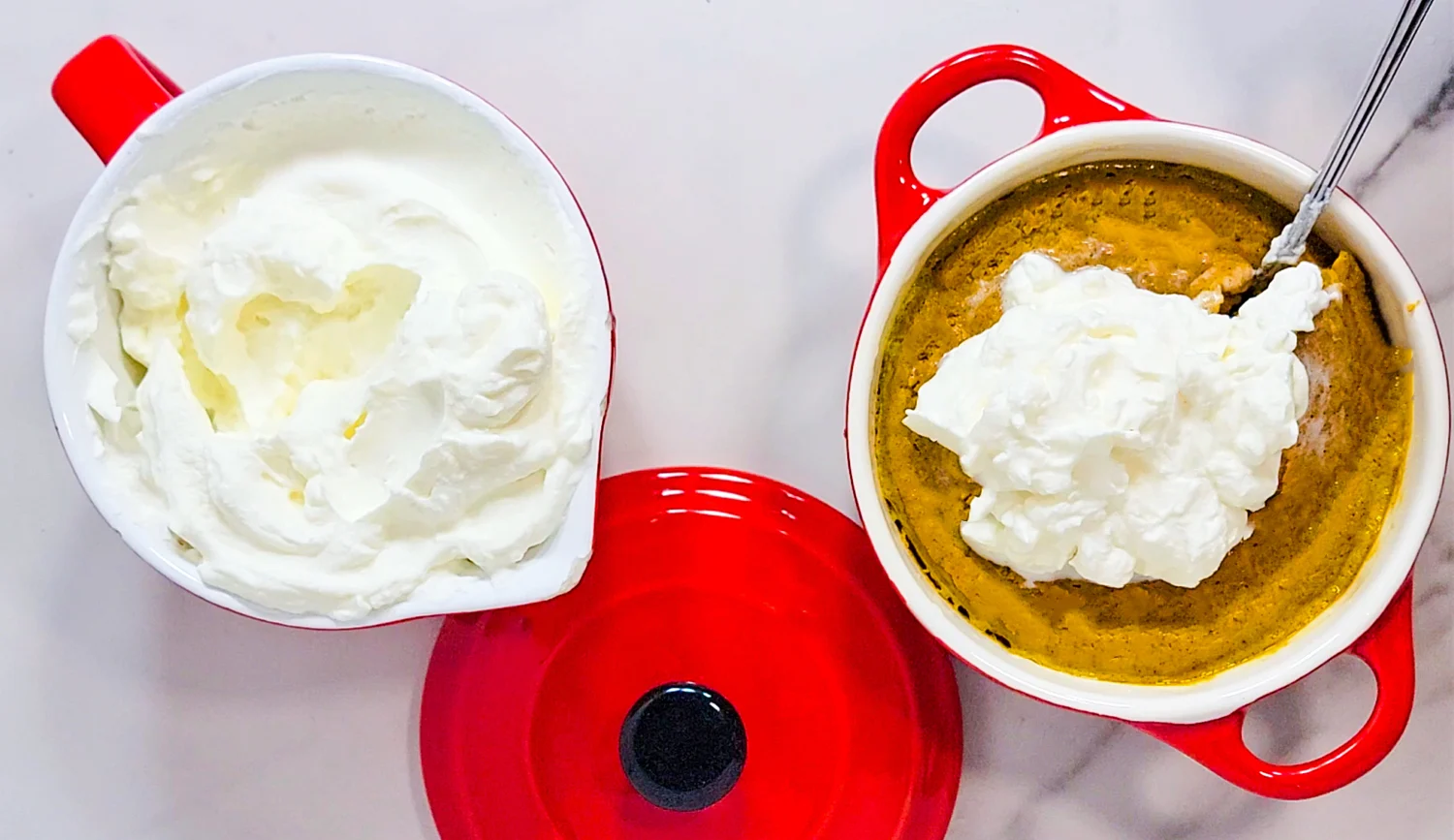 How to Make Keto-Whipped Cream
Get out your food processor and prepare the ingredients. You will not need to chill a mixing bowl for this recipe although I keep my ingredients in the refrigerator up until the point of making so my ingredients are usually already chilled.
*If you do not have a food processor, you can use a hand mixer or stand mixer to whip up this low-carb whipped cream. You can use beaters or a whisk attachment, both will work, but in my opinion, the whisk attachment and beaters waste so much of the whipped cream when cleaning. So I prefer the food processor method for making keto whipped cream.
Add in the ingredients before turning the machine on. I know that the food processor has a little tunnel on top for you to add ingredients while it is mixing but it is easy to overmix this keto whipped cream so I just add all of the ingredients before beginning to mix.
You do not want to overmix this recipe! It can easily turn into a hard unappetizing texture that hardly resembles whipped cream. Mixing the ingredients for one minute before checking the consistency is the best way to make sure you achieve the perfect texture. Mix again in ten-second increments, not exceeding two minutes.
This easy whip cream recipe is done when the cream reaches your desired consistency, for me, this takes about one minute and thirty seconds. This can vary depending on the temperature of your heavy cream and your mixing method.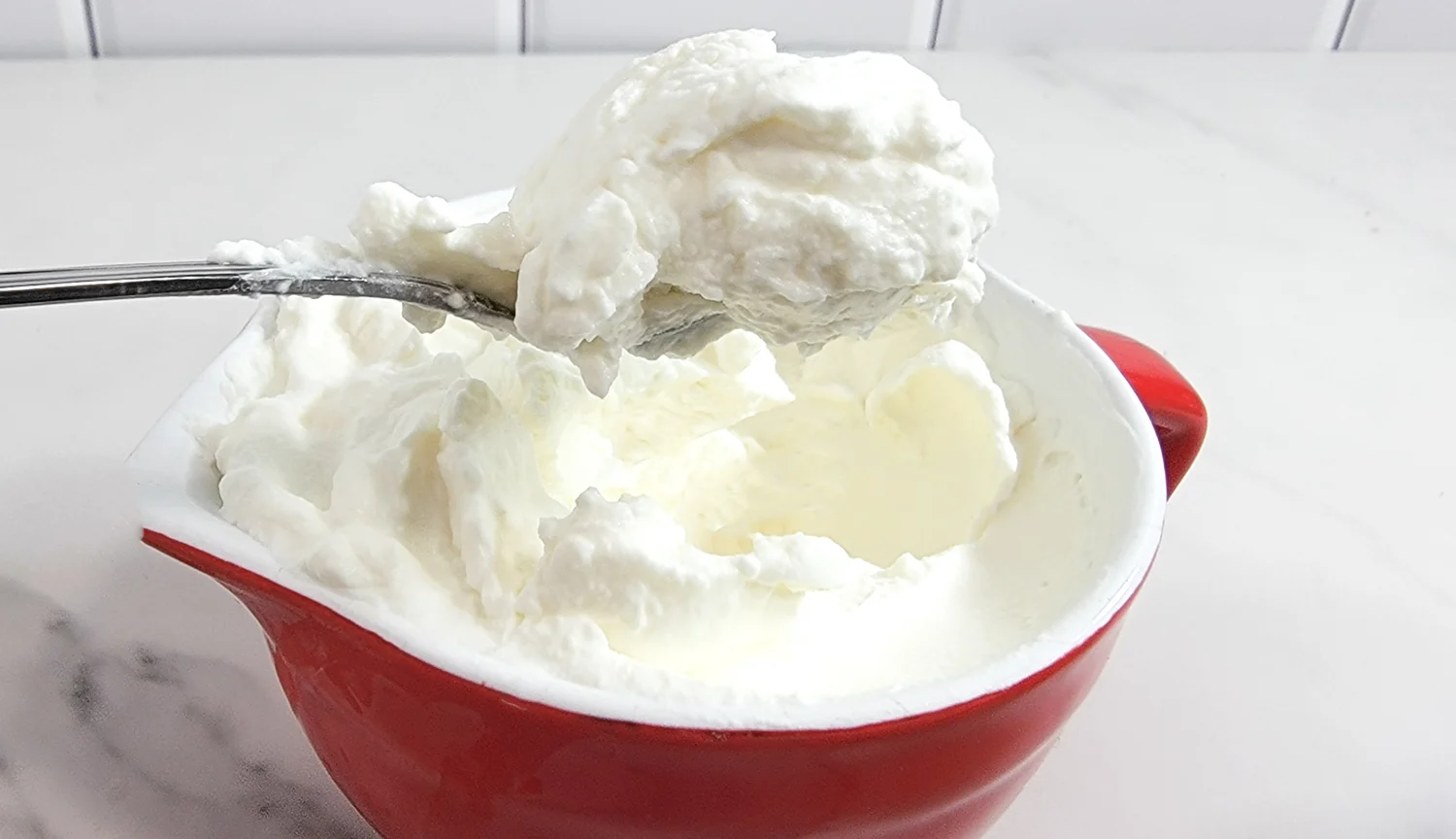 Tips for Making the Best Sugar-Free Whipped Cream
This recipe is so easy to whip up that it makes no sense to try to store it for too long. If you are preparing it in the morning for a dessert in the evening, be sure to store it in the refrigerator in an airtight container.
The whipped cream may start to get runny over time and since you don't have the aerosol container at home to serve it at the proper consistency every time, it is best to just make it right before serving.
I find that making keto desserts is so much easier when I put all of the ingredients on the counter before I begin rather than running back and forth in the kitchen to complete an ingredients list.
While that is how I usually do things, when making this sugar-free keto whipped cream, I wait until the last second to get the heavy cream out of the refrigerator.
There is no need to chill a bowl for this homemade whipped cream as long as you keep the heavy cream chilled.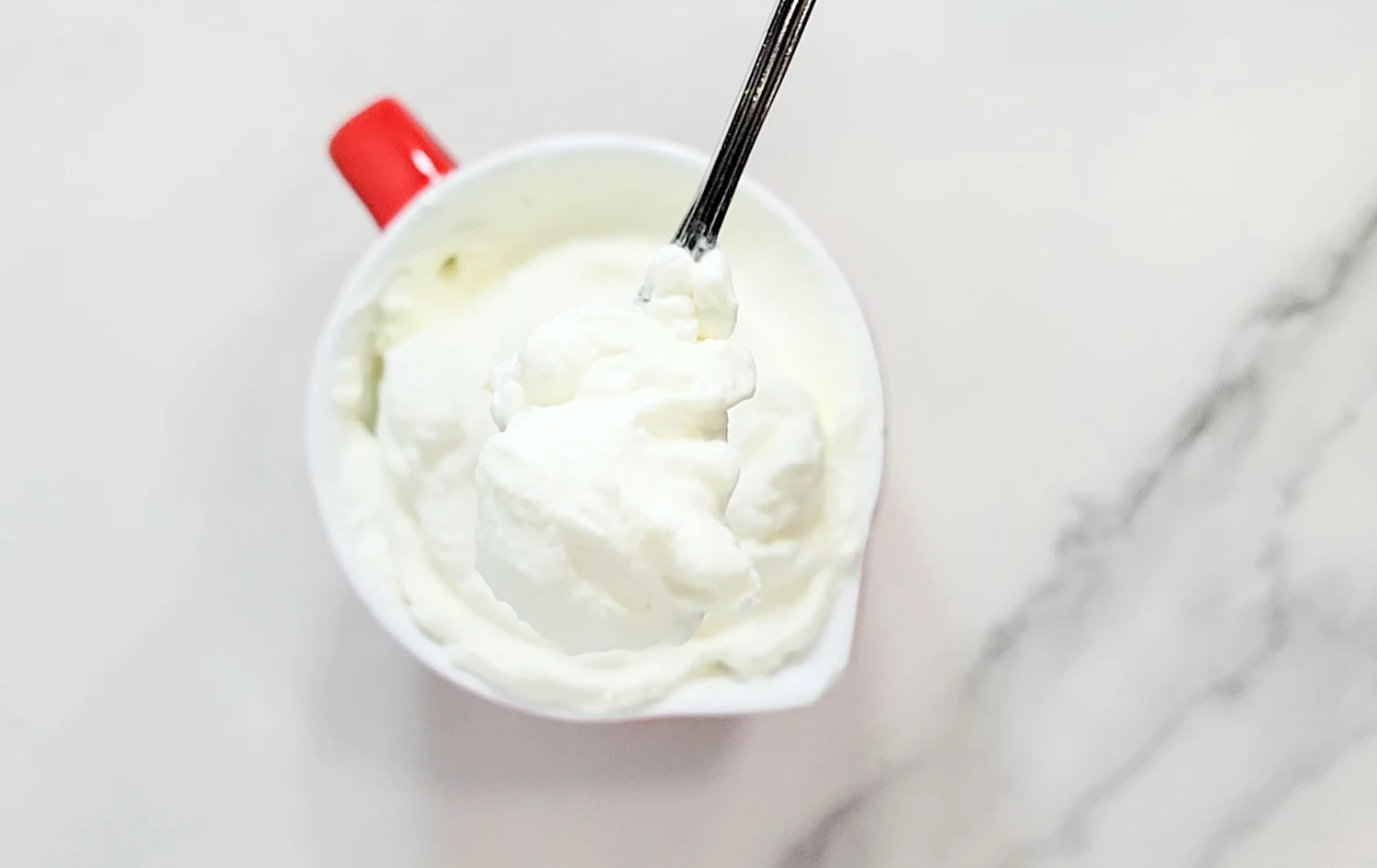 Flavored Whipped Cream Ideas
There are so many possibilities to turn this basic keto whipped cream recipe into a dessert all by itself. Adding different extracts can change the overall flavor of this sugar-free vanilla whipped cream. Maple extract, lemon extract, and peppermint extract are just a few different ways to adjust the flavor of this sugar-free whipped cream recipe.
If you aren't worried about keeping this sugar-free whipped cream low carb and are just trying to cut down on sugar, adding in a bit of honey can sweeten this recipe without using artificial sweeteners.
For a Keto Whipped Cream Dessert, add some peanut butter or chocolate. I would start with about 2 tablespoons before whipping the cream, let it whip for a few seconds, and then taste it before adding in more.
I will be creating a delicious dessert using this sugar-free whipped cream as the base soon, so be sure to sign up for the free newsletter and follow along on social media so you don't miss that upcoming post!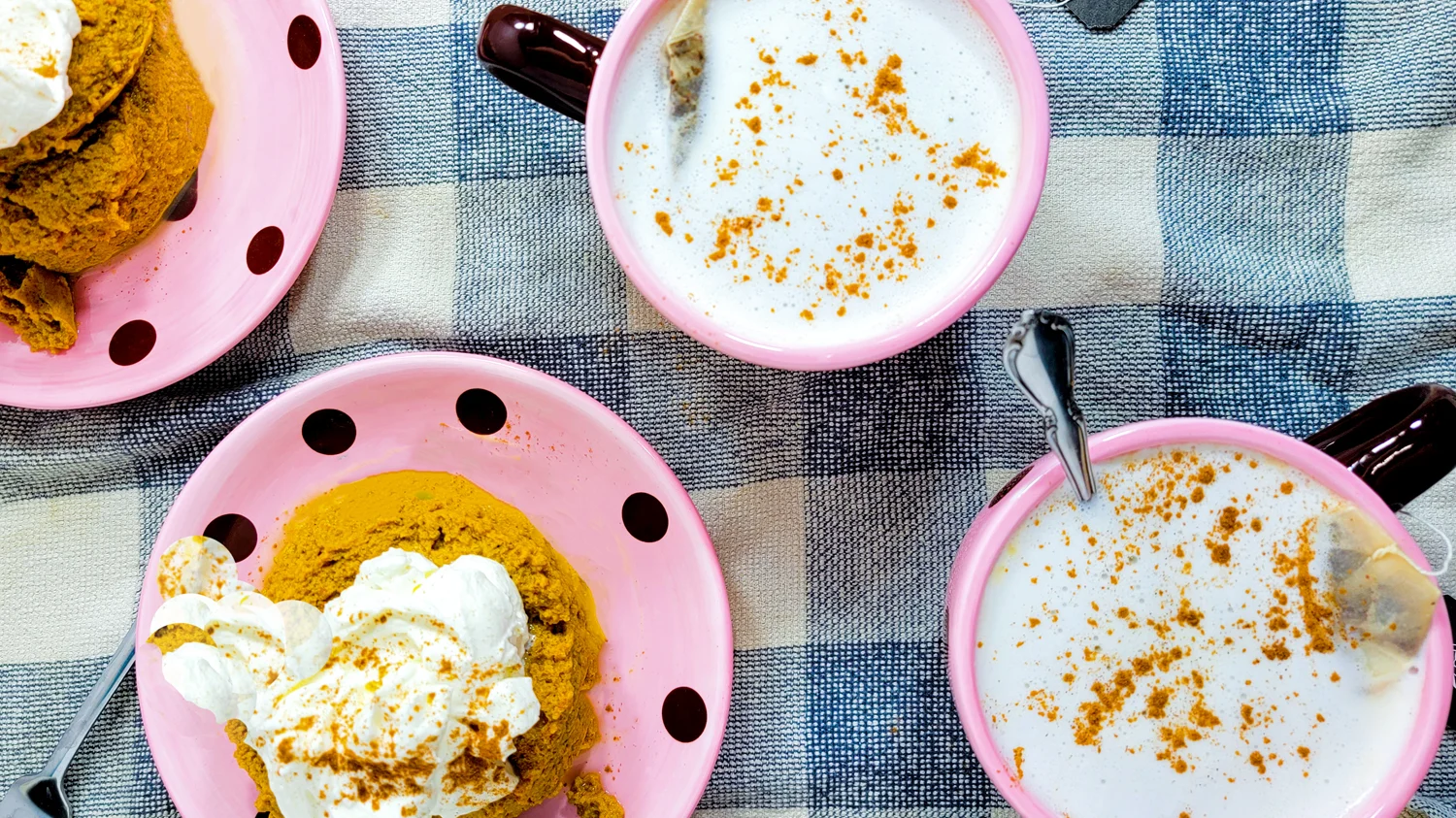 Pairing Ideas for Sugar-Free Whipped Cream
This recipe pairs perfectly with so many keto desserts. Now that you know how easy it is to make your own homemade whipped cream, you can easily take all of your sugar-free desserts to the next level. When preparing your favorite low-carb desserts, be sure to use this versatile recipe for the easiest sugar-free whipped topping.
This sugar-free whipped cream pairs perfectly with this easy Keto Crustless Pumpkin Pie Air Fryer Recipe. Plus it's an easy keto air fryer recipe that delivers the perfect holiday pie for low-carb dieters without all of the work of making a whole pie.
Another great way to use low-carb whipped cream is to top off drinks like this Easy Keto Eggnog Recipe.
Helpful Tools for this Sugar-Free Whipped Cream Recipe
Mixing Methods- I used this food processor to make this low-carb whipped cream recipe but you can use a stand mixer or hand mixer like the ones I linked to here.
Sweetener- I use this stevia, in fact, this is the actual link I ordered from when buying a bag of it to make all of my keto recipes.
Vanilla- This is the Pure Mexican Vanilla that I use in most of my keto and low-carb recipes. If you aren't a fan of that bold flavor this product packs, use this traditional vanilla extract.
Don't forget to follow along on social media and sign up for the free newsletter so that you never miss another sugar-free/keto/low-carb recipe post again.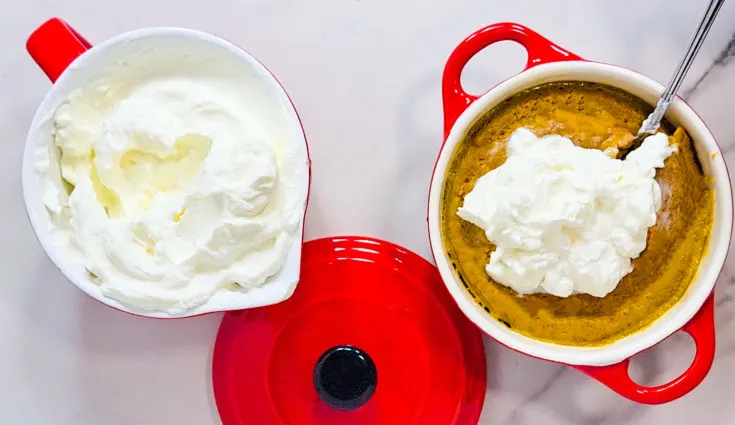 Sugar Free Whipped Cream Recipe
Ingredients
1 Cup Heavy Whipping Cream
1 Teaspoon Stevia
1 Teaspoon Mexican Vanilla
Instructions
In a food processor add the heavy whipping cream, stevia, and vanilla.
Turn it on high for one minute, and check the consistency.
If the keto whipped cream hasn't reached the right texture you are looking for, turn it back to high for 30 seconds and check again.
At this point only proceed in ten-second increments because you do not want to overmix this sugar-free whipped cream.
This whipped cream should not take longer than 2 minutes to mix.
Recommended Products
As an Amazon Associate and member of other affiliate programs, I earn from qualifying purchases.