This Keto Eggnog Recipe contains affiliate links which means that if you make a purchase after clicking a link, I will receive a small portion of the sale at no additional cost to you.
This easy keto eggnog recipe is so good, you won't believe that it's low carb and sugar-free until you make it yourself.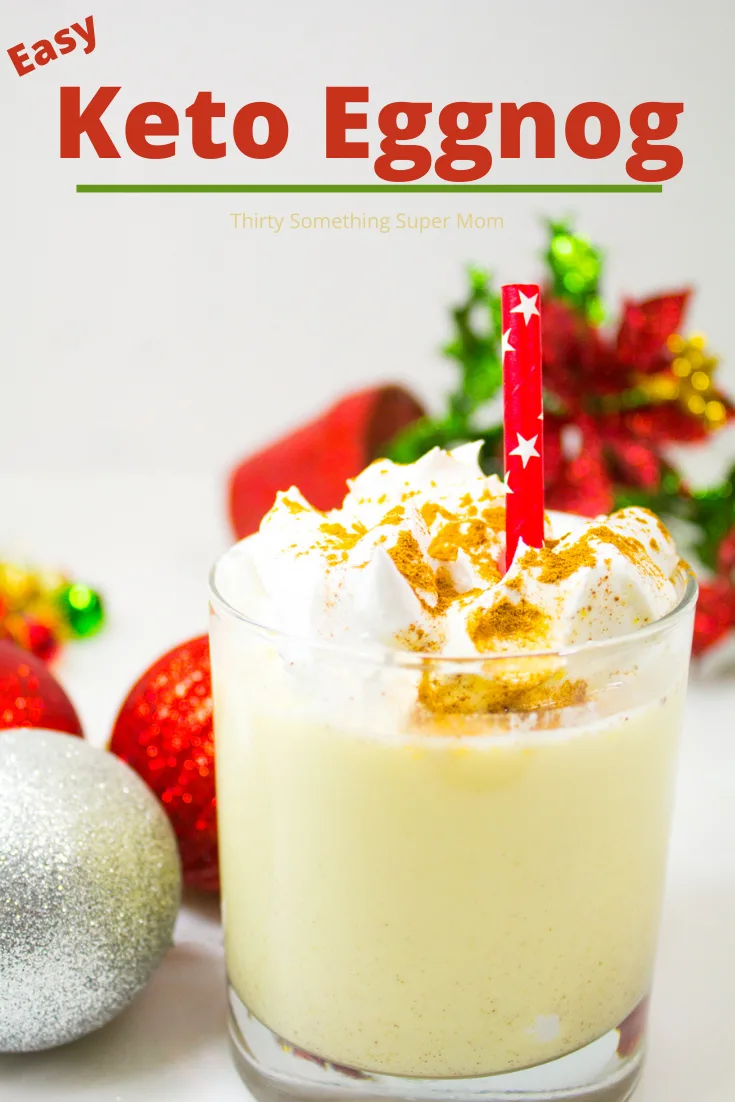 Can you Have Eggnog while following a Keto Diet?
Yes! This homemade low carb eggnog is keto-friendly!
When making a traditional eggnog recipe for my family, I stumbled upon this delicious keto-friendly version.
I swapped out the sugar and milk for keto-friendly ingredients and was pleasantly surprised with the flavor.
While experimenting with different ways to perfect this keto eggnog recipe, I realized how much I really love cinnamon!
How Easy is this Keto-Friendly Eggnog to make?
I knew that I wanted to make this eggnog recipe keto-friendly but in order to stay true to my normally easy recipes, I had to make easy keto eggnog.
You can be the judge but I would say that I nailed it.
This eggnog recipe can be made in under fifteen minutes and in the fridge to cool before you know it.
What You'll Need to Make Keto Eggnog
This recipe is made up of eggs, erythritol, almond milk, heavy cream, nutmeg, salt, vanilla extract, and cinnamon.
The tools that make this recipe easy are a pot for cooking, a food thermometer, and an egg separator.
After you are done making the keto eggnog, you will want to chill it in the refrigerator, this may be done in any container that you choose but I always use a glass pitcher.
If you want to fill up the pitcher you may need to double or even triple this recipe.
When serving keto eggnog, you may want to add a dollop of low carb sugar-free whipped cream to the top and a sprinkle of cinnamon.
Is this a Sugarfree Eggnog Recipe?
Yes! This recipe is perfect for those of us who just can not seem to tolerate sugar.
Also, perfect for people like my mom who enjoy eating sugar-filled treats despite the diabetes diagnosis.
So I love having sugar-free eggnog to serve her when she visits for the holidays.
She has always been a strong woman, never letting anyone tell her what to do.
Normally I would respect that kind of attitude but when it means that she isn't taking care of herself, I have a harder time accepting it.
Is Eggnog Gluten-Free?
Yes! Now I can't speak for all eggnogs but this Keto-friendly eggnog recipe is gluten-free.
My traditional eggnog recipe is also gluten-free but if you have a gluten intolerance it is always best to check the label when buying store-bought eggnog.
I have never been able to pinpoint which ingredients do the most damage but I do know that I feel best when I avoid gluten packed foods so keto seems to work well for me.
What Can I Do With Leftover Eggwhites?
After using the yolks for this keto eggnog recipe, you will be left with egg whites.
No need to waste them, there are plenty of recipes that you can create that require egg whites.
One of my favorite ways to use leftover eggwhites is with this Crispy Gluten-Free Pizza Crust.
How Do You Make Keto Eggnog?
As Saul Goodman would say, Let me get down to brass tacks and show you how to make this Keto Eggnog Recipe.
That last part isn't something he would say but the brass tacks part always reminds me of him.
The first step in making this keto eggnog recipe is to separate the egg yolks from the egg whites, I use one of these egg separators.
You may be able to do it another way without an egg separator but this little device sure makes it easy and you can pick them up really cheap in almost any housewares section.
The next step is to add the egg yolks and erythritol to a bowl.
In a pot, cook the almond milk, heavy cream, nutmeg, salt, and cinnamon.
Slowly add in the egg mixture.
Cook until it reaches 160 degrees, but don't worry if it exceeds this temperature slightly.
For some reason whenever I cook with a food thermometer, it seems like it takes forever to reach the desired temperature but before I know it, the thermometer reads ten degrees higher than the recipe calls for.
It doesn't burn too fast as long as you are keeping an eye on it and stirring frequently, a few degrees are not going to ruin your eggnog.
Once your keto eggnog reaches the desired temperature, take the mixture off of the heat and add in the cinnamon as well as the vanilla.
I have been using this Spanish vanilla extract for all of my recipes because it turns out that all of the hype surrounding real Spanish vanilla was true.
The flavor this stuff packs is unmatched by your typical vanilla that is found in most grocery stores or even homemade in my experience.
Luckily you can pick it up on Amazon, believe it or not, I found both the Spanish vanilla extract as well as the erythritol in a local Amish community.
They have so many products that I can not find at any of my local stores, so whenever my husband wants some really good Mexican food, we head to Kalona.
Yes, you read that right, they have some of the best Mexican food around, too.
I could go on all day long about that Amish Paradise but I will get back to the eggnog recipe.
After the mixture reaches the desired temperature, stir in the vanilla, Spanish or not.
Refrigerate until chilled, this could take about 4 hours.
Stir before serving and add a little sugar-free whipped cream to the top, as well as a sprinkle of cinnamon.
I hope you have enjoyed learning how I made this Keto eggnog recipe. Please share it on your favorite social media and leave a comment letting me know your thoughts on this low carb holiday treat.
Ingredients
6 Egg Yolks
1/2 Cup of Eyrithritol
1 Cup of Heavy Cream
2 cups of Almond Milk
1/2 Teaspoon of Nutmeg
Pinch of Salt
1 Tablespoon of Vanilla
1/4 Teaspoon of Cinnamon
Sprinkle of Cinnamon on Top
Instructions
Separate eggs and yolks. Combine egg yolks and erythritol in a bowl. Add heavy cream, almond milk, nutmeg, cinnamon, and salt in a pot. Slowly add in the egg yolk mix into the hot mixture, stirring until completely combined. Cook and stir until the mixture reaches 160 degrees. Stir in vanilla and refrigerate the mixture for about 4 hours before serving. Add sugar-free whipped topping to the top and sprinkle with cinnamon before serving.