This Peanut Butter Cup Recipe contains affiliate links to help you find the products I use to make this recipe. If you click a link and make a purchase, I will receive a small portion of the sale at no additional cost to you.
I love peanut butter cups! Ever since I was a little kid Reese's Peanut Butter Cups have been my favorite candy. On Halloween when the neighbors slipped that peanut filled circle treat into my bag, I would concoct methods to hit that house up twice and when it was time to go through my trick or treating haul with my family, I would trade two of almost anything else to get another peanut butter cup.
Unfortunately, they aren't exactly healthy and when the craving hits these days, I know that I would be trading more than just another candy bar in exchange for a peanut butter cup. Even if I made this Peanut Butter Cup Recipe which tastes exactly like the store bought Reese's, I would be trading my health due to the sugar content in those tasty treats.
As many of you know, I have followed the Specific Carbohydrate Diet in the past due to an auto-immune disease called Ulcerative Colitis that I suffered from. Well after having the surgery, the dreaded surgery, I was able to eat almost anything I wanted again. Unfortunately, I have found that not eating clean foods has a lot of consequences to my overall health, even if I don't have a disease to worry about. The cold hard truth is that we are either feeding a disease when we eat or we are fighting one off, even if we don't have an actual diagnosis. This has led me to experiment with more healthy and natural ingredients when making recipes, creating healthy versions of my favorites like this Guilt Free Peanut Butter Cup Recipe.
I started making this Peanut Butter Cup Recipe with only real, all natural ingredients like Cocoa Butter, Natural Peanut Butter, All Natural Honey, Vanilla Extract , and Salt.
I have experimented with Cocoa Butter in the past but I still am not a wealth of knowledge when it comes to the stuff although I do enjoy the chocolatey flavor it brings to any recipe. I am not sure why some refer to it as cocoa butter while others call it cacao butter, either way, I made these peanut butter cake bars using it and had some left over to experiment with when I made this Peanut Butter Cup Recipe for the first time.
I started by melting down the cocoa butter in a heavy saucepan on high, stirring to ensure all of the pieces melt evenly.
Once all of the cocoa butter is melted it's time to stir in the rest of the ingredients.
Once the peanut butter, honey, salt, and vanilla mix in completely it's time to line a muffin pan with liners.
This recipe makes 12 thick and delicious peanut butter cups but you can easily line two muffins pans with 24 liners, cutting these treats in half.
Since everything is mixed together the only difference will be the size, you will not change the taste by doubling this recipe.
After you pour the peanut butter cup mixture into the liners, pop the pan right into the freezer. Leave it there for about two hours before serving.
You can find all of the ingredients I used in this Peanut Butter Cup Recipe by clicking the links below. Don't forget to leave a comment to let me know how yours turned out and be sure to share this recipe.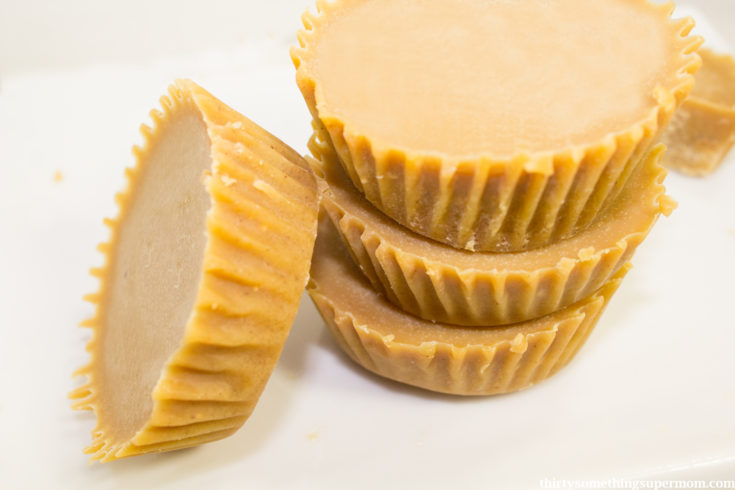 Guilt Free Peanut Butter Cup Recipe
Ingredients
1 Cup Cocoa Butter
1 Cup of Peanut Butter
1/2 Cup of Honey
1 Teaspoon of Vanilla
1/2 Teaspoon of Salt
Instructions
Melt cocoa butter in pan on medium high heat until completely liquefied, making sure to melt evenly, stirring during this process to prevent issues. Stir in other ingredients completely and pour into a paper lined muffin tin. Freeze for about 2 hours before serving and store in airtight container in freezer.