This SCD Crock Pot Apple Cobbler Recipe may contain affiliate links, which means if you make a purchase after clicking them, I make a small percentage of the sale at no extra cost to you.
If you are on the Specific Carbohydrate Diet, Paleo Diet, or just enjoy gluten free, sugar free, guilty desserts than this recipe for Crock Pot Apple Cobbler is for you.
When following a sugar free or gluten free diet it can be hard to find desserts and it is especially hard to find a crockpot recipe it seems. That's why I enjoy creating easy peasy crockpot recipes for the Specific Carbohydrate & Paleo Diet. Keeping it simple is the best way to stay on track and put your health first no matter when the craving for a delicious dessert hits.
This apple cobbler recipe is the perfect way to enjoy the typical Fall flavors of apples and spice alongside a creamy ice cream that is also both gluten and sugar free.
I started out by peeling apples and then slicing them into a few chunks before dropping them into the crockpot. I then added the seasoning along with the honey on top of them.
In a separate bowl, I mixed the almond flour, coconut flour and baking soda together to create the crumb top of this apple cobbler recipe.
Once I had a good mixture of the dry ingredients, I sprinkled that on top of the apple mixture, poured butter on top and let it cook on high for about a half hour before stirring.
You can mix it in right away if you want to set it and forget it as they say but I like to wait until the liquid from the apples starts to seep out, it allows the mixture to crisp against the sides of the crockpot a bit.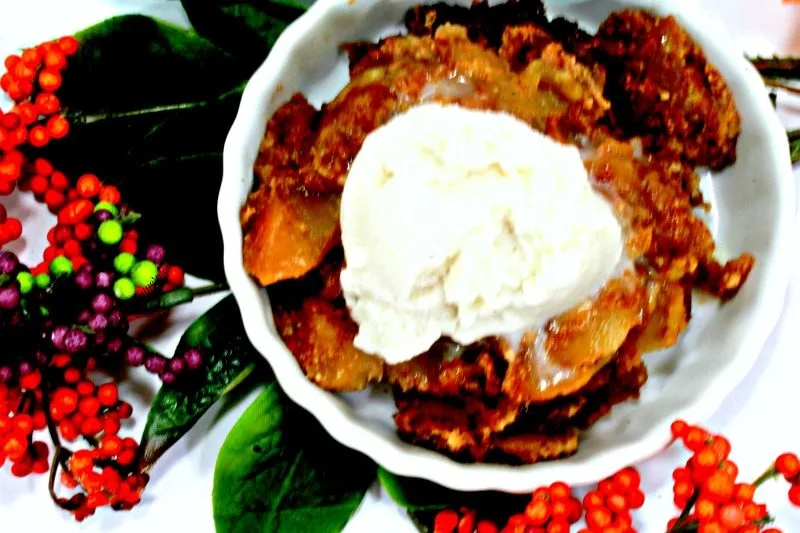 Allow the apple cobbler to cook in the crockpot for about 2 to 3 hours.
To make the sugar free and gluten free vanilla ice cream, just mix one can of coconut milk, 4 teaspoons of vanilla extract, 3 Tablespoons of almond milk and 2 tablespoons of honey in a blender.
Once blended add to an ice cream maker for about 25 minutes and then freeze for another half hour to an hour or so depending on the consistency you enjoy your ice cream to be.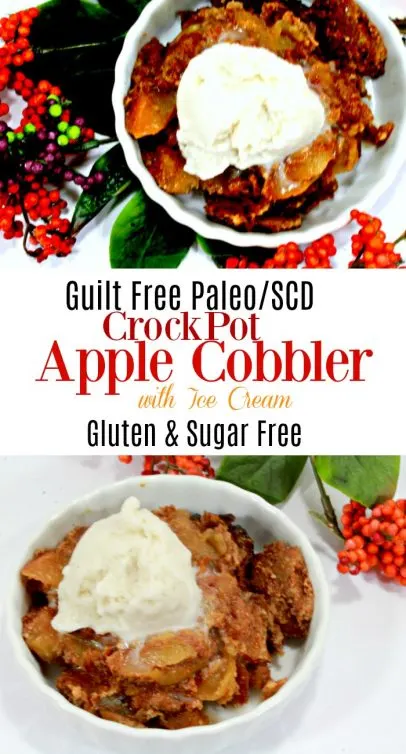 This recipe is so easy and if you follow the Specific Carbohydrate Diet you know that anytime you can make a delicious recipe like this in a crockpot, it's a good day.
The best part is that even if you do not follow SCD, Paleo, GAPS, Gluten Free, or a Sugar Free diet, you will love this Crock Pot Apple Cobbler! If you want to know more about the Specific Carbohydrate Diet and how it has helped so many heal their gut, click here or search my site for more info.
You May Also Like These Recipes
How to make your own keto grape jelly recipe and learn how to make this homemade scd yogurt recipe.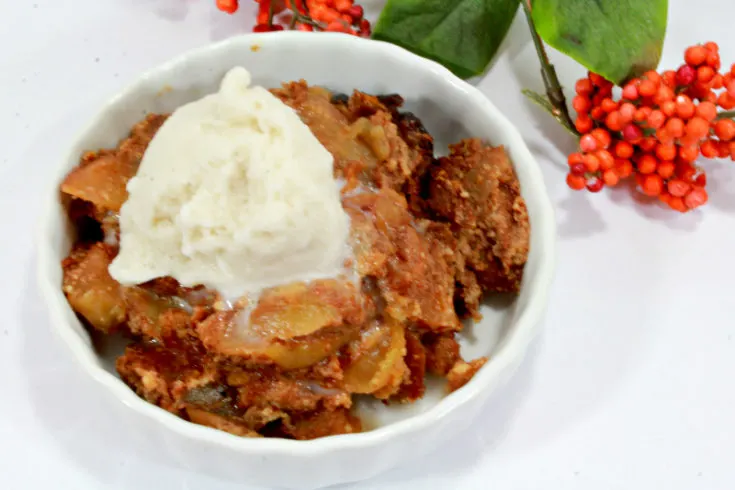 SCD Crock Pot Apple Cobbler
Ingredients
Bag of Gala Apples
1 Teaspoon of Vanilla Extract
1/3 Cup of Honey
1/2 Teaspoon of Ginger
2 Tablespoons of Cinnamon
1 Teaspoon of Nutmeg
1/2 Cup of Almond Flour
1/4 Cup of Coconut Flour
4 Tablespoons of Butter
1/2 Teaspoon of Baking Soda
----------------------------------
For the Ice cream
1 Can Coconut Milk
4 Teaspoons of Vanilla Extract
2 Tablespoons of Honey
3 Tablespoons of Almond Milk
Instructions
Peel apples and add to crock pot. Add in honey, ginger, cinnamon, nutmeg, and vanilla. Stir.
In separate bowl, mix dry ingredients.
Sprinkle dry ingredients on top. Pour Butter on top of that.
Stir together and cook for about 2-3 hours.
For the ice cream, mix all ingredients in blender than add to ice cream maker. Freeze for an additional half hour to an hour depending on consistency you would like.
Nutrition Information
Serving Size
1
Amount Per Serving
Calories

1645
Total Fat

96g
Saturated Fat

46g
Cholesterol

162mg
Sodium

1128mg
Carbohydrates

185g
Sugar

152g
Protein

18g