This homemade yogurt recipe post contains affiliate links which means that if you make a purchase after clicking a link, I will receive a small percentage of the sale at no additional cost to you.
One of the most frequently asked questions I have been asked since sharing SCD Recipes is How do you make Homemade SCD Yogurt?
My first answer is to refer people to pick up the book Breaking the Vicious Cycle where this and a lot of other basic SCD questions are answered.
The second thing I usually say is that I will add a Homemade Yogurt Recipe for the Specific Carbohydrate Diet someday and that day has finally come.
I am finally sharing the simple process that I use to create delicious homemade yogurt with very little effort, that is the way I enjoy my SCD Recipes, easy and delicious.
The only complicated part when creating SCD Recipes and especially this SCD Yogurt, is the science behind why it works and a lot of times, how.
So I have decided to not only show you how I make the SCD Yogurt but also everything I have learned about this process along the way.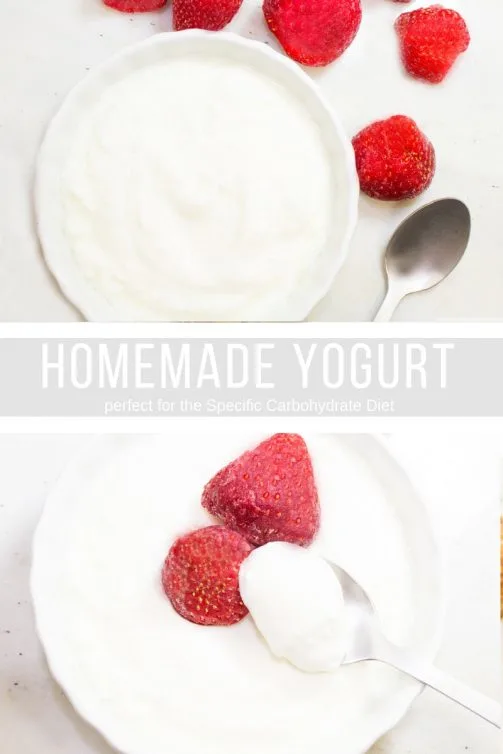 Bacteria
According to Breaking the Vicious Cycle, the bacteria that we should have in our yogurt starters are Lactobacillus bulgaricus, Streptococcus thermophilus, and Lactobacillus acidophilus.
The strain we must avoid in our SCD™ yogurt is Bifidus as it has been found to cause bacterial overgrowth in the gut.
Starters
Dannon makes a natural plain yogurt that is SCD legal to use as a start but you have to be careful to not pick up the low-fat kinds and non-fat ones are not legal as they may contain illegal ingredients.
You can also pick up a legal freeze-dried starter if you would like to avoid worrying about expirations on the refrigerated stuff.
You can check out the book, Breaking the Vicious Cycle or their site to learn more about your options for SCD legal yogurt starters.
Sterilizing the Milk
It is pretty simple to sterilize milk in order to make it legal for the SCD Yogurt. You start by heating to a simmer, which kills the bacteria while also allowing the fermentation process to be started by the starter bacteria only.
I always use a yogurt maker when making SCD yogurt, as well as whole milk and the process is pretty simple. I boil the milk to 180 degrees.
I then allow it to cool to 70 degrees, using a candy thermometer like this one to monitor the process.
At this point you can decide if you want to remove the film that has formed on the top or not, I usually just leave it there, it doesn't seem to change the taste one way or another.
Fermentation
There are many different ways to make SCD Yogurt. You can make it in the oven using a special light bulb, in a crockpot, and you can even make your SCD Yogurt in a rice maker or pressure cooker.
You can also buy a machine that is used just for making yogurt.
Some people like to dabble in other methods as the last thing they want to do is buy yet another kitchen appliance that will just clog up space that they can't spare.
They may also not be a big fan of yogurt so making a purchase before trying the homemade yogurt for the first time may not be the route they want to go.
Pick up this yogurt maker if you are looking for a yogurt maker with automatic cooling.
SCD Yogurt requires 24 hours for fermenting and this machine will not only do that at the touch of a button but it will not turn off before you are ready, spoiling your yogurt which is a big worry for a lot of SCD'ers.
The unit switches to the cooling mode when the processing cycle is done and maintains temperature until you turn the unit off.
This is great because when you put this much time into making yogurt the last thing you need is to start all over because you forgot to refrigerate it in time.
The cooldown process no matter the method you use to make your homemade yogurt is six hours, so be sure to account for that time when making yogurt.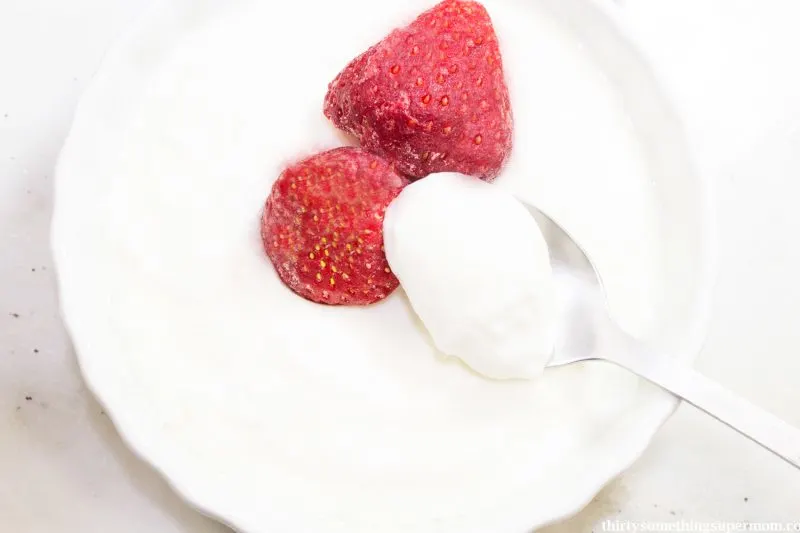 Toppings
While you are able to use your SCD yogurt in a bunch of different recipes like this Cinnamon Pumpkin Pie Dip that pairs perfectly with apple slices, or even in this Lasagna with Zucchini Layers .
It is a nice addition to smoothies or delicious with a strawberry sauce on top, I enjoy it for breakfast with fresh fruit on top.
Once you have made this homemade yogurt recipe for the Specific Carbohydrate Diet, you will see how simple it really is, it just sounds intimidating.
I have found that to be true with a lot of recipes when cooking for the Specific Carbohydrate Diet. At first, I was kind of stuck to a few simple to prepare meals and that got boring really quick.
I started to worry about how I would stick to such a restrictive diet but after I familiarized myself with what was legal and illegal.
I started to experiment and came up with lots of easy and delicious recipes perfect for SCD. You can see all of my recipes for the Specific Carbohydrate Diet by clicking here.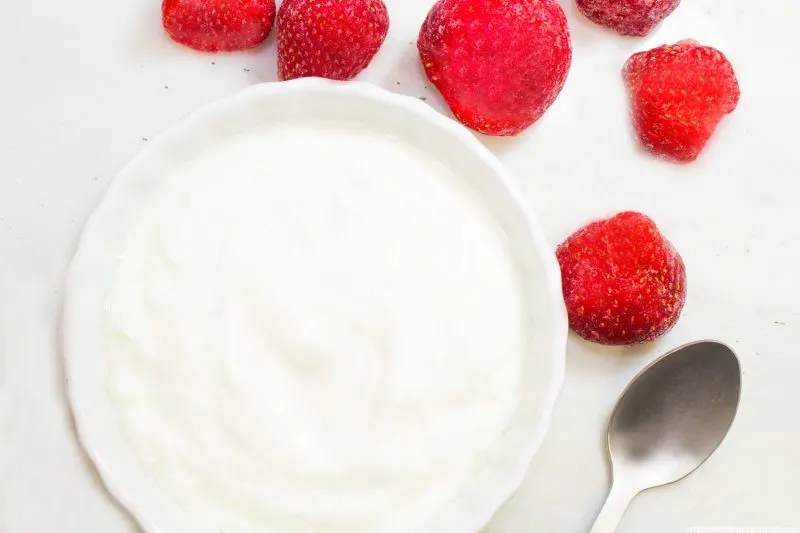 Don't forget to subscribe to my newsletter and follow me on social media so you never miss a new SCD Recipe again.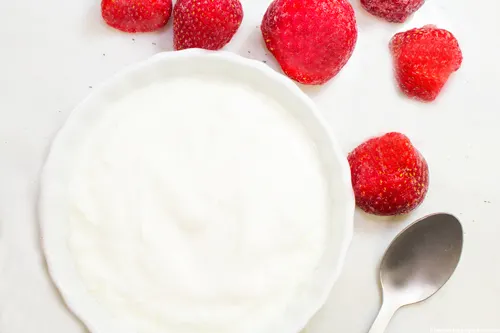 Homemade Yogurt Recipe for SCD
Ingredients
6 Cups of Whole Milk
1/4 Cup of Dannon Yogurt Starter
Instructions
Heat the milk in a saucepan until it reaches the 180 degrees.
Allow it to cool back down to 70 degrees.
Remove skin if you want or leave it, I leave it.
Pour milk in yogurt maker then add in the yogurt.
Whisk the two together until well combined.
Set the maker to 24 hours.
Once it has fermented for 24 hours, allow to cool for 6 hours.
Will keep for 1-2 weeks
Related Recipes
Learn how to make Almond Milk Keto Friendly and learn how to make your own concord grape jelly with gelatin. Click here to see the web story showing How to Make SCD Yogurt.