If you have ever wanted to learn how to make strawberry jam without pectin, this is the post for you.
Making your own homemade Strawberry Jam doesn't always require a lot of prep time or cooking time.
Also, who says you need to use sugar or pectin to make homemade jam? That just isn't the case!
This 2 Ingredient Strawberry Jam is made with honey instead of granulated sugar, uses no pectin or lemon and the best part is that it can be made in under 10 minutes!
Plus it is really simple to make with just a few minutes of cook time, you may never buy Strawberry jam from the store again.
This post contains affiliate links as part of the Amazon LLC associates program. This affiliate advertising program designed these links which means if you click a link and make a purchase I will receive a small portion of the sale at no additional cost to you.
Best Strawberries for Making Jam
In the world of backyard gardening, the array of strawberry varieties available is nothing short of delightful.
With dozens of cultivars to choose from, each bringing its unique charm to the table, cultivating these ruby-red gems becomes an adventure in itself.
From the classic June-bearing strawberries that burst forth with sweetness in early summer to the day-neutral everbearing strawberries that generously yield their delectable fruits all summer long, there's a type for every palate and preference.
For those seeking a twist on tradition, alpine strawberries offer a petite and delicate option, while the novel pineberries surprised with their pale blush hue and hints of pineapple flavor.
Amid this array of choices, cultivating white strawberries adds a touch of the exotic, infusing your backyard with the essence of a tropical paradise.
While the prospect of cultivating these varieties might seem daunting, fear not!
In this post, I'll guide you through crafting easy strawberry jam without pectin, preserving the essence of these luscious fruits for enjoyment all year round.
For the best strawberry jam, opt for the freshest berries available.
Avoid frozen berries, as freezing can halve the pectin content in strawberries, which are already naturally low in pectin.
If you're using frozen fruit, look for pectin-based recipes. When harvesting the berries yourself, aim for slightly underripe ones or a mix of ripe and underripe for traditional pectin-free jam recipes, typically utilizing 1/4 to 1/3 slightly underripe fruit.
Since pectin diminishes as the fruit ripens, using slightly underripe fruit aids in achieving the desired jam consistency—avoid the overly green, tough, and unsweetened berries.
Ingredients Needed for Making Strawberry Jam
As I said, making jam doesn't have to be difficult or require a lot of ingredients.
This recipe shares the best tips for making strawberry jam without pectin or granulated sugar.
All you need to make this jam recipe are the following ingredients:
An optional ingredient that you can consider adding if you prefer is lemon juice. Keep reading to learn the benefits of adding this ingredient.
Why Add Lemon Juice When Making Strawberry Jam?
Jam made with fresh lemon juice can add a delightful tanginess and enhance the overall flavor profile.
The natural acidity of lemon juice not only brightens the taste but also aids in the jam's preservation. Even a small addition can help to balance the flavor profile and help when using a water bath canning method for this recipe.
Following approved canning guidelines and recipes from reliable sources will ensure that your strawberry jam remains safe and enjoyable for an extended period, be sure to read more about this below.
How Can I Thicken Jam Without Pectin?
Honey can contribute to the setting of jam due to its natural sugars and consistency.
While honey doesn't contain as much pectin as traditional granulated sugar, it does have some natural pectin and can help thicken the jam.
Honey can aid in achieving a desirable jam texture.
Keep in mind that the exact setting may vary based on factors such as the type of strawberries you use, their ripeness, and the overall cooking process.
If you're looking for a firmer set, you might also consider using slightly underripe strawberries, as mentioned earlier, to provide additional natural pectin for thickening.
Is Strawberry Jam Better With or Without Pectin?
In my opinion, nothing beats this strawberry jam without pectin recipe. I love the flavors and textures that are achieved without the addition of a box of pectin.
Plus, this method means you won't need to spend extra money on making homemade jam and as long as you have strawberries and honey in your cabinets, there is no need to run out to the store for additional ingredients.
This is really convenient when growing your own strawberries in the garden.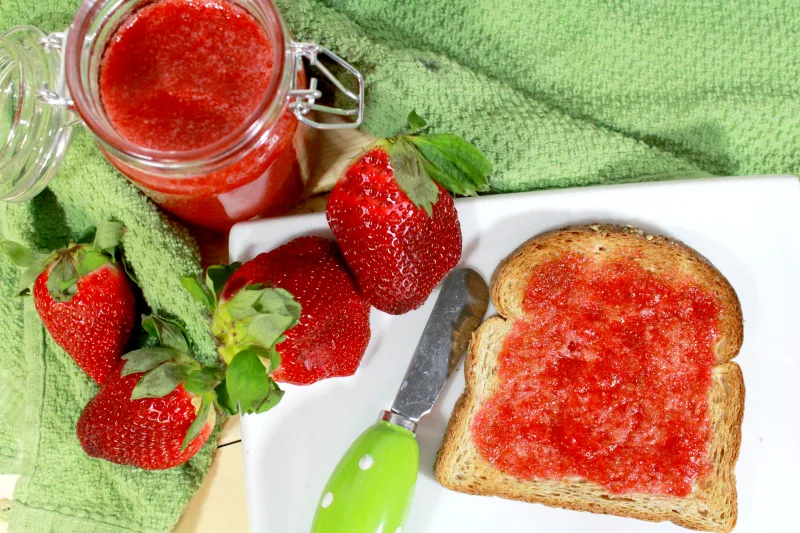 Homemade Strawberry Jam Without Pectin
Since this recipe is so easy and can be made in under ten minutes, I only make enough to last about a week in my house, which is about a cup of jam.
Trim the hull off of the strawberries and then place them into a food processor.
Pulse the strawberries until they have a melted ice cream consistency.
A potato masher won't be able to get the strawberries liquified but if you do not have a food processor, a blender would work as well.
Once you have the right consistency, pour it into a pot or saucepan. The pan should be no more than half full, as this jam can foam as it reaches a boil.
Add in 3 tablespoons of honey and cook over medium-high heat until it reaches a boil.
Once the strawberry mixture reaches a rolling boil, remove it from the heat.
Pour into an airtight container and allow to chill, the strawberry jam will thicken as it cools.
You can speed up this process by putting the pot in the freezer before pouring it into a container.
I am really impatient when it comes to delicious recipes and this Strawberry Jam is no different.
I can never seem to wait for it to cool completely.
Once the strawberry jam is done with the full rolling boil stage, I immediately spread it on toast and enjoy it before storing the rest in the refrigerator.
Is it Safe to Can Strawberry Jam without Pectin or Sugar?
Canning the strawberry and honey jam recipe without added preservatives can be risky due to potential spoilage and bacterial growth concerns.
Traditional canning practices often involve the use of sugar as a preservative in jars. While honey has some natural antimicrobial properties, it might not provide the same level of protection.
To ensure safety, it's recommended to follow tested and approved canning recipes from reliable sources like the National Center for Home Food Preservation or local agricultural extension offices.
If you're looking to avoid added sugars or preservatives, alternative preservation methods such as freezing or refrigeration might be a safer choice.
This is the perfect recipe for anyone trying to eat healthier but still enjoy delicious recipes and it is especially perfect for those on restricted diets.
This Strawberry Jam is great for the Specific Carbohydrate Diet, Paleo, and so many more so be sure to share with your friends on social media so they can reap the benefits of homemade jam that is all-natural and easy to make!
More Recipes You'll Love
Learn how to make blueberry jelly from frozen blueberries. This recipe is perfect for those who do not want to add granulated sugar to their homemade jelly recipes. Great for following the Specific Carbohydrate Diet, Paleo, or anyone wanting to eat healthier versions of their favorite recipes.
Another easy recipe for homemade jelly is this 2 Ingredient Concord Grape Jelly Recipe. Perfect for those looking for simple old-fashioned recipes without added pectin. No need for the boxed stuff!
This recipe shares how to make homemade jelly without pectin or sugar. As an alternative, this post shares how to make Concord Grape Jelly using gelatin.
Want more recipes right in your inbox? Sign up for the free newsletter so you never miss another easy recipe again!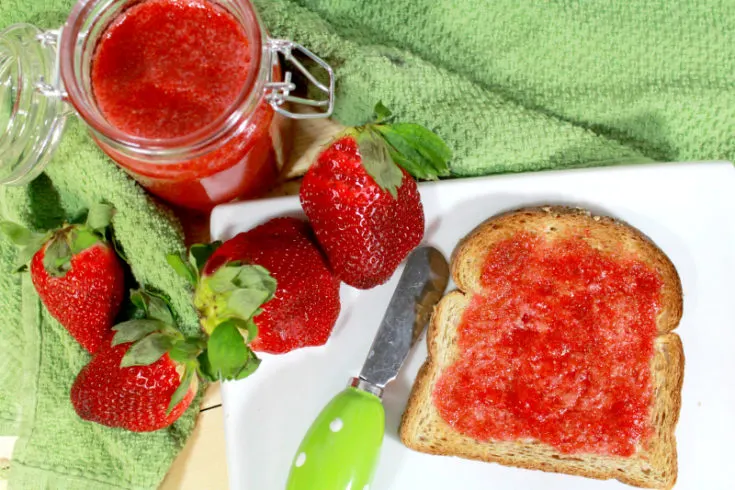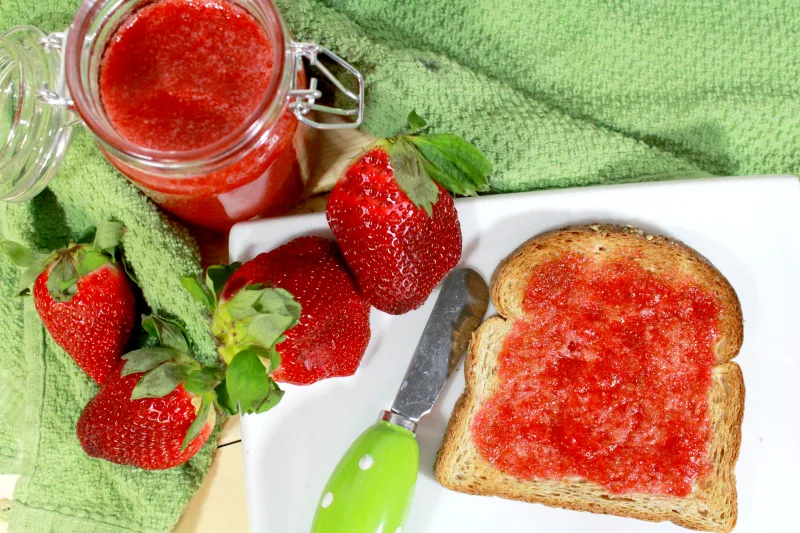 All Natural 10 Minute Strawberry Jam
Ingredients
1 Package of Strawberries
3 Tablespoons of Honey
Instructions
Chop the hull off of the strawberries.
Pulse in food processor until pureed.
Add strawberries and honey to pot and bring to a boil.
Stir well and remove from heat.
Cool completely and store in an airtight container.
Nutrition Information
Yield
25
Serving Size
1
Amount Per Serving
Calories

49
Total Fat

1g
Carbohydrates

9g
Protein

1g