Making your own homemade Strawberry Jam has never been easier or faster! This Strawberry Jam is All-Natural, delicious, and can be made in under 10 minutes!
This Strawberry Jam is perfect for spreading on toast, adding a fresh and delicious burst of flavor to a peanut butter sandwich and the perfect center to bring a simple cookie to the next level.
Plus it is really simple to make, you may never buy jam from the store again, especially when you find out that this Strawberry Jam recipe only has two ingredients and can be made faster than a trip to the store!
Homemade All-Natural Strawberry Jam in Under 10 Minutes!
The first step in making the most delicious and easy Strawberry Jam recipe is to gather your ingredients.
All you need are two ingredients, honey and strawberries!
Since this recipe is so easy and can be made in under ten minutes, I only make enough to last about a week in my house, which is about a cup of jam.
Trim the hull off of the strawberries and then place them into a food processor, blender, or chopper, whichever you prefer to use.
Pulse the strawberries or straight-up blend if that is more your style, I am a pulse kinda girl, keep blending or pulsing until the strawberries are complete mush.
Once you have a strawberry daiquiri type consistency, pour it into a pot.
Add in 3 tablespoons of honey and bring to a boil.
Once the strawberry mixture begins to boil, remove from heat.
Pour into an airtight container and allow to chill, the strawberry jam will thicken as it cools.
You can speed up this process by putting the pot in the freezer before pouring it into a container.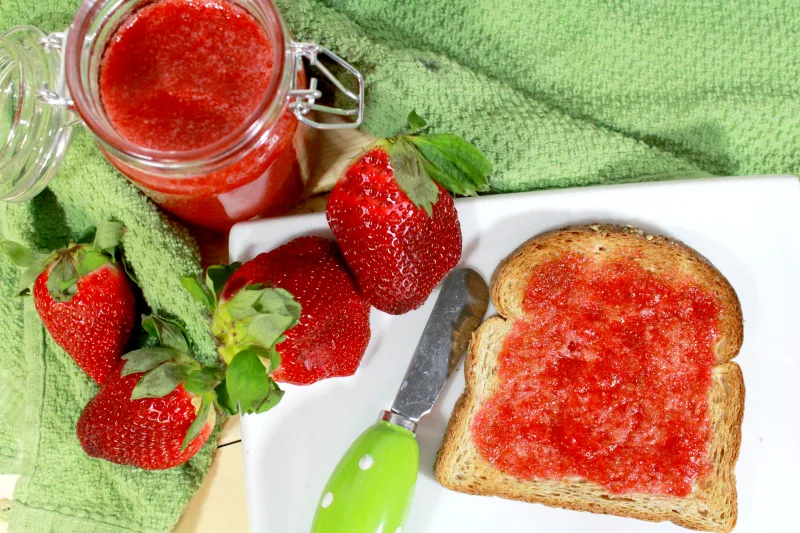 I am really impatient when it comes to delicious recipes and this Strawberry Jam is no different.
I can never wait for it to cool, once it is done boiling, I immediately spread it on toast and enjoy before storing the rest in the refrigerator.
This is the perfect recipe for anyone trying to eat healthier but still enjoy delicious recipes and it is especially perfect for those on restricted diets.
This Strawberry Jam is great for the Specific Carbohydrate Diet, Paleo, and so many more so be sure to share with your friends on social media so they can reap the benefits of homemade jam that is all-natural and easy to make!
All Natural 10 Minute Strawberry Jam
Ingredients
1 Package of Strawberries
3 Tablespoons of Honey
Instructions
Chop the hull off of the strawberries.
Pulse in food processor until pureed.
Add strawberries and honey to pot and bring to a boil.
Stir well and remove from heat.
Cool completely and store in an airtight container.