Making your own blueberry jelly recipe from frozen blueberries is so easy.
This recipe is perfect for those who are following the Specific Carbohydrate Diet or anyone who doesn't want to add sugar or preservatives to their homemade jellies.
This blueberry jelly recipe contains affiliate links which means that as an amazon associate if you make a purchase after clicking a link, I will receive a small portion of the sale at no additional cost to you.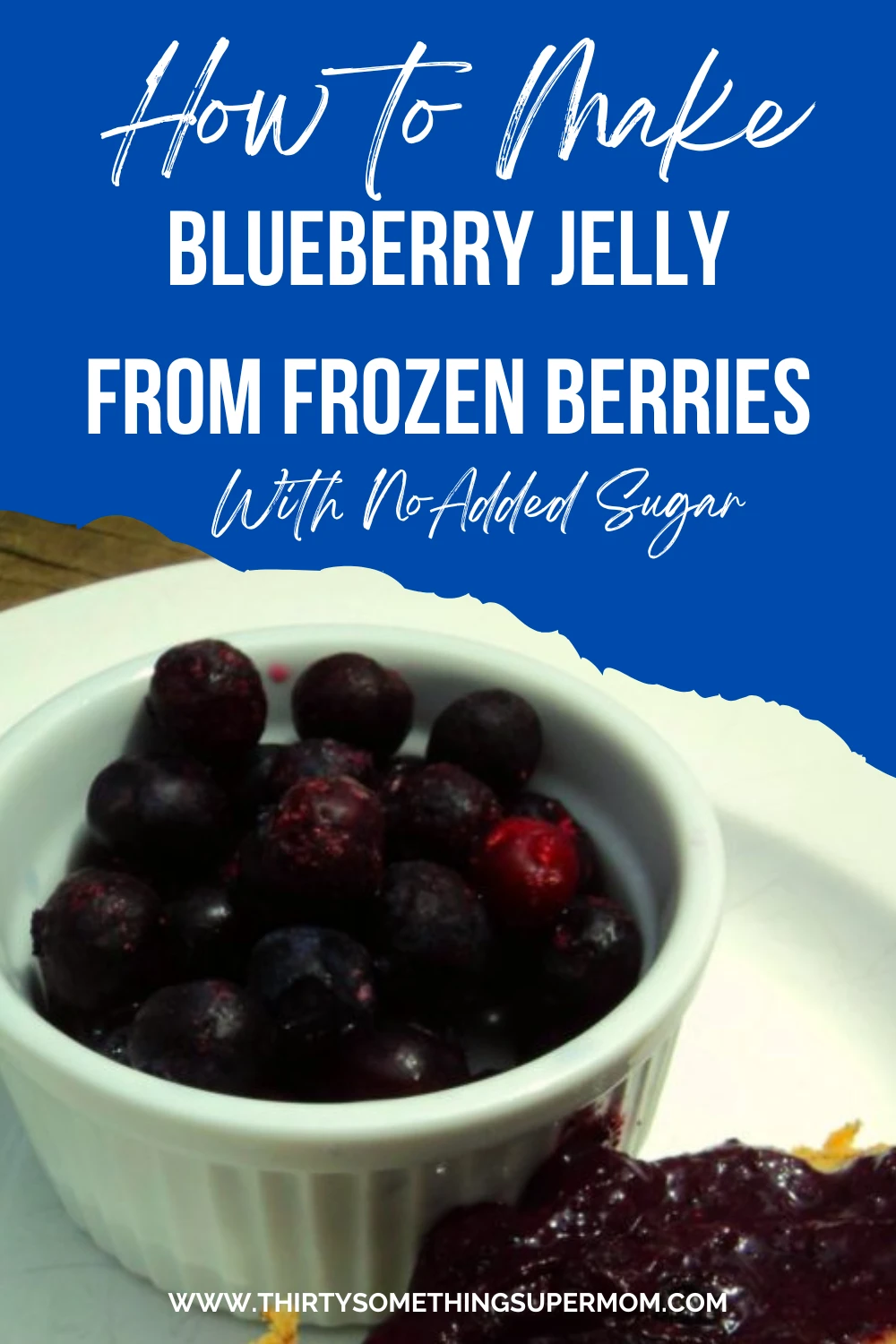 What is the Difference Between Jam and Jelly?
Jelly and jam are both types of fruit spreads, but they are made differently and have slightly different properties.
Jam is made by crushing or chopping whole fruits, then cooking them with sugar and pectin, a naturally occurring thickening agent found in fruit.
The mixture is then boiled until it thickens to a setting point and becomes spreadable.
The resulting texture is usually chunky and sometimes has visible pieces of fruit in it.
Jelly, on the other hand, is usually made by cooking fruit juice with sugar and pectin in a large saucepan.
The hot jelly mixture is then strained to remove any solids, resulting in a smooth and clear spread. Jelly tends to be firmer and more "jiggly" than jam.
Although this recipe doesn't call for a cup of sugar or cups of blueberry juice, it is more like jelly. I attribute that to the lack of sugar and pieces of fruit in the finished product.
Can You Make Jelly from Frozen Berries?
Yes, making homemade jam, jelly, or other fruit spreads can be done using frozen berries.
You can buy a bag of frozen fruit from the store to make your own blueberry jelly any time of the year.
If you have a garden that produces a large batch of ripe fruit, place blueberries in a freezer bag so you can make homemade blueberry jelly from fresh blueberries when you are ready.
What is the Best Frozen Fruit for Making Jelly Recipes?
I like to make homemade blueberry jam from frozen blueberries best but you can use a variety of fruits to make homemade jellies.
You can make a blueberry mixture using raspberries, mulberries, strawberries, or your favorite berry mixture.
Follow the same method to make jelly from frozen berries, just place berry mixture in the spots where the recipe calls for blueberries.
The amount of pectin can vary so be sure to check into how much natural pectin is in the fruit you want to use as this may impact the thickness, you could use a box of pectin to thicken your jellies or jams if this becomes a problem.
I have found that using blueberries as a base is the best way to get the proper thickness without having to add regular pectin or liquid pectin to my blueberry jelly recipe.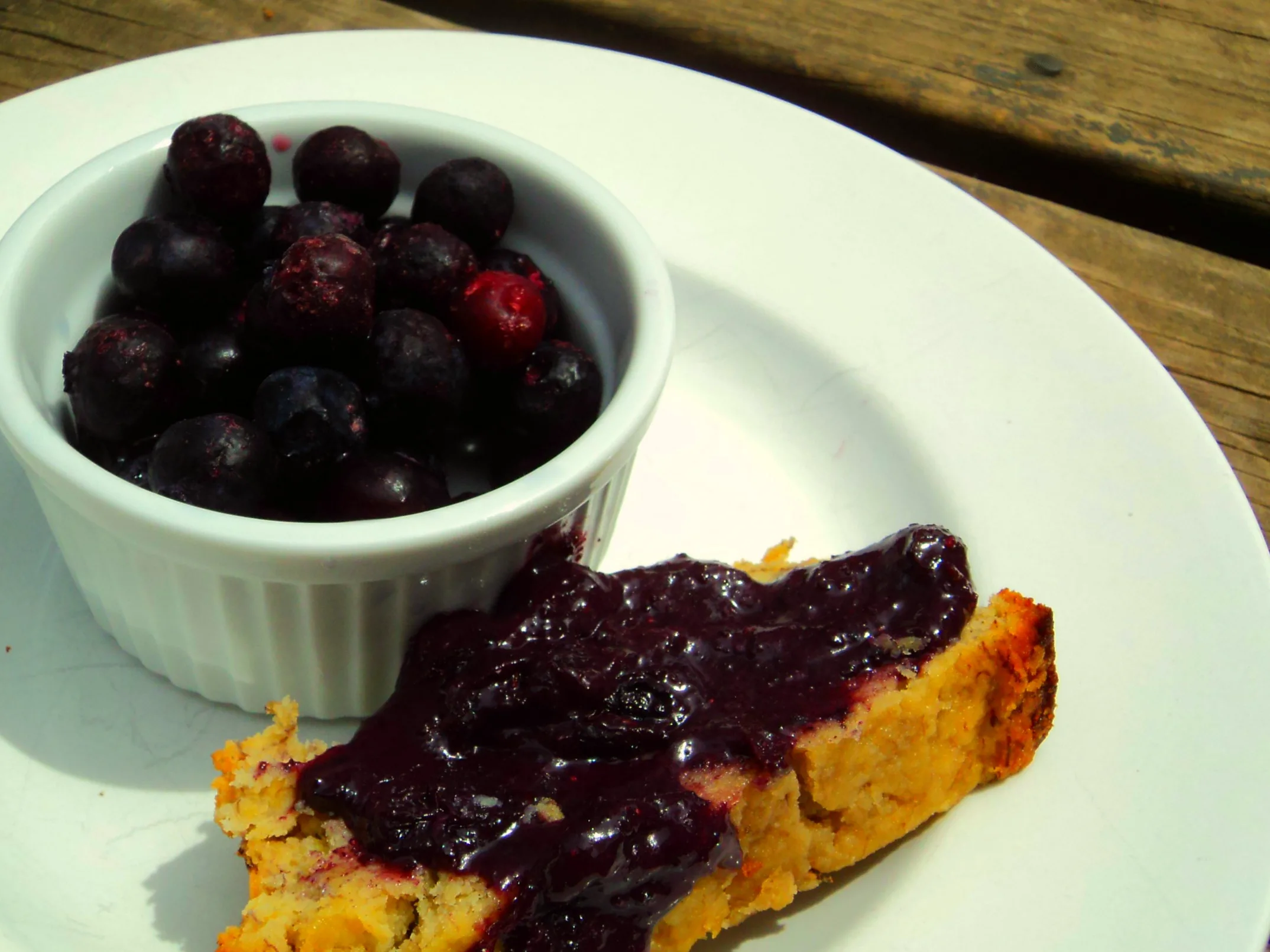 What is Pectin & How Does it Impact this Blueberry Jelly Recipe?
Pectin is a type of soluble fiber found in many fruits, but some fruits contain higher levels of pectin than others.
It's important to note that the amount of pectin in a fruit can vary depending on factors such as ripeness, variety, and growing conditions.
Here are some fruits that are known to have relatively high levels of pectin:
Apples
Apples are known for their high pectin content, especially when they are unripe.
Citrus Fruits
Citrus fruits like oranges, lemons, and grapefruits are also high in pectin. The white pith and peel of citrus fruits are particularly rich in pectin.
Quinces
Quinces are a type of fruit that is related to apples and pears. They are high in pectin and are often used to make jams and jellies.
Berries
Berries like raspberries, blackberries, and strawberries also contain pectin, but the levels can vary depending on the ripeness of the fruit.
Plums
Plums are another fruit that is high in pectin. They are often used in jams and jellies, as well as in fruit leathers and other preserves.
What is the Specific Carbohydrate Diet (SCD)?
The Specific Carbohydrate Diet (SCD) is a dietary approach that was originally developed by Dr. Sidney V. Haas in the early 20th century as a treatment for digestive disorders such as celiac disease, Crohn's disease, ulcerative colitis, and irritable bowel syndrome (IBS).
SCD was later adopted by Elaine Gottschall in an attempt to heal her daughter and in the book Breaking the Vicious Cycle she explains how this diet works and how to implement it to heal your gut.
The diet is based on the idea that some types of carbohydrates are difficult to digest and can contribute to inflammation and damage in the digestive tract.
The SCD eliminates complex carbohydrates such as lactose, sucrose, and starches, which are broken down into monosaccharides that are easily absorbed by the body.
Instead, the diet focuses on simple, easily digestible carbohydrates found in fruits, vegetables, and some nuts and seeds.
The SCD also encourages the consumption of lean meats, fish, eggs, and some dairy products such as hard cheeses and homemade yogurt.
SCD is a restrictive diet that requires careful planning and adherence to a list of allowed foods but over time it becomes second nature to avoid prepackaged foods.
Since the allowable foods list excludes things like sugar and traditional flour it can be difficult to find storebought blueberry preserves.
That is why making your own blueberry jam recipe is the perfect way to stay in control of the amount of sugar you are taking in.
How to Make Freezer Blueberry Jelly Recipe without Pectin or Sugar
Making freezer jelly without pectin or sugar can be a bit more challenging, as pectin is typically what helps the jelly set and sugar is what provides the sweetness.
This simple recipe shares how to make a simple fruit-based jelly without pectin or sugar.
This is my favorite way to make jelly for the holiday season.
You can make it in small batches or double this recipe so you don't have to make a second batch.
This simple method doesn't require a water bath canner, layers of cheesecloth, a dutch oven, or any low sugar pectin to make.
For best results, use glass jars with wide rims on top of the jars for storage.
Clean the jars thoroughly with hot soapy water and rinse well with hot water before using.
Be sure to leave a bit of space at the top for the hot mixture to expand.
Be sure to wipe jar rims and remove any hot liquid that may have spilled onto the jar.
I prefer to use half-pint jars when using canning jars.
They seem to be the perfect size for my family to use up without having to worry about the shelf life.
Just like with other canning recipes, be sure to center lids, and wipe rims before storing.
Place jars into the freezer and store them for several months. Be sure to let them thaw out overnight before serving.
Keep in mind that fruit contains sugars so if you are following a low-sugar diet, although this recipe does not call for cup sugar, it does contain fructose with a ratio of sugar to calculate for your diet.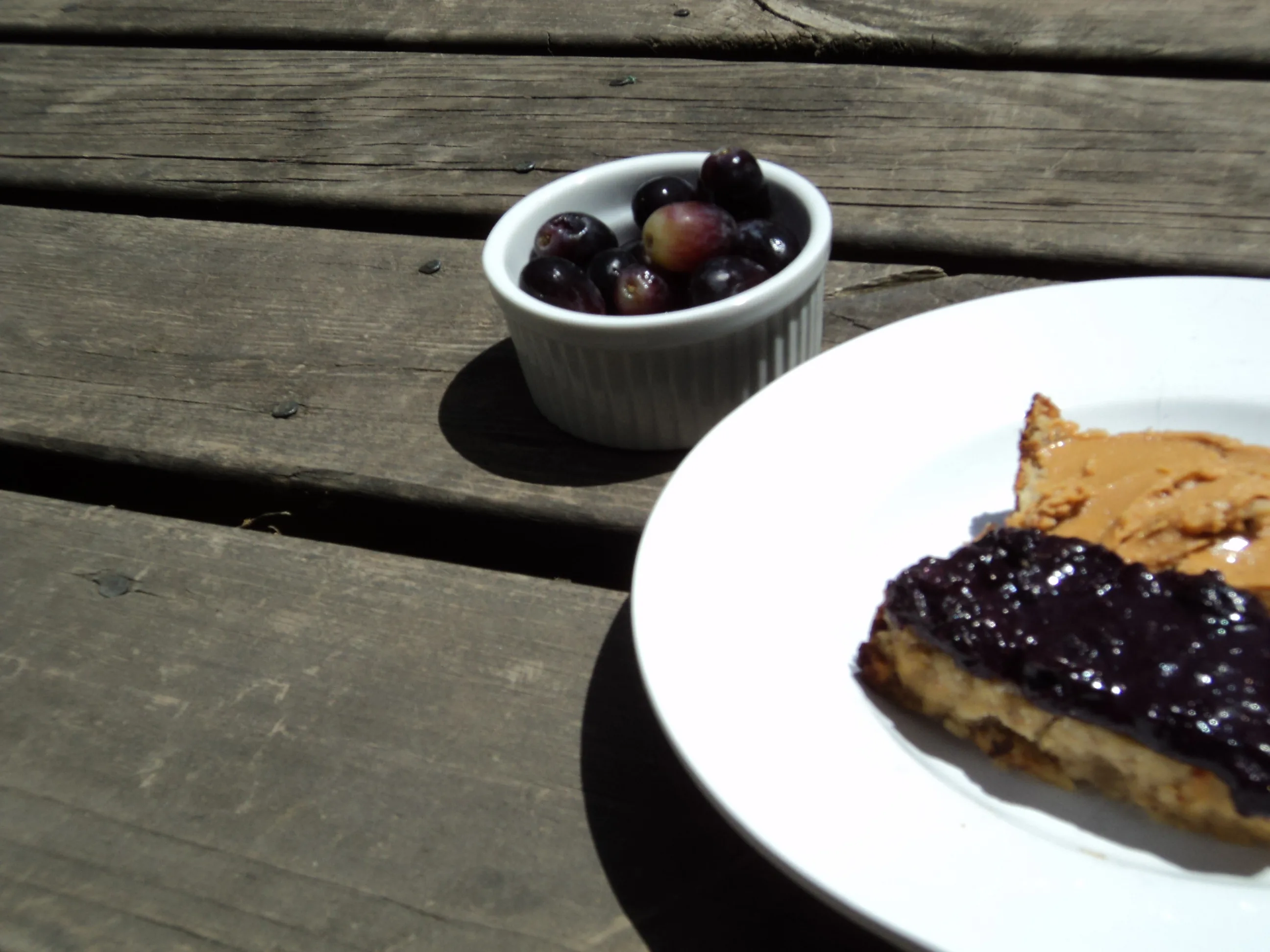 What You'll Need to Make this Blueberry Jelly Recipe from Frozen Berries
How to Make a Blueberry Jelly Recipe from Frozen Blueberries
You can make this recipe without the Coconut Flour if you don't have any on hand, I just like to add a little to help quicken the thickening process.
You could run some warm water over the frozen blueberries to remove any ice crystals and quicken up the process a bit.
Add blueberries to a large pot on high heat and bring to a full boil. Keep stirring to prevent the blueberries from burning as it comes to a full rolling boil.
You may begin to hear a popping sound after a full minute, this may be due to air bubbles forming and breaking or it could be the frost on your frozen blueberries.
Be careful and keep an eye on the blueberry jelly recipe and stir as needed.
Once it becomes hot enough to start "melting" the blueberries, begin crushing them with a fork or spoon. You could also use a potato masher.
Turn down the heat to medium/low and add honey, vanilla, cinnamon, and coconut flour.
Stir all ingredients together until well combined.
Remove blueberry skins if you prefer or just leave them on. You could also strain the mixture through the edges of cheesecloth to separate strained juice from the skins.
At this point, it will be more like a blueberry syrup. Removing skins will be a difficult process that doesn't leave you with as much juice so since the liquid measures less, you can pour juice into a small saucepan or if you are using double the cups of blueberries you may want to continue with a large pot.
Cook for a little bit longer until everything is well blended together.
Let cool on the stove and it will thicken as it stands, leaving you with a hot jam. You could also add a squirt of lemon juice to act as a natural acidulant for longer storage.
How to Store this Homemade Blueberry Jelly Recipe
Pour the jelly into clean, sterile jars or containers with tight-fitting lids. You could also store it in freezer bags but be sure to take the jelly bag out the night before serving to allow it to thaw.
Allow the jelly to cool completely before storing it in the freezer. For more detailed instructions on safe canning, check the USDAs site.
This recipe is great when spread on banana bread, SCD ice cream, or as an alternative to sugar syrup making it a good topping for gluten-free pancakes.
You may also enjoy this all-natural strawberry jam recipe that only takes ten minutes to make or this 2 Ingredient Concord Grape Jelly using fresh grapes. Both are great for a guilt-free peanut butter an jelly sandwich.
If you want to make jelly meatballs, you may enjoy mixing this recipe with my favorite SCD-friendly gluten free meatballs.
Check the recipe card for the full instructions and ingredients so you can add them to your shopping list.
Be sure to sign up for the free newsletter so you never miss another easy healthy recipe again.
Ingredients
1 cup frozen blueberries
1/2 cup of honey
1/2 teaspoon of cinnamon
2 Teaspoons of Coconut Flour
1 Teaspoon Vanilla Extract
Instructions
Add blueberries to a pot and bring to a boil.
Once it becomes hot enough to start "melting" the blueberries, begin crushing them with a fork or spoon.
Turn down the heat to medium/low and add honey, vanilla, cinnamon, and coconut flour.
Stir all ingredients well.
Cook for a little bit longer until everything is well blended together.
Let cool on the stove and it will thicken as it stands.