I love creating new recipes that are not only healthy but so delicious that my family requests them to be put into the weekly rotation. My newest creation is so easy and delicious that I decided to share with everyone How to Make Lasagna with Zucchini Layers. This recipes is Gluten Free, Low Carb, as well SCD Legal.
Ever since I have been following the Specific Carbohydrate Diet to heal my gut and live a healthier life, I have been cooking two different dinners every night. One for my family that includes all of the prepackaged foods they have always eaten and one for myself that is all natural as well as SCD legal.
Cooking two different meals every night is not only time consuming but has left me with guilt. I feel bad that I am the only one eating real food but it's quite a change from the Standard American Diet and my family is always a little hesitant about trying anything that is SCD Legal. That was until I started creating recipes that are not only healthy but delicious, too!
My family loves lasagna and when I showed my daughter How to Make Lasagna with Zucchini Layers, she was fascinated and excited to try it!
All you need to create this delicious recipe is
For the Sauce:
32 ounces of Tomato Sauce or 1 Can of Crushed Tomato's
1 small onion
1 Tablespoon of Oregano
2 Tablespoons Basil
1/2 Teaspoon Salt
1 Teaspoon of Pepper
2 Tablespoon of Garlic Powder
1/2 tespoon of Olive oil for frying the onion
For the meat:
1/2 Lb. Ground Beef
1/4 cup of coconut flour
1 egg
1/4 cup of Parmesan Cheese
For the Layers
Zucchini (sliced lengthwise)
1/2 cup of Parmesan
Cheese for sprinkling on top of each layer (To be SCD legal, I use Provolone)
1/2 Cup of SCD Yogurt (you could use Ricotta Cheese if you are not on the SCD Diet)
Slice the Zucchini and boil like you would with regular lasagna noodles until softened, about ten minutes. Drain the water and let the noodles cool a little bit so they are more workable.
Mix the ground beef with the the seasonings and flour then cook until brown.
In a frying pan, add olive oil and onion. Cook about 5-7 minutes or until onion is translucent. Add tomato sauce or crushed tomatoes and add all seasonings. Cook a few more minutes while mixing to make sure all flavors are well combined.
Preheat your oven to 350 degrees.
Assemble lasagna by adding a little sauce to the bottom of the lasagna pan. Just enough creating a protective layer to keep the Zucchini from sticking to the pan. Add a layer of Zucchini, the size of your lasagna pan will determine the amount of noodles needed to cover the bottom of the dish. I used a square pan and only needed 5 across and one at the bottom facing the opposite direction.
Add scd yogurt or ricotta cheese, a little sauce, some meat, sprinkle Parmesan and add a little cheese on top. Continue this method for each layer until you reach the top.
On the top layer add only sauce and cheese. Bake in oven for about 20-25 minutes. Enjoy!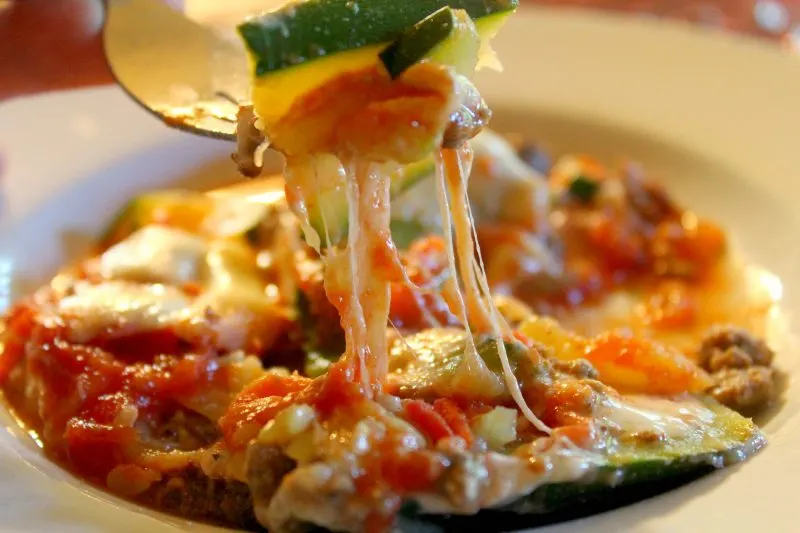 I hope you enjoyed learning How to Make Lasagna with Zucchini Layers. Did you try this recipe, tell me what you think by leaving a comment below. Don't forget to pin it for future reference!