This post sharing how to reheat chicken legs in air fryer contains affiliate links which means that if you make a purchase after clicking a link I will receive a small portion of the sale at no additional cost to you.
After mastering the art of reheating chicken legs in an air fryer, you'll find this method quickly becoming your go-to for warming up chicken leftovers.
This is the best way to warm up leftover chicken legs because it keeps the meat tender and succulent while ensuring crispy skin.
Not only is this method great for cooking chicken legs but it can work for a variety of chicken pieces.
Once you learn how to make air fryer chicken drumsticks, you will also know how to make air fryer chicken thighs, air fryer chicken wings, and warm up leftover fried chicken in an air fryer.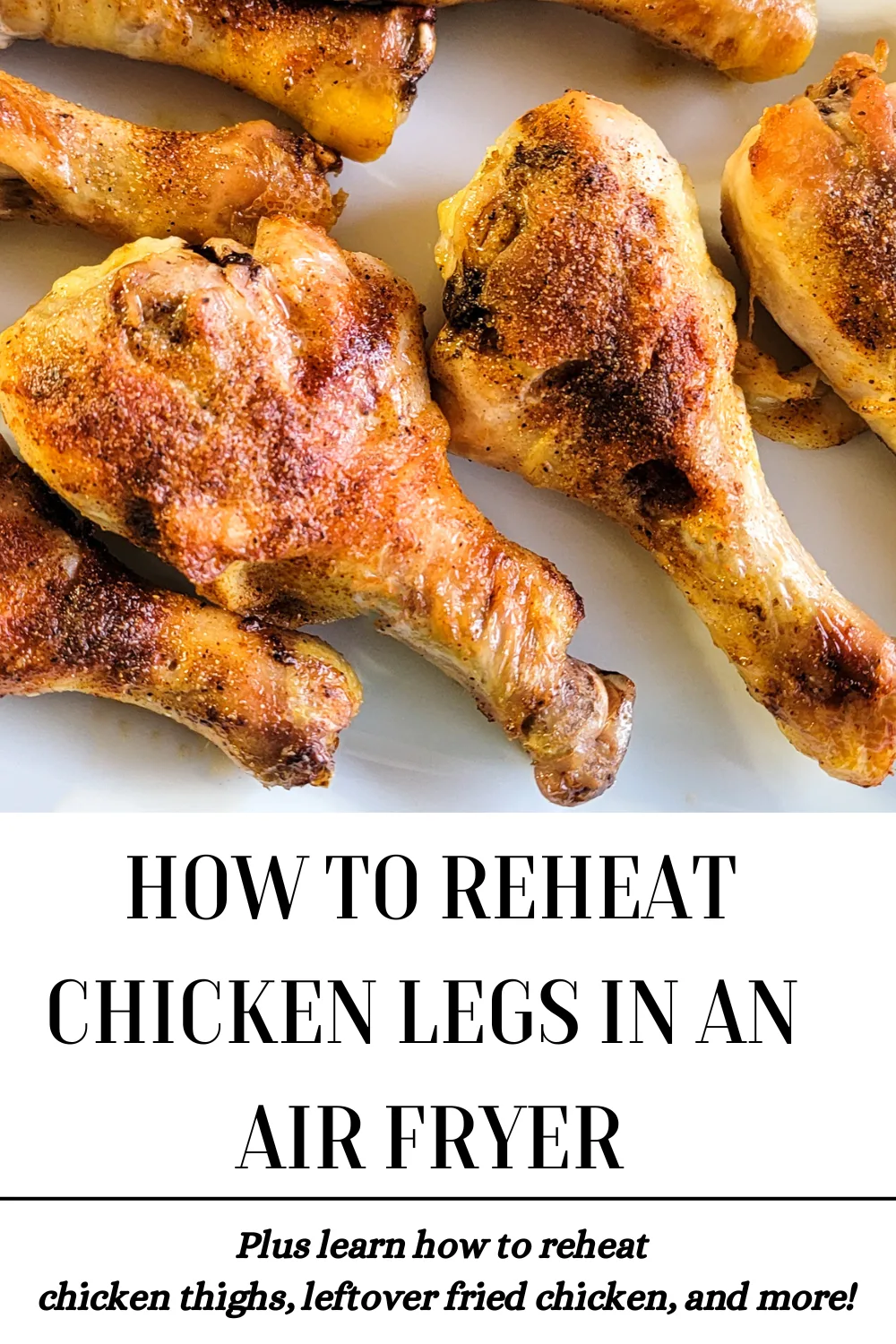 Can You Reheat Chicken Legs in Air Fryer?
Absolutely! You can easily reheat various chicken cuts, including chicken legs, chicken breasts, wings, thighs, and even leftover fried chicken, using an air fryer.
Whether you have an air fryer with baskets or my favorite air fryer, the kind with racks, you can easily reheat chicken.
Why Use an Air Fryer to Reheat Food
When it comes to reheating various foods, an air fryer reigns supreme.
It not only handles frozen fare with exceptional speed but consistently delivers top-notch results, often outpacing traditional oven methods.
The remarkable efficiency of the air fryer can be attributed to its ingenious air circulation system, where fans work their magic by enveloping the chicken in a cocoon of hot air.
This not only slashes cooking times but also upholds the food's impeccable quality, perfect for busy weeknights.
Within mere minutes, you can transform chilly chicken into succulent, freshly cooked goodness that tantalizes the taste buds.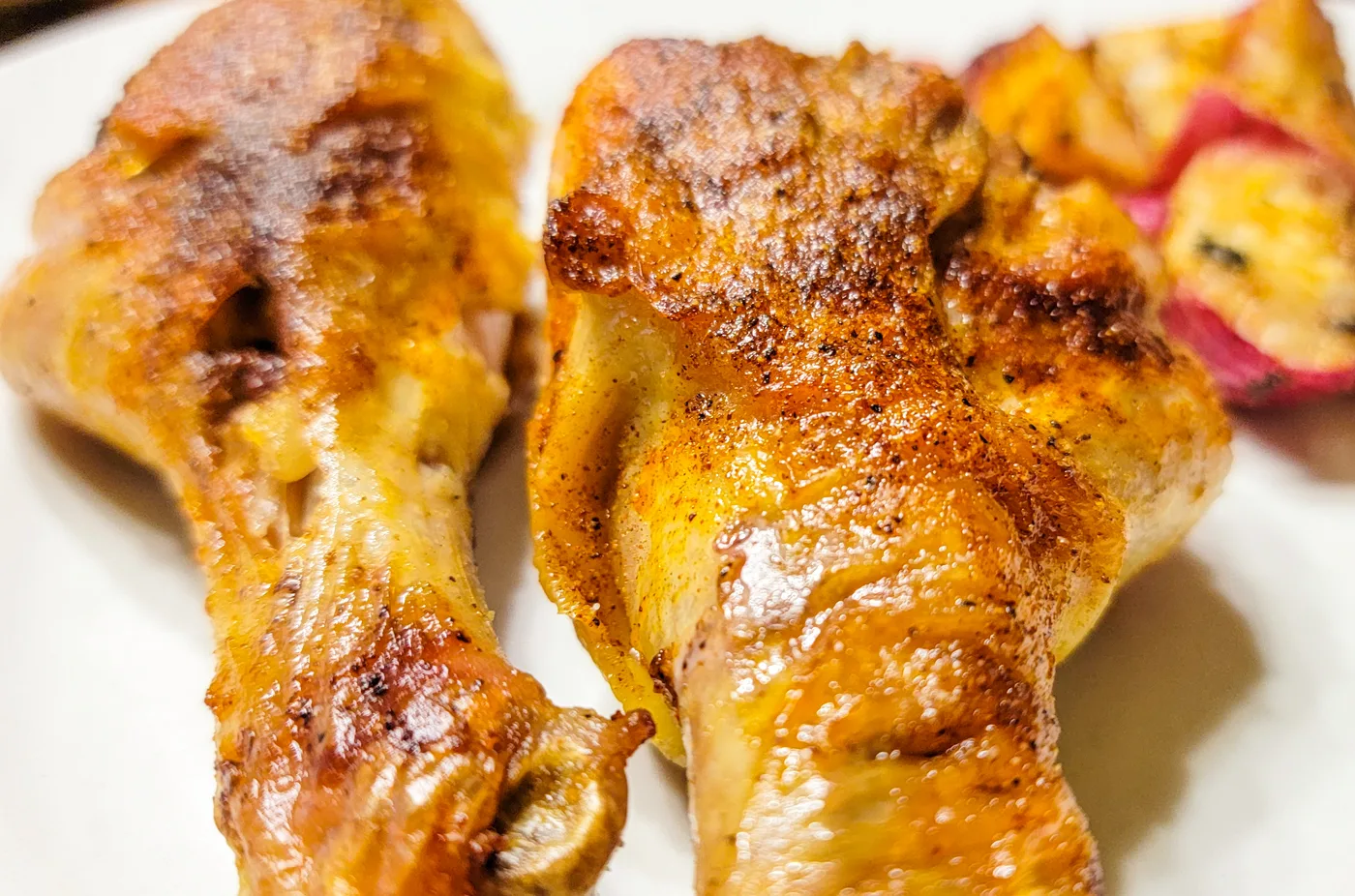 Ingredients Needed to Reheat Chicken Legs in Air Fryer
While you could just place leftover chicken meat on your air fryer tray, there are some simple steps you can take to ensure you get the best results from this method.
To ensure you get the best flavor from your juicy chicken drumsticks, you may want to sprinkle some extra flavor before popping leftovers into an air fryer basket.
A great way to enhance the flavors of leftover chicken is to start by adding a little bit of oil to the outside of the chicken.
This step not only helps the seasoning mix stick but it helps to crisp the chicken skin while leaving juicy meat.
A simple air fryer chicken legs recipe can be as simple as a little olive oil or avocado oil, garlic powder, onion powder, and salt.
Sprinkle on some black pepper, cayenne pepper, or even chili powder if you would like a little spice.
My favorite way to season chicken breasts, chicken tenders, and even rotisserie chicken is this easy recipe for a 5 ingredient dry rub for chicken legs.
You could even add some BBQ sauce or honey mustard to create a new recipe with little effort.
If you are reheating leftover chicken thighs or chicken legs with plenty of flavors, you can skip the seasoning and just spritz the top of the chicken with oil.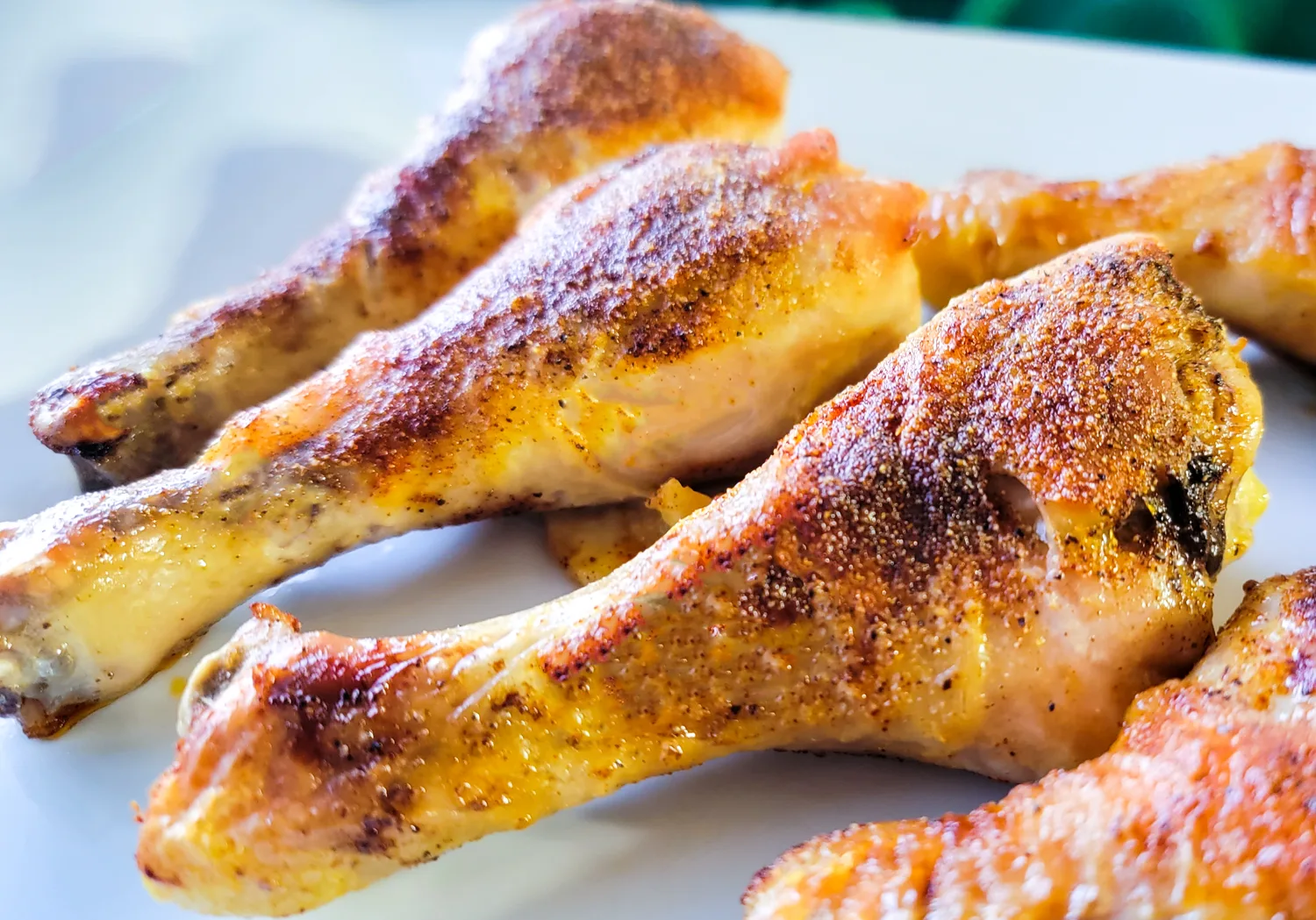 How to Reheat Chicken Legs in Air Fryer
Preheat your air fryer with precision: Set your air fryer to a precise 365 degrees F and allow it to preheat. Allocate approximately 6 minutes of cooking time.
Chicken sizzles in the air fryer: Arrange your chicken legs in a single layer within the air fryer basket or on the wire rack.
How Long to Reheat Drumsticks in the Airfryer?
Your best bet is to cook drumsticks in the air fryer for an initial 3 minutes before turning them. Then allow them to cook for an additional 2-3 minutes.
Then before eating, check the internal temperature of the chicken with a digital meat thermometer.
Dive it into the thickest part of the chicken and when it reads 160 degrees Fahrenheit your crispy chicken legs are ready.
No Need to Check: If you do not have a meat thermometer, don't worry, air frying leftovers isn't necessary for safety reasons it's just a delicious way to make leftovers taste like the first time they were cooked.
If leftovers are stored properly, it is perfectly fine to eat cold leftover chicken the next day.
Adjust Cook Time: You can easily cook for a shorter time or adjust the temperature settings for a shorter cooked time while still safely enjoying chicken leftovers.
Keep in mind that cooking times may vary depending on the chicken legs' size and thickness. If they're almost there but not quite, a series of 30-second intervals will help them reach chicken perfection.
This is the perfect way to avoid too much cooking time that could dry out the chicken.
Be sure to check the recipe card at the bottom of the page for nutrition information and instructions for all of your favorite air fryer chicken recipes.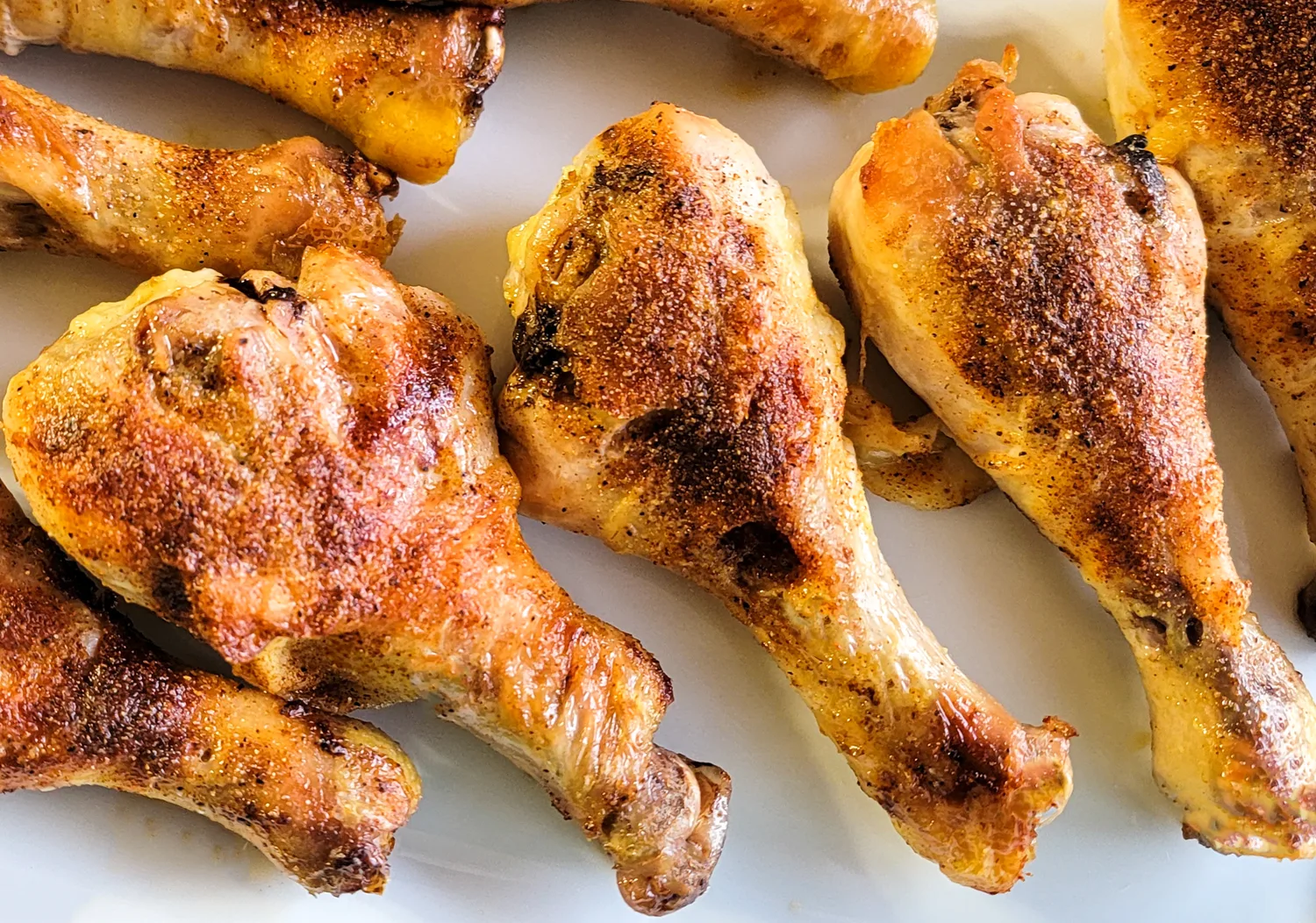 How Do You Reheat Chicken in An Air Fryer Without Drying It Out?
There are lots of ways to prevent chicken from drying out in the air fryer. Use these simple tips for tender meat.
While you do not want to let the chicken cool back down to room temperature, it is a great idea to allow the chicken to rest for a few minutes before eating.
This brief rest ensures your chicken stays as juicy as can be!
Retrieve those leftover chicken legs from the fridge about 30 minutes to an hour prior to reheating.
This thoughtful step will supercharge the reheating process, ensuring your meal is ready in no time!
It is best to use chicken that is leftover no longer than 3-4 days. Always make sure that chicken is stored properly in a freezer bag or airtight container, or wrapped with aluminum foil.
Adding a paper towel to the storage container is an easy way to soak up any extra grease that may drain from the chicken.
Your chicken may require less time depending on the size.
Checking the chicken after the initial cook time every 30 seconds can help to avoid overcooked chicken and keep the meat juicy.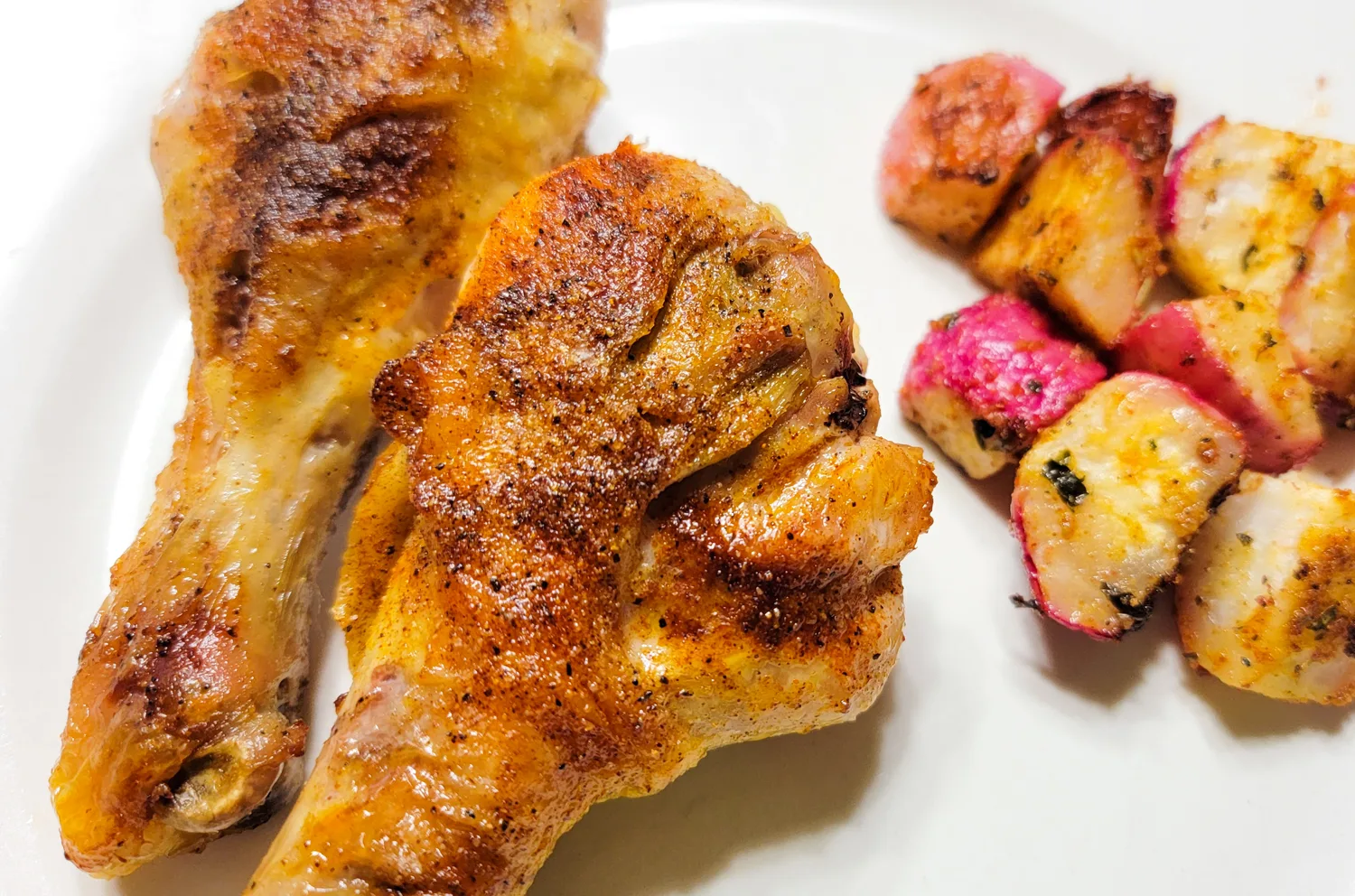 Serving Ideas for Reheated Chicken in Air Fryer
Whether you are serving up a platter of air fryer chicken breast, thighs, or legs, there are a variety of easy dishes that pair well with these chicken entrees.
Try this Creamy Keto Mashed Cauliflower Recipe, it's one of my favorite dishes to serve with chicken because it's low carb, easy, and delicious.
Another great low carb side that pairs well with any chicken dinner is this Easy Baked Keto Radish Recipe cooked on a baking sheet.
It's a nice swap for french fries and is easy to whip up, plus it is a healthy side that the whole family will love.
If you are curious about this keto vegetable, learn more from this post that answers the question, Are Radishes Keto?
You may also want to give this easy low carb asparagus recipe a try.
It's one of the best things to eat because even a small bowl of this healthy side is packed full of vitamins and delicious flavor.
Find out more about this low carb vegetable from the post that answers the question, Can I Eat Asparagus on a Keto Diet?
If you aren't worried about carbs, a quick side dish for busy nights is this easy southern potato salad that can be made ahead to ensure a quick dinner.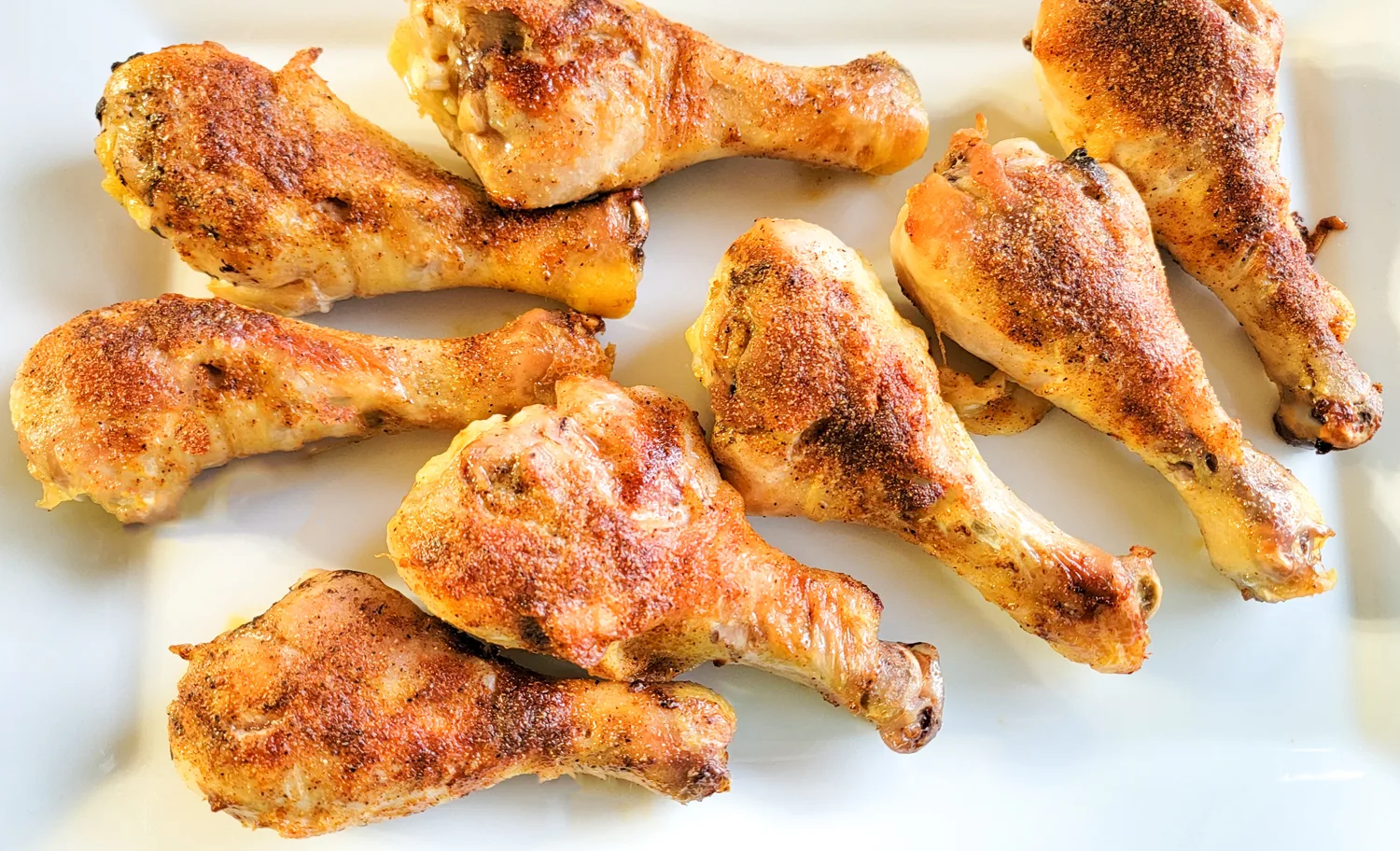 More Air Fryer Recipes
If you are trying to prepare healthy meals for the whole family you will love this easy dinner recipe for BBQ air fryer baby back ribs.
Another one of my favorite ways to use my air fryer is to make this homemade lunchmeat in the air fryer.
You may also want to check out this post that shares an air fryer burger recipe for juicy hamburgers.
Be sure to check out how to use an air fryer as a dehydrator that shares 9 of the best recipes you can make this weekend!
I hope you enjoyed learning how to reheat chicken legs in air fryer and will consider signing up for the free newsletter or following along on social media so you never miss another air fryer recipe again!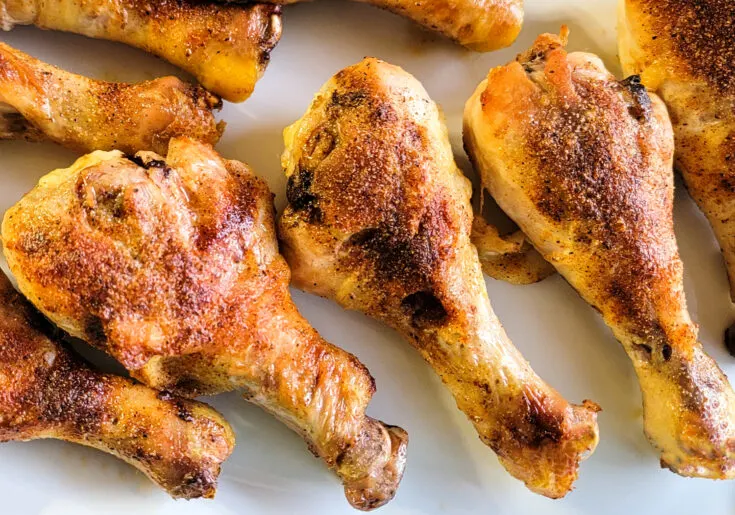 How to reheat chicken legs in air fryer
Ingredients
4-6 drumsticks or whatever fits in your air fryer without touching
Olive Oil Spray
Seasoning if needed (see post for suggestions)
Instructions
Set your air fryer to 365 degrees Fahrenheit and allow it to preheat.
Give the air fryer basket a friendly spritz with oil. I prefer olive oil but you can use avocado oil or your favorite oil.
Nestle those chicken pieces into the basket, ensuring they are not touching.
Spritz chicken with another gentle mist of cooking oil.
Let the air fryer work its magic for 2-3 minutes on each side.
For the final touch, slide a trusty meat thermometer into the thickest part of the chicken.
When the internal temperature reads 165 degrees Fahrenheit, your reheated air fryer chicken is ready.
If your chicken needs more time, pop it back in for 30-second increments until it reaches the desired doneness.
Notes
This recipe shares how to reheat chicken legs in an air fryer but you can use this same method for boneless skinless chicken thighs, chicken breast, and chicken wings.
To ensure crispy skin, be sure to spread chicken out so it is not touching before reheating.