Discover the best things to do in Custer State Park as we dive right in to uncover the top attractions, trails, and unique activities that make this natural wonderland a must-visit destination for nature enthusiasts and outdoor adventurers.
Nestled within the stunning beauty of the Black Hills National Forest in South Dakota, Custer State Park offers a world of adventure, wildlife encounters, and breathtaking vistas spread out over 71,000 acres.
From thrilling scenic drives to abundant wildlife, this national treasure promises an unforgettable experience for the whole family.
Whether you're a seasoned adventurer or a newcomer to the park, Custer State Park has attractions to delight everyone.
Let this guide be your key to an exhilarating journey of exploration, unveiling the park's diverse and captivating attractions.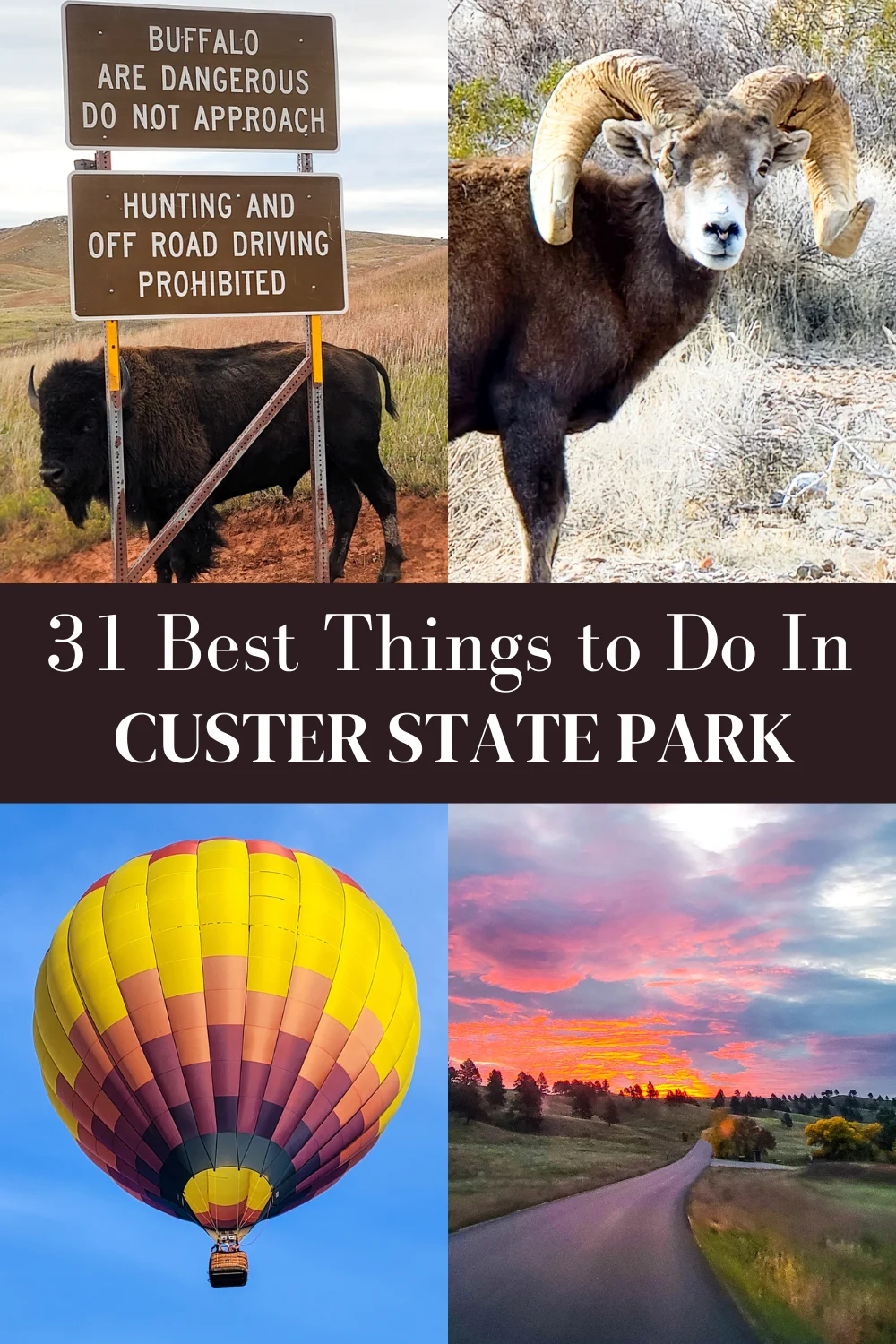 Horseback Riding
Discover the unique opportunity to saddle up for a horseback adventure within the stunning confines of Custer State Park. Embark on guided horseback excursions departing from Blue Bell Lodge Stables, immersing yourself in the tranquil beauty of the park's trails.
All ages are welcome, with special Lil' Buckaroo rides tailored for young adventurers. While children must meet safety requirements to join the trail rides alone, riders of all levels can participate from mid-May to the end of September.
Take a one-hour ride, a favorite among visitors, that winds down into a serene draw, tracing the enchanting path of French Creek—a haven for wildlife like deer among the tall willows, and a paradise for Blue Heron fish and sunbathing turtles along the creek's granite banks.
For those seeking a longer journey, they offer two-hour, half-day, and full-day rides, ensuring there's a perfect equestrian experience for every explorer.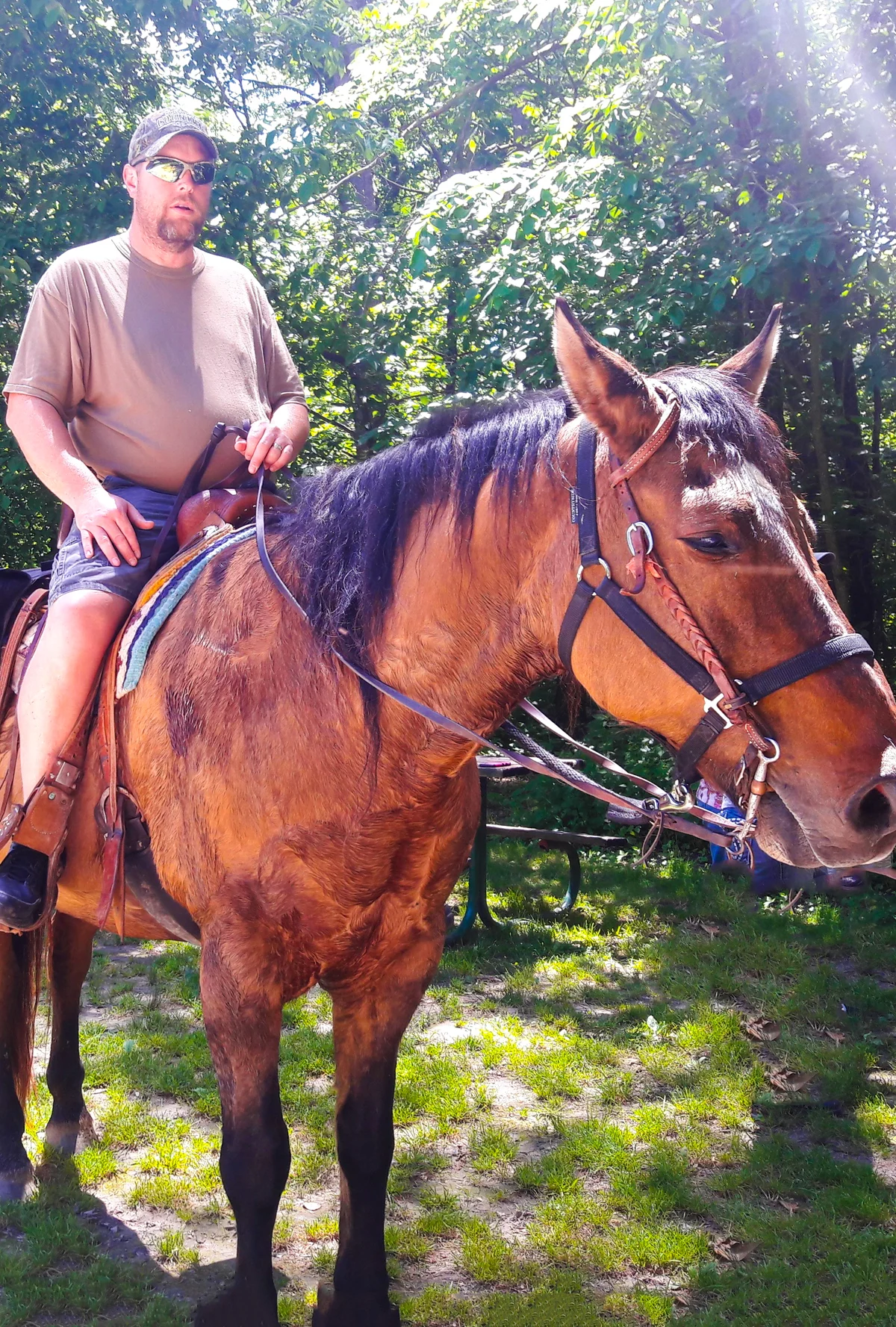 Hot Air Balloon
Discover a unique and exhilarating perspective of Custer State Park by taking to the skies with Black Hills Balloons.
This unforgettable adventure offers you the opportunity to soar over the stunning southern Black Hills, where the natural beauty of the park comes to life from a whole new angle. As you ascend in your hot air balloon, you'll be treated to breathtaking views of majestic mountains, winding valleys, pristine lakes, and expansive prairies.
Since Custer State Park is located only about an hour south of Rapid City, an hour north of Hot Springs, and about an hour and a half from Badlands National Park, you will get to see all of your favorite things about South Dakota from this view.
Marvel at the heart of the flying area, which encompasses Custer State Park and the picturesque Custer Valley, is all just a stone's throw away from iconic landmarks like Mount Rushmore National Memorial, Crazy Horse Memorial, Jewel Cave National Monument, Harney Peak Fire Tower, and Wind Cave National Park.
You may even catch a glimpse of Thomas Jefferson while soaring above the mountains.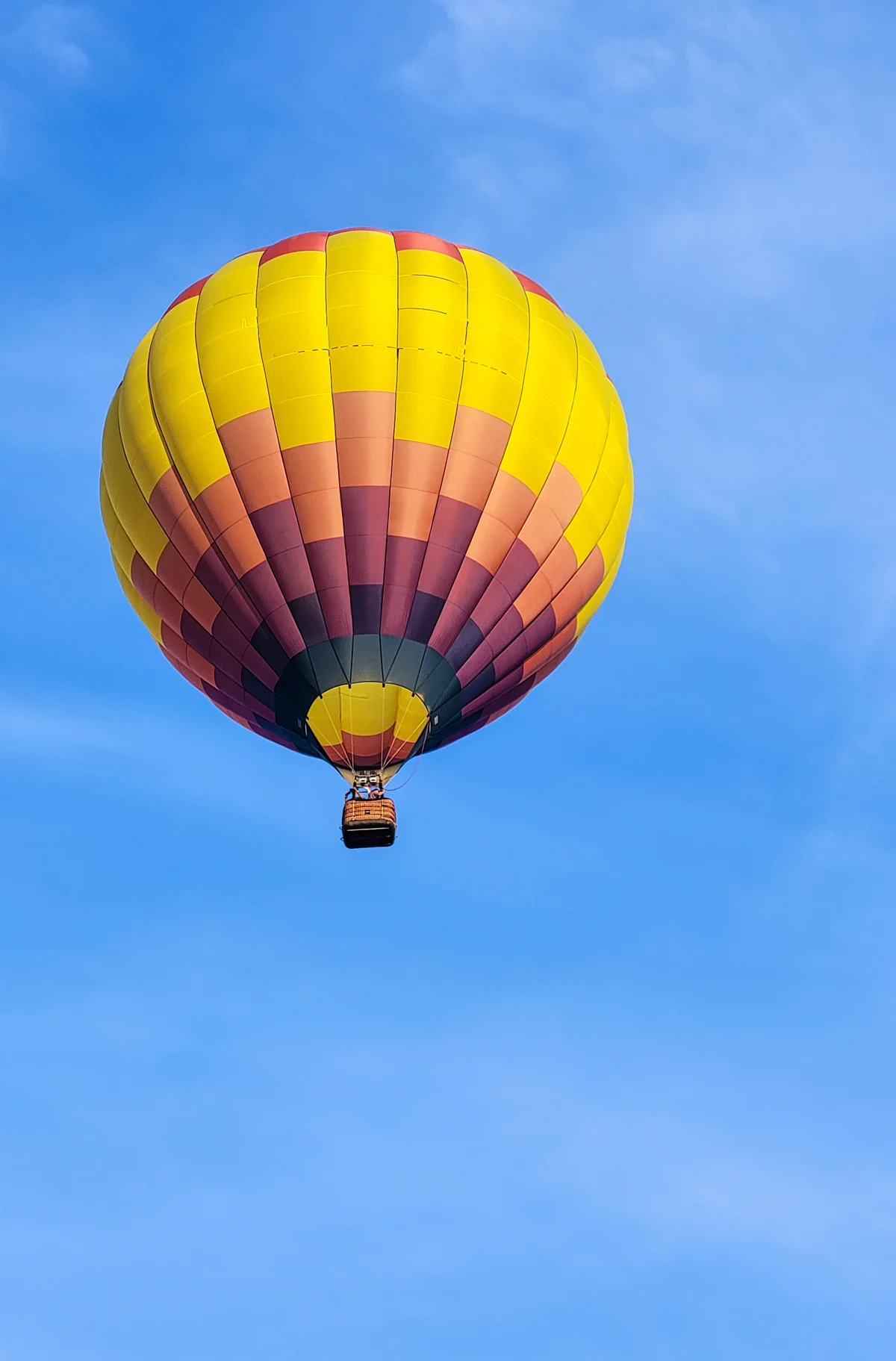 Scenic Drives
Our adventure begins with exhilarating scenic drives that meander through picturesque landscapes, guiding us straight to the heart of this natural paradise. Year-round access to the park means you can savor its enchanting landscapes any time of year.
Whether it's clear skies or inclement weather, you can relish the open grasslands and even indulge in wildlife viewing from your car windows.
This state park is a prime destination for a full day road trip, thanks to its abundance of breathtaking sights waiting to be explored. Keep in mind that there is an entrance fee for many of the roads that drive through Custer State Park.
Let's delve into the top locations for immersing yourself in the breathtaking scenery that makes this one of the best state parks in the country.
Needles Highway
Experience the breathtaking beauty of the Needles Highway, a remarkable 14-mile scenic drive that transcends the concept of a mere road. In every twist and turn of the Needles Highway, you'll find yourself immersed in a landscape that seems straight out of a dream.
The play of light and shadow on the granite surfaces adds an extra layer of mystique to the landscape. At different times of day and in varying weather conditions, the mountains transform, casting long shadows that dance across the road and creating an ever-changing tableau of colors and textures.
Whether you're seeking solace in the tranquil forests, marveling at the meadows' beauty, or standing in awe before the granite sentinels that grace this route, the Needles Highway promises an unforgettable and visually stunning journey through the heart of South Dakota's natural wonderland.
Peter Norbeck Scenic Byway
Embark on an unforgettable road trip through the heart of the Black Hills of western South Dakota, where the Peter Norbeck National Scenic Byway unfolds as a masterpiece of American engineering and natural beauty.
This extraordinary journey is not just about the road; it's about a visionary named Peter Norbeck, a senator and governor of South Dakota who left an indelible mark on the landscape.
In the 1930s, Peter Norbeck personally handpicked the layout for what would become the Iron Mountain Road, displaying unwavering determination to see it come to fruition, even in the face of skepticism.
This 70-mile byway stands as a testament to his vision, with its intricate spiraling bridges, hairpin curves, granite tunnels, and vistas that will take your breath away. The Peter Norbeck Scenic Byway is more than a road trip; it's a journey through history, engineering marvels, and the unspoiled beauty of the Black Hills.
It's a tribute to the man who believed in the impossible and turned it into an extraordinary reality.
So, buckle up and get ready for a road trip like no other—one that combines the spirit of adventure, the wonder of nature, and the legacy of a visionary named Peter Norbeck.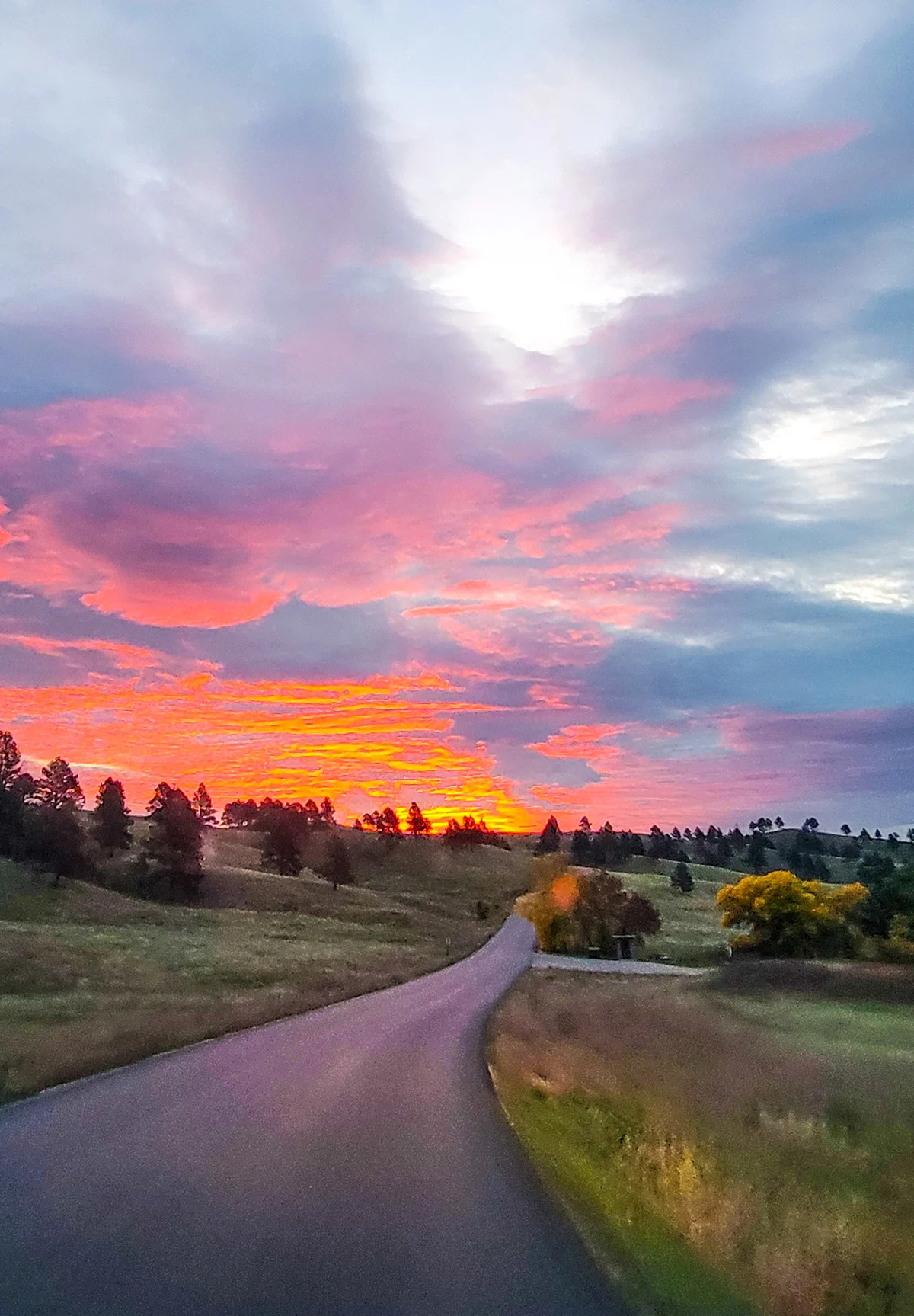 Wildlife Loop Road
Appropriately named, Wildlife Loop Road is one of the best places in the park to get up close to wild animals like begging burros, elk, mule deer, pronghorn, turkey, a bison herd, prairie dogs, and more.
This is bound to be the favorite place among animal enthusiasts who will cherish this highlight during their visit to the park.
Plus you will get panoramic views of lots of beautiful scenery, so don't forget to bring your camera.
To get on the Wildlife Loop in Custer State Park, start at the east entrance near the Visitor Center and follow the 18-mile loop that forms a "U" from east to west, taking about 1.5 to 2 hours to complete.
If you wish to complete the full circle, continue on from Blue Bell's entrance station, adding an extra 12 miles and roughly 30 minutes of travel time, with opportunities to explore scenic overlooks, historic sites, restaurants, and lodges along the way.
Observe the Buffalo
Buffalo can be spotted throughout Custer State Park in various locations. Keep an eye out for these majestic animals as you explore the park's scenic drives, trails, and open grasslands.
They are a symbol of the park's rich natural heritage and a testament to the successful conservation efforts that have allowed them to thrive in their ancestral home. While wildlife loop is a great place to get a glimpse of these majestic creatures.
The park offers several scenic drives which provide excellent opportunities to spot buffalo grazing in the open grasslands. Hiking or walking along trails in the park, especially those near meadows or open areas, may lead you to buffalo sightings. Trails like the Prairie Trail and French Creek Natural Area are good places to start.
Always keep in mind to watch buffalo from a safe and respectful distance. These are wild creatures, and it's crucial to ensure both your safety and their well-being by maintaining a safe distance.
Take pleasure in the chance to see these magnificent animals in their natural habitat while acknowledging the park's dedication to their preservation.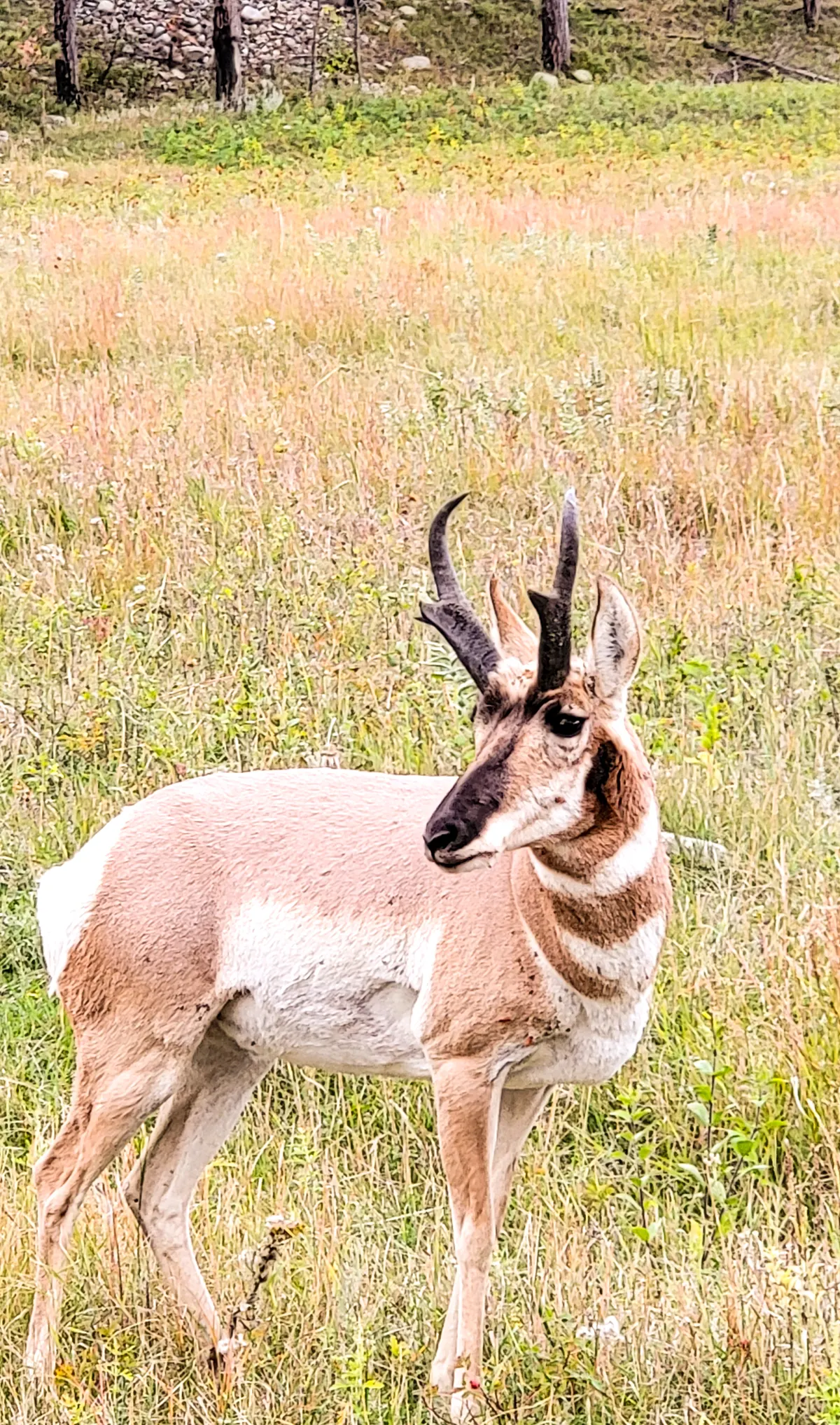 Observe the Pronghorn Antelope
Encountering the South Dakota antelope, better known as pronghorn, in Custer State Park is a captivating experience that offers a glimpse into the unique wildlife of the region.
These graceful creatures are known for their distinctive features and remarkable adaptations.
Pronghorns are primarily reddish-brown with white markings on their undersides and necks, making them easily recognizable.
What truly sets them apart is their impressive horns, which can reach up to 15 inches in length and feature a distinctive prong at the front. Acclaimed as North America's swiftest land mammal, South Dakota's pronghorns can achieve astonishing speeds of up to 60 mph, showcasing remarkable endurance that serves as their defense against natural predators like coyotes and mountain lions.
This incredible speed also enables them to discreetly evade the watchful eyes of tourists eager for a glimpse. If spotting these agile creatures is on your list of favorite activities in Custer Park, here are some essential tips to keep in mind:
Pronghorns are often spotted wandering the open grasslands of Custer State Park, sometimes in small herds.
Their daily journey for food and water can span up to 10 miles, revealing their adaptability and nomadic nature. Observing pronghorns in their natural habitat can require patience, as they may move swiftly through the landscape.
Take your time and savor the experience, allowing their natural behaviors to unfold before you.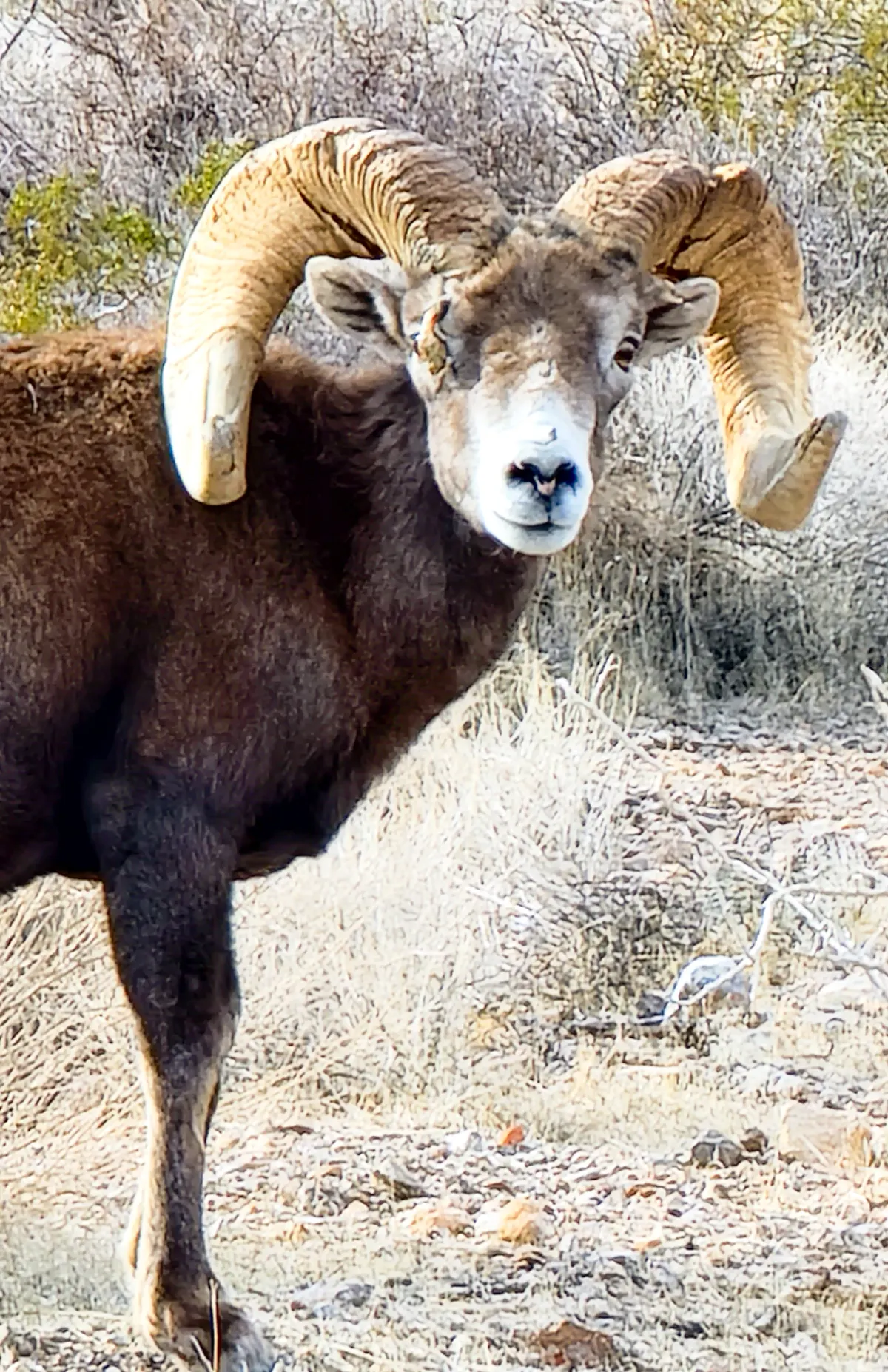 Observe Bighorn Sheep
Custer State Park in South Dakota is a great place to spot bighorn sheep, but their location can vary depending on the time of year and their natural behaviors.
Here are some areas within the park where you might have a good chance of seeing bighorn sheep. Bighorn sheep are often spotted around the Sylvan Lake area and Center Lake area, especially along the Needles Highway and the Sylvan Lake Shore Trail.
The steep terrain and rocky outcrops provide ideal habitat for them.
Drive along the Needles Highway, and keep an eye on the rocky hillsides. Bighorn sheep are known to navigate the rugged terrain in this region.
The Cathedral Spires Trail by Sylvan Lake is not only a beautiful hike but also offers a chance to spot bighorn sheep on the rocky slopes. Sometimes, bighorn sheep can be seen near the State Game Lodge in the southern part of the park. and the area around Blue Bell Lodge also offers opportunities to spot bighorn sheep.
Observe Mule Deer
Mule deer are aptly named for their distinctive, mule-like ears, setting them apart from other deer species, including the white-tailed deer that also inhabit the park. While both of these deer species are frequently observed within Custer State Park, encountering mule deer can be a delightful experience, particularly for visitors arriving from regions like Iowa.
These graceful creatures sport a brownish-gray coat adorned with a conspicuous white rump patch and a tail tipped in black, making them a captivating contrast to the familiar Iowa whitetail deer commonly seen in everyday surroundings.
Like many deer species, mule deer in Custer State Park exhibit seasonal movements. They may migrate to lower elevations during the winter months in search of food and shelter and return to higher elevations in the spring and summer. Mule deer are versatile and can be found in a range of habitats within Custer State Park.
They are commonly seen in grasslands, meadows, and forested areas. They are known for their adaptability to different environments, which allows them to thrive in the park's diverse landscape.
Observe Begging Burros
Within the enchanting realm of Custer State Park, a delightful cast of characters known as the "begging burros" takes center stage. These endearing creatures, a breed of petite donkeys, have etched themselves into the park's heart and the affections of its visitors.
Their enchanting quirk? A knack for politely begging for treats from park visitors.
Picture this: as you journey through the park's scenic landscapes, these pack animals may graciously approach your vehicle, their curious heads peering through windows and sunroofs in pursuit of tasty morsels.
Their presence can be found sprinkled throughout the park, from the winding Wildlife Loop Road to other well-trodden paths, where they often congregate in areas bustling with curious onlookers.
Try to Spot the Mountain Goats
While exploring Custer State Park, keep your eyes peeled for the elusive mountain goats that occasionally grace the rugged terrain. These sure-footed creatures are experts at scaling the steep cliffs and rocky outcrops of the Black Hills.
If you're lucky enough to spot one, it's a memorable wildlife encounter you won't want to miss. Grab your binoculars and camera for a chance to capture the beauty of these mountain-dwelling marvels in their natural habitat.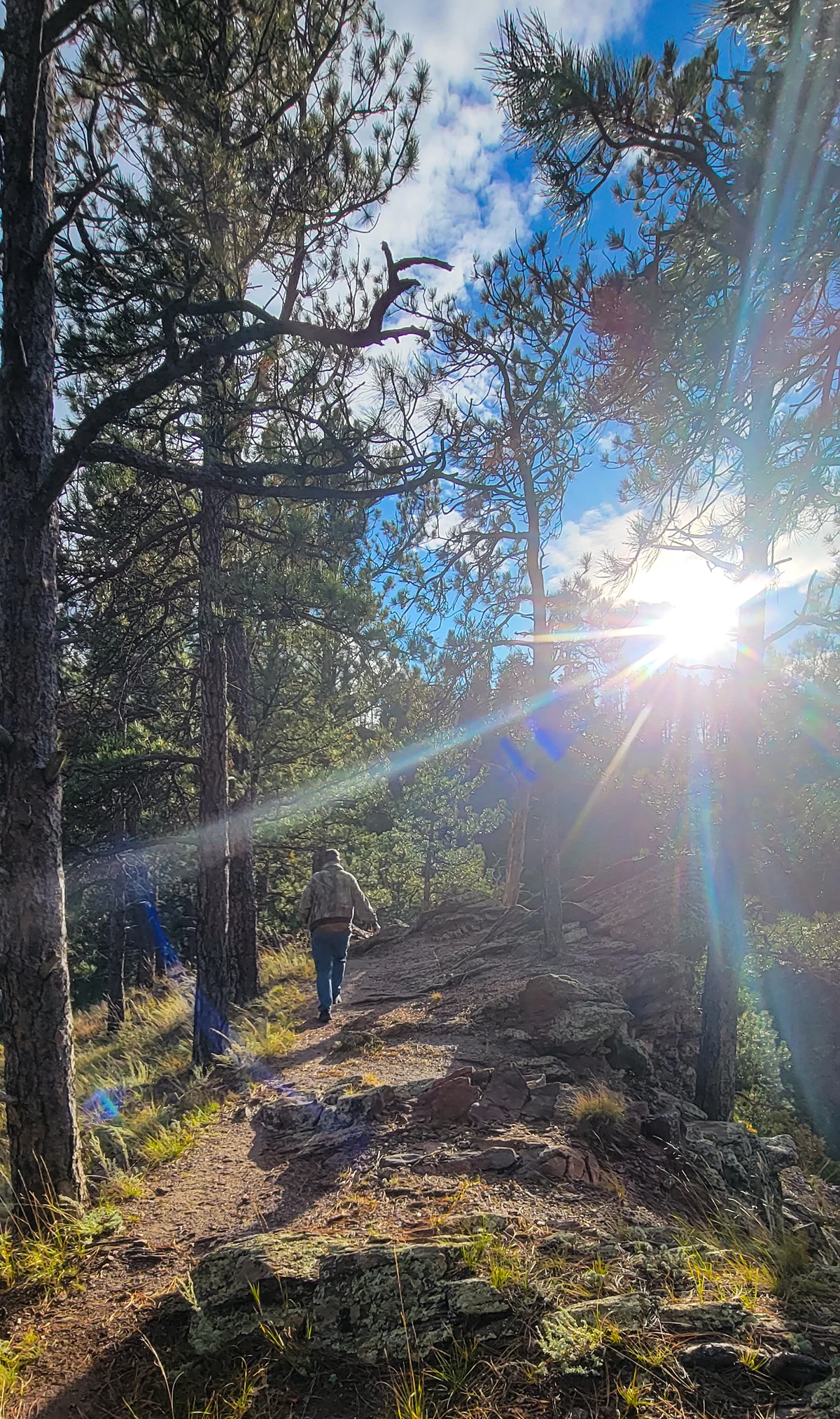 Hiking Trails
Hiking in Custer State Park is an adventure like no other, inviting nature enthusiasts and outdoor explorers to immerse themselves in the breathtaking beauty of this pristine wilderness.
The park boasts a diverse and awe-inspiring landscape, from lush forests and meadows to rugged granite mountains and serene lakes. Hiking trails take you through some of the most stunning and unspoiled natural vistas in the Black Hills of South Dakota.
Whether you're a seasoned hiker seeking a challenging ascent or a family looking for an easy stroll, Custer State Park offers a wide range of trails catering to various skill levels. From leisurely lakeside walks to demanding backcountry treks, there's a trail for everyone.
The park's beauty changes with the seasons, providing a different experience each time you visit. Spring blooms, greenery during the Summer months, vibrant fall foliage, and serene winter landscapes all offer unique hiking experiences.
Whether you're a seasoned hiker or a beginner, exploring the park's trails is a fun and fulfilling way to experience the great outdoors.
Cathedral Spires Trail
Embark on the Cathedral Spires Trail, a gem nestled within the scenic beauty of Custer State Park along the iconic Needles Highway. This short, 3/4-mile trail offers a delightful adventure that can be enjoyed as an out-and-back journey or as a starting point for the trail leading to Black Elk Peak.
While trekking this path, hikers will encounter some thrilling scrambles, adding an element of excitement to the hike. It's important to note that weather can play a role in the trail's condition, and during rainy spells, sections may become wet and muddy.
However, don't let this deter you, as the trail winds its way through the captivating needles, providing a unique and visually appealing experience.
Parking for the Cathedral Spires Trail is somewhat limited, tucked around a curve, which can make finding a spot a bit challenging during peak visitation times.
Despite this, the effort to reach this trail is undoubtedly rewarding, as it promises an exploration of the park's striking rock formations and an opportunity to connect with the natural wonders of Custer State Park.
Little Devils Tower Trail
Embark on a thrilling adventure by conquering Little Devils Tower, a peak that may be slightly shorter than its famous neighbor, Black Elk Peak, but still ranks as the 7th highest in the Black Hills.
With an elevation gain of over 700 feet from the Little Devils Tower trailhead and more than 800 feet from Sylvan Lake, this hike promises both fun and rewarding challenges.
While it's not as towering as Black Elk Peak, Little Devils Tower boasts a significant prominence of 440 feet. What makes this hike particularly exciting is the element of rock scrambling near the summit, which might classify it as a Class 3 hike.
The Black Elk Peak-Little Devils Tower-Cathedral Spires area is a popular hotspot for hikers and climbers, renowned for its stunning granite formations and abundant wildlife, even amidst the frequent visitor traffic.
As you ascend to the summit, you'll be rewarded with breathtaking panoramic views of the Black Hills, with Black Elk Peak and other prominent landmarks in sight.
This hike offers a splendid opportunity to immerse yourself in the natural beauty of the region, making it a must-do experience during your visit to Custer State Park.
Black Elk Peak Trail
Embark on an exhilarating journey to the pinnacle of Black Elk Peak, a remarkable adventure awaiting hikers in the heart of Custer State Park. Standing at an impressive 7,242 feet, Black Elk Peak is not only South Dakota's highest point but also a testament to the enduring natural beauty of the Black Hills region.
With its enchanting views that seem to stretch endlessly, this peak offers a sweeping panorama of South Dakota, Wyoming, Montana, Nebraska, and North Dakota.
A tribute to the rich history of the area, a stone fire tower crowns the peak, a relic of the Civilian Conservation Corps' craftsmanship in 1938. The tower, though retired in 1967, remains an iconic landmark for hikers ascending the peak.
To begin your journey commencing by Sylvan Lake is the most common route, offering a moderate to difficult hike with ample opportunities to pause for breathtaking views and photos along the way. Ensure you pack sufficient water, as there are no water sources on the trails.
Sylvan Lake Shore Trail
Discover the serene Sylvan Lake Shore Trail along South Dakota's Needles Highway in the Black Hills. This 1.6-mile loop offers a leisurely hike with breathtaking views. The trail is easily navigable, with some light rock scrambling.
While Sylvan Lake is partially artificial, it boasts a unique charm that makes it stand out among the mountain lakes thanks to a man-made waterfall and striking rock formations.
Though not a challenging hike, the picturesque surroundings make it well worth the hour or so it takes, and may soon be one of your favorite outdoor activities at Custer State Park.
Sunday Gulch Trail
Explore the often-overlooked Sunday Gulch Trail, a hidden gem at Custer State Park accessible from Sylvan Lake.
This nearly three-mile loop offers a quiet and serene hiking experience. While it starts with challenging terrain, including large slippery boulders with handrails and several sets of stairs, the effort is well-rewarded.
In spring and early summer, you may encounter knee-high water due to Sylvan Lake releases, so consider outdoor hiking sandals. Be prepared for a refreshing, albeit cold, experience. Hiking poles are recommended for stability on the steep, rugged terrain.
The moss-covered granite walls along the trail create a picturesque backdrop. The return hike is uphill, providing a satisfying cardio workout. It's a manageable 3-mile loop, perfect to combine with the Harney Peak Trail if you're feeling adventurous, especially since both trailheads are at Sylvan Lake.
Buffalo Roundup
In late September, the earth shakes and the air fills with dust as cowboys, cowgirls, and dedicated park crews mount their steeds to usher in the thundering herd.
The annual Custer State Park Buffalo Roundup, a spectacle that takes place on the last Friday of every September, opens its gates to the public, inviting all to witness this magnificent event.
Viewing Locations for the Buffalo Roundup
North Parking and Viewing: Head south from the vicinity of the State Game Lodge, following Wildlife Loop Road.
South Parking and Viewing: Journey eastward on Wildlife Loop Road, near the Blue Bell campground.
Arts Festival
Adding to the Buffalo Round-up weekend's allure is the concurrent Arts Festival, spanning Thursday through Saturday, located adjacent to the State Game Lodge.
Rock Climbing
If you're seeking an extra adrenaline rush amidst Custer State Park's natural wonders, don't miss the opportunity for rock climbing. This park offers fantastic opportunities for rock climbers, with its rugged terrain and striking granite formations, attracting climbers from near and far.
If you're a seasoned pro or this is your first time, there are routes suitable for all skill levels. So, gear up, embrace the challenge, and ascend these breathtaking rock faces, all while surrounded by the park's stunning scenery.
Whether you're scaling the spires, conquering the cliffs, or simply bouldering, Custer State Park provides a thrilling playground for climbers to test their skills and soak in the unparalleled beauty of the Black Hills.
Biking
Exploring Custer State Park on two wheels is an absolute must for outdoor enthusiasts. With an extensive network of scenic biking trails, both beginners and experienced cyclists can pedal their way through this natural wonderland.
From leisurely rides along the Wildlife Loop Road, where you can spot iconic wildlife, to more challenging mountain biking adventures in the park's rugged terrain, there's a biking experience for everyone. Feel the wind on your face as you cruise past tranquil lakes, towering spires, and lush forests.
Biking not only allows you to cover more ground but also immerses you in the park's diverse ecosystems. So, hop on your bike, soak in the fresh mountain air, and savor every moment of your Custer State Park biking adventure.
Needles Eye Tunnel
Nestled within the breathtaking Needles Highway in Custer State Park, the Needles Eye Tunnel is a captivating feature of this scenic drive. As you wind through the Black Hills' spectacular granite rock formations on this 14-mile stretch, you'll be awestruck by the monumental challenge that the construction crews faced in bringing this road to life back in 1922.
The Needles Eye Tunnel itself is a unique experience, a one-lane passage carved right through solid granite. It's essential to follow the speed limit and ensure your vehicle meets the size requirements, as it's a snug fit.
Easily accessible and close to Sylvan Lake Lodge, this tunnel is a must-see on your Custer State Park adventure, offering unforgettable memories for the whole family.
Talk to a Park Ranger
Engaging with a park ranger while exploring Custer State Park is an enriching experience that enhances your visit in several ways. These knowledgeable guardians of the park offer valuable insights into the park's natural wonders, history, and wildlife.
Whether you seek information about safe hiking trails, local wildlife behavior, or the park's conservation efforts, rangers provide personalized guidance tailored to your interests.
Don't just ask simple questions like what is the closest airport, take advantage of their ability to share captivating stories about the park's past.
Plus, rangers often hold interpretive programs and guided tours, allowing you to delve deeper into the park's secrets. So, don't hesitate to strike up a conversation with a park ranger – they're your key to unlocking a richer, more informed adventure in the United States National Parks.
Peter Norbeck Outdoor Education Center
If you're eager to blend adventure with learning in Custer State Park, make sure to swing by the Peter Norbeck Outdoor Education Center. Situated just one mile west of the Visitor Center and a mile east of the Park Office, it's the hub for fascinating educational programs and so much more.
Nestled in a wide valley, this center isn't just about sitting in a classroom; it's a place for hands-on exploration and family fun. Keep in mind that the center is not open year-round so plan accordingly if this is your main attraction inside the park.
Shopping at a General Store
Explore the charming general stores scattered throughout Custer State Park, where you'll discover a treasure trove of souvenirs, clothing, home goods, and unique gifts that capture the essence of this picturesque wilderness.
Need to stock up on supplies? These stores have you covered with a range of offerings, from beer and wine to groceries and snacks. Don't forget to indulge in the nostalgia of classic games, cuddle-worthy stuffed animals, and mouthwatering ice cream.
For outdoor enthusiasts, find hiking essentials and equipment. Plus, you can fuel up with grab-n-go meals, hot pizza, and refreshing soft-serve ice cream. These stores also serve as hubs for fishing enthusiasts, offering licenses, bait, and tackle.
Whether you're looking to relax with a glass of wine, enjoy a picnic by the lake, or commemorate your bison encounter, these stores provide the essentials and mementos to enhance your park experience.
So, wander through the aisles of State Game Lodge, Sylvan Lake Lodge, Legion Lake Lodge, The Bison Center Store, or the Blue Bell Store, and let the treasures of Custer State Park become a part of your journey.
Visitor's Center
Nestled at the crossroads of US Hwy 16A and Wildlife Loop Road, the Custer State Park Visitor Center is a must-visit gem for nature enthusiasts.
Since its grand opening in 2016, this center has been a gateway to the captivating world of bison, one of the prairie's most iconic species. Whether you're exploring the park in the heart of summer or during the quieter seasons, the Visitor Center stands ready to enhance your adventure.
Step inside, and you'll encounter a team of knowledgeable staff eager to share their insights and tips. Visitors can also enjoy a little bit of a rest in the 100-seat theater.
Don't worry about when the best time to pop in for a movie during their open hours because there is a 20-minute movie playing every half hour at no extra cost.
Fishing
In the picturesque Black Hills of South Dakota, fishing is a year-round adventure. Trout fishing reigns supreme, with prime spots like Stockade Lake, Rapid Creek, Castle Creek, and Spearfish Creek offering excellent catches.
While trout take the spotlight in the Black Hills, the region's waters offer more than just these prized catches. You'll also have the chance to reel in walleyes, northern pike, bluegills, crappies, yellow perch, largemouth bass, and channel catfish.
Each of these species provides unique angling experiences and adds to the diverse fishing opportunities that make the Black Hills a true fishing haven throughout the year.
The region's dedication to fishing extends even to winter, where ice fishing in lakes like Sheridan, Deerfield, and Pactola is a popular pastime.
Fishing licenses are a must, with options for one day, three days, or a full year available. Whether you're casting a line in the flowing streams of spring or drilling through ice in the winter, the Black Hills offers a fishing paradise for enthusiasts of all seasons.
Fine Dining
Custer State Park offers a delectable array of dining experiences amidst its natural wonders. With four unique restaurants, your taste buds are in for a treat.
The State Game Lodge combines casual elegance with formal dining options, making reservations a wise choice. At the Blue Bell Lodge near the West Entrance, a hearty ranch house flavors reign supreme, featuring bison, beef, chicken, and fish.
Sylvan Lake Lodge elevates dining with locally sourced ingredients and a touch of rustic luxury. Al fresco dining on the stone veranda, with stunning hill views, is a must-try, and your furry friends are welcome too.
Legion Lake offers breathtaking lakeside dining, while the Dockside Grill menu serves family-friendly entrees with tableside service.
For a taste of the Old West, the Chuckwagon Cookout is a must-visit. And if you're in the mood for lighter fare, general stores in the park have you covered. Whatever your culinary cravings, Custer State Park promises a delightful dining adventure.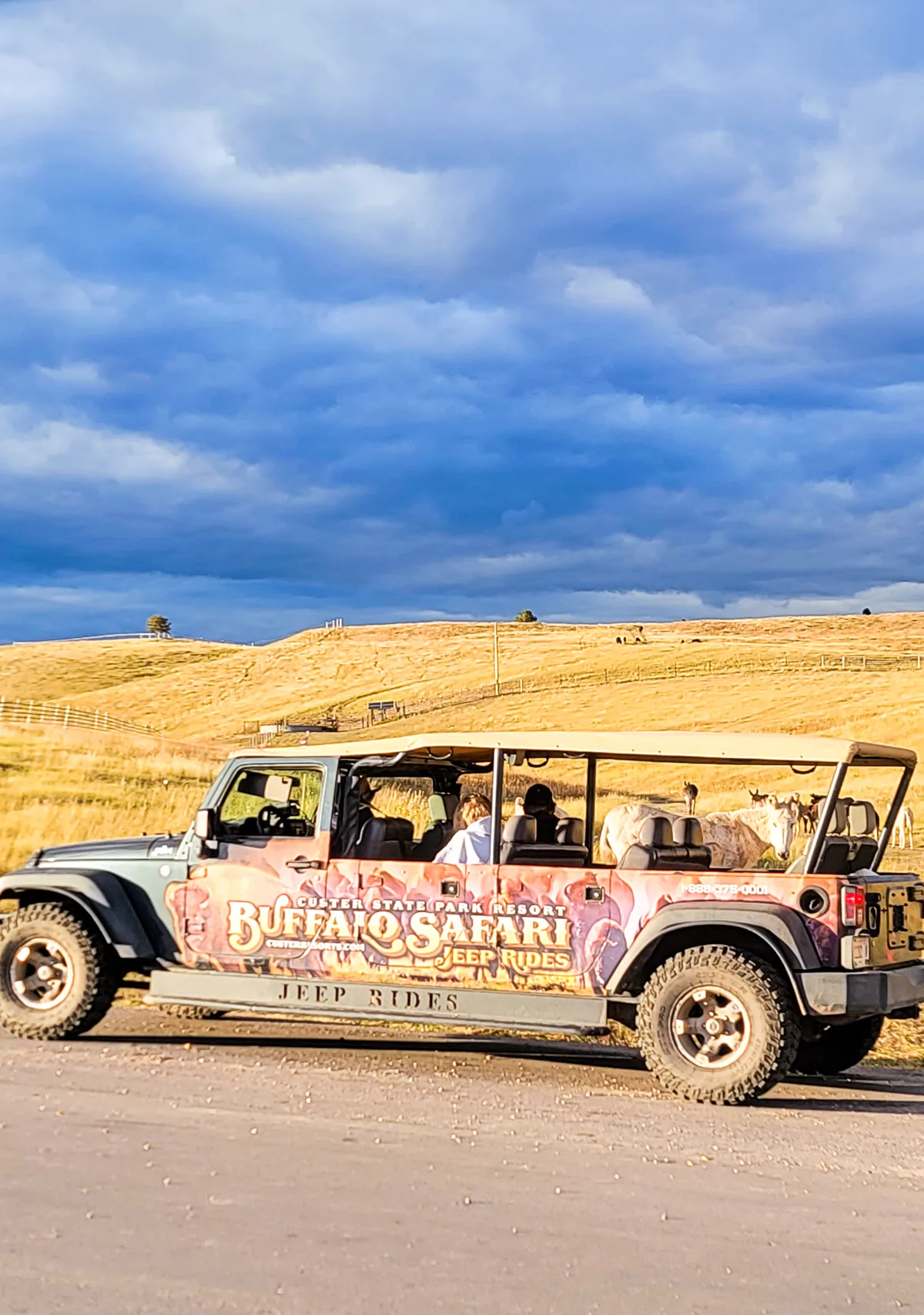 Guided Park Tours
Explore the rugged beauty of Custer State Park on their Jeep Tours. Venture off the beaten path onto private dirt roads for a unique buffalo safari.
Travel in an open-air Jeep and keep an eye out for pronghorns, elk, and buffalo. Knowledgeable guides provide insights about the park and its wildlife.
These tours offer highlights of Needles Highway and Iron Mountain Road, with limited departures, so plan ahead. Tours typically last 2 ½ to 3 hours and include scenic stops, expert guidance, and an open Q&A session.
Experience the wild side of South Dakota by enjoying the 31 Best Things to Do in Custer State Park.
Want more travel tips? Sign up for the free newsletter so you can get these posts straight to your inbox!